A Guide to the 7 Best Draft Beers in Singapore
Fridays are a great time to destress and drink it out with your friends in a bar. But if you're feeling like you wanna forgo drinking from a can or a bottle, draft beers are your best bet.
If you're a little bit adventurous and want something a little more unique on the palate, all the while drinking fresh from a tap, here are some picks for the best draft beers in Singapore.
Styles of Beer and Other Terms
When you go around to different watering holes, you'll encounter different types of brews when looking for a pint. So, this helpful glossary will help you determine kinds of beer from how they're brewed and where they originated.
Lager – a type of beer that's conditioned and bottom-fermented (yeast sinks down when it finishes fermenting) in low temperatures.
Pilsner – The Czech type of lager, it has more hops and is typically paler.
Wheat beer (Hefeweizen/Weißbier/Witbier) – A beer that's brewed with a large amount of wheat, about 30-70 percent, the rest is barley malt of a pale variety.
Ale – A top-fermented beer that's fermented at warmer temperatures. It has a fruitier, full-bodied taste. Well-known variants are the pale ale and distinctly hoppy IPA (India Pale Ale).
Pale ale – Refers to the type of malt used. There are ales that are darker and murkier.
Stout – Brewed using heavily roasted unmalted barley, while a porter is brewed with malted barley. It emits an aroma reminiscent of coffee or chocolate.
Sour – Beer that's intentionally acidic, tart, and sour. Aside from wild yeast, bacteria such as Lactobacillus, Pediococcus, or Brettanomyces help with the fermenting.
Cider – Fermented apple juice.
Mead – Fermented honey with water.
Here are other terms to familiarise yourself with:
Hops – Cone-shaped flowers of the hops plant that's used as a bittering agent in beer. It also gives beer its variety of aromas.
IBU – International Bitterness Unit. It tells you the amount of bittering acid in a beer. The higher it is, the more bitter the beer. But a finely-brewed drink is balanced.
ABV – Alcohol by volume, or an indication of how much alcohol is in a drink. Higher figures obviously mean a more alcoholic drink, with the average for beer being 4.5. It's calculated by figuring the amount (in millilitres) of pure alcohol in 100ml of a beverage.
Malt – Barley germinated by soaking in warm water and hot-air drying.
So, Is Drinking from the Tap Better?
Canned, bottled, or tap — it doesn't actually matter. As long as the draft beer is stored and transported properly, its quality won't dip.
Just make sure that you drink it at the right time, of course. Once you've opened it, enjoy it!
Searching for The Best Draft Beer in Singapore
With all those in mind, let's be open to tasting an array of different kinds of beer, from stouts to ales. Our list presents fine examples that you can drink from a tap.
Here are our picks for the best draft beers in Singapore that'll satisfy your thirst and give you a happy hour:
1. Manuka Stout from 1925 Microbrewery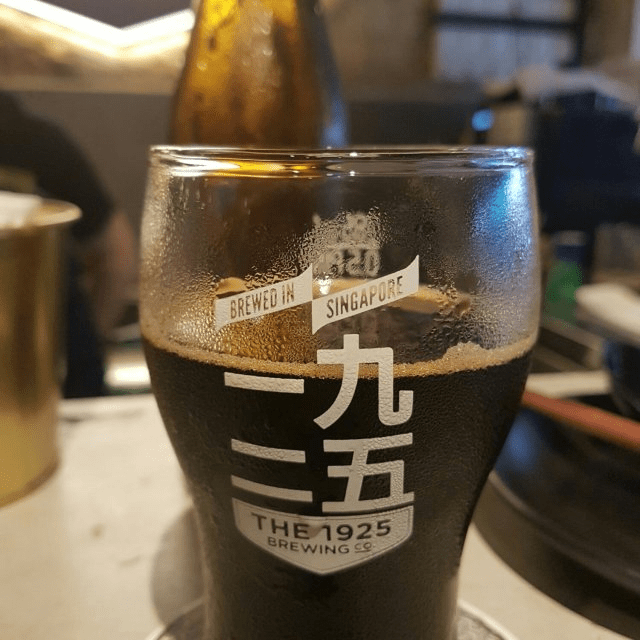 Price: $9.00 (half pint)/$18.00 (pint)
Check it out at The 1925 Microbrewery
One of The 1925's drinks, the Manuka Stout is brewed using an Old World hop called Fuggle. They also add a hint of espresso to bulk up its earthiness.
And to balance out the sweetness and its full-bodied taste, they added Manuka honey, a type of rare honey that's from New Zealand. This is the best draft beer in Singapore for those who prefer something mild with a sweet after taste.
Highlights
ABV 6.8
Earthy, full bodied flavour
Distinct coffee aroma
Customer Reviews
Customers found the stout's sweetness to be quite sticky and say it lingers on the tongue. However the malt and manuka balance each other out quite nicely.
There are some who commented that the coffee flavor was astringent and they couldn't taste the honey, though. Others stated that this stout is a good digestive.
2. Monster Green Lager Beer by RedDot BrewHouse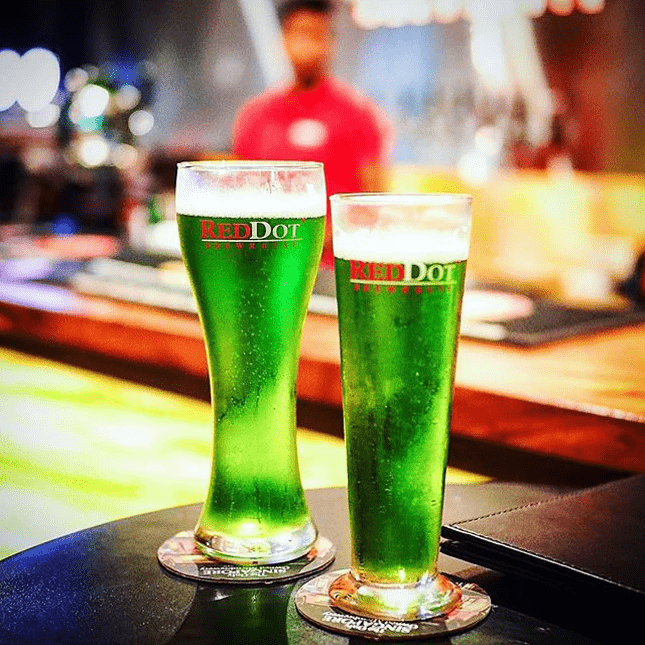 Price: $7.00/$11.00
Check It Out At RedDot Brewhouse
Don't get scared by the colour of this little monster. RedDot presents a lager beer that's noble hopped, and naturally coloured with spirulina.
It scores low on bitterness and is light-bodied. Crisp with hints of malt, it goes down well when paired with RedDot's chicken tenders or a margherita pizza.
This is the best draft beer in Singapore for those times where you'd try something unique!
Highlights
ABV 5.5
Unique green colour
Clean and crisp flavour
Customer Reviews
Here are some review from Hungrygowhere and TripAdvisor about the Monster Green Lager:
My husband and I would always love hunting for unique food and drinks, we found the Monster Green Lager (brewed & lagered with spirulina) at RedDot a unique twist to our commonly known beer!
Spent a Sunday arvo here with friends – ate some snacks and had beers including the GREEN beer – this was fun and novelty but also a nice crisp lager – don't let the colour put you off 🙂
3. That Old Black Magic Stout from Alchemist Beer Lab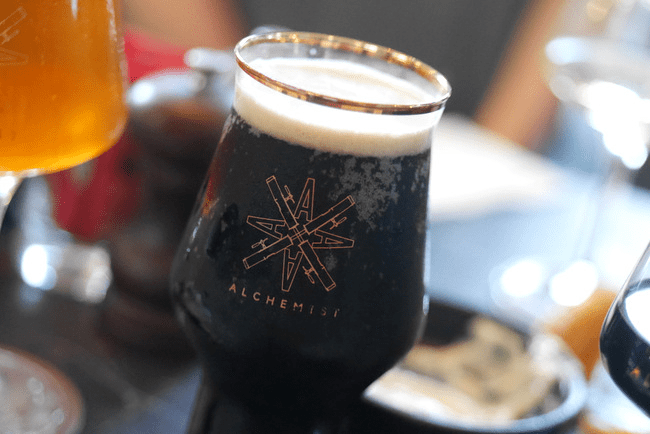 Price: $2.40 (100ml)
Check It Out At Alchemist Beer Lab
Truly a wonder of black magic, this stout is a dry Irish nitro that has been brewed with eight different types of malts and three types of hops to balance out the bitterness and sweetness.
This brilliant brew bagged 4 Gold Medals at the 2016 Asia Beer Awards, which is telling why we chose to include this in our list of the best draft beers in Singapore.
Highlights
ABV 5.45
Smooth finish
Prominent dry-roast profile
4.   Guava Islander IPA from TAPCraft Beer Bar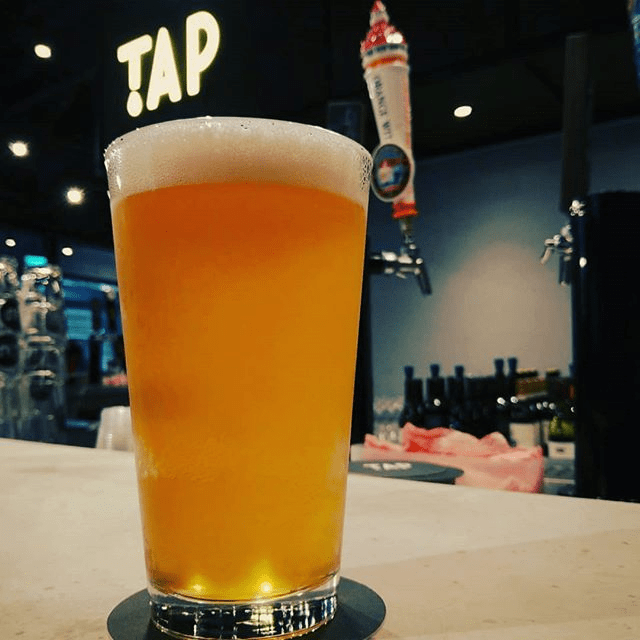 Price: $10.00 (pint)
Check It Out At TAPCraft Beer Bar
 An IPA or India Pale Ale that's brewed with a mix of Centennial, Chinook, and Columbus hops, and a dose of guava puree. This IPA bursts with tropical flavour at every single sip.
Medium-bodied with a lot of pine and fruity tones and a dry finish, it's a drink that you want to be drinking when you'd rather be spending time on a beach than stuck in the city.
This is the perfect draft beer in Singapore for those who want to get a fruity and sunny escape in the form of a pint.
Highlights
ABV 7
Medium-bodied
Dry finish
Customer Reviews
Here's a review from ratebeer.com about the Guava Islander IPA:
Pint draft from a fresh keg at Tap Craft Beer Bar in Singapore. Appearance is a cloudy golden, topped with a finger of fluffy white froth which recedes quite quickly, but can be regenerated by swirling. Aroma is tropical citrus and grapefruit from the 3C hops in the brew. Taste is similar, fruity, citrusy sweet, then bittersweet as the piney flavours take root. Mouthfeel is creamy, medium bodied. Unfortunately, guava is too subtle a flavour to hold its own against all the citrusy and piney hops.
Nice light fruity aromas, evident pineapple and apricots on the palate, has a strange coffee / earthy funk to the finish, with very distinct alcohol sting.
5.   33.1 Blond Lager from LeVeL33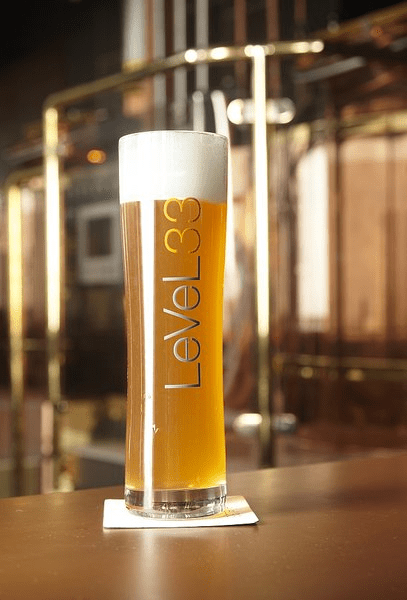 Tall, blond and pretty, the recipe to this drink is lifted from the original 1841 Vienna Blond Lager. With a bright, sunshiney golden hue, this beer is full-bodied with a hint of fruit.
Like all beer from LeVeL33, it's unpasteurised and unfiltered. Easy to drink, especially when you're lounging while catching a view of Marina Bay Sands.
This is the best draft beer in Singapore when you're entertaining or if you want a safe choice as everyone will likely enjoy this.
Highlights
ABV 4.5
Smooth and malty
Clean and refreshing
Customer Reviews
Some of the customers commented on the malty, grainy profile of this drink. Some also noted the fruity tones, others saying it was like green apples, while some commented there were hints of boiled cabbage.
But all of them commented that it has low bitterness and has a thick white head. Others say it's crisp but can get boring.
6. Bugis Brown by Mikkeller Bar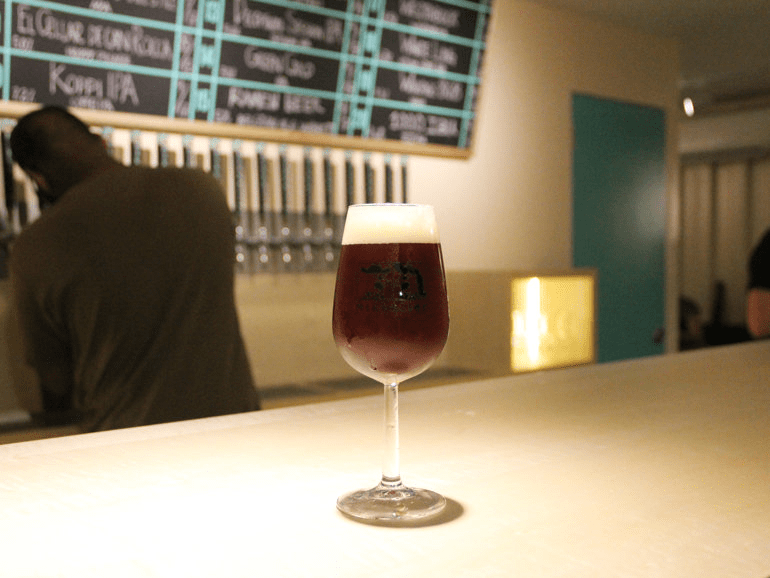 Price: $8.00 (200ml) $15.00 (400ml)
Check It Out In Mikkeller Bar SG
The coziness and warmth of Danish hygge in a glass, Bugis Brown is a brown ale that's named after the eponymous Bugis Street. This is one of Mikkeller SG's Singaporean exclusives, so you won't find it in any of their international branches.
Aside from the caramel profile familiar with drinks of this kind, this beautiful brown ale has notes of citrus, thanks to its hops.
Highlights
ABV 5
Citrusy aroma
Nutty profile
7. Ruby Tuesday Red Ale by Little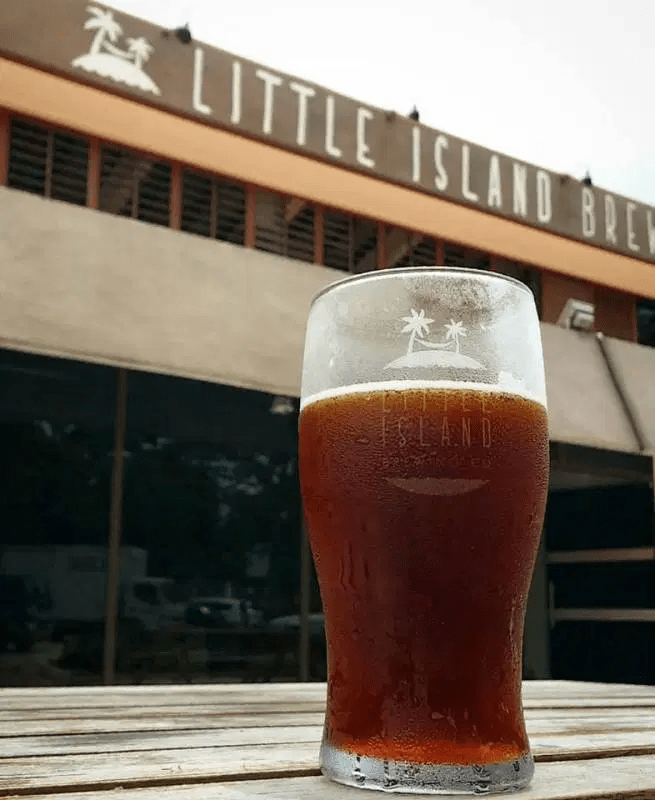 Price: $2.40/ $3.20 (100ml)
Check It Out At Little Island Brewing Co
A mix of sweet malts balanced out with European hops, Ruby Tuesday is delightfully intense with hints of caramel. One of Little Island Brewing Co's bestsellers, this little lady has a lot of flavour and depth.
It has a woody, vanilla aroma, and it makes a good red ale for those who want something refreshing. It's a bit low on bitterness and makes for an interesting drink. The perfect draft beer in Singapore for those who want something dark yet aromatic.
Highlights
ABV 5
Woody, vanilla aroma
Unfiltered and unpasteurised
Customer Reviews
Here's a review from ratebeer.com about Ruby Tuesday Red Ale:
Draft – Butterscotch and caramel. Clear Amber with a rich beige head. Butterscotch and caramel with a touch of bitterness in the finish.
Bottoms up! With that, we finish our little happy hour for the 7 best draft beers in Singapore. You might have seen some great picks that sparked your interest or your favorite go-to alcohol.
Did we miss something on our list? Tell us its name and what makes it great in the comments below!
What if you're too tired to go to the bar for your drink tonight, though? Bring the fun indoors with the best alcohol delivery services in Singapore if you really can't be bothered to go out for a drink, then!