14 Best Alcohol Delivery Service in Singapore: Cheers to 2021!
The best alcohol delivery services in Singapore can come in very handy for a lot of occasions.
Just think about those parties where you run out of alcohol mid-way and can't abandon your guests to do a run for more, for instance.
Or think about those times when all you want is to sit back with a nice snifter of brandy after a long day but discover the bottle's empty.
Whether it's laziness, your schedule, or congestion preventing you from popping out of the house to remedy these situations, what matters is that there are alcohol delivery services that can help. We've even assessed them to find the best ones, which you'll find below. 
Without further adieu, we present to you our list of the best places to have alcohol delivery in Singapore: 
1. Alcohol Delivery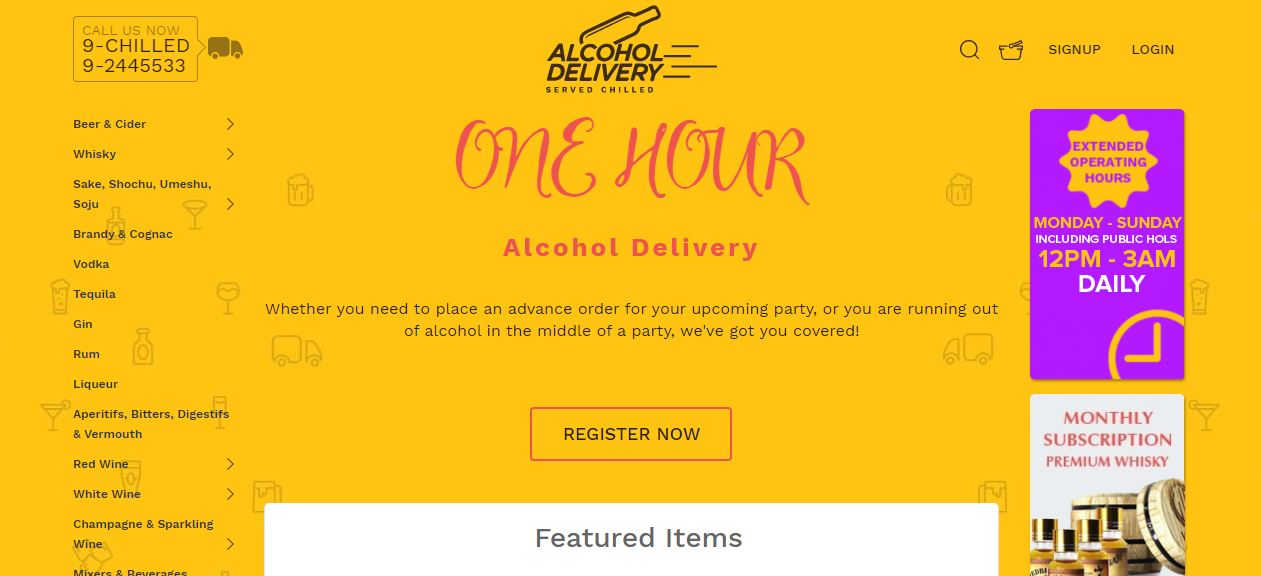 | | |
| --- | --- |
| BEST FOR  | Party and cocktail packages, miscellaneous services |
| PRICING | Products |
| WEBSITE | https://www.alcoholdelivery.com.sg/ |
| ADDRESS | 53 Ubi Ave 1, #01-20, Singapore 408934 |
| CONTACT DETAILS | 9-2445533 |
| OPERATING HOURS | Daily from 12:00pm – 3:00am |
When it comes to planning grand events, you can rely on the services of Alcohol Delivery.
Apart from delivering your purchased beverages at your place, they also offer additional event services like drink ideas and themes, DJ services, bartending, personalised gifts and gift wrapping, venue recommendations, and food catering.
If you find that your party is running low on alcohol, they can provide a 1 hour alcohol delivery. They are also a 24 hour alcohol delivery in Singapore so it does not matter what time of the night (or day) you need a booze top up!
They are a one-stop solution to the many demands of hosting a party. They also take pride in delivering their products in chiller boxes so it will be served chilled.
Service Highlights
Events and bulk purchase
Buy and sell online shop
Special brand requests
Customer Reviews
Alcohol Delivery has everything you've been looking for, from the drinks to the snacks up to the bar tools, entertainment items, and even gifts! This is the main reason most customers keep coming back to them, because they are a one-stop-shop liquor delivery in Singapore.
Douglas gave this positive feedback on Google Reviews:
"I ordered for a corporate event and they were helpful in recommending me the various options for beers and wines based on my budget. Good service and honest company. Will use them again."
2. Paneco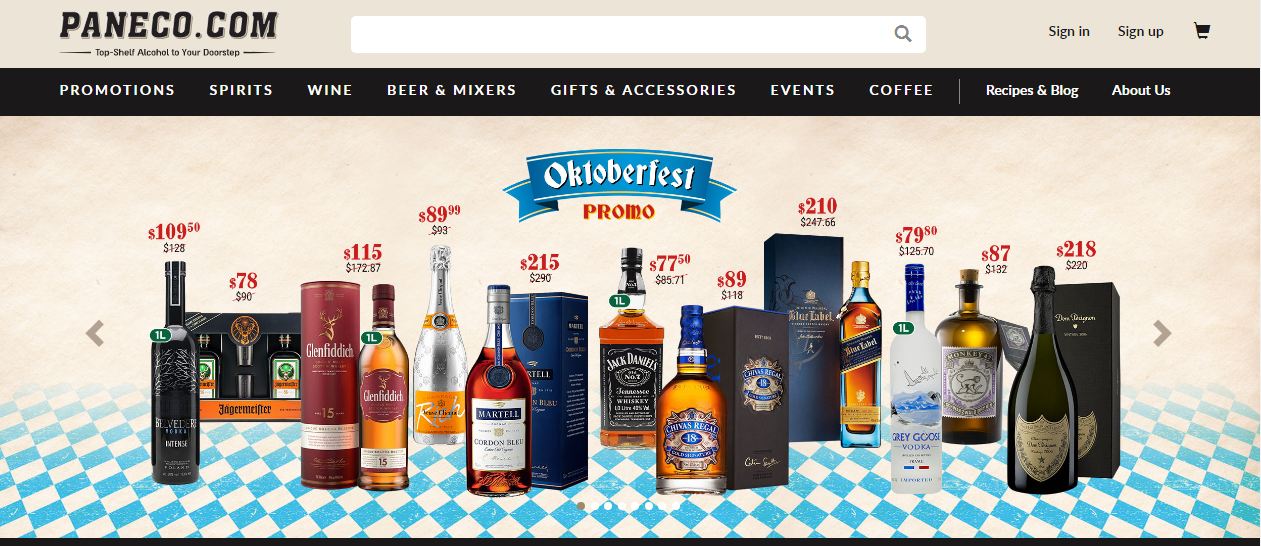 BEST FOR 
Affordable alcohol products
PRICING
Products
WEBSITE
https://www.paneco.com.sg/
ADDRESS

39 Keppel Rd, #04-03, Tanjong Pagar Distripark
Singapore 089065

CONTACT DETAILS
+65 3138 4353
OPERATING HOURS
Accepting orders 24/7/365

 

Free Next-Day Alcohol Delivery
& Express (Same Day) Alcohol Delivery*
Delivery hours are between 12:00pm to 10:00pm, 7 days a week.

Lightning Express (Two Hour) Alcohol Delivery*
Monday to Friday 10am to 7pm. Saturday and Sunday 10:30am to 3pm.

*Additional fees apply
Paneco is another Singapore alcohol delivery that has the best promotions for major brands. Every month, they offer highly-discounted prices on various products.
For the alcohol options, they have spirits, wine, beers, and mixers. Unlike the other service providers, they also have gifts and accessories for cocktail lovers.
They go beyond residential areas, providing services for special events including weddings, dinner parties, and private gatherings.
Service Highlights
Monthly promos
Free next-day delivery
Benefits and offers for memberships
Customer Reviews
Paneco's customers are very satisfied with their high-quality brands and delivery services matched with affordable wholesale prices.
Many consider Paneco to be the best alcohol delivery in Singapore for monthly promotions.
Some beverages are quite pricey, they say, particularly,the famous brands. But with their promotions, you can buy them at a cheaper cost!
A reviewer was very impressed and recommended their services on Google Reviews:
"I placed an order for some whiskey and needed it urgently for a party. The staff at Paneco were extremely helpful and guided me through the procurement process and ensured that i got my order on time. The packaging was also fantastic to ensure that there were no damages during the transportation process. Great work ethics and i highly recommend them to anyone who needs such a service."
3. Prime Liquor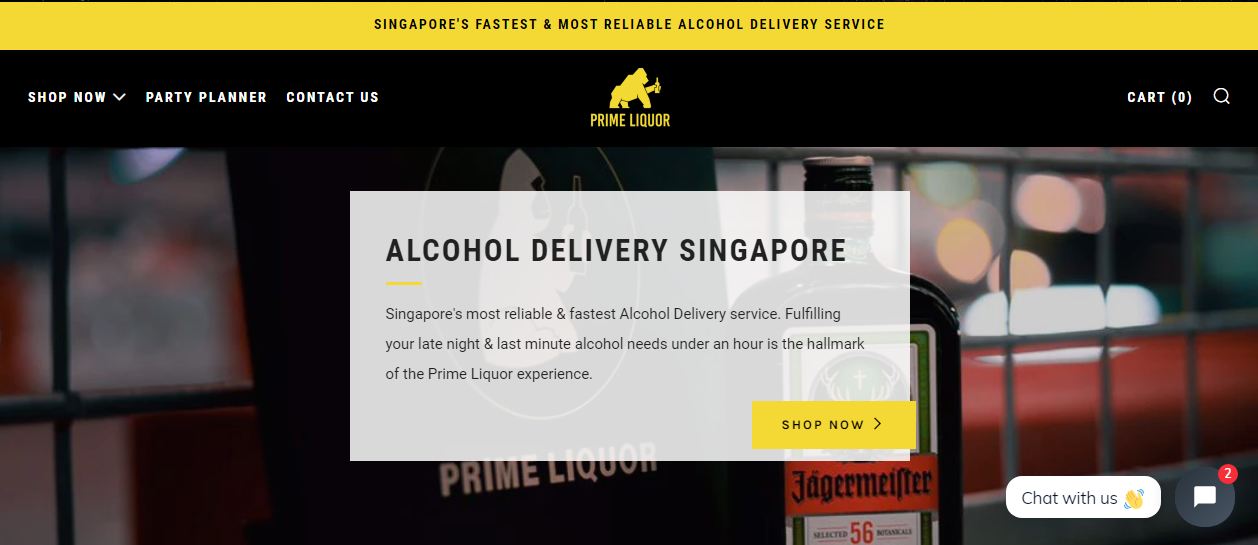 | | |
| --- | --- |
| BEST FOR  | Large beverage selection and party arrangements |
| PRICING | Products |
| WEBSITE | https://www.primeliquor.sg/ |
| ADDRESS | 380 Jalan Besar, #16-01 Singapore 209000 Singapore |
| CONTACT DETAILS | (+65) 8133 3943 |
| OPERATING HOURS | Open 24 hours |
For those who are going to spend a late night with friends, Prime Liquor can be at your door in less than 1 hour. Their beverage selections range from Asian to Western brands so you can have a variety of flavorful drinks to try.
Aside from their rapid delivery, they can also help you arrange a party celebration by providing decor, cakes, and desserts. The events they cover include birthdays, weddings, farewells, and baby showers.
On top of all that, they're also open 24 hours. It's never been easier to order alcohol online in Singapore!
Service Highlights
Alcohol bundles on sale
Party planning services
Free delivery
Customer Reviews
Prime Liquor has been featured on many famous Singaporean blogs such as The Smart Local, Ladyironchef, Timeout, and City Nomads, proving that they set a high standard for their services. Reviewers wrote these compliments on Google Reviews:
"They are always on time, excellent service and communication. Great promotions and overall can't expect much more."
"I was looking for an alcohol supplier for my wedding so I reached out to a few and Jay was by far the best! He provided fantastic customer service and was very accommodating to my special requests. He even texted me and ensured that everything was ok. Highly recommend!"
"Awesome service! Only took them about 20 mins to deliver to Sentosa in the middle of the night. Would definitely recommend this over other companies!"
4. Alchohaul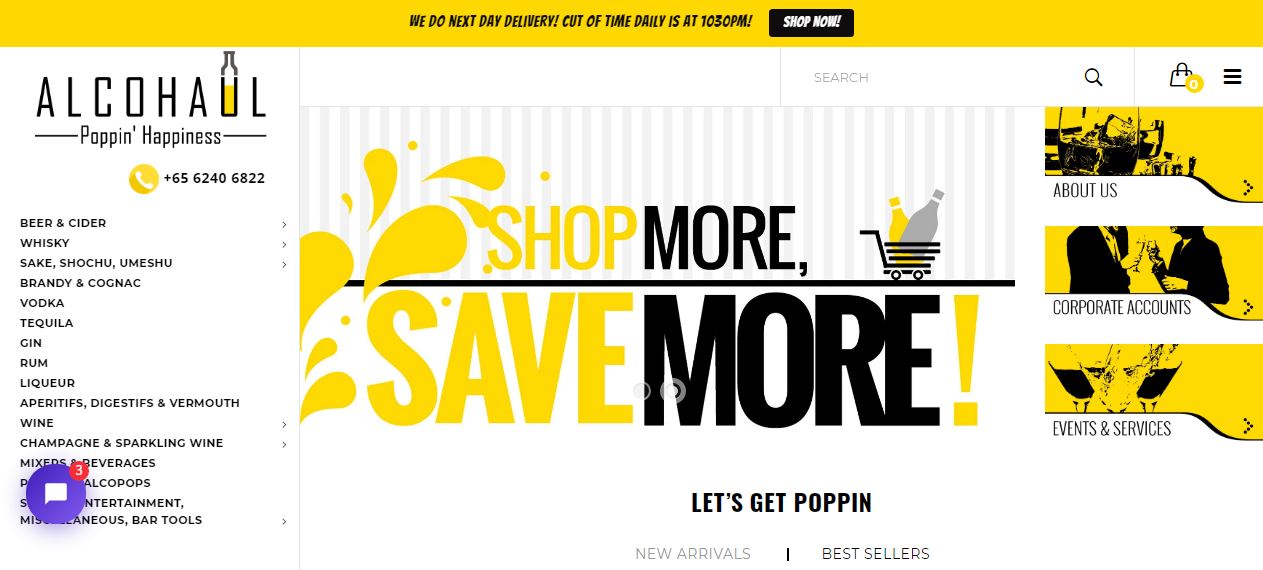 | | |
| --- | --- |
| BEST FOR  | Corporate supplies, bulk discounts |
| PRICING | Products |
| WEBSITE | https://alcohaul.sg/ |
| ADDRESS | #01-20, BLK, 53 Ubi Ave 1, Singapore 408934 |
| CONTACT DETAILS | +65 6240 6822 |
| OPERATING HOURS | Daily, 12PM – 10.30PM |
At Alcohaul, you'll be able buy alcohol in Singapore and also explore many different new yet quality brands. So if you are craving new experiences instead of sticking with your favourites, this would be a great choice.
Their offered beverages include beers, ciders, sake, vodka, tequila, rum, wine, champagne, mixers, and many more. They also offer snacks and other miscellaneous items.
For the aspiring business owners who are looking for a supplier, they provide food, drinks, tools, and other essentials to your bar or restaurant.
Service Highlights
Events and services
Corporate services
Free delivery
Customer Reviews
Alchohaul has gained the trust of most customers, who have acquired their services for business purposes. They have never failed their clients in terms of providing a large number of products and supplies.
A reviewer commended the affordability of their services and left this review on Google Reviews:
"AMAZING PRICES! They have the best prices across a huge variety and range of alcohol! Its definitely my go-to site for all my alcoholic supplies!"
5. Mabuk Monkey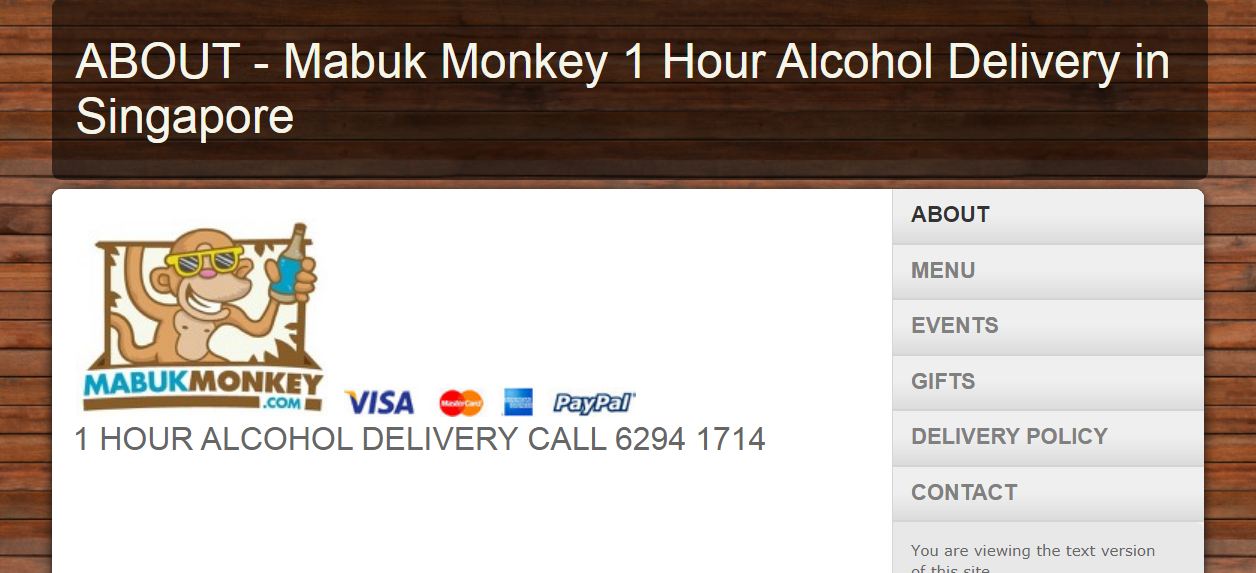 BEST FOR 
Dynamic alcohol menu, affordable prices
PRICING
Products
WEBSITE
http://www.mabukmonkey.com/
CONTACT DETAILS
6294 1714
OPERATING HOURS
1 HOUR DELIVERIES

 

Tuesday to Sunday: 6pm – midnight

ADVANCE ORDERS

Subject to availability of delivery slots
If you're looking for a place to order booze in Singapore that's quick and easy, Mabuk Monkey is your go-to.
With Mabuk Monkey, you'll be able to get your ordered drinks within 1 hour and have some fun with your family and friends! We're not surprised that they've become the go-to for alcohol delivery in sg. 
They accept advanced orders for larger gatherings such as corporate events and weddings. They have a large alcohol menu as well.
Mixers are included in their options. For their events, they can cater product launches and shop openings, art exhibitions, chalet, and beach parties, and other celebrations.
Service Highlights
Short delivery time
Personalised treats and gifts
Customer Reviews
Mabuk Monkey has been serving their customers with a wide variety of drink selections and excellent supplies for special events for years. During that time, they've amassed quite a fan base.
City Nomads featured their services on the blog and stated:
"Touting same-day delivery in an hour (if the traffic is good!), Mabuk Monkey carries a decent selection of beers: household and craft labels laid out in a no-frills menu on their website. Popular party spirit brands such as Bombay, Absolut and Jagermiester are available while the wine and champagne range remain limited. Basic enough for a beach BBQ or lepak session with friends – mixers, snacks and ice are also readily available."
6. Asher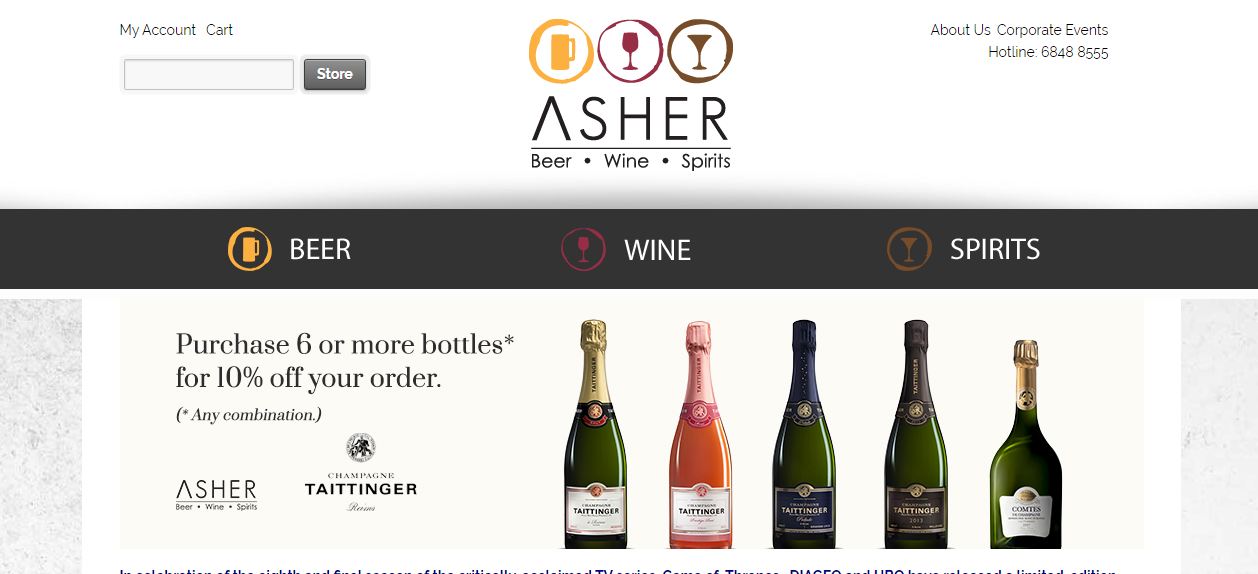 Asher claims to be one of the largest wholesale retailers in the country. With them, you can find your favourite brands and even those that are not available in the supermarket or physical stores.
Their menu includes beers, wines, and spirits.
Service Highlights
Special promotions
Island-wide alcohol delivery services
Customer Reviews
Asher has earned the loyalty of many customers because of their original and vintage drink, which customers say create a nostalgic atmosphere. A reviewer from Google Reviews wrote:
"I've ordered once through this service and the process was so fuss free that I'm probably going to make a habit out of it. Pricing is reasonable, and the selection is great."
7. Temple Cellars

BEST FOR

Great quality selection of liquors

PRODUCTS

Liquors

WEBSITE

https://www.templecellars.com/

ADDRESS

81 Clemenceau Ave, #01-12, Singapore 239917

CONTACT DETAILS

+6562622191

OPERATING HOURS

Sunday: 12:00 – 6:00 pm

 

Monday: 12:00 – 11:00 pm

Tuesday: 12:00 – 11:00 pm

Wednesday: 12:00 – 11:00 pm

Thursday: 12:00 – 11:00 pm

Friday: 12:00 pm – 12:00 am

Saturday: 12:00 – 11:00 pm
Temple Cellars makes liquor delivery available online with just a few easy steps. They have a great selection of wines, beers, ciders, sakes, and spirits. 
They curate the products that they offer online because they put quality first. So, whatever you see on their site or physical shop has passed their quality test.
They maintain the quality of these products through temperature-controlled storage. 
More than that, they also have knowledgeable and friendly staff. If you are a bit lost on what to buy, talk to their friendly representatives for some ideas.
Service Highlights
Helpful staff

Wide selection of alcohol

Best quality of liquors
Customer Reviews
Temple Cellars has a very impressive rating online. In fact, the Google maps review shows that they have a 4.7 rating from their customers. 
Be sure to check them out, but first, here are some of the reviews they received online:
"Great place to go pick up some quality beers. 8 taps to sample some goodness while you are there. Very good knowledgeable staff."
"Best beer selection in Singapore. They put a lot of thought into the bottles they put on the shelf. They've also got good beers on tap and a nice happy hour."

Wine To Share has a unique wine collection. They showcase the offerings of some of the best wine producers in South Africa.
This shop started way back when the owners were visiting Africa. Upon tasting some wines, they realised that these types of wines deserve as much attention as many other, more popular ones. 
They place a high value on quality, which is why they only offer wines that are at the top of the South African Wine Index. They also visit local wineries to look for other notable wines to add to their collection.
Service Highlights
African wine collection

Reasonably priced wines

Excellent facilities to maintain quality of wines
Customer Reviews
Wine to Share is not just a company, but a community of wine drinkers. They often create events to entice people with their products through sampling.
And not surprisingly, it is really effective. Just see for yourself below!
"Attended a WTS tasting session and enjoyed it immensely. I'm not a connoisseur but Cherie was really nice and generous with sharing her wine knowledge. The small numbers (around 10) also made it a very cosy and interactive session. Highly recommend their wine events and am now a convert to South African wines!"
"Really good value South African wines, and good selection too."
9. Sake Singapore

BEST FOR

Japanese traditional drink

PRODUCTS
Japanese Sake and Wines from different countries
WEBSITE

https://sake.sg/

ADDRESS

61 Yishun Industrial Park A #04-01

 

768767 Singapore

CONTACT DETAILS
Tel: +656787820 / Fax: +6562840297 /[email protected]
OPERATING HOURS
Mon – Fri (9:00am to 6:00pm)
Sake Singapore goes through a rigorous process to making products available on their website. They wanted to make sure that each product satisfies their criteria of quality which is why you are assured that this shop would only carry products of high quality. 
They also offer sake memberships to their loyal customers. Through this, a customer could enjoy product promos, discounts, and sale which are exclusive to members only. 
They offer free shipping services for customers who purchased over $ 100 worth of items. 
Highlights
Well known brands

Quality brands

Helpful staff
10. Alcohol Elements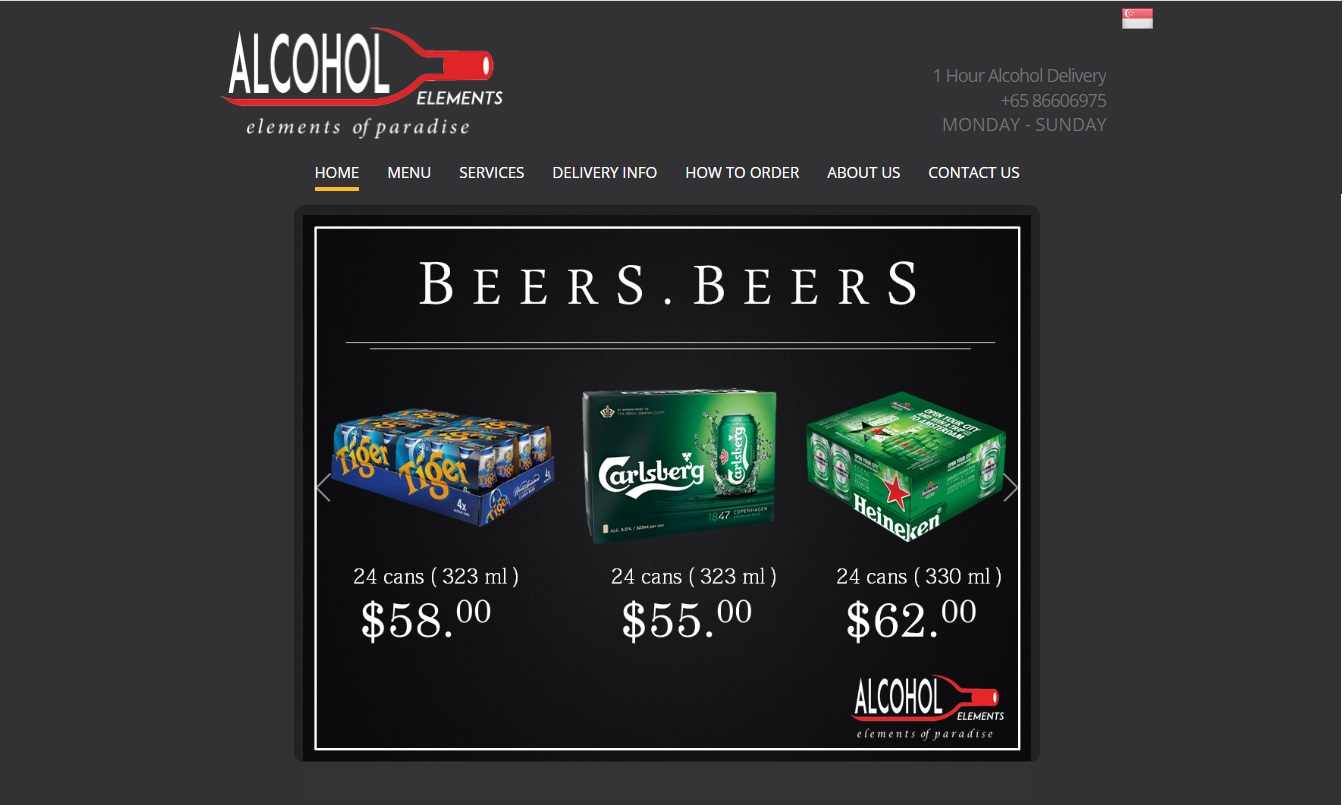 Responsible, Punctual, and Efficient are the best words to describe the overall service of Alcohol Elements. They take pride in being one of the crowd's favorite when it comes to alcohol delivery in Singapore, primarily because of their quick 1 hour delivery and their large scale of options for beverages. 
Their products also come in fair prices so you'd really get the best value for money. Aside from delivering alcohol in retail for casual drinking sessions, Alcohol Elements also extends their service to large events like wedding receptions, corporate parties, shop openings, barbeque nights, etc.
Highlights
Bulk discount on advance orders

Quality brands

Minimal delivery fee
11. CELLARBRATION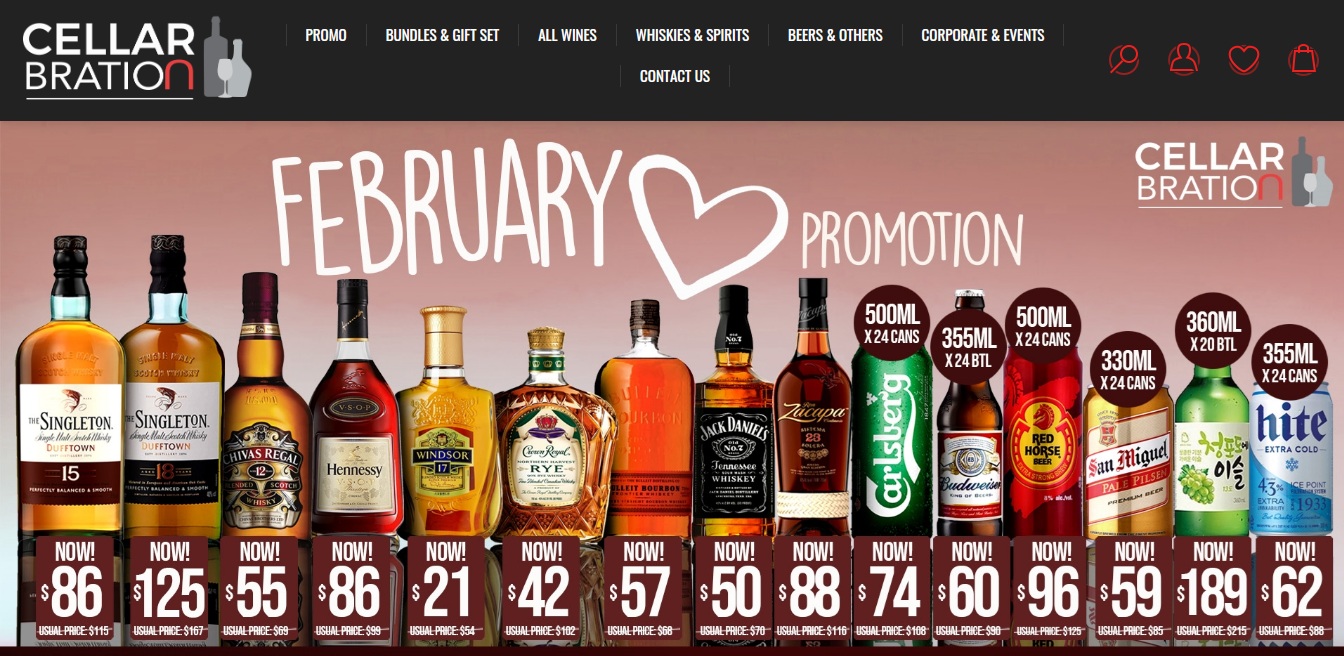 BEST FOR

Large selection of alcohols

PRODUCTS

Beers, Wines, Spirits, Mixers, Bundle & Gift Sets

PRICING

Collection

 

WEBSITE
https://cellarbration.com.sg/
ADDRESS

Online Purchases 

 

*Free Delivery for orders $150 & above

Next Day Delivery: 

*Order before 4pm, Monday-Friday

*Delivery Hours: 2-6pm/6-10pm

*After 4pm, option to choose other delivery slots 

Retail Outlets

Ubi Showroom, 361 ubi road 3 ,#01-00, S408664

Opening hours: Monday to Friday 10:30am-7:30pm, Saturday 10:30am to 6:30pm 

Closed on Sunday and PH

Plaza Singapura, 68 Orchard Rd, #B2-63, S238839

Opening hours: 10am to 10pm Daily

The Seletar Mall, 33 Sengkang West Avenue #01-48, S797653

Opening hours: 10am – 10pm Daily

Marina Square Shopping Mall, 6 Raffles Boulevard Marina Square, #03-216A, S039594

Opening hours: 11am to 9pm Daily

CONTACT DETAILS
6222 9191 | [email protected]
Cellarbration was launched in 2012 where it helped the people in Singapore get their favourite bottles of beers and wines without having to drive all the way to the store.
With their reliable delivery service, they are able to send not only alcoholic beverages but genuine smiles to their beloved customers.
Plus, Cellarbration also hosts the biggest and only end of year Ubi Warehouse Sale annually with some prices cheaper than duty-free, supermarkets and other retail outlets. They also offer great deals and amazing prices with monthly promos and daily special flash sales on selected Whiskies, Wines, Spirits.
They pride themselves in being that one-stop beverage solution by offering a wide range of services and including our customers in a space that shares a mutual interest, passion and enjoyment for liquor.
Service Highlights
Easy to order through phone and online

Accommodates corporate and private events

Wide range of affordable alcoholic beverages
12. Wines N Spirits
Wines N Spirits, despite what its name implies, has more than great wines and spirits on their sizable catalogue. The business also offers cocktails, beers, as well as mixers and beverages to its client base.
The success that Wines N Spirits has experienced since it first began its operations has largely to do with the quality of the products that they carry. This is also accompanied by great customer service and handling — thanks to Wines N Spirits expert staff who constantly strive to get all orders to the customers promptly.
Service Highlights
Delivers 7 days a week
Free delivery for orders above $100
13. ALLEYJAR SINGAPORE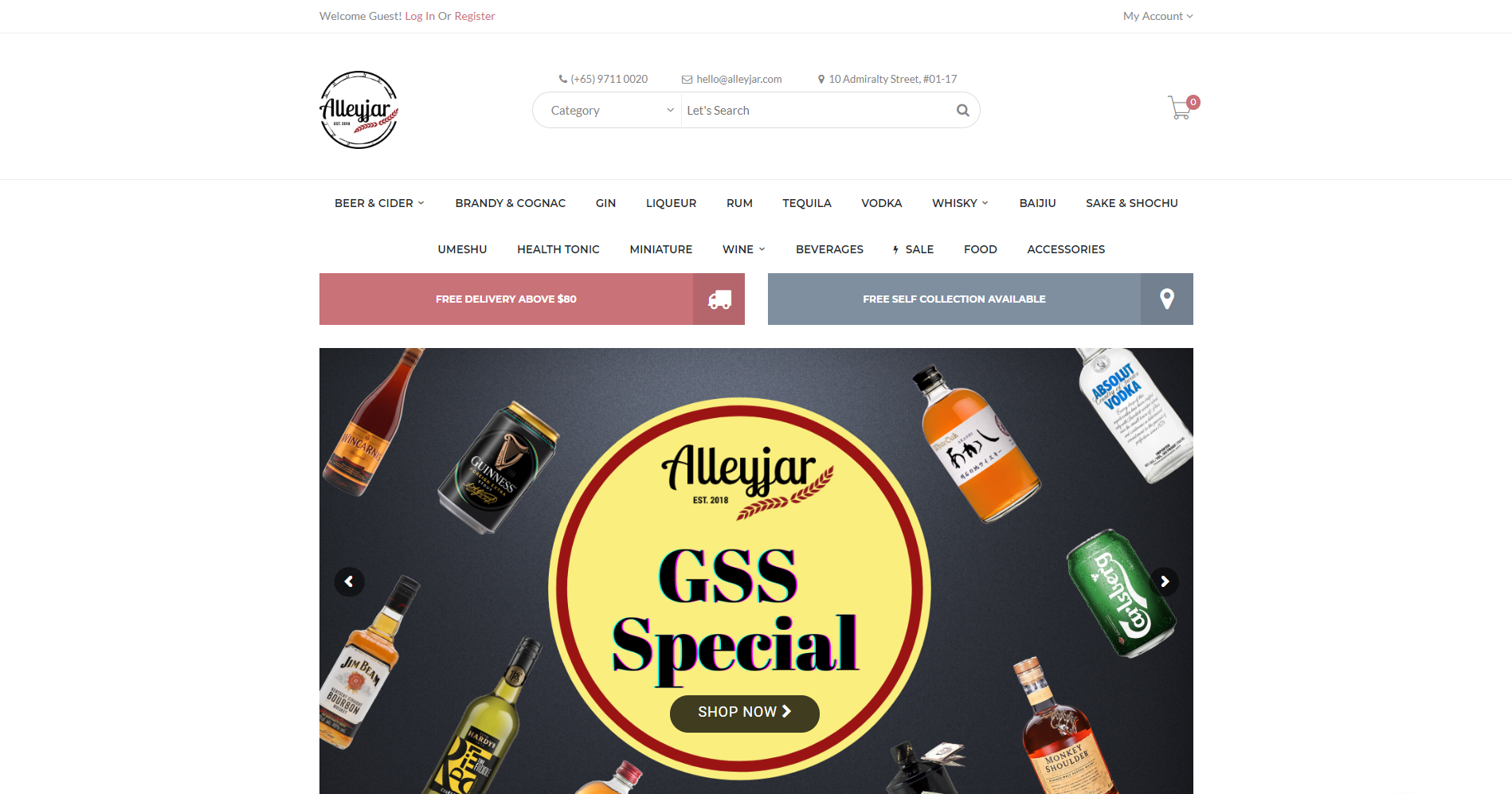 BEST FOR
Wide selection
PRODUCTS
BEER & CIDER
BRANDY & COGNAC
GIN
LIQUEUR
RUM
TEQUILA
VODKA
WHISKY
BAIJIU
SAKE & SHOCHU
UMESHU
HEALTH TONIC
MINIATURE
WINE
PRICING
Collection
WEBSITE
https://www.alleyjar.com/
ADDRESS
10 Admiralty Street, #01-17 Northlink Building, 757695
CONTACT DETAILS
(+65) 9777 1450
[email protected]
Alleyjar offers a wide selection of liquor for personal and bulk orders. If you're looking for the latter, they're more than ready to assist you.
Best of all, delivery is free for orders that go above $100. Check out their website to see what they have to offer.
Service Highlights
Free delivery for orders above $100
Free self-collection available
14. Liquor Store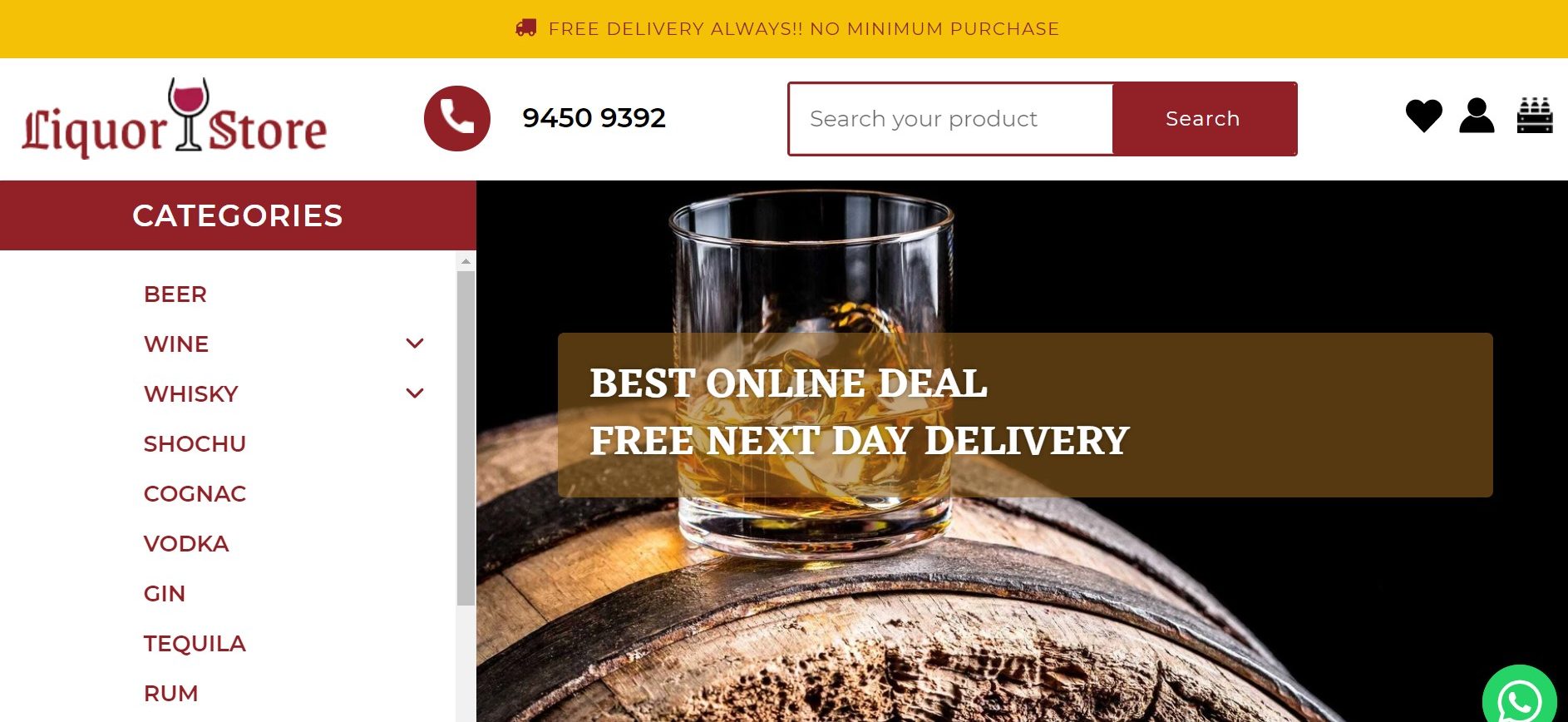 Liquor Store is an online alcohol delivery in Singapore that offers a large selection of alcoholic drinks, ranging from simple beers and wines, to pricier cognacs and strong vodkas.
What's more, is that as an online shop, everything is but one click away, so it makes purchasing from Liquor Store fast and hassle-free
You can definitely get all your needed drinks for get togethers plus other juices and snacks, only at Liquor Store.
Service Highlights
Drinks delivered at your doorstep
Offers in-demand drinks
Provides sale and discounted beverages
That concludes our list of the best alcohol delivery services in Singapore. The next time you run out of your favorite tipple or desperately need a 1 hour alcohol delivery in Singapore, just give these companies a call!
In case you need the spirits specifically to round out a special occasion, by the way, you may want to check out our piece too on the top cake delivery services in Singapore. These companies can deliver the perfect desserts or centerpieces to go with your celebratory drinks!
---
*Images are taken from each company's official websites/social media.