The 5 Best Aeropress in Singapore for Coffee Lovers
By Ryan Lim
There's nothing better than waking up to a delicious cup of coffee in the morning, especially one made with the best aeropress in Singapore. An excellent brewing kit is all you need if you want a perfectly brewed coffee upon waking up.
All coffee lovers know that the quality of coffee depends greatly  on the brewing method — which is sometimes dictated by the brewer used. Most would argue that an aeropress is the ideal brewer because it's the easiest to use.
So, if you're looking for the best aeropress in Singapore, today must be your lucky day. We just made our list of the top brewers on the island that every coffee lover would love to get their hands on!
Before that, we'll share a few things that every aeropress owner should know. Knowing such things will help you brew the best cup of coffee that you've brewed on your own.
Things Every Aeropress User Should Know
If you're a novice coffee brewer, there are some things that you should know in order to produce a perfectly balanced cup of coffee. It's ideal to start with an aeropress because it's the easier kit compared to the pour-over and French press.
Anyway, let's now go over some of the few things that all aeropress users should know.
1.   Stop Plunging After Hearing It "Hiss"
A lot of people would agree that the hissing sound is an indication that one should stop plunging. Otherwise, you will damage the taste of the coffee.
The "hissing" sound is produced when the aeropress gets pressed onto the coffee grounds, indicating that you're at the stage of squeezing the last extracts from the coffee beans. Anything beyond that stage will make your coffee taste terribly bitter.
2.   It Can Be Used Anywhere
If there's a brewing kit perfect for travellers, it would have to be the aeropress. It's made from food-grade polyurethane rubber, so it wouldn't be easy to break it.
In fact, a lot of backpackers, hikers, and travellers prefer to use it because it's extremely easy to use outdoors compared to other brewer methods.
This is because where other brewers rely on gravity to work, the best aeropress in Singapore only needs pressure from the owner.
3.   It Cannot Brew True Espresso
If what you want is the taste of espresso made by speciality cafes, then you might not get that with an aeropress. It simply doesn't have the power that bigger espresso machines have.
Most espresso machines are capable of generating 10 bars of pressure to create an espresso, while an aeropress can only generate up to 0.75, significantly lesser than the former.
However, that's understandable, because an aeropress is not a machine. It also doesn't mean that every brew made with an aeropress will be bad.
4.   Its Hexagon-shaped Funnel Has Many Uses
It may look like nothing but mere design, but an aeropress's hexagonal funnel has multiple uses, on top of making sure that flavours from the coffee beans are properly extracted.
For one, its hexagonal funnel allows it to fit inside most mugs safely, allowing you to press directly into the mug without a hassle.
More than that, its shape also helps in storing the aeropress anywhere because of its small width and tall height.
5.   Reusable Metal Filters Are Highly Recommended
On top of being the more practical option, a reusable filter can make better-tasting coffee than the disposable ones.
For one, it allows a very small amount of ground coffee beans to enter your coffee mug, unlike when using flimsy disposable filters.
Another reason is that metal filters allow the coffee's natural oils to slowly penetrate through the holes, resulting in a cup of coffee with full flavours and aroma.
The Best Aeropress in Singapore
And that's it for our tips for all aeropress users. Make sure to remember all these so you can maximise the use of your brewing kit and, at the same time, produce a perfect cup of coffee every day.
Ready to see our picks? Check them out!
1.   Delter Coffee Press
Best for Durability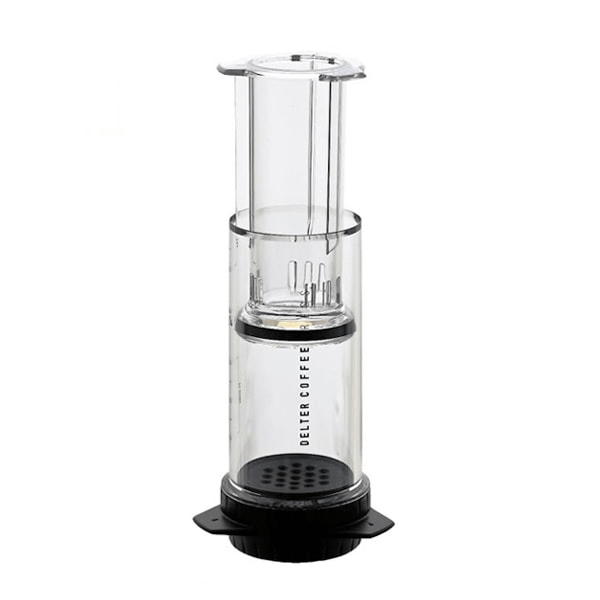 Price: $63.19
If you want an aeropress that can withstand that test of time, then look no further than the Delter Coffee Press.
We consider it the best aeropress in Singapore because it's durable, lightweight, and portable, perfect for those who like to brew their own coffee wherever they go.
More than that, it comes with a jet seal that prevents any form of agitation during brewing, so there are lower chances of brewing a terrible cup of coffee. Even if you're not an expert in brewing, you can still make a great cup of coffee with the Delter Coffee Press.
Every order of the Delter Coffee Press includes a silicone doser, tritan brew chamber, silicon jet seal, polypropylene cap, and a pack of disposable filters.
Above all, it's extremely easy to clean because it weighs less than 250 grams. You'll need less than a minute to clean it!
Highlights
Lightweight
Durable design
Silicon jet seal
Easy to clean
Customer Reviews
Here's what a customers have to say about the Delter Coffee Press:
"Tried to brew a few cups upon receiving the product. Need time to get used to the product because this is slightly different from Aeropress, of course if you are not an Aeropress user then it should be fine. This definitely creates a less bitter coffee, and it enhances the aroma of acidity. With different timing and pressure applied, the coffee you get also tastes differently. There is no perfect way to brew coffee with this because anyone can find their own way of brewing to suit their personal preference. Good product"
2.   Portable Aeropress Coffee Press
Best for Affordability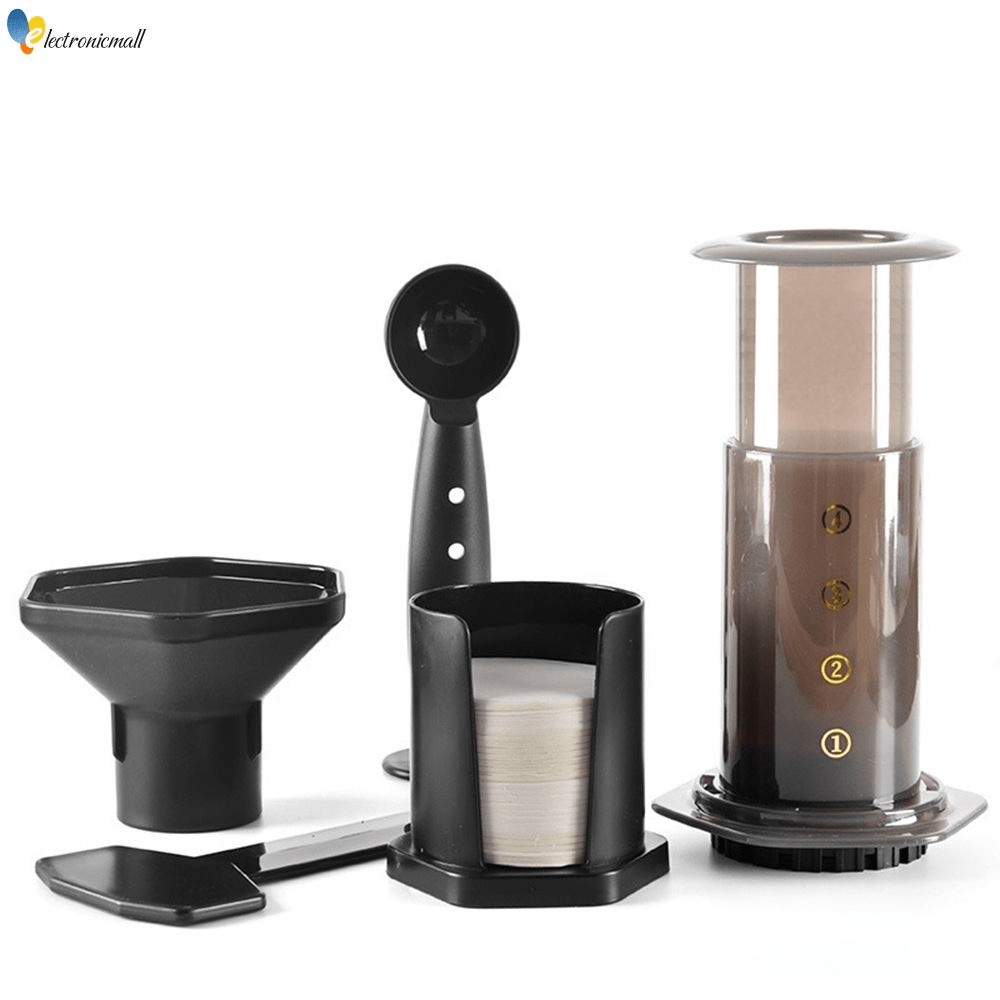 Price: $34.37
If you're looking for a more affordable option, we highly recommend checking out the Portable Aeropress Coffee Press. It's definitely one of the more competitively priced aeropress options in our list — which is why it's the best aeropress in Singapore for coffee lovers who are on a tight budget.
What's more, its doser, brew chamber, and jet seal, and all the other tools that come with it are made from eco-friendly and non-toxic materials. It may be cheap, but buyers can guarantee that they're not wasting their money on a run-off-the-mill coffee brewer.
As per customer reviews, a lot of buyers have also mentioned that the brew chamber and plunger appear to be durable. Imagine getting your hands on an aeropress at this price point that doesn't break too easily!
Highlights
Affordable price
Free disposable coffee filters
Made from eco-friendly materials
Customer Reviews
With an average rating of 4.8 on Lazada, it's one of the most well-reviewed brewers on the website. Majority of the comments are about its affordable price, fast delivery, and some coffee-related freebies.
As mentioned earlier, most customers were also impressed with how durable and high-quality it is despite being a cheap option.
3.   Aeropress Go
Best for Overall Value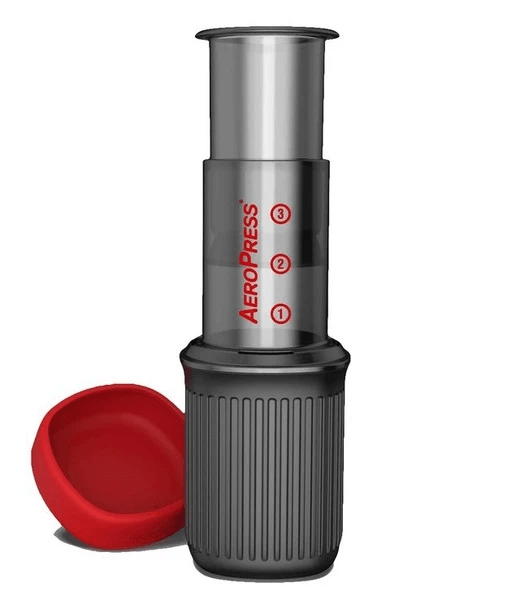 Price: $69.00
It's no secret that Aeropress Go is considered one of the best aeropress in Singapore, adored by many coffee users on the island. It may be slightly more expensive than our first few picks, but it guarantees that your coffee will be perfect every morning.
What's more, it's carefully engineered to meet the needs of both novice and expert coffee brewers. So, even if you don't have the skills of a professional coffee brewer, you will still get the taste of a perfectly brewed cup of coffee.
Some of the brews it can make are Americano, espresso, and even cold brew coffee. It's also compact, lightweight and portable, making it the ideal coffee brewer for those who like travels and adventures.
Lastly, it's made from premium and quality materials, so rest assured that it won't break down easily even if you use it multiple times a day.
Highlights
For beginners and pro brewers
Durable and quality materials
Lightweight and portable
4.   AeroPress Coffee Espresso Maker
Best for Fast Brewing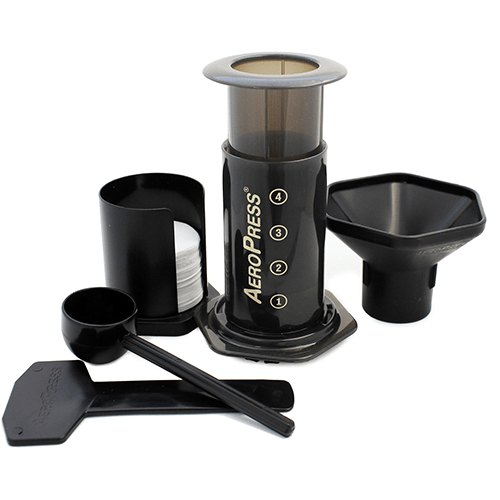 Price: $27.28
If you don't like coffee brewers that brew slowly, the Aeropress Coffee Espresso Maker comes highly recommended. It can brew a perfect-tasting cup of coffee in no more than 1 minute — which is why we call it one of the best aeropress in Singapore.
What's more, no need to worry about brewing a bitter and acidic coffee because it's designed to prevent overbrewing. Every brew you make with the Aeropress Espresso Marker will always taste better than your previous brew!
Above all, it's made from durable and eco-friendly materials. It can last for years even if used multiple times every day.
Highlights
Less than a minute of brewing
Durable materials
Compact and portable
5.   Delaman Portable Hand Press 
Best for Easy Set Up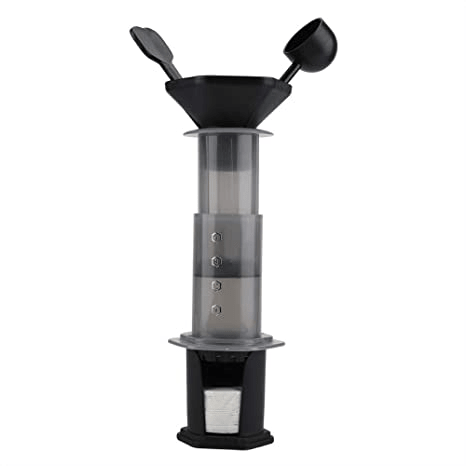 Price: $19.70
If you don't like a coffee brewer with a complicated setup, we strongly suggest checking out Delaman Portable Hand Press. It's the perfect option for those who don't have the patience to set up a coffee brewer.
Besides that, the Delaman Portable Hand Press won't take more than a minute in brewing your coffee! Unlike other aeropress, this one will make sure that you'll get a taste of your coffee in no time.
And of course, as its name suggests, it's extremely portable and lightweight. It will allow coffee lovers to have their cup of coffee wherever they are.
Highlights
Fast brewing
Convenient setup
Lightweight and portable
And that's it for our list of the best aeropress in Singapore. If you've tried any of these brewers before, share with us what it's like using them!
And if you also need a coffee grinder (because freshly ground coffee beans are always better than pre-ground ones), check out our list of the best coffee grinders in Singapore. That way, you'll have everything you need for your caffeine fix daily!