11 Best Essential Oil Diffusers in Singapore Reviewed
Do you want to add more character to your home? If so, getting the best essential oil diffuser in Singapore can be one of the smartest decisions you've ever made!
Essential oils have a lot of benefits such as relieving stress, boosting the immune system, repelling insects, and more! They're also a more natural and safer alternative to traditional air fresheners, and they require only a diffuser for maximum reach and effect.
That said, there are so many essential oil  aroma diffusers on the market that picking one can be overwhelming. That's why we've listed some things that you need to look out for.
Things to Consider When Buying an Essential Oil Diffuser
Essential oil diffusers have different types, sizes, etc. We'll go over them one by one here so that you have a better idea of what kind of diffuser suits you the most.
1. Types of Diffusers
First of all, you must choose the type of diffuser that you want to use at home. Each type varies in how they break down and scatter the oils into the air.
It's the most common type of diffuser in Singapore and to use it, you need to mix some drops of essential oil with a large amount of water. The mixture will turn into a finely scented and absorbable mist.
This type can also act as a humidifier, giving moisture to the air and eliminating the dryness around your home.
Since the oils are diluted with water, this type usually doesn't produce absolute concentration but the scent is strong enough to remove unpleasant odours.
It features a breakdown process similar to the ultrasonic type. However, it heats up the water, which is the main reason it's not as effective as the other types. You'd need to use more essential oils to get the best out of it.
Therefore, there aren't a lot of brands that offer this type but if you see one, you might want to look closely into its features before making a purchase.
When it comes to oil concentration, this type of diffuser in Singapore is the most powerful. It doesn't require you to make a mixture with water, as you only need to add the essential oil bottle to the device and through the atomiser, it'll automatically disperse into the air.
It provides a high-fragrance intensity and also exhausts the oil faster than the other types so it's advisable to use it for only short spans of time.
For those who prefer a more affordable option, you may try using the evaporative diffusers. This type uses a fan to break down the oils and disperse them into the air.
Like the nebulizer, it also disperses the oil quickly. You may also be bothered by the noise caused by the fans but it can still be a worthy purchase considering its cost-effectiveness.
2. Oil Type Compatibility
If you have a particular essential oil that you always use, you need to check first if it's compatible with the diffuser that you're eyeing.
Each essential oil is made up of different thicknesses and chemical compositions. Some of them can corrode the metal/plastic parts of a diffuser or leave a residue that can clog up the device.
So make sure to read the manufacturer's specifications about the types of essential oils that you can use on the device.
3. Room Size
You must also ask yourself where you want to place the diffuser.
For large spaces like living rooms or work areas, you'd have to buy an ultrasonic type with a big water tank — a nebuliser or evaporative diffuser would also be fine because these types can disperse a lot of oil within a short period of time.
However, if you already have one with a small tank, you can simply increase the amount of oil to produce a higher scent intensity.
If you're planning to use it for small rooms like bedrooms or offices, it's highly advisable not to use an evaporative diffuser, for the noise from the fan might be an annoyance or distraction.
4. Minimal Cleaning
As you add more and more essential oils to the diffuser, there's a high tendency of oil residue being left on some parts of the device. Therefore, you also need to make sure that the diffuser requires minimal cleaning so you don't have to spend so much time just to fully clean it.
You also don't want to use harmful cleaning solutions, so read the manufacturer's guidelines first before doing anything.
5. Safety Features
All electronic devices must also guarantee secure and safe use, so you should always check if the diffuser has an auto-shutdown feature.
This function will shut off the power of the device once the water level becomes too low. This will prevent damage, especially for the small diffusers that can't last all night.
Best Essential Oil Diffusers in Singapore
Now that you know the most important factors that you need to consider before buying an aroma diffuser, let's now take a look at some of the most recommended and best essential oil diffusers in Singapore!
1.   Muji Aroma Diffuser
Best for Overall Value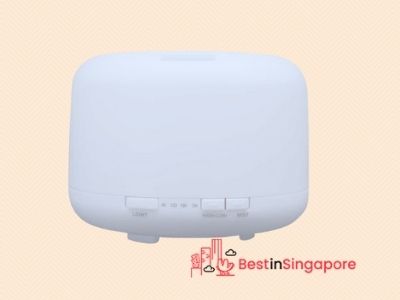 Price: $89.00
The Muji Aroma Diffuser is a good option for large spaces due to its tank capacity and ability to produce cool, dry, and scented mist. This ultrasonic diffuser features adjustable settings that let you set the time mode, mist amount, and intensity.
It also creates a relaxing mood with its ambient glow. Most importantly, it's flame-free, so it's the best essential oil diffuser in Singapore for those with children and pets.
Highlights
Ultrasonic type
500 ml capacity
Automatic-shutdown feature
Maximum of 3 hours of operation
Customer Reviews
Many customers said that the Muji Aroma Diffuser can be the best essential oil diffuser in Singapore because of its flexible features. Here's a review from one of the customers:
"I've been using this everyday (sometimes twice a day) for the past 10 days and so far it's working perfectly. I isually just fill mine up to 100ml and leave it running using the "always on" function since it turns of automatically anyway once the water dries up. Some are saying that the mist jet is a bit weak, but to me it's fine. At 100ml of water with 3 drops of essential oil, it's doing a good job at spreading the scent. The night light function is a bonus too! It's so relaxing to watch and get to see the mist under the yellow light."
2.   Novita Aroma Diffuser NA600
Best for Small Spaces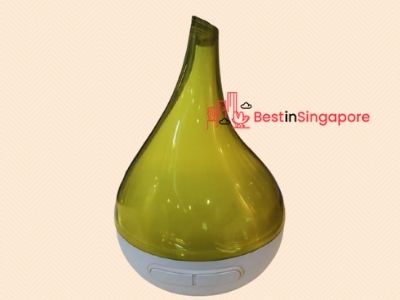 Price: $119.00
If you need an essential oil diffuser for your small or medium-sized rooms, the Novita Aroma Diffuser NA600 can be a great choice for you! It's also an ultrasonic type and it comes with a 200 ml capacity, which is enough for a bedroom or small workspace.
It features a stylish design with illuminating LED lights for aesthetic vibes. You can also use it as a night lamp and set it on sleep mode — you don't have to worry about a low water level warning because it has an automatic shutdown feature.
Highlights
Ultrasonic type
200 ml capacity
Automatic-shutdown feature
Maximum of 5 hours of operation
3.   Stadler Form LEA
Best for Wireless Operation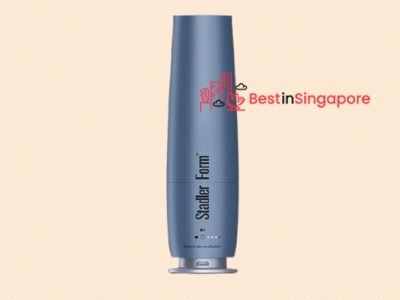 Price: $145.00
Unlike other essential oil diffusers in Singapore, the Stadler Form LEA features an advanced system that comes with wireless operation so you can place it anywhere at home. It's built with rechargeable batteries, making it energy-efficient and environmentally-friendly.
Moreover, it directly diffuses the fragrance from the essential oil bottle, providing a pure aroma around the room. Since it doesn't require a water and oil mixture, it's also easier and more convenient to clean.
It has an interval mode where you can keep it running for a long time with a 20-minute break. These excellent features are the reasons it has become the best essential oil diffuser in Singapore for many users.
Highlights
Nebulizing type
Rechargeable batteries
Interval mode
Light sensor – daylight mode
Customer Reviews
Most customers loved the portable design of the Stadler Form LEA. They also mentioned its efficient operation.  A customer left this feedback:
"I like this diffuser because it can easily be packed for trips without fear of it breaking. Just two pieces. It works great too."
4.   Nanum Tulip Car Aroma Diffuser
Best for Car Use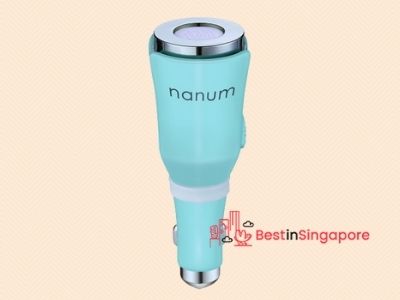 Price: $10.31
For the car owners out there, you'll surely love the Nanum Tulip Car Aroma Diffuser! It's an ultrasonic type that features an auto ionic car air purifier where you can add your favourite essential oil and eliminate unpleasant smells inside the car.
It can last up to 2 hours, making it the best diffuser in Singapore for those who are always on the road.  It requires a cigarette lighter receptacle to operate (which is common in all cars) and you can also use it through a USB outlet.
This ultrasonic diffuser in Singapore doesn't also cause a lot of noise, so you can have a delightful road trip experience!
Highlights
Ultrasonic type
USB installation
1 L capacity
Humidifying capacity: 30ml/h
5.   Baseus Car Aroma Diffuser
Best for Humidifier Functionality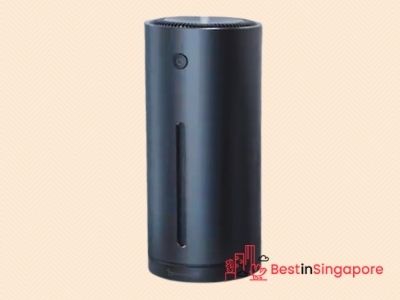 Price:$26.69
Baseus Car Aroma Diffuser is an ultrasonic type that also acts as a humidifier. Whether you need it at home/office or even for your car, you can use this best essential oil diffuser in Singapore!
It features a two-gear spray mode for better control and with its nano-fine spray, it increases humidity inside the car to moisturize the air and protect the leather interior.
Compared to other diffusers that need frequent water refilling, this one doesn't require water addition every day — you only need to change the water once every 7 days.
Highlights
Ultrasonic type
300 ml capacity
Automatic shutdown feature
Two-gear spray mode
6.   InnoGear Essential Oil Diffuser
Best for Timed Diffusal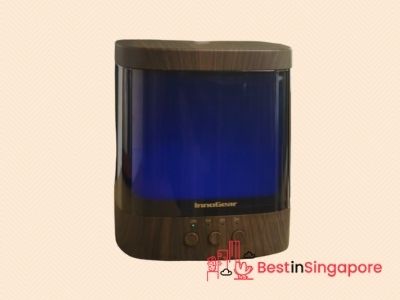 Price:$27.99
InnoGear, now a market-leading innovator of Diffusers and LED lighting products, is serving their customers with the latest innovations that will surely make your lives easier and comfier. It is their goal to look for products that will greatly help their customers in their everyday lives.
With their main goal in mind, they tirelessly look for different products that can connect with the daily lives of their customers. They continuously think of new ideas that can make routine tasks easier.
They are also partnered with other innovators, to further give a wider set of options for the customers. They prioritise their customers above everything, that's why they are willing to go the extra mile.
Highlights
Latest Innovations
Diffusers and LED Lighting Products
100% Pure Essential Oils
No Additives, Fillers, Bases or Carriers added.
7.   Flo Diffuser Home
Best for Decorative Diffuser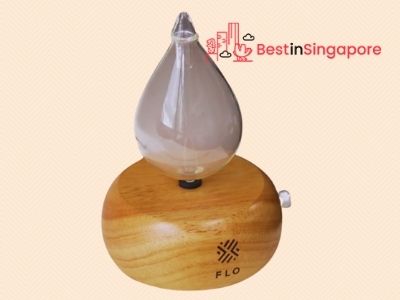 Price: $168.00
Through its passion and expertise in aromatherapy, FLO envisions improving the well-being of its clients. This company is ever persistent in its efforts to come up with the most natural aromatherapy products in the country.
The Goodnight Essential Oil Blend produced by FLO will not only captivate you with its scent. Its aroma proves to be relaxing and therapeutic to the nervous system.
Reward yourself and your loved ones with the calming effect of FLO's Oil Blends. Not only will it contribute to improving your health, but it will also uplift your mood significantly.
We think this is the best essential oil diffuser in Singapore for those who want an aromatic relaxing experience.
Highlights
Relaxing Scent
Pure Essential Oils
8.   Aroma Diffuser (SH106)
Best for Humidifying and Purifying Diffuser
Price: $88.00
The Sense House's Aroma Diffuser (SH106) is the perfect diffuser for a natural theme. It features a lightwood base with an adjustable LED light.
Its mist mode can be set to various settings. It has continuous and intermittent mist mode, as well as high and low mist mode.
The LED light has a color-therapy mode, perfect for calming onlookers of this item. This diffuser in Singapore also comes with 6 months warranty.
Highlights
Ultrasonic technology
Humidifying and purifying
Color-therapy mode
Adjustable mist mode control
9. BsaB Diffuser
Best Minimalistic Design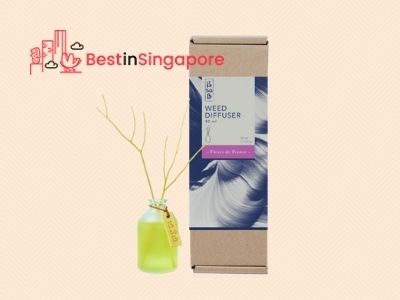 Price: $49.90
Home essential pieces are always more meaningful when crafted thoughtfully with care. With this Bsab diffuser, you get a rustic and minimalist elegance with its simple design.
It comes with three simple pieces; a dainty clear vase and two natural twigs. The best part is that the whole design is eco-friendly and sustainable.
The vases used for this design are made from recycled glass bottles. Even the packaging is made from recycled materials. Even the ink used are eco-friendly. So enjoy the calming scented air in peace with the knowledge that nature was treated well for this diffuser.
With these best essential oil diffusers in Singapore, you can now have a cleaner and healthier environment at home!
Highlights
Natural Fragrance
6-9 sqm coverage
50 ml diffuser
1-2 months Diffusion duration
10. Lemongrass Reed Diffuser
Best Reed Diffuser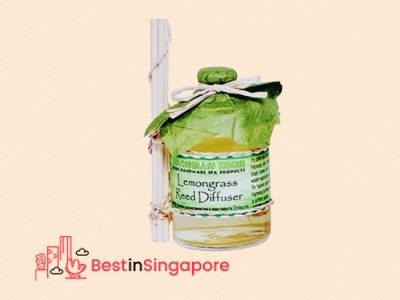 Price: $31.83
Not all essential oil diffusers in Singapore are electric. Bring nature's earthy scent into your home with Lemongrass House's lemongrass reed diffuser.
Unlike oil burners, this reed diffuser makes it so that the user is treated to the wonderful scent of lemongrass without the bitter after scent of flames that typically come with oil burners. 
Another thing we like about the lemongrass reed diffuser is that it comes with plenty of reed diffuser sticks with every package. 3 sets of 5 sticks to be exact.
Lastly, the brand is also environment-friendly. Those who enjoy this diffuser need not purchase a new bottle, and instead can buy the refill, which comes in a larger size.
Highlights
3 sets of reed sticks per purchase
120mL and 500mL (refill) sizes available
11.   Lavender Reed Diffuser
Best for Relaxation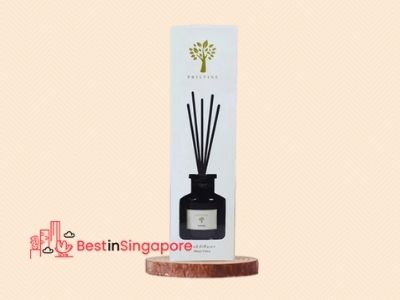 Price: $17.90
Lavender is a well-known flower due to its relaxing properties. Pristine Aroma's Lavender Reed Diffuser is a product that was created with that in mind.
It's one of their most popular fragrances for the home, and for good reason — it's known to effectively help its users sleep. You're sure to feel rejuvenated after waking up.
Its elegant design is guaranteed to fit in well with any interior theme. If you're interested, make sure to check out their shop through the provided link to get 5% off your next purchase.
Highlights
Induces relaxation
Perfect for getting a good night's sleep
Long-lasting scent
Elegant design
Aside from these, you might also be interested in buying one of these best humidifiers in Singapore. These can help you further purify the air around your place.