8 Best Knee Braces in Singapore: A Buying Guide
When you do your daily fitness routines or favourite sports, safety must be your top priority. And for a lot of aerobic sports and routines, one of the best ways to keep yourself protected is to wear the best knee brace in Singapore.
However, with the overwhelming list of options, it might take you a long time to find the right one.
To help you figure out the most suitable type for your needs, we've listed the essential factors that you need to consider before getting a knee brace.
Things to Keep in Mind When Buying a Knee Brace
Wearing a knee brace that doesn't exactly fit your knees or match with your needs will just cause you discomfort or even possible injury. That's why you must know first which type, size, and style are the right for you.
Let's go over those things quickly!
1. Types of Knee Brace
Knee braces are categorised into different kinds. Each type is used for specific purposes such as injury protection, arthritis management, and safety gear.
Here are the different types:
If you've been injured in the past, it's advisable to wear this kind of knee brace. It includes metal frames and hinges that stabilise the knee and control its motion to prevent another possible injury.
Athletes often wear this type of brace to protect their knees during contact sports like football. These braces are also used by those who are suffering from a knee ligament tear.
This type is mostly recommended by doctors for a faster recovery process. It can limit the movement of the knee to keep it stable while it's healing.
For those who have arthritis or other health conditions that cause chronic knee pain, unloader braces are the ideal choice to relieve and manage the pain.
An unloader brace has the capability to unload the weight from the damaged area and shift it to the stronger part of the knee.
2. Styles of Knee Braces
Knee braces also come with various styles that serve certain purposes. It's not just about fashion! Take a look at the options:
This is the most common style. You can easily slip these right over your knee and they also fit comfortably under clothing.
It provides knee compression to help manage the swelling of mild knee pain or to minimise arthritis.
This style is also easy to wear and take off as well. It provides more support compared to the knee sleeves, making it a good option for athletes who are suffering from mild to moderate knee pain.
Since it's non-bulky and lightweight gear, it can also be used during training. Again, this is why athletes favour it.
This style is often used by patients and athletes for a higher level of protection. It's also the most recommended to use after surgery because it'll keep the proper alignment of the knee as well as help heal and prevent further injuries.
If you're suffering from knee pain because of runner's or jumper's knee, a knee strap or a knee guard is an excellent solution that'll put compression on the patellar tendon. This can help to minimise the pain and avoid possible injuries.
Closed and Open Patella Braces
Braces with an open patella provide relief of knee pressure and additional knee cap support for proper movement and tracking.
On the other hand, closed patella braces offer knee cap compression with the same pressure as the rest of the knee. They offer extra support as well.
3. Levels of Protection
You must also check the protection level of each knee brace. There's a total of 3 levels:
This range may offer the least support but it's the most flexible — it's usually found on knee sleeves. It's a good option for pain relief and mild to moderate support during active sports.
Wraparound braces and knee straps have level 2 protection. They might not be too flexible but they provide more protection with limited movement.
You'll have mild to moderate support for pain relief related to ligament tear and instabilities.
Braces with level 3 protection are much heavier but they offer maximum support to help you recover from surgery and prevent further injuries. This range also provides pain relief and absolute support for moderate to major conditions.
4. Size
The size mainly depends on the type of braces that you need, so it'd be wise to refer to the sizing chart and product manual to know which one perfectly suits your size.
If your measurements fall in between sizes, it's highly recommended to choose a larger size.
Best Knee Braces in Singapore
After taking note of the essential factors mentioned above, it's now time to see some of the best knee braces in Singapore!
Listed below are the most recommended selections designed for certain sports, fitness activities, and pain management.
1.  Bauerfeind Sports Knee Support
Best for Lightweight Support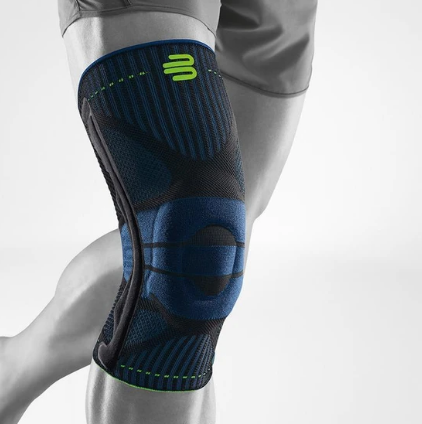 Price: $145
If you're looking for a knee guard for running in Singapore, you may want to take a look at this.
The Sports Knee Support improves the movement of the knee during sports and protects against overloading. An anatomically contoured pad surrounds the knee cap, capturing and dispersing pressure peaks. During movement, the pad and knitted fabric massages the connective tissue and muscles.
The two pressure points and lateral wings deliver targeted stimuli – boosting the metabolism and triggers positive sensorimotor feedback. The stabilising muscles are activated more quickly, thus improving joint coordination. This provides effective protection against stress and injury risks.
The knitted fabric of the Sports Knee Support is similar to a fine net made of an airy mesh and consists of breathable, hard-wearing material. This makes support especially lightweight, comfortable to wear, and practical for sports. Its anatomic contouring and adhesive zones guarantee a secure fit and maximum freedom of movement.
This could be the best knee support for running and other casual exercises. 
Highlights
Innovative pad for absorbing pressure peaks
Pressure points for positive sensorimotor feedback
Improves circulation – Our highly elastic knitted fabric with a carefully regulated level of compression
Anatomically shaped for a secure fit and freedom of movement
Light & airy knitted fabric makes it extremely comfortable to wear
Durable & easy to clean
Available in different colours and sizes
Customer Reviews
Customers were highly impressed by the great knee support of Bauerfeind Singapore. They said that the product is excellent quality and function well.
"I've been using them for over a year now and they're still as good as new. Excellent quality and function. Will buy again if they wear off before my knees do."
2.   Mizuno Team Knee Pads
Best for Volleyball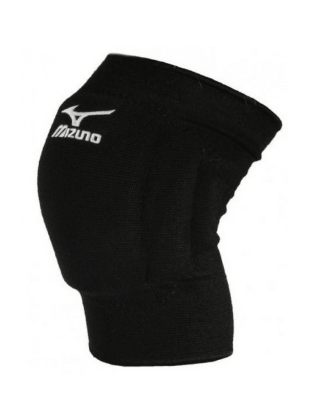 Price: $35.00
Mizuno Team Knee Pad is well-known outer gear for most volleyball players. It's specifically tailored for the athletes to protect their knees during an intense game.
It features a contoured design for comfort and flexibility, allowing you to move freely and have full protection at the same time.
As the volleyball players do slide footwork, the knee brace covers the front, side, and lower knee, keeping them safe from slide abrasions and bruises — which is why it's the best knee brace in Singapore for volleyball players.
Highlights
Prophylactic braces
Knee sleeves style
Level 1 protection
Contour protection design
Customer Reviews
Customers were highly impressed by the great knee support of Mizuno Team Knee Pad. They said that no matter how intense the game is, the knee brace was able to stay in place all the time.
Here's a review from one of the customers:
"I have used these knee pads for about four years now, and I will never buy anything else. I am a shortstop, so I am diving and one my knees quite often and I haven't worn or even seen a product that protects my knees as well as this. Like all knee pads, they get a little uncomfortable if they are worn for a long period of time, but trust me, it's worth it. I will admit, they took a little while to get used to when I first started wearing them, but now that I am used to them I really don't feel them. The knee pads stay in place really well, and they stay pretty dry for me. Overall these knee pads are the only knee pads I will ever wear for now on, and they were worth every penny!"
3.   McDavid 404 Knee Sleeve
Best for Running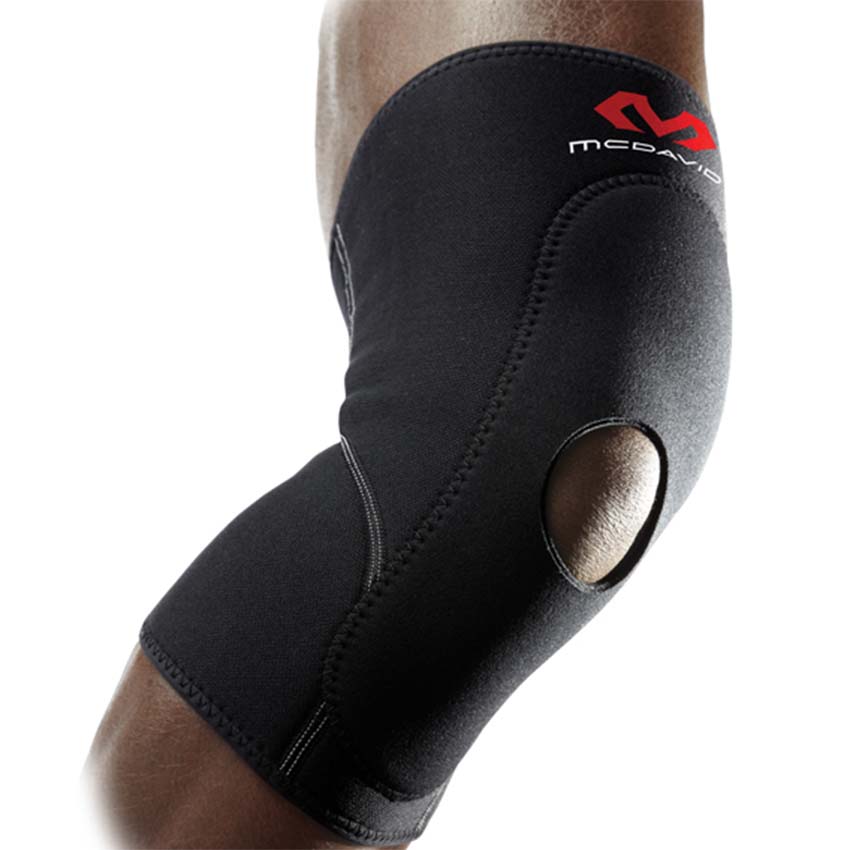 Price: $23.01
If you enjoy participating in marathons and need a knee support for running in Singapore, you may consider the McDavid 404 Knee Sleeve. Since it has an open patella style, it provides compression and comfort to relieve the mild pain around the patella area.
As you run for long hours, you can be sure that it won't easily slip down your leg because it has an excellent fit. Heavy-duty nylon fabric is also added to its material for long-lasting use.
Moreover, it has an anterior path that reduces the pain from continuous running. With these features, it has become an essential item and the best knee brace in Singapore for most runners.
Highlights
Unloader braces
Open patella brace style
Level 2 protection
Thermal/compression therapy
Seamless design
Customer Reviews
Athletes and active enthusiasts loved the McDavid 404 Knee Sleeve because of its therapeutic features and great knee support.
"I am a daily runner & originally bought the braces to help heal a sore knee. Since my knee has healed I bought a 2nd pair & now wear them every time I run to reduce knee injury probability."
4.   McDavid 429 Knee Brace
Best for ArthritisBest for Arthritis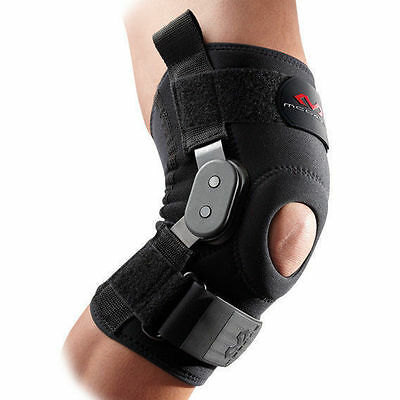 Price: $109.00
If your ails are making you feel like you need a knee guard for knee pain, this could be helpful.
The McDavid 429 Knee Brace features a higher level of protection that provides excellent pain relief and management for arthritis. Its polycentric hinges give maximum support to the complex knee joint while allowing free movement.
If you need knee support for faster recovery from surgery and to reduce the risks of another injury, this can also be the best knee brace in Singapore for you.
Highlights
Unloader/functional braces
Hinged brace style
Level 3 protection
Polycentric hinges for maximised support
Top and bottom straps for a personalised fit
Customer Reviews
Customers shared that despite the hinges, they still felt comfortable while wearing the McDavid 429 Knee Brace. They also said that it can truly help relieve chronic knee pain due to its patella support and thermal compression. A customer wrote this review:
"Very supportive! I was unable to play racquetball for over a week so I got this to help and it certainly did! If you are having issues with lots of lateral movement (like tennis/racquetball, basketball, etc) this will be very helpful. Only thing is that I was on the line between medium and small. I went with the medium based on reviews. However, after 2 weeks, the brace stretched out a bit and is now big. I have to tighten it a few times per game. Not a deal breaker for how good this is but something to keep in mind."
5.   Leatt 3DF Hybrid Knee Brace
Best for Motocross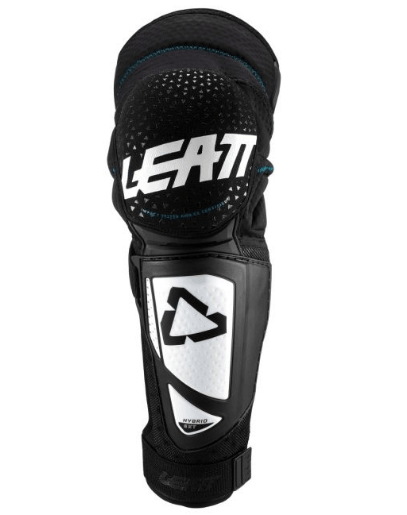 Price: $167.72
For the motorbike riders, driving through rough roads can be a risky adventure. To protect yourself from possible injuries, you should consider getting the Leatt 3DF Hybrid Knee Brace.
Its hard shell, extended length, and impact foam can guard your knees with absolute protection while allowing free movement. It features a slimmer knee pad for a solid fit and ventilated sleeve for extreme comfort.
We think this is the best knee brace in Singapore for adventurers and those always on the go.
Highlights
Prophylactic braces
Knee strap style
Level 2 protection
Soft knee guard with hard shell shin sliders
Ventilated impact foam
Customer Reviews
The Leatt 3DF Hybrid Knee Brace has become the best knee brace in Singapore due to its slim yet highly functional design. Here's feedback from a customer:
"Very secure & form-fitting, stays in place with silicone strips & velcro straps. Hard plastic over soft pads make the best combination. Very lightweight. The only downside is that you have to remove shoes to put on or take these off. But that's a minor inconvenience, especially since they are very comfortable. Better fit, stays in place firmly & cooler than than Fox Launch Knee/Shin guards (both are open with some mesh around the back of your leg). This is what I want to wear in case of a hard crash. Make sure to measure your legs for fit!"
6.   Mueller Knee Support
Best for Yoga Exercises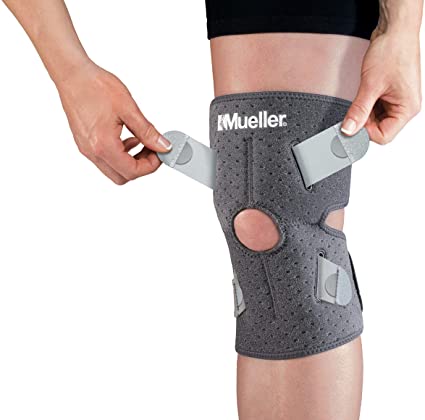 Price: $37.78
At first glance, yoga may seem to be a simple workout at home, but without any body support, there's still a chance of injuring yourself when doing yoga. Whether you're trying to do basic or advanced movements, wearing the Mueller Knee Support can help you protect your knees and prevent body pains.
It also provides moderate support for weak, injured, or arthritic knees. Aside from yoga, it can also be used during other physical activities or sports. So this is the best knee guard and knee support in Singapore for everyday mobility and exercises.
Highlights
Rehabilitative braces
Knee strap style
Level 2 protection
Adjustable compression
Lightweight and breathable material
Customer Reviews
Many consider the Mueller Knee Support to be the best knee brace in Singapore because of its adjustable fit and durability.  A customer gave this review:
"This knee brace was so perfect for me, I turned around and bought another one as back up. I am a petite small boned adult and always have trouble finding braces that fit. This brace is just what I needed and searched for. It adjusts on several levels so it allows the user to customize the support as needed. And it FITS! Great Product and Great Company. They make functional and durable products. Please keep carrying their products. Definitely will buy again !"
7. McDavid 6446 Hex Leg Sleeves
Best for Soccer And Basketball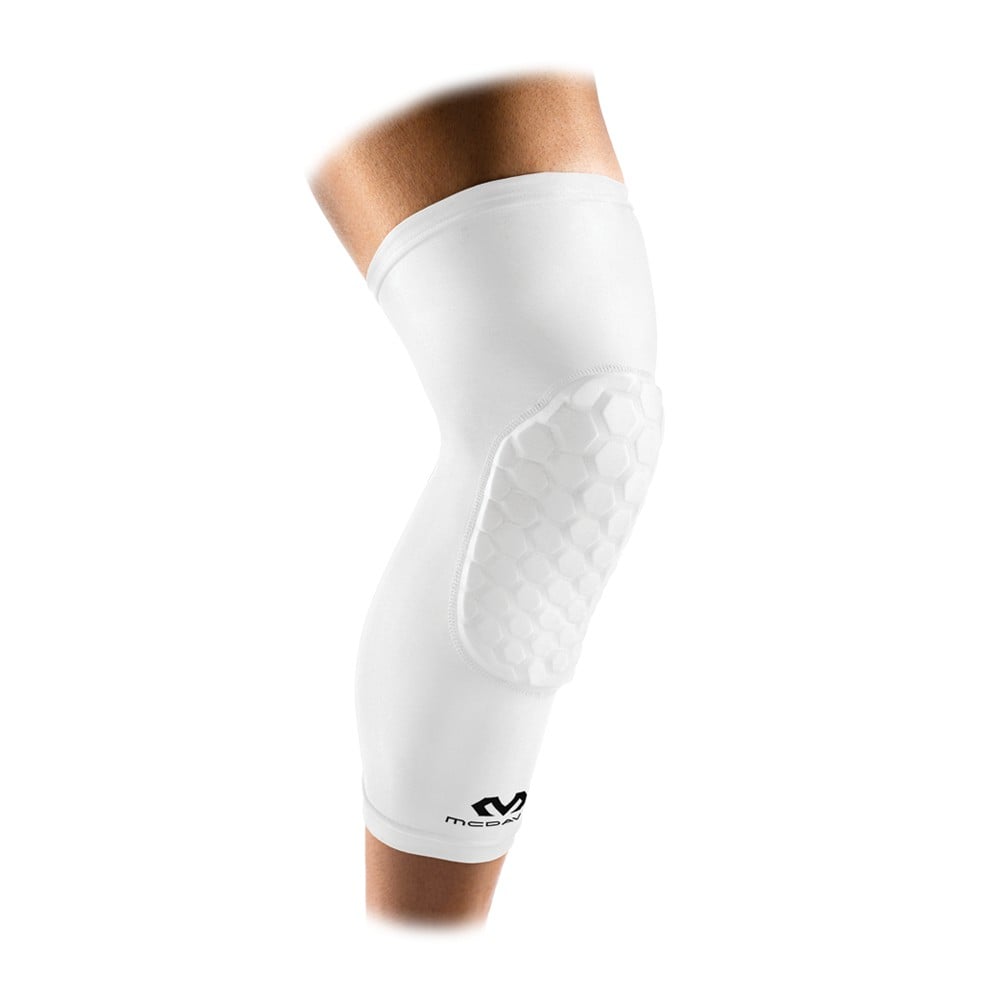 Price: $55.00
For those who need a knee brace in Singapore for on-court or in-field protection, you'll certainly love the McDavid 6446 Hex Leg Sleeve. It's made with nylon and spandex materials with polyethene foam to fully secure your knee from injuries.
It has a cool and dry feature, so despite being covered in sweat, you can still be comfortable all throughout the game. Its extensive length also adds more protection against cuts and scratches.
Highlights
Prophylactic braces
Knee sleeve style
Level 1 protection
Cool and dry feature
Customer Reviews
Many customers praised the McDavid 6446 Hex Leg Sleeves, saying that it's indeed one of the best knee braces in Singapore because of its efficient length and full knee support provided by the foam. A customer wrote this feedback:
"Exceptional quality product. Very comfortable. Knee protection plus muscle compression – minimising tiredness and assisting in recovery. Will definitely buy another set, when the time is due."
8.   Rigorer Upgraded Gel-padded Knee Brace with Steel Stays
Best for Rigorous Activities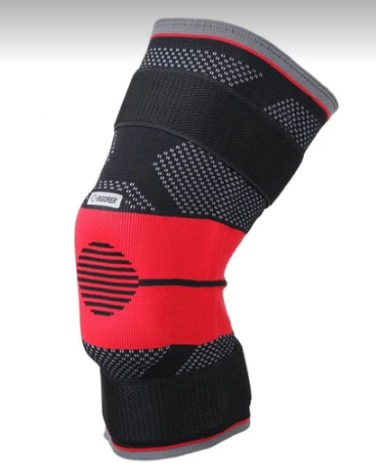 Price: $25.35
The Rigorer Gel Padded Knee Brace provides athletic individuals with optimal knee support in the midst of excessive physical activity. Very convenient and easy to wear, it definitely is a must-have sports accessory.
This knee brace is constructed with high quality fabric that provides both protection and comfort to the wearer. It also sports different features such as silicone pads and steel springs that contribute to stability and absorption of pressure.
Spare your knees from the possibility of injury by availing the Rigorer Gel Padded Knee Brace. It is comfortable, flexible, and highly durable.
Hands down the best knee brace in Singapore for athletes and active ones.
Highlights
Available in different sizes
High quality fabric
Have an Additional Strap and Superior Support
Fits both left and right
Customer Reviews
Athletes and active enthusiasts loved the RIGORER UPGRADED GEL-PADDED KNEE BRACE W/ STEEL STAYS because it doesn't slip easily and its comfortable.
"It arrived quickly and in great shape. Always facing knee pain problem ever since I hit the uncle age. so brought it so that I can continue in badminton and basketball, now I am completely pain free. Would not believe it if I hadn't experienced it myself! Giving me the assurance and trusting that my knee won't give out or emit sharp stabs of pain. I think two main features of this brace are making the big difference: first, it doesn't slip easily so it stays in place to provide support. Second, since my pain results from sideways movement, the metal support is there to help. Not very rigid."
With these best knee braces in Singapore, you no longer have to worry about injuries during your active fitness routines. They're also great for those recovering from injuries.
Also, for additional knee support when exercising or even working, check out our list of the best compression socks in Singapore. Those can help you improve the blood circulation of your body and prevent possible chronic pains!