The 9 Best Folding Bikes in Singapore Reviewed
Thinking of investing in a good foldable bike to avoid the rush of public transportation? We're here for you, as we've gathered a list of the best folding bikes in Singapore to help you get from one point to another.
These bikes are lightweight and sturdy enough to last for years! And to help you further, we've also set up a guide to help you choose the right folding bike, depending on your needs.
Let's get started!
What Should I Take Into Consideration When Choosing A Folding Bike in Singapore?
Remember, a folding bike is an investment, and you'll need something that will last. There's so many options in the market that choosing one can be confusing if you don't know how to pick what you really need.
But as promised, we'll help you out here. Here are the things you should keep in mind when choosing a good folding bike.
1. What Kind Of Riding Are You Doing?
First, you must think of what kind of travel you'll use your bike for. There are different types of foldable bikes for commuting, urban riding, trekking, weekend leisure riding, and touring.
You should also consider the parts you'll be investing in. Quick tip: invest in a good, comfortable saddle from the start, because it's one of the most worthwhile investments for any bike owner.
2. How Big Should The Wheels Be?
When picking a folding bike in Singapore, wheel size is an important factor. The size affects the portability as well as the ride.
Another thing to think about is the availability of the wheel replacement and inner tubing. It's advisable to get wheels that you can easily replace and that cost less instead of getting wheels for which spares are difficult to find.
The rims should also have the correct fitting for available wheels. Overly big or loose wheels will make the tire pop off when making sharp turns and ones that are too small can affect stability.
Speaking of smaller wheels, take into consideration the speed and distance you'll travel. Maintaining an average 30km/h or higher for long distances will make riding harder for bikes with smaller wheels.
3. Portability
If you're going to bring the folding bike within different vehicles such as the SMRT, buses, vans, or pick ups, consider easy-folding ones. Not all folding bikes in Singapore fold away with the same ease.
4. Design
Focus on the components of the bike, as if the components have higher quality, then there's assurance it will perform well and last longer. Better components also mean less costly repairs.
Also remember that you should choose function over looks. Sure, your new foldable bike may look spiffy, but if you can't fold it easily, it defeats the purpose of getting a bike in the first place.
5. Warranty
Warranty is one of the most important things to look at when getting a bike. With a good warranty, if your bike breaks down, an immediate replacement or repair would be easy to obtain.
The Best Folding Bikes in Singapore
With all those tips listed, let's go to the best folding bikes in Singapore. Without further ado, here are our picks for the best folding bikes in Singapore that'll help you get from one place to another in style!
1.   Decathlon Tilt 500 20″ Folding Bike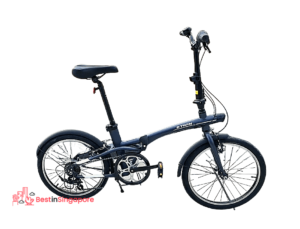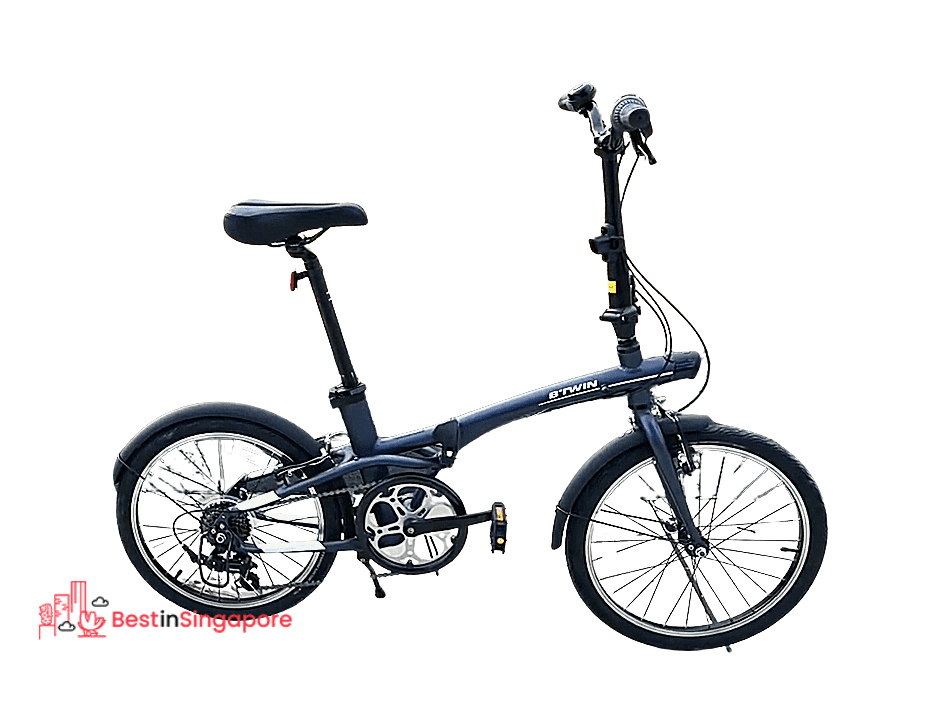 Price: $350.00
Limited Stocks At Decathlon, Buy Now
Decathlon offers an affordable, easy-folding-and-unfolding bike that can be used for both weekday commutes and weekend rides. What's great about this is that it's lightweight and it has 7 speeds.
There's a lifetime warranty on the frame, stem excluding the hinge, rigid fork, and handlebar.
Its versatility and compact design makes it one of the best folding bikes in Singapore.
Highlights
Versatility
Lightweight
Lifetime warranty
Customer Reviews
Here are some reviews from Decathlon about the this amazing product:
Very well built and sturdy. While the aluminium ally frame is lighter than steel frame, it's a little bulkier especially after being folded. If you plan to accessorize, please double check with the staff, as some may not be compatible.
-Joe
I selected Tilt 500 to mount my CVT motorized bike kit. Strong and low frame of Tilt 500 enables excellent power transfer whilst keeping the center of gravity to a minimum. Plenty of cable guides and accessory attachment points make it easy to install the kit. I wish Tilt 500 had the same double-walled rims as Tilt 500 Electric.
-C
2.   Brompton M6L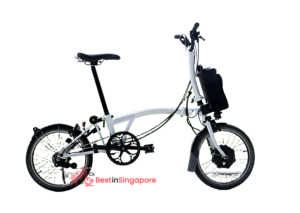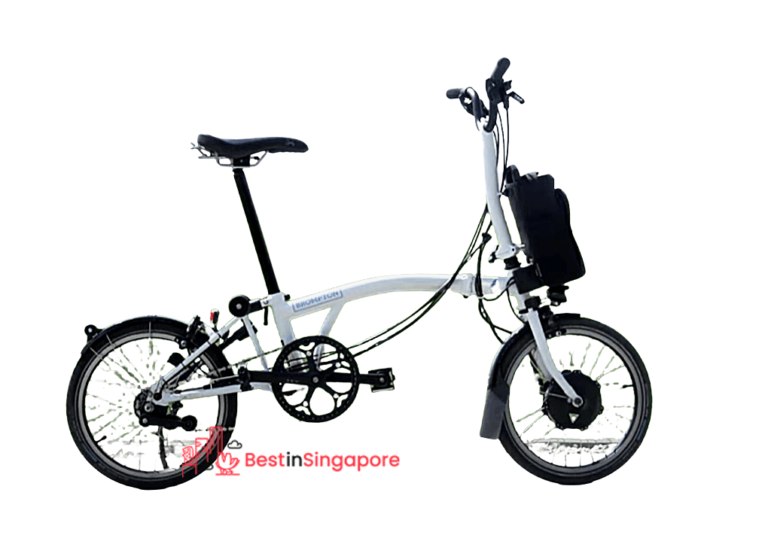 Price: $2,580.00
Limited Stocks At Brompton, Buy Now
Brompton M6L is perfect for countryside commutes. It has an M-type handlebar that provides a comfortable, upright riding position. Its compact design and full range of 6 gears covering all riding needs makes it versatile as well as good for riding on hilly areas.
Another great feature is that its mudguards are useful when it rains. It also has a light that is battery-powered and that can be charged for emergencies. 
This is the best folding bike in Singapore for those who like to ride in offroad and hilly areas.
Highlights
Great for hilly terrain
Full range of 6 gears
Battery-powered lights
3.   Schwinn Adapt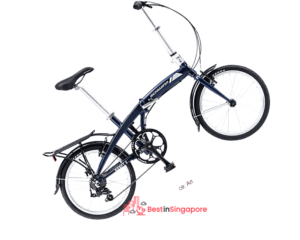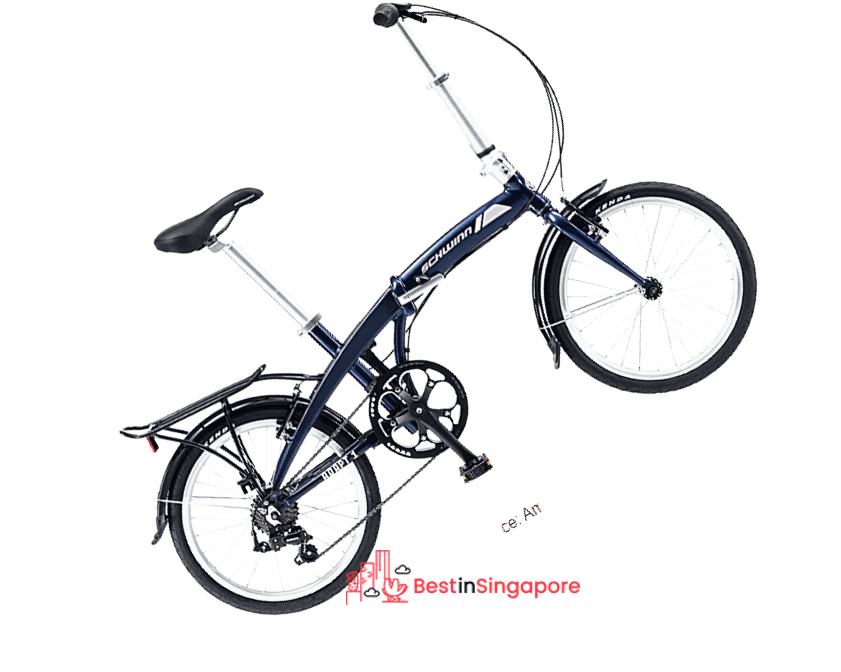 Price: $778.47
Limited Stocks At Amazon, Buy Now
Schwinn is one of the more well-known brands of bicycles, and this type, the Schwinn Adapt, is perfect for any number of uses, whether recreational use or commuting.
With a folding design and a lightweight alloy frame, this 7-speed bike can be carried almost anywhere. Another great feature of this bike is that it comes with full-wrap fenders and reflective sidewalls, so it will be easy to spot when cycling in the evenings.
If you want a folding bike to use for work, this is the best foldable bike in Singapore for night time rides.
Highlights
Lifetime warranty
Lightweight
7-speed
Customer Reviews
Here are some reviews from Amazon about the this amazing product:
I received this bike two weeks ago. The first thing I noticed was it was better packaged that most of the other bike I have ordered. It was in perfect condition, except for a plastic clip that holds a splash guard onto the rear fender, and a brake cable guide. I contacted Schwinn customer service and received a response within a day. And they sent out the replacement parts right away. The fit and finish of the bike is as good as on more expensive bikes. The components are also nice name brand parts, such as Tektro brakes and SRAM dérailleur. I weighed the bike and it is about 29 lbs. It is fun to ride and is comfortable. I feel confidant in recommending this product.
-Marctwane
I love this bike ! Shifting is smooth and fast. Rides like a dream. 20 inch wheels you control to turn in tight spaces. Great looking bike as well. It's like a much improved Schwinn Sting Ray that I rode everywhere as a kid in the 60's.
-Richard
4.

DF-812G Mountain Folding Bike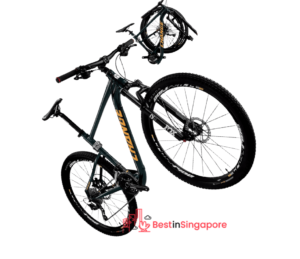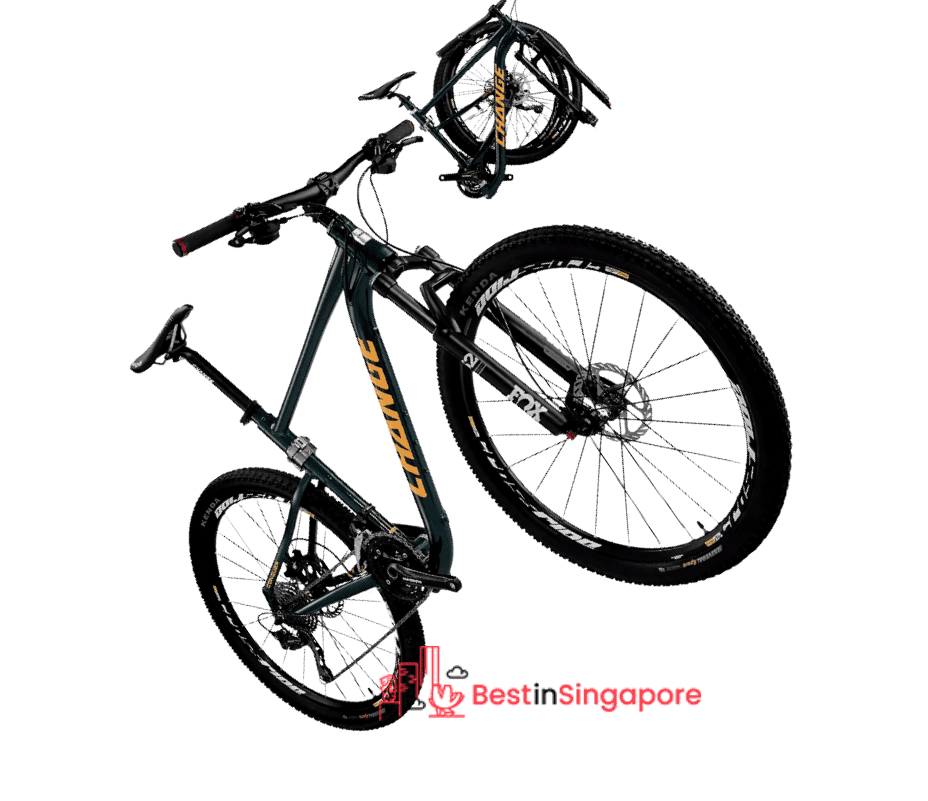 Price: Price Unavailable
Since it started, Change Bike has literally changed the world of cycling. Their innovative ways brought on the creation of better versions of the full-sized folding bike– each proving to be lighter, sturdier, and even more portable than your usual folding bikes.
One of their popular designs is the DF-812G Mountain Folding Bike. It proves to be efficient as a really good mountain bike for serious cyclers. It also isn't a hassle to bring, so you can definitely bring it to any of your adventures.
You may opt to get the sleek black design or the darker green colour. But whatever you decide on, Change Bike can assure you it'll be worth every penny.
If you're an adventurer and like to go off the beaten path, this is the best folding bike in Singapore for you!
Highlights
Lightweight
Sturdy
Aerospace-Grade Aluminum 7005 Double Butted
Taiwan made
5. Tern Eclipse D16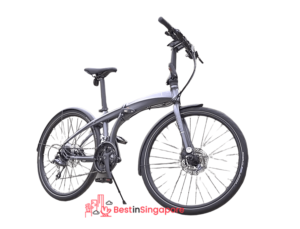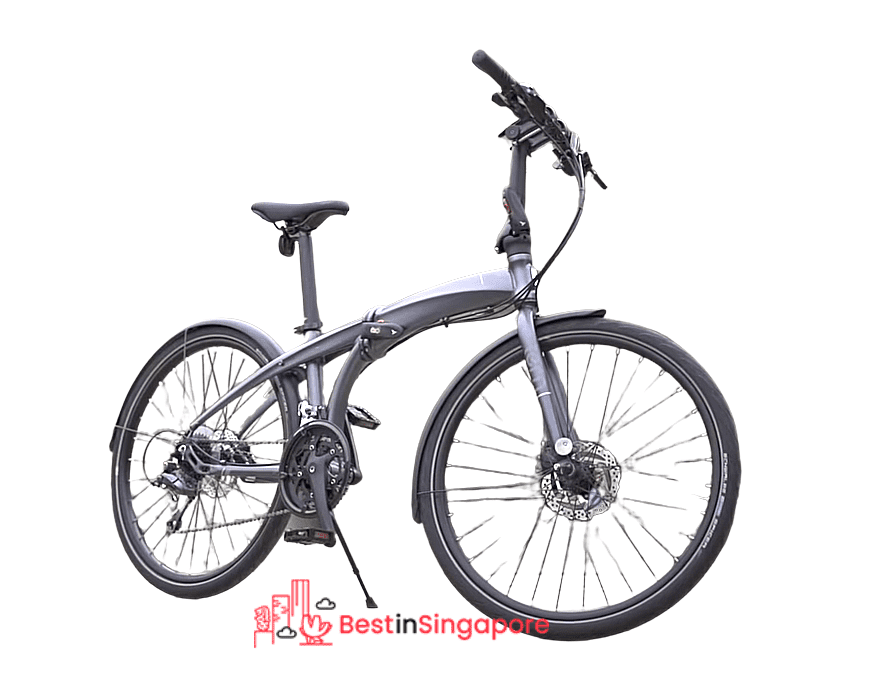 Price: $1600.00
Limited Stocks At Tern, Buy Now
The Tern D16 Eclipse has unique folding tech that helps it fit in any place. It boasts full-sized 26" wheels, a height-adjustable stem, hydraulic disc brakes, and adjustable handlebars to help you fix how you ride.
It also provides optional fenders for those rainy days. It's lightweight, and can fold and unfold quickly. Its unique specs make it one of the best folding bikes in Singapore.
Highlights
Adjustable handlebar
Lightweight
Optional fenders
6.   EuroMini Zizzo 2019 Campo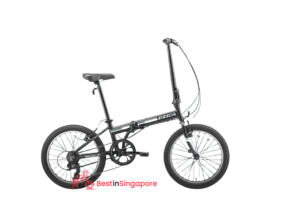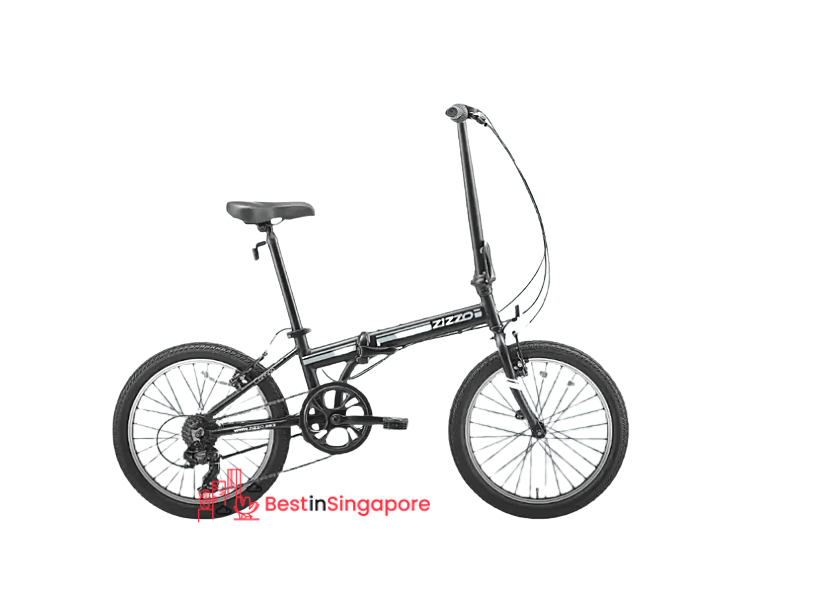 Price: Price unavailable
Limited Stocks In Amazon, Buy Now
The EuroMini Zizzo 2019 Campo, has a lightweight frame and genuine Shimano components with 7 speeds and a grip-style shifter. It's an easy-to-fold item that you can bring anywhere.
Its catch frame is magnetic for ease of folding and storage, as well as boasting folding pedals. The aluminum alloy speed brakes have enough stopping power for those sharp turns when skidding down the road.
If you're looking for a light weight bike, this could be the best folding bike in Singapore for you.
Highlights
7 speeds
Aluminum alloy frame
Shimano components
Customer Reviews
Here are some reviews from Amazon about the this amazing product:
This is an ANAMZING bike. I've been looking at folding bikes for a while and have seen bikes in this price rage at far lower quality. I was really surprised at the build and quality of the bike. It felt solid and secure, not like some other folding bikes that felt like they were going to fall apart under me.
Total time from the opening the box to riding, less than 7 minutes! This bikes comes practically fully assembled and ready to ride; I just had to install one pedal.
The overall ride was great, too. The shifting was smooth and the braking was strong. The gears were good on the street and I took it up a short hill in my neighborhood without feeling like I was working too hard at all.
I'm a pretty tall guy and my wife is much shorter, but with a few adjustments (the stem and seat post) my wife was able to ride it as well. She liked the ride so much so, that now we're going to be buying another one for her.
The coolest thing about this bike how small it folds. We don't have a lot of room to store a bike, so that was one of the factors for purchasing a folding bike. It folds down to about the size of a carry on bag and is much lighter than one too! I wanted to see how it fit in my car because we plan on taking it on vacation with us. It fits in the back of the trunk, no problem and I was able to lift it in with ease.
Overall, this was a surprisingly fun bike to ride and I was impressed at the value.
I'd recommend this bike to anyone looking for a compact lightweight bike.
-Jeepboy 
Highly recommend! I don't know what you gain by buying a more expensive bike. The bike is very nice and durable. It is a great bike for getting around a park. It is meant for a leisurely stroll for a few miles. Don't expect to set speed records or participate in endurance races with it. Well made and folds easily. I'm 6 feet tall and the bike easily adjusts to my height with adjustment still available for a taller person. Gears shift smoothly. Two drawbacks: 1) Tires are not as durable or as long lasting as we are accustom on bikes in the same price range. 2) The pedals do not fold. Found a nice pair of folding pedals on Amazon for under $20. What a difference they make in trunk space. Lastly, do NOT buy the assembly service! Aside from the seat and handle bar height, the brakes and gear shifter needed minor adjustments.
-AC
7.   Hummingbird Electric Bike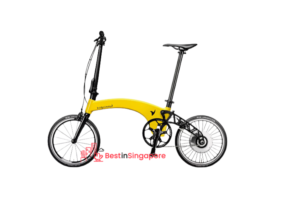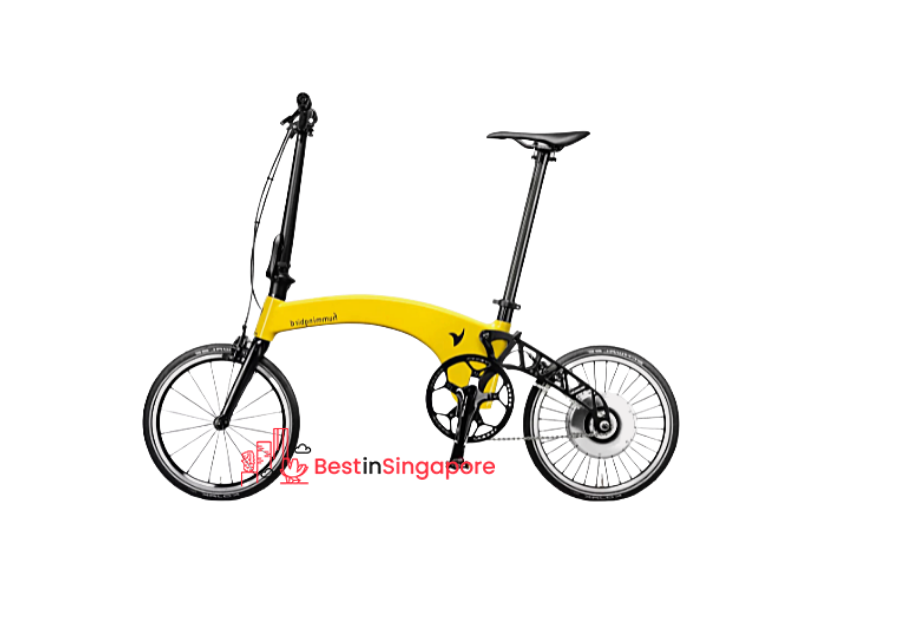 Price: £4,495.00
Hummingbird has released their very own electric bike. It is powered by an all-in-one system and can be controlled with the use of the Bitride App.
It's one of the best electric bikes released yet, allowing you to go faster and farther with less effort used. To top it all off, it is considered the lightest folding bike in the world, so you'll be able to bring it anywhere you'd like, at any time.
You may choose between five of their actual colors. You can also have your Hummingbird Electric be customised with your preferred color, for the ultimate personalisation.
Highlights
Super lightweight
Customisable
Electric powered
Customer Reviews
Here are some of the reviews left by customers who've used the Hummingbird bike in their daily lives, proving how worth it it is to buy.
"It's everything I hoped it would be and feels fantastic to ride. I've bought it to help with a difficult commute from Odawara to Tokyo Station by Shinkansen, followed by a transfer onto the Yamanote line to Ueno – the latter two stations are two of the busiest in the world. Using my bike has knocked 40 minutes a day off of my journey and its lightness and compact form when folded has made taking it onto the trains and through the crowded stations a viable option. It fits on the overhead luggage racks on the trains and is light enough to lift up without inconveniencing other passengers too much."
– Alex G.
"Fast and comfortable, well impressed, even managed the cobbles at Covent Garden with no trouble"
– Phillip H.
8.   Helix Ultralight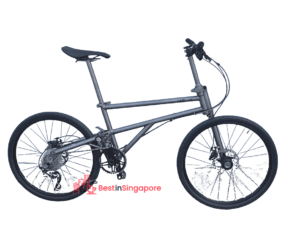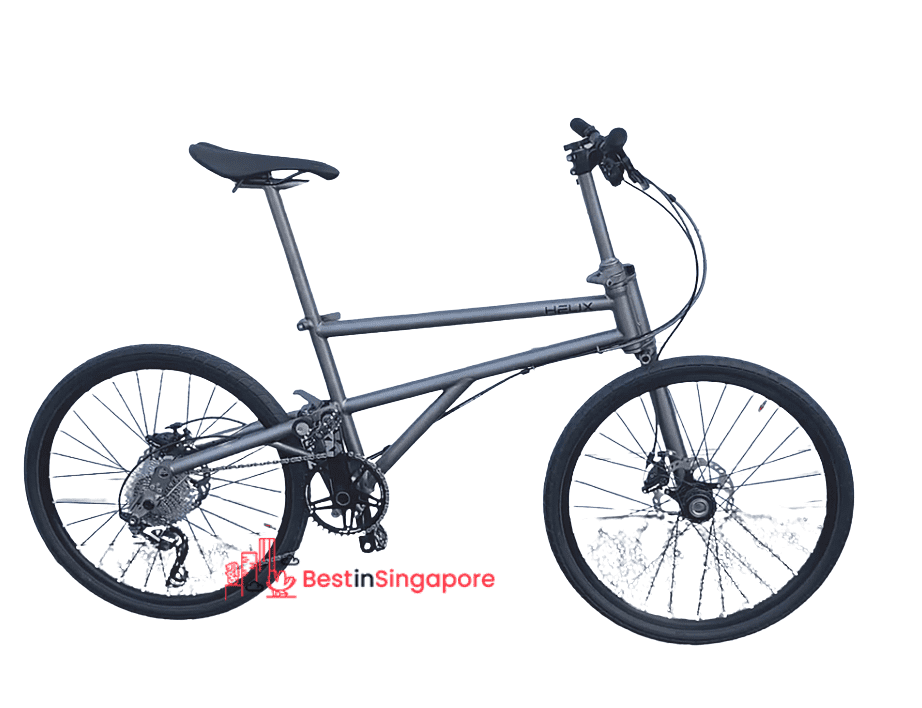 Price: $3,990
Limited Stocks At Helix, Buy Now
If you're looking for a lightweight bike, Helix Ultralight might be what you need. It makes use of some of the best components in the industry, all while having a net weight of just under 25 lbs, depending on the drivetrain.
It features a lightweight wheelset, hydraulic brakes, and a lighter crankset, making for an easier and safer biking experience. Moreover, its derailleur models have a light drivetrain with 11 speeds to switch from.
Besides derailleur models, it also comes in an 11 speed alfine model and 1 speed model, with the latter being the lightest and weighing around 19 lbs. No matter which model you choose, however, there's no doubt that it will be strong enough to handle you and your cargo thanks to its maximum accommodated weight of 250 lbs.
The Helix Ultralight may be pricier than most bikes, but its many features and lightweight design makes it well worth the price. With a warranty of 10 years from the original retail purchaser, you can see that they're also confident that it will be able to serve you well.
If you want a quality bike that's relatively light weight and you have the budget for it, this is the best folding bike in Singapore for you.
Highlights
Weight reduction of just over 4 lbs
Lighter drivetrain with 11 speeds
10 year warranty
Max weight of 250 lbs
9.  Bolt Classic® Foldable Bike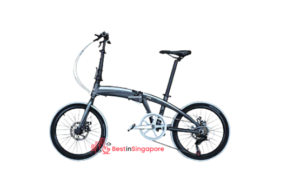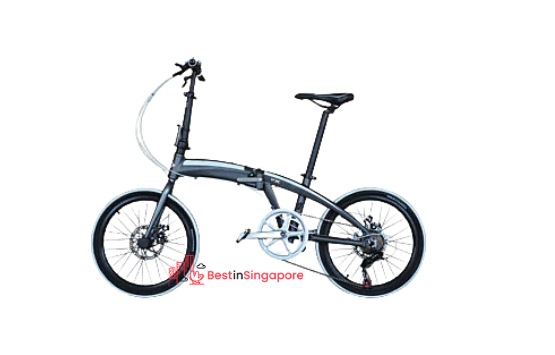 Price: $390
Limited Stocks At Bolt, Buy Now
Folding bikes are usually made to be portable, so it stands to reason that they should be lightweight as well. If that's the kind of bike you're looking for then the Bolt Classic Foldable Bike is the bike you might want to consider buying.
It folds to a maximum length of 83 cm so you can easily bring it as you ride the public transport or stow it in your car. With a composition of superlight aluminium alloy, it's no surprise that this bike weighs only 14.8 kg, making it easy to carry as you travel and rest from biking. 
However, you likely won't need to get off the bike thanks to its comfortable seat and ergonomic design. Moreover, its Littoria Comfort™ tires and Toretto Smooth Speed™ Drivetrain ensure that this is the best folding bike in Singapore for  better and effortless riding experience.
Finally, all these excellent features come at an affordable price. If you're interested in purchasing this bike, make sure to pre-order from their site to receive a large discount.
Highlights
Ergonomic and comfortable
Light and portable
Longer than usual drivetrain
10 year warranty
And that ends our list for the best folding bikes in Singapore. Whether you need to commute through the city or have a weekend ride through the woods, these flexible vehicles can help you get around.
Did we miss a great folding bike on our list? Tell us its name and what makes it great in the comments below!
And if you've already decided what to buy and just want to see it in person, head on to the list of the best bicycle shops in Singapore and check out our picks for those.