The 5 Best Vacuum Sealers in Singapore for Food
There's nothing worse than getting excited to make your favourite meal only to see that half of your ingredients are already spoiled. If you want to keep your food fresh for longer, you need the best vacuum sealers in Singapore!
A food saver vacuum sealer is a kitchen tool that provides an excellent airtight seal that preserves the freshness of deli foods, produce, and proteins as well as dry and frozen foods. It also comes in handy while preparing for outdoor trips like camping, so you can use some waterproof pouches for food storage.
But with the thousands of models available on the market, how can you be sure that you've got the best one?
Therefore, before we head on to our list of the best vacuum sealers in Singapore, we'll show you the essential features that you need to consider when buying a vacuum sealer.
How to Pick the Best Vacuum Sealer in Singapore
As there are a lot of enticing marketing campaigns that'll present the best features of each vacuum sealer model, you might get overwhelmed by the endless options right in front of you. Especially if you don't know what to look for when buying one.
In order for you to get the most suitable one for your needs, here are the things to consider:
1. Types of Vacuum Sealers
Vacuum sealers and food savers are classified into several types and each one caters to specific purposes. So, before you buy one, identify first your needs and preferences and see which machine suits your needs the most.
Chamber Vacuum Machines
If you'll be sealing food items in large batches, this type is perfect for you. They offer higher performance and versatility that can withstand heavy-duty use.
In particular, if you're packaging liquid-rich foods, a chamber machine is a must-have kitchen tool.
External Vacuum Machines
For those who'll only use a vacuum sealer for outdoor activities or special occasions, you should get an external machine. It's a light-duty model that's much cheaper than a chamber machine, and yet it provides an impressive seal.
If you'll not be sealing any liquid-rich foods or if it's your first time to try a vacuum sealer, this type is the ideal one for you.
Pistol Vacuum Machines
Among the previous types, this one has the most unique and innovative design. With a pistol type, you can bring the actual sealer in your carry bag, making it a perfect travel item to use during long trips.
It comes with a handheld sealer tool, built-in valve, and a special bag. Its pistol-style grip allows you to draw air out and fully seal your food items.
2. Suction Power
You also need to make sure that your chosen vacuum sealer has a powerful suction feature that can remove all the air, leaving no air pockets inside the bag.
This means your food will not get freezer burn when stored in the fridge. That's since higher suction power means a better and more secure seal.
3. Sealing Speed
If you have many food items to seal, then the speed of the food sealer or the vacuum must be your top priority. There are some sealers that provide a set of different speed levels, letting you choose the speed that you need for the type of food that you're sealing.
Take note that some foods require lower speed sealing to make sure that they're not crushed during the process.
4. Portability and Durability
If you're planning to bring a vacuum sealer on a vacation trip or you have small kitchen space at home, then you'll need a portable and lightweight model.
But if you'll mostly use it at home, then it's fine to choose a large and heavy-duty machine that can seal many food items, including liquid-rich foods.
When it comes to considering durability, it's recommended to avoid ones with plastic components because they're prone to damage. You must opt for stainless steel instead, to ensure long-lasting use.
The Best Vacuum Sealers in Singapore
With the guide above, you can now easily find the best vacuum sealer in Singapore! And we've just made it easier for you as we've already narrowed down your options.
Below, we only listed the most in-demand products on the market. Check out the ones we think capable of giving you consistent and long-lasting performance!
1. FoodSaver FM2000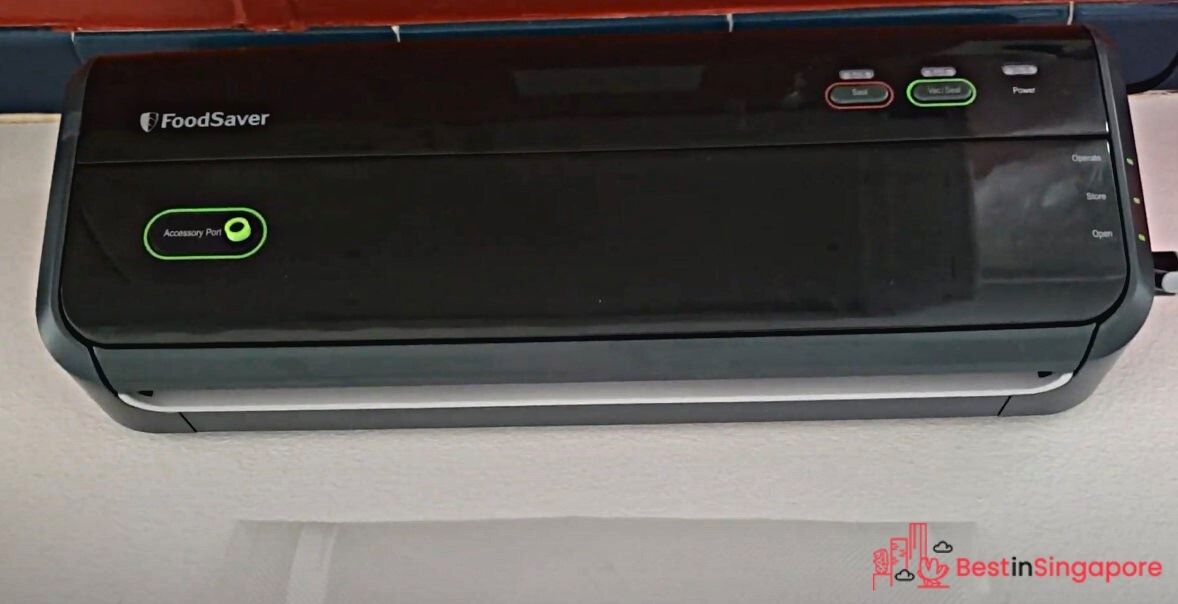 Price: $199.00
The FoodSaver FM2000 provides simple manual operation that can preserve a variety of foods. With this vacuum sealer, you can seal both solid and liquid items.
It has an ultra-slim design that can fit in small spaces and its classic style can match any kitchen interior. It also has a locking lever for a secure seal and removable drip tray for easy cleaning.
The included containers are BPA-free too, so rest assured that your raw and fresh food items won't be harmed by any chemicals.
Overall, we think the FoodSaver FM2000 is the food saver vacuum sealer in Singapore for all types of food from fresh to dry produce.
Pros
Multiple accessory options
Accessory port allows you to seal canisters and marinate food
Portable design
Dishwasher-safe drip tray
Fast and easy to use
Cons
No moist or dry food setting
Does not have its own cutter
Lower durability
Customer Reviews
The FoodSaver FM2000 has earned a lot of positive reviews from customers who were impressed with the adjustable settings. They said this feature provided the needed preservation level for each food item.
A customer wrote this feedback:
"The FoodSaver FM2000 is not an expensive all-inclusive vacuum sealer, but it is a capable portable sealer with plenty of innovative features. This vacuum sealer exists to make the life of ordinary folks easier. Someone without any prior experience with vacuum sealing will find this the perfect learner's device. As for experts, they will appreciate the ergonomic design and functionality. Even if you already own a capable vacuum sealer remember that this product is not only compact but highly efficient. You can use it for quick seals, vacuum seals and even protect containers and jars using the accessory hose."
2. FoodSaver VS1150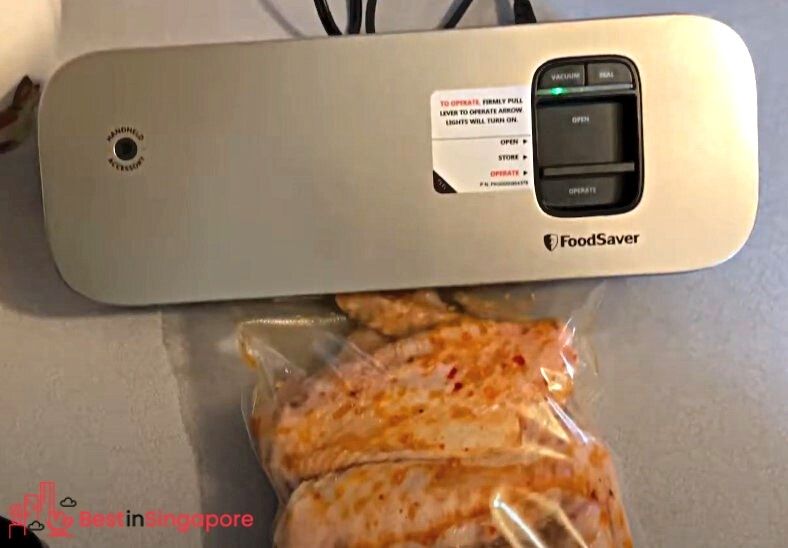 Price: $239.00
The FoodSaver VS1150 features a compact design yet it has competent sealing power — power similar to what the traditional models have. So if you don't have a large kitchen space, then this can be the best vacuum sealer in Singapore for you!
It also has an angled bag insertion opening where you can accurately align the bag to the machine's sealing strip. This will give you a perfect seal and result in less bag waste.
Aside from these features, it's also easy to use and has an intuitive control panel for efficient navigation. Moreover, you can use it with the brand's handheld sealer attachment in case you want a separate one for outdoor use.
Pros
Compact design
User-friendly
Decent motor strength
Cons
Customer Reviews
Most users have recommended the FoodSaver VS1150 due to its space-saving design and excellent motor strength. However, they also said that it's best to use it occasionally rather than for daily needs.
Still, they were highly satisfied with the overall price of the FoodSaver VS1150. A customer posted this review:
"Works exactly as it should. Sealed food nicely with easy to follow instruction. Loved that it came with extra bags. The actual saver is a good size and lightweight so doesn't take up much space either. Definitely worth the investment if you need a way to store food longer."
3. FoodSaver V4400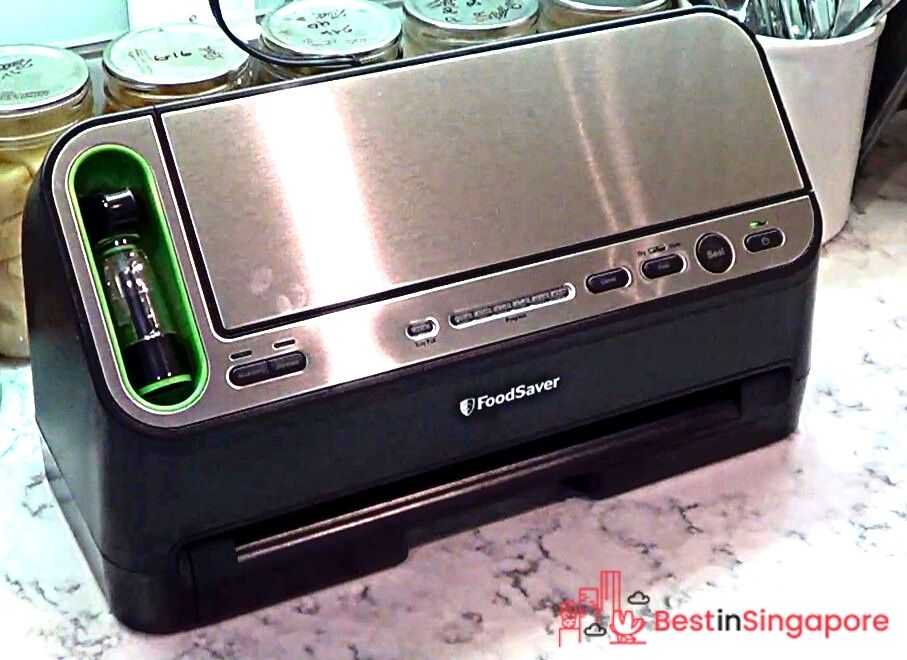 Price: $564.00
Compared to the previous option, the FoodSaver V4400 has a much bigger build, providing heavy-duty and versatile functions. It features automatic bag detection so you can instantly seal food items in no time!
It offers a whole set of advanced features such as marinate, moist, and dry settings, ideal for any type of food that you want to store in the fridge. To make sure that every item is fully sealed, it has an additional easy-lock latch closure.
This best vacuum sealer in Singapore is equipped with a dishwasher-safe and removable drip tray for minimal cleaning. Moreover, it has a sleek design that complements any modern kitchen interiors.
It also has integrated roll storage, a roll cutter, and an indicator light as well!
Pros
Quiet operation
Easy to use
Airtight seal
Stop and seal function
Cons
The moist setting doesn't work well
Customer Reviews
Many customers said that the FoodSaver V4400 offers silent operation, avoiding any noise disturbance in the kitchen. They also mentioned that it's super-simple to use and it really keeps the freshness for a long time.
A customer shared this story:
"This was a gift a few years ago. We have used it to freeze game meat, chicken and other meats. We power cook and freeze meals. We have also used the containers to store and marinate. Marinating meat is so much faster!!! We have put many likes on this and it still works perfectly."
4. FoodSaver FreshSaver Handheld Vacuum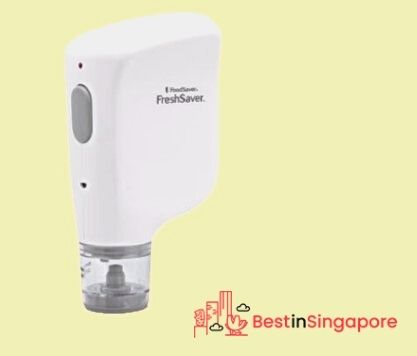 Price: $41.35
If you're looking for a vacuum sealer that you can use during your vacation trips, you must try the FoodSaver FreshSaver Handheld Vacuum Sealing System!
With just a single press on the button, you can have each item sealed air-tight, maintaining its freshness longer than you expect.
This portable model can help preserve deli meats, cheeses, and more everyday refrigerated foods. Even if it's your first time to use a vacuum sealer, you won't find it hard to use this one because it has one-touch operation.
It also features a cordless design, unlike most conventional machines, making it the best vacuum sealer in Singapore for travel. It can also fit in a drawer or in a carry bag for easy access and storage.
Pros
Quick sealing process
Portability
Perfect for everyday foods
Cordless design
One-touch operation
Easy storage
Cons
Light duty
Can be used on small food items only
Customer Reviews
Customers shared that the FoodSaver FreshSaver Handheld Vacuum Sealing System is best to use for small, flat, and easily compressed items only. It has received good feedback mostly from travellers, saying that it's a must-have travel item.
A customer gave this feedback:
"This machine has changed my life. Cold cuts and hard cheeses are just a few of the uses for this machine. Grab a back and the machine from the counter and get a quick seal. I like those smaller bags better. Have had some difficulty getting a good seal with the larger and the hard sided containers. Sometimes they seal and sometimes they don't. My big machine is in a cabinet, no room on the counter top. So this little machine fits the bill. Just lift it off the bag when enough seal has been reached and food stays fresh. Just don't do a full seal on your sliced cheese as it will create a block of cheese."
5.   Geryon Vacuum Sealer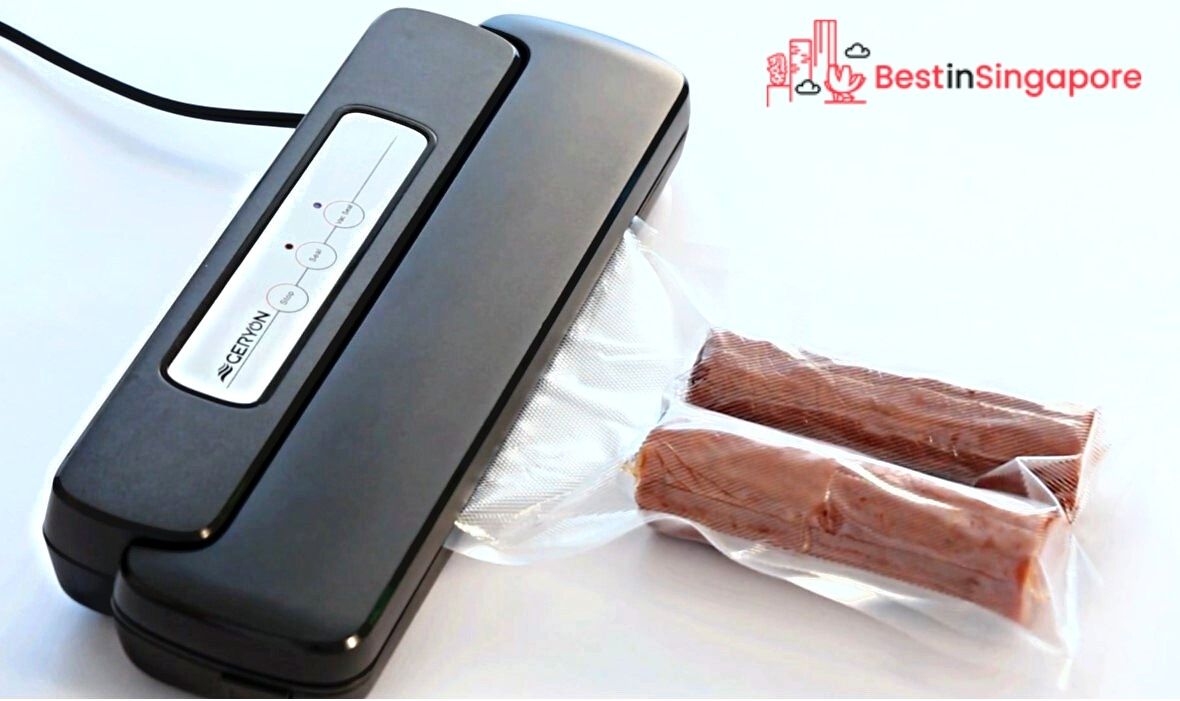 Price: $128.00
The Geryon Vacuum Sealer is designed with a multi-layered material that completely keeps air out and prevents freezer burn. You can place/move this compact and lightweight machine anywhere in the kitchen too, so you can easily store it when it's not in use.
It also features an automatic sealing operation where you can simply press the soft-touch digital buttons to start sealing your food items. Along with this is the LED indicator light that'll tell you whether your chosen function is already operating or not.
The most interesting thing about this machine is its possession of 2 sealing modes. You can choose the one that best preserves the type of food that you're sealing.
With this best vacuum sealer in Singapore, you can be sure that there won't be any spoiled food in the fridge and you can instantly prepare any meal that you want!
Pros
2 selectable sealing modes
Easy cleaning
Affordable
Compact and lightweight
User-friendly buttons
Cons
Heat seal is a little skinny
And that's the end of our list of the best vacuum sealers in Singapore! If you've got more suggestions in mind, let us know all about it!
If you're also looking for alternative food storage aside from the zipper bags these use, you might want to see these best airtight containers in Singapore! Whether you want to store your herbs and spices or prepare your packed meals, you'll surely love these selections!