The 6 Best Dash Cams in Singapore
Have you previously experienced a crash-for-cash scam, road rage, or road-related issue where you were the one being blamed? If you have, then you need to get the best dash cam in Singapore to avoid that happening again!
With all the risks you face while driving, it has become more important than ever to install dash cams that are suitable for daily road needs. Since these cameras can record and store everything you pass as you drive, the footage can serve as proof in case of road accidents.
So how will you find the right one among the countless brands/models on the market? Lucky for you, we've narrowed down your options until we ended up with only the best dash cams in Singapore!
However, each one from our selections features a different range of functions — and so, to help you figure out which one fits your overall vehicle needs, let's take a look at some things that you need to consider first.
How to Pick the Best Dash Cam in Singapore
Some dash cams may contain a lot of advanced functions but not exactly useful for daily use. To know which right dash cam to buy, here are some essential features to look out for as you search for the best dash cam in Singapore!
1. Video Quality
With low video quality, you might not be able to see the captured footage clearly, so it might also be disregarded for insurance and accident claims.
To avoid grainy video and inaudible audio, the dash cam must feature a minimum of 480p resolution.
You may also opt for high-definition and enhanced image/video quality in 720p or 1080p resolution. This way, it'll be easy to review the footage.
2. Storage Capacity
Since the dash cam constantly records daily events, it must have enough storage to keep the oldest recording possible.
The average dash cam can record a maximum of 40 hours with 128GB memory storage. It's ideal to have a storage capacity of 32GB and above.
3. Installation
It's also important to consider where you want to place the camera in your car. Dash cameras are either installed on the windshield or behind the rearview mirror.
For a small car with limited dashboard space, it'd be wise to choose a compact one so it'll not block the driver's view. To secure the installation, they're typically mounted with suction cups or semi-permanent adhesive.
4. GPS
This is a must-have feature for every dash cam. With a GPS feature, you can easily see the speed, location, time, and date details of the footage. This is so the recordings can be used as evidence in any situation.
Typically, the best dash cams in Singapore that offer a GPS function have additional features such as lane departure warnings, speed alerts, driving habit monitoring, and even stop sign detection to prevent unpleasant road incidents.
5. Field of View
With a wider field of view, the dash cam will be able to capture more detailed footage from the scene. However, a wider angle may also stretch out the video, causing possible distortions.
So it's recommended to get one with at least 120 degrees in range. In case you're planning to pick a dash cam with 180-degree angle viewing, which is the maximum range, be sure that the video will not be too distorted.
Along with range of view, some of the best dash cams in Singapore also feature advanced motion detection: when the car is in parking mode, the camera will automatically activate once impact is detected.
If it's WiFi-enabled, then it'll also send you an alert, see your car in real-time, and save the record immediately.
6. Night Vision
Last but not least, you must also check if the dash cam can record high-resolution video in low light. There's a tendency for car accidents to happen during the night because most drivers are too tired and less alert then.
Therefore, you need a camera that can capture the scene clearly despite low light conditions.
Best Dash Cams in Singapore
Now that you know which features to consider, let's see some of the best dash cams in Singapore! We've listed the most recommended picks with relevant functionality and reasonable prices as well!
Check out our list below to know more about their features.
1.   Blackvue DR750S-2CH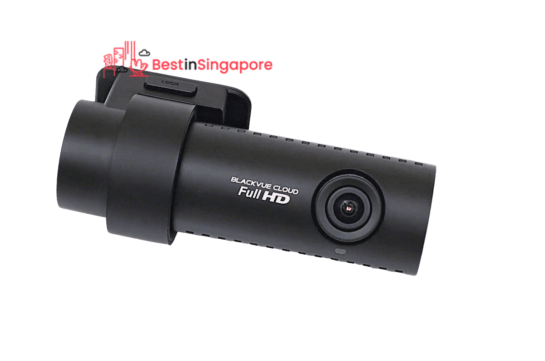 Price: $568.00
The Blackvue DR750S-2CH features 1080p video quality with an impressive imaging sensor that also provides clarity under low-light conditions. It's also equipped with front and rear cameras with a 139-degree view for a wider angle.
It also comes with a cloud app service so you can monitor your car whenever and wherever you are. With the app, you can instantly configure the camera settings as well as browse through the recorded footage.
As you go on long hours of driving, this dash cam can detect impact or sudden speed changes. alerting you of a possible incident. Moreover, it can automatically detect movement once the car has been parked.
Another excellent feature of the dash cam is the Adaptive Format-Free File Management that prevents files from being overwritten once the storage capacity has been reached.
Overall we think this is the best dash cam in Singapore for long drives. 
Pros
Sharp images/videos day and night
Removable design
WiFi connectivity
Front and rear view
Records 60 frames per second
Cons
Lack of time-lapse mode
Pricey
Customer Reviews
Most reviewers complimented the high-quality performance of the Blackvue DR750S-2CH.They also mentioned the clear night vision mode, parking mode function, as well as the responsive WiFi connectivity.
A reviewer gave this verdict:
"The Blackvue DR750S-2CH offers excellent day and night video from both the front and rear cameras. The configuration and viewing app is top-notch, as is the GPS-savvy viewer for the PC. While it lacks extras like driver aids, it's otherwise one of the best dash cams we've reviewed, though unfortunately also one of the most expensive."
2.   Xiaomi 70mai Smart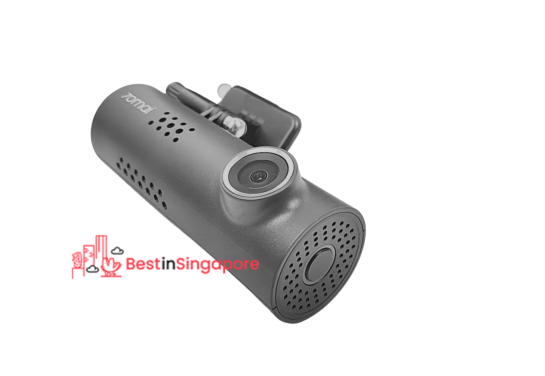 Price: $52.90
With the 130-degree ultra-wide angle of the Xiaomi 70mai Smart, there'll be fewer blind spots, giving you the ability to record full 3-lane coverage while driving. It also offers 1080p high-definition quality, even in the dark!
In case of emergency situations, this best dash cam in Singapore can automatically capture and save the whole scene so you can have clear and definite evidence. And ultimately, this is the main reason why we think this is the best dash cam in Singapore for busy roads. 
You can also manage some of its settings via voice control, letting you have a safe drive.
You can view real-time footage and do some playbacks with the mobile app. To help you save memory card space, it also provides a loop recording.
Pros
Goof image/video quality
Clear quality under low-light conditions
Affordable pricing
Cons
No GPS
No internal storage
Customer Reviews
Many customers said that the Xiaomi 70mai Smart can be the best dash cam in Singapore for those who are searching for their first-ever dash cam. They said that it's cheaper than other brands but it delivers satisfying recording performance.
A review posted this feedback:
"If you are thinking about buying your first car DVR, the Xiaomi 70 Minutes Smart WiFi Car DVR is a very good option. Even when it is not your first dash cam, but you don't want to pay the world for a car DVR, the Xiaomi is a good option, too. The only price you have to pay is that it talks Chinese. Personally, I don't have an issue with that: e.g. if it tells you the battery runs low it also provides a red light indication, but you cannot mute the voice."
3.   IROAD TX9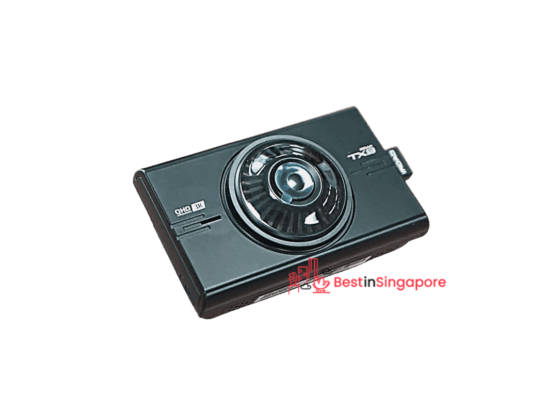 Price: $512.25
Compared to the previous options, the IROAD TX9 features a wider angle of 150 degrees. It's also built with a premium image sensor that provides the brightest and cleanest footage for absolute clarity and sharpness.
Even on low-light settings, you can be sure that you'll get crystal-clear quality. Aside from these, it offers a whole lot of advanced features.
This includes warning systems for lane departure, forward collision, and front vehicle instances. It's also WiFi-enabled so you can easily see the front and rear live recordings including the date, time, voltage, and travelling speed.
Despite the exclusive functionality, it has low electricity consumption, making it an energy-efficient option — quite rare among dash cams. Now if this can be solar powered, we'd easily say this is overall the best dash cam in Singapore. 
Pros
Good resolution
Large storage
Small and slim design
Lightweight
Simple setup
Cons
Adhesive is not strong enough
Customer Reviews
Many customers are highly satisfied with the image and video quality of the IROAD TX9. They recommended the camera model because of its adjustable settings, clear vision at night, and safety systems.
This is why it has become one of the best dash cams in Singapore. A customer wrote this review:
"Our iroad tx9 was simple to set up and navigate through the functions. It is very user friendly and easy to use once installed. The quality of the recorded footage is clear and provides a great picture day or night. The connectivity of the tx9 fits perfect with our requirements and overall this is a great product that has satisfied us on all levels as customers!"
4.   Thinkware Q800 Pro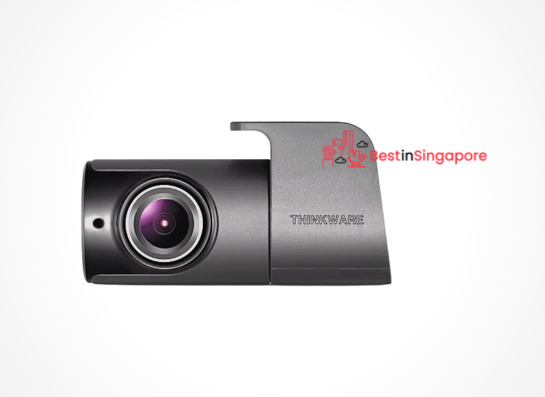 Price: $679.90
The Thinkware Q800 Pro is known for its award-winning design that features a modern and improved optical lens, proving strikingly clear resolution with enhanced night vision.
To help you prevent possible road incidents, it has a driver assistance system that'll alert you if there are any potential collision and lane departures. It also sends warnings for red light cameras and speed cameras.
Moreover, you can use its app to have real-time viewing and receive alerts for emergency cases. It has a GPS feature so you can monitor the vehicle's location, speed, and direction of travel.
When the car is in parking mode, this dash cam will continue to record long periods of parking events under an energy-saving mode. It can also withstand extreme weather temperatures.
Hands down we think this is the best dash cam in Singapore if you frequently use your car whether its for short trips or interstate drives.
Pros
Cloud tracking feature
Geo-fencing and alerts
Cons
Requires permanent hotspot
Customer Reviews
The Thinkware Q800 Pro has received positive responses from customers who were impressed with its solid high-definition quality, as well as the motion, bump, and activate sensors. A reviewer left this post:
"Although 1440p resolution is sufficient in our opinion, it doesn't have 4K support, and it doesn't bring much to the table when it comes to higher frame rates or slow-motion capture. But that's because those features really aren't going to help what this camera is supposed to do. Still, the Q800 Pro goes a few steps beyond what you expect from a regular dash cam. Not only with their driver assistance features, but with their implementation of the Thinkware Cloud. All in all, this camera lets you maintain an even closer eye on your vehicle. You can literally flip on the app and take a look through the camera. Which makes it a decent choice for someone who's able to take advantage of those extra features."
5.   Marbella KR8S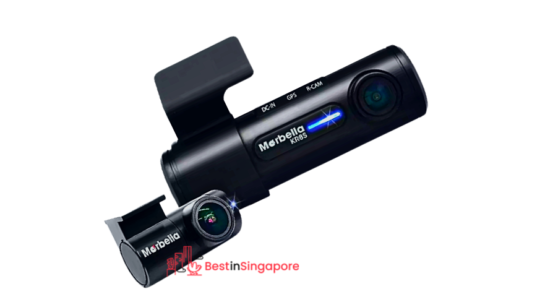 Price: $318.00
The Marbella KR8S offers full 1080p resolution with a wide dynamic range that enhances the overall contrast of the video for more detailed and clear quality. It can also capture super-fast-moving scenes and provide clear recordings of collisions.
To ensure your safety while driving, this dash cam will automatically stop when the temperature rises above 70 degrees Celsius or goes below -20 degrees celsius. It also has a cooling system design that'll let your camera stay cool even on the hottest days
It can also perfectly capture license plates and road signs during day and night. So, you can always have accurate video evidence.
You can also access the camera settings and install GPS logger to keep track of previous driving routines. If you want a clear definition feedback without breaking the bank, this could be the best dash cam in Singapore for you.
Pros
Self-adjusting camera
Can withstand extreme temperatures
Format-free
Low electrical consumption
Cons
6.   ZUS Smart Dash Cam
Price: $99.99
The ZUS Smart Dash Cam may be small, but it records crystal clear footage. Its size makes it easy to install behind one's rearview mirror.
Its app is easy to use and has many useful features. If you're interested, make sure to check it out on Nonda's website.
If you're not much of a techie and you want something installed pretty quickly without complication, this is the best dash cam in Singapore for you.
Pros
Easy to install
Non obstructive
Cons
And that's the end of our list of the best dash cams in Singapore! Do you already know which one fits your daily road needs? Tell us all about it!
And if you'd also like to install another camera for security purposes, see these best home security cameras in Singapore! These modern camera collections will help you track and monitor every movement and detect any suspicious activity, preventing unwanted access to your home.