The 5 Best Pocket Watches in Singapore
For the watch enthusiasts looking for a classic and timeless piece, you shouldn't miss out on the best pocket watches in Singapore. It's far from being an outdated fashion item as it stays functional and stylish even in modern-day times.
A pocket watch gives off a classy vibe and reflects elegance in gentlemen's fashion. With a dapper watch attached to the inner pocket of your suit, you can easily impress other guests at dinner parties.
However, pocket watches are quite rare nowadays. So, it can be a bit hard to find new collections.
But don't lose hope — we've already done the research and gathered all the best pocket watches in Singapore, serving high-quality build and fashionable look.
That said, before we move on to the list, let's see first which features you must consider when selecting a pocket watch.
How to Choose a Good Pocket Watch in Singapore
Being known as fine timepieces, pocket watches come with high costs, making each one an investment.
That's why you must take your time buying one. If you want to have a watch that holds/increases its value, then there are even more factors to look out for.
1. Vintage
If you're a dedicated watch collector who wants to have a genuine vintage piece, then you should watch out for the years that a pocket watch holds.
Pocket watches that have 75 years of ticking are considered vintage. A great pocket watch in Singapore will also have a higher value if all of the original parts are still intact.
2. Mechanical or Quartz
You must also decide whether you want a mechanical or quartz watch. Quartz is a common type and more practical for daily use because its battery can last for at least 2 years.
Mechanical watches provide a more personal connection, for they need to be winded automatically with a rotor or manually by hand.
This type of watch is for those who want a unique and innovative piece in their collection.
3. Types of Watches
Pocket watches are designed with different styles and each one caters to certain needs or preferences. There are a lot of styles to choose from so make sure to pick the one that suits you the most.
Here are the main types:
Open-face pocket watch
If you opt for a minimalist style, then you may go for an open-face pocket watch. These days, it has become a common style, for it's convenient to use.
It comes without a cover so you can immediately see the time details. But since it has no cover, it can be damaged easily.
Half-hunter pocket watch
With this one, you can read the time without the need to open the watch. This is due to the cover that's designed with a hole or crystal on it.
Full-hunter pocket watch
This type of pocket watch is made with a full cover, protecting the watch against possible scratches or damage. It's also often engraved on the outside.
Double-hunter pocket watch
It has a full cover placed on both sides, letting you see the time as well as the mechanical movements at the back for additional details.
Double-half-hunter pocket watch
It's quite similar to a double hunter, but this one only offers a half cover on both sides. The front cover usually has a hole/crystal so you can instantly look at the time without opening the watch.
Best Pocket Watches in Singapore
Are you now ready to see some of the must-have timepieces on the market today? If so, then take a look at our selected best pocket watches in Singapore, suitable for any style!
Whether you want a luxurious, retro, or simple pocket watch, we've found you a variety of styles to choose from!
1.   Ziiiro Titan Chrome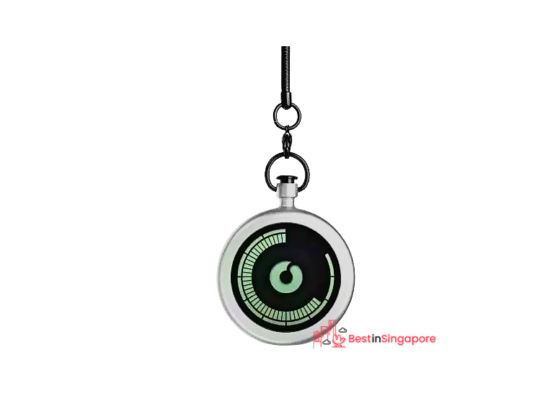 Price: $288.00
Unlike traditional pocket watches that have roman numerals or standard numbers on the time display, the ZIIIRO Z0009PWS Titan Chrome has digital movement display, serving up sleek and modern looks.
Its LED display has an outer ring where you can read the hours while the inner ring shows the minute segments. This best pocket watch in Singapore is battery-operated too, so there's no need for regular winding.
Its case is built with lightweight yet sturdy aluminium so you can also carry it during outdoor activities. With its lengthy coiled band, you can easily attach it to your belt or belt loop on pants
Pros
Lightweight design
Easy to set
Flexible rubber chain
Durable build
Cons
Slightly loose carabiner
Dim backlight
Customer Reviews
Most users said that the ZIIIRO Titan Chrome has a great combination of traditional and modern pocket watch features. They said that it provides accurate time display and efficient operation.
A customer gave this feedback:
"I love the look of this watch. I love the original display. The size is just right, neither too large nor too small. The flexible rubber chain is just the right length, and the color is wonderful. This watch has high style and straddles both traditional and up-to-the-minute features of a great pocket watch."
2.   Bulova Diver Travel Clock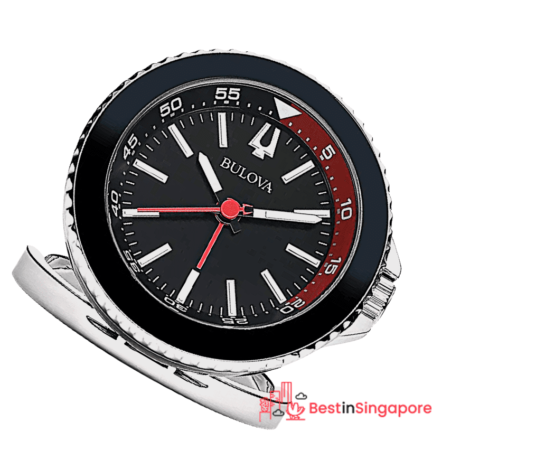 Price: $55.53
The design of the Bulova Diver Clock comes from the trademark marine star line of the brand. It's made of the finest materials and quality craftsmanship, offering precise and durable performance.
This pocket watch has a compact metal case with a polished silver finish for that simple yet formal look. The overall build is also anti-magnetic, shock- and scratch-resistant, and distortion-free as well.
It has become one of the best pocket watches in Singapore because it showcases advanced features such as an electronic beep alarm and luminescent hands/markers so you can clearly read the time even at night.
Moreover, its inside bezel ring turns independently, giving you an elapsed time measure that's not typically seen on most watches.
Pros
Durable metal frame
Alarm function
Luminescent display for night time viewing
Folds into a small compact case
Cons
Alarm sound is not loud enough
Customer Reviews
The Bulova Diver Travel Clock has earned positive feedback from users, saying that it's the perfect companion to bring during travel due to its compact form. They also said that the time display is so easy to read.
Here's a review from one of its users:
"A nice novelty clock for a watch collector. Was surprised to see that it has an interior rotating bezel. It comes with a battery but I think mine was very old because even though it had a protective plastic strip under the battery, it kept horrible time when I removed it. Replaced the battery with a new one and it seems to be doing much better. Clock was well packaged for shipment and comes with a little "velvet" bag to keep the clock in when not in use. Stand is built into the back."
3.   Gotham Men's Ultra-Thin Railroad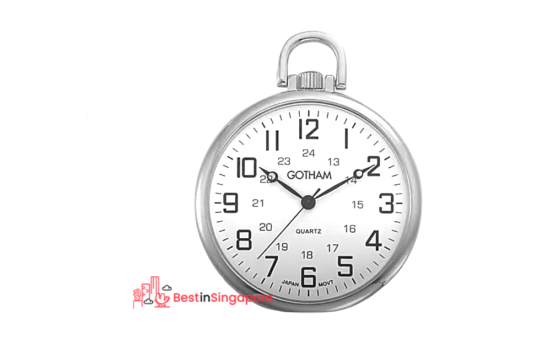 Price: $63.13
If you're searching for the best pocket watch in Singapore for daily use, then you must try the Gotham Men's Silver-Tone Ultra-Thin RailRoad! It's designed with an open-face style and extra-thin polished brass case where you can do some engraving for a personalised design.
This quartz pocket watch has a bright white dial including a railroad-style, detailed 24-hour inner track and antique-design-inspired hands. Along with these features is the silver-tone curb link chain with a belt-clip holder for quick attachment.
Pros
Minimalist style
Small and slim design
No winding required
easy to attach
Cons
Not waterproof
Plastic lens
Customer Reviews
Many customers praised the accurate time display and build quality of the Gotham Men's Silver-Tone Ultra-Thin RailRoad. Some said it might be too small for others so they advise to thoroughly check the size before buying.
Still, they've named the piece as one of the best pocket watches in Singapore. A customer shared this experience:
"This watch is ideal for my active lifestyle. Blue jeans and a crew t-shirt is my usual attire. The watch does not have a protruding time adjusting knob stem and is compact. The chain needs to be replaced with a nylon lanyard to reduce the weight and to keep it from scratching the watch over time. I used a lanyard supplied for the Fenix flashlight and it is about 9 inches in length. It looks similar to the YOUPO 5 pack nylon lanyards sold by Amazon. The jeans pockets are usually a little tight and hard to access, but it is easy to remove the watch by grabbing onto the lanyard and slipping it out. The lanyard can be attached to the belt loop or just left unsecured in the pocket. By the way, the watch is very light due to modern technology. The large face makes it easy to read the time for far sighted elders like me. Find it humorous when some critics mark it down saying its light and flimsy. Just because the early 1990s portable computers were hefty weighing in excess of 15 pounds, it doesn't mean it was a great computer."
4.   Dakota Gunmetal Mini Clip Microlight Watch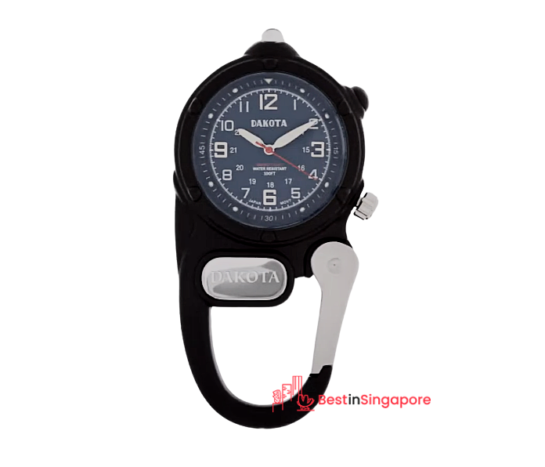 Price: $107.19
For a pocket watch that can match your sporty outfit, you must have the Dakota Gunmetal Mini Clip Microlight Watch! This compact and clip-on watch has a powerful and bright LED that comes in handy when you're taking a walk at night.
This lightweight timepiece has a weather-resistant gunmetal alloy case that can withstand heavy use. Its hands and markers are also luminescent for detailed night viewing.
It even has a black military dial, making it the best pocket watch in Singapore for a sports style. It also has an integrated carabiner so you can easily attach it to your belt or pants.
Pros
Durable alloy case
Luminescent hands and makers
Ultra-bright LED
Waterproof
Cons
Battery enclosure is a bit difficult to open
Customer Reviews
Customers who've bought the Dakota Gunmetal Mini Clip Microlight Watch said that they loved the strongly built case and easy attachment. A customer posted this review:
"I bought this style watch to hang on my work harness as I don't always have access to my pockets or wrist. This watch is always available regardless of what I am wearing (rain suit, coveralls, etc.). It's small and lightweight, don't even know it's there. It has weathered several rainy days (12 hr. shifts) and still works. Has a small red led flashlight built in which has come in handy a few times. Would like it better with either a luminous or lighted face but that hasn't been a issue using it."
5.   Spovan Digital Pocket Watch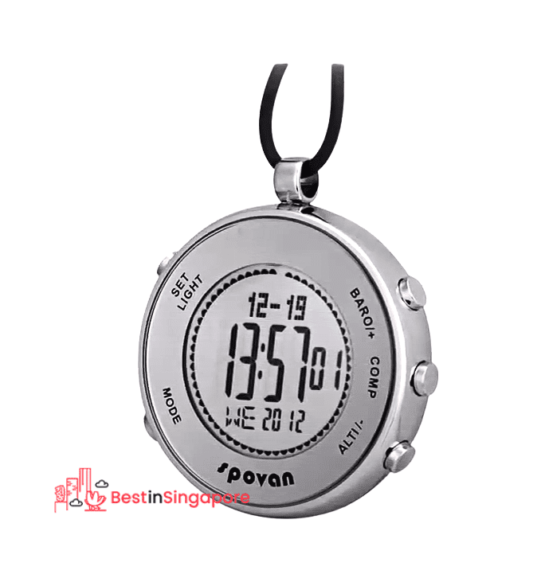 Price: $140.66
The Spovan Digital Pocket Watch is another modern timepiece with a digital time display. Just from a glance at its stainless steel and shockproof build, you can immediately see that it's mainly made for those who enjoy outdoor activities.
Since it has a water-resistant structure that can withstand depths of 100ft, you can experience a casual swim or extreme diving without worrying about internal damage.
In addition to these impressive features, it's also capable of recording and providing real-time tracking for up to 6 unique sites so you can save the best camping, hiking, or fishing spots.
It has a variety of versatile functions such as altimeter, barometer and thermometer features. With these innovative qualities that are rarely found on watches, it has become known as the best pocket watch in Singapore.
Pros
Alarm function
Full date display
Stopwatch
Compass feature
Waterproof 
Cons
Backlight is a little dim
Customer Reviews
The Spovan Digital Pocket Watch has captured the interest of many watch collectors due to its useful features and flexible settings. A customer recommended the watch and left this review:
"This device works very well. I have calibrated it and compared it to my iPhone elevation and pressure gauge and it appears to be very accurate. The quality of construction is very high. I haven't had it long enough to see how the glass will hold up. One drawback I noted was that the backlight is a little dim. The only reason I didn't give it a 5 star was that the user manual was a little confusing. It was obvious that English was not their first language. Anyhow, I really like the device and for the price would strongly recommend it."
And that's the end of our list of the best pocket watches in Singapore! If you'd like to recommend more options, feel free to share them with us!
And for more unique and classic timepieces, see these best mechanical watches in Singapore! They can complement any casual, formal, sporty look that you want to achieve!