5 Best Anti Dandruff Shampoo in Singapore for all Hair Types
Dandruff: a pesky, but all-too-common condition that often makes us embarrassed. According to many health experts, it affects about half of the adult population… which is probably why it's no surprise so many are looking for the best anti dandruff shampoo in Singapore.
We've gone ahead and done the research to identify the top products in this category. But of course, they're only one part of the solution.
Choosing the right anti dandruff shampoo in Singapore is just the first step. You also have to do some maintenance to avoid developing it — so we'll also discuss the causes of dandruff below.
Anyway, let's get started! This way, you can address your dandruff woes as soon as possible.
Dealing with Dandruff and Its Causes
Usually, dandruff is caused by the natural oils that protect the hair and skin, called sebum. But too much of a good thing can be bad — so, you get dandruff when sebum is overproduced by the scalp.
In more extreme cases, it's caused by scalp psoriasis and seborrheic dermatitis. For those, you'll likely need medical attention and a prescription, but for most cases of dandruff, a good shampoo and change of habits should be enough.
How Do I Get Rid of It?
Taking care of your scalp means doing a lot of preventative maintenance. Avoid washing your hair in too-hot water, and quit using styling products that apply heat to your hair such as curling and straightening irons.
If you can, switch to a cooling hair dryer instead, as your scalp will thank you in the long run. And the most important part is switch to a shampoo that remedies dandruff.
Choosing a Good Anti Dandruff Shampoo in Singapore
If you have to choose good anti dandruff shampoo, try looking for gentle cleansers that cater to sensitive skin as well as stop the overproduction of sebum with balancing ingredients.
The point is to soothe your irritated scalp: if you douse your scalp with shampoo or products that are too astringent, it will suffer even more. So, take good, gentle care of your hair, and it'll eventually be back to tip-top shape.
The Best Anti Dandruff Shampoo in Singapore
Now that we know the tips and tricks to taking care of the scalp, let's go to the list of the best anti dandruff in Singapore.
These were the best ones we found that are known for their lasting effects and for enriching the hair, making it stronger and shinier while getting rid of the itchiness and flakiness.
1.   Nizoral A-D Anti-Dandruff Shampoo
Price:$49.00
Limited Stocks At Shopee, Buy Now
Nizoral has long been the top anti dandruff shampoo in Singapore in many circles. In fact, it's a favourite recommendation by users in the forum site Reddit.
Being made with a known anti-fungal medication, Ketoconazole, it's guaranteed to stave off itchy, scaly, flaky scalps. Use it with your regular shampoo and conditioner — twice a week between washes.
Pros
For all hair types including gray hair
Prevents itchiness and flaking
Cons
Customer Reviews
Here are some reviews from Amazon about the this amazing product:
Nothing else clears things up faster than Nizoral. When you have a flake emergency, more often than not, it's a yeast overgrowth, so you have to make your head inhospitable for those suckers, by removing dead skin and oil, and killing the fungus. Ketoconazole is what you use when you don't have time to screw around with Head & Shoulders, and in fact, in dire emergencies, your doctor or dermatologist can prescribe Nizoral in 2% prescription strength. But 1% helps for daily or weekly use—as long as you've got things mostly under control.
I've found that it's best to apply it before you get in the shower. Let it sit on your scalp for 10 minutes before you hop in the shower, otherwise, you're just washing it down the drain before it can do anything.
I've used Head & Shoulders, Head & Shoulders Clinical, Neutrogena T-Gel, and Neutrogena T-Sal, but I keep coming back to Nizoral for reliable results.
-Replicant
I have what I have self diagnosed as ACUTELY CHRONIC DANDRUFF coupled with itching and scabs (my scalp was literally peeling/shedding). I would wash my hair with what I thought were my goodie shampoos and 2 days later, i'm back to square one. It also affected my hair growth, more so around the edges, I mean, when your scalp is peeling, that's bound to happen. Then I started using Nizoral, i've used it only twice now, about 5days apart and here I am, over a week later, no flake, no dandruff in sight. Had to ask my mum to examine my scalp today just in case my eyes were playing tricks on me and she confirmed it. FYI, I'm Black when 4b/4c hair.
If you're having doubts about this, just try it, i'm sure you'll be back here to share the testimony as well.
-Amazon Customer
2.   Neutrogena T/SAL Shampoo
Price:$29.58
Limited Stocks At Shopee, Buy Now
Neutrogena's T/SAL series is a holy grail for hair care. Its secret lies within the 3% salicylic acid in its ingredients.
This fragrance-less shampoo will begin to repair crusty, flaky scalps and bring them back to health. It's been dermatologically-proven to maintain irritated scalps and treat your head with care.
Another perk of this shampoo is that it's been known to treat even extreme cases of scalp psoriasis and seborrheic dermatitis. So, if you have extreme dandruff, this could be the best anti dandruff shampoo in Singapore for you.
Pros
Treats scalp psoriasis and seborrheic dermatitis
Long-lasting effects
Cons
Customer Reviews
Here are some reviews from Amazon about the this amazing product:
My dermatologist told me about this shampoo. No matter what I tried I always had flakes which was so embarrassed all the time. I used it for a week straight and problem solved. Now I use it once to twice a week to help it. Does not dry out hair either! I haven't had any problems. Dermatologist said that T-Sal is much more effective than T-Gel for my issue and he was right! Too bad many stores don't carry T-Sal. Decently priced on Amazon which is a plus too. 
-Amazon Customer
My husband has severe dandruff that wasn't controlled at all by drugstore brands, but I found a partial bottle at an estate sale and found it helped immensely. I was pleased to find Amazon carried it and the product received was identical to the one we were pleased with. Neutrogena T-Sol is a good product.
-Grandma Gardener
3.   Sebamed Scalp Balancing Shampoo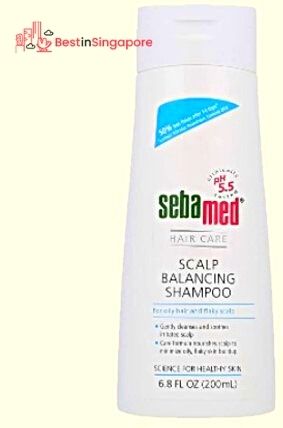 Price: $22.89
Limited Stocks At Shopee, Buy Now
Don't be fooled by its plain packaging, as this German-made product is one of the heavyweights of the anti dandruff shampoo social club. Sebamed ensures the gentlest care, and addresses the irritation and itchiness of the scalp while targeting the problems of overproduction of sebum.
This shampoo is the best at taking care of sensitive scalps everywhere. With this amazing feat, they're a contender as one of the best anti dandruff shampoos in Singapore.
Pros
For sensitive scalps
Gentle cleanser
Cons
Customer Reviews
Here are some reviews from Amazon about the this amazing product:
I've had an irritated scalp for as long as I can remember. I finally did some research of my symptoms and diagnosed myself with seborrheic dermatitis (gross i know). Anyways, after searching the best shampoos for this conditioner I came upon this decently priced shampoo. I tried the product and my scalp seemed to improve instantly, no itching, less flaking and the more I use it the healthier my scalp gets. I've been using this product for a few months now and flaking is non-existent and my scalp no longer itches. I would recommend you using a good conditioner after shampooing as it seemed to strip my hair a bit(not horribly) it wasnt noticable after finding a quality conditioner.
-Morgan Brooks
I have used this product for many years and it is the only shampoo that does not irritate my sensitive scalp. I do not suffer from severe dandruff but itchy and flaky scalp especially during the winter. I used to buy this shampoo at the drugstore in Germany but due to my move to the US I have to get it on Amazon now. I am glad I am able to still buy it. It is more expensive than it is in Germany, but one bottle lasts me a decent amount of time (I wash my hair every other day). I have long hair but use only a small amount of product to clean my scalp. Shipping was great and the product arrived as described by the seller. The packaging of my bottles was in English.
-Hanna
4.   Medicasp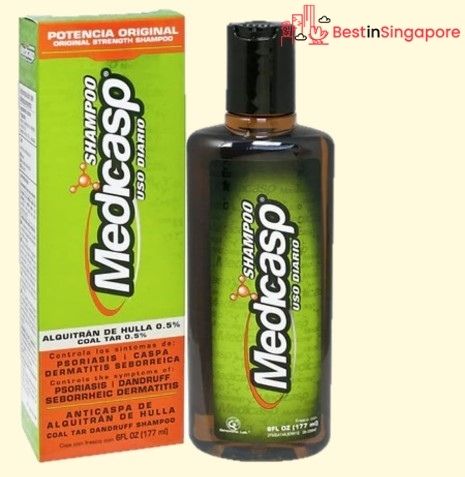 Price:$19.99
Limited Stocks At Amazon, Buy Now
Medicasp grants quick relief from the unbearable itchiness of scaly scalps. It may come off as strange, but the secret ingredient to this formula is 0.5% coal tar.
The best part is, you can use this twice a week only and you don't have to resort to everyday use. It's not that costly either, so you don't have to worry about your budget.
It soothes, remedies, and helps with dandruff, seborrheic dermatitis and psoriasis. This great shampoo is easily one of the best anti dandruff shampoo in Singapore.
Pros
Twice a week usage
Affordable
Cons
Customer Reviews
Here are some reviews from Amazon about the this amazing product:
I have been fighting a dandruff issue for the past 12 years.
I have tried everything I could find on the shelf and through home remedies, including but not limited to;
Head and Shoulders, Old Spice, Axe, various Tea Tree Oil shampoos and conditioners, essential oils, mayonnaise, olive oil, vinegar, baking soda and the list goes on.
FINALLY a product that works! I could not be happier! Honestly I even felt like I could not hold a professional image in my workplace due to the white flakes everywhere, it was quite upsetting and a constant struggle, I wore a hat out 95% of the time, now I get up in the morning and fix my hair and feel like I have the ability to hold a professional image during the day. It really is a relief and I am so glad to have found something that works.
-S. B.
My daughter's scalp was so bad that it was actually covered in scabs by the time she brought the issue to me. I had used this on my own scalp with success so I tried it on her while we waited for a doctor visit. Within a week, it's like she has a new scalp! She was so embarrassed to tell me and was in so much pain… what a relief this stuff has brought! It smells terrible in the shower but not too bad after drying your hair. And worth every bit of stink! Can't believe it could help such a bad issue! We won't have much to show the doctor now.
-Lowe
5.   Free & Clear Medicated Anti Dandruff Shampoo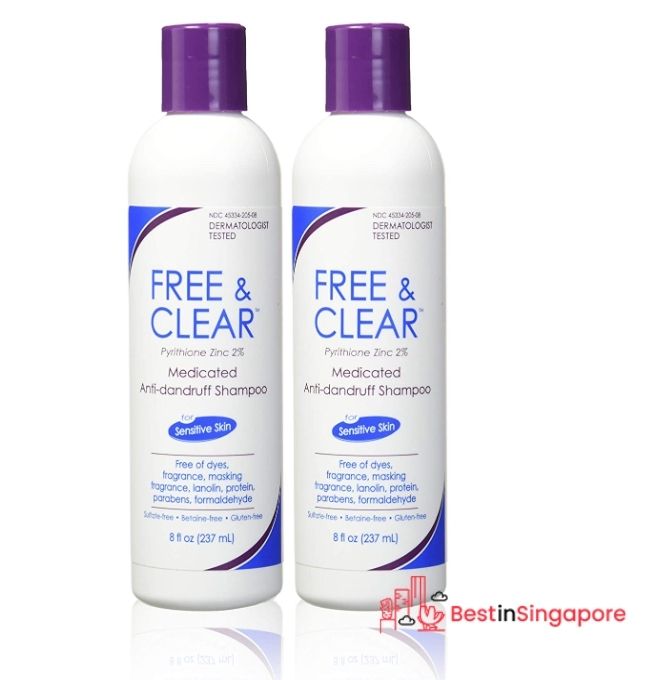 Price: $26.00
Limited Stocks In Shopee, Buy Now
One of the best anti dandruff shampoos in Singapore, this shampoo is free of dyes, fragrance, masking fragrance, lanolin, protein, parabens, formaldehyde and formaldehyde releasers. It's even gluten-free as well!
The active ingredient used in Free & Clear is 2% zinc pyrithione. The usage of this product is more of a slow burn: it needs to sit on the head for sometime, after which you can scrub it off the scalp and get the results you need!
If you can devote a lot of time to your bath and shampoo time and want a fragrance free treatment, this is one of the best anti dandruff shampoo in Singapore available. 
Pros
Free of toxic materials
For sensitive skin
Cons
Used every other day
Needs to sit in hair for a while before rinsed
Customer Reviews
Here are some reviews from Amazon about the this amazing product:
We've been using this for 2 weeks, we wash our hair every other day or 3 days. We have extremely hard water and the past few months have had the worst dry scalp… its disgusting, this is the 3rd product we've tried and so far the best. It smells decent, its kind of thick and needs water to help spread all over your scalp, we leave it on while we wash our body. It seems to loosen the dandruff/ dry scalp so after we rinse it we scrub of the layer of dead skin/ hard water build up, if we dont then big chunks are apt to come up like snow after our hair dries. I only rinsed and repeated the first time. I try to keep it towards the scalp or it makes my hair extra tangled and hard to deal with as I rinse it out before i put conditioner on the ends. I have ombre balayage bleached long hair and my boyfriend has virgin long hair on top and shaved sides (does the man bun thing). We dont use any other products (gel, hairspray, etc), just this and condition the bottom half of our hair with Silk 18 by holistic maple that we also buy on amazon. I noticed big red patches and thick spots on my bf's scalp which at first thought it was ringworm, psoriasis , eczema or something but the dermatologist said its just dermatitis and dry scalp not technically dandruff which is normally yellow. Just with this use he has zero patches left and most of the dry scalp is gone. My scalp has improved as well, I'm hoping for it to be back to normal by the end of the month. Definitely worth the investment to get rid of embarrassing scalp snow lol.
-Dr Joseph
It turns out I have "contact dermatitis" — deep rashes triggered by scents and additives in household products. I've changed everything I use to clean or scent myself, with this wonderful shampoo and product line as my go-to. Nature-derived Zinc Pyrithione is the active ingredient (studies say it can also help with hair loss, and is the same 2% Pyrithione Zinc found in the Vanicream Z-Bar). It pours scentless as a white cream, disperses with no foam, and owns my contact dermatitis. It's designed to do the same for psoriasis, eczema, and other generally sensitive skin ailments.
Hair is left wonderfully manageable — no over-dryness, no sacrifices at all in look or feel or ability to style it.
These Vanicream/Free & Clear products have changed my life. Rashes that once tore me open are gone. For those with skin ailments, eliminating scents and additives might be a wonderful place to start. My best to you!
-All Seeing I
We hope these options for the best anti dandruff shampoo in Singapore help remedy your scalp from the flakiness and itchiness plaguing you.
Did we miss any other stellar hair products, though? Tell us its name if you think we missed one and what makes it great in the comments below!
And if you're also dealing with hair fall, we've got a comprehensive list of the best hair loss shampoo in Singapore for that. Check it out for more local solutions to your hair woes!