The 10 Best Free VPN in Singapore
Want to make sure that all of your online activities are fully secure? If so, you need the best free VPN in Singapore.
A VPN lets you connect to another private network so you can hide your true location and have anonymity, securing your online browsing and transactions. With it, you can also access the sites that are not available within your region.
However, it can be quite a luxury for others to fully experience its features because most VPN services are not for free. That's why we're here to make it easy for you by showing you our list of options for the best free VPN in Singapore!
Check out our list below to see some of the most reliable VPN services that you can get even without costly monthly payments.
A caveat for all free VPN users, however: everything "free" has a cost. For instance, since they don't make money off payments from users, they often make money off data like your location or browsing history, which they may sell to just about anyone, from advertisers to the government.
They may also bombard you with ads during your surfing… or could use non-proprietary servers (which means the people who own the servers are yet another security risk for the VPN's users). In connection to this, we also suggest a VPN for Firefox and other browsers, which you will find below!
Overall, we say use these with caution and only if you have to. The very best VPNs are still paid options, which we've listed in our article on the best VPNs in Singapore.
1. VeePN
| | |
| --- | --- |
| BEST FOR | VPN Service |
| WEBSITE | |
| ADDRESS | 50th and 59th Str., Nuevo Reparto, Panama City, Panama |
Surfing unprotected is like turning your back on a tiger. You may never know when it strikes. Luckily, VeePN has your back when it comes to protecting your data. They are a business that provides high-quality VPN encryption using the AES-256 algorithm, which ensures that your data is secure even in the face of brute-force attacks.
Ten devices, including smartphones, laptops, and even televisions, can be linked to the VPN service. Some of its most significant features are double VPN, no-log VPN, kill switch, and NetGuard.
One of the many features that intrigued us the most is their VPN kill switch. It acts as a countermeasure in case the already fortified VPN security connection fails. The VPN kill switch will automatically block internet access and turn it back on when the connection is linked back. 
We highly recommend VeePN, it is a perfect tool if you're looking for a long-term VPN service provider. They have great rates and good reviews.
Highlights
Affordable rates

Cheap long-term plan

Tons of features and personalizations
Customer Reviews
Pretty Good Features 
"It's a shame that VeePN is one of the less popular VPN services on the market, as it actually has a lot to offer. Luckily, online security is not a popularity contest, and that's why we gave VeePN a chance to prove itself. And it did. For example, I was happy to find out that this VPN does a decent job at unblocking streaming sites. I also like the wide selection of apps and solid security cred. And even though it doesn't have a lot of features, the ones it offers are pretty good. With some improvements here and here, I can see how VeePN might become more and more popular as time goes by." – Rūta Rimkienė
Really good VPN
"Really good VPN, with a lot of servers. 0 problems, never had a connection problem and the speed is really fast. Pd: Only downside, in windows 10, I don't know if it's just my pc whenev I close the app and put to sleep the PC, when starting the app again it keeps trying to connect to a server but it never actually do it. So everytime I have to go to Task Manager and close the app there and then it works again. Hopefully you can fix it, in android and Mac works flawlesly." – Daniel Martinez
2. Norton
Norton is one of the most highly recommended VPN providers worldwide, having rose to prominence thanks to its dependable antivirus softwares for various operating systems.
Norton Secure VPN is a must-pick due to the onboard features, one of which is the internet shield. Using Norton Secure VPN allows people to browse safely without having to worry about data and location being sent out to advertisers. It also prevents tracking.
Wi-Fi security is another sought out feature that Norton Secure VPN comes with. Users who take advantage of public internet connections won't be in danger of cybercriminals intercepting any information they send out. 
Lastly, Norton Secure VPN allows users to stream content regardless of their location. Enjoy the latest titles from Netflix and other major streaming sites with the help of this VPN.
Highlights
Blocks unwanted tracking technology
Bank grade encryption
Anonymous browsing
Speedy service
3. NordVPN
Get solid security and fast, stable connection speed at a fair price with NordVPN
NordVPN's torrent support is one of the pros of getting it. Aside from this, it also ensures you privacy as it has plenty of smart features to help keep you safe and anonymous online. Once connected, you're free to enjoy the internet in complete privacy.
Your connection will also be secure since NordVPN supports 256-bit encryption. Furthermore, it also has something called 'double VPN'. This is the way that you connect to a VPN server and then bounce that connection off another before heading to your destination address.
Highlights
Easy-to-use app
For all your gadgets
Makes your online data unreadable to others
4. TorGuard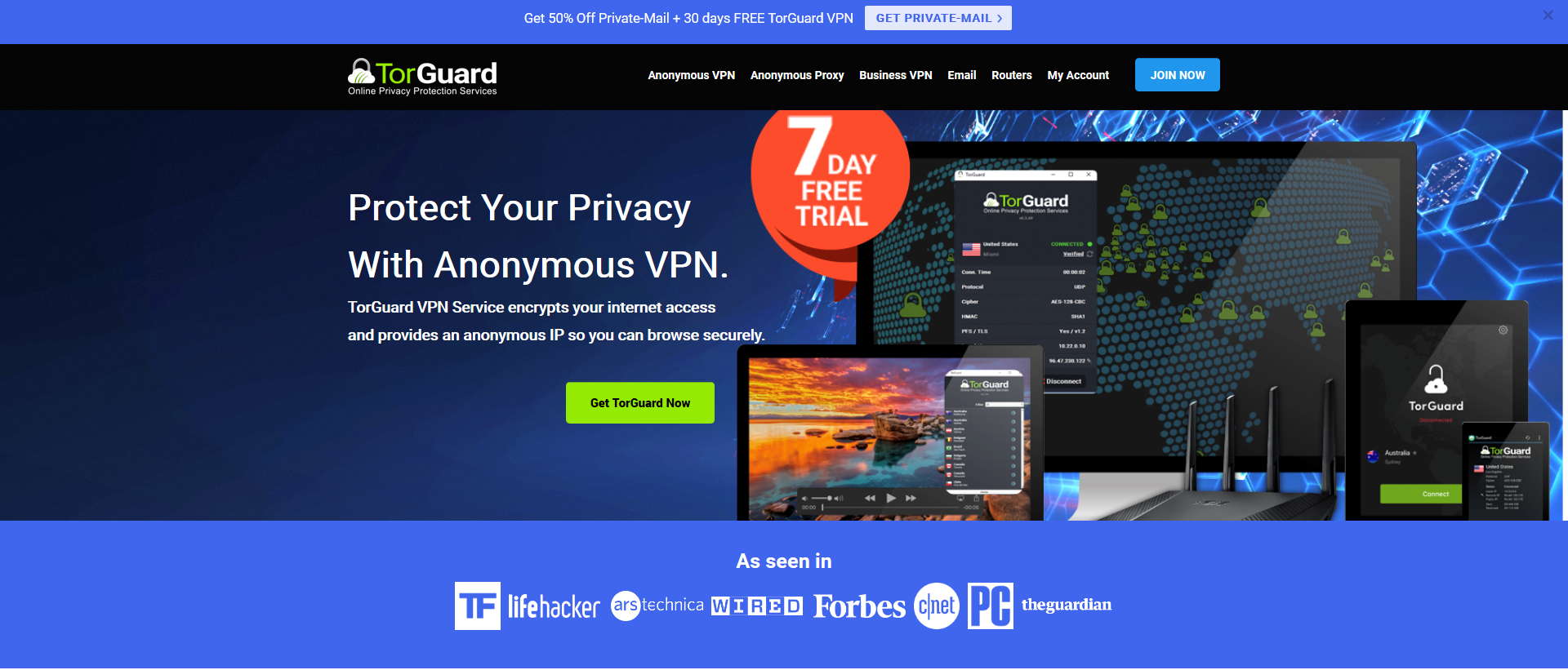 With all the dangers lurking in the internet, you need to have security for your online privacy. Now, to help people browse and download safely, TorGuard Anonymous VPN & Proxy is ready to lend you their skills.
There are a lot of security issues created by hackers, net censorship, identity theft, and ISP monitoring activities that puts your online privacy at risk. It is TorGuard's goal to provide easy to use services that protects your online identity.
By acquiring TorGuard's services, you can surf the web without restrictions, stream your favorite content, and download anonymously. TorGuard hides your IP address so that you can stay private.
Highlights
Easy VPN Apps
Short Installation Period
Stealth VPN protocols
Customer Reviews
Here is a review left by a very satisfied client:
"Not sure about those top reviews, obviously people frustrated at there lack of knowledge of things. The service has been rock solid since June 2013 when I joined, it's very easy to setup, the client software has improved greatly since then and servers have expanded big time."
5. FastestVPN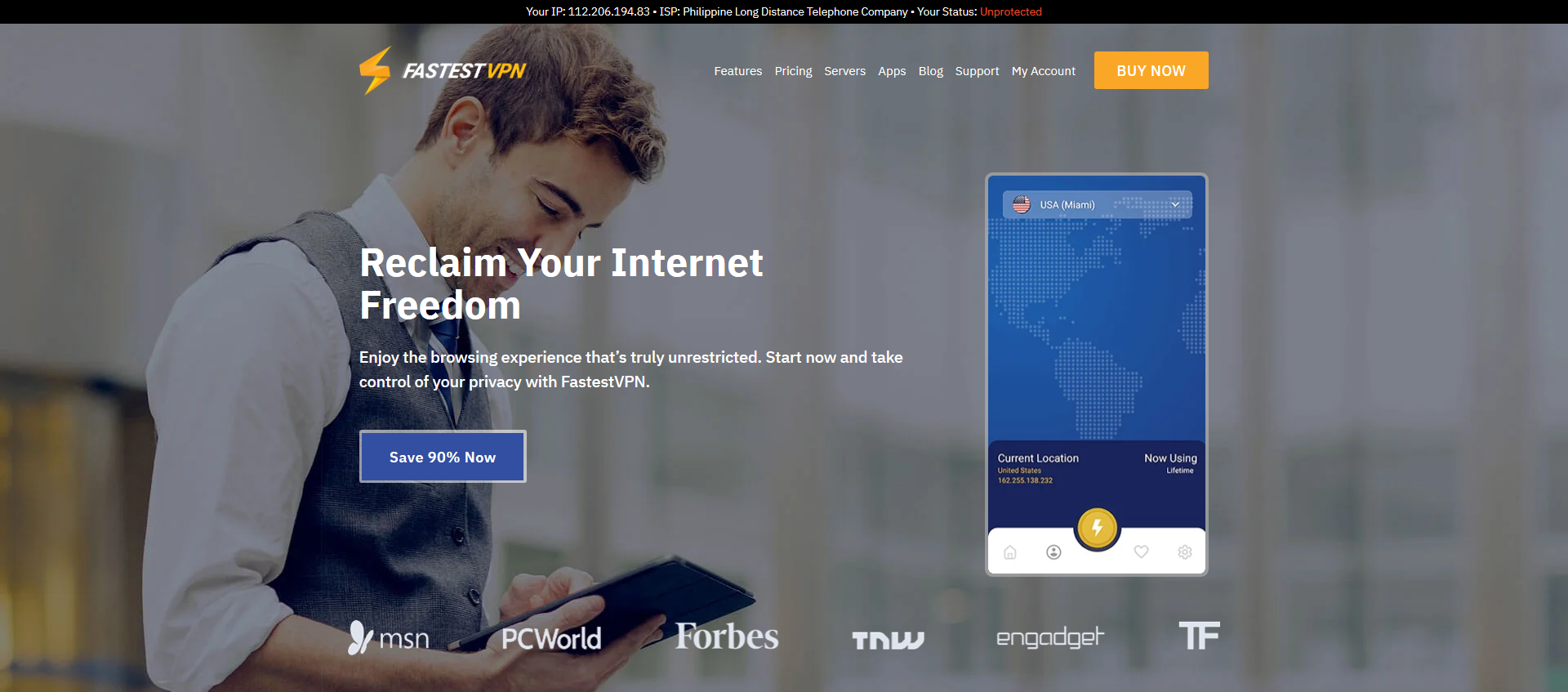 The FastestVPN is a company based in Cayman Island that specializes in providing a seamless blend of fast and secure network connections. With their team of dedicated IT specialists, they work with one thing on their mind: keeping you safe and comfortable.
FastestVPN is especially built with advanced protocols and 256-Bit AES encryption which secures you on public Wi-Fi networks, clears cookies, and commendably protects your identity. It works as the best solution for anonymity, privacy and security.
They prioritize their customers' privacy and security and make sure to protect their rights to secure internet access. FastestVPN aims to assist you to a secure internet experience without leaking your data to third parties.
Highlights
Advanced Protocols
256-Bit AES Encryption
Customer Reviews
Here is a review left by a very satisfied client:
"I Just got the $20 for life offer. From the money I just paid, its fantastic, no problems so far. For the price these features are amazing, well worth the money. Even if it ends up going all wrong, I have not lots of loads of money, $20 for life is the best deal on the net at the moment. Gets an A+ from me."
6.  ProtonVPN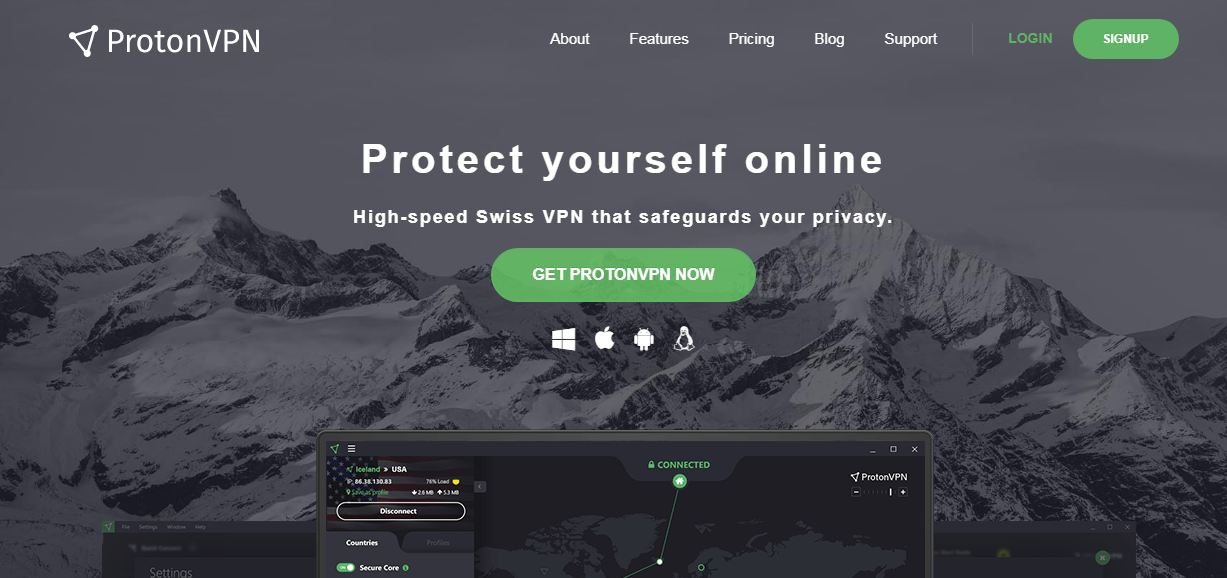 ProtonVPN is mostly used by professionals because it features no data or speed limit despite being a free VPN. You can access sites without any ads for faster browsing and all online activities will not be saved or shared for full protection.
Its servers are protected by Swiss privacy laws so rest assured that even if you're connected to another network, all of your personal information will be safe and secured.
Highlights
Accessible on all devices
Servers protected by privacy laws
Customer Reviews
Many users said that ProtonVPN stands out as the best free VPN in Singapore because of its excellent digital security. A reviewer wrote this verdict:
"ProtonVPN doesn't have as many servers as much of the competition, but it has a lot more to offer than many of the bigger players. The free version is the best we've tested, and paid subscriptions are affordable as well."
7.  Hide.me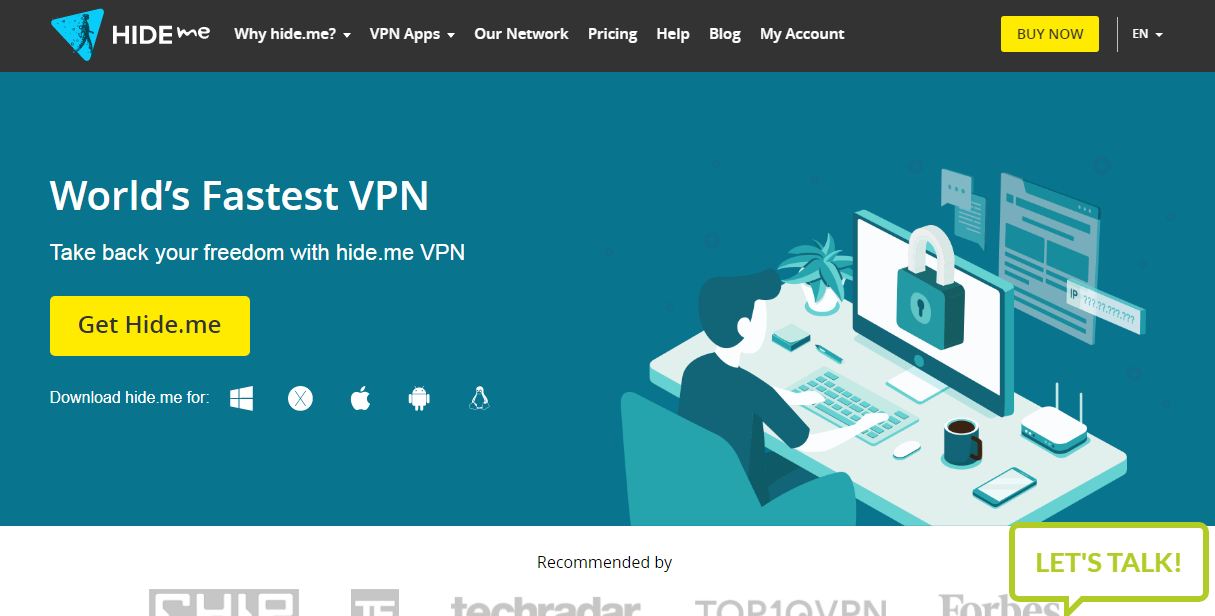 With Hide.me, there's not much of a difference between free and premium plans, you can still experience a fast browsing experience even with the former. It's also audited by independent security analysts, so its system can't store any personal data.
It contains no ads and no limited bandwidth and you can also connect to a total of 5 server locations, unlike other free VPNs where you can only connect to a maximum of 3 servers.
Highlights
Unlimited bandwidth
Compatible with all devices
8. Hotspot Shield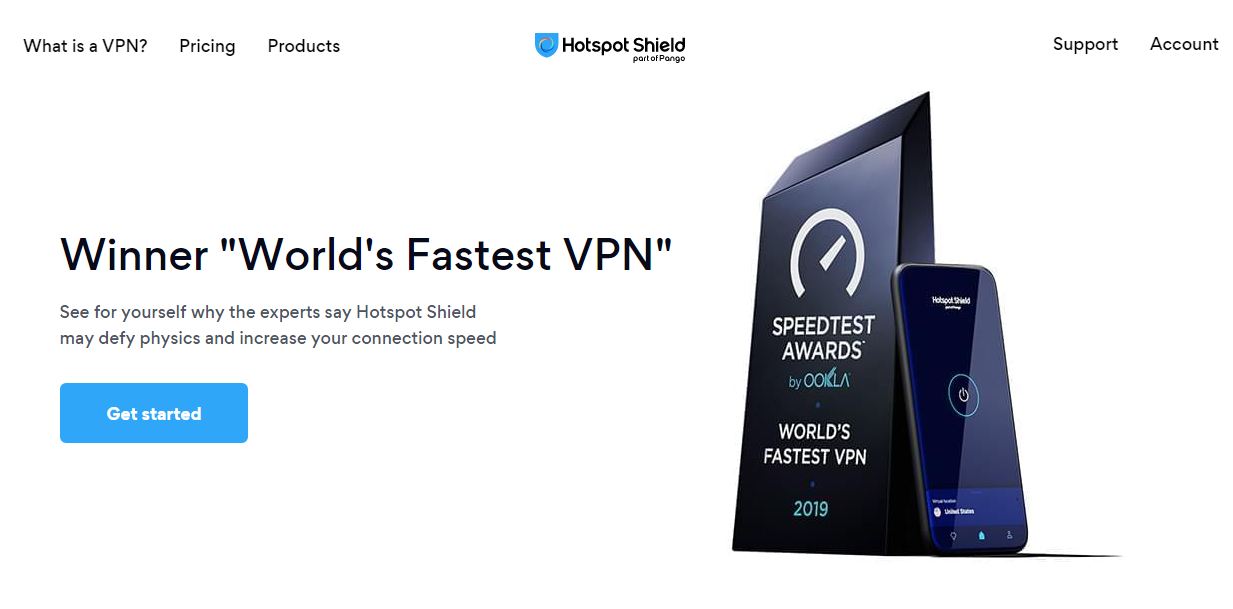 Hotspot Shield offers one of the best free VPN in Singapore where you can have access to an ultra-fast VPN server. It also features military-grade encryption for a fully secure Internet connection.
This free VPN plan is an ideal choice for endless streaming and gaming because of its high-speed server and high-quality performance despite being connected to areas located a thousand miles away from you.
Highlights
Built-in malware database for cybersecurity
Compatible with all devices
9. TunnelBear
TunnelBear features strong security encryption that'll protect your device against identity theft. It also has independent security audits so you can be sure that your online activities are fully protected.
It also provides new and fast game servers and access sites and apps that are blocked by some governments. These are the reasons why it's the best free VPN in Singapore to use while travelling or living abroad.
Highlights
Fast game servers
Compatible with all devices
Customer Reviews
Users complimented the no-logging policy and user-friendly interface of TunnelBear. A reviewer posted this feedback:
"TunnelBear doesn't have the largest network, or the most apps, or the longest of feature lists. But it does a good job of simplifying VPNs for novice users, there's an excellent privacy and no-logging policy, and we have to applaud any VPN provider which gets its software and systems independently audited. TunnelBear is not for experts, but it's a must-try for casual or less demanding users."
10. iTop VPN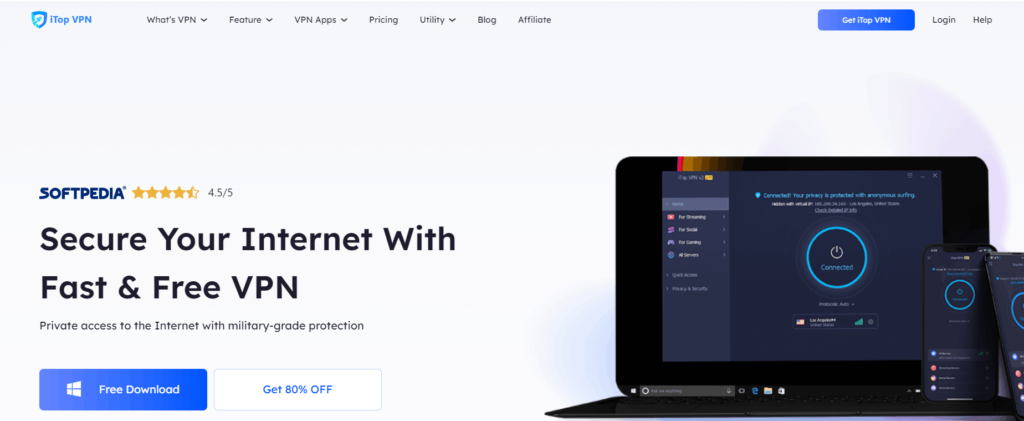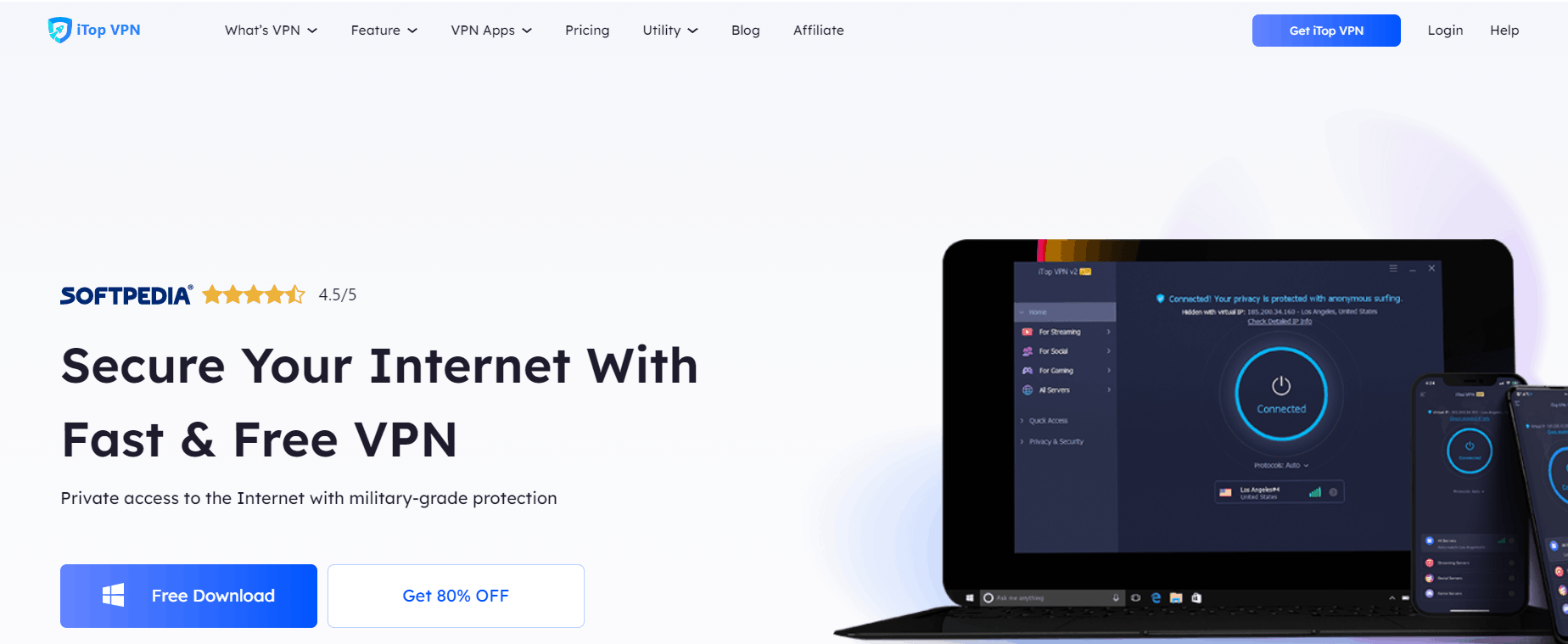 iTop VPN is a free VPN that provides nothing but the best quality online and offline protection– no catch, no leaks, no gimmicks included. They provide millions of desktop PC and mobile device users with strong and reliable software suited for anyone's security needs.
It can be used immediately on up to 5 devices with no signup or login needed. Moreover, it's connected to thousands of servers in multiple locations nationwide, which means that you'll be able to access any geo restricted content you want with no issue. 
Most VPNs tend to bog down the internet connection since it needs to connect to multiple servers to keep your IP hidden and your data secure. However, iTop VPN has dedicated servers for popular media and gaming applications so you can experience a lag-free Netflix streaming and online gaming experience.
Finally, iTop VPN is a trustworthy service provider that will never collect and sell your data to other companies. Given its wide range of features, stable and reliable protection, as well as extensive data security, iTop VPN is a free VPN that you shouldn't fail to consider using for all of your devices.
Highlights
Suitable for PCs and mobile devices
Many users nationwide
Numerous subscription plans available
100% money back guarantee for 15 days
And that's it for our list of the best free VPN in Singapore! If we missed out on other excellent options that you know of, let us know, as we may also include them here!
Moreover, if you're searching for VPN servers that you can use to secure a large business network, these options for the best VPN in Singapore offer competent plans for all business levels! Check them out too!