11 Best VPNs in Singapore for Secure Browsing in 2021
Do you want to know that your actions aren't being tracked on the Internet? The best way to do that is to get yourself a subscription to the best VPNs in Singapore.
A reliable VPN in Singapore should make Internet browsing more secure and private. If you have the best VPN in Singapore, you don't need to worry about your online activities being monitored… or about being able to access certain websites.
To help you pick out the right VPN for Singapore, we've gone looking for the best ones available right now. But before that, we'll give you some important tips for getting a VPN subscription.
If you already know what you want, though, feel free to jump ahead to our list of the best VPNs in Singapore. Either way, let's begin!
Factors to Consider When Choosing a VPN
There are a handful of VPN services in Singapore, but you should never settle for one that can't provide the security you need. That may cost you more money in the long run.
To prevent this from happening, here are some of the things you should consider when buying a VPN in Singapore.
1. Security
Almost everyone who gets a Singapore VPN wants to protect themselves from being monitored. Hence, privacy is one of the indispensable features of a great VPN — if your VPN has weak security, there's not much use to it.
The main job of a VPN is to provide you with a safe connection without being susceptible to countless risks floating in the Internet. It should be able to hide your IP address and kill switches, at the very least.
If a VPN does these, you should be able to use the Internet without worrying about your activities being tracked. There's also a better chance that a hacker will not be able to gain access to any of your private files.
Be aware that there are plenty of sites that claim to offer free Singapore VPN but these are not secure. 
2. Speed
If you're planning to use a VPN for video streaming purposes, then you should also look into its speed. But given that most Singaporeans have access to some of the fastest Internet connections in the world, it shouldn't be much of a concern.
Still, it's better to search for a VPN that will provide you with different options. This is to ensure that you'll always have fast and stable Internet, no matter what you do with the VPN.
3. Reliable Encryption
An excellent VPN with a dependable encryption system will do whatever it takes to protect your data and privacy. Instead of sending your Internet traffic to one server, a great encryption system will bounce it off multiple servers.
It can also help your files from being accessed by unauthorised persons. So, if you want to maintain anonymity on the internet, then you should definitely seek out a VPN that can do all these. 
4. Accessibility
 A VPN's accessibility is important, especially for people who travel a lot. You wouldn't want to pay for a service that can only be used in a single place, would you?
Since some websites may be blocked in some countries, it's better to look for a VPN that can be used anywhere. One sign of a great VPN is that it ensures that you receive the same services you do back home wherever you may be. 
5. P2P Support
Lastly, if you intend to use a VPN to gain access to files such as games, movies, books, music, and applications, then you'd want one that enables peer-to-peer sharing. However, most VPN providers aren't too keen on this idea.
Hence, you should check which VPNs have a clear policy on P2P sharing. A worthy VPN provider has no restrictions when it comes to P2P, giving you limitless file sharing capabilities. 
The Best VPNs in Singapore
Now that you know what to look for before subscribing to a VPN service, let's go to the ones we think worth your attention.
Without further ado, here are the best VPNs in Singapore! 
1. NordVPN
Best for Data Encryption
Price: As low as $3.71/month for 2-year plan
If you've been following the trends on VPN, you would know that NordVPN is a highly recommended VPN provider around the world.
What makes NordVPN stand out, apart from its vast array of servers (they claim to have the largest VPN server network worldwide), is its double data encryption system, which offers extra privacy and security.
Some VPNs do collect your data to profit off it but consider this one different. It has a strict no log-in policy, so you're sure that you don't unwittingly provide them with your sensitive data.
If you want to use for streaming, NordVPN can unblock all major streaming services, including Netflix, HBO Go, and Amazon Prime. Additionally, it comes with CyberSec, which blocks dangerous websites and annoying ads.
Contact them if to see if they've got available trial for free VPN in Singapore.
Highlights
Double data encryption (military-grade too!)
Fast servers
Works in restrictive countries (China, Middle East)
Follows a strict n0-logs policy for users
Risk-free 30-day money-back guarantee
24/7 customer support
Customer Reviews
Here are some reviews proving that NordVPN is one of the top VPN providers out there:
"The best VPN for streaming I tested different VPNs for Netflix, BBC iPlayer and some events streaming. NordVPN provides the best experience, it goes without buffering or IP blocks by Netflix. Also, Nord has the intuitive app on Amazon fire TV stick (so no worries, it's easy to set up and use)."
"Running Linux OpenVPN on my laptop and 2 Android Devices. Google Play recently made them remove the AdBlocker from the Google Play version of their app. After speaking with them and opening a support ticket they advised there was an apk on their website that restored the adblocker. I asked about how to keep updated and was advised to follow the news feed on Google Play. I suggested an app update feature and 2 days later, this was added to the apk version. Support goes above and beyond to resolve the issue providing you fully explain your issue. I highly recommend this service."
2. Norton
Best for Advanced Security Protection
Price: Varies depending on Plan and Number of Devices
Norton is one of the most highly recommended VPN providers worldwide, having rose to prominence thanks to its dependable antivirus softwares for various operating systems.
Norton Secure VPN is a must-pick due to the onboard features, one of which is the internet shield. Using Norton Secure VPN allows people to browse safely without having to worry about data and location being sent out to advertisers. It also prevents tracking.
Wi-Fi security is another sought out feature that Norton Secure VPN comes with. Users who take advantage of public internet connections won't be in danger of cybercriminals intercepting any information they send out. 
Lastly, Norton Secure VPN allows users to stream content regardless of their location. Enjoy the latest titles from Netflix and other major streaming sites with the help of this VPN.
Norton is great for both Mac and Singapore VPN for PC. 
Highlights
Blocks unwanted tracking technology
Bank grade encryption
Anonymous browsing
Speedy service
3. Atlas VPN`
Best for fast and stable connection anywhere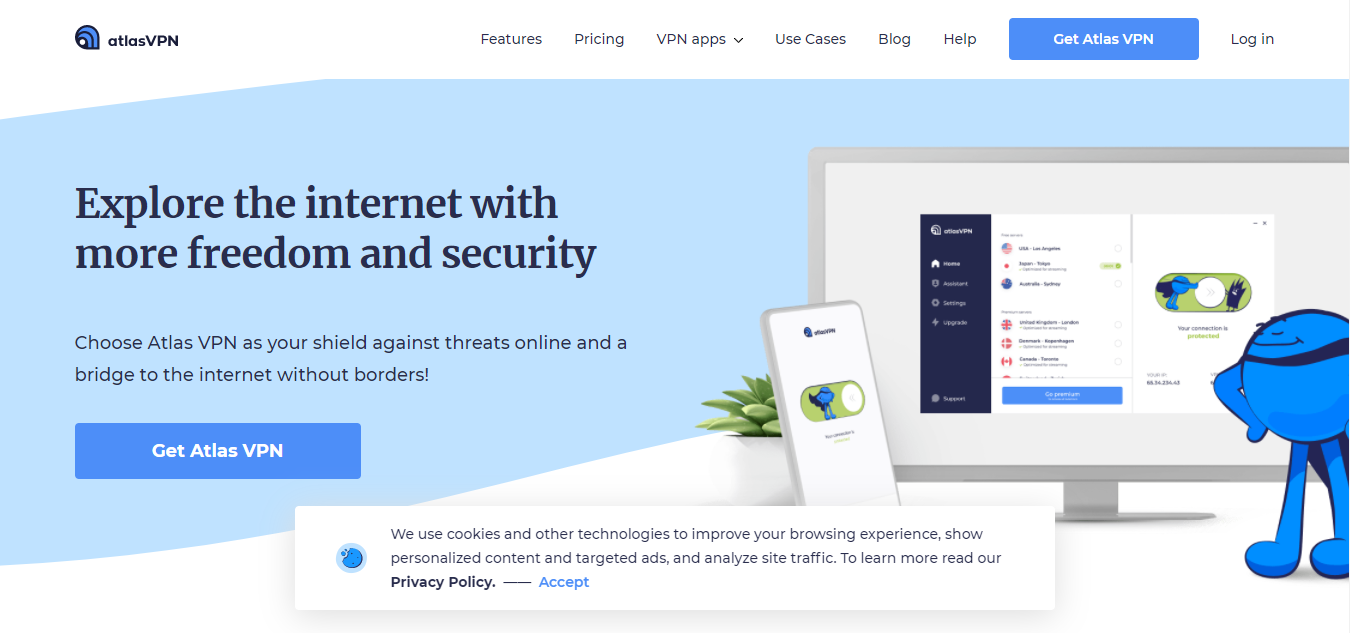 Price: Available on their website
A Virtual Private Network reroutes all your internet traffic through an encrypted tunnel. With Atlas VPN, you will be defended against online snooping, be it hackers, governments, or ISPs.
 Availing of any of their plans can make you experience the internet without limitations. 
Unlike other VPNs on the market, they are the only ones that offer VPN plans that feature unlimited devices, meaning they do not limit the number of simultaneous connections, 4k streaming on Netflix, Hulu, and other platforms, fast speed, and P2P support. 
Their VPNs are compatible with Androids, iOS, macOS, and Windows.
Highlights
700+ high-speed VPN servers
30-day money-back guarantee
Can pay through VISA, Mastercard, AMEX, Discover, JCB, Google Pay,  and PayPal
4. CyberGhost
Best for User-Friendly Interface

Price: $2.75/month
CyberGhost is best at encrypting your data and hiding your IP address to provide you with safe and worry-free browsing. If you don't want to spend a lot on VPN services, it offers various affordable plans that sit well within most budgets.
It works well with most operating systems, including Android, so you won't experience trouble with compatibility. What's more, it supports a number of protocols such as IPSec, OpenVPN, and L2TP, enabling high-quality encryption system to keep your data and files secure.
While there are VPNs that allow you to use multiple devices, most of them are limited to 3 simultaneous devices. However, CyberGhost lets you use 7 devices at a time, making it one of the few VPNs that offer this feature.
Lastly, in case you encounter problems with your VPN, they have 24/7, round-the-clock customer support more than willing to address your concerns any time of the day.
Their plans are really affordable and competitive, and with the added benefits, can even be better than those dodgy VPN Singapore free offers. 
Highlights
Affordable plans
Easy-to-navigate interface
Excellent encryption system
Live chat customer service
5. Surf Shark
Best for Affordable, Multiple Features

Price: $11.95/month 
With Surf Shark, you can secure your data easily and safely. As a VPN with many features and a surprisingly small price, you'll be happy to know that their network has recently grown to 1 040 servers.
If you're thinking of availing their services, try their 30 day trial period to see what Surf Shark has to offer. You can then purchase their monthly subscription if you liked it, where you can enjoy huge savings from their long term plans.
Whatever devices you're using, there's no need to worry about annoying 'simultaneous connection' limits– you can run Surf Shark on as many devices as you like.
Highlights
Customer Reviews
Here is a review left by a very satisfied client:
"Surfshark is a powerful and low-priced VPN with an array of advanced features. There are some issues, too, but the service has seen some major improvements over the past year, and it deserves to be on your VPN shortlist."
6. TorGuard
Best for Overall Protection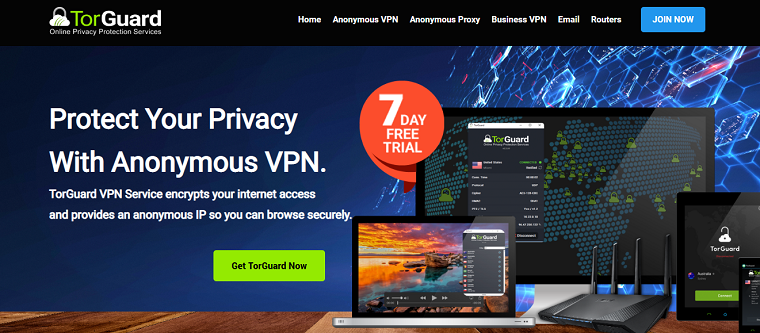 Price: Starts at $9.99/monthly
Considered one of the fastest VPNs ever, TorGuard ends up at the top of our list. We highly recommend this VPN to people who have extra bucks to spare and want to get a superior VPN experience.
Like most VPNs, it's compatible with most operating systems and has no known issues when it comes to compatibility. Its claim to fame is probably its unique features such as support to a wide range of VPN protocols.
If you want another level of security, it has DNS and IPv6 protection leak on top of its secured DNS servers. It has the ability of preventing leaks on its own, saving you the trouble of figuring out how to navigate your computer's settings.
Another thing we like about it is that is consistently fast and stable throughout different countries. So, if you tend to travel a lot, having TorGuard won't give you much stress.
Once you experience their secure VPN service, you wouldn't even consider those flaky VPN Singapore free unlimited offers. 
Besides, unlike most VPN providers, TorGuard doesn't store their customers' information through logging. While there are some that will sell your information to advertisers, it's very clear that TorGuard will never collect any of your information. 
Highlights
Best for Torrents
Excellent encryption system
Has a kill switch
24/7 customer support 
Customer Reviews
Since TorGuard is known as one of the reliable VPNs, it has nothing but praise from its customers. Most buyers have said that it's the best VPN they ever tried. On top of this, there are buyers who claim that it works well wherever you are.
A user commented the following on a review site:
"Excellent and finally a solution that works for me. In the UK and wanted to be behind a UK server at router level and still have access to ALL streaming sites on ALL devices. No VPN providers could offer this (including the much hyped NORD) as shared IPs are constantly being blocked. I added their streaming IP to their VPN product, got 50% off the whole package and I'm done. My own IP at router level and the speed is probably at 90% of what it should be at."
7. IPVanish
Best for Multiple Devices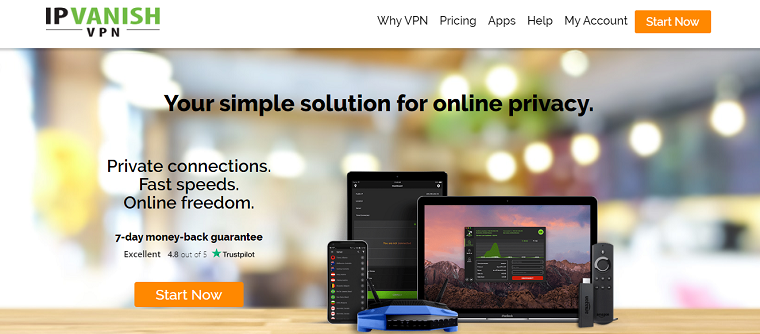 Price: $9.00/month
IPVanish will let you use up to 10 devices simultaneously, making it ideal for bigger families. Even if you have 10 connections at the time, it will maintain its speed without slowing down.
Another thing that we love about IPVanish is that it has access to more than 1,700 servers across more than 75 countries. No matter what country you find yourself in, you will always be protected from those trying to get a hold of your data without permission.
In terms of data encryption, it uses the same encryption called AES-256, utilised by most government organisations and security agencies. You will never have to worry about being exposed to entities that may use your information for their benefit. 
Highlights
Allow simultaneous connections
Strong encryption system
Works well with Netflix
TOR-compatible
Zero traffic logs
8. SaferVPN
Best for Affordability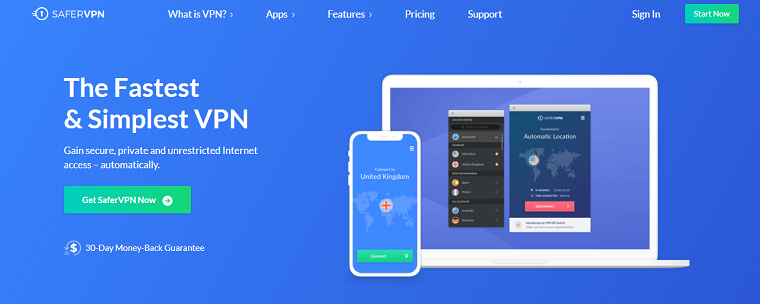 Price: $4.54/month 
 If you're looking for an affordable VPN that is dependable and can go a long way, then look no further than SaferVPN. Despite being affordable, some of its features parallel those of well-known VPN providers, without the heavy price tag.
Going by its tag-line, it aims to provide users with boundless browsing. Not only do users get to access blocked sites, their personal data and information will be protected from trackers as well.
It's also compatible with Windows, Mac, Google Chrome, and Firefox, so no need to worry about incompatibility issues. What's more, you get to use their services in all your devices, including mobile phones and tablets.
With its 256-bit bank-level encryption, you're assured that your personal data is safe. It also has a proactive kill switch, making sure that all your data goes through a secure channel.
In terms of speed, it's not one of the fastests VPNs out there. But considering how affordable it is, we believe that its average speed is manageable.
Highlights
Cheap compared to most VPNs
Bank-level encryption
24/7 customer support
Global internet access
Works with Netflix
Customer Reviews
If you take a look at some reviews, most customers are really impressed by how cheap SaferVPN is compared to most VPNs. Despite this, most are satisfied with its features, even though some think it's a bit limited. Howevers, most customers really recommend it if you're a bit tight on cash and want some security while using the Internet.
One customer left the following comment on a VPN-reviewing site:
"It's a pretty decent VPN service imo… Easy to use. Pretty good speed, No logs. I like it more because I didn't get too many disconnects or drops in connection like I did with the other VPNs. It's also easier to use compared with others I've tried because it guides you through how to use it thoroughly with directions so it's probably one of the top VPNs for beginners and people just starting out with using a VPN service as well."
9. ExpressVPN
Best for Fast Download Speed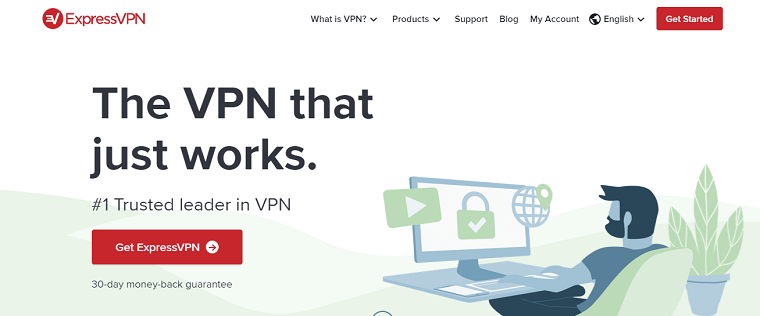 Price: $12.95/month
 If you intend to use a VPN mainly for streaming Netflix, then we suggest that you get ExpressVPN for smooth video streaming. Besides being known for its speed, it has the power to remove restrictions and censorship, providing users with unlimited yet safe online content.
On top of keeping you anonymous at all times, it will also keep your personal information and private files safe from hackers. It also enables P2P sharing, so you won't have any trouble accessing various content such as movies, songs, and games.
One of the features that makes ExpressVPN stand out is its access to countless servers, allowing customers to use it anywhere in the world without hassle. It's accessible to 160 locations and in over 94 countries.
While most VPNs have a difficult interface that can be hard for users to navigate, ExpressVPN has a user-friendly interface that won't confuse anyone. You can get started in just three steps: choose subscription, go to their set-up page, and then install.
Lastly, in case your VPN gets disconnected, it has its own kill-switch that will keep your data from being compromised. 
Highlights
No logging policy
Countless servers
24/7 live chat support
Compatible with a wide range of devices
10. IObit
Best for Overall PC Optimization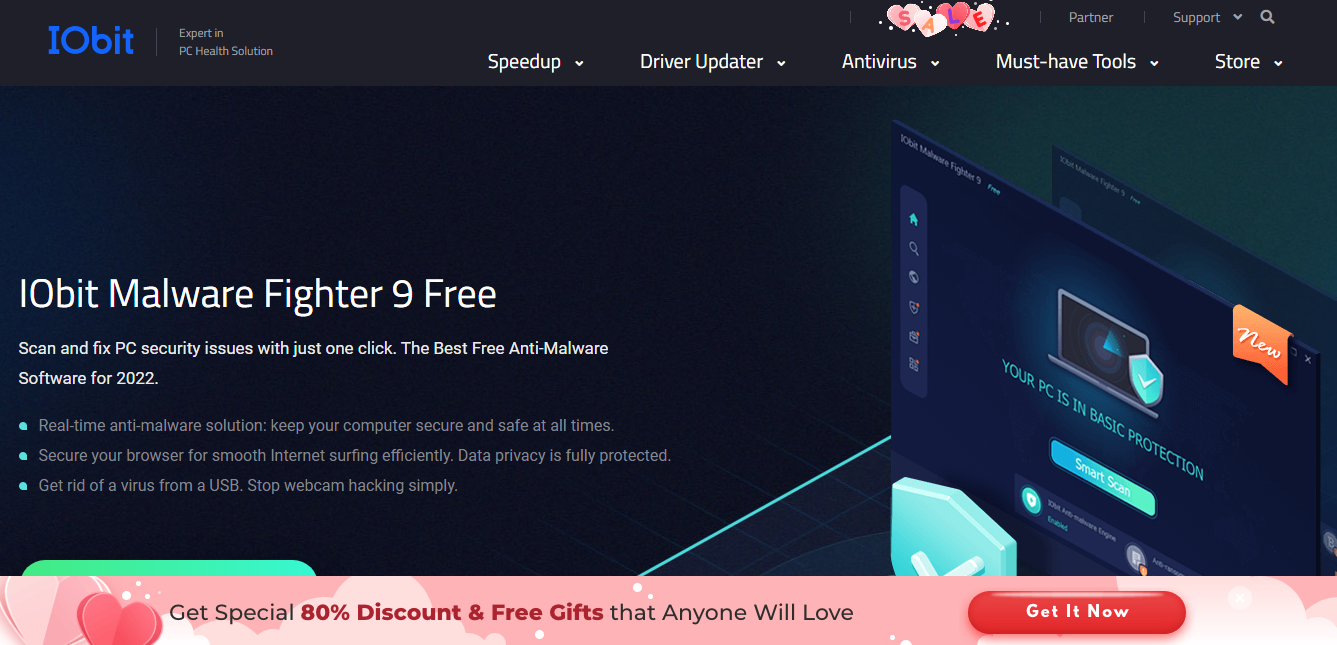 Price: $16.77/year
IObit is a company that offers a wide range of software geared toward making the PC experience more optimal and up to speed. They are established back in 2004 and have since then won over 100 awards and have had over 500 million downloads of their programs worldwide.
They have a broad array of products such as their very own Malware Fighter 9 and Advanced SystemCare 15 among many others that works in complementary with each other to ensure that the client's PC is both secured and optimized.
The company also has a comprehensive web of partners that aid in distributing their programs so that more people worldwide get to access their products and experience the innovation.
Equipped with smart AI, they have various readily available that fit the needs of everyone who uses their programs such as game boosters, smart defrag, and malware fighters among many others.
Moreover, clients can get to avail of these programs online and at convenient platforms so that the whole transaction is always both convenient along with real-time support readily available.
Highlights
Offers free installation
Smart AI
Multi-purpose programs
11. iTop VPN
Best for Free and Secure VPN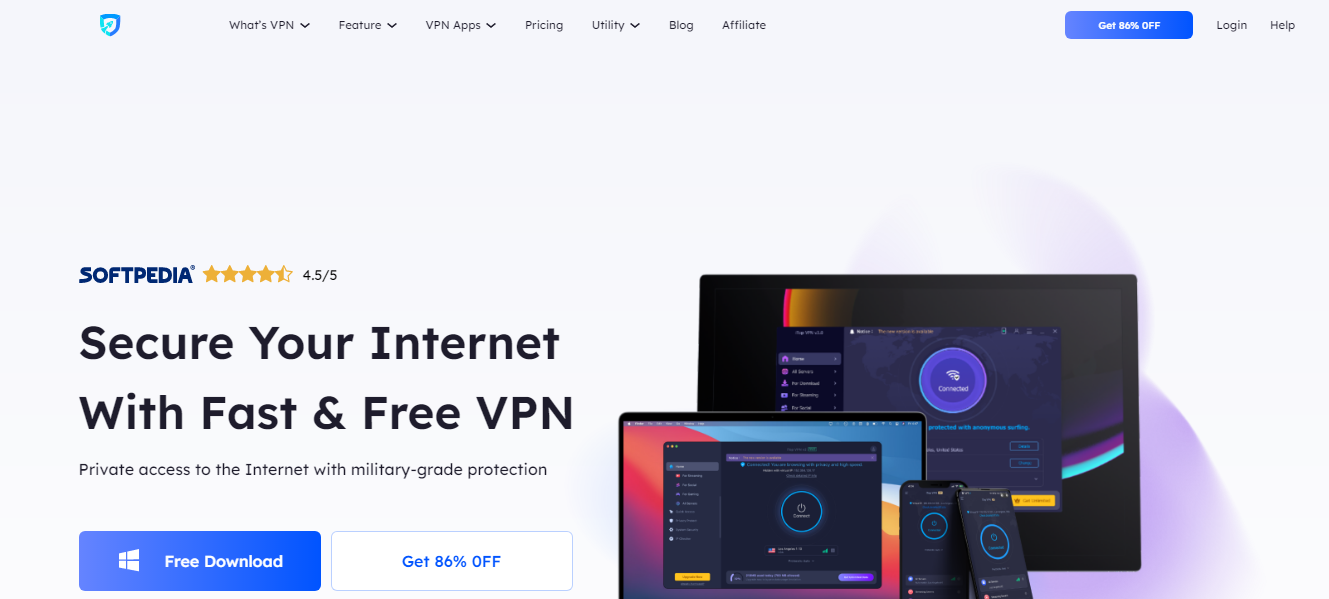 Price: As low as $3.99/month for 1-year plan
iTop VPN is a company that offers free VPN services for a wide array of countries across continents all around the world. With over 1800 servers, they are considered to be among the top choices when it comes to VPN services.
What we find impressive is that despite it being free, clients still get to enjoy premium and quality VPN benefits such as speed, protection and can accommodate up to 5 devices.
Furthermore, their website is a good resource for clients new to VPN and looking to try it out since it is also jam-packed with essential information regarding its benefits and other VPN software to consider.
Another thing we find exemplary is their packages that feature large discounts that go as much as 80% off to have better browsing, streaming, and storage experience.
Commended by various companies and clients to have a non-obtrusive yet equally effective VPN service, we recommend clients try out their VPN for themselves.
Highlights
Affordable deals
Accommodates various countries
Able to be used for up to 5 devices
Customer Reviews
Here are some reviews from their clients:
"If you're keen on staying anonymous while surfing the World Wide Web, this minimalist VPN client can sort that out for you. Thanks to simple handling and a non-obtrusive behavior, it can be a reliable tool for such uses." – Softpedia
"The online world is full of shady websites and nefarious trackers that follow you and attack your privacy every second you are online. Use iTop VPN and secure your online connection so you can browse the internet without any privacy concerns." – Beebom
And there you have it! Any of these VPNs are helpful in making the Internet a much safer and more secure place for everyone.
Do you have a certain VPN in mind that you think deserves to be on our list? If you do, tell us its name and what makes it great by leaving a comment below.
By the way, if you're also looking forward to expanding the reach of your WiFi to improve your Internet browsing, then take a look at our list of the best WiFi extenders in Singapore! These can help you make the most of your new VPN!