10 Best Moisturizers in Singapore for All Skin Types (2021)
A great moisturizer is essential in maintaining soft and clear skin. If you're thinking of replacing your old one, then you've found the right page… because today, we're looking at the best moisturizers in Singapore.
Every skincare routine is completed by the moisturizer that locks in all the nutrients from the cleanser, toner, and serum. It's important to have the best moisturizer in Singapore for your skin type because it hydrates your skin, keeping it soft and clear.
But with the all skincare brands out there, how can you be sure that you're getting the best face moisturizer in Singapore? Don't worry because we're here to provide you with a list of moisturizers in Singapore worth checking out!
But before we talk about them, we'll give you tips on how to pick out the right moisturizer for you. If you already know what you want, however, skip ahead and go straight to our list of the best moisturizers in Singapore.
How to Pick the Best Moisturizers in Singapore
If you want your skin to always be glowing and fresh, then you have to consider a lot of factors before buying a face moisturizer in Singapore.
It would be better to take your time looking into these factors than to regret buying one that doesn't match the needs of your skin.
1. Skin Type
There are at least 5 known skin types: normal, sensitive, oily, dry, and combination. It should be noted that not all the best moisturisers in Singapore work well with all skin types — most only target one specific skin type.
So, it becomes your task to discern whether a moisturizer is compatible with your skin type. But how can you know if the jar you're looking at is the best face moisturizer in Singapore for you?
People with a normal skin type are envied because most moisturizers are made for them. If this is your skin type, it's better to keep your moisturizer light, neutral, and non-greasy.
For those with sensitive skin, it can be a bit hard for you to find a moisturizer. Since this skin type gets easily irritated, we would advise you to go for unscented, hypoallergenic, and light moisturizers. Fortunately for you, there are plenty of options for moisturizer for sensitive skin in the Singapore market.
On the other hand, those with an oily skin type should stay away from heavy and greasy moisturizers because these would only make your face oilier. The best face moisturizers in Singapore for oily skin types are the light, almost airy ones.
If people with oily skin types can't use heavy moisturizers, we would highly recommend them to people with dry skin. A cream-based moisturizer works well with dry skin because it contains more hydrants.
Lastly, for people with the combination skin type, it's advisable to also go for neutral and light moisturizers, similar to the ones recommended to those with normal skin. 
2. Ingredients
All moisturizers contain ingredients that can either benefit or harm your skin, especially if they don't fit your skin type. Hence, you should make it a habit to read the ingredients on the label.
Dermatologists recommend to take note of the first five ingredients. A moisturizer must contain any of the following ingredients to ensure efficacy: glycerin, lanolin, petrolatum, dimethicone, and hyaluronic acid.
On the other hand, these are the ingredients you should avoid: formaldehyde, parabens, artificial fragrance, toluene, and oxybenzone. These are harmful ingredients that can cause further damage to your skin. 
As a rule, we tend to favour water based moisturizers in Singapore for most skin types.
3. Climate
Climate can also affect how your skin reacts to skincare products, especially moisturizers with spf in Singapore. We would recommend to use light and gel-based moisturizers during warm seasons to avoid looking greasy, and to go for cream-based and heavy moisturizers during cold seasons,
Since Singapore is often scorching hot, it would be ideal to go for a gel-based moisturizer for regular use. If you have extra money, you may opt to get these two types of moisturizers to prepare yourself if it does get cold on the island.
4. Sun Protection
As we mentioned earlier, it's perpetually hot and sunny in Singapore. So, the best face moisturizers in Singapore should have sun protection to protect yourself from direct sunlight that may damage your skin.
Most moisturizers only have a sun protection factor of 30, but there are some that go up to SPF 50. Getting a moisturizer with SPF in Singapore is like hitting two birds with one stone… plus you don't need to spend money to buy a separate sunblock.
The Best Moisturizers in Singapore
Now that you know what to consider before taking home the best hydrating moisturizer in Singapore, you're ready to see the options we think are worth your attention and money. We made sure to include moisturizers that target all skin types!
1. SK-II R.N.A. POWER Airy Milky Lotion 80g
Best for Youthful Skin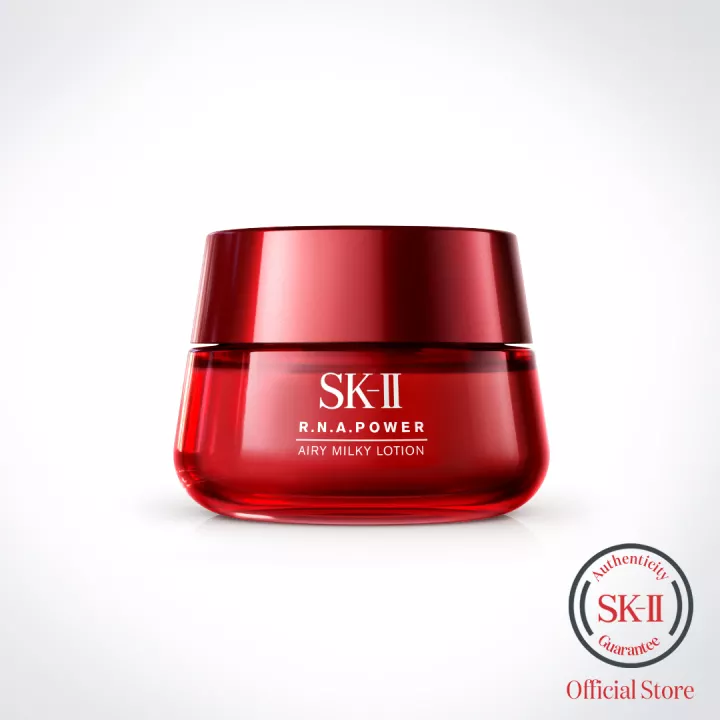 Price: $228.00
The award-winning R.N.A. Power Airy Milky Lotion is perfect for those who are looking to improve suppleness and elasticity for a youthful, healthy-looking complexion.
Formulated with PITERA™ and Chlorella Extract, it hydrates the skin and reduces the appearance of fine lines caused by dryness. Its lightweight texture makes it suitable for all skin types, keeping the skin bouncy and youthful.
Overall verdict: It may not be the cheapest moisturizer for dry skin in Singapore but we highly recommend it to combat the signs of facial ageing.
Highlights
Lightweight texture
Plump up skin from within
Reduce appearance of fine lines
Keep skin bouncy and youthful
2. Face Republic Hydro Barrier Ceramide Cream
Best for All-Day Hydration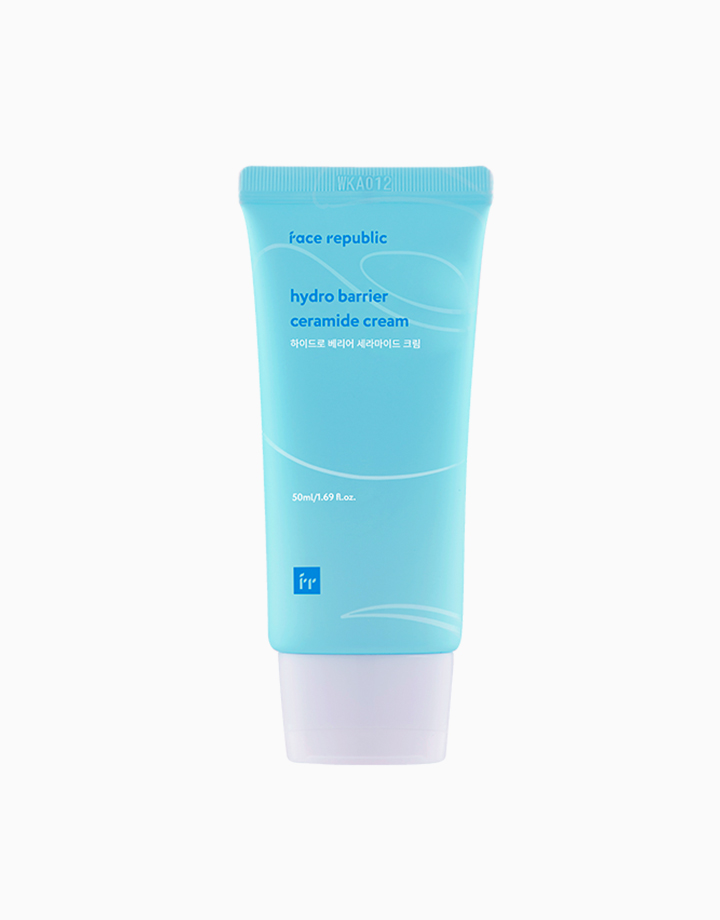 Price: $20.90
The best way to end a skincare routine is with a moisturizer that keeps your skin fresh and hydrated. Face Republic's Hydro Barrier Ceramide Cream will be able to do just that, and more.
Formulated with ingredients like nourishing Shea Butter and antiseptic Centella Asiatica, and more. You can say goodbye to dryness, tightness, and irritation with the help of this product.
With frequent usage, you can expect smoother and plumper looking skin. Up your skincare routine effectiveness by including this product in your routine now.
Our verdict: If you are on the hunt for the best yet affordable hydrating K-Beauty moisturizer in Singapore, this delivers absolute great value!
Highlights
Strengthens damaged skin barrier
Paraben-free
Silicone-free
Hypoallergenic
0.0% skin irritation
3. Neutrogena Hydro Boost Water Gel
Best for Oily Skin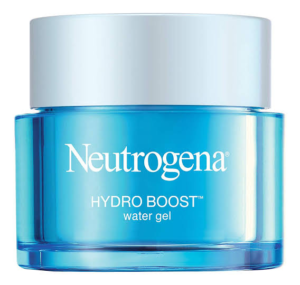 Price: $18.28
If you want your skin to stay hydrated for almost 48 hours, then get your hands on the Neutrogena Hydro Boost Water Gel. It's a gel-based moisturizer that protects the skin from known threats such as pollution, direct sunlight, dirty air, and UV rays.
It contains glycerin, olive extracts, and hyaluronic acid, all of which help to rebuild the skin's natural barrier and replenish cellular components of our cell membrane. It also has a self-hydration technology that allows the skin to regulate moisture on its own.
It doesn't have the strongest sun protection factor, but it can still protect your skin against direct sunlight, although not as effectively as sunblock. Most customers tend to like it because it makes their skin soft and clear.
We road tested this moisturizer for an entire day that involved outdoor walking and we can say that this is one of the best moisturizers for oily skin in Singapore. Keeps skin hydrated without the shine and slick!
Highlights
50 grams
Dermatologist-tested
48-hour hydration
Customer Reviews
Most buyers gave positive reviews and high ratings for the Neutrogena Hydro Boost Gel, saying it's worth their money. Some customers also added that it matches their skin type and doesn't make their skin look greasy.
Some customers tend to dislike that it doesn't have strong protection against the sun, but others say that it's not much of a downside given that it's uncommon for gel-based moisturizers. As such, we're convinced that it's still one of the best face moisturizers in Singapore.
4. Cetaphil Facial Moisturizer
Best for Affordability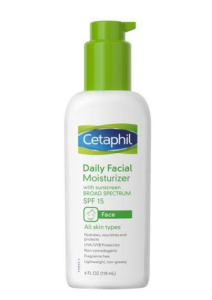 Price: $31.87
The Cetaphil Facial Moisturizer is the perfect moisturizer for all skin types! Even if you have dry, oily, or sensitive skin, it can nourish and hydrate your skin without having any negative side effects.
Walking under the sun will no longer be a problem because it has SPF 15, protecting you from UVB and UVA rays that cause dark spots and wrinkles.
In terms of ingredients, it doesn't contain fragrance and parabens, on top of being non-comedogenic. You don't have to worry about applying something to your face that may damage it in the long run.
We tried this moisturizer on all genders and we can hands down say that it's one of the best moisturizers for dry skin for men in Singapore. It offers essential, fuss-free, unscented hydration all day.
Lastly, Cetaphil is among the few family-safe skincare brands in Singapore. Most of their products, including this one, are hypoallergenic, so even kids can use them!
Highlights
118ml
SPF15
Non-comedogenic
Dermatologist-tested
Customer Reviews
 Here are some buyer reviews from Influenster:
"I use this every day under makeup when I wear it so my foundation goes on smooth and for my daily moisturizer I have Ms and have sensitive skin, also I have Sjorgen's syndrome which causes dry skin and more this product works the best and doesn't irritate my skin. I have never had breakouts due to this product like some moisturizers cause and it keeps my skin looking young and refreshed favorite daily facial moisturizer and love all their skin care line"
"There aren't enough words to adequately describe how I have fallen in love with this product. I received a jar from Pinch Me to sample and provide my thoughts. Seeing that my face was already on fire from another product that didn't go well I figured I had nothing to lose. OMG!! This moisturizer is my fountain of youth. Creamy & silky smooth yet easily absorbed into the skin, this feels like a gift from the skincare angels. My skin is oily and this doesn't even clog pores." 
5. Clinique Moisture Surge Intense Skin Fortifying Hydrator
Best for Overall Value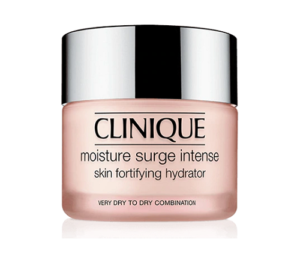 Price: $63.27
The Clinique Moisture Surge is a gel-based moisturizer that offers 24-hour hydration to those with combination and dry skin types. If you need a moisturizer that won't make you look greasy by the end of the day, then this one would be a great match for you!
On top of keeping your skin fresh and smooth, it can also protect it from irritants and pollutants that can cause pimples and blackheads. It can also strengthen the skin's moisture barrier that helps lock in moisture and nutrients.
Another thing we love about this moisturizer is that it doesn't contain any harmful ingredients. It's an oil-free and paraben-free moisturizer, which is definitely something you should expect from one of the best face moisturizers in Singapore.
Priced at $77, it's definitely not the cheapest option out there, so we could only recommend this one if you have extra cash to spare. However, once your skin has experienced its intense hydration, it could be hard to find one that can compare to its power.
We've tried plenty of moisturizers and can definitely say that this is one of the best moisturizers for dry skin in Singapore that's worth every dollar.
Highlights
50ml
24-hour moisture
Safe ingredients
For daytime and nighttime
Dermatologist-tested 
6. Shiseido Essential Energy Moisturizing Cream
Best for Anti-Aging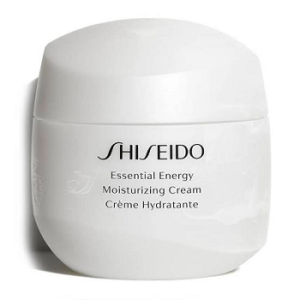 Price: $55.85
People with extremely dry skin will no longer have to suffer once they get their hands on the Shiseido Essential Moisturizing Cream. It's one of the most effective cream-based moisturizers out there.
It may be a bit expensive compared to other moisturizers but you will get your money's worth. It can penetrate deep into your skin to combat dryness and dullness, giving you a glow that comes from the inside.
It can also remove all the visible lines and marks that make you look older than your actual age. Gone are the days of people mistaking you for a much older person!
Another thing we love about this moisturizer is the ReNuera Technology™. If you're having troubles with your skincare routine, it can make your skin more responsive to your skincare products, allowing you to see more of their results.
Lastly, besides being non-comedogenic, it's also paraben-free and mineral-oil free. There are no ingredients present in the Shiseido Moisturizer that may harm your skin. We tried this Shiseido moisturizer for two weeks and can say that this is also one of the best night moisturizers in Singapore for its solid hydrating properties. 
Highlights
50ml
Paraben and oil-free
Dermatologist-tested
For men and women
Customer Reviews
 Customers who bought it from Lazada mostly gave it a 5-star rating, saying that it's an excellent moisturizer for people who want to look younger than their age. Here's a review to show why we think it's among the best face moisturizers in Singapore:
"I am now on my second container of the Essential Energy Moisturizing Cream and I have to say, this is now my favourite daily moisturizer. Efficacy: I have mild acne and combination skin. This cream absorbed well on my face and kept it moisturized. It even calmed down the redness from acne and the effect was overnight. This was probably my greatest surprise." 
7. The Body Shop Vitamin E Moisture Cream
Best for All Skin Types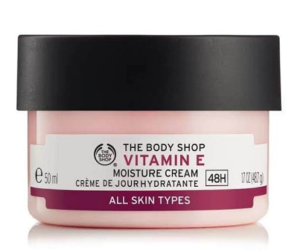 Price: $142.00
Packed with Vitamin E, wheatgerm oil, and  hyaluronic acid, the Body Shop Moisturizer provides skin hydration that lasts for 48 hours. It features a high-absorbing formula that doesn't leave your skin looking greasy.
In this case, despite being cream-based, it's also great for people with oily skin. It can help your skin look more radiant, fresh, and soft without leaving a greasy feeling, unlike most cream-based moisturizers.
In addition, it's also made from organic, vegan, and cruelty-free ingredients, making it one of the few moisturizers that don't have potentially-harmful ingredients. If you're conscious about this kind of stuff, then you should definitely get this one!
It's advertised more as a daytime moisturizer but we believe it can also be used during nighttime. Most customers who have used it before sleeping say that their skin still looked fresh and hydrated upon waking up.
Highlights
50ml
Organic and vegan
48-hour moisture
Fast-absorbing formula
Dermatologist-tested
8. Fresh Rose Deep Hydration
Best for Combination Skin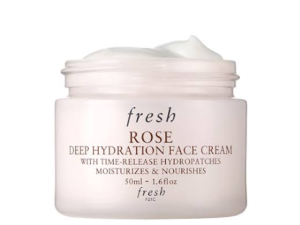 Price: $81.00
If you're having a hard time searching for the moisturizer that suits your normal and oily skin, then focus your attention to the Fresh Rose Deep Hydration. It's a gel-based moisturizer that delivers 24 hours of powerful hydration to your skin, making you look fresh and young the entire day.
It doesn't have the longest hydration period out of all moisturizers on our list, but its refreshing rose-like scent makes up for that for most buyers. It also has a fast absorption technology, leaving your skin looking smooth in no time.
You may also use it any time of the day because it's designed to be both a daytime and nighttime moisturizer. It saves the money that could've been spent on buying a separate moisturizer for the night!
We also love that it suits most skin types so we name it the best moisturizer for combination skin in Singapore. Get essential facial hydration without the breakouts!
Highlights
50ml
24-hour moisture
Rose-like fragrance
For daytime and nighttime
Dermatologist-tested
Customer Reviews
Customers were really satisfied with its overall hydrating powers and addictive scent. Some customers also attested that it works well with both daytime and nighttime. They also add that it goes a long way because you don't need to apply a lot on your face.
Another thing that buyers loved about it is that it works well with almost any age. A customer said that her teenage daughter loved it. Another one commented that it did wonders for her skin even if she's already almost 60.
9. Iryasa Ageless Beauty Gel
Best For All Skin Types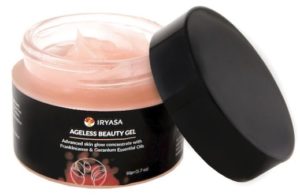 Price: $49.90
Ageless Beauty Gel is an anti-ageing cream that rehydrates and rejuvenates skin cells from within.
It is effective in reducing fine lines and wrinkles around your eyes, lips, forehead, etc. This is also responsible for boosting the production of collagen on your skin which protects your skin from the pollution. 
It contains two natural hydrators, namely cucumber and almond oil. These two, when combined together, provide a more vibrant and youthful looking skin. 
Highlights
Non-GMO

Suitable for normal, oily, and sensitive skin

Vegan

Water base
Customer Reviews
Customers praised the versatility of the products as well as its effect on their skin. Meghna Kohli wrote this 5.0 star review:
I have been using the ageless gel for over 3 months now and it's worked wonders on my skin. It makes the skin super hydrated giving it a relaxed cool feeling while actively moisturising it. Love the gel as a day time moisturiser. It's a great product if you are looking into supplying complete nutrition to your face
10. Biologique Recherche Crème Hydravit'S 
Best for Dull and Dehydrated Skin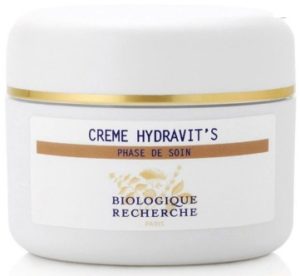 Price: $165
If you want visible results fast, Biologique Recherche's Crème Hydravit'S is definitely a must-try.  This moisturizing cream contains extracts of Yeast and Thermal Algae that is scientifically proven to brighten and revitalize dull skin.
This essential cream is designed to preserve essential hydration levels. So if you want a  healthy skin with a stronger and toned epidermis, this may be the best face moisturizer in Singapore for you.
And if you have more money to splurge, why not purchase the recommended Lotion P50 and other Quintessential Serums? The product line of this company is designed to work as a unit with others, you see, and is dubbed as a "facial at home". 
Highlights
50 ml

moisturizes without leaving an oily film on the skin

designed to preserve essential hydration levels
Customer Reviews
Is it really worth it? Let's see what avid skincare enthusiasts have to say about this product:
"I could rave on and on. But I'm just going to say FINALLY!! A moisturizer for both my oily sections and normal ones. Makes my complexion look well moisturized and matte."
"This is my HG moisturizer. I have been using this, in conjunction with the Lotion P50, since 1999. Yes, the smell leaves something to be desired. Yes, it's not the prettiest of creams. Yes, the packaging could be better. But, yes, yes, yes….it really works. It hydrates my dehydrated skin, and controls my"
And with that, we conclude our list of the best moisturizers in Singapore! We hope that you were able to pick out one that you think can match your skin type and lifestyle.
Do you have a specific moisturizer in mind that you also like but wasn't part of our round up? Tell us its name and what makes it great in the comments below!
If you're also searching for a primer that goes with any of these moisturizers, take a look at our list of the best primers in Singapore. All of them will surely go well with your skincare routine!