The 15 Best Electric Bikes in Singapore
Searching for the right bike to ride for a stress-free commute to work? Or perhaps a good bike for exercise or casual use? Whichever it is, having the best electric bike in Singapore will definitely be more convenient and safer for you than getting a traditional bike!
Unlike manual bikes, electric bikes offer faster support with their built-in motor. So if you always suffer from the morning rush and congestion, it's better to ride an electric bike than to exhaust yourself with a manual option.
Also, electric bikes don't contribute to pollution, making them more efficient and eco-friendly than cars. Moreover, it's a good option for both the young and the elders.
So are you now finally convinced to buy one? If you are, then there are some things that you need to consider first before we go to our list of the best electric bikes in Singapore.
How to Choose the Right Electric Bike
Electric bikes come with different designs and functions. That's why it's a bit overwhelming to determine which one is the most suitable for your needs.
And while they're cheaper than cars, it doesn't mean that they're not a big investment. Since electric bikes feature advanced functions and mechanisms, they cost more than a manual bike does.
Naturally, picking the wrong one will cost you even more. So, to help you choose the right bike, here are the essential factors that you must keep in mind while buying one.
1.   Electric Bike Classes
For regulatory reasons, electric bikes are divided into classes that indicate the level of motor capacity. Therefore, you need to know which e-bike class fits your needs.
Electric bikes that are labelled Class 1 are called Pedal Assist (PAS) bikes. With pedal-assist bikes, the motor kicks in only when you pedal and they use sensors to read how much force you're applying to the pedals.
Class 1 e-bikes have a maximum of 20 mph speed, which is perfect for new riders. They're the most affordable and most universally-accepted among e-bike classes.
You can use them on city streets, bike paths, and now, some cities also allow them on traditional mountain-bike trails.
Class 2 e-bikes also have a pedal-assist mode that can go up to 20 mph as well. The main difference is that they have a throttle-powered mode that is faster than class 1 e-bikes.
Also, you don't have to pedal just to make the motor work. You just need to turn on the throttle mode.
This is why some consider them motorized vehicles. They're usually allowed in the same places as class 1 e-bikes.
Similar to previous classes, class 3 electric bikes are also pedal-assist. Their motor assistance can reach up to 28 mph, making them the fastest and most powerful e-bikes.
They can also climb better and carry heavier loads compared to other classes. Due to their high level of performance, they're also the most expensive.
Another downside is that they're only street-legal and not allowed on most bike paths and mountain bike trails.
Most importantly, take note that the laws, licensing, registration, age limits, and other riding restrictions are different based on the state you're living in. So, make sure to check the bike management rules of your local city and land managers at places you plan to ride.
2.   Batteries and Motors
The typical battery capacity of an electric bike (mostly for class 3 e-bikes) is 500 WH (Watt Hours). Having big batteries is better but not always necessary — choosing the right battery capacity must be based on how and where you ride your bike.
To keep up with the traffic, climbing hills, and hauling cargo, you need a powerful battery and motor. However, a strong motor burns up the battery faster, reducing your riding range.
For instance, a 500-watt motor paired with a 500 WH battery drains power faster than a 250-watt motor with a 500 WH battery. Therefore, the capacity of the battery must match the capacity of the motor.
When it comes to battery charging duration, most batteries need up to 6 hours to be fully charged. Large-capacity batteries might take a longer time, so you might need to bring your charger during your ride.
There are also some e-bike models where you can use two batteries at once, extending your riding range and giving you a back-up battery. You can either opt for an integrated or external battery.
For a more space-efficient setup where you can have storage for your bottle or small bike bag, integrated batteries are perfect for you. Meanwhile, external batteries are easier to charge and replace.
3.   Motor Location
Each electric bike model has its motor placed in different locations. This includes mid-drive motors that are located on the bottom bracket of the bike frame; and hub-drive motors that are placed inside the hub of the rear or front wheel.
Mid-drive motors provide a natural feel and less weight because the motor is centred and low, keeping the ride stable and balanced. They feature excellent speed and distance ranges — a nice option for commuting, exercising, and casual riding.
Hub-drive motors give a feel of being pushed along. With an e-bike that has a hub-drive motor, the wheel and motor will turn at the same speed, building up momentum as it goes.
They're best for transportation, climbing most hills, carrying heavy loads, exercising, and a fun ride.
However, changing a flat on this kind of bike can be more complicated and when the battery dies, they're almost impossible to pedal.
4.   Torque
If you plan to ride on a lot of hills or with heavy loads, then torque must be on your top priorities. Torque is the turning force or the ability to rotate the rear wheel.
High torque will make it easier for you to rotate the wheel and create more acceleration, especially from a stop. It's measured in Newton-meters (Nm) and the maximum range for an e-bike is from 40 Nm to 80 Nm.
So, make sure to check if the bike you're considering has a torque that falls within the standard range. Take note that the actual riding torque will vary depending on the changes made to your pedal assist settings.
Best Electric Bikes in Singapore
Let's now see which models on the market offer the optimum performance and features that are suitable for your needs and preferences. Here are some of the best electric bikes in Singapore for a hassle-free daily travel or fun adventure!
1.   Venom 2+ Electric Bike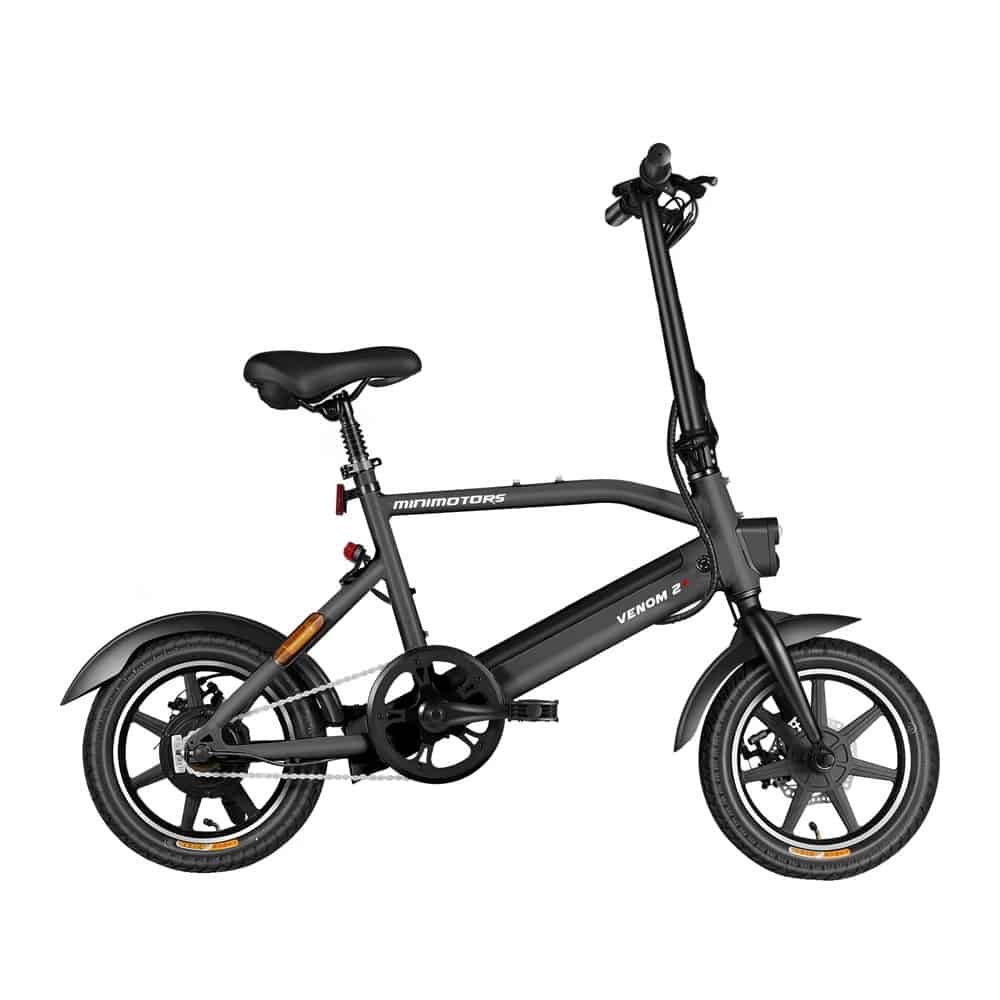 Price: $1,190.00
The Venom 2+ Electric Bike features a 250W motor capacity, perfect for a casual ride in the neighbourhood and for commuting as well. It also has a large battery pack, offering longer hours on a single charge.
It's built with a solid aluminium body that can withstand heavy loads and keep the unit lightweight at the same time. For secured safety, it has a concealed seat suspension underneath the saddle to absorb the road shock.
This small and nimble bike has an LCD display meter that shows the digital speed, level assist, battery indicator, mode switch, and more bike settings — this way, you can easily manage the settings while on the road.
It also has a highly functional design that offers lots of storage space for bottle holders, front and rear baskets, and even a child seat! With these add-ons, you can customise this bike to your liking!
Pros
Compact and lightweight
Fast charging
Removable battery pack
Foldable stem design
Rear LED brake light
Reflector
Functional add-on accessories
Cons
Only the handlebar can be folded
2.   Xiaomi QiCycle Smart Mountain Bike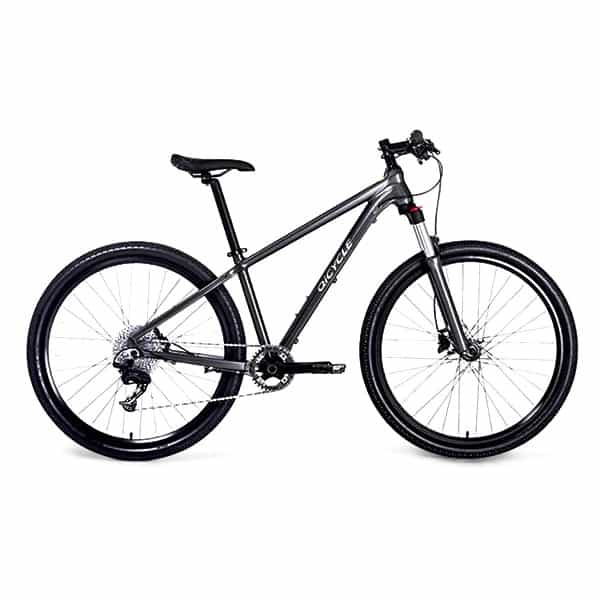 Price: $1,001.00
The Xiaomi QICYCLE XC650 is a smart electric bike that you can connect to your smartphone so that you can keep track of your travel records.
It can upload and store records of the burned calories and distance travelled in a day so you can monitor your progress, making it the best electronic bike in Singapore for fitness enthusiasts!
Once you download the app, you can set a distant alert and exclusive ID and have access to its triple accurate locating system — all of this helps prevent theft.
It also features a double-disc braking and shockproof system for a safe and comfortable cycling experience.
This bike is made out of durable aircraft-grade aluminium alloy with 11-speed shifting, which makes it a good choice for climbing mountains. Its tires have an anti-slip texture for easy stopping and single-hand gear shifting for those who have a habit of operating with one hand.
It's designed with a simple and elegant style with heavy-duty functions that can withstand harsh weather conditions. Moreover, it has an ergonomic structure: the handlebars, wheels, and pedals are all foldable.
Pros
Ideal for riding up hills and steep terrains
Automated motor system
Smart app functions
Foldable system
Lightweight yet powerful design
Single hand gear shifting
Long-lasting battery life
Cons
Limited speed
Lack of kickstand and mudguards
3.   Tornado Aqua Electric Bicycle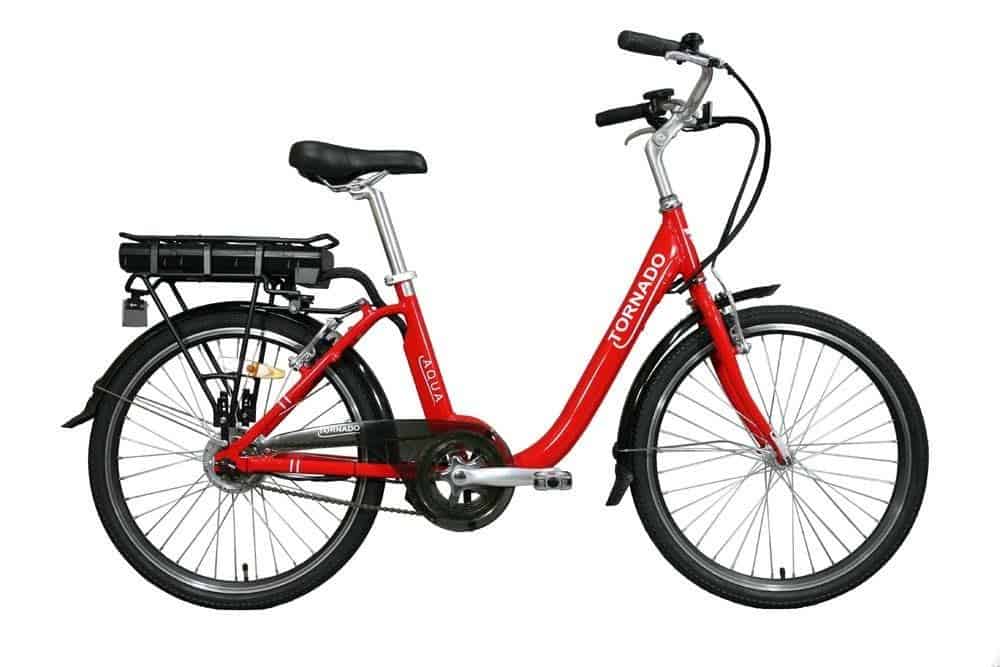 Price: $1,499
The Tornado Aqua Electric Bicycle is another great option for conquering hills and slopes without breaking a sweat! This lightweight yet heavy-duty bike features a highly efficient and geared brushless motor with 45 Nm torque.
With its integrated sensor, it's capable of increasing the responsiveness of the pedalling, providing maximum assistance on flat road and hilly terrain as well.
Similar to the previous option, it also has a single gear mechanism for the cyclists who don't prefer complicated multiple gears.
This best electric bike in Singapore is built with a balanced and spacious low step frame to keep you safe, comfortable, and stable during long hours of ride.
You can instantly access the bike settings through its intelligent display where you can switch the modes, control the speed and monitor the mileage and battery level. Also, switching to manual is easy with its zero resistance!
Pros
5 mode selections
Odometer
Single gear mechanism
Durable design
High-torque motor
4.   Apollo Smart 1S Electric Bike
Price: $3,099.00
If it's your first time to ride an electric bike, then you should try the Apollo Smart 1S Electric Bike! Everything in this bike is user-friendly, from the settings up to its overall mechanism!
On its well-designed computer control unit, you can easily see the speed level, power usage, battery life, trip meter, and mileage. To save up energy for a long ride, it'll automatically turn off when there's no activity within 10 minutes.
Due to its weather-sealed, brushless and power-assist electric motor, you can have full control over its speed and distance range by switching modes. To ensure safety, it has an e-brake and a rapid shifter for an instant release when gear-changing.
With the fully adjustable riding position and royal-gel padding, rest assured that you'll have a comfortable riding experience!
Pros
Strong, durable, and lightweight design
Removable and lockable battery casing
Ergonomic grip
Front and rear LED lights
Cons
Multiple gears might be confusing for some users
5.   Minimotors Zebra Electric Bike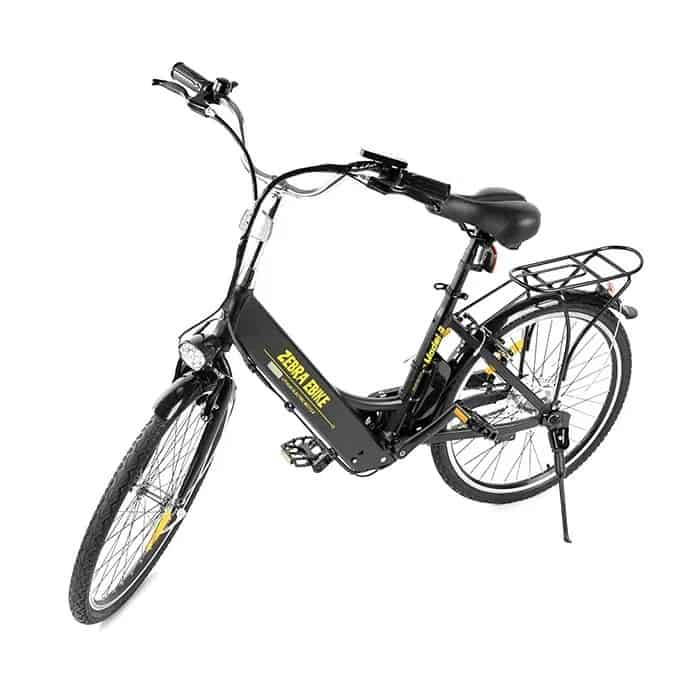 Price: $1,080.00
For those who are looking for a bike that can be used for last-mile deliveries, the Zebra Electric Bike is the best electric bike in Singapore for you! It has a simple and ergonomic design that can load up to 120kg, which is truly great for delivering packages!
You can just put the goods on the rear rack, then you're ready to go! You don't have to be anxious about the distance range because if the battery dies, you can just pedal as you would with a normal bike!
Also, there's no need to worry about losing balance due to the additional weight. It has a reliable power assist and various modes you can choose from, so you can always have a safe ride.
Pros
Durable aluminium build
High max load capacity
Different mode selections
6 level assist
Anti-theft feature
Adjustable seat post
Cons
Not foldable
Slightly hard to detach the battery
6.   JIMOVE MC Electric Bicycle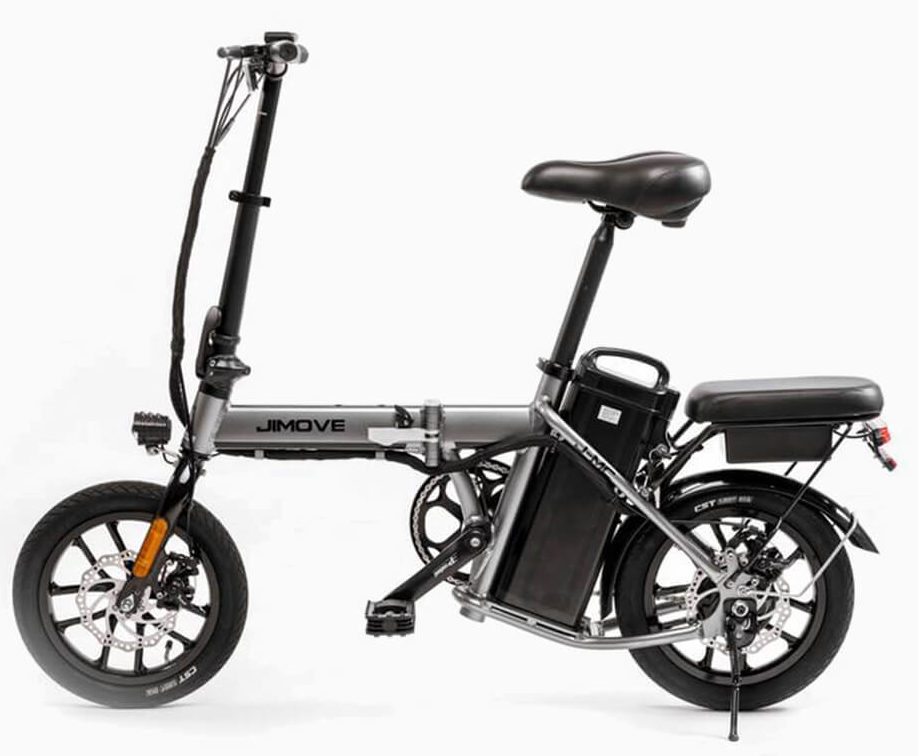 Price: SGD$1,399.00
The Ji-Move MC is an LTA approved, foldable electric bike. It's suited for long distances, despite its compact structure.
It is made of 6061 aluminium, a metal known to have high durability and corrosion resistance. Carrying heavy loads won't be an issue with this bike.
If you're interested, make sure to check it out on Mobot's website.
Pros
Foldable bike
Perfect for food deliveries
Adjustable seat
Cons
Folding mechanism might be uncomfortable
7.   JIMOVE LC Electric Bicycle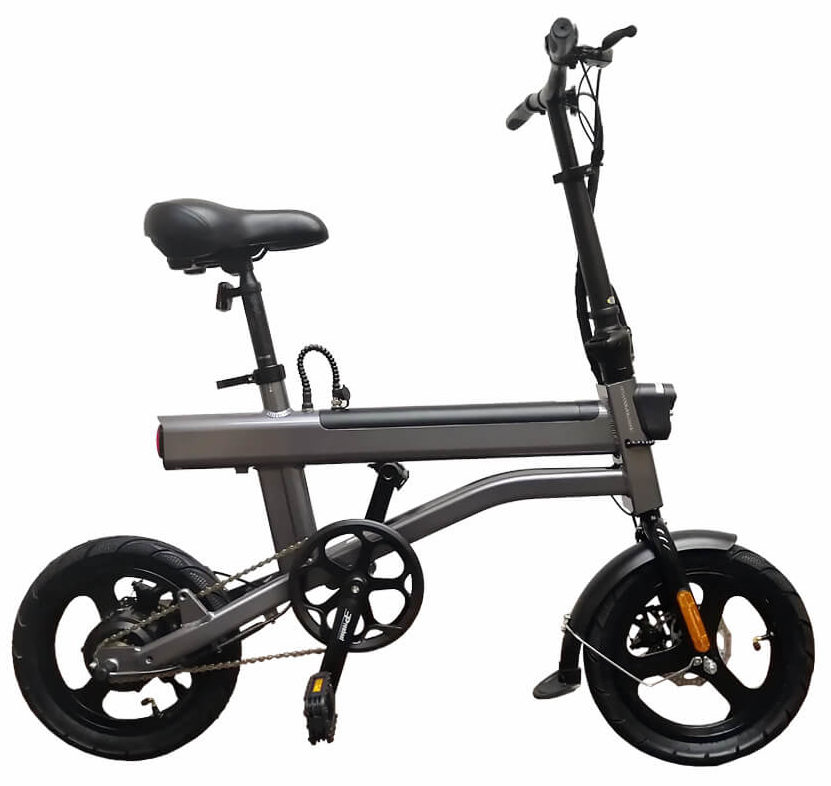 Price: SGD$1,130.00
The LC EBike is a foldable electronic bike suited for outdoor and daily commuting use. It comes with free LTA registration and number plate.
It's water-resistant, so you won't need to worry about biking in light rain. Get it from the JIMOVE website now.
Pros
5 levels of speed
Suited for smooth and rough terrain
Cons
Will need extra batteries for prolonged use
8.   Tempo V3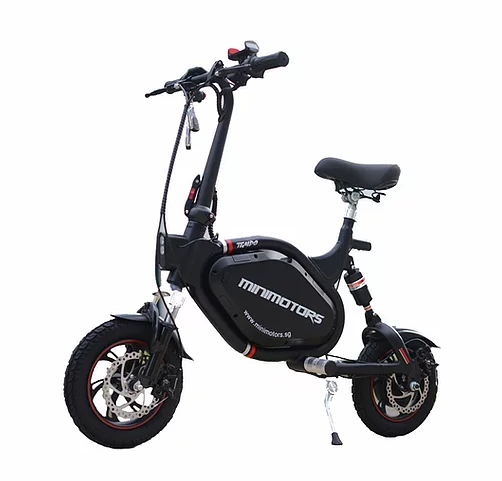 Price:S$988.00
The Tempo V3 is a high-performance scooter perfect for travelling up slopes. Its plush, high-density seat makes for a comfortable ride, even after a long time.
It also has many more features, such as front and rear suspension, as well as dual brakes. Buy it from EGT Scooter now!
Pros
Comfortable seat
Can handle slopes with ease
Cons
Small structure might be hard to balance while going uphill
9. cubeRpedia – SCORPION PAB

Price: $1099
CubeRPedia's Scorpion Pab brings the electric bike game in another level.
It's equipped with 36V 250W motor and 36V 5.2Ah detachable battery. It has minimum charging time needed, only three hours then you're good to go. The Scorpio Pab also has HD Smart Display Meter for your convenience.
And what makes it literally easy to bring is that it's magnetic foldable, allowing you to compress its size for transport.
Choose between five available colors, namely Black, Green, Grey, White, and Orange, then make sure to checkout before stocks run out!
Pros
Magnesium Alloy Frame
IPX54 Waterproof
Foldable
Cons
Heavy
Only can be used at Roads and Cycling/shared paths
10. Fiido Singapore – Veebike

Price: Enquire for more information
Travel in style and convenience with Fiido's Veebike, a lightweight pneumatic e-bike that has a wide variety of features. The foldable model ensures that you can take it anywhere you go and take up as less space as possible.
A single charge can last a long time — up to 115 km of riding under certain conditions. Best of all, its fast-charging ensures that you can use your bike as soon as possible. 2 to 4 hours are all you'll need.
Pros
Higher gear crank
5 Speed power mode
Lightweight
Cons
12. OVO Electric Bicycle

Price: $1,899.00
Functionality is a major consideration when it comes to choosing a bike, making the OVO Electric Bicycle one of the best choices in Singapore if you wish to ride something so stylishly practical.
This LTA-approved e-bike seems to have all the bases covered, starting with the batteries: A dual battery feature comes with this bike, one of which is conveniently detachable.
Following the battery is the motor. For the OVO e-bike, it's a 36V 240W DC brushless motor that has three levels of electric assistance modes, depending on how the user wishes to ride. 
Finally, security. Aside from the front and back brake disks, the OVO bike also has a remote key lock with an alarm, preventing theft from happening should the user leave their bike in public.
Unfortunately, the OVO Electric Bicycle's aluminium alloy build only comes in yellow, but the side panel can be customisable. 
Pros
Dual battery feature with one detachable battery
Comes with an anti-theft alarm
Smart control panel feature in between the handlebars
Cons
More expensive than other options on this list
13. Orca Electric Bicycle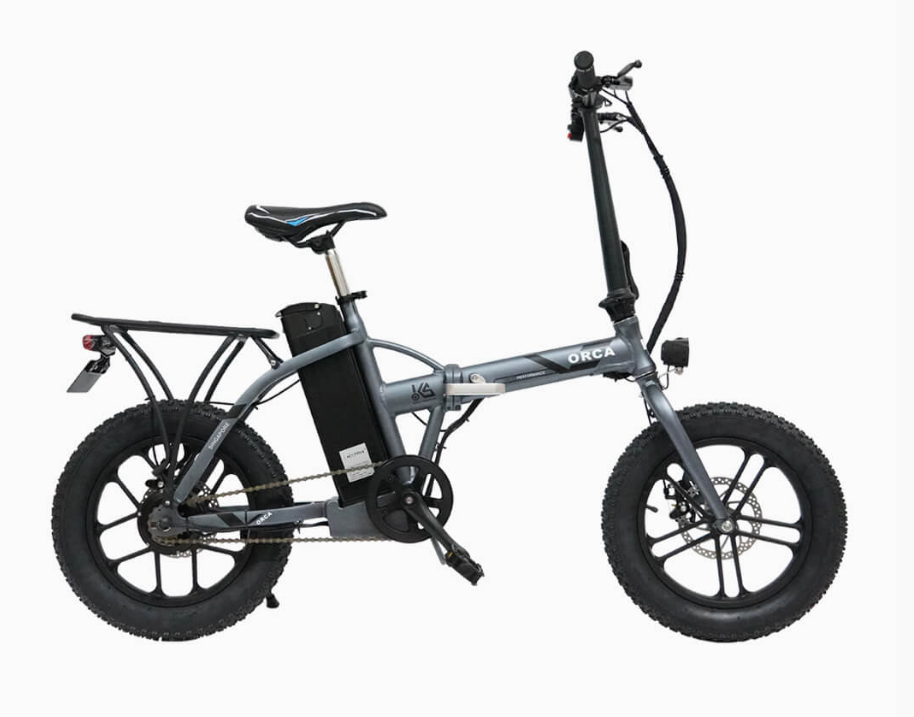 Price: $1,599.00
Next on our list is an electric bicycle catered to those who enjoy biking long distances. The ORCA Electric Bicycle is an aluminium unit featuring a SAMSUNG battery cell that can travel up to 80km fully charged.
Aside from its long-lasting, detachable battery, the ORCA also comes with fat tyres, allowing the user to comfortably ride the bike regardless of the terrain, be it urban or off-road. 
The ORCA also comes with a rear rack that makes it possible to bring loads weighing up to 15 kg. Lastly, security is no issue with this unit as well since the ORCA uses front and rear disk breaks and features integrated front light (white) and rear light (red).
Pros
Suited for both urban streets and rough terrain
Features an LCD display panel that displays the speed, electric assistance level, battery level and distance travelled
Can be folded
6-month warranty
Cons
14. AM GT Electric Bike Bicycle Singapore Ebike PAB EN15194 LTA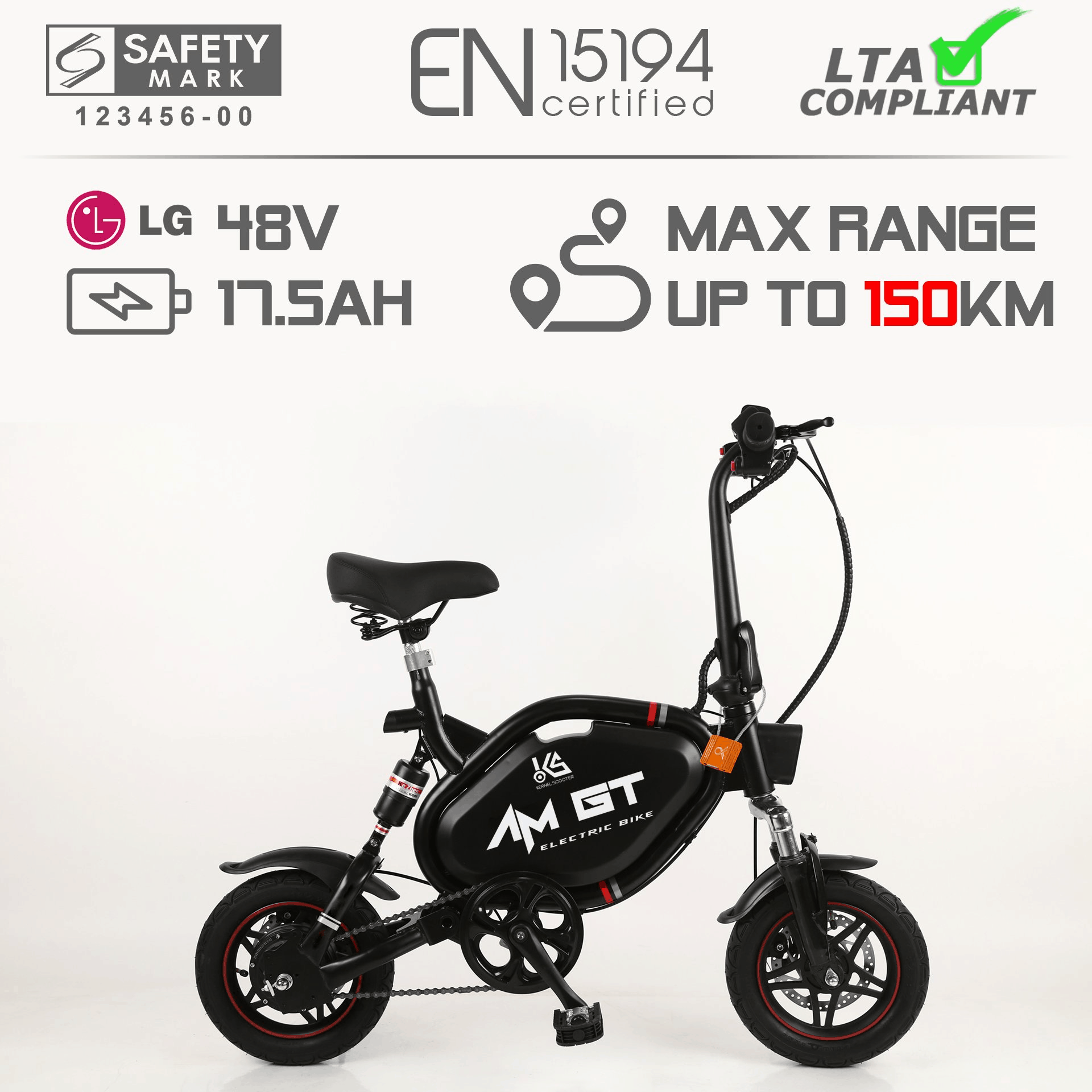 Price: $1,499.00
The AM GT Electric Bike Bicycle Singapore Ebike is one of the more expensive options on the list, but it can last you a long travel, reaching a maximum distance of 150km in one ride. It's something you can bring easily, as it's foldable and weighs less than 20 kg.
The batteries are only rechargeable, not replaceable. This raises the issue of travelling long distances without the certainty of being able to recharge your bike along the way.
However, there's no reason to be concerned in this case, since this electric bike is also pedal-assisted. You won't need to worry about getting stranded if the batteries ever run out.
It runs on a 48V system with a geared motor, making traveling upslopes hassle-free compared to other electronic bicycles that have a hard time in such vicinities.
Acquire the AM GT Electric Bike Bicycle Singapore Ebike and receive a 6-month warranty in case there are manufacturing defects. Everything you need to know is on the website, but you can also contact them for more inquiries on the electric bicycle.
Pros
Max load of 120kg
With warranty
Foldable
Can go up to speeds of 25KMH
Cons
Cannot replace batteries
Expensive
15. VeeBike F7 ebike 2in1 Hybrid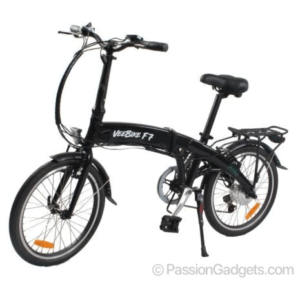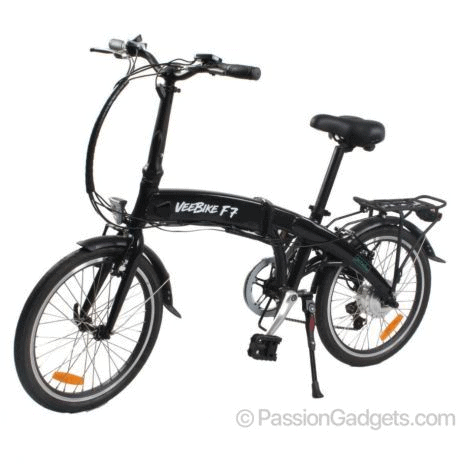 Price: $1,188.00
EBikes make riding easy, but become useless once they run out of battery. Fortunately, that won't be the case for the VeeBike F7 2in1 Hybrid, a hybrid bike that can be used as an e-bike and manual bike.
When using the battery, this ebike has a 5 Power Pedal assist mode which can be controlled using its LCD screen. Without the battery, it becomes a 20 inch foldable bike with 7 speed gears design.
This bike is portable and lightweight, with a maximum weight of 19,2 kg including the battery and motor. With a folded dimension of maximum 79 cm in length, it can easily be stored or carried without issue as you travel.
The battery life of 3-5 hours can be a bit short, but the removable battery has a charging time of 2-4 hours for more frequent use. Given its many features, reasonable price, and ease of use, the VeeBike F7 2in1 Hybrid can serve as a reliable riding companion for anyone that frequently commutes to and from their workplace.
Pros
Hybrid EBike
Lightweight
10 inch pneumatic wheel
Fast charging
Cons
There you go! That's our list of the best electric bikes in Singapore! Have you already found the one that you'd like to buy? Tell us all about it!
If you'd prefer to see more foldable electric bikes, by the way, take a look at these best foldable bikes in Singapore!