The 8 Best High Chairs in Singapore Reviewed
Struggling to feed your baby with solid foods because he won't stay still? Having the best high chair in Singapore is probably the best solution to your problem!
Teaching babies how to eat solid foods like mashed fruits and veggies or any other small bites can be a bit challenging. Most especially, if you don't have a certain spot for them to eat.
This is where a high chair will come to the rescue. By placing babies in a high chair, you can have a safe, secured, and easy-to-clean eating spot for your baby.
To help you achieve that smooth solid food transition, we've rounded up the best high chairs in Singapore! But before we proceed to the list, do you already know how to choose one from our picks?
If not, then you might need to see our guide first to buying a high chair. Afterwards, you can peruse our list of the best products at your leisure!
Things to Consider When Choosing a High Chair
At first glance, high chairs may seem easy to buy, for they all serve the same purpose. However, many parents didn't know that some high chairs may not be suitable for their needs and preferences.
Some may require extra cleaning to fully remove the tiny bits of food left in the nooks and crannies, for instance. That may not be something you'd like to deal with.
That's why it's important to know how to differentiate the good ones from the poorly made high chairs. To help you out with that, here are some features to look for when you're choosing a high chair:
1. Types of highchairs
High chairs come with various styles and designs. They're also made with different kinds of materials, so if it's your first time to buy one or you've failed to pick the right one before, then it can be a little challenging.
To help you determine the which one fits your needs, we'll look at several types of high chairs:
Basic metal- or plastic-frame highchairs
This type has a simple and easy-to-assemble design. They're lightweight so you can easily move and store them.
They're typically a lot cheaper than other types. However, they offer less comfort and might be a bit hard to clean.
Full-feature highchairs
This type has all the basic functions but with additional features like extra padded seats, wheels, detachable trays, dishwasher-safe tray covers, as well as adjustable height and seat recline.
Some may also provide a booster seat or a kid-sized chair so the children can use it when they grow older.
Portable and hook-on highchairs
If you prefer to use a high chair that can be attached to a table rather than a freestanding one, then this type is a good option. You can easily attach its straps to a regular kitchen or dining chair.
They're space-efficient and portable, so you can also use them during travel. The downside? This type may not be compatible with all tables, especially with very thick or thin tables.
Wooden highchairs
Wooden high chairs usually have fewer crevices where the crumbs and spills are easily trapped, making them easier to clean. However, they're also heavier than plastic options.
The seat is often too deep in the footrest of wooden high chairs too, which may make many of them too low for an infant.
2. Allotted Space
For those who live in a smaller space, you may opt for a booster seat that you can easily convert and attach to one of your chairs or tables. This way, you can maximize the space at home.
But if you have enough space, then a standalone seat would be great. It has its own tray and can be moved from room to room.
3. Safety features
To make sure that your child will feel secure while sitting on a high chair, you must check if it has a 5- or 3-point harness and crotch post as well — this will keep your child from slipping out or standing.
It must also have fully sealed buckles for a total fit. Harness straps must also be adjustable so it can accompany your growing child.
If you choose one with wheels, then be sure that it can get locked in place to prevent possible slips and falls.
4. Comfort
To ensure the comfort of your child, your chosen high chair must have padded seats and a footrest as well. Make sure that the seams on the front seat have no sharp edges so they won't cause scratches to your child's legs.
5. Cleanliness
As mentioned earlier, food bits can get stuck in every crack and crevice of the chair. So, check if the seat, harness, tray, and overall frame have hard-to-wipe areas.
If it has several areas that require extra cleaning, then you may want to look for another option. You don't want cleanup to wear you out!
The Best High Chairs in Singapore
Now that you're ready to shop for the best high chair in Singapore, let's now see our top picks on the market, offering impressive functionality and durability!
1. OXO Tot Sprout High Chair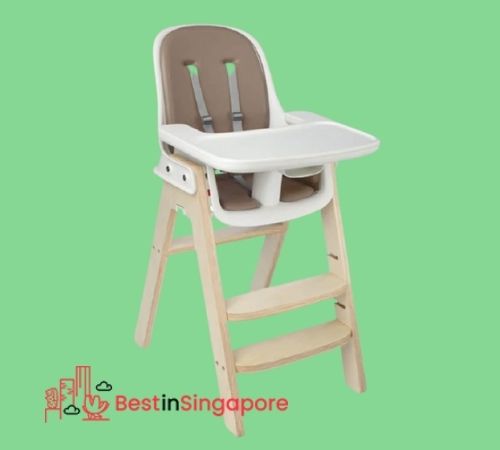 Price: $399.00
The OXO Tot Sprout High Chair is an award-winning model that your child can grow into! It's mainly designed for extensive use and is suitable for babies anywhere from 6 months to 5 years old!
This best high chair in Singapore features a wide range of height and depth adjustments so that you can still use it as your child grows bigger. There's no need for additional tools to adjust, you just need to remove some parts from the seat to convert it from a high chair to a youth chair.
The seat, back, and cushions are all well-crafted to provide comfort and promote good posture. Moreover, it features a combination of wood and plastic, giving you a lightweight yet durable design.
Pros
Simple yet stylish design
Minimal cleaning
Removable tray
Excellent adjustability
Convertible design
Cons
Not foldable
No recline functions
A bit difficult to assemble
Customer Reviews
The OXO Tot Sprout High Chair has gained positive responses from parents who say that it truly has a quick-to-convert function and it's also easy to clean. They also complimented the adjustable seat height and footrest positions despite it being made from wood.
They also said that it might be a bit heavier and quite hard to store/move compared to some others, but it's still a good option, considering its long-lasting build. A reviewer wrote this verdict:
"The OXO Tot Sprout highchair is a well-designed highchair that's got substance to match its bags of style. The ease of cleaning, the compact footprint and the ability to work up to the age of 5 make this a winner. It's sturdy, but can't be folded away, so it's not for those after an option they can hide. But with its trendy looks and price tag, you'll want to get your money's worth by keeping it out on display."
2. Graco Blossom 6-in-1 Highchair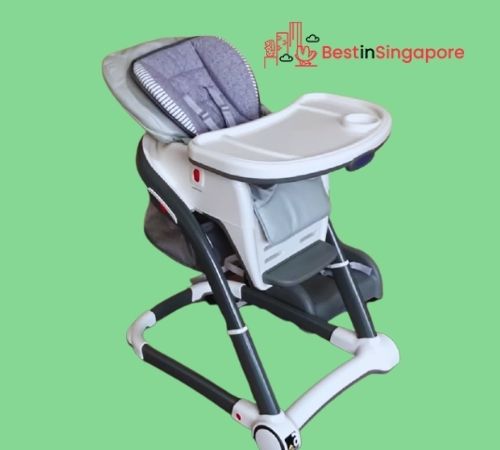 Price: $257.49
The Graco Blossom 6-in-1 Highchair offers excellent multifunctionality: it can be used by infants as well as toddlers. You can even convert it and have two children sit on it at once, making it the best high chair in Singapore for those who have a growing family.
You can easily transform it from an infant chair to a traditional chair so you can pass it to your younger kids. It provides 6 height adjustments to ensure full-body support and a perfect fit.
It also has 3 recline positions and a removable footrest for absolute comfort during mealtime. For minimal cleaning, it's designed with a premium leather seat pad that's easy to wipe and wash.
Most importantly, rest assured that your child will be safe and secure, for it has a 3- and 5-point harness as well as front wheels and locking rear casters that'll fully protect your child against possible sliding or slipping.
Because of its multifunction design, this is one of the best foldable high chairs in Singapore in our books.
Pros
Multiple adjustments
Two children can sit on it at the same time
Easy transformation from an infant chair to a regular high baby chair
Portable Booster
Dishwasher-safe and machine-washable
Cons
A bit bulky
Harness is attached to the tray
Not foldable
Customer Reviews
Most parents recommended the Graco Blossom 6-in-1 Highchair because of its proper seating setup, saying it's useful for every stage of their little one's development.
They were also impressed with the convertible and adjustable features, allowing them to find the perfect fit for their child.
Though some say that it's a bit bulky and not foldable, it's still worth buying due to its impressive multifunctionality. A customer gave this feedback:
"The Graco Blossom high chair is one of the more favourably rated high chairs for infants and babies on the market due to its versatility. If you're looking for something that is compact and easily portable, this may not be the best option for you because of its bulkiness. Keep your needs in mind before you make a purchase. If it ticks all your boxes, then go ahead and bring one home. You'll love it."
3. JOOVY New Nook High Chair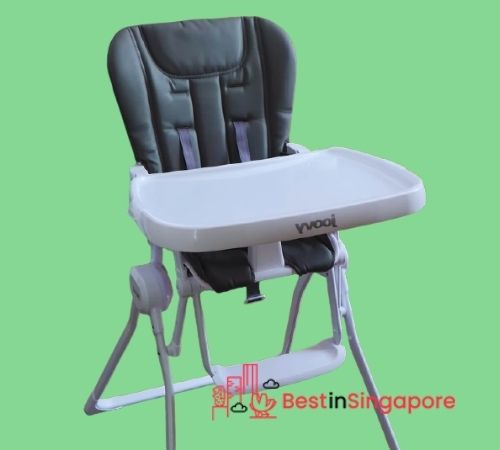 Price: $207.41
The JOOVY New Nook High Chair is made of durable plastic material that's super lightweight and easier-to-clean compared to other materials. It also comes with a zero-assembly design that you can fold flat down for easy storage.
It's designed with a leather seating pad that wipes clean without the need to use chemical cleaning solutions. It's also lead-free and contains no flame retardants, ensuring safe and healthy use for kids.
It has an adjustable five-point harness to keep them securely seated on the chair. Moreover, it has 4 depth settings so you can definitely use it until your child reaches 5 years old.
Pros
Swing-open tray
Portable and lightweight
Best for small spaces
5-point harness for your baby's security
Quick setup
Easy-to-clean seat cover
Cons
No reclining options
Doesn't have adjustable height and wheels
Customer Reviews
Most parents shared that they had a hassle-free experience with the JOOVY New Nook High Chair. They said that it's ideal for small spaces since it has a foldable design and they also mentioned the flexible adjustment options.
A customer posted this review:
"The Joovy Nook is a very lightweight highchair that can be folded down quickly for storage or transport; it even has a handle for carrying. It comes premade so it is ready to go as soon as you open the box. It doesn't have many adjustable features but is easy to clean and very portable."
4. Chicco Polly Highchair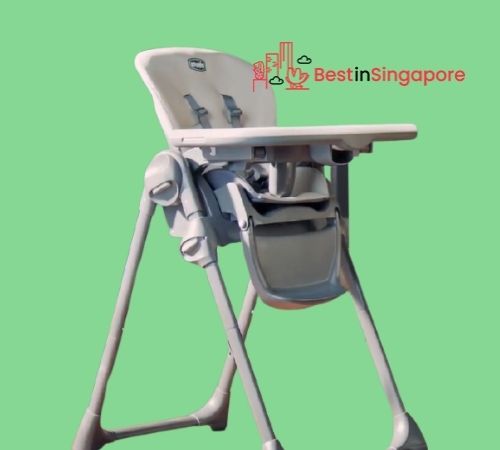 Price: $250.05
The Chicco Polly High Chair is another foldable type similar to the previous option. However, this one comes with a reclining function, accommodating your child from infant to youth stages!
Its booster seat can be instantly converted from toddler to youth stool, boosting efficiency and multifunctionality. Aside from this, it also has removable armrests and a snap-on tray that you can easily remove when cleaning or storing.
This space-saving high chair also has swivel wheels that you can smoothly manoeuvre around the room. A 5-point padded harness is also included in its design, making it one of the best high chairs in Singapore for security.
Pros
Recycling options
Adjustable and removable tray
Padded seat
Foldable
Cons
Seat cover doesn't fully cover seat
Customer Reviews
Parents were highly satisfied with the overall features of the Chicco Polly Highchair, especially with the height and reclining options.
A user gave this feedback:
"Our value for money pick, this highchair has six different height positions, the seat can be reclined into three positions and both the tray and footrest are easy to adjust. The double pad design allows you to secure your young child but then remove the first pad to allow for growth. The chair can fold down for storage and the tray can be stored on the rear legs"
5. Cocoon Z Baby High Chair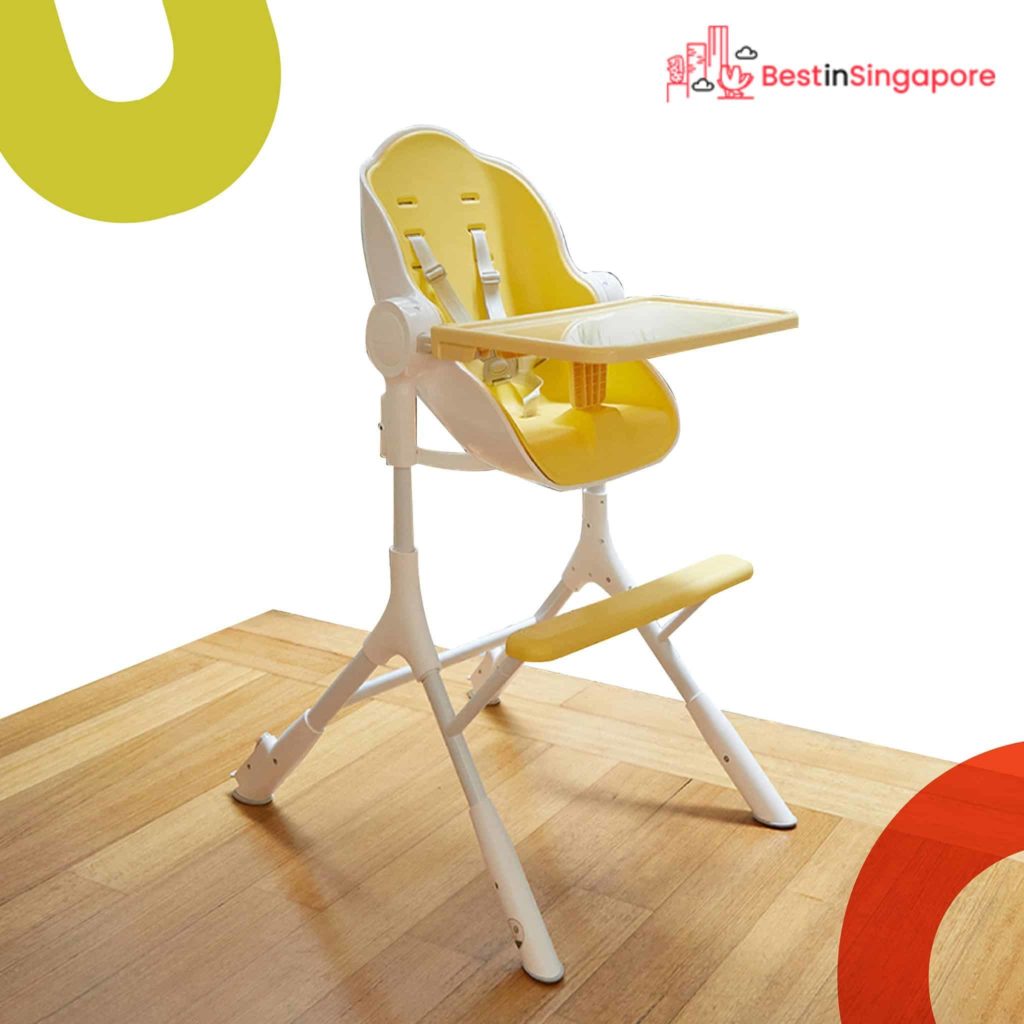 Price: $299.00
You can set a certain height and recline position for a secure fit. Its seat is foam-padded too, providing absolute comfort.
With these exclusive features, it can truly be the best high chair in Singapore! This incredible high chair grows with babies from newborn through their toddler years. More than just a high chair, Cocoon Z features three recline modes, you can start using it as a safe cocoon for your infant to lounge in, to a dining chair for when he's ready to join the family table. The Cocoon Z also gets a touch of elegance with gliders that are discreetly ensconced within its legs, which offer easy, 360-degree movement in all directions, and on all surfaces. Designed to keep your child safe in all situations, they offer additional stability to the chair and can be easily locked to prevent movement.
The Cocoon Z has so many features packed in that will make life easy for parents, making it well worth the price tag and a sure-fire hit gift. It's got 5 height adjustments, 3 recline modes, a five-point harness for a snug and secure fit, and 360-degree gliders so that it can be pushed across the floor with minimum effort and zero floor damage. Plus, it includes an easy-to-clean EVA seat, and a detachable tray that is dishwasher safe, and it assembles in minutes with no tools or additional parts needed. Available in 4 delicious colours: Lemonade Yellow, Ice Grey, Cotton Candy Pink, and Avocado Green; each color palette is modern, minimalist, and sleek.
Check out their website here.
Why buy this baby high chair:
Removable, dishwasher-safe tray
5 adjustable heights
3 reclining positions
Unique, proprietary gliders that allow 360-degree movement
Suitable for ages 0-3 years
Beautiful, minimal aesthetic, perfect for the modern home
Pros
Easy assembly
Comfortable padding
Easy to clean
Space-efficient
6. Bonbijou Regan High Chair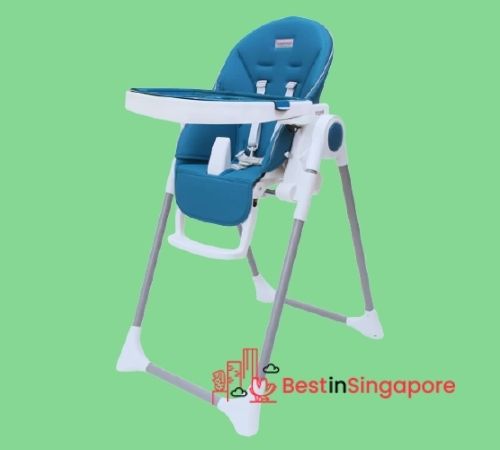 | | |
| --- | --- |
| Best for | from birth up to 3 years |
| Features | 8 adjustable height settings |
| Price | $169.15 |
| Where to get it | Shopee Singapore |
Stylish parents with a stylish bub deserve a chic and stylish high chair, no less! Before we get into the nitty gritty of this high chair, we can't help gushing about the muted and cool colours of the Bonbijou Regan High Chair. They only have 3 colours but all of them tastefully fit any baby regardless of gender.
The best part of this high chair is that on top of being stylish, it grows with your child until 3 years of age. So if you want something stylishly androgynous and durable, this could very well be the best high chair in Singapore for you and your child.
This high chair has 5 adjustable backrest reclines which allows it to be used as a temporary rest bed. We also like that it has 8 adjustable height positions ensures fit with most dining tables.
The Bonbijou weights 8 kilograms so it's light enough to be portable, but also offers steady ground and safety for your child.
Pros
Portable
Locally made
Compact for easy storage
Cons
Leather fabric may not be for everyone
Customer Reviews
Going through the online reviews of the Bonbijou high chair, it's clear to see that many Singaporeans have fallen in love with this local product.
Here's a review left by a verified buyer and user named Lydia Haviar:
S'pore is so limited with choice of high chairs that one would cry, there very expensive brand or mid range witth are not nice looking. This is why we bought bonbijou. It's stable for baby to sit, multiple high options and reclining. I found it to big for 6m – 8kg baby uncomfortable. I wish there was an insert. Same for straps. My bub is 70 cm and they are to long to hold her. The quality is good.
7. Shears High Chair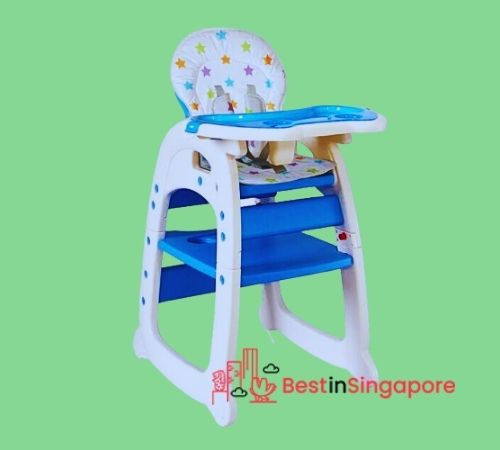 | | |
| --- | --- |
| Best for | multi-use / versatility |
| Features | can be transformed into a toddler table and chair |
| Price | $80.00 |
| Where to get it | Shopee Singapore |
If you want a high chair that can transform with you as your baby grows into a todddler, then the Shears High Chair can easily be the best high chair in Singapore for you.
Shears is a local brand that's been trusted by many Singaporean parents and we love the Shears high chair's solid and sturdy design.
The height is adjustable for low or high feeding, and it can be reclined in 3 positions to be a reclining chair. Best of all, this high chair transforms as a table and chair for when you bub grows into a toddler. They can easily use it as a feeding table, play table or drawing table.
So it's not so hard to see why parents have fallen in love with this high chair. For less than $100, you get two products!
Pros
locally made
easy cleaning
affordable
durable
Cons
No wheels
8. Stokke Tripp Trapp High Chair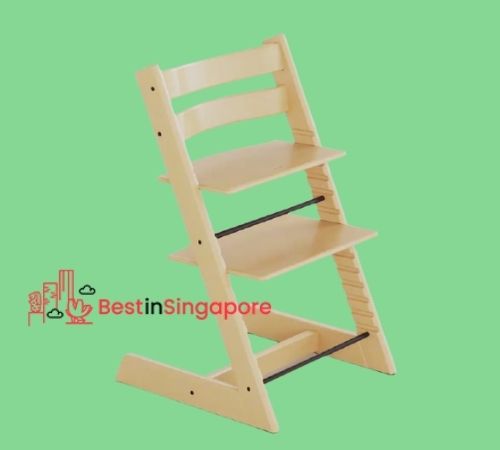 | | |
| --- | --- |
| Best for | classic timeless design |
| Features | design that lasts |
| Price | $389.00 – $479.00 |
| Where to get it | Shopee Singapore |
The Stokke Tripp Trapp High Chair is famously known as the "Chair for Life" and for good reason. This high chair will literally be with your bub from birth to old adult age. For real. Parents can even use it!
The Stokke High Chair may be pricier than most high chairs but the quality of this chair is similar to a family heirloom. We can easily see it being passed down from one generation to another.
The intelligent design was created by Peter Opsvik in 1972 and this high chair has been used by children and adults for over 40 years now. The chair may only be 8 kilograms but it can carry up to 242 pounds.
On top of this classic and ergonomic design, we also love that the chair has a minimalist look which goes well with any interior.
If you want a classic, tried and tested chair that will last you and your child generations, hands down, this is the best high chair in Singapore for you!
Pros
All wood
Natural material
easy to clean
lasts literally a lifetime
Cons
Customer Reviews
Just a quick browse of the Stokke Tripp Trapp High chair online and you will easily see hundreds of satisfied users of the product.
Here's a recent one from a verified Amazon shopper from Singapore:
This high chair is amazing and is worth every single penny. I wish I bought it sooner. It was so easy to assemble. It's absolutely beautiful. And the best part – My child loves sitting it! she hated sitting in her previous high chair (Graco one with the nasty fabric I was taking off putting in the washer every other day!) my child loves sitting at the table with every one else like a big girl. It also is a beautiful modern chair that actually looks nice in your kitchen. (Not an eye sore like every other high chair). And it's so easy to clean. (Fabric high chair suck! I regret the amount of time and effort I wasted puting into cleaning our prior fabric chair when that precious time could be better spent with my child and not cleaning!!) also, There are other "high end" models that are $100 cheaper but I highly recommend spending a little more for this one. And tell every new mother to register for this chair! The best!
There you go! That's our list of the best high chairs in Singapore! If you've got more suggestions in mind, feel free to share your recommendations with us!
And apart from ensuring that your kids can comfortably eat at home, you also need to make sure that they can enjoy fresh and delightful meals at school! See these best lunch boxes Singapore to keep your prepared meals intact, so they can always have healthy foods during mealtime!