9 Best Baby Chairs in Singapore: Our Best Picks
Once your baby has reached the tender age of 6 months, she/he can already be introduced to soft foods like pureed fruits and vegetables. However, feeding your baby without using the best baby chairs in Singapore will definitely be a lot more difficult than it should be.
Luckily for you, we're here to make your life a whole lot easier with our picks for the best baby chairs in Singapore that every parent should check out. We scouted the entire island and asked recommendations from parents about which baby chairs are worth getting your hands on.
You'll get to know more about their suggestions here. Before we move on to that though, let's take a look at some tips that every parent should take note of when looking for the best baby chairs in Singapore.
Check them out below.
How to Choose the Best Baby Chairs in Singapore
Looking for the best baby chairs in Singapore can be an exciting activity for parents, but with the number of factors to consider, including safety and budget, it's easy to be overwhelmed.
After all, your choice will have a huge impact on the development and feeding habits of your baby, so it's hard not to feel the pressure. Anyway, we're here to offer some help by listing down the most important factors that every parent should remember.
Keeping these tips in mind and taking your time is the key to finding the best baby chairs in Singapore that will be perfect for your baby.
1. Type
There are four common types of baby chairs available in the market today: traditional, modular, full-featured, and metal frame. Choosing the right type of baby chair will make feeding your baby easier, safer, and more exciting.
You've probably seen a traditional baby chair as it's the most common out of all the types. It's meant primarily for home use, so it's not the most portable option. We don't advise bringing it when travelling as well.
On top of that, traditional baby chairs are probably the most durable because they're often made with premium materials. In terms of look, most traditional models sport sleek and upscale designs.
On the other hand, modular baby chairs are considered multifunctional because the seat unit can be detached and strapped onto an adult chair, serving as a booster. It's perfect for longer use as the seat unit can be removed as your child gets older.
Another baby chair type that's considered multifunctional is the full feature. It can be used as a chair, cradle, and even wings, at times. It comes with a seat recline, stashable table, and casters for mobility,
If you're looking for a lightweight option, we recommend going for metal-frame baby chairs. They're easy to clean, portable, and won't give any parent a hard time assembling—plus, it's the most affordable option as well.
2. Safety features
We can't stress how extremely important safety features are in a baby chair. We don't recommend going for a baby chair that doesn't come with at least three safety features.
Our tip when looking for the best baby chairs in Singapore is to check if the footrest is wide and well-balanced. Even if your baby becomes bigger and more boisterous, she/he won't trip easily.
Another thing to consider is the buckle. A baby chair should have at least a T-style strap that goes across the lap through the legs. It should connect in the middle for a more secure and snug fit.
While it's ideal to go with a baby chair with casters, wheels can potentially cause accidents. You need to make sure that casters come with locks, so the baby chair won't move on uneven or slippery surfaces.
3. Seat adjustments
Another factor that determines the comfort level of a baby chair is the seat adjustments. Some baby chairs can be moved up and down to as many as eight height positions which are perfect because babies will grow taller and wider.
In line with that, fixed baby chairs with no height adjustments aren't a bad option, but babies tend to grow quickly before our eyes. It may be harder for them to fit inside the chair once they turn 2 or 3 years old.
If you can't afford a baby chair with seat adjustments, just make sure that your choice is a bit bigger than the current height of your baby. We don't suggest going for the biggest baby chair as the extra space will give way for accidents.
4. Upholstery
When it comes to upholstery, it's best to go with a baby chair that comes with a seat pad that can be wiped clean. You won't have to regularly throw them into the washing machine if the dirt can be simply wiped with a wet cloth.
If you're looking for upholstery that conceals stains extremely well, then go for a patterned seat cover. It may be excellent at hiding stains, but it doesn't mean that there's no need to clean it regularly.
According to the parents we talked to, most of them go for a baby chair with rubber or foam seat covers as both are easy to clean. You don't need to wash them regularly, wiping them clean every day would already suffice.
The Best Baby Chairs in Singapore
Now that you know which features to consider for when looking for the best baby chairs in Singapore, it's time to take a look at the ones trusted by parents in Singapore.
Here's our list of the best baby chairs in Singapore that offer durability, functionality, design, and of course, value for your money.
1.   Joie Mimzy Snacker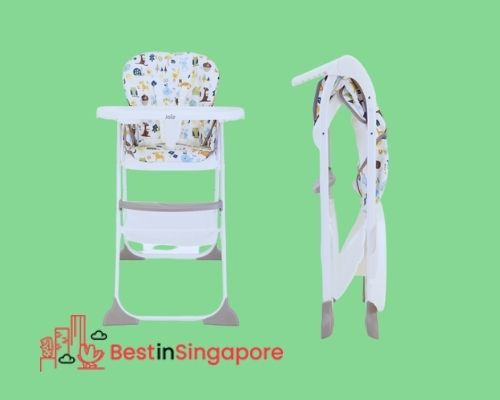 Price: S$139.00
Joie Mimzy Snacker is a compact and lightweight baby chair that doesn't come with complicated features and adjustments. It serves the most affordable option in our list too, costing only S$139.00.
According to some parents that recommend it to us, Joie Mimzy Snacker is the perfect companion for travels because it's small and portable. It has become easier for them to bring their babies out and eat their favourite restaurants.
One of the features that make us consider it one of the best baby chairs in Singapore is the easy-to-fold setup. In fact, it can be folded in less than 3 seconds, using only a single hand!
On top of that, Joie Mimzy Snacker is meant to be enjoyed by babies for the years to come. It's designed with 3 reclining options that can accommodate the built and height of your baby for 2 to 3 years.
In some cases, the Joie Mimzy Snacker was able to carry kids up of 3.5 years old! It's truly the option you want if you need a baby chair that's going to last for a long time.
Other features of the Joie Mimzy Snacker are the removable seat pad, large storage basket, a 5-point harness system, and adjustable tray cup holders, among others.
Pros
Lightweight and portable
Competitively priced
5-point harness system
3 reclining options
Cons
No caster wheels
Limited seat cover design
2.   Bonbijou Regan High Chair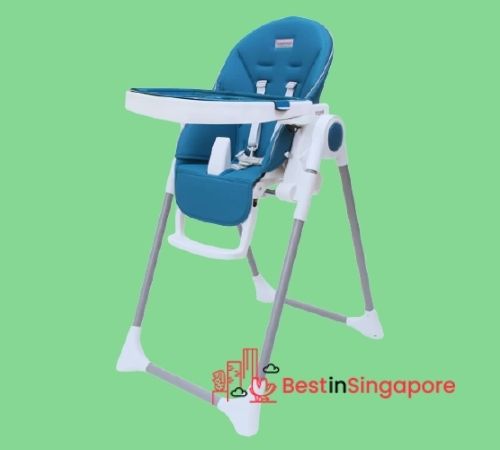 Price: S$180.00
If you're after comfort and style without the heavy price tag, then we recommend taking a look at the Bonbijou Regan High Chair. It's a bit expensive compared to our previous pick, but we believe it makes up for its features.
Most parents consider it one of the best baby chairs in Singapore due to its multiple height orientations and different backrest angles, providing babies with the best support during meal and rest time.
What's more, its adjustable height orientations make it possible to be used beyond feeding time. In fact, the adjustable heights make it possible for babies to sit beside your desk while you're working, so you can play with them during short breaks from work.
When it comes to safety features, parents like that the Bonbijou Regan High Chair comes not only with a sturdy frame, but with a 5-point harness as well. It encourages parents to rest or close their eyes for a bit without worrying about their babies.
Another reason it's a hit among parents is the fact that it can be easily cleaned. Its luxe leather fabric can be cleaned with a damp cloth.
Pros
Easy to clean
Adjustable height and angle
5-point harness
Sturdy frame
Cons
Heavier than most baby chairs
Comes in 1 colour
No caster wheels
3.   Abiie Beyond Wooden High Chair with Tray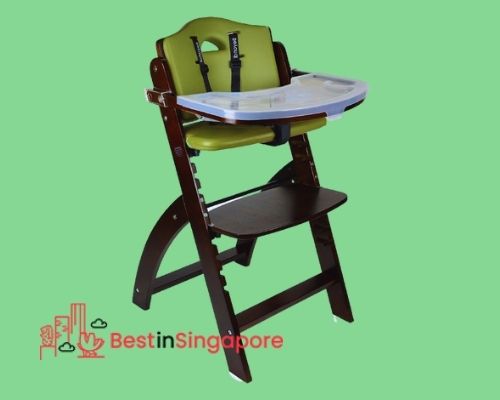 Price: S$269.00
Abiie has long been a trusted name when it comes to infant care, so we couldn't help but include one of its baby chairs in our list. Here's the Abiie Beyond Wooden High Chair, and most parents call it one of the best baby chairs in Singapore.
For one, Abiie Beyond Wooden High Chair is one of the few baby chairs with a frame made from pure wood. It's made out of premium beech wood ethically-sourced from a cultivated forest in Europe, so it's eco-friendly as well.
One of the unique features of the Abiie Beyond Wooden High Chair is its patented EZ-Seat system. It enables fast adjustment of the seat and footrest to quickly adapt to the size, height, and weight of the baby.
More than that, the Abiie Beyond Wooden High Chair is designed with an adjustable 5-point harness that makes it easier for parents to secure their babies in place. You will now be able to prepare and cook meals without the other eye watching your baby.
The Abiie Beyond Wooden High Chair is even recommended by occupational therapists for its durability and sturdiness. It's carefully constructed so that even the most boisterous of babies will not tip over.
Lastly, cleaning the Abiie Beyond Wooden High Chair will not be a hassle. The stain-resistant and waterproof cushions will save parents from the stress of regularly cleaning it.
Pros
Made from premium beech
Durable and sturdy
Patented EZ-Seat system
Stain-resistant and waterproof cushions
Cons
Heavier than other models due to its material
Not portable
Customer Reviews
Here are some comments shared by parents who got it from Amazon:
"Love this high chair! It's not massive but works great for our wobbly 6 month old. He sits up nice and tall! He was 2 months early so his therapists wanted to make sure he had a five point harness, and a place for his feet and arms that is adjustable, it's perfect. It does have one handed cover removal but needs two hands to remove the entire tray. Excited to try many more foods in this high chair."
"This high chair is exactly what I was looking for! It's perfect for our needs. Very well made, easy to use and clean and a small footprint. We intended to use it without the tray and instead up to the table, so I can't comment on the tray. However it's an absolutely perfect fit for our dining table. My son loves his chair, he sits up nice and upright and has more free range of movement compared to his OXO seedling chair we had before, he hated being enclosed and strapped in, he would also get very hot in it. We are so happy with this highchair! We will be purchasing a second chair for our next baby that's due any day now. Highly recommended!"
4.   Lambda Baby High Chair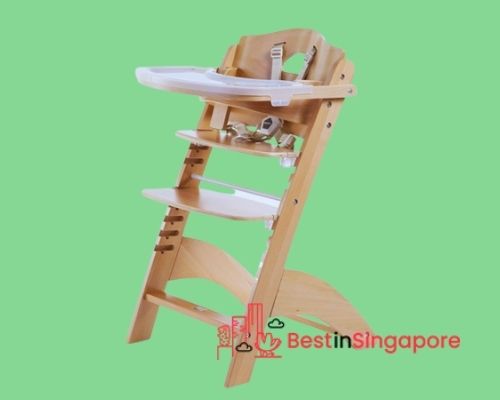 Price: $289.00
If there's one thing that makes the Lambda Baby High Chair stand out, it'd have to be that it comes in different colours. Parents can choose the right colour that represents the personality of their babies.
Some of the colours that parents can choose from are anthracite, black, natural, red brick, stone grey, and white.
Aside from colours, the Lambda Baby High Chair is known for being a durable and sturdy baby chair. It's made from premium beech, so rest assured that your baby will be able to enjoy it for another 2 or 3 years.
Some parents noted that its footrest and seat are easily adjustable without having to use screws. Its feeding tray can also be collapsed to the back when not in use, giving babies more room to move around.
It comes with a detachable safety bar and safety belt to ensure that babies are safe and secure in their positions at all times.
Pros
Made from durable materials
Easy to assemble and fold
Comes in different colours
Cons
Doesn't come with seat covers
No caster wheels
5.   Graco Table2Table Baby Chair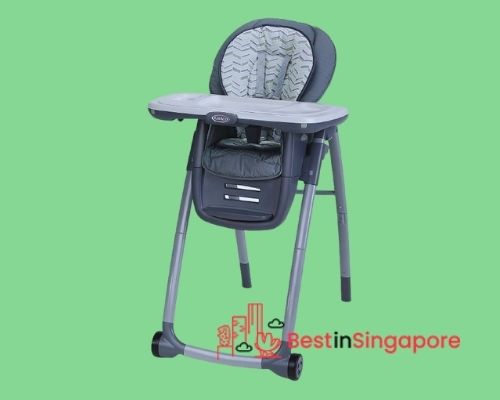 Price: S$472.00
Well, if you're willing to go beyond your budget for a high-end baby chair, then you might want to get your hands on the Graco Table2Table Baby Chair. Costing almost $500, it surely is the most expensive baby chair on our list.
However, we can guarantee that your baby will experience a level of comfort that other standard baby chairs aren't capable of providing. It's designed to be used from infant years to toddler years.
Another thing we like about the Graco Table2Table Baby Chair is the fact that it can be used beyond meal times. Once your baby has reached a certain age where high chairs are no longer needed, it will be able to function as an adult chair where kids can do homework.
For parents with more than one baby at home, there's no need to purchase two baby chairs as the Graco Table2Table Baby Chair can seat two children simultaneously!
It may be an expensive baby chair, but think about how your baby will be able to use it for different occasions and far beyond their toddler years. This is why we consider it one of the best baby chairs in Singapore.
Pros
Can accommodate 2 babies at once

5 height adjustments

3 recline positions

Multiple functions

Easy to fold
Cons
Expensive

Made only with plastic
Customer Reviews
Take a look at some of the comments shared by parents who swore by it:
"It's a great high chair. The height adjusts well for feeding at the couch, standard dining table, and bar-height dining table. I love that it comes apart easily to take to my parents' house for the holidays though it's big. (We have an SUV) It folds up well for storage but doesn't stand well on it's own (as a highchair… haven't tried a conversion) . I also like that the seat reclines so I can feed solids then bottled milk without moving the baby in between. It feels safe with the 5-point harness I look forward to the ability to convert it to a booster seat, then a table and chair once my baby is a toddler."
"Bought for my daughter who is 2 months. I love the 5 point harness because she can sit in it while we eat dinner as a family and doesn't have to be in the living room in her bouncer. She obviously isn't eating solids yet but she can use the infant seat. Love how easy it was to put together and the tray is huge! Shipping was quick can't wait to use the product more as she grows"
6. QMOMO Kid2Youth Baby High Chair
Price: $299.00
The QMOMO Kid2Youth Baby High Chair is a wooden chair suited for children and adults below 60 kg. Toddlers 5 months above can be able to use this chair safely. 
It features a wide range of adjustability, from the seat board to the footrest board. Adults can use it by removing the seat board.
The safety rail ensures that your child will be sit upright and with proper posture. While it has rear wheels for mobility, it also serves to keep the chair more stable.
Pros
Adjustable to suit 5 months old toddler and above or adult
Adjustable seat board and footrest board
Safety rail ensure baby's upright posture
Removable seat covers and buckle for cleaning
Removable top seat board to switch it to a regular chair
Rear wheels for mobility and prevent the chair from flipping backwards
Cons
7. Puka Magic High Chair 2 in 1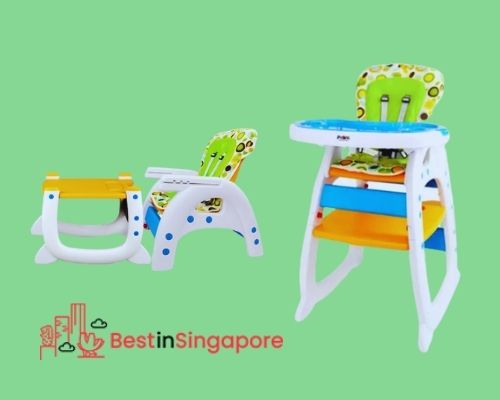 | | |
| --- | --- |
| BEST FOR | Multi-purpose use |
| COST | SGD $229.00 |
| SUITABLE FOR (AGE) | 6-72 months |
| WHERE TO GET IT | Shopee Singapore |
If you're looking for a baby high chair in Singapore that's versatile and can be used for quite a long time, you need to take a look at the Puka Magic High Chair 2 in 1. 
This is a baby high chair that will definitely be used for years, and in some cases even be used by your next baby without you having to keep the chair for 'future use'. 
So what makes the Puka Magic High Chair exactly 'magical' is that it converts from a baby high chair to a separate table and chair so really, it's like getting three items in one: a baby chair, a table and a low chair. 
You'll definitely get a lot of mileage with this high chair as it's not only useful for when your baby is eating, but when they are older, the table + chair setting is great for doing activities such as drawing and play.
What makes this one of the best baby chair in Singapore for us is it's versatility, practical use and most of all, affordable price. 
Pros
Affordable
Easy cleaning
Multi-use
Can be used for years
Cons
8. Oribel Cocoon 3-Stage High Chair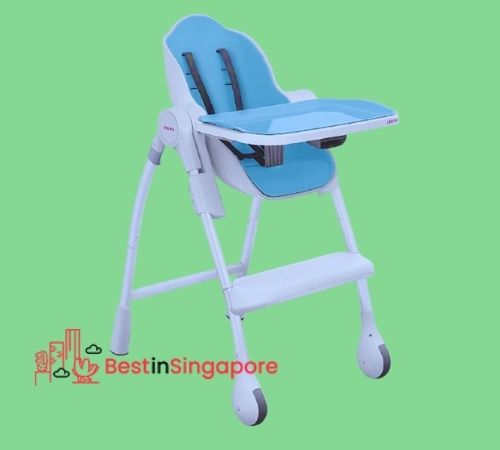 | | |
| --- | --- |
| BEST FOR | A chair that 'grows' with your baby |
| COST | SGD $299.00 |
| SUITABLE FOR (AGE) | 6 months to 3 years |
| WHERE TO GET IT | Shopee Singapore |
Most parents' frustrations with high chairs is that it does not get used long enough. Some have bemoaned that they spend hundreds of dollars on high chairs only for them to be used for a few months. 
That's not the case with the Oribel Cocoon 3-stage High Chair. Just as its name suggests, this chair follows the growth of your baby in 3 stages. The chair can be used for napping, bottle-feeding and eventually for the baby to join the rest of the family at the dining table. 
The large feeding tray can be swapped with their food and cup holder so you get closer access to your child when they reach the early feeding stages. What we particularly like about this high chair is that it has 3 comfortable recline positions and goes up to 6 height adjustments so it will definitely be with your baby for years.
Pros
Easy stowage
Great mileage / longtime use
Great for all baby sizes
Cons  
Bigger than most high chairs
Customer Reviews
A lot of parents have raved about the Oribel Cocoon 3-Stage High Chair. Here's one review from a customer named Sierra, a mother who's very happy with the high chair:
This is the best high chair in the world. I am a mother of 4 and require practical, high quality products for rearing my children, and I have been searching high and low for the perfect chair. I had very specific criteria that had to be met.

This high chair not only met every single one of my criteria, but it exceeded them by also providing me with things I didn't even know I wanted, like the magnetic tray making it easy to store the tray instead of it cluttering up a counter when taken off of the high chair. I do really wish the magnet was stronger though because it has fallen off plenty of times. Another great feature is the baby food attachment that you can use instead of the main tray; because when you are feeding those little ones their first tastes of baby food, they will always try and grab it, and the attachment keeps the baby food out of their reach but still within yours.
9. Chesy Adjustable Baby Kids Safety Dining High Chair Booster

| | |
| --- | --- |
| BEST FOR | Great value and practical use |
| COST | SGD $120.00 |
| SUITABLE FOR (AGE) | up to 12 months |
| WHERE TO GET IT | Lazada Singapore |
This high chair's generic almost no-brand name will be overlooked once its practical use and affordable price is appreciated. This baby high chair is for those who want practical use: a high chair that does its job and more, no other fancy bells and whistles. 
Completely made out of plastic, this high chair is easily adjustable and also quite compact, which is perfect for families living in apartments and small spaces. We like that it has 3 settings: a high chair, booster chair, and a chair / tray with wheels. 
Although it can only be used up to 12 months, this high chair's versatility and affordable price impressed us enough to include it in our list of Singapore's best baby chairs. As a bonus, we also like the design and colours – very vintage and minimalist.
Pros
Cons
Requires more than basic assembly
Customer Reviews
There are plenty of satisfied customers who bought this high chair, with many remarks saying the product itself proved to be beyond their expectations. 
Here's one from a Lazada buyer:
Item served its purpose. Easy to assemble. Comes with PVC chair cover which makes quick cleaning.
And with that, we conclude our list of the best baby chairs in Singapore. Have you already decided which one to purchase? Tell us all about it!
If you know other baby chairs that every parent should check out, share them with us and then we'll check if we can include them in our roster.
And if you're looking for the best baby carriers in Singapore as well, we suggest taking a look at our list! We listed down six baby carriers that a lot of parents in Singapore have recommended.