8 Best Baby Carriers in Singapore Reviewed
Congratulations! Your little bundle of joy has just arrived in this world and you need to find the best baby carriers in Singapore to take him or her home in. Or perhaps your friend has a baby shower and you're thinking of giving a present that's suitable for your godchild to-be.
Luckily for you, we're here to provide our list of best baby carriers in Singapore. We've also set up a quick quick guide on the types of baby carriers out there.
Splurging on a baby carrier is no problem at all, since you'll need something of great quality. After all, your child or godchild deserves the best care possible.
So without further ado, let's go into the ins and outs of choosing a baby carrier first. Determining which carrier suits your needs will be easier once you've taken a good look at this guide too.
Baby Carriers: Where Do I Begin?
There are plenty of great options for baby carriers, but there's a difference between a structured carrier, a sling, and a wrap. And knowing the difference is a big help when picking what you need for your baby.
Aside from the types, there are also factors such as how old the baby is. Is he or she a swaddled newborn? Or is the baby already approaching toddler age?
There's no wrong way to go about this, and most of it is only a matter of preference and comfort for both parent and child.
So let's get started, shall we?
1. Carriers, Wraps, Slings, Oh my!
So there are 3 types of baby carriers, and none of them is better than the other because they address different needs. All of them have their own advantages and disadvantages:
Baby Wrap
A baby wrap is simply a piece of cloth that is a makeshift bundle and tied across both your shoulders and midsection to create a bundle. It suits newborns due to fostering skin to skin contact and more intimacy between the parent and child.
Another advantage of wrap is that it encourages swaddling. According to experts, swaddling younger infants is a good, no-frills solution to colic since it emulates the enclosed environment of the womb. And it's really handy when you're breastfeeding!
However, it's less ergonomic than other options and difficult to adjust, making it less suitable for carrying the baby for a long time while walking long distances.
Baby Sling
A baby sling is like a baby wrap, a long piece of fabric that you wrap to swaddle and carry the baby with. However you only fasten it to one shoulder. This is essentially the one-shoulder backpack equivalent of a baby carrier.
It's easier to cuddle close when you have a baby wrap for your child.
This allows a little more hand and arm freedom. But it's not advisable to retain for long periods, given that the baby's weight is not evenly distributed.
Structured Carrier
Structured carriers, when you get down to it, are simply baby backpacks. They have straps with adjustable buckles over the shoulder and a padded carrying "pack" for the back or front.
They're also called Soft Structured Carriers, or SSCs.These carriers are ideal for first-time parents because they are easy to wear and easy to adjust, as well as comfortable to the baby because of extra padding.
It can also carry babies from newborns to toddlers; however, take into account that structured carriers are much more expensive than wraps and slings, and they also have a considerable bulk to lug around.
2. Newborn or Toddler?
Take into consideration the size of the child, or whether they're newborns or toddlers. Structured carriers can carry up to 20kg. However, wraps have a limit and can only carry babies of around 18 months old.
Also take into consideration if the child is the squirmy type or enjoys being wrapped like a burrito.
Generally, you want something lightweight, durable, and very portable. But you also have to consider the comfort and safety of the child, of course.
The Best Baby Carriers in Singapore
Now that we know the tips and tricks to picking great baby carriers as well as the types available, let's go to the list of the best baby carriers in Singapore. These picks vary in size, function, and cost.
But to be sure, we only picked ones that we believe to be safe. That was the foremost consideration when we made this list of the best baby carriers in Singapore.
Anyway, enough dithering! Let's take a look at the carriers themselves!
1. Baby Tula Baby Carrier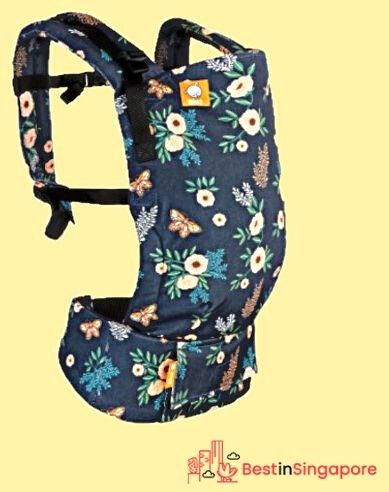 Price:$299.00
Limited Stocks At Shopee, Buy Now
Tula is a favorite of many parents everywhere. In fact, this brand of baby carrier has consistently made its way into parenting magazines, websites, blogs, and is thus a common recommendation as one of the best baby carriers in Singapore.
And with good reason too! There's a lot to like about this baby carrier, including the fact that it has a large mesh panel that provides extra ventilation to keep both the baby and the wearer from sweating themselves off because of the pads.
This baby carrier also provides an array of carrying positions, including front facing out, facing in, and back carry. It also has no bulk, so it's easier to lug around than others.
It also adjusts to up to 3 width settings, as the baby grows from newborn to early toddlerhood. The best part? It doesn't require an infant insert like most carriers would! Talk about a steal!
Pros
Breathable
Can carry anywhere from 7 to 45 pounds
Easily adjustable
Cons
Pricey
Slightly difficult to put on
Customer Reviews
Here are some reviews from Amazon about the this amazing product:
After trying many carriers, I think I'm settling on the Tula Explore. I love the simplicity of the carrier, the part baby is actually in. There's no bulky parts to adjust and baby feels pretty flush against my body, like she does in a baby wrap. We both like that. She seems pretty comfortable once settled into it. The weight, so far (she's about 12 lbs), is distributed mostly on my hips. This is great because my back was killing me with other carriers. The weight distribution is the main reason I'm choosing this one over others. The fabric is also softer then the Lillebaby Airflow, though not as soft as I would like. I really like the cushion around baby's legs too, which seemed to be either missing or too bulky in other carriers.
Now here's why it's not perfect, even though I think it's the one I'll keep… The shoulder straps are thick, but not too thick, however the adjustable connection doesn't go as high up as I need. At the highest point, I can barely reach it (I'm 5'4″ and never thought I had short arms). I have to slide it all the way down and connect in my middle back where I can reach it. This is fine but leaves the shoulder straps on the edges of my shoulders, not close to my neck. The only reason I'm okay with this is because none of the weight seems to be on my shoulders. We'll see how this works as she gets heavier and the carrier is more worn in. Another negative is the infant head support pillow. You have to tuck it in and tuck the flaps into little pockets inside ther carrier. The problem is that there isn't anything to snap the flaps in place. I just decided to untuck the pillow and use it in the short position snapped to the outside. However, if you truly have a tiny infant, like the 7lbs they say this carrier fits, this could be a problem. Lastly, I wish the hood was attached and tucked into a pocket like a lot of other carriers. I'm fairly certain I'm going to lose one day.
All in all, I'd say this carrier is almost perfect. Even the things I would change are either specific to me, narrow shoulders and apparently short arms, or things I can work around.
-SC
After 2 months of researching these online and going to a bunch of stores to try different brands on, feeling like they were too stiff or bulky, too hot, or not supportive enough, I finally bought this. I wanted to give it enough time to give a real review, and definitely 5 stars! I have had this for 4 months now and used with baby 2 months old until now and will continue to use. It is soft and comfy for me and definitely keeps me cooler than the other carriers and slings we have (which is important in South Texas). It takes about 15 seconds to get baby in it and adjusted. He's happy whether he is awake or sleepy, but does typically fall asleep in it after a couple minutes. It has everything I was hoping for! If you are on the fence or spending countless hours researching, look no further. This is it!
-Chanel
2. Lillebaby Complete Airflow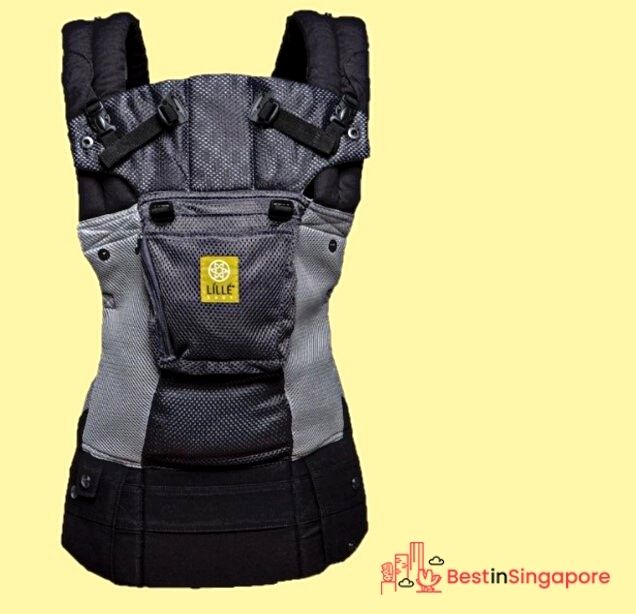 Price:$179.00
Limited Stocks At Shopee, Buy Now
If you want something that is made to adjust to the hot Singaporean climate, then we have you covered! Lillebaby Complete Airflow is a gem that shouldn't be missed.
Lillebaby's Airflow line is especially designed to have breathable moisture-wicking mesh for maximum airflow and ventilation.
A great feature of this carrier is that it adjusts to not 3, but 6 ergonomic carrying positions for the ease of the wearer. The other features include a sleeping hood that provides comfort when the baby is sleeping, as well as an extendable torso that can help the baby relax and that provides extra neck and back support and keeps taller babies secure in the carrier.
And another fun thing: it has pockets, so you can store essentials in it!
With a lightweight, breathable design, and heavily customizable features, this baby (pun intended) is one of the best baby carriers in Singapore.
Pros
Lightweight
Breathable
6 ergonomic positions for adjustable carrying
Cons
Limited adjustment for larger babies
Customer Reviews
Here are some reviews from Lazada about the this amazing product:
I struggled for months & months trying to decide between the Ergo & the LILLEbaby. My final decision came down to comfort — I live in an area that doesn't see any seasons other than summer & regularly hits 90+ degrees so I chose the full mesh LILLEbaby because of its ability to keep myself & baby as cool as cool as is possible in this California climate.
Some other perks were the ability to use it from birth without having to buy an insert, even with my little preemie who only now just hit 9lbs at 12wks, & the front pocket big enough for my cell phone, keys, & a binky.
It was a little tricky to get on at first but a quick search for a YouTube video fixed that. I also would've liked a bigger choice of colors & designs, although the navy color I ended up with is very appealing nonetheless.
I still plan on keeping my Boba for those times when it's a little cooler out or I want to feel a little closer to my boy, but I'm so happy to be able to choose between the two.
It's still my first day with it, so I may come back & edit this review. I've also just signed up to become a member of a babywearing club where you get to rent different carriers on a monthly basis, so if I find a better one I'll be sure to let you know ?.
Please let me know if you found this review helpful, as I also rely heavily on others' reviews when purchasing from Amazon.
-Jaime
As a first time mom and dad we explored sole baby wearing options that included gifts and purchase alike – including and not limited to Boba, ring slings, Britax. Living in Hawaii, our primary concern next to ease of wearing was how the carrier handled heat. Well, tying wraps was not for me and forget about getting my poor husband to learn! All options were way too hot, too, even during early AM walks. Then I did a little research on Instagram and found Lillebaby. After comparing heaps of reviews I decided the look and apparent ease of use of this carrier was worth the investment, and decided on this carrier over ergo baby because it seemed to be more along the lines of what we need. FINALLY this low maintenance mom has found the perfect carrier! Loved that my husband loves it too. We feel confident carrying him hands free, and the neck support that you can button down was a huge plus. The seat was easy to adjust and the pack stays much cooler during walks. A huge plus, when you want to take it off if bub falls asleep you can just lay it down and unclip which makes for a smooth transition if he falls asleep during a walk (which happens 100% of the time). So glad we found this when he is three months and plan to use it til we can't any longer!
-Love + Water
3. Beco Gemini Baby Carrier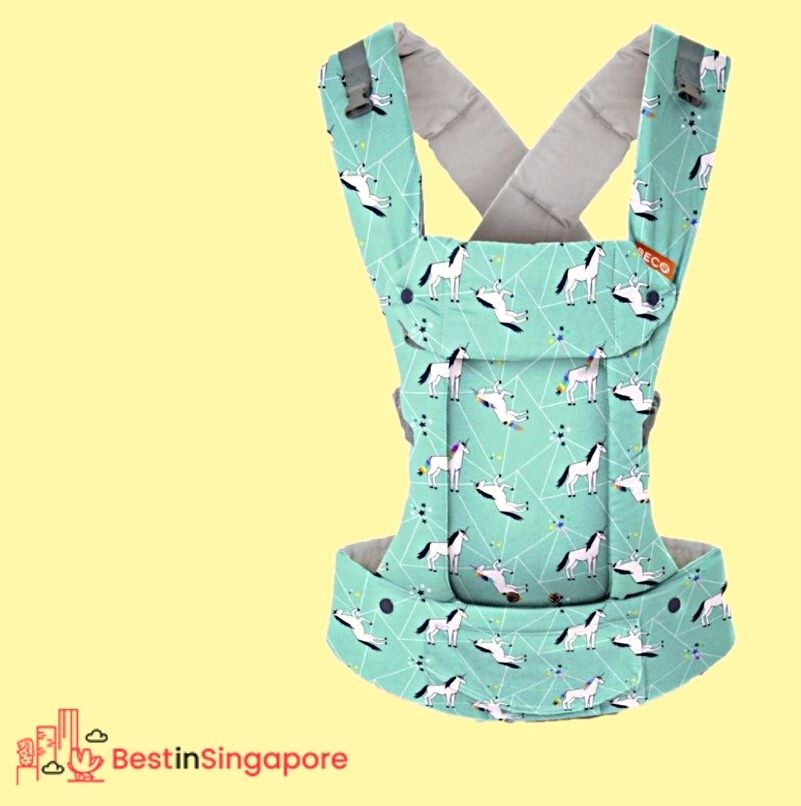 Price:$191.32
Limited Stocks At Shopee, Buy Now
The Beco Gemini Baby Carrier has joined the list of the best baby carriers in Singapore for several reasons. Aside from it's amazing breathability, plenty of reviewers attest to its 4 different ergonomic carry positions.
However, be reminded that this carrier is made for babies who are smaller, and is designed to be used for babies that range from newborns of 3.2kgs to toddlers of about 15kgs.
Another good thing about this Beco carrier is the range of adorable designs it comes in. We recommend getting the whimsical Starry Seas design for something truly magical to look at while your baby dozes off to Dreamland.
Pros
4 ergonomic carry positions
Lightweight
Cute designs
Cons
For newborns and lighter babies
Customer Reviews
Here are some reviews from Amazon about the this amazing product:
As a first time mom I was inundated with choices for a baby carrier. Based upon The WireCutter recommendation and amazon reviews, I chose the Beco Gemini and LOVED it. It took just a few tries to get used to the straps (needing two hands) but the baby instantly felt secure and safe in this carrier. Now using two hands is second nature when I am by myself with baby and I am very grateful it has that added safety feature. In addition to the Beco Gemini, we tried a moby wrap and an older version of an ErgoBaby carrier (needing a newborn insert was terrible) but by far the Beco Gemini has been our number one favorite by leaps and bounds. I did have to reach out to customer service after several months of nearly daily use and they responded immediately and resolved the issue immediately. How I am treated as a customer is so important to me and it felt great that this company responded promptly with both kindness and professional attention. It definitely solidified my confidence and choice with Beco Gemini. I recommend this product whole heartily. Your back will thank you and your baby will love it!
-Rebecca River
I absolutely love this carrier. I have been through a Tula and a Lilliebaby, and this carrier is the best! It is so light and so cool for a higher end baby carrier. I purchased because my baby was overheating in the Tula with an insert, and even in a Lilliebaby airflow as bulky as it is. I am a size 18 and it fits me just fine. I was worried about the buckles as some of the other reviews said they were challenging. I have short arms and have no problem reaching around my baby with my arm supporting his back to use two hands to undo the buckles. Having the ability to cross the back straps helps my back immensely while wearing. My friends have the originally Beco Gemini and this one is much lighter. It's very versatile giving me the ability to face outward or inward in the front carry. My little man really likes to look around in busy environments, but when we are sleepy he goes right to sleep and snuggles facing inward. My baby is small for his age at only 12lbs at 4 1/2 months old and I love that I don't have to use an insert. I do feel with a tiny newborn the panel is a bit big, but I prefer a wrap anyway. GREAT GREAT carrier! So in love!
-Paige Zwirner
4.   MOBY Classic Wrap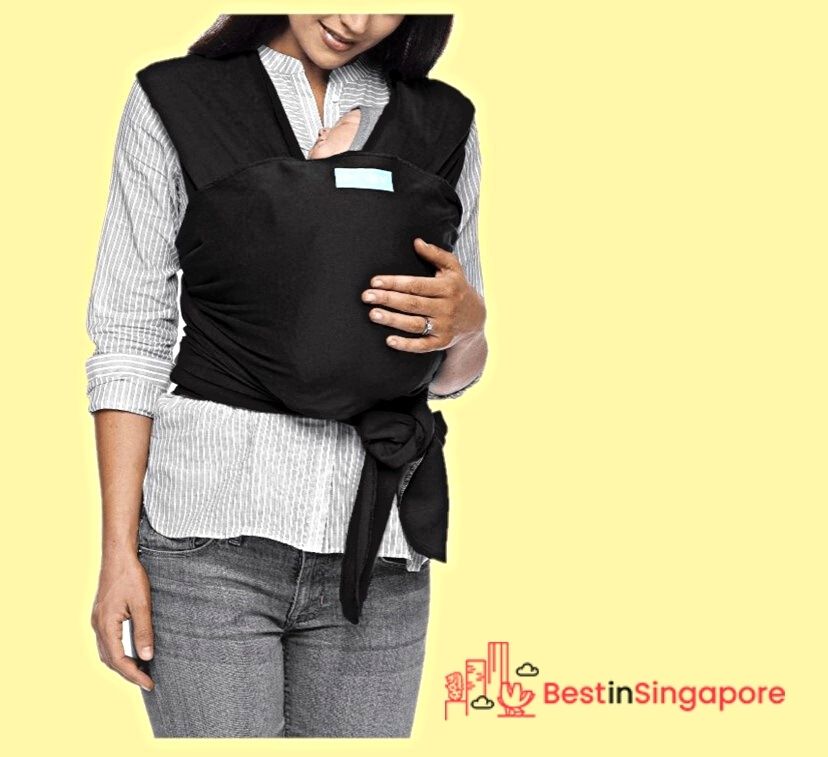 Price: $$62.41
Limited Stocks In Amazon, Buy Now
If you want your baby swaddled like a bug in a rug, then this one's for you. Moby's Classic Wrap provides no frills for a carrier, yet it's very effective.
It adjusts to grow with the baby, from newborn to toddler, and it also offers front and hip carrying options.
The fabric used is soft, breathable, and stretches to the needs of both baby and parent. It's also comfortable to wear even after long periods of time. Its one-size-fits-all design is convenient, and it's machine washable too!
However, it's only made to carry around 8-35 lbs. But not bad for a baby wrap! It provides maximum comfort, convenience and stability for both the parent and child. What more could you want?
These features have put it squarely on the list of the best baby carriers in Singapore.
Pros
Snug and comfortable
Machine washable
One size fits all
Cons
5.   Chimparoo Trek Air-O Woven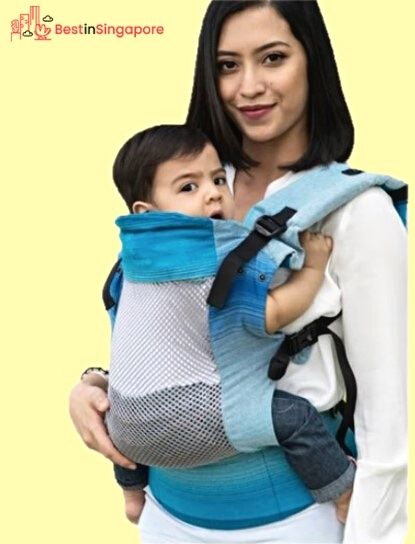 Price: 
The Chimparoo Trek Air-O Woven one of the best baby carriers in Singapore for use during hot or humid weather. This ergonomic and supportive carrier is made with sturdy and breathable materials, to minimise the discomfort for both baby and carrier.
The carrier's structure can be altered for different carrying positions. As a plus, it comes in various colourful designs. Carry your baby in style and comfort with the Chimparoo Trek Air-O.
Pros
Ergonomic and supportive design
Great for hot and humid weather
Cons
6. Ergobaby Omni 360 Cool Air Mesh All-In-One Newborn Baby Carrier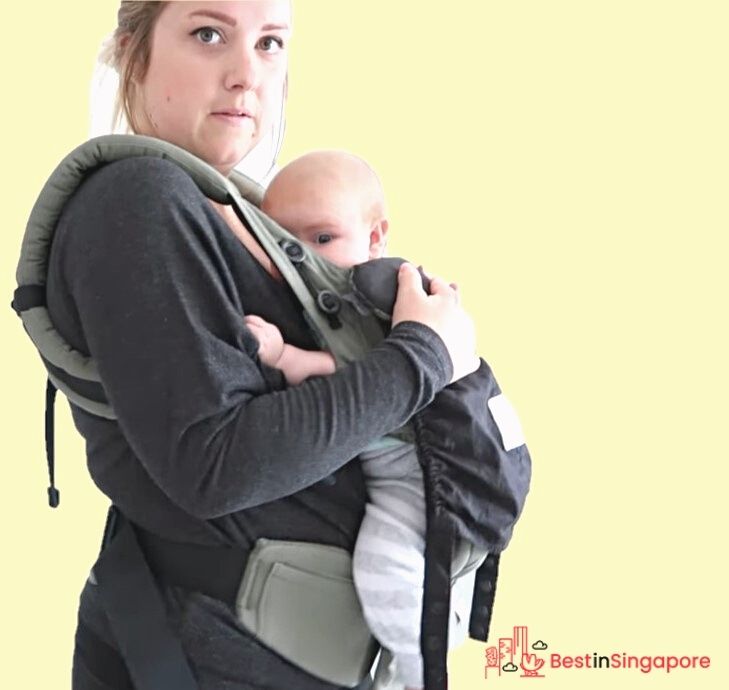 | | |
| --- | --- |
| Best for | Parents who do a lot of walking |
| Feature | Cool durable mesh fabric |
| Price | $229.00 – $305.00 |
| Where to get it | Shopee Singapore |
If you're a parent who's always on the go and do a lot of walking during the day with your little bub in tow, this is possibly the best baby carrier in Singapore for you.
The Ergobaby Omni 360 Cool is perfect for Singapore's humid weather due to its durable and cool mesh fabric that can carry the weight of your little one.
This baby carrier allows almost all carry positions plus provides ventilation to keep you and your baby cooler. Omni 360 grows with your baby from week 1 through toddlerhood (~0-48 months/7-45 lbs/3-20kg ) and offers a perfect fit for all parents.
A favourite feature of many parents is the one-handed slider adjustment which allows you to quickly switch your baby to face in or out.
And because it allows babies to face all positions, this is also the best baby carrier in Singapore for fussy little ones!
Pros
Long use from 1st week through toddlerhood
Lightweight
Cons
Customer Reviews
Going through the reviews of this baby carrier, it seems that many parents love this because they can carry heavy babies. Here's one review from a verified user and buyer:
Recently bought this product as a new father. Wanted to ensure product was suitable for my 2 month old year old son.
Tested the carrier with my 28 year old, 80kg friend to ensure the carrier system was serviceable. Nil indications of carrier ripping or breaking was evident.

Would recommend this carrier to anyone with an overweight baby.
7. Infantino Flip Advanced 4-in-1 Carrier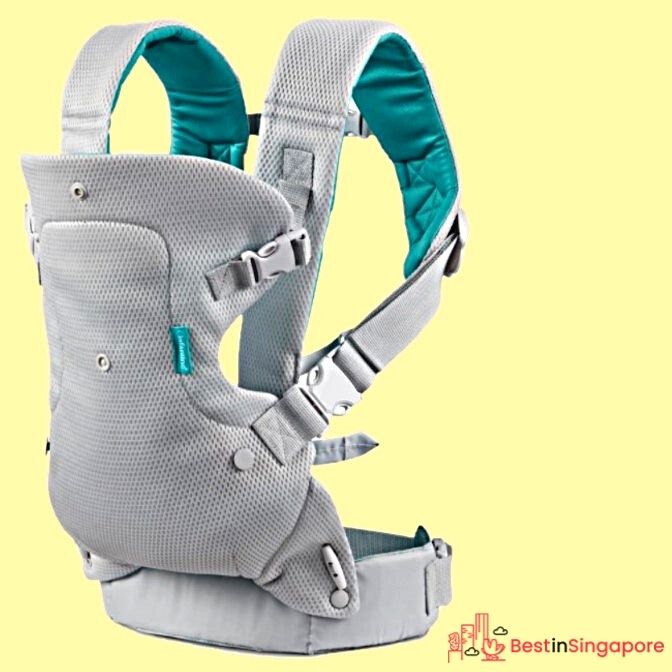 | | |
| --- | --- |
| Best for | babies who want different ways to be carried |
| Feature | adjustable ergonomic seat |
| Price | $66.93 |
| Where to get it | Shopee Singapore |
If you're after something affordable and comfortable for the baby and you, the Infantino 4-in-1 carrier could be the best baby carrier in Singapore for you.
Parents love the versatility that this carrier brings. It allows narrow facing-in, wide facing-in, facing out, and the back pack style carrying your baby.
The Infantino 4-in-1 is machine washable and can Securely carry infants from 8-32lbs/5.4-20.4kgs.
The affordable price tag of this baby carrier also makes it a great baby shower present.
Pros
Cons
Customer Reviews
A quick browse of online reviews of the Infantino 4-in-1 shows that parents love the simplicity and ease of use of this baby carrier.
Here's one review from a verified user and buyer:
Baby and family love the carrier! It is a lifesaver when eating if you have a clingy baby. I use it in restaurants too to keep baby calm.

I struggled with back pain while using it then adjusted the lower strap on my hips and it helped… in case anyone else has that issue.

Edit: I love this carrier so much we bought a second so my husband can stop using and adjusting mine 🙂
8. Free-to-Grow by Baby Tula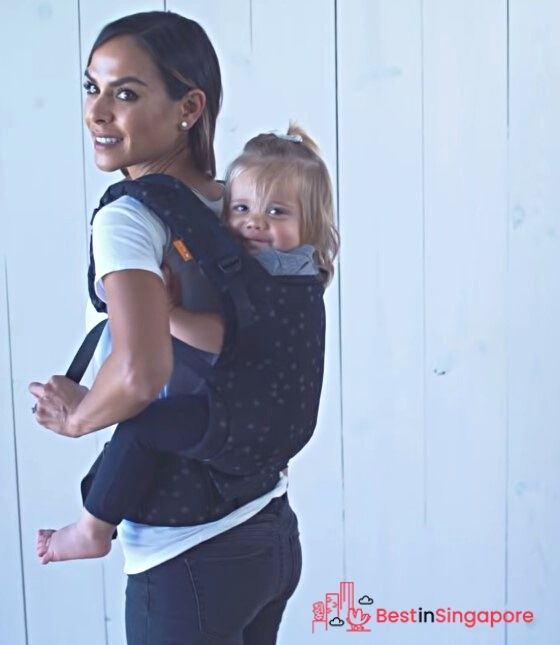 | | |
| --- | --- |
| Best for | Clingy tots / for travelling |
| Feature | Body panel that adjusts to child's size |
| Price | $219.00 |
| Where to Get it | Shopee Singapore |
The Tula Free-to-Grow baby carrier can carry children up to 45 pounds. But what makes this a great baby carrier is that it has intuitive body panels that adjusts to your baby's size and this makes it the best baby carrier in Singapore for growing bubs.
And it's not just comfortable, but good for the baby. The multiple carrying and adjust options ensures that babies are carried in a natural and ergonomic way that promotes healthy hip and spine development despite long term wearing.
Personally, we love that the Tula Free-to-Grow carrier comes in more than 20 different patterns and designs. You and your baby will always look stylish and comfortbale.
Pros
Long-wearing
Perfect for growing babies
Excellent quality
Cons
Expensive
Only inward facing
Customer Reviews
Parents love how comfortable this baby carrier is for them, so many have taken it on their travels (think: entire day in a theme park).
Here's what one verified user and buyer of the Tula Free-t-Grow has to say:
This carrier is amazing! Small enough to fit a little baby but big enough to fit a toddler! Very comfortable for mom to wear. 2 drawbacks though. It could use a little more head support for small babies and the elastic strap that is supposed to be the safety is larger than on the regular Tula so it doesn't really serve a purpose as the buckle just slides right out. The black print is hard to keep clean (crazy I know) but things like deodorant from the carrier coming close to under my arms get on it and baby spit up.
And our list of the best baby carriers in Singapore comes to a close. We hope this list helped with your search for a baby carrier!
Did we miss a great option, though? Tell us its name and what makes it great in the comments below!
And do you also need to see which physical stores have amazing baby gifts? Then head over to the list of the best baby gifts in Singapore and check out our picks for those.
We can also help if you need something to monitor the baby while sleeping, check out the best baby monitors in Singapore for that!