The 5 Best Pull Up Bars in Singapore Reviewed
Looking for a way to strengthen your upper body and build some muscles? Well, then you might want to try getting the best pull up bar in Singapore and do some simple at-home workouts.
If you don't have enough time to go to the gym, pull up bars are lifesavers. They're easy to install and can boost your cardiovascular health and grip strength.
But before you buy a pull up bar, you should take note of some things first. We'll go over those before we provide you with our list of the best pull-up bars in Singapore, but feel free to leap straight to the list of products if you think you don't need help picking one.
Factors to Consider When Buying a Home Pull Up Bar
Having a pull up bar in Singapore that's not suitable for your needs and preferences will only cause you body pain and injury.
That's why you should know all the important things to consider when picking a pull up bar. In this way, you'll be able to narrow down your options and find the right one.
Here are the factors that you need to keep in mind while searching for a pull up bar:
1. Types of Pull Up Bars
There are several kinds of pull up bars depending on where you can install them. Let's go through the types first:
This type is the most affordable among all pull up bars in Singapore and it can be placed on the door frame or on the door itself. It features a leverage bar design that secretly attaches to the door.
You can also position it over the door but the door has to be closed before you can use it. Since it's not a permanent fixture, you can simply take it down and place it on other doors — so if you compare it to other types, it doesn't offer the best stability.
Ceiling Mounted Pull Up Bar
This has more stability compared to the door pull up bar because it attaches to the studs, ensuring a secure attachment to the ceiling. You'll also find it easier to pull the weight of your body because it's located over your head.
If you install it at the centre of the room and away from the walls, there'll be fewer restrictions, letting you execute various pull ups.
This kind of pull up bar is similar to the ceiling mounted type but the joists are in the walls instead. For those who want more challenging pull-ups, this is a good choice.
It's positioned right in front of the body, making it harder to execute pull ups, thus letting you have better strength training.
Free Standing Pull Up Bar
This type is non-attachable and it's designed with heavy and durable metal, giving the absolute stability necessary to support your body weight.
You can do push-ups, sit-ups, dips, and curls. You can also attach other workout equipment such as weights and straps. With this one, you might need to allot a larger space for working out, though.
2. Weight Capacity
If you don't have the right pull up bar that can support your body weight, you might end up with serious injuries. It's highly advisable to weigh yourself before buying one, to make sure that your chosen model can hold your weight safely.
Most pull up bars can support a maximum of 300 pounds and some even have a capacity of 600 pounds.
3. Location
As mentioned earlier, each type of pull up bars requires different sizes of space. So make sure to buy the bar that can perfectly fit in your chosen space at home.
If you're planning to install a wall or ceiling mounted pull up bar, then the space must have joists to secure the bar property.
4. Exercises
For example, if you're planning to do some muscle-ups, you'd need a wall-mounted or a free-standing type. This exercise requires extreme force so you'll need to have more stability.
Best Pull Up Bars in Singapore
Let's now see which brands and models are the top picks on the market. We've already listed the best pull up bars in Singapore so you can easily find the one that fits your needs!
1.   Garren Fitness Maximiza Pull Up Bar

Price: $143.42
The Garren Fitness Maximiza Pull Up Bar is for doorway use and it comes with heavy and medium duty sets — perfect for muscle toning and upper body strength. With this best pull up bar in Singapore, you can do pull ups, chin-ups, hanging leg raises, sit-ups, and crunches.
It's designed with durable chrome steel and mounts for great support and safety. It also has non-slip and extra-long foam grips for comfort and to minimise hand fatigue or pain.
The multiple screw-in door mount kits allow you to place it on different places and heights.
Highlights
Door pull up bar type
Heavy-duty door mounts: 300 lbs / 136kg (recommended)
Medium-duty door mounts: 200 lbs / 90kg
Multiple screw-in door mount kits
Customer Reviews
Most customers were impressed with the solid structure and easy installation of the Garren Fitness Maximiza Pull Up Bar. A customer wrote this review:
"Yeah, I don't write reviews but.. This thing is pretty much perfect. Some reviewers mentioned that it slips but the manufacturers added locks now so it doesn't slip. The hangers bolt into a doorway and the bar easily twists into them. It's solid as hell and no way this is going anywhere. The new locks keep it firm with no slipping at all. The entire family is doing pull ups now. Just buy it."
2.   Ultimate Body Press Ceiling Mount Pull Up Bar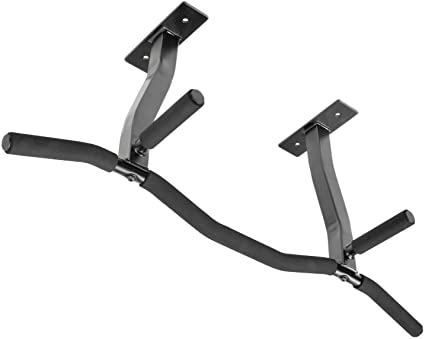 Price: $302.15
The Ultimate Body Press Ceiling Mount Pull Up Bar features reversible dual-position risers. You can install it almost anywhere without taking up too much space in your home.
It also has grip angles (usually seen on commercial gyms) that'll allow more natural hand positions during your exercise routines.
The parallel and wide grips help reduce wrist and elbows strain. With these ergonomic features, it can truly be the best pull up bar in Singapore.
Highlights
Ceiling mounted pull up bar
300 lbs
Grip angles
Chin-ups exercises
3.   OneTwoFit Pull Up Bar
Price: $339.09
For those who prefer to have a wall-mounted type instead of ceiling mounted bars, OneTwoFit Wall Mounted Pull Up Bar is must-have equipment. Unlike other wall-mounted models, it has a 6-hole design, which is a lot more stable and safer than the regular 4-hole design.
This best pull up bar in Singapore is also designed with a solid steel bar and black powder coating for long-lasting use. With this model, you can do several exercises for your back, shoulders, chest, arms, triceps, biceps, and abdomen.
Highlights
Wall-mounted pull up bar type
440 lbs
6-hole design
Non-corrosive material
Soft hand grips
Customer Reviews
Customers shared that the OneTwoFit Pull Up Bar was able to hold a heavy weight and sturdy enough for long-lasting use. A customer gave this feedback:
"I set my bar up in a door jamb with just the gel pads initially for stretching 1 shoulder area. I decided to see if it was strong enough in that configuration to hold my weight (170)lbs. I was able to hang or even do pull ups. The bar is very sturdy for what I need and possibly more once my arm/shoulder gets stronger. I didn't want a permanent or semi permanent mount so I could move it up or down easily for different stretches/exercises and this definitely works for that."
4.   Iron Gym Total Upper Body Workout Bar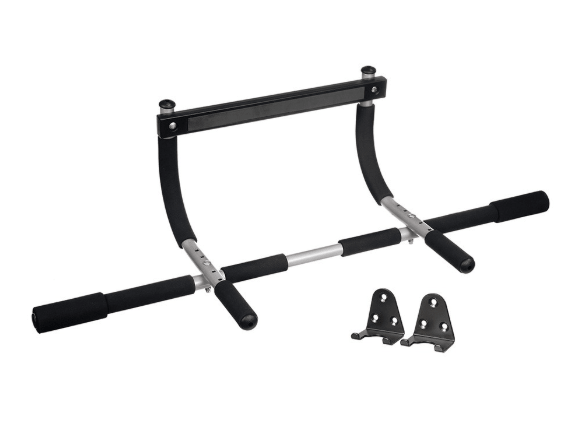 Price: $93.71
The Iron Gym Total Upper Body Workout Bar is another door pull up bar type, however, this one features an adjustable structure that can adapt different thicknesses of door frames. With this flexible function, you no longer have to worry if it's suitable for your door frame or not.
Moreover, you can do a lot of exercises with this model. This includes pull-ups, chin-ups, push-ups, sit-ups, dips, arm and shoulder exercises. So overall this is the best pull up bar in Singapore if you want variety and versatility in your workout.
Highlights
Door pull up bar type
220 lbs
Suitable to any standard door frame
Safet brackets
5.   OneTwoFit Multi-Function Power Tower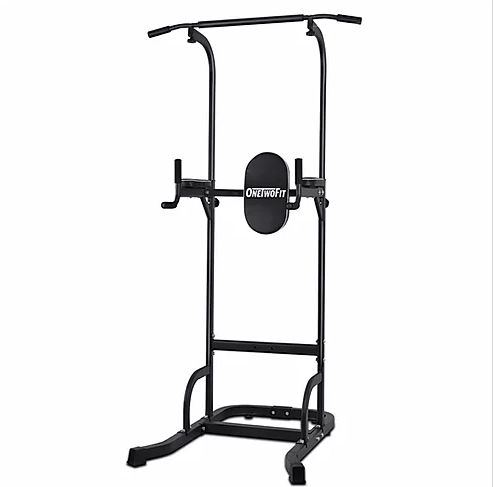 Price: $223.00
If you're an active enthusiast who wants to take the home workouts to a whole new level, then you must try the OneTwoFit Multi-Function Power Tower! You can do more challenging exercises such as knee raise station, multi-grip pull-up station, dip station, push-up and other strength training routines.
As you do these exercises, you can be sure that you'll not suffer from a hand-slip incident because it has soft neoprene grips. This will help secure your grip and reduce hand fatigue.
It also features multi-gear regulation to help you find the set-up that's suitable for your workout needs. This is the best pull up bar in Singapore if you want to take your fitness journey to a more serious level.
Highlights
Free standing pull up bar type
300 lbs
Easy to assemble
Skid-resistant
And that's our list of the best pull up bars in Singapore! If you've already tried one from our selections, we'd also love to know your experience with it!
And if you'd like to have more workout equipment at home, you may see these best dumbbells in Singapore. Dumbbells can help you to gain full-body strength and flexibility so you can achieve your fitness goals!