5 Best Bags for Men in Singapore Reviewed
Whether commuting to work, going to the gym, or having an adventure, a man should always have a stylish and secure bag where he can easily access all of his needs. That's why we've listed the best bags for men in Singapore that can match with your classic or sporty look!
But before you see our top picks, it might be better to first go over some things especially if you're not sure how to choose the right bag. We'll go over those here, then give you our list of the best men's bag in Singapore.
If you're ready, let's dive in!
Factors to Consider When Buying a Bag for Men
It can be a bother if all of your stuff doesn't fit inside your bag or it's taking you too long to find your keys/cards. This is why you must know what size, style, and other features must consider when getting a bag.
Let's go over each of those things below.
1. Type of Bag
First of all, you must ask yourself what kind of bag you need. Are you using it for travel, work, or for just casual use?
Whichever it is, identifying your needs will make it easy for you to start looking for your ideal bag and go straight right into a certain collection that awaits you. Here are some popular types of bags that you should know:
If you have a short weekend trip or regular gym sessions, a duffle bag will always be a good companion. They come with a spacious design, enough to keep all of your essential stuff.
They're also available in different sizes.
For those who always struggle to carry all daily essentials at work, especially the paperwork, you should opt for a briefcase type.
Unlike other bags, this type features a more secure lock — so even if you're in a hurry, you can be sure that all of your paperwork is safe and secure.
If you're worried about being out of style, though, there's no need to be. They're mostly designed with timeless and classic leather material and lines.
This is one of the best options for casual use. You can use it when you're running errands and even when you're going for short and creative meetings.
You can easily carry your laptop with this type. It can also be an alternative shopping bag during grocery duties.
A messenger bag is a common style for most men. It's convenient to use because of its easy access and numerous compartments. It'll always be useful whenever you need it for work or casual use.
Backpacks will always be a great choice for students since they can carry heavy books and laptops as well. It also provides a well-balanced weight, so despite being fully loaded with books, you can still be comfortable carrying it around the campus.
It's also the best option for gym activists and travellers. It can carry all the clothes and other essentials that you need as you go on to your workout schedules and long-term trips.
2. Fabric
Some men are not concerned about the material of a bag because they're focused on the size and compartments. Yet the right choice of fabric, they can ensure long-lasting use.
So, make sure to check a bag's fabric. If you're going to use it for your adventurous trips and if your work involves being outdoors a lot, then you'll need one that's waterproof and weather resistant.
For high durability, you can never go wrong with leather, as it's strong and flexible, making it one of the best materials you can pick.
3. Size
After considering the type of bag and kind of fabric that you need, you should now determine which size is suitable for you.
For example, if you need it for travel use, you'd need a large duffel bag or backpack, especially for long-term trips. For casual use, you may opt for a medium-sized bag so you can easily fit in your daily essentials.
Best Bags for Men in Singapore
Once you've taken these things in mind, you'll surely have the most suitable bag for your needs. So without further ado, let's now take a look at the best bags for men in Singapore!
We've carefully picked these selections based on the functionality, style, and pricing so you can have a high-quality bag that you can use for a long time!
1.   Under Armour Undeniable 4.0 Large Duffle Bag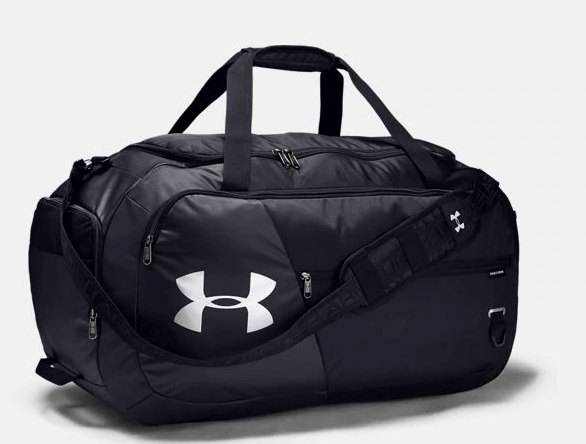 Price: $29.90
If you're looking for the best men's bag in Singapore to accommodate an active lifestyle, then this one's for you.
For a duffle bag that you can bring during your gym sessions or short trips, you should see the Under Armour Undeniable 4.0 Large Duffle Bag. It features a large vented pocket for used clothes and shoes so you can quickly organise your stuff.
It also has 2 large front zippered pockets for easy access and the main compartment is large enough to store all your travel/gym essentials. We also like that it has versatile straps so it could also easily be a sling bag for men. 
It's designed with a water- and abrasion-resistant finish, so be it rain or shine, all of your stuff will be safe from any damage.
Highlights
Weather-resistant design
Removable and padded shoulder strap
Polyester material
Vented pockets
Dimensions when full: 14″W x 29.5″H x 14.6″L
Customer Reviews
Customers were impressed by the large and detailed compartments of the Under Armour Undeniable 4.0 Large Duffle Bag. They also said it's truly durable and strong.
That's why many consider the bag as the best bag for men in Singapore. A customer shared these thoughts:
"I bought this bag in Royal blue and I love it. I was afraid it might be too big but the size is perfect and I love the color. The zippered pocket at one end of the bag for your shoes is fantastic. The only thing I was disappointed in was that there is only ONE small pocket on the inside of the bag. If you're a guy and you have a regular size wallet that fits in the back pocket of your jeans–well, that's about how big the pocket is. It can't hold hardly anything. Other than that one small pocket, there are no other pockets on the inside. It's not enough for me to return the bag but I think they need to have more inside pockets that vary in size for future duffle bags. Overall, I do love the bag and for someone who cannot pack light to save her life, I think this bag will be perfect for a weekend trip."
2.   Samsonite Leather Expandable Briefcase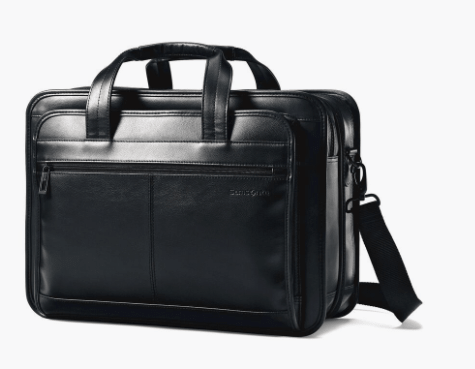 Price: $370.08
Trying to fit in all your paperwork without them getting any creases? If so, then the Samsonite Leather Expandable Briefcase can be the best bag for men in Singapore for you!
It has several compartments inside, including a wide and fit area for portfolios and envelopes. Small and detailed compartments for pens, mobile phones, cards, calculators, and more are also included.
There are smart pocket slides over the upright handles so you can easily get your keys or cards. It also features a classic black leather design that perfectly matches attire for work.
Highlights
Genuine leather material
Padded and removable shoulder strap
75″ L x 12.25″ W x 7.25″ H dimensions
Fits a 15.6″ laptop
Customer Reviews
The Samsonite Leather Expandable Briefcase has become a well-loved item for most professionals because of its fine quality and timeless design.
They also complimented its functional compartments and pockets. Here's a review posted by a customer:
"This is a really great product! I was looking for a while for a briefcase for work. Something that looks nice and is durable. Something that doesn't really show scratches or marks. This was perfect and really awesome value for the money. I love the compartments. Easy to separate files. Nice compartment for a 15 inch laptop. It looks really nice too. It does not look cheap at all. Leather is great and stitching doesn't show. Looks nice."
3. Herschel Supply Co Market Tote Bag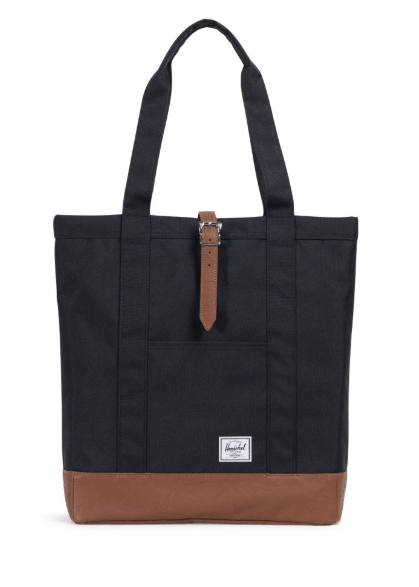 Price: $165.65
The Herschel Supply Co Market Tote Bag is mainly designed for daily use. Since it's built with a heavy-duty moulded rubber strap and reinforced bottom panel, it can carry a decent amount of items, making it an ideal companion to bring when you shop.
It also has a zipper pocket at the front where you can put your wallet and keys. It's made with full-grain leather detailing, giving you a durable design.
We also like that this has a unisex design so it could easily be a sling bag for men and women alike.
Highlights
Coated cotton blend fabric
Heavy-duty strap
11L capacity
Customer Reviews
Many customers had a satisfying experience with the Herschel Supply Co Market Tote Bag. They said that it's convenient to use on a daily basis. A customer left this feedback:
"I bought this a few months ago to replace an old work bag. I absolutely love this bag. I get compliments on it all the time. It is just the right size to carry all my work essentials and love the inside pockets to organize the small things. I can't say enough about the quality and style of this bag. I just may have to buy another one in a different color. You need this bag!"
4. Coolbell Convertible Messenger Bag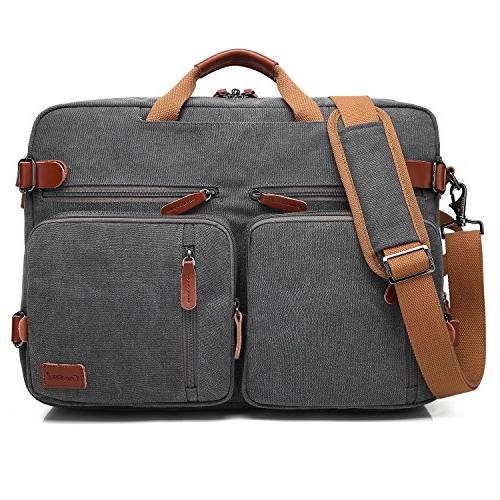 Price: $44.06
Unlike other options, the Coolbell Convertible Messenger Bag is a multi-functional bag you can also use as a backpack. It can be used by both students and professionals, which is why it's indeed one of the best bags for men in Singapore!
The main compartment has a lot of small pockets inside and there's even a separate compartment for the laptop. At the front, there are also many pockets so you can put your transportation card, keys, and even your phone in it.
Moreover, there's a back pocket where you can place the back strap once you've converted it to a backpack.
Overall if you're looking for a messenger bag for men in Singapore that looks smart and will keep your belongings organised, this Coolbell bag is for you.
Highlights
Several compartments
Canvas material
Multi-functional
adjustable straps
3 inch laptop
Customer Reviews
The Coolbell Convertible Messenger Bag has gained a lot of praise from customers because of its unique multifunctionality. Those who've bought it said that it's totally worth it for it has various purposes and note that it can be converted easily into a backpack.
A customer wrote this review:
"This bag is absolutely wonderful. I needed something for quick weekend trips and for daily use to carry my laptop. I have taken this on several domestic trips within the USA and an international trip to Australia. All times I used this bag almost daily either to pack up a few days worth of clothes, or carry around my work devices. Worked out great, looks fantastic, and is extremely versatile. I love the fact that it can turn into a backpack seamlessly for times when I just want to wear it around for the day. It has a ton of pockets, and fits everything I need. The *only* A minor complaint is that the pad for the shoulder strap isn't the most comfortable thing in the world. Still able to use it throughout the day without a problem, but I wish there was a little more padding. Highly recommended! A great bag at an insanely low price."
5. Adidas Linear Core Backpack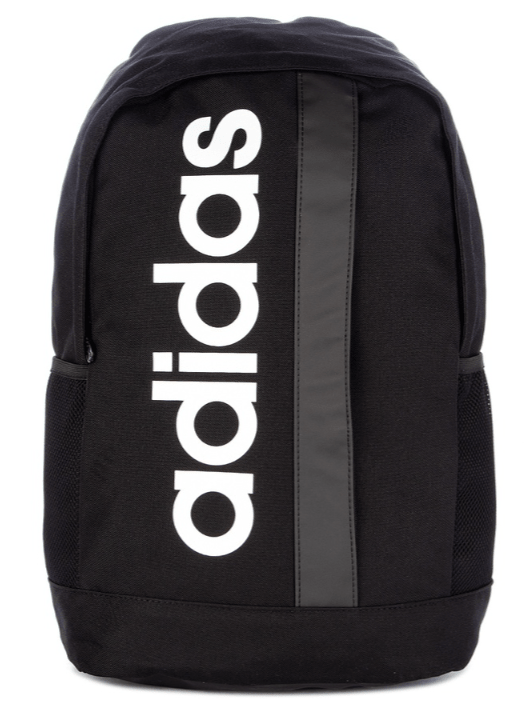 Price: $38.40
The Adidas Linear Core Backpack has a sturdy and spacious design, making it a good choice for students and travellers. It has two mesh bottle holders and adjustable straps — all perfect for hiking or other adventurous activities.
It's made of polyester material for high flexibility, giving you a lot of room to store all your essentials. These features are the reasons it has become the best bag for men in Singapore for many locals.
Hands-down this is the best men's bag in Singapore for those always on-the-go and have an active lifestyle.
Highlights
16 cm x 28 cm x 46 cm dimensions
Adjustable shoulder straps
Side slip-in pockets
Customer Reviews
Customers gave positive feedback for the Adidas Linear Core Backpack. They mostly mentioned its durability and the large compartment that's highly useful for everyone.
A customer left gave this review:
"Good size bag. Not too big and not too small. Definitely highly recommended if you are looking for a quality bag at a good price."
And that's our list of the best bags for men in Singapore. Have you already found the right one from our list of the best bags for men in Singapore? Tell us all about it!
And if you're searching for backpacks in particular, you'll love these best backpacks in Singapore! They also cater to different uses so you can explore more options.