5 Best Gaming Headsets in Singapore Reviewed
To experience engaging and immersive gameplay, you need a good sound system — preferably headphones, so you don't bother others when you crank up the volume and you can talk to teammates online. If your headphones aren't cutting it, it's probably the time to look for the best gaming headsets in Singapore.
Unlike regular music headphones, pc gaming headsets are more bass-heavy and often focus on a good, wide, soundstage. They're amazing investments… however, most of them aren't all that affordable.
If you're on a tight budget but still want to have the perfect gaming set-up, no worries — we've found you the pc best gaming headsets in Singapore that are affordable.
But how will you know which one from our list fits your needs the most? Let's go find out first, as we've listed the top things that you must consider when choosing a gaming headset. After that, we'll give you our list of top gaming headsets!
What to Look For When Buying a Gaming Headset
Take a look at the listed factors below to know which features you must check before choosing the best pc gaming headset in Singapore:
1. Platform
Some of the best gaming headsets can only support platforms such as PC and Xbox. If you're looking for a headset that you can use for a certain gaming console like Nintendo Switch, then you must first check if they're compatible with your device.
Quick tip: headsets that support almost all kinds of platforms come with both a USB port and a 3.5mm jack.
2. Sound Quality
This is the most important factor that you must take into consideration. A noise-cancellation feature can also be useful when looking for the best gaming headset in Singapore– it can eliminate external distractions for better audio quality.
You should also consider getting one with a surround sound, which is extremely useful for video games with directional cues. It'll tell you where in-game sound sources are coming from, such as enemies coming from behind.
3. Microphone
If you often play team-based games, then you'd need to have a gaming headset in Singapore with a high-quality microphone. This will help you have better and effective communication with the team members.
Our advice here is to look for a noise-cancellation mic. That can block the sound keystrokes and surrounding noise to ensure that your voice can be heard clearly.
4. Wired or wireless
With a wireless gaming headset, you won't be bothered by the wires around you, giving you more space and flexibility of movement as you play.
However, sets like these require charging and may have lower sound quality because of the signal interface. So, you need to choose the one with select and continuous signals and long battery life.
Generally, though, you should stick to wired options. Not only do they tend to be more reliable, but they're also cheaper.
5. Comfort
As you'll be spending long hours of gaming, so your gaming headset must provide absolute comfort to avoid pain in your ears. It's highly recommended to have a lightweight headset that has a cushion for your ears.
You must also check the size and material of the ear pads and see if the headset fits on your head — make sure that it's not too tight.
6. Durability
It'll always be better to have a gaming headset in Singapore that you can use in the long run. The pins, wires, microphone, and the overall build must be durable enough to withstand falls or small accidents.
Best Gaming Headsets in Singapore
Now that you know which features to consider, let's now see our top picks on the market that are suitable for both casual and pro gamers!
And of course, our list of the best pc gaming headsets in Singapore only has options that we think come at affordable prices considering their functions. Check them out now:
1. Kingston Hyperx Cloud II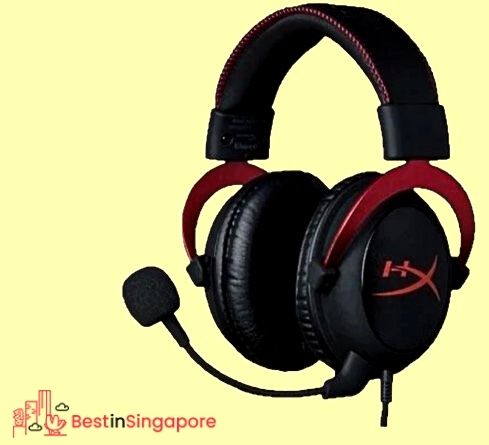 Price: $135.00
The Kingston Hyperx Cloud II is an award-winning gaming headset in Singapore that features signature memory foam ear cushions, providing comfort for every gamer. It's also built with a solid aluminium frame that's mainly designed for heavy-duty use.
Moreover, it has a detachable noise-cancelling mic for great teamwork during game battles. It also has an upgraded virtual surround sound for higher-level audio precision.
This best pc gaming headset in Singapore comes with an advanced USB audio control box where you can amplify your audio and voice.
Highlights
Wired type
Virtual 7.1 surround sound
Noise-cancelling feature
Detachable mic
Durable aluminium frame
Advanced audio control box
Compatible with PC, Xbox One, Xbox One S, PS4, PS4 Pro, Mac, Mobile and VR
Customer Reviews
Many users complimented the flexible functions of the Kingston Hyperx Cloud II. They also mentioned its solid build quality and understated design.
A reviewer posted this verdict:
"It works with mobile devices, but based on the length and weight of its cluttered cables, there's no practical use for listening on your iPhone with the HyperX Cloud. More options for sound control would be appreciated, but as it stands, this is a fantastic-sounding, lightweight headset that puts its soft-grip comfort above everything else."
2. Razer Kraken Pro V2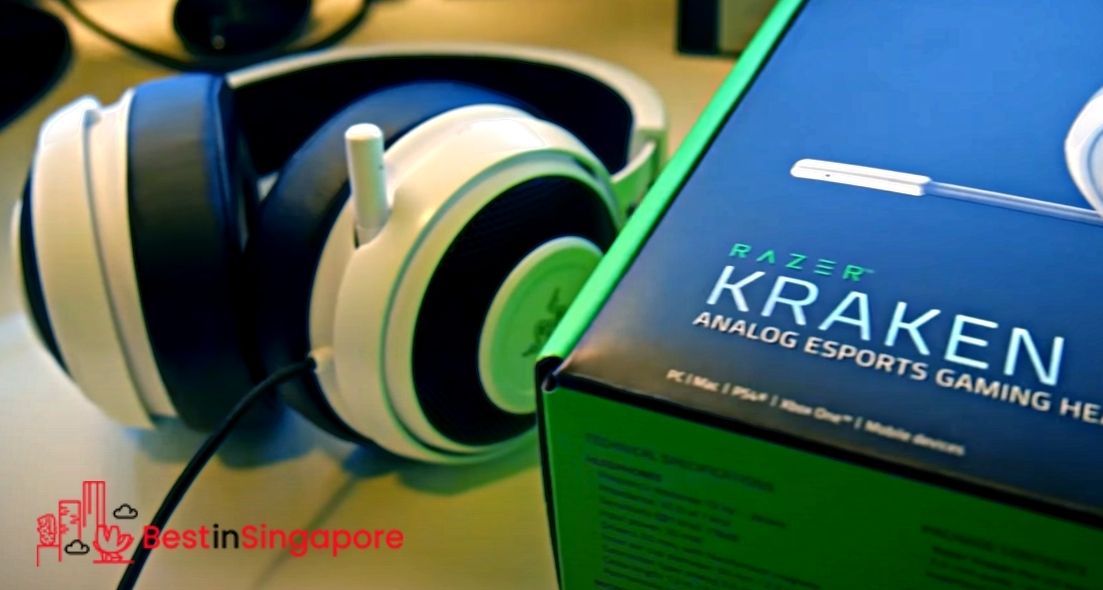 Price: $69.00
With the large drivers on the Razer Kraken Pro V2, it offers louder and richer sounds that'll give you realistic gaming scenes while ensuring the clarity of your team's communication.
Its lightweight design is made of aluminium, providing long-lasting use. It can withstand several hours of gaming too.
The ear cushions are also large and soft, providing enhanced sound quality — special in-mould channels are also included on the cushion for a stain-free build. You can see why we consider it one of the best gaming headsets in Singapore!
Highlights
Wired type
Designed for full-ear coverage
Noise-cancellation feature
Made of aluminium
Compatible with PC, Mac, Xbox One, PS4 and mobile devices with a 3.5 mm audio jack
Customer Reviews
Most gamers said that the Razer Kraken Pro V2 truly provides comfort that allowed them to play for longer hours without being stressed. They also said that the headband is highly flexible, making it the best gaming headset in Singapore to bring during travel.
A user gave this feedback:
"The Kraken Pro V2 is so lightweight that I can kinda see why Razer gives it the "Pro" designation. If it's your job to play games for 12 hours a day, you probably want something that won't wear out your neck muscles, and the Kraken shines in this regard."
3. Corsair HS60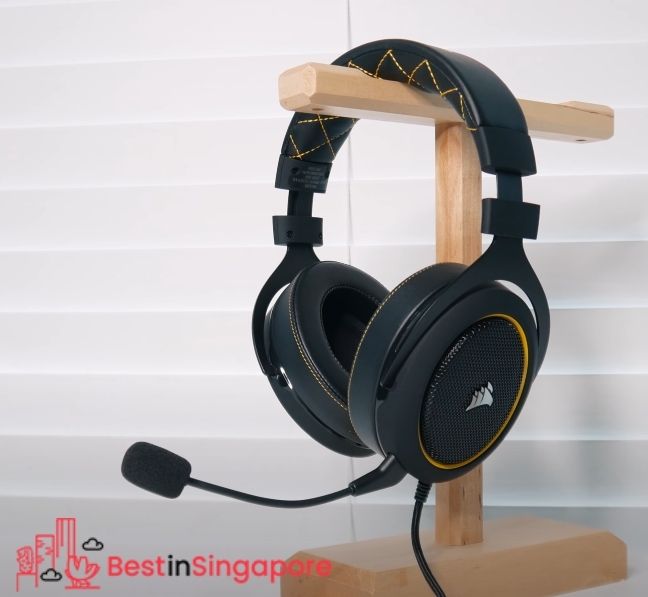 Price: $115.14
If you want the best gaming headset in Singapore that you can enjoy for endless hours of play, check this one out.
The Corsair HS60G is built with rugged metal components for the high durability needed for many hours of gameplay. The ear cups are adjustable and have plush memory foam, giving you exceptional comfort.
It also delivers crystal-clear surround sound with multi-channel positional audio, perfect for thrilling action scenes. It has an optimised microphone that reduces all the unnecessary noises for enhanced voice quality.
Highlights
Wired type
Virtual 7.1 Surround sound
Unidirectional noise-cancelling feature
Detachable mic
Rugged metal material
Compatible with PC, Xbox One, PS4, Nintendo Switch and Mobile
Customer Reviews
The Corsair HS60 has gained a lot of positive reviews from the customers saying that most features are excellent and flexible enough to produce great sound effects.
A customer wrote this feedback:
"The headphones are quality, easy to use, and do not require a lot of setup. You can immediately start using them after you hook up the USB.The volume adjust is nice as is the push to talk. Push in for no mic – push again to talk – super easy. The only reason I did not give 5 stars to these headphones out of the gate is the sound isolation. By that I mean when you put them on – they are comfortable – but you do not hear much happening around you. This is great for game immersion but it will take time for me to adjust to this style. I find I talk louder than normal with them on as well due to the same sound isolation issue – not hearing myself as well. But that really is the only drawback. Great value for the money."
4.   Logitech G233 Prodigy
Price: $118.00
For booming bass and precise audio quality, the Logitech G233 Prodigy produces dynamic and spatial sound to hype up the game. This lightweight gaming headset also features a glass-fibre and stainless steel build for certain durability — nothing less than what you'd expect from the brand.
It also offers a noise-cancelling boom microphone with micro-pop filter for excellent communication performance. This best pc gaming headset in Singapore even comes with two separate audio cables so you can connect it to all types of gaming devices.
Highlights
Wired type
Dynamic sound quality
Stainless steel material
Breathable sports-mesh ear pads
Detachable boom mic
Swappable cables
Compatible with PC, PS4, Xbox One, Nintendo Switch, Mobile, Tablets
Customer Reviews
The Logitech G233 Prodigy has captured the interest of many users because of its sporty style and sturdy build quality. They also loved the great sound quality and wide range of compatibility.
A user shared this experience:
"These are comfortable whether they're worn over both ears, with one ear uncovered, or around the neck. Sound is clean and clear with good volume adjustment. Both microphone options pick up communication well while filtering out background noise. All in all, I would buy again."
5. SteelSeries Arctis Pro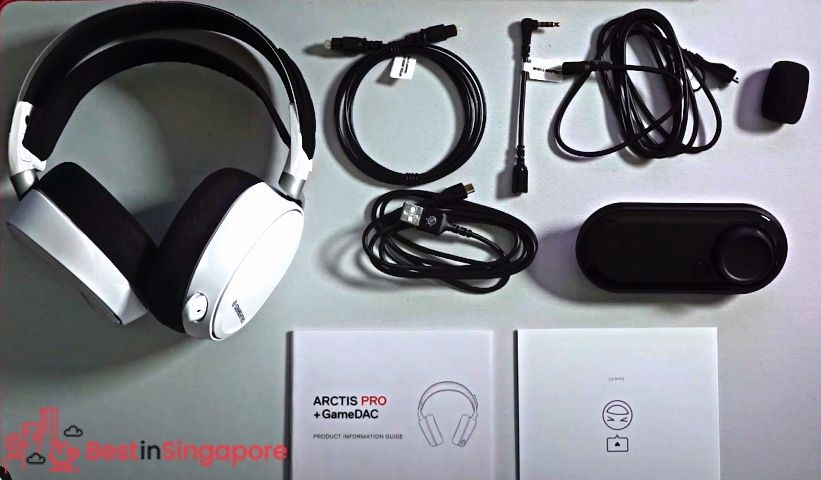 Price: $349.00
The SteelSeries Arctis Pro features premium speaker drivers for an outstanding gaming experience! It also has a bidirectional microphone for a studio-quality voice and excellent noise cancellation.
It's built with lightweight aluminium alloy and steel for long-lasting use. With the Prism Sync function, you can synchronize the multi-colour lighting effects on your gaming headset!
Overall if you are looking for comfort and ease of use, we think this is the best gaming headset in Singapore that you can get.
Highlights
Wired type
Bidirectional noise cancelling feature
High-resolution capable speaker drivers
Retractable boom
Compatible with PC, Xbox One, Nintendo Switch, Mobile
Customer Reviews
Most users said they were impressed with the sleek design and high-resolution audio of the SteelSeries Arctis Pro. They also said that it may be a little pricier than others but it's all worth it.
A user left this feedback:
"The Pro + DAC by SteelSeries is a fantastic upgrade for any gamer looking to enjoy truly high-quality audio. The experience will be wired and tied to a PC to get the most out of available sound, but that's a price many see worth the cost of being able to wander around freely. RGB lighting is a nice touch, and the DAC amp unit makes the headset a breeze to configure and use. If you wish to go all out and cut cables in the process, the Pro Wireless is as good as you can get from SteelSeries. It may not be Hi-Res certified like the Pro + DAC, but the audio quality is right up there, and it has Bluetooth support and a great battery swap system. The only setback for both models may be the price, but you get what you pay for when it comes to great audio."
And that's the end of our list of the best gaming headsets in Singapore! If you've got more options in mind, you may also share them with us!
But if it's your first time to buy one and you want to explore more options, you may also want to see these best noise-cancelling headphones in Singapore! Some of them are also perfect for gaming ventures!