By Jasmine Wee
Do you have deep dark circles or any blemishes/skin redness that you want to cover up? If you do, then you must try and use the best concealer in Singapore!
These concealers don't only mask the skin imperfections: they can also be used as a foundation, giving you a flawless finish. Each concealer product also caters to certain beauty needs and has different shades.
And so, to help you find which one can give you an instant solution for your current skin problem, we've come up with some of the features that you need to keep in mind. We've set them down in a buying guide below.
Check it out below — although you can also skip straight to our list of the best concealers in Singapore if you don't need advice on that front!
Things to Consider When Buying a Concealer
With the countless brands releasing various concealer collections, choosing the right type and shade for your skin can be a bit challenging. If you use a concealer that's not suitable for your skin, it'll only cause uneven skin tone or even irritation.
That's why you must know the most essential things to take into consideration before you go on a shopping spree.
1.   Concealer Type
Once you step into a beauty boutique, you might notice that there's a lot of concealer types. You may also be overwhelmed, especially if you're not familiar with these options.
These types truly do differ in important ways, though. Some are good to use during the day and some are for a night out — each type serves a specific purpose on the skin, so let's take them up here:
Solid Concealers
These concealers look like a lipstick or a pencil stick. This type is a good option for covering dark spots, pimples, and blemishes.
However, they're also quite difficult to blend in so they might only be applicable to tiny areas.
Liquid Concealers
For medium coverage, liquid concealer is a great choice. You can do an even spread and easy blend-in with this one.
It can also stand as a foundation so you can instantly do your makeup.
Powder Concealers
Powder concealers are the easiest to blend in and can cover light blemishes/scars. However, they also offer only a little coverage.
So if you have dark spots or anything that shows too much, a powder concealer might not be the best option for you.
Highlighter Pens
If you want to have a concealer that can also highlight a certain part of your face, then this type is an ideal option for you. It provides creamier coverage for larger areas and reflects light, reducing the appearance of skin imperfections.
They're the best to use under the eyes as they can hide the dullness and bring more light to the face.
2.   Concealer Shade
When choosing a particular shade, it's advisable to pick two different shades. This is because skin tone varies with lighting: having two shades ensures that it won't stand out in different lighting.
You should also consider the colour of the spot that you're trying to cover. If you'd like to cover your dark circles, then it's better to have a yellow-toned concealer or one two shades lighter than your skin tone to balance out the darker and purple-hued spots.
For skin redness, you need a concealer that perfectly matches with your skin tone. Also, it's best to do a test patch under natural lighting — in this way, you'll see how it'll appear in different lighting.
3.   Concealer Consistency
With the wrong type of consistency, your blemishes will eventually stand out under makeup. For the delicate skin under the eyes, you should pick the one that feels hydrating, moisturising, and creamy… so it'll last longer on the skin.
For pimples or raised bumps, a thin layer of a pigment-heavy concentrator can fully eliminate their appearance.
Best Concealers in Singapore
After you've identified the right concealer type, shade, and consistency suitable for your skin tone and needs, you're now ready to shop for the best concealer in Singapore.
Lucky for you, we've already rounded up the in-demand products on the market so you can easily narrow down your options. Our picks feature different coverage and skin benefits so there'll surely be the right one for you!
1.   Maybelline Instant Age Rewind Eraser Dark Circles Treatment Concealer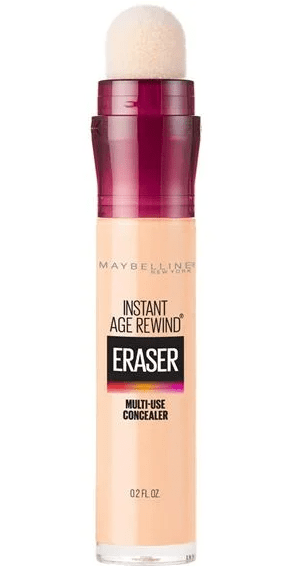 Price: $19.90
The Maybelline Instant Age Rewind Eraser Dark Circles Treatment Concealer is a must-have makeup item for covering dark circles and fine lines. This award-winning concealer can make your eye area appear more radiant and refreshed, eliminating any signs of tiredness.
With the twist collar of the applicator, you can easily apply the concealer directly to the under-eye area. It's also recommended to choose the Neutralizer shade for extreme dark circles and use the Brightener shade to add a luminous touch.
Highlights
Removes dark circles and fine lines
Super-concentrated treatment
Customer Reviews
Many customers mentioned the easy application that lets them apply a certain amount that they want. They also said that the Maybelline Instant Age Rewind Eraser Dark Circles Treatment Concealer is light on the skin and quick to blend in.
This is why they've considered the item to be the best concealer in Singapore. A customer gave this feedback:
"I don't always wear makeup but I do have dark under eyes and I love just putting a little on before I head it! It melts effortlessly on my skin and you won't even tell I'm wearing a concealer!"
2.   Nars Radiant Creamy Concealer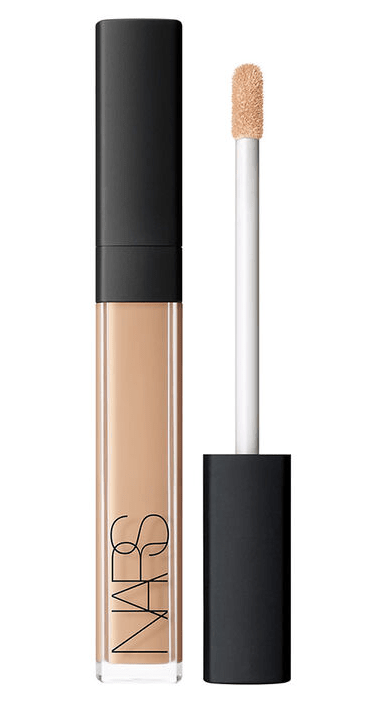 Price: $39.90
The Nars Radiant Creamy Concealer is a multi-purpose beauty item that brightens and corrects skin imperfection with creamy and medium coverage. It'll surely give you a natural and radiant finish!
It eliminates fine lines and signs of fatigue and hydrates the skin. You can also use it for highlighting and contouring — which comes in handy during travel!
It's also water-resistant so it'll not be easily removed, making it one of the best concealers in Singapore.
Highlights
Removes fine lines
Long-lasting finish
Crease-resistant
Sweat-resistant
Customer Reviews
Most customers have been using the Nars Radiant Creamy Concealer for years and they praised the complementary shades and texture. They also said that it has a healing factor.
A customer left this feedback:
"This was my very first concealer and for 4 years this has been the perfect shade and texture for me. Whether I am tan in the summer or paler in the winter, this color blends in so well with me and it does not feel too heavy. I have incredibly oily and sensitive skin and this concealer works wonders for hiding my teenage acne. Even when taking it off my skin feels and looks like it has calmed down. Inflammation and redness decreases while and after makeup."
3.   Too Faced Born This Way Super Coverage Multi-Use Concealer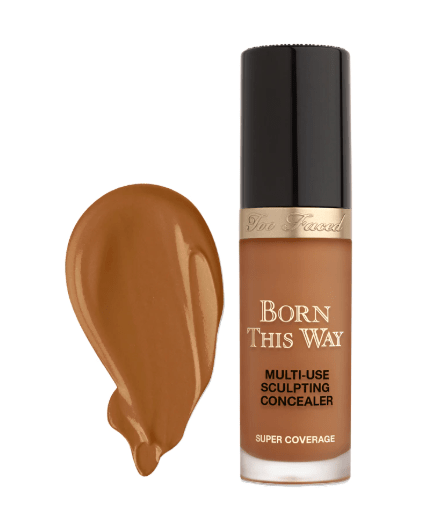 Price: $36.00
For a full-coverage concealer, you'll love the Too Faced Born This Way Super Coverage Multi-Use Concealer! It features fully-loaded pigments that offer maximum coverage with a lightweight finish.
Aside from covering up blemishes, it can also be used to contour, highlight, and even retouch. With these multiple features, it's indeed one of the best concealers in Singapore.
Highlights
Hydrates the skin
Natural look
Photo-friendly
OIl-free concealer
Customer Reviews
The Too Faced Born This Way Super Coverage Multi-Use Concealer has received a lot of positive feedback from the customers. Most of them said that it provides all-day wear and a long-lasting finish on oily skin.
Here's a review from a customer:
"This is my first time buying from Too Faced and I bought the Peaches pallet and I got a sample of this concealer and let me tell you, I have been searching for a concealer that eliminates dark circles and when I tried this, it was astounding! I have tried multiple concealers and not one has done what I wanted it to do! definitely will be buying this in the near future!"
4.   Fenty Beauty Pro Filter Instant Retouch Concealer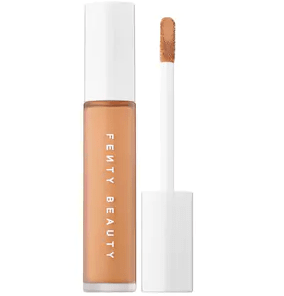 Price: $38.00
The Fenty Beauty Pro Filter Instant Retouch Concealer provides medium-to-full coverage that can last for the whole day! It also leaves a soft matte finish on the skin to help you achieve a flawless look.
It brightens the undereye area, hides the blemishes and dark spots, and reduces redness. It's also sweat-resistant, so it can keep up with your busy schedule.
Highlights
Creamy texture
Lightweight
long-lasting finish
Customer Reviews
Customers said that a little amount of the Fenty Beauty Pro Filter Instant Retouch Concealer goes a long way and it truly offers great coverage for oily skin. That's why it has become known to be the best concealer in Singapore.
A customer posted this review:
"I'm a ginger so I bought shade 100 to go with my foundation, and like WOW. I have acne scars, dark circles, and of course the occasional pimple, but NONE of those can defeat this concealer. it glides on smooth and blends effortlessly while somehow being the best coverage I've ever found in a concealer in my shade. Goodbye to layering concealers and baking my makeup every day!!"
5.   Hourglass Hidden Corrective Concealer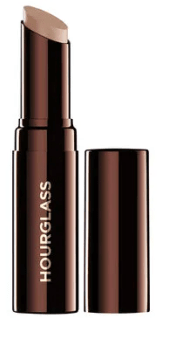 Price: $53.10
For those who prefer solid concealers over the liquid ones, the Hourglass Hidden Corrective Concealer can be the best concealer in Singapore for you.
It's a moisturising and weightless concealer that easily blends into the skin, leaving a natural finish. It covers redness, blemishes, hyperpigmentation, acne scars, and dark circles.
Moreover, it provides a shield against skin-damaging elements.
Highlights
Creamy texture
long-lasting finish
Hydrates the skin
Protects the skin from environmental elements
Customer Reviews
Most customers said that the Hourglass Hidden Corrective Concealer is creaseproof and best to use during travel. A customer wrote this feedback:
"I would use this concealer as spot concealer, it's creamy & super thick but if you put it on your under eye & not set with powder it will crease. It's a nice touch up concealer you can carry with you because of the packaging. Not my super fave concealer but I like that it's good to for on the go!"
Have you already tried one from our list of the best concealers in Singapore? If so, let us know about your experience with it!
And if you're looking for a concealer for the under-eye area, you might want to try some skincare products to further lessen the appearance of dark circles — such as our picks for the best Korean eye creams in Singapore!