During hours of flight and travelling, have you ever felt discomfort because of swollen feet? If yes, then you should look for the best compression socks in Singapore and give them a try.
These types of socks are designed to boost blood circulation and prevent possible health complications. They can also be worn when you're working, exercising, or having blood circulation problems.
They come in different styles, but comfort must be your priority in choosing one. You also want to ensure they're made of durable materials, offer good value for price, etc.
To help you find the most suitable one for you, we've gathered the top-rated stores where you can shop for the best compression socks in Singapore. Let's take a look at them below.
1. Soul Legs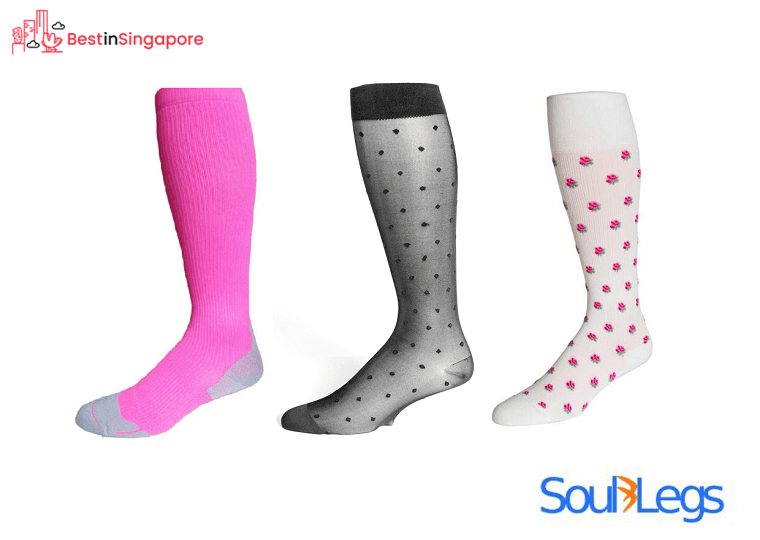 | | |
| --- | --- |
| BEST FOR  | Affordable medical compression socks |
| PRICING | Products |
| WEBSITE | https://soullegs.com/ |
| ADDRESS | Neuvital Pte Ltd 1003 Bukit Merah Central #02-11, Singapore 159836 |
| CONTACT DETAILS | Mon – Fri (Closed on public holidays), 9.30am – 5.30pm |
| OPERATING HOURS | +(65) 62766088 |
Soul Legs is managed by a team that specialises in selling the best compression socks in Singapore. Despite being offered at an economical price, their products are of good quality because the store is partnered with leading manufacturers.
They have a variety of selections for both men and women. Apart from socks, they also provide armbands, knee sleeves, and knee braces for those who are into sports.
This is also a good place to go if you're worried that the best compression socks in Singapore won't complement your style? Their products are designed with good fashion sense.
In short, you may even find compression socks here that you can match with your outfit of the day, keeping you Instagram-worthy photos throughout your travels.
Highlights
Medical and sports compression socks
Free delivery, worldwide delivery
Affordable prices
Customer Reviews
They might not be one of the longest-running stores in the country but Soul Legs has already gained an ample amount of followers. A customer left this feedback on the company's official website:
"Better than the ones I got from the sports store and pharmacy. I found those difficult to wear and warm!" 
2. Rainbow Care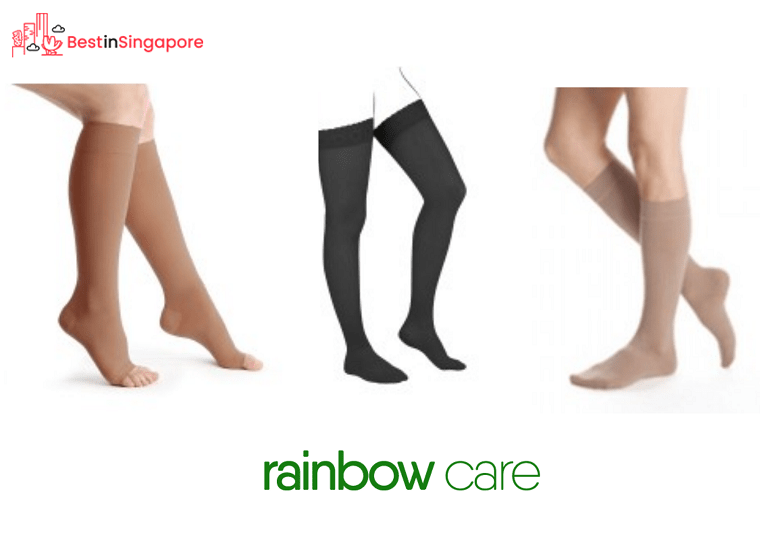 BEST FOR 
Healthcare products and a wide selection of compression stockings
PRICING
Products
WEBSITE
https://www.rainbowcare.com.sg/
ADDRESS
Blk 3007 Ubi Road 1 #02-410 Singapore 408701
CONTACT DETAILS
+65 6223 0904, +65 6931 7425
OPERATING HOURS
Mon to Sat: 9am – 6:30pm

Sun & P.H.: 9am – 5pm
Being a company that focuses on providing remedial and accessible home care equipment, Rainbow Care offers a wide range of products. These include some of the best compression socks in Singapore.
Their stockings are made by premium brands such as Maxis Micro and Thusane.
They're also available in different heights including waist-, thigh-, and calf-level. For the styles, they exude a more natural or formal theme.
Due to this, their stockings are only either black, beige, or brown. Still, those neutral shades should make pairing the stockings with your outfits easy enough.
All of the stockings are anti-bacterial and anti-fungal too. If you're looking for an extensive selection of compression stockings, this is the place to be!
Highlights
Anti-bacterial and anti-fungal compression socks
Friendly customer service
Special promotions
Customer Reviews
Most customers are very impressed by the assistance they receive from the store's staff. From the delivery up to the installation, they've said to provide a commendable service.
customer from Google Reviews wrote:
"I was preparing to discharge my heavily ill mother from the hospital and knew that I would need quite a few equipment to get her ready at home. I was then recommended by the hospital to rainbow care. They have a very wide range of home care equipment, literally a one-stop service for me. I bought a wheelchair, a commode, a bed, an air mattress, an oxygen concentrator and a suction pump. The staffs are very friendly and helpful. Thank you rainbow care for the pleasant experience." 
3. Royal Sporting House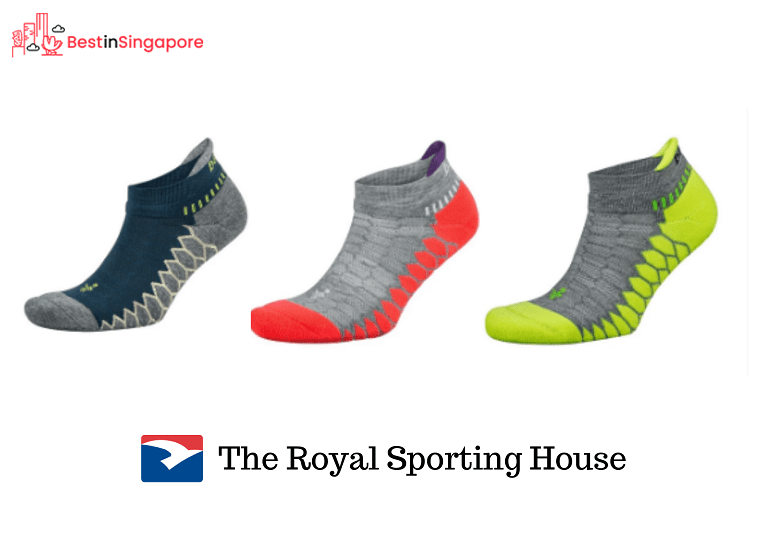 Are you an enthusiastic athlete? Do you enjoy having an active lifestyle?
Well, if your answers to those are affirmative, the Royal Sporting House has every piece of clothing, footwear, and equipment that you might need.
Whether it's for men, women, or kids, they have it all! The store is considered a one-stop-shop for many enthusiasts out there.
That makes them the top store if you're seeking the best compression socks in Singapore for an athlete. They're designed specifically for such users.
So, if you're a marathon runner, they might have the best compression socks in Singapore for you.
Their running socks are available in different colours and sizes, by the way. Just pick your size and your preferred style, and you're good to go!
Highlights
Famous sports brands
Accessible store locations 
 4. Futuro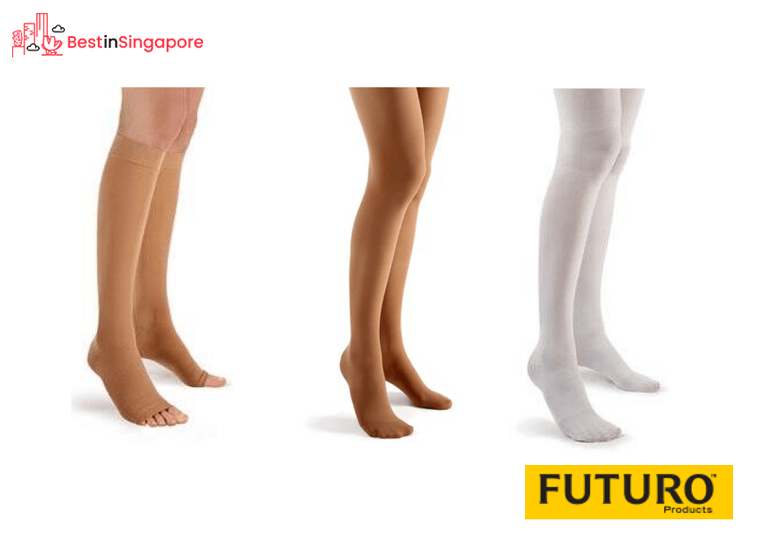 Compared to the other stores that have been sourcing their products from many manufacturers, Futuro is different. They create and produce their own compression legwear.
They also make some of the best compression socks in Singapore! You can find these on their website, which we've linked to above.
To help you easily find the item you've been searching for, their products are categorised based on the body part that needs support. This includes ankle and foot, arm and abdomen, hand, wrist, and more.
They have plenty of items for both men and women. They can also provide pantyhose and supports for your back, elbow, knee, and wrists.
Highlights
Firm support level
Soft and high-quality materials
5. Senior Care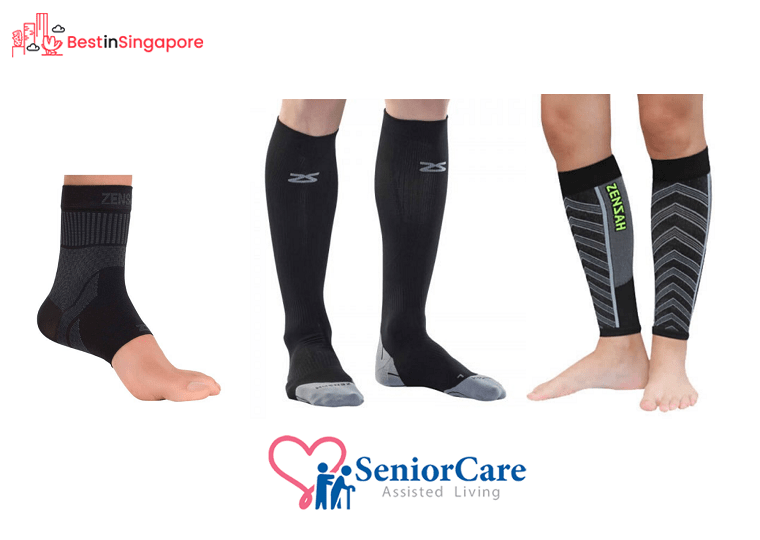 BEST FOR 
Eldercare and medical supplies
PRICING
Products
WEBSITE
https://seniorcare.com.sg/
ADDRESS
38 Woodlands Industrial Park E1 #02-11 Singapore 757700
CONTACT DETAILS
+65 6219 5490
OPERATING HOURS
Monday to Friday

9am – 5.30pm
None of us wants to see grandparents suffer any more body pain. Well, with Senior Care's products, they'll surely be taken care of.
This is where to go when what you want are the best compression socks in Singapore for the elderly. Their compression socks can also be used by younger people, though.
They're also well worth the investment, thanks to great quality. Most of their offered products are made by the brand Zensah, which is known for its durability and graduated compression.
They have compression socks, leg sleeves, thigh sleeves, knee sleeves, tights, shorts, shirts, and many more!
Highlights
Online tracking order
Free shipping
Special promotions
Customer Reviews
Customers applaud Senior Care for its products and services. Some say they're the best store for anything related to elderly care or medical equipment.
Here's some feedback posted on Google Reviews:
"Reliable goods and delivery. Great variety of products not only for the elderly but also for health-conscious individuals. Have made a repeated purchase from their website."
"Strongly recommended. Good quality elderly products for medical and health supplies at affordable prices! Very fast transactions with the help of nice staffs."
6. Qool Mart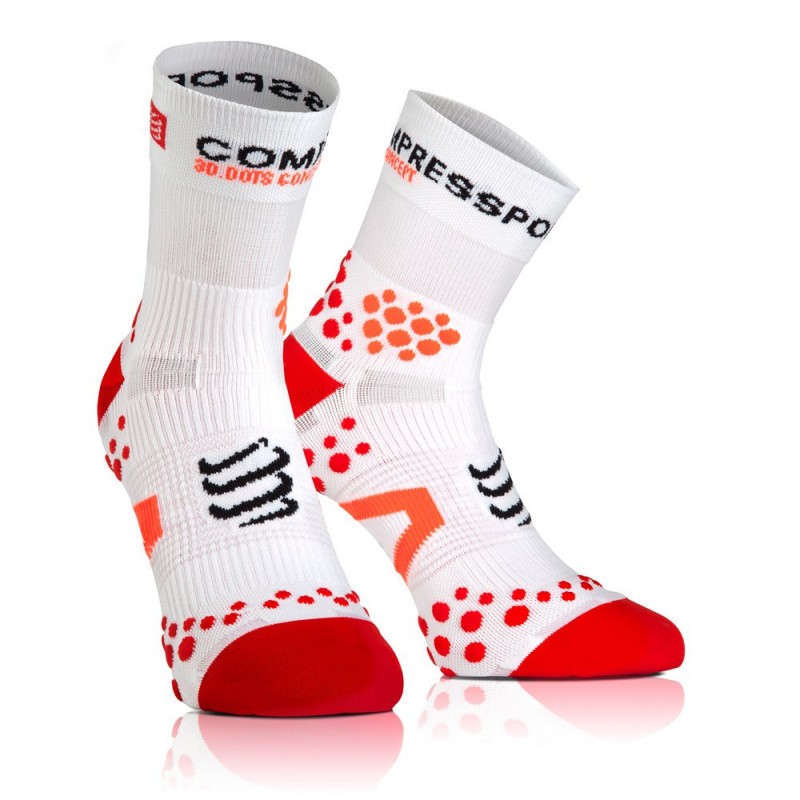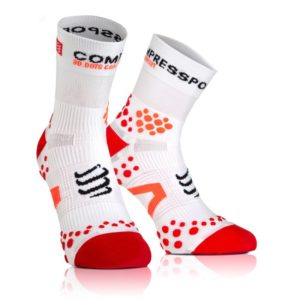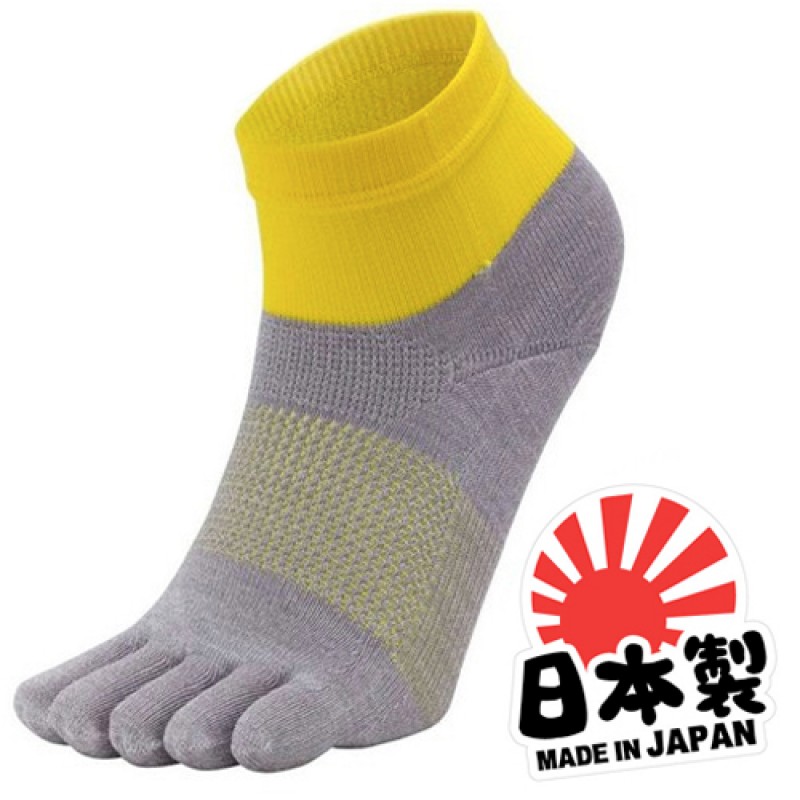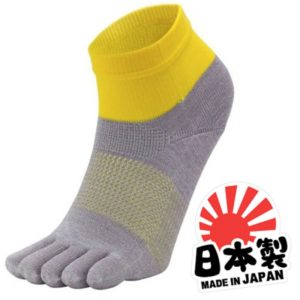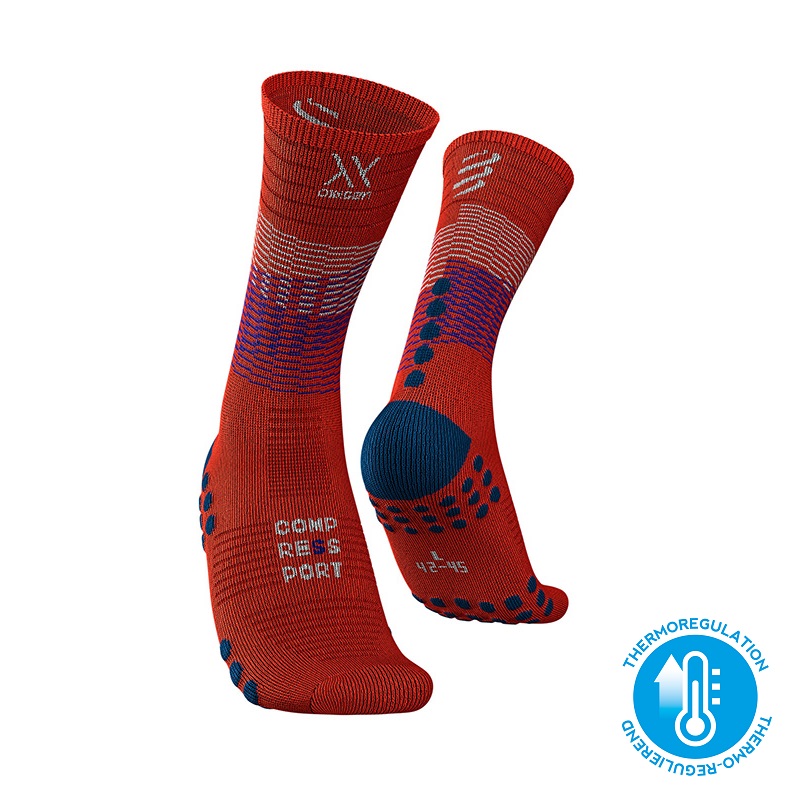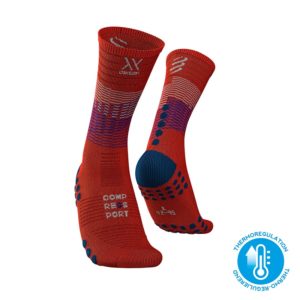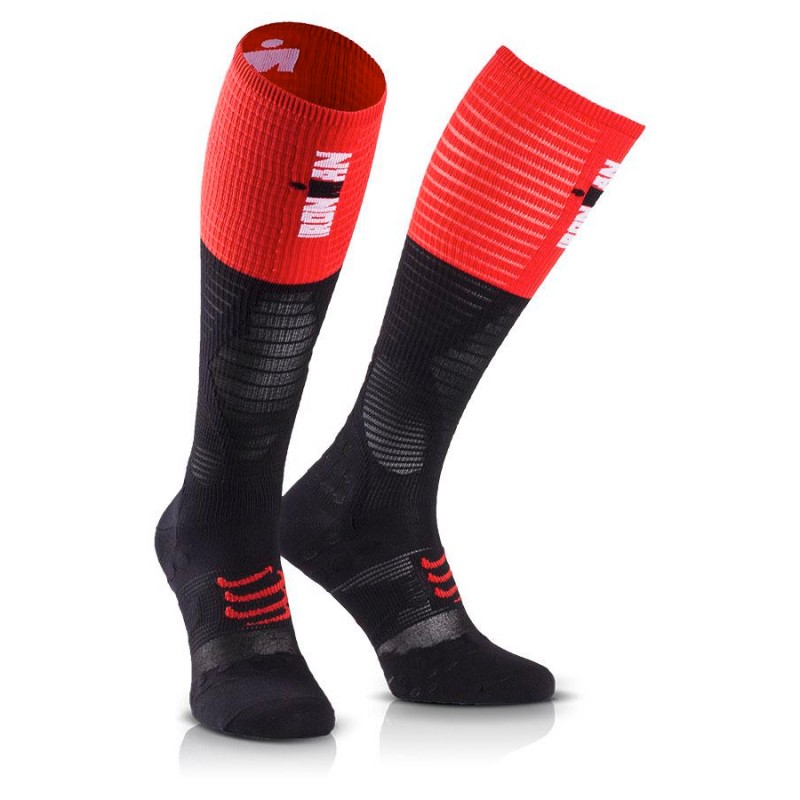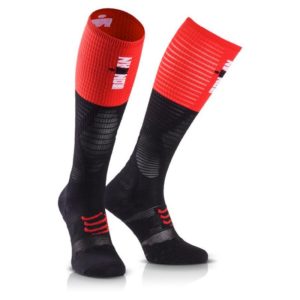 Qool Mart also offers compression socks for its customers in Singapore. It comes in plain colors and some have cute and minimal designs. 
In the online shop, you can find low cut and high cut socks. Thus, you can definitely find what you're looking for. 
In case you're looking for other kinds of socks, don't worry because you can find it at Qool Mart. They have various types of socks which would suit for certain purposes. 
Highlight
Low cut and high cut socks
Cool designs
Affordable socks
7. Titan Singapore  

Titan Singapore prides itself with their collection of comfortable and durable workout garments, particularly compression socks. The team of Titan Singapore aims to provide sports apparels that will help athletes to endure longer hours in the gym or in the field and achieve full performance and faster recovery.
"Go hard. Recover Fast." is the motto that Titan Singapore always live by especially in creating their top of the line products. They can guarantee that all of their fabrics were tested and designed for numerous kinds of sports and activities.
Make your athletic journey better and comfortable with Titan Singapore.
HIGHLIGHTS
All-purpose Titan training essentials
Ultra comfortable fabric
Accessible online shopping
8. Lasso

Lasso offers compression socks for all ages and are designed that fit both men and women. They also have a collection of athletic compression socks tailored to suit various kinds of sports, specifically basketball, baseball, football, soccer, and tennis.
Lasso Socks are the only graduated compression socks with targeted compression that provides built in ankle support mimicking ankle taping patterns.This provides ankle support without limiting ankle mobility as much as ankle braces do. 
Don't miss the chance to avail their free shipping services if you purchase a total amount of $49 or above.
HIGHLIGHTS
Helps treat various medical foot conditions
Premium quality materials
Firm support level
CUSTOMER REVIEWS
The sports compression socks created by Lasso Socks are praised for their high quality and firm level while prioritizing comfort as well. Here are some of the reviews posted on their page.
"Great socks. My boys are comfortable with them and the support for basketball and lacrosse"
"Worked great for my 12 year old daughter for volleyball and softball! No more ankle pain."
9. Feet Care

With over 7 years of experience, Feet Care has helped more than 15,000 people suffering from all sorts of foot pain and conditions like Bunions, Bursitis, Achilles Tendinitis, Plantar Fasciitis and more.
Their secret? It's simple. They try and test out each and every product they carry to ensure that every foot socks and accessory you buy will actually help you resolve the pain. Only high-quality material that passed their standard is used in every Feet Care product. 
Highlights
Free foot assessment

Budget-friendly

Wide range of compression socks, wraps and sleeves
Customer Reviews
Check out what these happy customers have to say about Feet Care products:
"Went there because I had flat feet and my job required me to stand 8 hours a day for 5 days a week. After getting the appropriate insoles for myself and at about 1 week of usage. The pain experienced in my feet reduced by 98%. I didn't feel the need to have a long rest at the end of workdays anymore. If anyone has feet pains due to flat feet they will definitely help you out."
"My heel ache reduced with the specially designed slippers made by feet care. well attended by the personnel. thanks to feet care."
These are the places we suggest you try out if you want to find the best compression socks in Singapore. Given the range of options most of them have, it's almost inconceivable not to find the specific socks you want or need with them!
Note that there are other things you can do to reduce the leg pain that's causing you to seek compression socks, by the way. A healthier body and lifestyle can do a lot to improve your circulation, for instance.
If you're interested in taking some health and wellness programs for that, try our list of the best yoga classes in Singapore. This would be a great start towards healthier living!