The 5 Best Air Mattresses in Singapore Reviewed
Looking for a spare bed in case of unplanned weekend visits from relatives and friends? Or perhaps you need a portable bed for your camping/hiking venture? Whichever it is, you're on the right track because we've found you the best air mattresses in Singapore that cater to any purpose!
An air mattress is an inflatable bed, highly portable and easy to store and transport. It can come in handy whenever you have guests or you're going to have outdoor activities.
But it does come in a number of configurations or types. If you're not yet sure which type, size, or style to choose, then you need to know first how to pick the right mattress for your needs, so we'll take you through that first.
Afterwards, we'll present our list of the best air mattresses in Singapore!
Factors to Consider When Buying Air Mattress
As there are countless brands producing different kinds of air mattresses, it'll take you a long time to find which one suits you the most. And so, to help you have a quick and stress-free shopping spree, we've listed some things that you need to consider before selecting an air mattress.
1. Size
Similar to traditional mattresses, air mattresses vary in sizes. Always remember that when it comes to choosing a size, you don't only need to consider the number of people who'll use it: you also need to check if it'll fit into your allocated storage space at home or your camping backpack.
Fortunately, most air mattresses on the market are made with a compact form when they're deflated. So, to identify which size perfectly suits your needs, here are the different sizes of air mattresses.
It has a standard size that caters to a single person only. There are also longer types suitable for taller people.
If you're simply going to use it in case of an emergency, this can be a good option. It's obviously not ideal if you plan to fit more than one person on it, though.
With its wide size, it can fit two people, making it a great choice for couples. It can also be an ideal option for an individual who prefers to have a more spacious mattress.
This size is slightly larger and wider than the double size and it's best for couples or pairs who want to have a comfy rest. Also, since it's a bit heavier than the previous sizes, it'll take a longer time to inflate.
2. Raised or Not Raised?
You can get a raised air mattress or one that's not raised, usually referred to as a low-profile air mattress. The difference is simple: anything above 23cm is generally considered raised; anything below that, low-profile.
We won't even tell you to consider low-profile ones here unless your primary concern is portability, though. Generally speaking, you want a raised one — it's better for camping, for support, for comfort.
Though they do generally cost more, you're also much less likely to be uncomfortable on them. Thus, it's a no-brainer: raised air mattresses are preferable unless you absolutely must have a mattress that's very light when packed away.
3. Use
As mentioned earlier, air mattresses are certainly useful in any situation. But for what purpose are you going to use it?
Knowing your intended purpose will make it easy for you to find the right one. If you're planning to use it as a guest bed, then you should opt for double air mattresses so two people can use it.
For camping uses, you may want a smaller size or a single size instead so it can easily fit inside the tent or in your backpack.
4. Inflating process
Air mattresses can be inflated through different processes including manual and electric pumps. If it's going to be used indoors, then you can go for the one with an electric pump so you can just plug it in and it'll automatically inflate until it's ready.
If it's for outdoor trips, it's advisable to choose an air mattress with a manual pump. This is because there are some instances where the location doesn't have any electricity, especially in hiking and camping areas.
You can choose between a foot pump, bicycle pump or battery-powered pump. You also need to check how fast and quietly the pump inflates to avoid any noise disturbance.
5. Comfort
To ensure a good night's sleep, you need to see if it's made with thick material for high durability. A good air mattress must also have a velvety texture and waterproof surface for absolute comfort.
It should also distribute air evenly and must not have any lump or bubble formation after being inflated. For extra comfort, you may pick the one with an internal air coil or chambers.
6. Weight-bearing capacity
It's also important to consider the number of people that might use it because different air mattresses offer different weight-bearing capacities.
So, you should carefully think if your chosen mattress can handle the total number of guests you're expecting.
Best Air Mattresses in Singapore
Now, let's take a look at some of the best air mattresses in Singapore! We've listed the most recommended picks that offer quality features and that are suitable for many uses!
So see our list below to find out which is the best air mattress for you.
1.   Coleman Airbed Comfort Air Mattress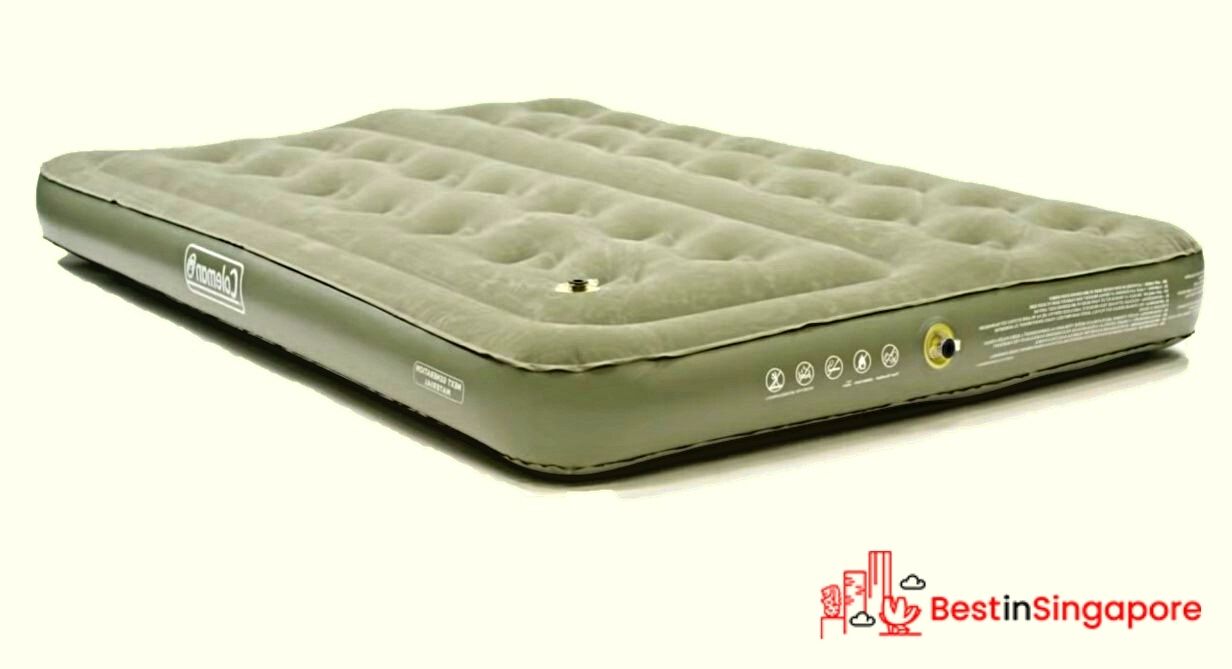 Price: $52.70
The Coleman Airbed Comfort Air Mattress is a multi-purpose inflatable bed that you can either use as a guest bed or camping bed. It's built with an airtight system, producing long-lasting comfort all night.
This lightweight and compact air mattress is built with high-quality PVC for strong and stable support.
It also has a double lock valve system to ensure that the air mattress will not deflate despite the temperature changes and different weights of the users. For easy storage, you can simply fold then roll it after deflation.
This is also extremely durable so if you're the outdoorsy type and want to take this camping or on picnics, this is probably the best air mattress in Singapore for you.
Pros
Quick and easy to set up
Guest and travel bed
Roll-type storage
Cons
Not very high from the ground
2.   SoundAsleep Dream Series Air Mattress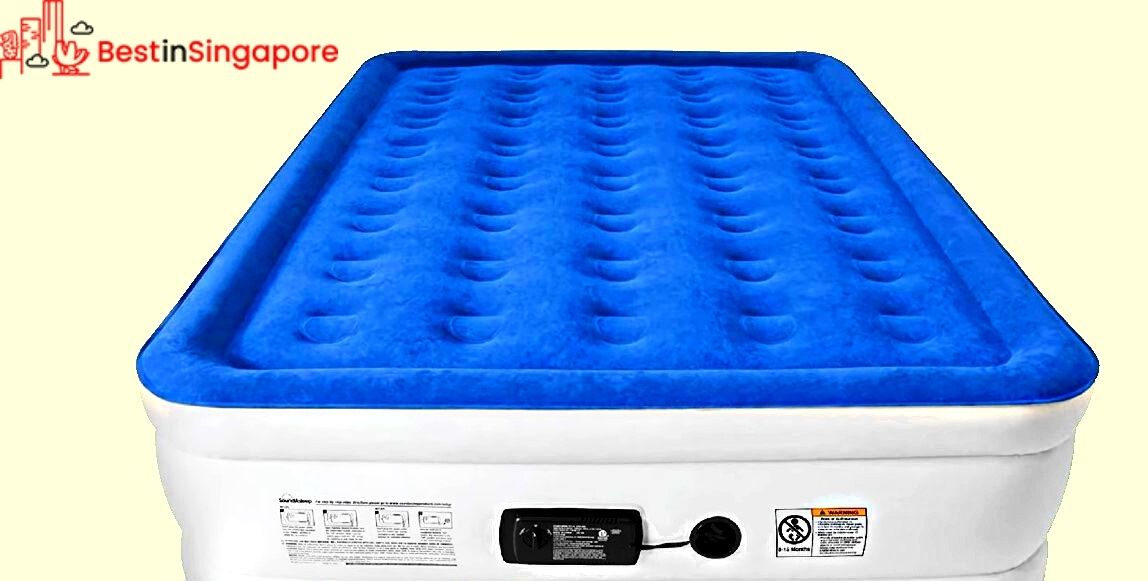 Price: $453.33
The SoundAsleep Dream Series Air Mattress features internal coils and a sturdy base to prevent possible slipping and sliding. One of the best things about this air mattress is the internal pump that provides easy and quick inflation/deflation.
It's a double-height raised air bed that's designed with an extra-thick and waterproof top for a comfortable sleeping experience. It's also made with multilayer and eco-friendly PVC material for premium durability.
This best air mattress in Singapore is perfect for singles and couples and it's an ideal option for indoor use.
Pros
Thick quality material
Excellent air retention
Fast and reliable pump
Quiet inflation
Cons
For temporary and household use only.
Customer Reviews
Many customers shared that the SoundAsleep Dream Series Air Mattress truly remains flat and firm for the whole night. They also said that with these air mattresses, there's no need to have an external pump, as it already has an exceptional built-in pump.
A customer posted this feedback:
"At the end of the day, I found this product to be highly supportive, and it was able to do well at maintaining its shape and firmness through the night. If you do notice sagging for the first few uses, you may find that it holds up better if you inflate and deflate a few times to allow for the PVC stretching that naturally occurs in the early days of ownership. If you are looking for a temporary sleep solution to accommodate guests or act as a temporary bed for the kids, I think this could be an excellent investment."
3.   Insta-Bed Raised Air Mattress with Never Flat Pump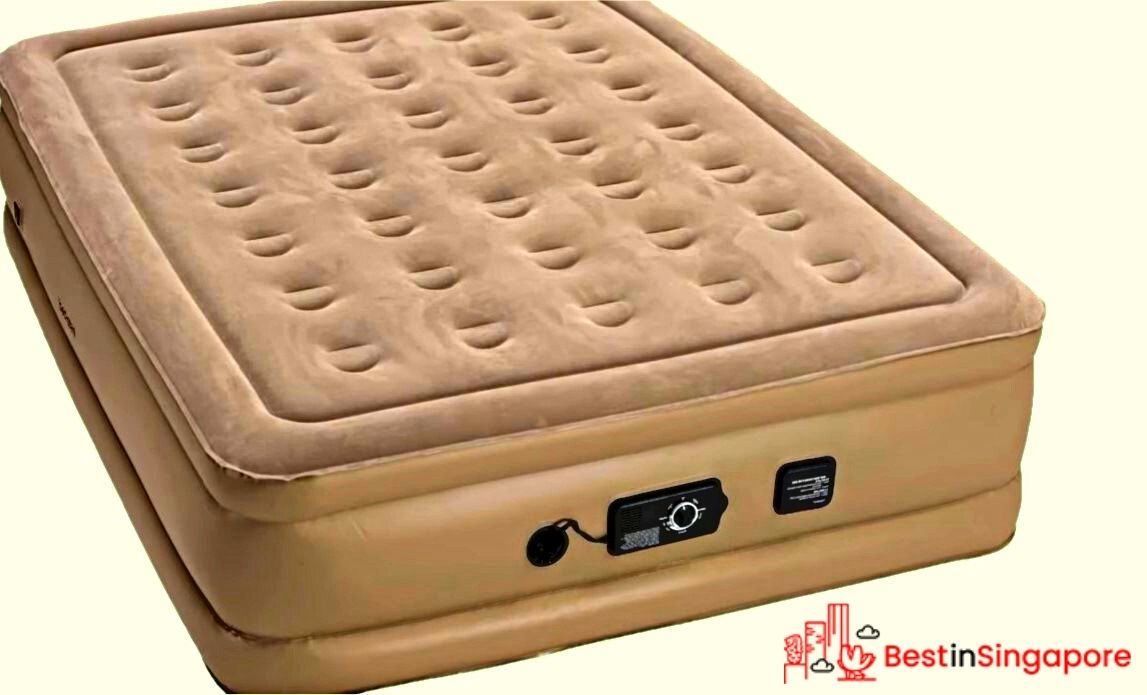 Price: $383.06
With the Insta-Bed Raised Air Mattress with Never Flat Pump, you can select a certain comfort level. You can choose between plush, medium, or firm.
It has an exclusive NeverFlat pump system that serves consistent firmness and support. Moreover, it's built with internal sensors to monitor the pressure overnight and maintain a certain comfort level.
Aside from these features, it also has a circular coil construction with a removable pillow top. The overall structure of the air mattress is enhanced with water-resistant materials. If you have a sensitive back and are a fussy sleeper, this is probably the best air mattress in Singapore for you.
Pros
Customisable comfort level
Quiet pump
Carrying bag for easy transport and storage
Water and puncture-resistant
Doesn't cause any overnight air loss
Cons
For indoor use only
Quite heavy
Needs deep-pocket fitted sheets
Customer Reviews
Most customers said that due to the raised height of the Insta-Bed Raised Air Mattress with Never Flat Pump, getting in and out of bed has become easy. They also complimented the soft-touch flocked top that holds the bedding in place for extreme stability.
A customer wrote this review:
"When it comes to comfort and durability, Insta-bed clearly scores better than single pump air mattresses on every parameter. No loss of air means the mattress remains flat from top to bottom all night and this in turn is of massive help for those who suffer from back problems. Insta-bed costs more or less the same as all air mattresses in the market today. However, the biggest advantage is the NeverFlat pump technology that proved to be the biggest game changer for the company. It recorded the highest number of sales owing to its innovative patented technology."
4.   AeroBed Air Mattress Youth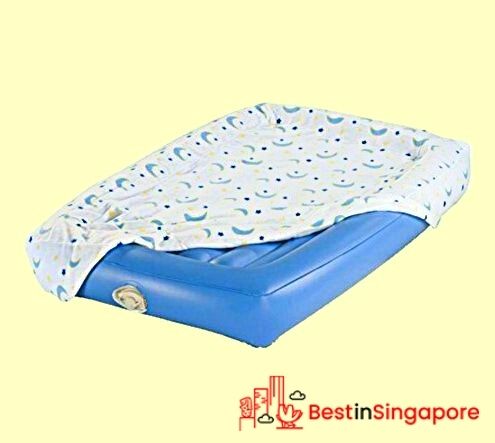 Price: $105.72
If you're searching for the best air mattress in Singapore that's suitable for kids, you must have the AeroBed Air Mattress Youth! It has a compact design, perfect for sleepovers in small spaces.
To secure long-lasting comfort, it has a secondary pump with a light indicator that silently monitors and maintains the firmness level. With its patented valve, the air mattress will deflate in no time.
It also has an oval coil for even support so your kids won't have to suffer from back pains. With these features, you can be sure that your children will have a safe and good night's sleep.
Pros
Heavy-duty material
Raised edges
Roll out storage
Powerful pump
Cons
Not a rechargeable pump
Not suitable for camping ventures
Customer Reviews
The AeroBed Air Mattress Youth has received a lot of positive reviews from the customers who've experienced its high functionality and durability. Most customers recommended the model and even claimed it as one of the best air mattresses in Singapore.
A customer left this feedback:
"We purchased these 2 1/2 years ago for twin grandsons to sleep in at our house about one weekend a month. When they outgrew porta cribs, these were perfect. They are 6 years old now, and they love their beds at Grandma's. I like them because they have raised edges, sort of like bumpers, that kept them from falling off. Also, they are not too high off the ground even if they did manage to roll out of it. They pump up quickly and deflate quickly. Roll up easily and store easily. We have loaned them to my son also for their use in hotel rooms when they traveled a couple of times and they loved them. I dont allow the twins to jump on them, and we do take good care of them. Almost 3 years later and absolutely no problems with leaking or anything like that. Highly recommended."
5.   Etekcity Twin Airbed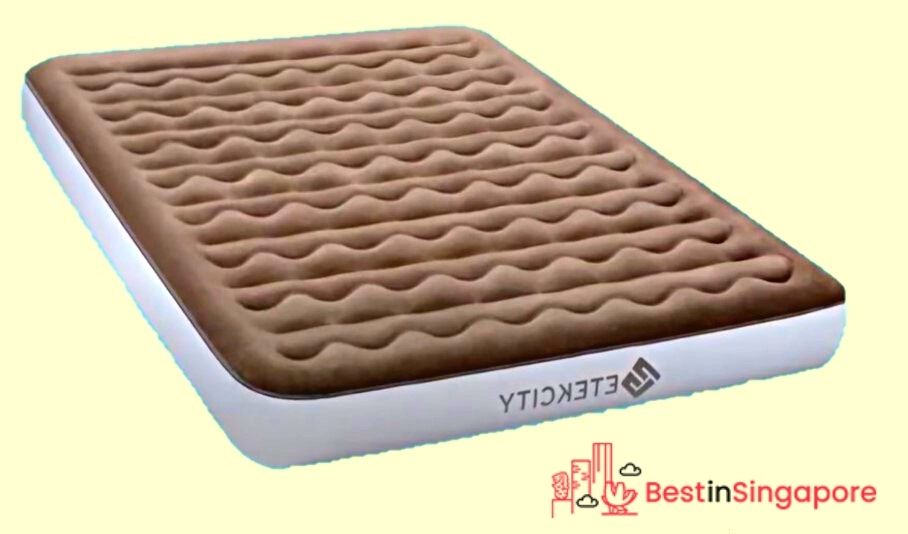 Price: $173.16
The Etekcity Twin Airbed is the best air mattress in Singapore that's mainly designed for camping! It features a built-in electric pump that quickly inflates/deflates and allows you to set your desired firmness.
It's built with a double-layer construction to maintain its form and a waterproof top to keep the surface dry. It also has PVC material to prevent any slippage and it's easy to clean after use.
Due to its compact and lightweight form, you can easily wrap it up and put it in your carry bag during travel.
Pros
Raised height
Automatic pump
Great edge support
Water-resistant top
Can also be used without an electrical outlet
Cons
Slightly slow inflating process
Customer Reviews
Customers said that the lightweight design of the Etekcity Twin Airbed makes it a great option for travel. They also said that it can retain air for a long time.
A customer gave this review:
"Overall, I had a great experience with the Etekcity air mattress. It did an excellent job of retaining air, and I found the flocked top to be comfortable while effective in keeping you from sliding. The extra thick surface and puncture-resistant materials seem to be very durable. Etekcity makes mobility easy both in transitioning in and out as well as in changing sleep positions."
And that's the end of our list of the best air mattresses in Singapore! If you've got more options in mind, feel free to share them with us!
But if you're not really familiar with any air mattress brands/products, see these best foldable mattresses in Singapore! They're also space-efficient and convenient to use!