5 Best Bean Bag Chairs in Singapore Tested and Reviewed
Ah, bean bag chairs: a comfortable addition to your living quarters that screams fun and modern. You can just slump in it after an exhausting day of work! And it's all the better when you have the best bean bag chairs in Singapore.
If you want that, we've run up a list of them here, asking consumers as well as interior designers which bean bag chairs they like best out of all the ones sold in the country.
We've also put together a guide to help you pick the best bean bags in Singapore for your needs. That way, you'll have an idea of how to choose a chair from our list of the best ones, later on!
So if you're ready for that, let's begin and dive into the world of bean bag chair shopping!
How Do I Choose the Best Bean Bag Chair in Singapore?
There are plenty of great options for bean bag chairs, and they vary in size, fabric, and design.
But what's important is addressing the different factors to better fit your needs. A big bean bag chair isn't always the best choice for you, nor is the softest one always the best.
So, we've laid out the tips and tricks you need to know when getting a bean bag chair. Let's get started, shall we?
1. Fabric Type
Take into consideration the type of fabric used for the bean bag chair.
The type of fabric that's usually known for bean bag chairs is vinyl, but it's not always comfortable, especially for people with sensory issues. And the added fact that it's possibly a carcinogenic hazard makes it a difficult selection.
The usual one that's a readily available alternative to vinyl is cotton fabric since it's both cheap and breathable. However, keep in mind that cotton is not as stain-resistant as other fabrics.
Nowadays, there are bean bag chairs with fabrics that are more concerned with comfort and convenience, being experimental. There are even covers of fabrics with natural and synthetic blends.
Polyester and nylon fabrics are popular picks as well due to easier clean-up, and are often treated with specialized coatings to resist mould and fading. Another great thing about them is the water-repelling quality.
But if you're willing to splurge a little more, then invest in a leather bean bag, as it makes a great statement piece in your home and will last long.
Microsuede is also an okay choice, if you want something that looks fancy and don't mind the texture. However, like cotton, it's not stain-resistant.
2. Shape
Bean bag chairs aren't always round. Some of them can be teardrop-shaped, elongated, or square.
Rectangular bean bag chairs are ideal for space-savers, while oversized ones are more for comfort's sake and bigger homes. Teardrop ones are ideal for dorm living.
There are also elongated bean bag chairs or even whole sofas if you and your friend are going to bunk in, and kid-sized bean bag chairs as an alternative to those tiny plastic chairs.
3. Usage
Typically, a bean bag chair is a piece of furniture, but it can also double as an accent for interior decor.
If you're using it for that, then make sure to pick a color that matches or a color that contrasts and makes it pop against the room, depending on the design.
If the bean bag chair is going to be in a kid's room, then make sure that it's durable and has double stitching and tight zippers. It should also have fillings that are safe.
4. Filling
The size filling varies from bean bag to bean bag: usually, bean bags are filled with Expanded PolyStyrene (EPS). Regular EPS lasts longer than other types, but micro EPS fillings are denser and more comfortable to sit on.
EPP or Expanded Polypropylene is firmer and longer-lasting than EPS. There are also bean bag chairs that have shredded memory foam instead of beans for added comfort.
The Best Bean Bag Chairs in Singapore
Now that we know the tips and tricks to picking a great bean bag chair, let's go to the list of the best bean bag chairs in Singapore. These picks vary in size, shapes, as well as fitting different budgets.
What they all have in common is that for the money, they offer the best value possible. Your mileage may vary, of course, depending on your specific needs, but here you go:
1. Dropzzz Spandex Bean Bag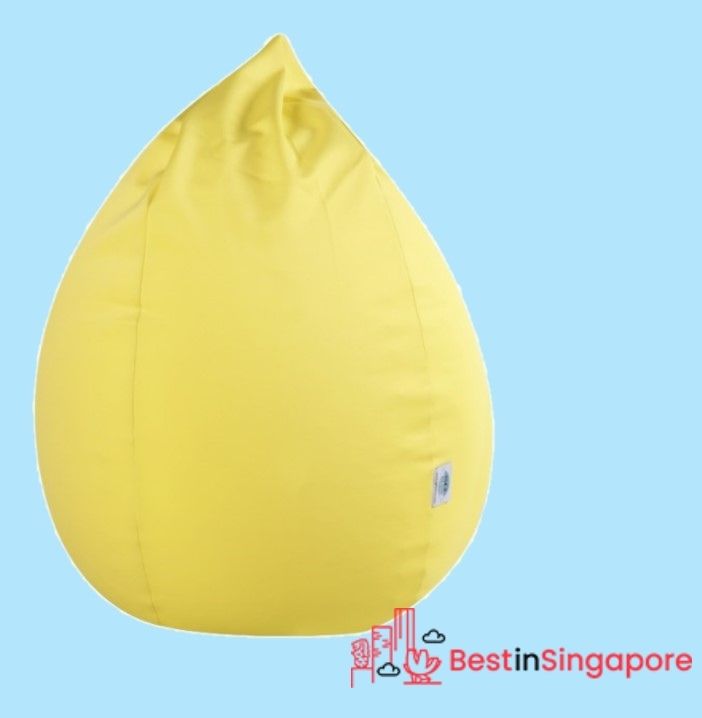 Price:$139.00
Limited Stocks At Shopee, Buy Now
Dropzzz is a great choice for those who live in limited spaces. Made of stretchy spandex, it's comfortable and soft for those who want something that feels smooth.
Another perk of this bean bag is that you can request the kind of filling it has, whether you prefer EPS, micro EPS, or EPP. The manufacturer of this bean bag is big on customisation, so you can choose colour as well.
Lightweight and durable, this bean bag can also be moved around the house easily. Aside from the stretchy spandex being comfortable, the outer layer is easily removable for cleaning.
With a lightweight, space-saving design, and heavily customisable features, Dropzzz is considered to be one of the best bean bag chairs in Singapore.
Pros
Cons
Customer Reviews
Here are some reviews from Lazada about this amazing product:
The delivery was earlier than the expected date. I was so shocked to see when it arrived as it was quite big in size. It's very comfortable and it's really worth the money.
-Lazada Customer
Got this during a Slash it promo. The quality is good, it is well filled for a comfortable and supporting seating. The exterior is of a smooth material. I might have to get another one at normal price .
-Evelyn C.
2. Chill Sack Bean Bag Chair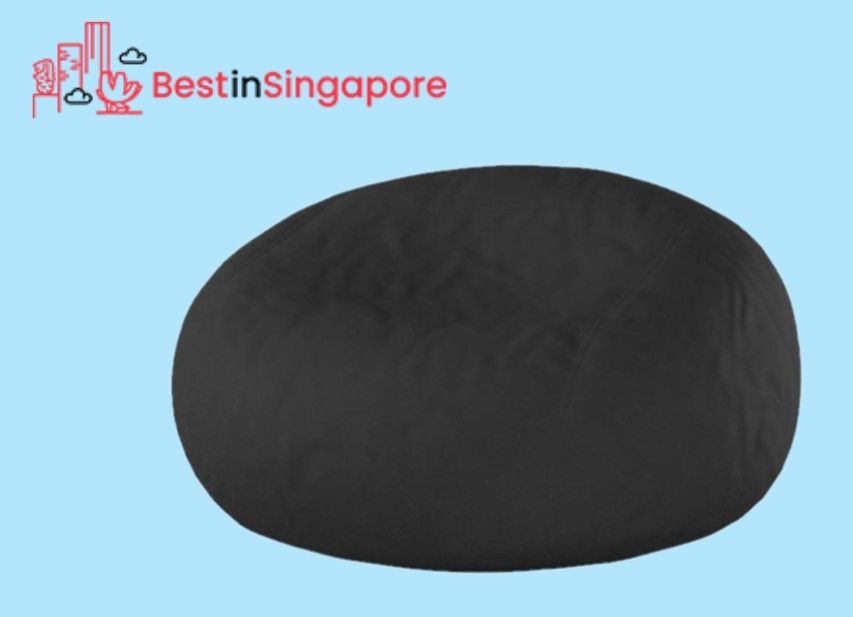 Price:$1,091.75
Limited Stocks At Amazon, Buy Now
The Chill Sack Bean Bag Chair is the priciest choice in our list, but that's not a major issue when you consider what you're getting. You see, this oversized sack feels like sitting on a cloud because of its memory foam filling.
Its size is massive, so you can seat yourself and a friend on it during movie nights, or stretch yourself across the entire bag for a nap.
It'll mould to your body and you can sit on this chair for hours. This chair is also made out of microsuede fiber: it's stain resistant and easy to clean as well.
The cloth covering the bean bag chair is ideal for those with sensory issues. It's soft and supple, as well as removable, double-stitched, and even machine-washable
These great features make it one of the best bean bag chairs in Singapore.
Pros
Large size
Stain resistant, machine-washable
Memory foam filling
Cons
Pricey
Can be difficult to put on the cover
Customer Reviews
Here are some reviews from Amazon about the this amazing product:
This is the second Chill Sack that I have purchased. The first was for a Christmas present for a hard to buy for 22-year-old young man. He loved it! The larger size can actually fit 2 people very comfortably! I purchased this size because I wanted one for kids to sit on and save my furniture from their constant flopping! I needed a size that is more manageable for me to move. The larger size is a bit difficult to move around. This sack arrives in a box and in that box is a very hard square block of material. You have to unzip that bag and take out the block to put into the cover it goes into. This is very easy to do. You seem a bit worried that it will ever fit the cover that you put it in, but it does! This particular size and the larger one is very heavy so if you cannot lift more than 50 lbs, you will need help. At first, you cannot imagine that this will expand and become the more comfortable thing ever, but give it a couple of days of flipping and fluffing and it will be perfect. You can reshape it in whatever way you want to sit. Our family laughed as we watched it grow and grow! Worth every penny and will save your other furniture! I will probably buy one for each of my kids for Christmas so they don't fight over this one.
-Bonnie Jean Castil
Got this for my son's bday but everyone in the house (including dogs) use it. It's very comfortable and large enough for an adult to lounge on it. You can even fit two adults who want to cuddle! Our dogs love it too and it has become their main napping spot. Because of this I have washed the cover a number of times since purchasing it in February. The cover is easy to get on and off, cleans well, and has shown no signs of wear. I am also surprised it hasn't ripped from the dogs' nails too! Definitely recommend this lounger over other more expensive brands…very good deal!!
-Sam
3.   Sofa Sack Bean Bag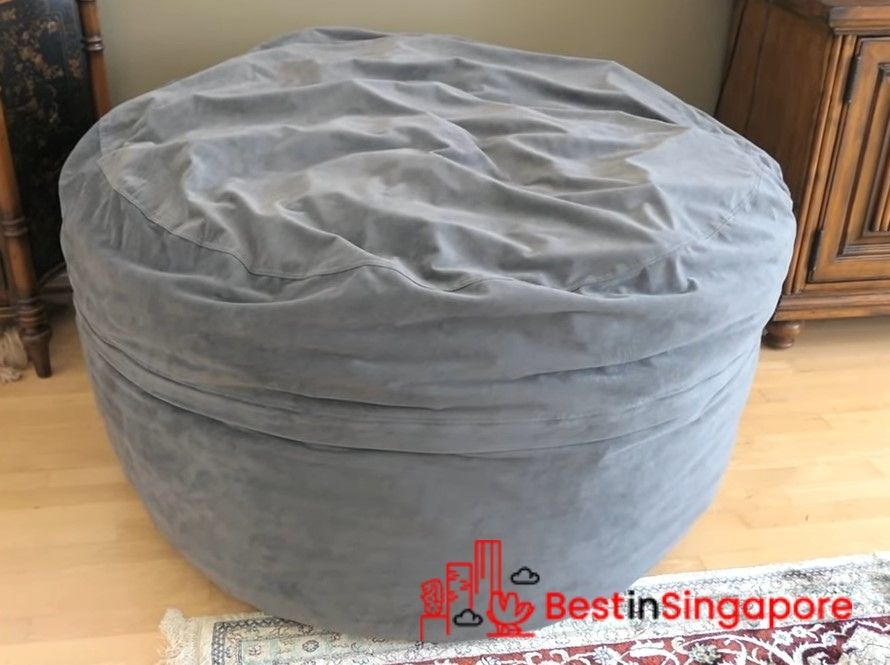 Price:$628.04
Limited Stocks At Amazon, Buy Now
Sofa Sack is another great option for memory foam bean bags. Its massive size can fit anyone, from children to teens and adults.
Sofa Sack manufacturers proudly proclaim their bean bag to belong to the category of "beanless bags" since the contents are composed of memory foam, which is much more fluffy than bean filled chairs.
Aside from conforming to the weight and shape of the sitter, it's more durable and shape-retaining than bean-filled variants.
The secret to its longevity is that aside from the durable foam stuffing, it's encased in velvet, and covered with suede with double stitching to make sure it doesn't fall apart.
Whether this bean bag chair is to be placed in an energetic toddler's room or used as an adult's favourite place to slump on during lazy weekends, it can hold its own.
This is one of the top choices of many users due to its squishable design. Overall, if you want a soft cushion for either gaming or just lazing, this could be the best bean bag chair in Singapore for you.
Pros
Sturdy
Lightweight
Weatherproof
Cons
Customer Reviews
Here are some reviews from Amazon about the this amazing product:
Arrived tightly packed into box and bag, and was pain trying to get it out.
The instructions say not to open the covering but to chip away at the square shaped foam from the outside of the covering using your hands. That was way to difficult as you can barely chip away at anything with that method. So I opened the covering and chipped away at the foam directly from the inside, making sure to still keep a sturdy solid core in the center with the broken off pieces surrounding it on the sides. Keep in mind that doing it this way will get messy.
It took about 5-7 days for it to fully expand. It is more of a Pepto-Bismol pink than the magenta in the picture. Much more comfortable than beans and big enough for a large adult. All in all I'm satisfied with this chair.
-N. Sheree
My son was very excited when this chair arrived for him. It does come packed in a square box and comes out looking nothing like a beanbag chair. I found the instructions and spent an hour or so pulling apart the filling to make it rounder, and it was suitable for my kid sitting. He's been inseparable from it since then. He even slept on it one night and said it was comfy for that as well. Sadly, our cat peed on it, so I had to open up the zippers to remove some filling to be sure to get the smell out. It wasn't easy, because the inner zipper had no pull tab thing, but we improvised with a tool and I was able to access the filling and remove some. After a pass with upholstery cleaner on the surface, it seems to be good as new. We are very happy with this purchase!
-Rebecca
4.   Big Joe Lenox Fuf Foam Filled Bean Bag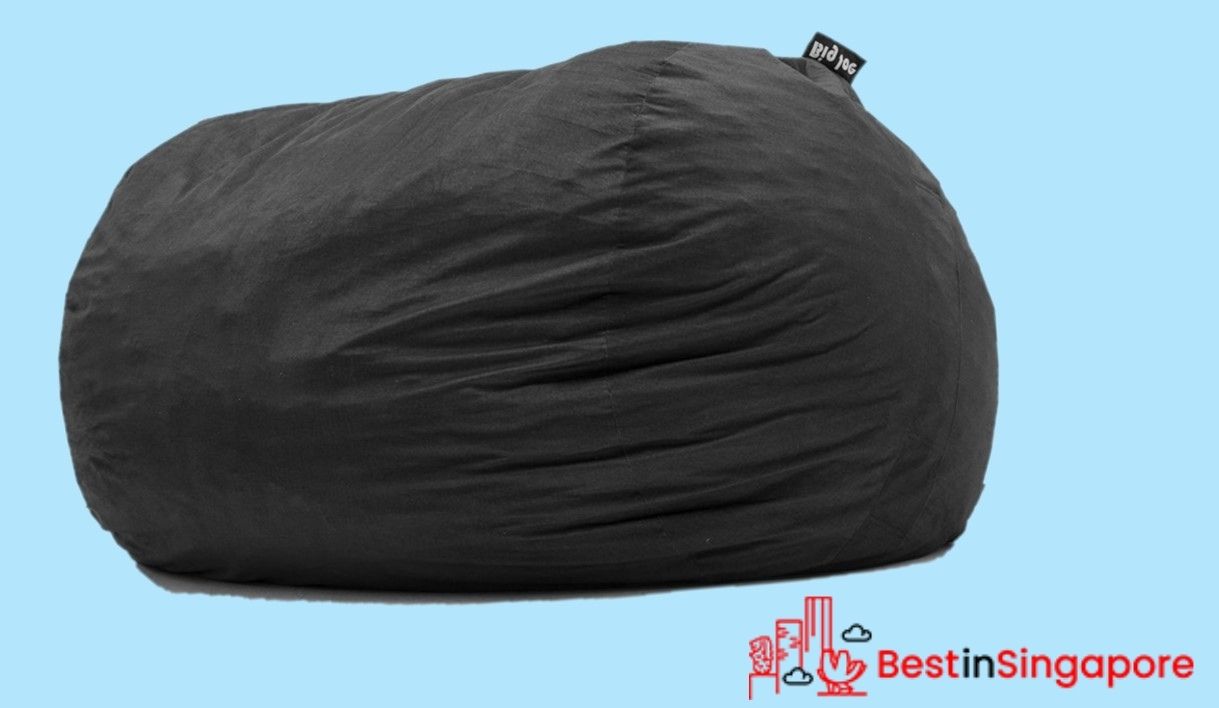 Price: $296.99
Limited Stocks At Amazon, Buy Now
Big Joe is one of the best contenders in the bean bag industry, and they have plenty of choices that have topped plenty of lists. Well, for our choice of Big Joe bean bags, we think the Big Joe Lenox Fuf Foam Filled Bean Bag is the best choice.
For one, their Fuf bean bag chairs are not stuffed with EPS, but with Ahhsome foam. Which is really just a fancy way of saying shredding foam with a wood chipper and using it to stuff their bean bags.
Ahhsome foam is made from 100% post-manufacturing/pre-consumer foam. The best part about the Fuf is that it never needs a refill, just redistribute the foam and voila! Fluffy bean bags again.
The Fuf is made for casual seating for dorm rooms, rec rooms, and as something that your rowdy 5-year-old can jump on and not destroy easily.
It's also covered in smooth yet durable fabric that's available in multiple colors! These amazing features make it one of the best bean bag chairs in Singapore.
Pros
Large size
Made of shredded foam
Added handles
Cons
Take 7-10 Days to fully expand
Customer Reviews
Here are some reviews from Amazon about the this amazing product:
We ordered this a few weeks ago and it is perfect!! It shipped super fast and we already love it…and so do the dogs! We LOVE the size of it. Allow a couple days for it to fully expand, once that happens it is huge! We were shocked at how large this chair was after the foam had expanded. I also like the fact that I can refill the foam at any time if needed. This was a fun purchase and I see it lasting for years. We have three kids and they have all jumped on it and used it a ton. You wouldn't even know the abuse it has taken already. I would definitely recommend this product! A few of us have even slept in this thing!
-Sun
This bean bag is totally amazing, and such a steal for $100! There is no lack in quality for the affordable price. We ALL love it.
I purchased the "king" size. Both my husband and I have plenty of room to get comfortable. I often sit on it with my toddler and my 2mo old and we're very comfortable.
The cover is very soft, and what a plus that it's removable!
I wanted to add, that, yes, the inside does look like a bunch of random foam peices. Even if that is industrial waste, I'm so excited that they're recycling it into something useful, and super comfortable!
The first photo taken with my son on the bag was the first night we had the bean bag. The second, is the second night. It expands significantly in 24hrs.
I would absolutely recommend this bean bag!!
-Abigayle
5.   Big Joe Milano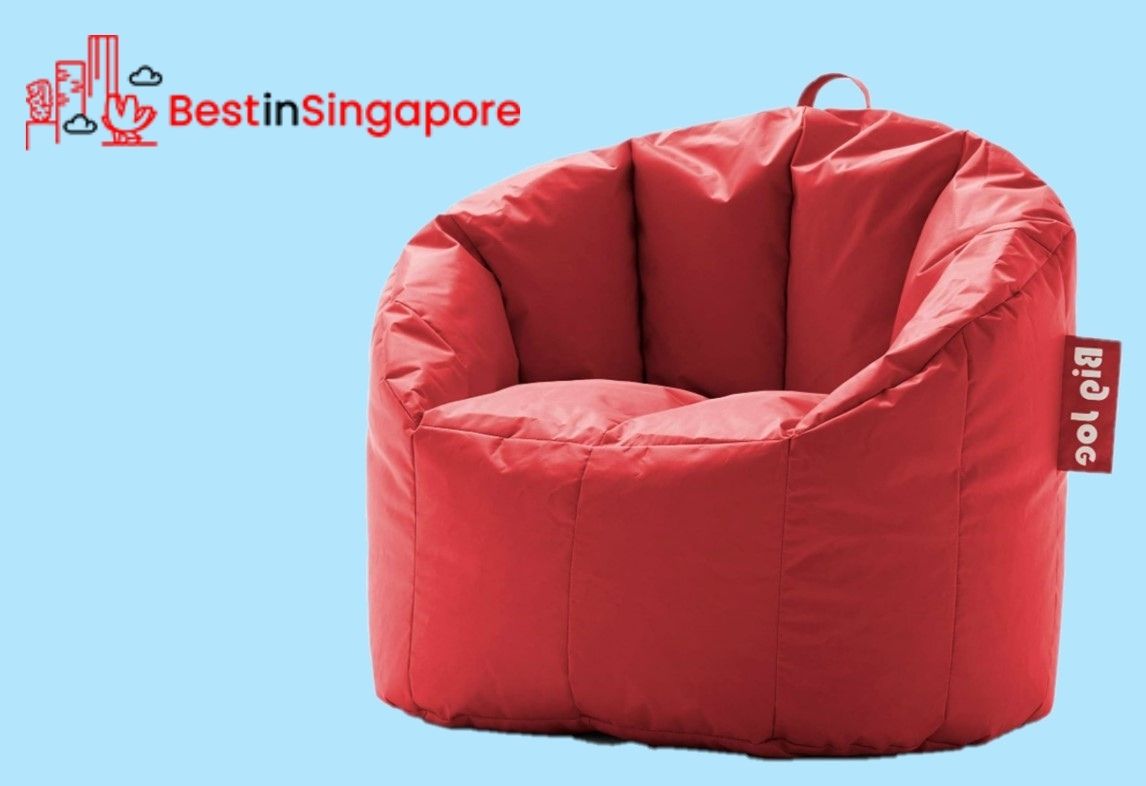 Price: $91.45
Limited Stocks In Amazon, Buy Now
Another great option from Big Joe, the Milano Bean Bag chair is a more structured option than their usual fare. It's filled with lightweight, long-lasting Megahhh beans to give it structure while still bringing comfort.
It has a way sturdier base than most, so you can sit at any angle you like without worrying about losing its shape while you lean over. Another great perk is that it's double-stitched with dual zippers for extra safety and durability.
It comes in a variety of colors so it's no biggie if you want to choose something neutral or something that pops out in the living room. Heck, they even have shag options!
It's lightweight and easy to refill, so if you need something a little firmer, zip it down, and have it filled with more beans. These features have put it squarely on the list of the best bean bag chairs in Singapore.
Pros
Comes in shag options
Refillable
Has its own handle
Cons
And that ends our list of the best bean bag chairs in Singapore. We hope this list helped with your search for a great seat!
Did we miss a great option, though? Tell us its name and what makes it great in the comments below!
Do you need a new office chair for your study or workspace instead? Head over to the list of the best office chairs in Singapore and check out our picks for those.
We can also help if you need something to support you while sleeping, check out the best body pillows in Singapore for that!