The 6 Best Body Pillows in Singapore Reviewed
With the help of the best body pillows in Singapore, you can enjoy a more comfortable and peaceful sleep because they keep your spine aligned and support the length of your body. They're great for improving your posture too!
But if you don't know where to find such pillows, we have you covered. We looked all over the island in search of the body pillows that can give everyone an even more comfortable sleep or nap.
Looking for the best body pillows in Singapore might seem easy, but there are actually a few things to take note of when buying one.
Anyway, we'll share those with you before showing our picks for the best pillows. That way, you'll know how to select one from among the products we rounded up. Let's begin!
What to Consider When Choosing a Body Pillow
If you thought that softness was the sole factor in choosing a body pillow, you're wrong.
You have to look at material, shape, size, and purpose. There are a lot of things to take into account if you want to get a good pillow!
Let's go over each of those points below.
1. Material
Since you're going to be extremely close to your body pillow while sleeping, it's ideal to get one that's made from natural and organic materials to prevent allergic reactions.
There are at least 4 common types of body pillow materials: natural shredded latex, organic wool, wool-latex, and organic kapok.
Natural shredded latex perfectly contours to the shape of your body, so if you want to feel as if someone is hugging you while sleeping, you might want to consider this one.
On the other hand, organic wool provides a cozy feeling because it possesses soft-to-medium firmness.
As for wool latex and organic kapok, they're perfect for those who want extra support for their body because they're made from soft and fluffy fiber.
2. Shape
Flat and straight are the most common types of body pillows in Singapore, both of which provide firm support to the entire body.
If you're only looking for neck and head support, though, you might want to check out C-shaped or J-shaped pillows.
Meanwhile, U-shaped pillows are ideal for pregnant women because they provide both back and front support while lying down.
3. Size
Body pillows come in a variety of sizes as well. You have to consider the placement of your pillows while sleeping to know which size is the right one for you.
If you need help finding out which size is ideal, just make sure that it stretches from your head all the way to your knees for full body and posture support.
4. Purpose
All body pillows come with their own purpose. Some are used for improving posture while most are used just for support and comfort while sleeping.
In line with this, consider what you want to do with the body pillow before you buy one. That way, you can be sure that the one you will choose can deliver what you expect from it.
The Best Body Pillows in Singapore
Now you know what to look for when choosing a body pillow. You're probably ready to see which body pillows we think are worthy of your attention.
So, without further ado, here's our list of the best body pillows in Singapore.
1. BioPEDIC Premium SofLOFT
Best for Affordability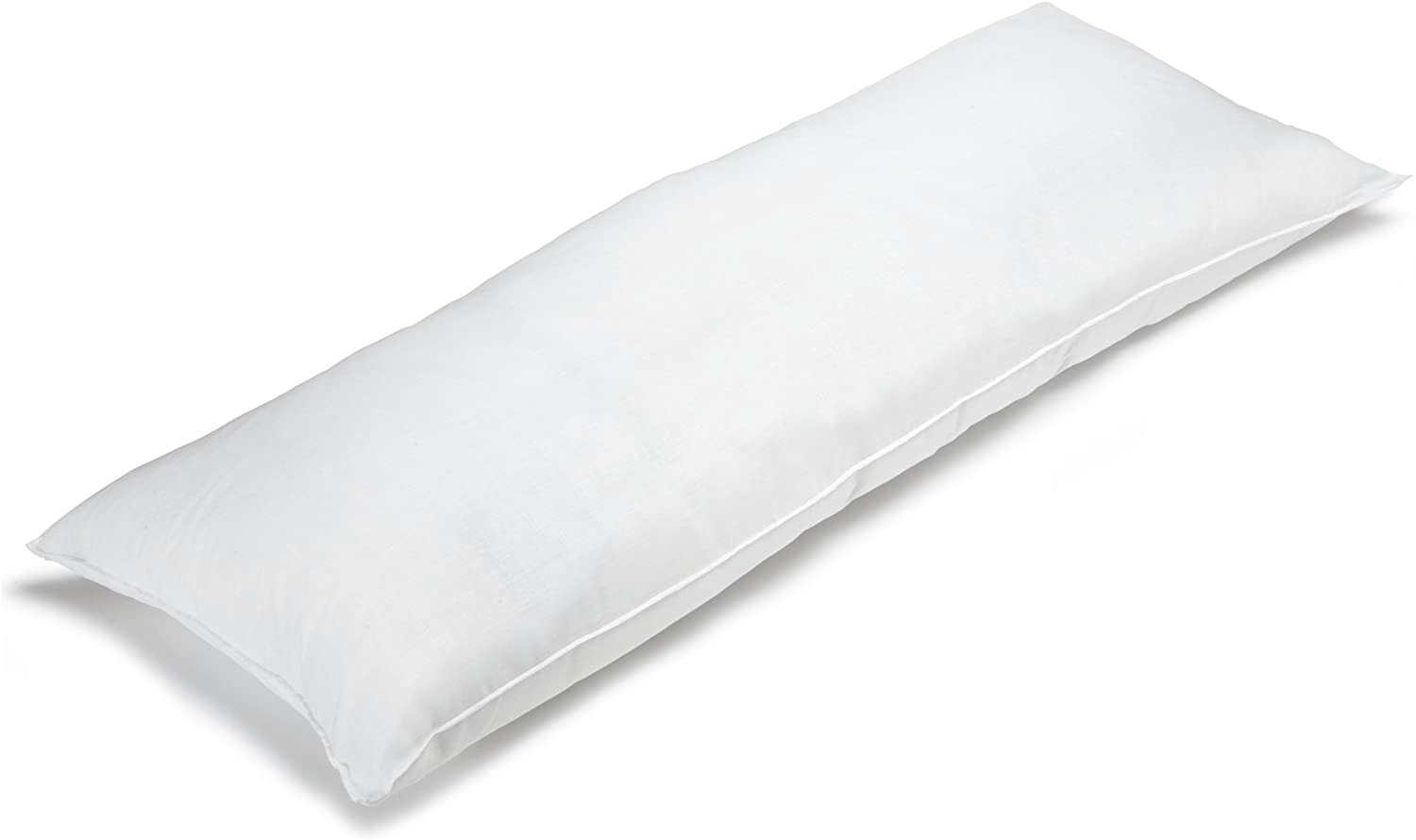 Price: $25.10
If you're on a budget, then we strongly recommend getting your hands on the BioPEDIC Premium SofLOFT. We believe it's one of the best body pillows in Singapore for its features and affordable price.
For one, it's stuffed with a combination of hypo-allergenic polyester fiberfill and polyester/cotton with a thread count of 240. With a length of 54 inches, it stretches all the way from your head down to your legs, providing full-body support.
What's more, it's made from an all-natural cotton cover, so rest assured that you won't be getting any allergic reactions or rashes, as long as it's washed and properly cleaned.
Speaking of cleaning, the BioPEDIC Premium SofLOFT is washing machine-friendly. No need to break your hand trying to hand-wash it to remove stains.
Highlights
Hypoallergenic
All natural cotton
Washing machine-friendly
Customer Reviews
Take a look at what buyers have to say about it:
"This pillow is softer than clouds. I have hip issues and wanted to upgrade what I use between my knees at night to keep a natural posture. This pillow is perfect because it also allowed for neck support when lying on my side watching tv. I will say that it's not a firm pillow whatsoever. So if you're looking for that kind of support, you won't find it in this pillow. But this pillow is incredibly soft and squishy and the best to snuggle with. However, I have one warning: Don't leave it alone with your animals… They. Will. Steal. It. 🙂 Overall, this pillow was a great buy for a very reasonable price."
"Love this. It's very soft and not too firm, but still has great support (at least to me). If you are looking for a "firm" pillow, I wouldn't recommend this one, but it's perfect for what I wanted. I'm currently pregnant and wanted something that wasn't too giant or firm that I could rest my leg and tummy on while laying on my side and this does the trick. Helps with my leg cramps and lower back pain!"
2. LUCID Full Body Pillow
Best for Pregnant Women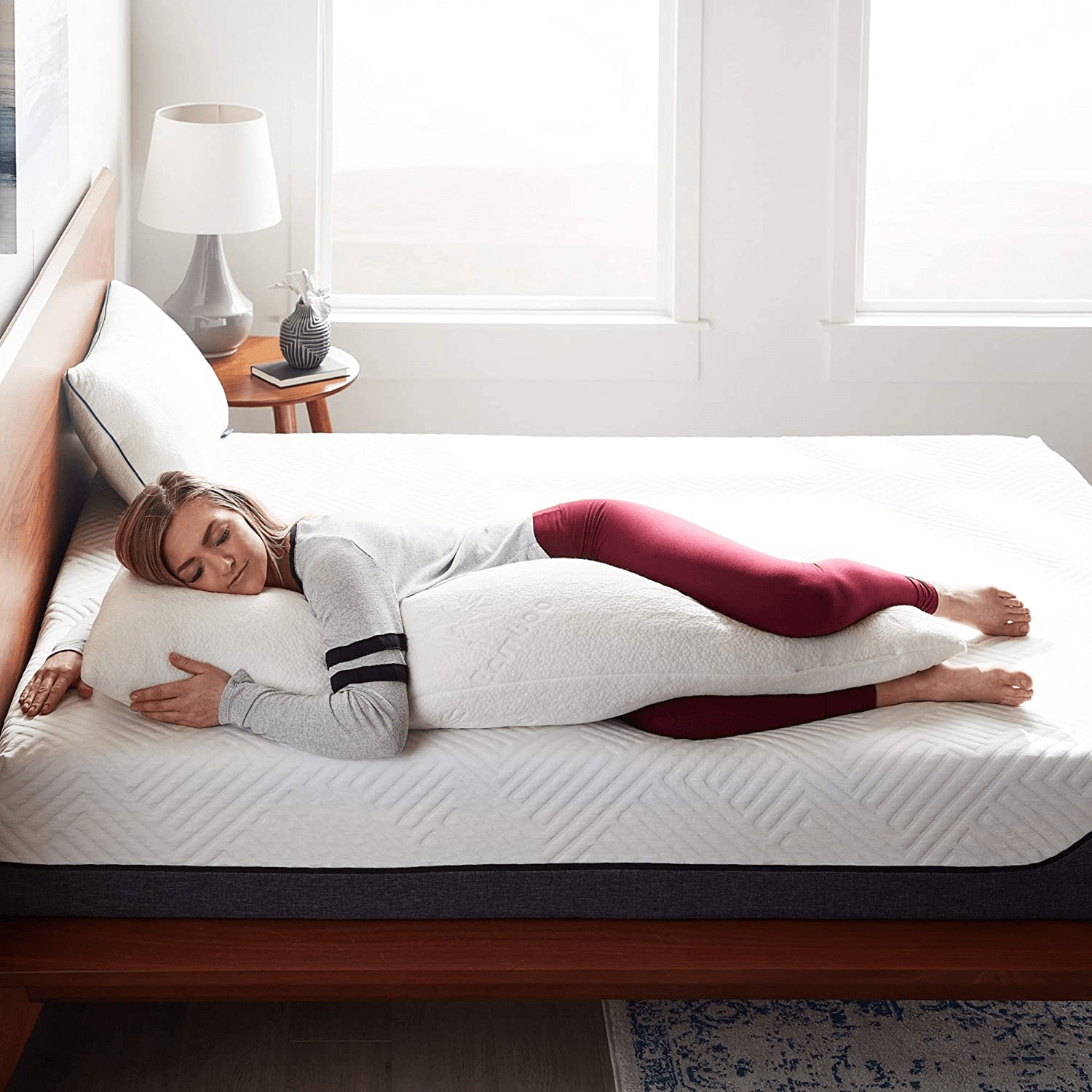 Price: $70.26
If there's a body pillow we could recommend to pregnant women for safer and more secure sleep, it would have to be the LUCID Full Body Pillow. It's designed to give protection and comfort to pregnant women during their most stressful days of pregnancy.
What's more, it's made from premium shredded memory foam that conforms to the shape of the body — which makes it among the best body pillows in Singapore for pregnant women. It's all-natural and hypoallergenic as well, so rashes are out of the question already.
Since it comes with a size of 20×54 inches, it can provide comfort and support to the entire body, from head to toe. Side sleepers will definitely benefit from it a lot too, because of its length and firmness.
The LUCID Full Body Pillow can get a little difficult to carry from one room to another because of its size, but a lot of buyers tend to look past that considering the amount of comfort it provides them.
Highlights
Full-body comfort
Hypoallergenic
Shredded memory foam
Customer Reviews
Here's what a customer has to say about the LUCID Body Pillow:
"I have used a body pillow of some sort for over 20 years. This is HANDS DOWN the absolute BEST one I have ever purchased. It has stayed fluffy and comfy since my purchase almost a year ago. All you have to do is shake it up and poof just like new and does keep its shape and density. It fits all the way across our headboard and is large enough that it is comfortable for the two of us to lean on while watching tv. It is also large enough that I have wrapped it around myself in bed to sit up in kind of like a bed chair position with soft arms. My best friend and I went camping and she LOVED it and bought her one too. I will purchase another in a few years if they are still available and still affordable. Best money I've spent in a while."
3. Meiz Body Pillow
Best for All Types of Sleepers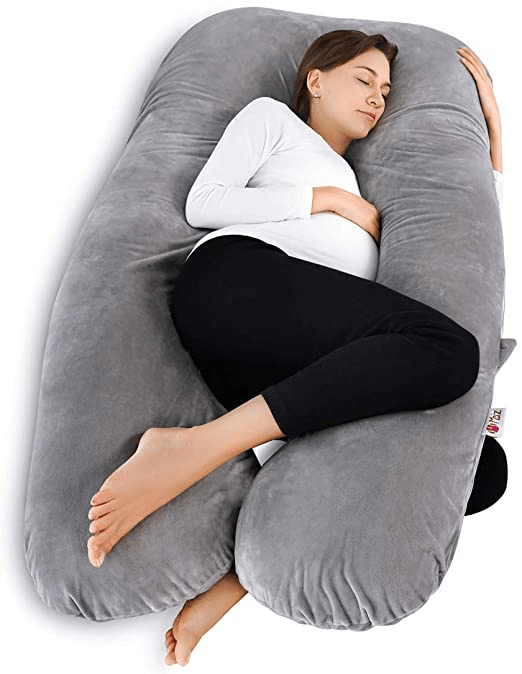 Price: $90.38
While most body pillows only target a specific type of sleeper, consider the Meiz Body Pillow different. It's designed to give everyone their best night's sleep to date, regardless of their preferred sleeping position.
So, whether you're a side sleeper or a back sleeper, you can expect full-body comfort from the Meiz Body Pillow. It comes with a design that conforms to the natural shape of the body, starting from the head down to the toes.
What's more, it has been proven to be capable of relieving body pains such as stiff neck, leg swelling, and even back pain. Some say it even helps prevent users from developing hypertension syndrome as well.
Similar to the previous options in our list, it won't give anyone a hard time come laundry day as its outer jersey is washing-machine-friendly.
Overall this is the best body pillow in Singapore for those who go through various sleeping positions at night.
Highlights
Full-body support
Hypoallergenic
Relieves body pain
4. Linenspa Bed Wedge Pillow
Best for Upper Body Support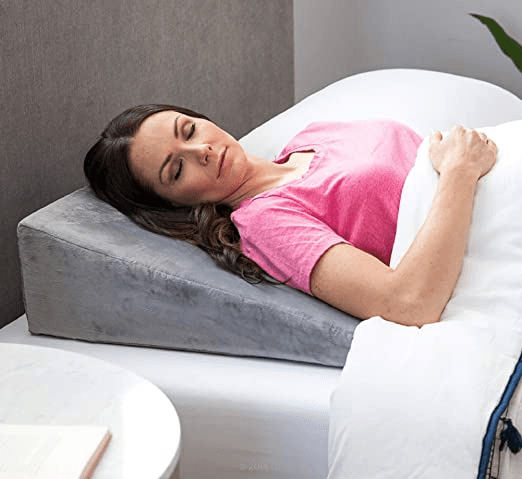 Price: $61.50
If you're looking for a body pillow in Singapore that can offer maximum upper-body support, then look no further than the Linenspa Bed Wedge Pillow. It comes with a 15-degree incline, which is the perfect angle to increase comfort and improve your sleep.
What's more, it features a firm yet soft comfort foam that conforms to the shape of your head, neck, and shoulders to help align your spine and lessen the chances of developing neck and shoulder pains.
Sleeping at an angle helps to reduce congestion, sinus pressure, acid reflux and other respiratory problems — which is why we consider this product among the best body pillows in Singapore. So, if you have any of the conditions we just listed, we strongly recommend using the Linenspa Bed Wedge Pillow
If full body support is what you're after, though, you can't have it with the Linenspa Bed Wedge Pillow. However, it does extra body support while sitting up in bed working on a laptop or playing a game.
Highlights
15-degree incline
Comfort foam
Removable velour cover
Relieves body pain
5. Milliard Ultra-Luxury Body Pillow
Best for Overall Value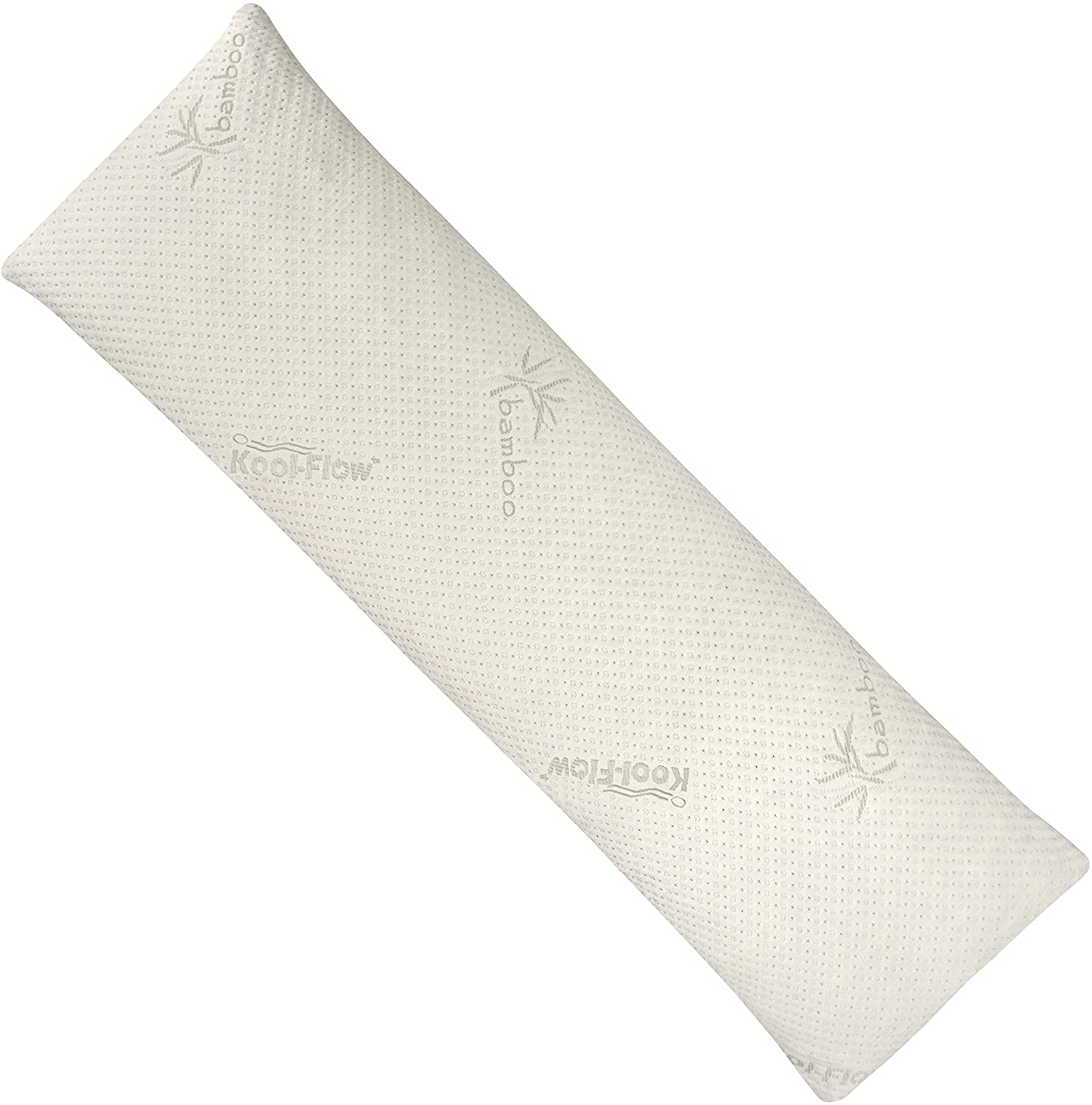 Price: $69.43
Since Milliard is among the most trusted brands in bedroom needs, we couldn't help but include one of its body pillows in our list. Here's the Milliard Ultra-Luxury Body Pillow, and we think it's one of the best body pillows in Singapore.
It comes with a firm memory foam that contours to the shape of the body, no matter the preferred sleeping position. Its outer fabric pillow case is hypoallergenic too, so users are safe from rashes due to excessive contact.
In terms of body pain, it's been proven to be capable of not only relieving all sorts of body pain but of decreasing their chances of developing as well. It even comes highly recommended by a handful of physicians because of the comfort it can provide to the body.
Highlights
Shredded memory foam
Relieves body pain
Hypoallergenic case
6. Wonderpillow 8-in-1
Best for Maternity Pillow

Price: S$129.90
Wonderpillow 8-in-1 is the best maternity/nursing pillow, thanks to its unique design. Its horseshoe shape wraps around your back and tummy, supporting the heaviest parts of your body during pregnancy. It can also provide ample support for your arm if you're nursing your baby.
The stretchy and smooth fabric is breathable, so there's no need to worry about any long-term discomfort. Its removable and machine-washable cover ensures that any stain can easily be removed.
This is the best body pillow in Singapore that can be a great present for someone expecting.
Highlights
Full-body pillow
Provides back and bellow support
Removable/machine washable cover
Smooth, airy, and stretchy cover
And with that, we end our list of the best body pillows in Singapore. If you've used any of these body pillows in Singapore, don't hesitate to share with us your experience sleeping with it!
If you're thinking of getting a new mattress as well, we recommend checking out our list of the best Seahorse mattresses in Singapore. You won't suffer from sleepless nights anymore with these quality mattresses!