The 7 Best WiFi Mesh in Singapore Reviewed
Do you often experience interrupted work meetings, extreme video buffering, or gaming lags? If you do, then having the best WiFi mesh in Singapore is a decision that you'll never regret!
WiFi mesh systems help the main router deliver strong WiFi signals for all devices across your home. That means you'll never have to suffer from dead zones and slow Internet speeds ever again.
While they're usually offered by telecom companies, you can still find them on various online shopping sites. However, it can be a bit tricky to know which system is the right one for you.
And so, before we go on with our picks for the best WiFi mesh in Singapore, we'll take a look at some features that you need to consider first.
What to Look For When Buying a WiFi Mesh in Singapore
Choosing the best Wifi Mesh system is like identifying which Internet service provider best suits your needs. Having a low-quality and incompetent device will only lead to unstable and poor connections, so make sure to take your time and check the listed features carefully.
1. Easy Installation
First of all, you must be aware that some routers may come with a complex setup process. Therefore, you need a user-friendly system that can be installed within a few minutes.
Most devices have a mobile app containing illustrated instructions so you can easily get a grasp of the installation process. It'll help you determine where to place the device for maximum coverage and other detailed insights.
You may also want one that has a smartphone app. That way, you can manage the Internet access for every device easily.
2. Speed
Each WiFi mesh system offers a different speed. Better speed lets you have more bandwidth, which means that if you have several devices at home, you must opt for the highest speed possible.
Most especially, if the devices are being used for multiple streams all at once.
3. Coverage
It's common to place several mesh devices around your home. However, it's more efficient to choose a system that features higher coverage so you won't need to buy a lot of them.
Be sure that it has enough coverage to reach all areas at home.
Best WiFi Mesh in Singapore
Now that you know which features to keep in mind when looking for a WiFi mesh device, it's time to see which ones on the market offer excellent speed and coverage and affordable prices as well!
We've listed the best WiFi mesh in Singapore that caters to the needs of casual users, professionals, and even gamers! Check out our picks below to know more about their features.
1.   TP-Link Deco M9 Plus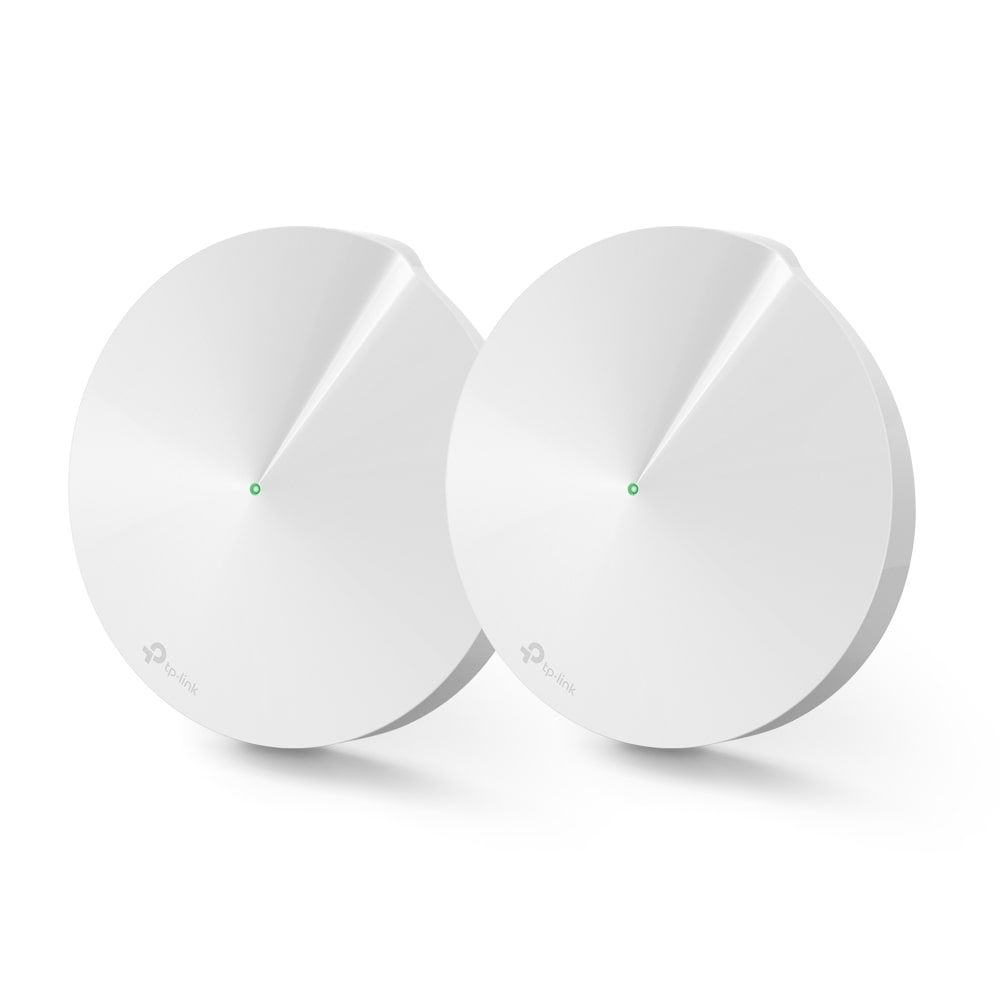 Price: $163.62 – $423.49
The TP-Link Deco M9 Plus features a superior tri-band speed that can cover every corner of your home. It also provides a built-in smart hub that lets you connect and control multiple devices — so there's no need for an additional hub.
With its built-in antivirus, you can also be sure that your network will be fully protected against harmful cyber attacks. In this way, you can have safe and secure online transactions.
Moreover, it has parental controls through which you can create a profile for each family member, set a limited online time, and block any inappropriate content for kids.
Overall we think this is the best WiFi Mesh in Singapore for families with young children and if you're particularly concerned about security.
Highlights
Up to 4,500 sq.ft coverage with 2 mesh systems
2134Mbps speed
Quick setup with mobile app
Parental controls
Antivirus
Customer Reviews
Many reviewers were impressed with the excellent coverage, smart home hub, and built-in antivirus of the TP-Link Deco M9 Plus. Some also said that it can be a little pricey but it's worth it due to its features.
This is why most of them claimed it as one of the best WiFi mesh in Singapore. A user posted this verdict:
"The Deco M9 Plus is the fastest mesh networking system I've tested – and with its built-in antivirus and smart-home controls, it's also the most feature-packed. Such superlatives come at a hefty price, but for some it'll be worth paying. Smart-home enthusiasts who've already splashed out hundreds on connected bulbs, sensors and appliances surely won't baulk at paying for a system that brings them all so neatly together."
2. Asus Lyra Trio AC1750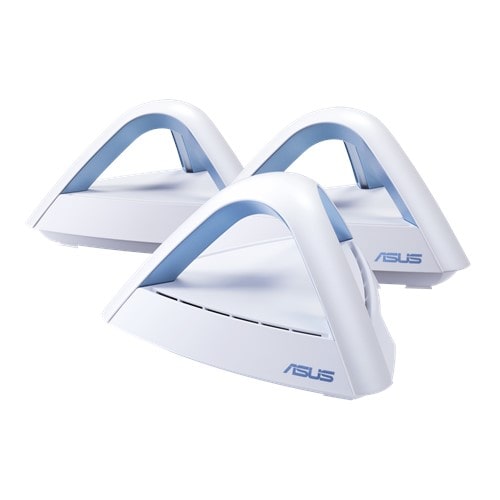 Price: $117.26 – $202.78
Being an award-winning WiFi mesh device, the Asus Lyra Trio AC1750 is designed with advanced antenna design that can handle simultaneous network traffic and maximize Internet speed, giving you a fast and stable connection.
If you have on-wall Ethernet ports at home, you can let your routers communicate through a wired connection for more reliable performance.
It also works with Amazon Alexa. So, you can also integrate this mesh device into your smart home system for easy access.
If you're not very techy and you want something that's quick and easy to install, this could very well be the best Wifi Mesh in Singapore for you.
Highlights
Up to 5,400 sq.ft.
1300 Mbps
Easy installation with mobile app
Cloud-based security
Parental controls
Customer Reviews
The Asus Lyra Trio AC1750 has received a lot of positive reviews from the users, saying that it has a real-time traffic analyzer that enables them to manage each device for a more stable connection.
They also complimented the sleek design and excellent security protection. Here's feedback from one of the users:
"The Lyra Trio is an excellent Wi-Fi solution that has the right balance of features, performance, and cost. If you have run network cables in your home, this is the fastest Wi-Fi system on the market. That said, this system is a safe purchase for anyone looking to expand their Wi-Fi network quickly. You can also get a high-end AiMesh router and a set of Lyra Trio. After that, link them together using network cables to get the best possible Wi-Fi system to date."
3. Linksys Velop AC6600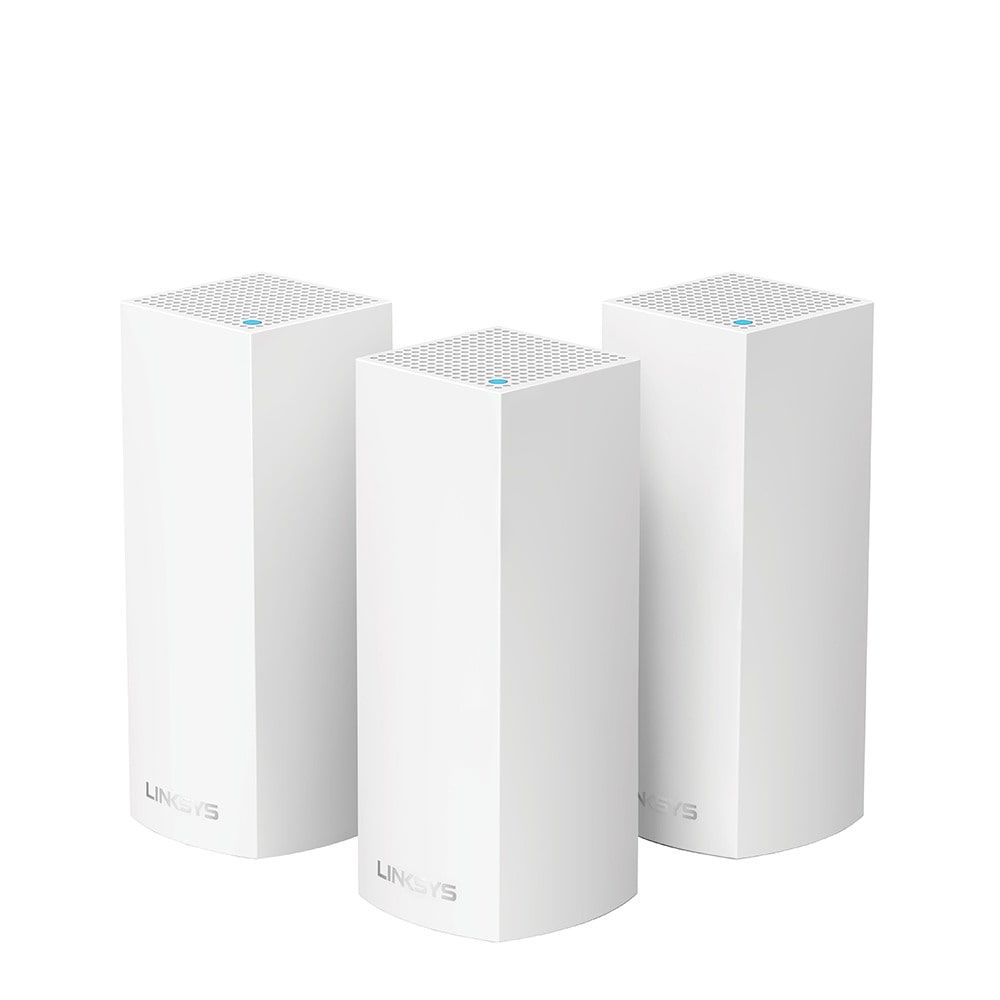 Price: $406.05 – $636.44
The Linksys Velop AC6600 offers great maximum coverage of up to 6,000 sq. ft., ensuring absolute and fast connections through all areas at your home. You can easily set up, monitor, and control all devices via a mobile app.
The best thing about this system is that if someone accidentally unplugs the device, the other nodes will pick up the slack. It's also capable of managing busy networks and choosing the fastest channel for a certain device.
It also features voice control so you can easily manage the settings without going through the mobile app. With this best WiFi Mesh in Singapore, you can create a separate and password-protected network for the guests — protecting your main network from malicious attacks.
Because of its ability to cover such a wide range, we think this is the best Wifi Mesh in Singapore for large houses or even small offices.
Highlights
Up to 6,000 sq. ft.
400 Mbps
Device Prioritization
Guest access
Customer Reviews
Most users said that the Linksys Velop AC6600 delivers fast speed over a large area and has a well-designed and easy-to-use system. A user gave this verdict:
"The Linksys Velop is ideal for non-technical users who want whole-home Wi-Fi coverage without having to configure range extenders or access points. It takes minutes to install and requires very little management, and its stylish nodes will fit right in with any home décor. More important, it delivers the best all-around throughput performance of any Wi-Fi system we've seen to date, and it's ready for MU-MIMO data streaming."
4. Netgear Orbi RBK23
Price: $366.49 (3 Pack)
The Netgear Orbi RBK23 is another award-winning mesh system that features a dedicated tri-band connection, letting you have faster and consistent WiFi speed. It also has an LED indicator to help you determine if you have a good or poor connection.
You can manage every control setting through the mobile app. This includes putting the connection on pause during dinner/bedtime and setting time limits and content restrictions for kids. If you're looking for a suitable device to support your kids gadgets, this is one of the best Wifi mesh in Singapore for you.
Highlights
Up to 6,000 sq.ft. coverage
866 Mbps speed
Award-winning tri-band connection
Easy setup with a mobile app
Works with Amazon Alexa and Google Assistant
Customer Reviews
Users were highly satisfied with the solid connection and flexible settings of the Netgear Orbi RBK23. They also praised the dedicated wireless backhaul of the system that allows them to experience consistent network performance despite the single WiFi connection.
This is why the device has become the best WiFi mesh in Singapore for many users. A user left this review:
"Here, the Orbi set gives you a high-speed, single Wi-Fi network throughout the entire home and one that is rock solid in performance and connection. Add in an effortless installation and setup, an easy to use app, comprehensive web-based portal and features such as a dedicated backhaul, implicit and explicit beamforming, advanced parental controls and in-built compatibility with Amazon Alexa and Google voice control, and suddenly the £290 doesn't sound as bad as first thought. But the competition is now stiff in this area."
5. Google Mesh WiFi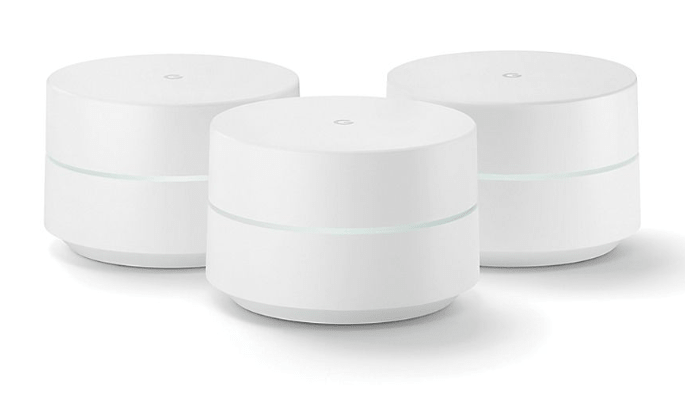 Price: $198.00 – $479.00
The Google Wifi Mesh has powerful built-in features that provide a strong network connection with competent coverage. This includes options to find the fastest WiFi point, least congested channels, and may more.
It also has cloud-based security and parent controls as well as device priority. With these features, it can truly be the best mesh WiFi in Singapore for everyone!
Highlights
Up to 2,745 sq.ft. coverage
Automatic system updates
Parental controls
Cloud-based security
Customer Reviews
Users loved the fast connection, smart network management, and easy setup of the Google Mesh WiFi. Here's the verdict posted by one of its reviewers:
"The Google Wifi might just be one of the best wireless routers on the market, and it's hard to think of someone we wouldn't recommend it to. It's easy to set up, has stellar performance and reliability, and it looks good to boot. It's not quite as versatile as some other routers out there, but most users will likely see that as a feature. If you don't want to fiddle around with an obtuse settings menu, and want something that you can just plug in and be ready to browse, you really can't go wrong with the Google Wifi."
6. Aztech Dual Band AC2100 Wi-Fi Mesh Access Point WMB250AC Triple Pack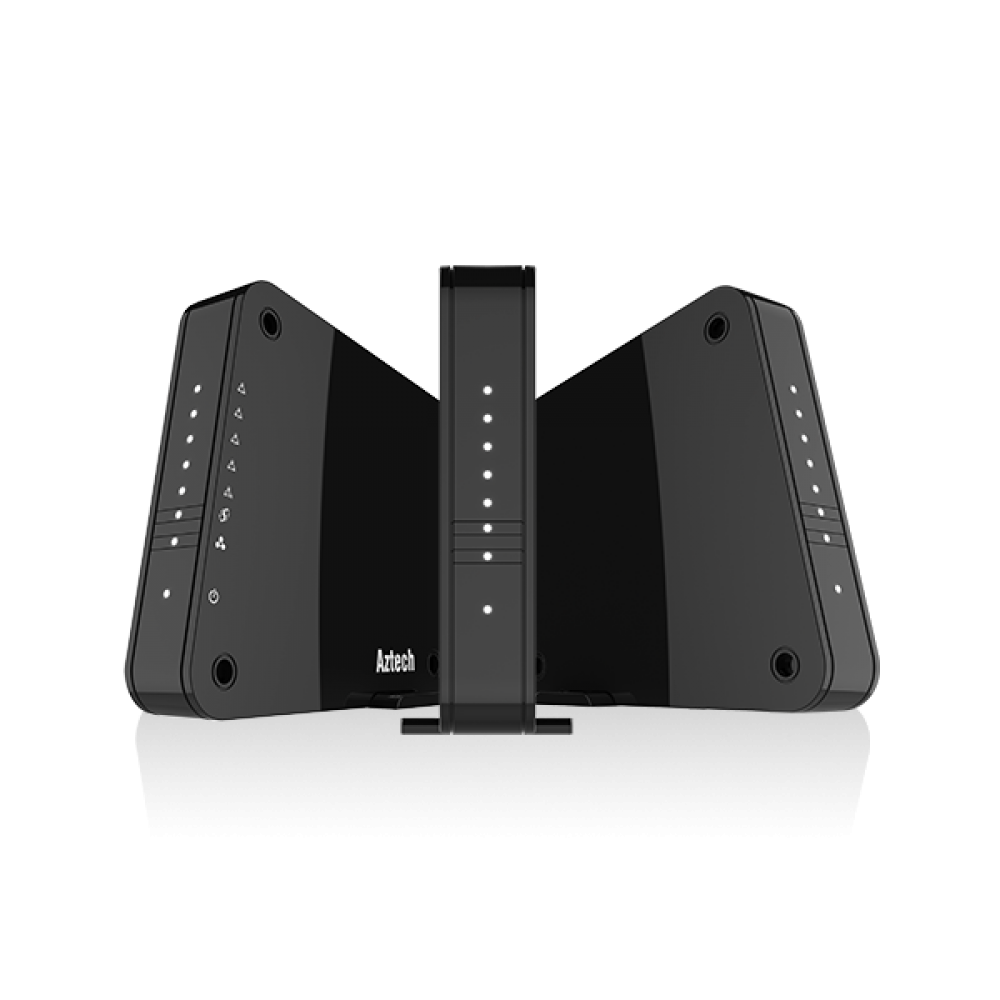 Price: $279
Aztech Dual-Band AC2100 Wi-Fi Mesh Access Point WMB250AC Triple Pack offers the best Wi-Fi extending service you can get with its price. With the triple pack, you can make sure no spot in the house is left with a slow connection and lagging.
Aztech uses an advanced mesh Wi-Fi technology that allows your connection to be as seamless as possible, allowing your device to connect to the pack it is most near with and ensuring stronger signal. Allow yourself to enjoy almost 2100mbps anywhere inside your home with no worry, if you buy the Aztech Dual Band Triple Pack.
Highlights
Lag-free Wireless
Seamless Connectivity
Easy Setup
Boundless coverage
Customer Reviews
The Aztech Dual Band AC2100 Wi-Fi Mesh Access Point WMB250AC Triple Pack has received nothing but good reviews from buyers, all of which praised how strong the connection was made throughout every part of their place. It's truly worth every euro spent on it. Check out a review left by one customer, proving Aztech Dual Band Triple Pack's amazing quality.
"This works wonders! I use it for my house and it was incredibly easy to set up… and now my entire house is covered by strong wifi!"
7.  COVR-X1870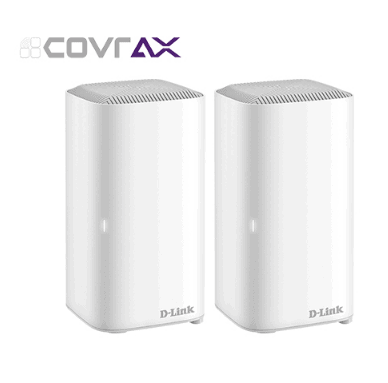 Price: $165.63- $312.67
The COVR-X1870 is a mesh router that combines both speed and accessibility when it comes to the internet connection it offers. It is part of a series that is ideal for big residential homes that are filled with devices that are in need of speedy internet service as well.
We find their set-up to simple and convenient that is excellent for families and not-so tech savvy clients and since it is also compatible with existing routers so its integration will sure to be a breeze.
Another asset we see that sets them apart from other routers is that they combine and make various technologies such as the Wi-Fi 6 technology, OFDMA, and MU-MIMO work in a way that it makes the whole experience smooth and steadfast.
Its features make it more expandable and durable when it comes to battery live along with a Smart technology for roaming and Target Wake Time.
Overall, with its convenient controls and advanced technologies, that ensures clients that even should an update service be needed there will still be minimal disruption and continuous Wi-Fi connection.
Highlights
Easy to set-up
Highly compatible to other devices
Smart technology
Customer Reviews
Here are some reviews of the product:
"Best of the Best Mesh Router – All that makes D-Link Covr AX a great way to get Wi-Fi 6 mesh across your whole home without needing to remortgage it in the process."
"Rating 10/10 – Plenty of Ethernet ports, reliable performance, near idiot-proof setup and an attractive design combine to make D-Link's COVR-X range one of the better Mesh options currently available."
And that's our list of your best options if you want mesh WiFi in Singapore!
Have you already decided which one from our picks for the best mesh WiFi in Singapore you would like to try? Let us know all about it!
And if you'd also like to have a stable Internet connection during travel, see these best portable WiFi in Singapore! These selections provide fast network performance whenever and wherever you are!