The 5 Best Portable WiFi in Singapore for Home and Travel Use
What better way to be connected to the Internet 24/7 than by having a reliable device for your connection? If this is what you want, then you need to get your hands on the best portable WiFi in Singapore that can be used at home and while on the go!
If you have no idea where to find the best portable WiFi in Singapore, then today must be your lucky day. We made a list of the top portable WiFi gadgets that will make sure you're connected at all times!
Anyway, before we introduce our list, we're going to share a few tips on how to spot the best portable WiFi in Singapore.
If you know about these things, you can make sure that you're buying a product that will cater to your needs as an avid Internet user!
Let's start, shall we?
Factors to Consider Before Buying a Portable Wifi
If you want the best portable WiFi in Singapore, then you have to do a bit of research beforehand. But don't worry because we're here to summarise the important things to look out for.
Since a portable WiFi's purpose is to be used while on the go, its size is one of the first things you should consider. You don't want to carry around a heavy, bulky WiFi modem do you?
Besides that, power source, data package, number of devices, and speed and range are also worth considering.
Let's elaborate on each point below.
1. Size
If your purpose in getting a portable WiFi modem is to be connected wherever you go, you certainly don't want to carry around a bulky and heavy device that sticks out of your bag. That's why checking the size of the portable WiFi is very important.
Older models of portable WiFi are much larger compared to the newer ones, so make sure to check the manufacturing date of the device. Some of the latest models are so portable and compact that they can fit inside your pocket.
However, most of these also come with a heavy price tag since you're paying for their compact size.
2. Power Source
Most portable routers sold on the island come with multiple power sources, such as A/C power and USB power — both of which are ideal for portability.
USB power allows users to charge the device using their computer, perfect for those who like working at cafes, parks, and libraries. It's the best option for writers and designers because they always have their laptops with them.
On the other hand, WiFi routers with A/C power no longer need to be hooked into your computer or a power source, making them the perfect options for those who like to stay connected while commuting.
3. Data Packages
Just like your smartphone, the best portable WiFi in Singapore can either be postpaid or prepaid. If you can shell out extra money for unlimited Internet for a whole month, then you might want to opt for the postpaid portable WiFi options.
That way, you don't have to struggle if your data runs out before the end of the month. Service providers offer tons of data packages, so make sure to pick one that you can sustain in the long run.
4. Number of Devices
If you're getting a portable WiFi just for yourself, then you don't have to worry about this. However, if you're planning to share with a few people, you should check how many devices it allows to connect to it at once.
Usually, WiFi routers can accommodate up to 5 devices, depending on the speed and capacity. That should be enough if you're not going to share it at all times.
5. Speed and Range
Lastly, nobody wants to be stuck with a slow and unstable Internet connection, so speed and range are two important factors to consider before buying portable WiFi. If you regularly work outside, a fast and stable connection will help you get more work done.
So, make sure to check the speed of the WiFi router before purchasing it. Most service providers these days have increased speed to attract more customers to buy their routers.
And of course, it's best to get a portable WiFi device that allows long-distance connections. Such routers allow users to enjoy fast and stable Internet even from a distance.
The Best Portable WiFi in Singapore
Now that you know about those things, you must be ready to see our picks! Keep them in mind when checking out the options below so that you can find one that fits your needs.
So, without further ado, here's our list of the best portable WiFi in Singapore that will help you stay connected everywhere you go.
1. TP-LINK TL-MR3020
Best for Affordability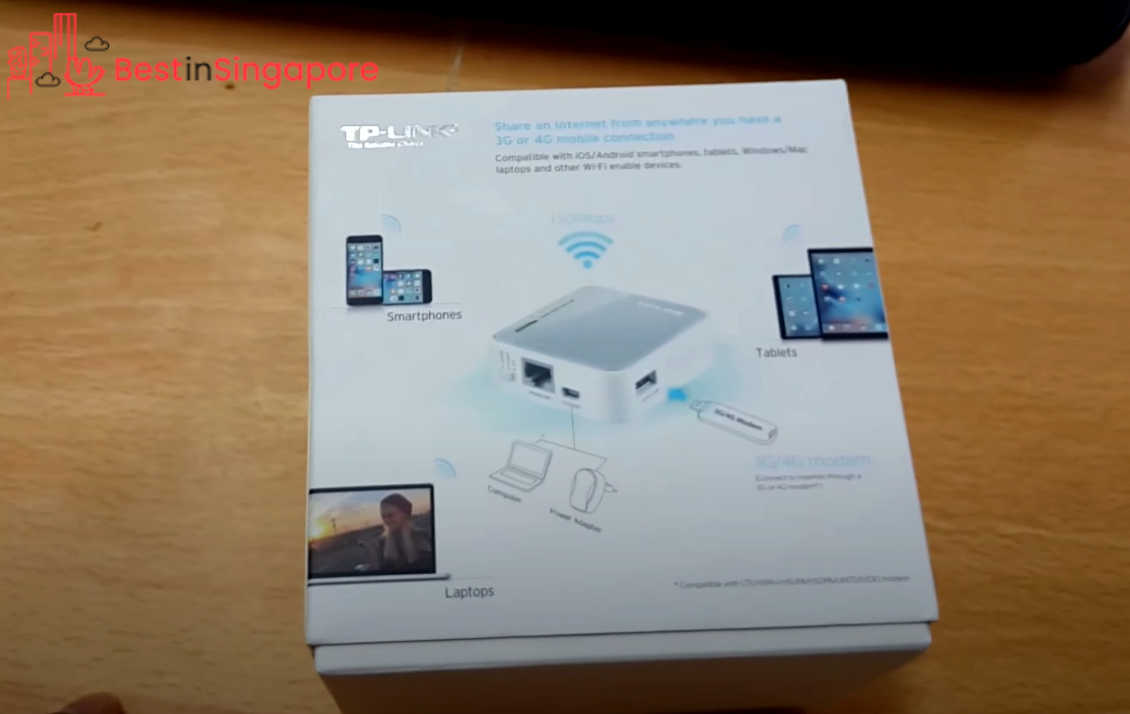 Price: $42.00
If you're looking for an affordable option with decent speed and range, then look no further than the TP-LINK TL-MR3020. For less than $50, you can enjoy high-speed Internet that can accommodate 5 devices!
What's more, it's a compact, travel-sized router that can fit inside your bags or pockets, allowing users to bring it anywhere without a hassle. It also supports 3G and 4G connections — which is why we've named it one of the best portable WiFi in Singapore.
In terms of power supply, users may either plug it a power source or connect it to their laptops or computers. It's definitely the perfection option for those who usually work at coffee shops.
Highlights
Compact design
High-speed connection
3G and 4G connection
2. Huawei E5573CS-609
Best for Low Energy Consumption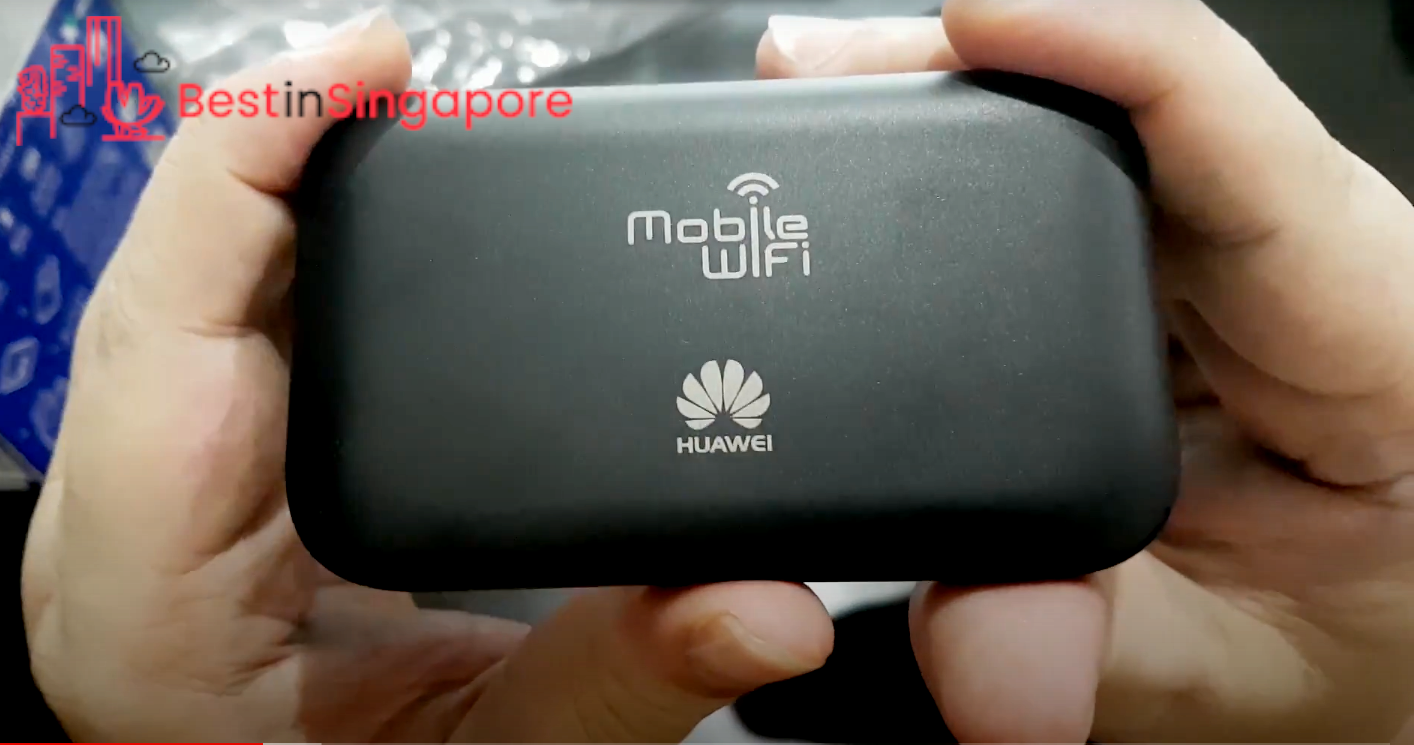 Price: $56.00
Since Huawei is one of the top tech brands in the world, it's no surprise that one of its products ended up on our list. Here's the Huawei E5573CS-609, and we believe it's among the best portable WiFi in Singapore.
The Huawei E5573CS-60 features a small and lightweight design that allows users to bring it anywhere and enjoy a high-speed and stable Internet connection. It's so compact that it can basically fit inside a coin purse or a pocket.
More than that, it promises users a stable 4G connection that can be accessed anywhere on the island, even if you're near the Malaysian border. It even allows 10 connections at a time, significantly higher than what other portable routers can accommodate.
The Huawei E5573CS-60 is also known for being a huge energy conserver, so don't worry about running out of battery in the middle of the day.
Highlights
Lightweight design
Energy conserver
4G connection
10 devices
Customer Reviews
With an average rating of 4.8 on Lazada, it's one of the best-reviewed portable WiFi devices on the website. Most customers left positive feedback, saying that it's the best portable WiFi they've ever had.
Some customers also praised how fast its connection is, allowing them to browse the Internet, watch videos, and play games continuously.
3. Alcatel Y858
Best for Multiple Devices
Price: $80.68
If you want portable WiFi that can be used at home by your family, then we highly recommend the Alcatel Y858. It allows multiple connections of up to 15 devices at the same time, making it the perfect option for home use.
It comes with 4G and LTE connections, so rest assured that web pages and videos will load smoothly and without interruptions. If you tend to download files off the Internet, no need to worry about long hours of waiting with the Alcatel Y858.
Another reason we consider it the best portable WiFi in Singapore is its fast boot and easy setup features. You won't have to go through hoops just to make it work, nor do you have to wait for it to start up.
Highlights
Up to 15 connections
High-speed connection
Easy setup and fast booting
Compact weight and design
4. TENDA 4G180
Best for Extra Storage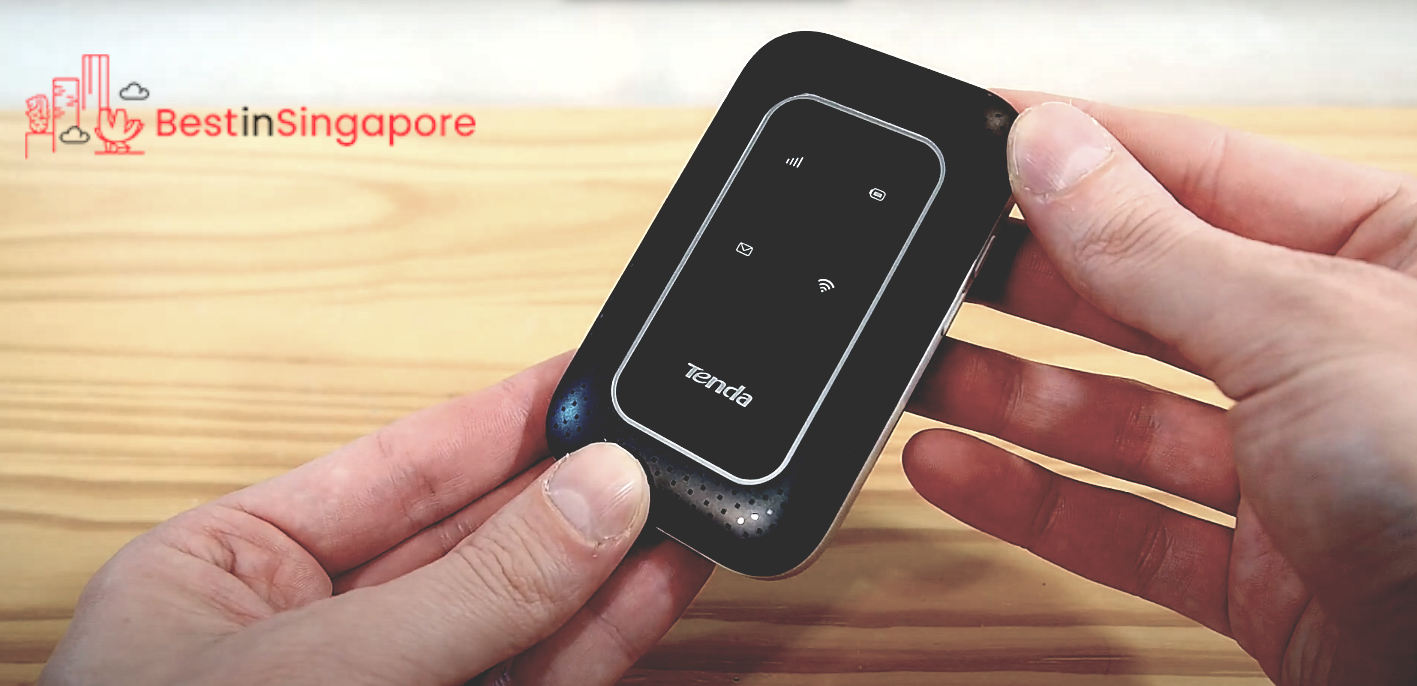 Price: $78.92
The TENDA 4G180 is called one of the best portable WiFi in Singapore for a reason. Not only does it deliver a high-speed and stable connection to users, it also comes at an affordable price considering how powerful its features are.
In terms of battery life, it can last for more than 10 hours even on continuous usage. Users can even share music, videos, photos, and documents with their computers, smart phones, and other iOS devices.
If connected to a phone, users can even keep track of the battery, data usage, speed, and battery life. It can also double as an optional storage device because it comes with a free 32GB of memory.
The TENDA 4G180 is also compatible with more than 300 mobile networks, allowing users to use it even while overseas. So, we consider this one the best option for those who like to stay connected while travelling.
Highlights
10 connections
Extra storage space
Compatible with 300 networks
5.   NETGEAR AirCard
Best for International Roaming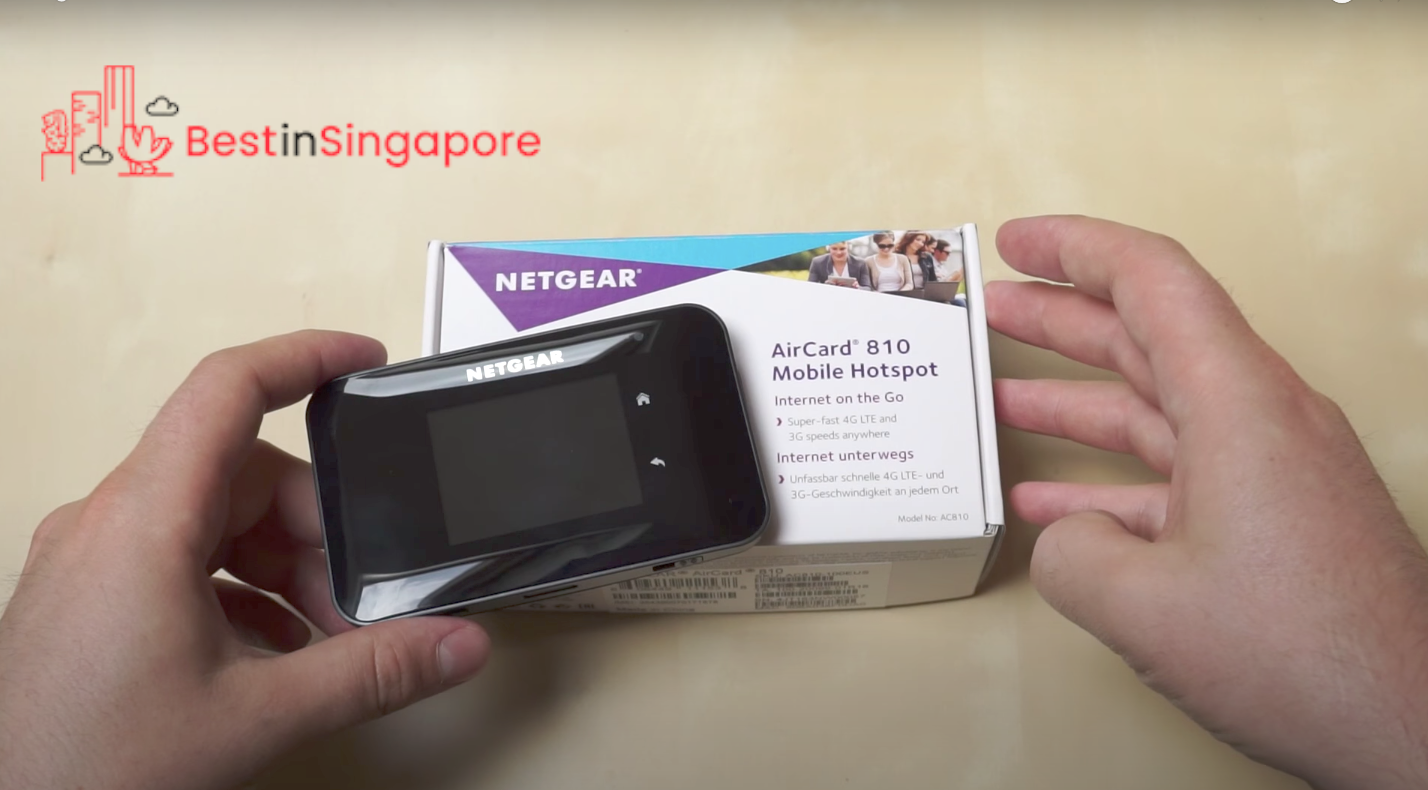 Price: $249.00
If you have extra money to spare on pricey portable WiFi, then consider buying the NETGEAR AirCard! We consider it one of the best portable WiFi in Singapore as it comes with endless unique features, from international roaming to secured networks.
The NETGEAR AirCard offers a long-lasting battery, high-speed and stable connection, and a highly-secured network. It's the ideal portable WiFi if you want to protect yourself from hackers trying to access your personal data.
More than that, it's also perfect for international travel as it allows roaming wherever you are in the world. Most jetsetters also recommend the NETGEAR AirCard as an essential while traveling overseas.
Highlights
Secured network
LTE connection
Long-lasting battery
Protection from hackers
And with that, we end our list of the best portable WiFi in Singapore. If you've purchased any of these routers before, don't hesitate to share your reviews with us!
Anyway, if you're also looking for options to keep your computer safe from viruses, we recommend browsing our list of the best antivirus in Singapore. Any of these will make sure that your computer is protected from viruses and hackers!