The 6 Best Antivirus for Windows 10 in Singapore
Windows 10 has built-in security protection for viruses and malware but it might not have the full ability to secure you. That's why it's advisable to install the best antivirus for Windows 10 in Singapore!
With proper protection, you can rest assured that all of your personal and confidential information will not be tracked and accessed by anyone… and that your files are safe from things like Trojans.
So, come and take a look at our list of the best antivirus for Windows 10 in Singapore so you can have a safe and secure browsing experience.
1. Norton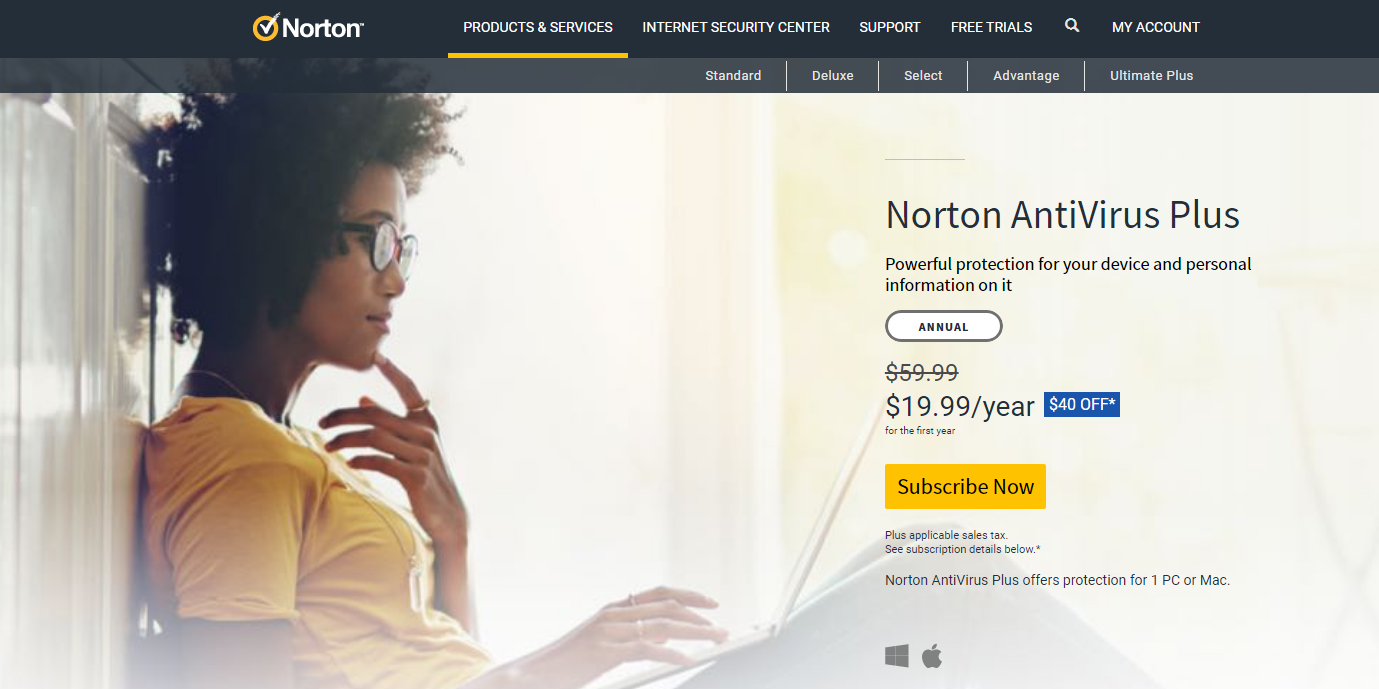 As technology grows more advanced, so do the threats imposed upon our devices. Norton AntiVirus Plus helps ensure that we're safe from malware, spyware, ransomware, phishing attacks and other complex threats that we can encounter both offline and online.
Subscribing to Norton AntiVirus Plus opens up a slew of features that can make our technological experience more convenient and secure. Among the things to note are the password manager, that makes transitioning from multiple devices uncomplicated; and the smart firewall, which monitors our personal files and information. 
Highlights
Real time protection for devices
Password manager
Smart firewall
2gb cloud backup
2. Malwarebytes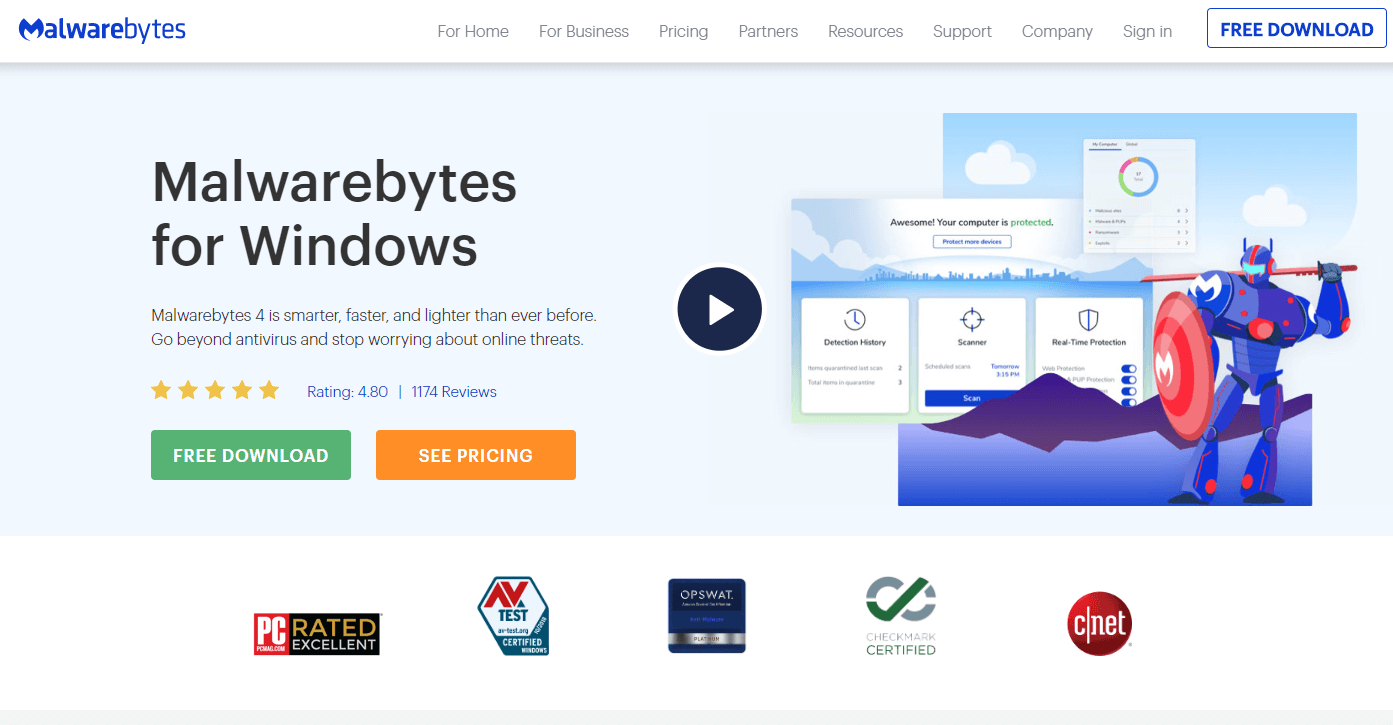 Malwarebytes provides real-time cybersecurity protection to keep your device safe from common and advanced online threats. It features an upgraded detection engine that can find all kinds of threats within a short amount of time and without affecting your system's performance.
It displays detailed information about the virus such as the type and behaviour, so you can fully understand it and make smarter decisions. It can also eliminate existing infections to further optimise your device.
Highlights
Faster and lighter performance
Customisation settings
Customer Reviews
Many users shared that they were able to schedule scans and have different scan modes for inclusive security protection. This is why Malwarebytes is known to be one of the best antiviruses for Windows 10 in Singapore.
A reviewer wrote this verdict:
"Instead of focusing on full, comprehensive protection against all kinds of malware, it targets the newest online threats. Yes, it is highly capable of detecting the most recent malware that even the best of all existing paid or free antiviruses won't be able to flag. So, is Malwarebytes good? The answer is yes, but only when joining forces with a more traditional antivirus solution."
3.  Panda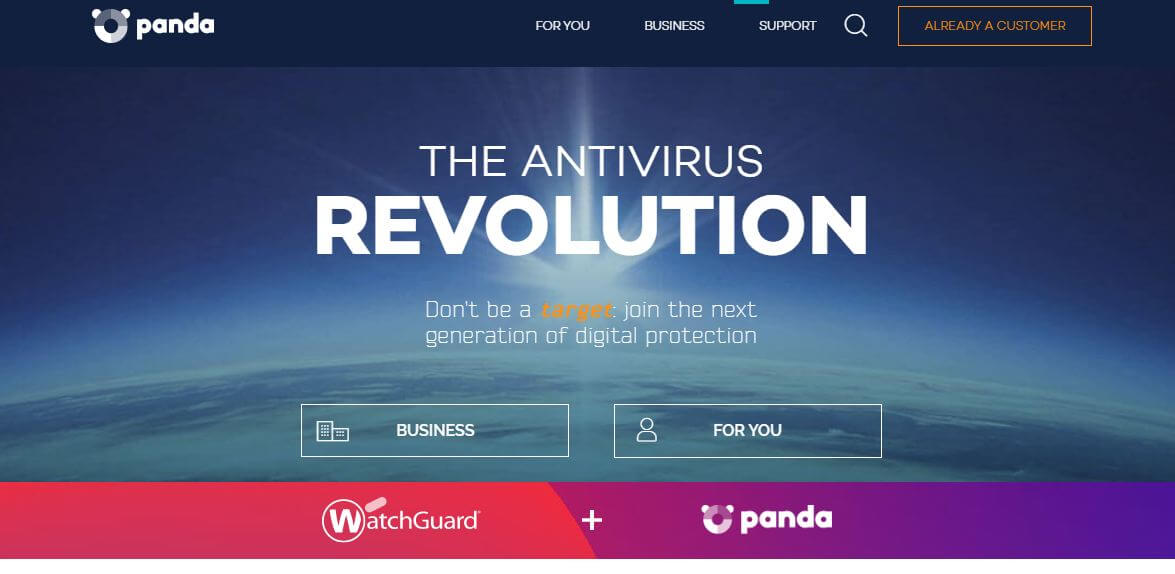 To fully secure your online banking activities and all financial transactions, Panda features a reliable VPN that can protect your privacy from ransomware and Bitcoin mining attacks. Aside from this, it also has a whole set of features like a password manager, file encryption, firewall, and many more!
It also provides anti-theft features, file shredder, and full control access on applications to make sure that every file is protected. These amazing features are the reasons it has become one of the best antivirus for Windows 10 in Singapore.
Highlights
USB device scanning and protection
PC recovery system
Parental control
Customer Reviews
Many users have experienced the wide varied features of Panda and they mentioned about the fast detection and scanning as well as the excellent system optimisation features. Here's a review from one of its users:
"While Panda Free Antivirus doesn't outperform the very best commercial antivirus tools, it's way better than the rank and file of for-pay solutions. It remains our Editors' Choice for no-fee antivirus."
4.  McAfee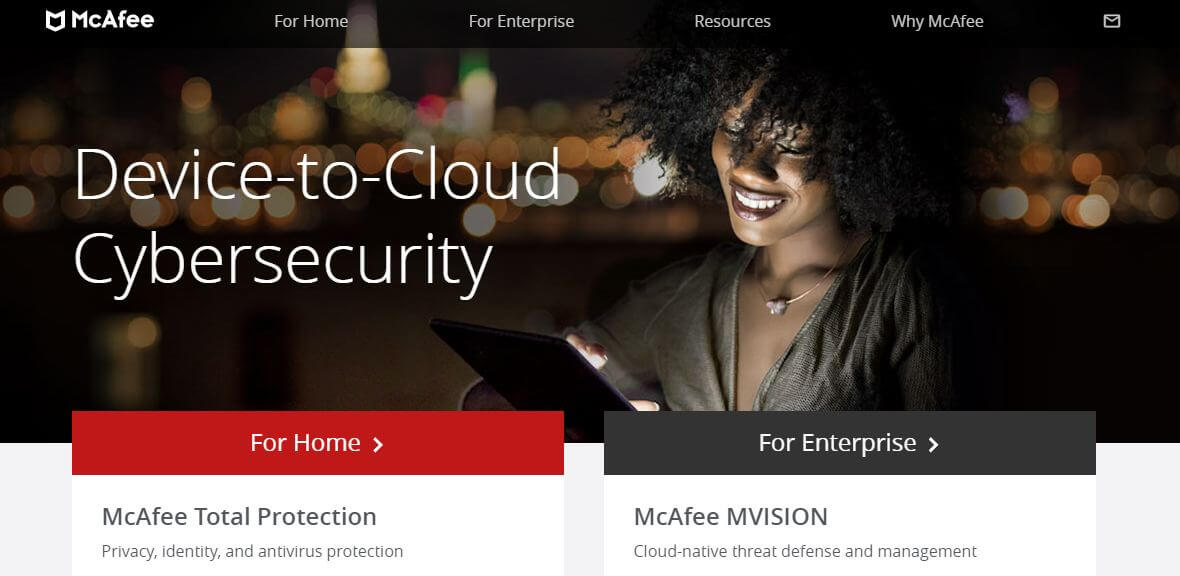 McAfee is another award-winning cybersecurity protection option that has a full range of security features including online and offline threat protection, optimisation features, and more! It also provides an enhanced home network protection to block any unauthorised access from hackers.
A password manager and parental control are also part of its features. You can also browse safer and faster by reducing digital clutter and boosting speed through its utilities.
Highlights
Scheduled scans
Compatible to all devices
Customer Reviews
McAfee has gained a lot of compliments because of its advanced security and optimisation features. That's why it's considered the best antivirus for Windows 10 in Singapore!
Here's feedback from one of its users:
"McAfee Total Protection has improved its old software a lot. It scores high for malware detection and prevention, and it's definitely going to keep your devices secure. The package also offers a wide range of extra security and performance options, some of which are great (QuickClean) and some of which are not great (like WebAdvisor). And if you're like me, the new interface may annoy you with tons of pop-ups. But if you prefer that style, then McAfee will work really well for you."
5.  ESET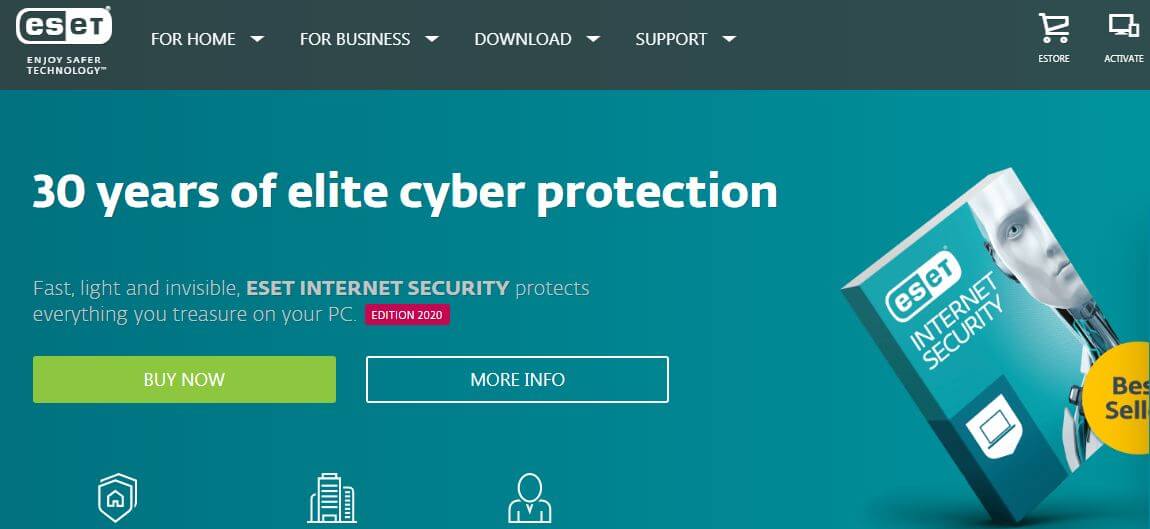 With ESET security protection, you can have a safe and secure Internet banking experience. It can protect all of your stored passwords with strong bank-grade encryption so you don't have to worry about identity theft.
What's more, it's designed with an easy-to-manage interface where you can schedule scans and customise other security settings.
It's built with top-notch protection that'll test your home router and smart devices regularly so any malware can be immediately removed. With this competent range of features, it's truly one of the best antiviruses for Windows 10 in Singapore.
Highlights
Anti-phishing
Compatible to all devices
Customer Reviews
Users were impressed with the high-quality protection of ESET. They said that the software is easy to use and to manage. A user gave this review:
"ESET NOD32 Antivirus gets good scores in lab tests and our own tests, and its collection of security components goes far beyond antivirus basics. ESET's serene cyborg mascot gazes from the main window of ESET NOD32 Antivirus. Big buttons offer quick access to scan the computer or update virus definitions; you reach other options and features through the left-side menu."
6. Bitdefender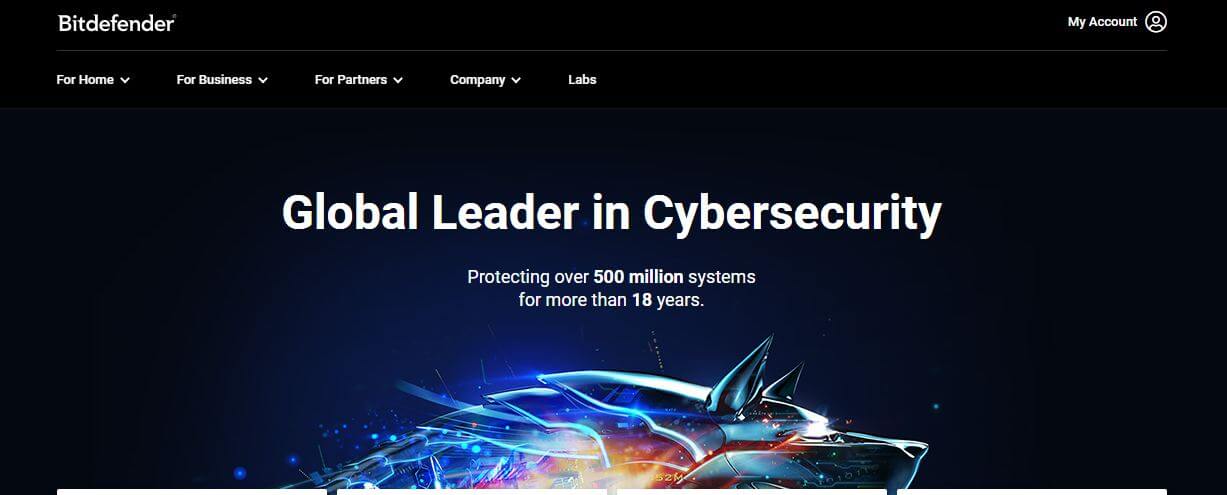 For a fully-packed antivirus that offers award-winning protection for existing and new threats, you can rely on Bitdefender's strong features.
It's quick and easy to install and it's filled with multiple protections such as behavioural detection, virus scanning, and malware removal. It also runs an on-demand and on-access scanning operation.
Highlights
Behavioural detection for active apps
Anti-phishing and anti-fraud
Customer Reviews
Most users said that Bitdefender is truly a powerful yet light antivirus that fully secures online and offline activities. Therefore, they've claimed the software to be the best antivirus for Windows 10 in Singapore.
A reviewer posted this feedback:
"Bitdefender's 2020 antivirus line-up combines effective malware eradication with fast scans and just about every security feature you could wish for."
And that's it for our list of the best antivirus for Windows 10 in Singapore! If you'd like to recommend more options, let us know as we might also add them to our list.
By the way, if you're looking for a cost-effective cybersecurity solution, check out these best free antivirus in Singapore. Some of those selections are compatible with Windows 10 too, so you can have more options to choose from.