6 Best Electric Toothbrushes in Singapore Reviewed
The best electric toothbrushes in Singapore are quite effective in keeping your dental health in tiptop shape. Every bit helps when you want a healthier set of teeth that you can show off to the world — and your toothbrush has quite a bit to contribute indeed.
Anyway, if you want to get the best electric toothbrush but don't know what to buy, you're in luck. Today, we're listing the best electric toothbrushes in Singapore!
We've also set down a quick and handy guide that can help you pick the right toothbrush for your needs. At any rate, let's get started already!
Is an Electric Toothbrush Really Worth It?
Many people think that getting an electric toothbrush is just a fancier option than a regular toothbrush, but the truth is, electric toothbrushes can do more cleaning with less effort.
Many dentists even say that electric toothbrushes cut brushing time while reaching the nooks and crannies that manual brushing can't. Moreover, according to a study by Cochrane, they're more effective at cleaning out plaque by 21%.
But you do have some questions to ask yourself first before you pick just any old electric toothbrush model. We'll take you through those below.
Battery-Powered or Rechargeable
There are both battery-powered and rechargeable electric toothbrushes, and battery-powered are most common for traveling. In fact, if you need something quick to use and disposable, battery-powered is the way to go.
The best part is that you can purchase battery-powered ones for low prices. Rechargeable ones have to be charged over and over, on the other hand, which makes them a heavier, more permanent investment.
Specific Type of Brushes
These toothbrushes also vary in their modes of operation. Here are the different types that are usually available in the market:
Sensor Toothbrushes
These brushes have sensors to alert you if you're adding too much pressure to your teeth while brushing. Harsh brushing does have the tendency to damage the gums and induce bleeding, so this is ideal for those who are heavy-handed.
Sonic Toothbrushes
Sonic toothbrushes have a wide variety of oscillations per minute and are among the more reasonably priced brushes found in the market.
There are also the ultrasonic toothbrushes that oscillate a million (and this isn't an exaggeration) times per minute, but they are way pricier.
Timer Toothbrushes
Timer toothbrushes are perfect for those who have the tendency to brush their teeth too long or too quickly . Some of them shut off automatically or have an alert that you've brushed too long.
The variants made for children usually light up. The timer makes sure that everything is cleaned on time.
Smart Toothbrushes
Smart toothbrushes do plenty of the given functions above, only through a Bluetooth connection. They also record data on how you brush your teeth and inform you how you should brush next time.
The Best Electric Toothbrush in Singapore
Now that we know the tips and tricks to picking electric toothbrushes, let's go to the list of the best electric toothbrushes in Singapore. These picks vary in size and function, as well as prices.
1. Xiaomi Sonic Electric Toothbrush T500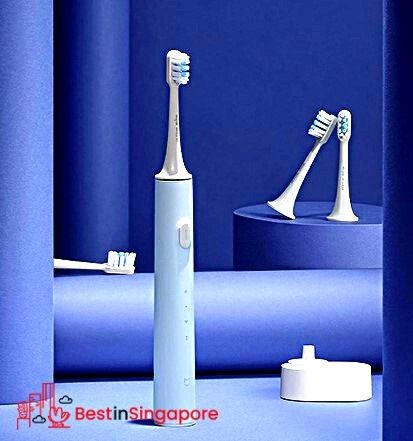 Price:$69.00
Brushing teeth incorrectly can cause tooth decay and affect quality of life. That is why we present to you Xiaomi Sonic Electric Toothbrush T500, the most affordable electric toothbrush.
For its price, you will already have a tootbrush that is long-lasting and dense.
Its charge can last up to 18 days, making it extra easy to bring it when you are planning to travle. A cool feature about this is that you can check its battery percentage via the mobile app.
In comparison to others, its bristle head is 40% denser. This increases the contact between the bristles and the surface of your teeth which makes the cleaning more efficient.
What's great about this is that it offers a customisable cleaning mode through its application. You can develop your own brushing pattern that fits your lifestyle.
If you want deep cleaning for your teeth but don't plan to shell out that much, then this is the best electric toothbrush in Singapore for you.
Pros
Magnetic levitation sonic motor which makes its clean more powerful
Smart over-pressure alert for sensitive gums
10° static swing to provide deep cleaning of difficult to reach areas
Can do a smart analysis of teeth cleanliness
Three-gear mode with memory feature
Cons
Only has one color
Some complaints about how difficult it is to connect to the application
Customer Reviews
Here are some reviews from their Lazada Page:
"Bought a practical gift for my wife for Mother's Day. Arrived a day before. Very swift delivery! Less than 48 hours from my order execution. Decided to replace my kids' old electric toothbrushes as well. All working well."
"Received toothbrush well wrapped up in a box. The electric toothbrush has an App to control the item features. It has a countdown on the 90 days change for the brush head and control the time of thd brush movement. Quite hi tech for Chinese electric tooth unlike the Oral B. Good buy for an innovative toothbrush!"
2. Oral-B Pro 1000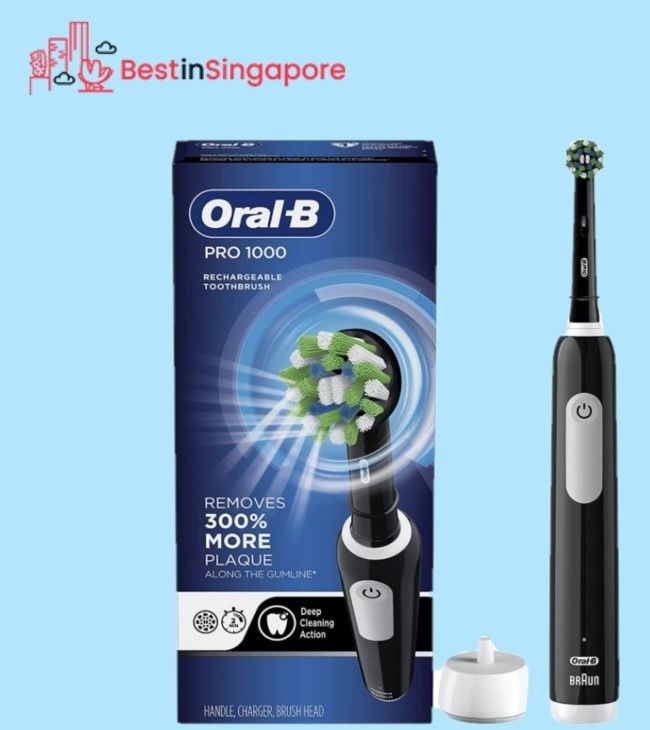 Price:$138.00
Limited Stocks At Shopee, Buy Now
Oral B is the number-one pick of many dentists and electric toothbrush users. It's rechargeable and can last around a week on a full charge.
It has a pressure sensor to indicate if you're brushing your teeth too hard. It also has a two-minute timer, to ensure you're brushing your teeth within a good timeframe.
What's amazing about this option is that it both rotates and vibrates (or oscillates). And that it oscillates around 44,000 times per minute, which destroys plaque.
Getting this option is a choice you won't regret: that's why it's one of the best electric toothbrushes in Singapore.
Pros
Soft bristles
Multiple options
Timer
Cons
Only one cleaning mode
A battery life of 28 minutes
Customer Reviews
Here are some reviews from Amazon about the this amazing product:
PSA
I've never gone to the dentist regularly because every time i had multiple cavities that they would fill (through a painful and expensive process) then no matter what i did I would go back and my fillings would have cavities around them and I'd end up losing my tooth anyways. So i saw absolutely no point in getting fillings- just take the tooth when it's time.
HOWEVER i was told last time i went (3 years ago) that i should really try an electric toothbrush. The one they had was over $100 so i got this one off amazon for $40.
And you guys… I went in today and have NO CAVITIES. ?What?? I even asked straight out "Wait, I don't have ANY? " I always have 2 or 3! So my point is if you struggle with cavities even though you're doing everything right (or maybe especially if you're not) this toothbrush is so worth it! And you can pop the head on and off easily so more than one person can use the handle and you just have separate replacement heads.
I really wish I'd known how great these are before! It could have saved me a few teeth!
And also- if you hear any complaints about mold growing where the head connects- it says clearly in the directions to remove the head after every use and rinse. So that's the user's error. It's not that hard to rinse the head people.
-Michelle
The wife's Braun finally gave up the ghost so she assigned me the task of finding a replacement. I was looking for a Braun and wasn't paying attention I guess and ordered this Oral B. I figured she'd be mad and beat me up again for not getting the right one but as it turns out Oral B and Braun are both owned by Protor and Gamble. They make good stuff. As it turns out this Oral B is just like the old Braun. It says made in Germany everywhere I could find so I'm assuming Proctor took the Braun and put it in the Oral B packaging. At least for this model. Well you can't beat them Germans on quality and best of all the wife loves it. Very happy with the purchase. Joke for you… Did you know that the toothbrush was invented in (enter the place of your choice, Arkansas, Tennessee, Alabama etc)? Response: Why no, I did not know that. Are you sure? Punch line: Sure I'm sure! If it had been invented anywhere else it would be called a TEETHBRUSH! Sorry. Buy this toothbrush. It's way better than the joke.
-Croll
3. Philips Sonicare DiamondClean Electric Tooth Brush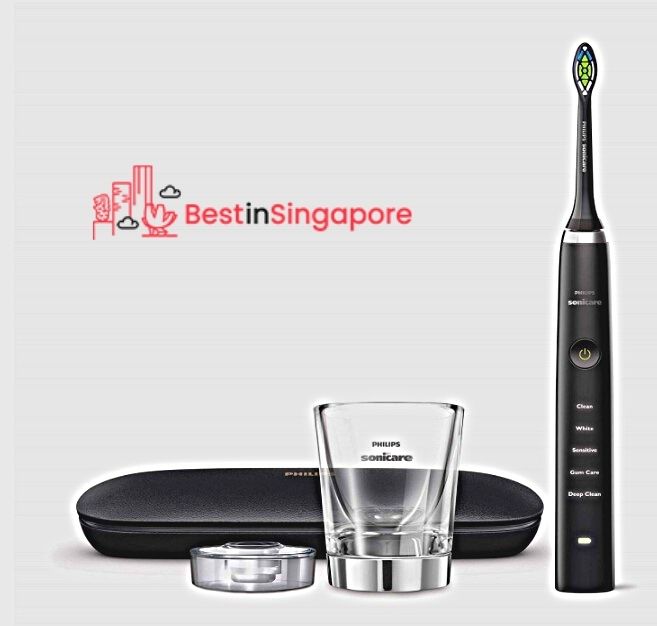 Price:$229.00
Limited Stocks in Shopee, Buy Now
Philips Sonicare DiamondClean is the definitive choice for those who want a full clean of their molars. It removes up to 10x more plaque than a regular, manual toothbrush.
The best part about this choice from the Sonicare series is that it has 5 cleaning modes: clean, white, sensitive, gum care, and deep clean.
For a deeper clean it pulses water between your teeth with sonic technology, scrubbing away the plaque. It also comes in a nifty traveller's case, so if you ever need to go out of town for a few days, you can lug it around with you.
We like that it provides the closest to a professional deep cleaning at the comfort of your home. This makes it one of the best choices for an electric toothbrush in Singapore.
Pros
Pulses water into mouth
5 cleaning modes
Portable
Cons
Has a tendency to switch on by itself
2-year lifespan
Customer Reviews
Here are some reviews from Amazon about the this amazing product:
IThe various stronger cleaning modes do make some difference compared to the basic c. £40 model but not enough to justify the extra price really. A few small design changes would be good to take out annoyances and make it feel a better investment at the £80 black Friday price I paid.
One button isn't enough and it's annoying to not be able to switch on and off without going through the cycle of modes – also looks like it'll get filled with limescale as there's a gap around it.
The travel case uses a very old style mini usb not the micro usb that is common to most android phones. So another cable to carry around. Last saw this connector on a digital camera from 2005 so seems an odd choice.
Brush cover doesn't fit in the travel case which is just silly for a few mm more space.
Note that the usb charger supplied has a European 2 pin plug but that makes sense for travel. Meanwhile the main charger is the usual 2 pin bathroom plug.
It'll probably fail within 2 years like every other sonicare I've had but Phillips have always been good at sending replacements quickly.
-O. Malik
There are not enough stars for this toothbrush. Firstly it's gorgeous and second my teeth are gleaming! I have always used an electric toothbrush, but it was Oral B. This is way better. Love it
-123Bookworm456
4.   Fairywill Electric Toothbrush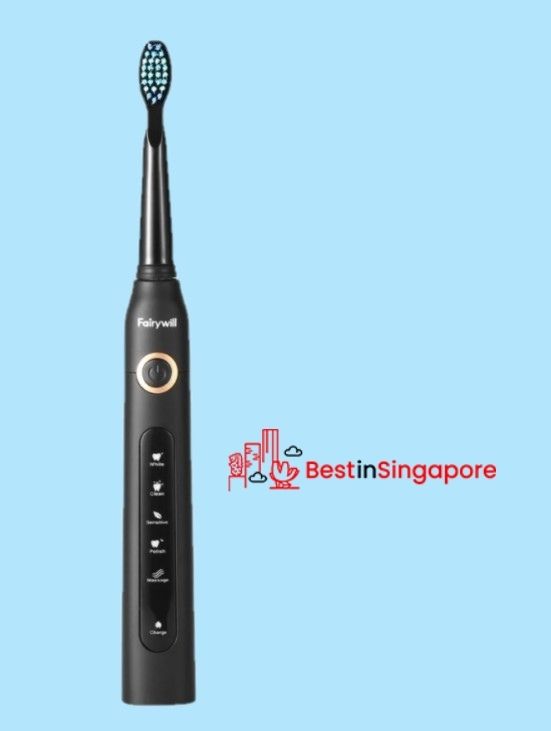 Price:$89.00
Limited Stocks At Shopee, Buy Now
If you're the type who is a bit lazy when it comes to dental hygiene, this electric toothbrush is the answer to your prayers! The Fairywill Electric Toothbrush is guaranteed a timesaver due to its amazing settings.
With 40,000 microbrushes pulsing per minute, your enamel will be left pristine right after using it. It has 5 settings: White, Clean, Sensitive, Polish, and Massage.
It charges for only 4 hours, but the battery will last you 30 days — what a steal! You can charge it via power banks, PCs, phone chargers and 110V-240V outlets.
Its great qualities, as well as the fact that it's recommended by so many users are the reasons it's on this list of the best electric toothbrushes in Singapore.
Pros
Charges in different outlets
Lightweight
30-day battery
Cons
Can be rough on teeth when on modes other than Sensitive
Customer Reviews
Here are some reviews from Amazon about the this amazing product:
In Summary, I'm glad to have this toothbrush. It's modern, hygienic, travel-friendly, and you get a lot of bristle for such a low price that you're really saving money if you already routinely change out your toothbrushes.
While I've spent thousands of dollars on braces and whitening in my mere 22 years of life, finding the right toothbrush to maintain superior oral health at a great price has always been super important. This Fairywill Electric Toothbrush is everything and more. Not only does it come pre-charged, but it also comes with extra brush heads with different bristle textures so you can customize your brushing experience. They're individually wrapped to keep the bristles hygienic too. Each of the 5-settings comes with different vibrating features with a 30-second timer that will run for a full two minutes. After using the Clean setting, I like to briefly use the Whitening and Polishing setting on my "smile teeth" so they can really glow! The flat bottom makes it so my toothbrush can stand straight up without having to use any accessories which I really like. During the week I brush my teeth at work, and also need a toothbrush for when I sleep over at my boyfriends house, so the sleek traveling case is great, and barely takes up any room in my bag– it's not too much longer than my sunglass case.
In Summary, I'm glad to have this toothbrush. It's modern, hygienic, travel-friendly, and you get a lot of bristle for such a low price that you're really saving money if you already routinely change out your toothbrushes.
-Mary C.
will hold a charge for so long. It seems weird that it charges from a USB cable (which I will need to label somehow), but that will make it easier to travel to other countries.
I have used an electric toothbrush since 2002 so figured replacing it was the right thing to do, although this was a gift. This one tickles and seems small at first, but it has the five settings so I could find one that was good. And I have to admit, my teeth ARE cleaner and it seems better at getting stuff out at the gums and between teeth. I like the third setting for sensitive teeth best. I also like that it is gentle enough I can scrub the gums more which I know is better for them. There are a lot of heads. At first I was dismayed because most were "hard" which I usually don't like. But these "hards" are still fine.
The picture makes it look like the head actually lights up, but it doesn't. No problem.
Super light weight, which is another plus for traveling.
This is a winner, to be sure.
-Dubby
5. Sboly Sonic Electric Toothbrush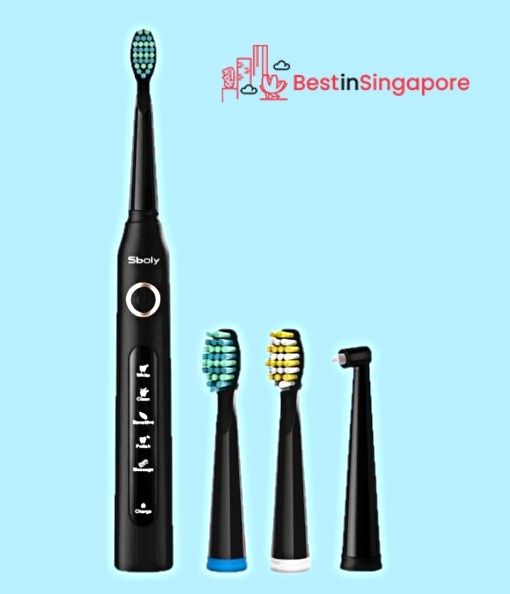 Price: $63.42
Limited Stocks At Amazon, Buy Now
Sboly's Sonic Electric Toothbrush is a popular choice by many due to their great features. It has around 40,000 strokes per minute, removing around 300% of plaque from the teeth.
It has 5 modes of whiten, clean, sensitive, polish and massage, as well an auto shut-off and interval pause of every 30s to change cleaning areas.
This electric toothbrush is also designed with a USB fast-charging system. You can get a full day's use from only one 5-minute charge.
It also has different heads that one can switch up to suit the needs of the user.
It's also sleek, lightweight, and easy to carry around. This truly deserves a spot in the list of the best electric toothbrushes in Singapore.
Pros
Multiple heads
Quick charge
40,000 strokes
Cons
Customer Reviews
Here are some reviews from Amazon about the this amazing product:
GREAT product for the price! Compared to similar toothbrushes this is a deal, specifically the fact it comes with two. Me and my wife absolutely love these, my teeth feel super clean after just a few days of using these. They are a little different from your normal electric toothbrushes so I had to adjust the way i brush a little, to let the toothbrush do its thing, BUT its actually much safer for your teeth and gums. There are multiple settings on the brushes for every type of cleaning. The only thing i worry about is the charging port being open constantly, however nothing has happened so far, i will update if anything stops working due to this issue.
-Nick B
Amazing set. Both my husband and I were not expecting it to be so effective. The heads are the perfect size to reach the hard to reach spots. The whitening setting leaves my mouth feeling like I just left the dentist. It removes plague so easily. The massage setting is great for stimulating my gums. And I love the timer, lets me know I am brushing long enough. Above expectations. We will be using this set for a long time.
-B Lopez
6. Quip Toothbrush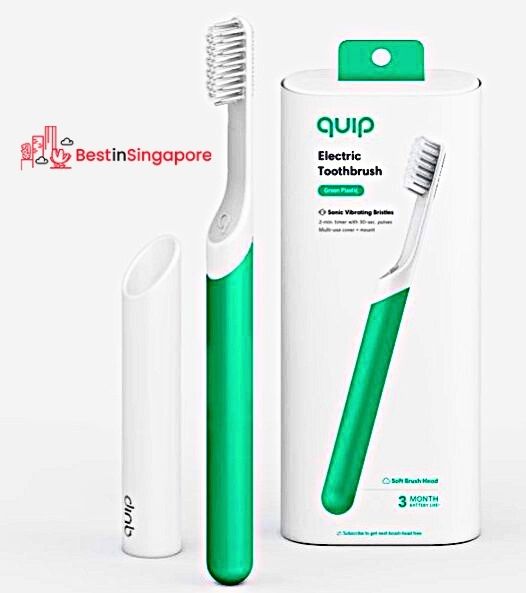 Price: $91.29
Limited Stocks In Amazon, Buy Now
Quip Toothbrush is one of the cheapest choices for an electric toothbrush in Singapore, it's absolutely no frills, and looks like a normal, manual toothbrush. But it also has a two minute timer and pulses every 30 seconds to help you time your brushing carefully.
Unlike the others in this list, it's powered by removable batteries. For the price, you're getting a good starter electric toothbrush that is sleek and lightweight.
Another thing is, if you buy from the original website, they'll offer a subscription with a lot of perks, such as a lifetime warranty, and replaceable heads.
These features have put the model squarely on the list of the best electric toothbrushes in Singapore.
Pros
Subscription-based if bought through original website
Sleek design
Multiple settings
Cons
And our list of the best electric toothbrushes in Singapore is done. We hope this list helps with enhancing your oral hygiene and saves you trips to the dentist.
Did we miss a great option, though? Tell us its name and what makes it great in the comments below!
Do you also need to get your teeth straightened in addition to picking an electric toothbrush? Then head over to the list of the best invisible braces in Singapore and check out our picks for those.
And if you need to take one step ahead with a pristone, healthier smile, check out the best teeth whitening in Singapore for that too!