12 Best Digital Cameras in Singapore Reviewed
Are you getting tired of your camera's limited and outdated features? If so, maybe now's the perfect time to look into the best digital cameras in Singapore that offer high-quality photos, large storage space, and updated features.
Since there are quite a lot of options on the island, looking for the best digital cameras in Singapore is going to be a little difficult… But stop worrying because we're here to present our picks for digital cameras in Singapore.
But before we jump right to our list, we're going to share a few important tips that may help you spot the right digital camera for you. Knowing about these will make it a bit easier to browse and pick from our list.
Without further ado, let's start!
How to Pick the Best Digital Camera in Singapore
Whether photography is one of your hobbies or your source of income, it's natural to be cautious when searching for the best digital camera in Singapore.
After all, digital camera price in Singapore rarely come cheap, so customers should take their time if they want to make sure that they're getting the right one for the right price.
If you've forgotten (or never known) some of the factors to take note of when purchasing the best digital cameras in Singapore, though, we're here to list them down for you.
1. Type
Before setting out to look for the best digital camera in Singapore, you should know which type of digital camera you're most comfortable with. If you're a beginner, you might want to do some research on which ones are beginner-friendly!
There are 3 common types of digital cameras: point-and-shoot, mirrorless, and DSLR. If you don't know much about their differences, allow us to briefly explain below.
In terms of variety and affordability, point-and-shoot cameras are the ones to beat. They come in different configurations and features, depending on the model and brand, that would allow users to play around and get creative with their shots. They also make the best vlogging cameras as they are portable and easy to use. 
This type is the easiest to use as well as it comes with a fixed lens, making it the ideal option for those who are just starting to get into photography.
Meanwhile, if you're looking for more features beyond what point-and-shoot cameras can offer, DSLRs and mirrorless cameras would be the best digital cameras in Singapore for you.
Both are known for higher-quality photos, more flexible features, and faster performance compared to point-and-shoot cameras.
Which one should you get? Honestly, the gap between the two is getting so small it doesn't really matter any longer. The best blogging cameras in 2021 consist of either point-and-shoot or mirrorless cameras.
Besides, manufacturers are now making DSLRs that offer features similar to mirrorless cameras and vice-versa. So, let's just say that both are great options if you want high-quality photos.
2. Megapixels
It's no secret that a lot of photography lovers check out a camera lens's megapixel count first. These days, point-and-shoot, mirrorless, and DSLR cameras share the same megapixel count, ranging from 16MP to 20MP.
Sure, there are digital cameras out there that have higher megapixel count, but those are likely going to make your pockets hurt. And frankly, more than 20MP is very rarely necessary.
If you're just starting to get into photography, settle for a digital camera with a lower megapixel count, and then work your way up once you've gathered enough experience.
And remember that while higher megapixels means higher photo resolution, it shouldn't be anyone's determining factor when looking for the best digital cameras in Singapore. What matters more is the quality of the image: how clear it is, how crisp edges look, etc.
3. Speed and Performance
In terms of speed and performance, we believe that most digital cameras manufactured in the last few years are quite fast and efficient, regardless of their type.
If you're looking for a digital camera in Singapore that can focus faster, track subjects better, and capture more photos per second, we strongly recommend going for interchangeable lens cameras such as DSLRs and mirrorless cameras.
But in general, the best digital cameras in Singapore shoot at least 5 frames per second, which is good enough for any photographer, whether beginner or advanced.
The Best Digital Cameras in Singapore 
Now that you know what to look for in a digital camera, let's take a peek at some of the most recommended digital cameras on the island.
All of these digital cameras are recommended for both advanced users and beginners, so make sure to look for the right one that can cater to your needs as a photography lover!
1.   Canon PowerShot G7X
Best for Casual Users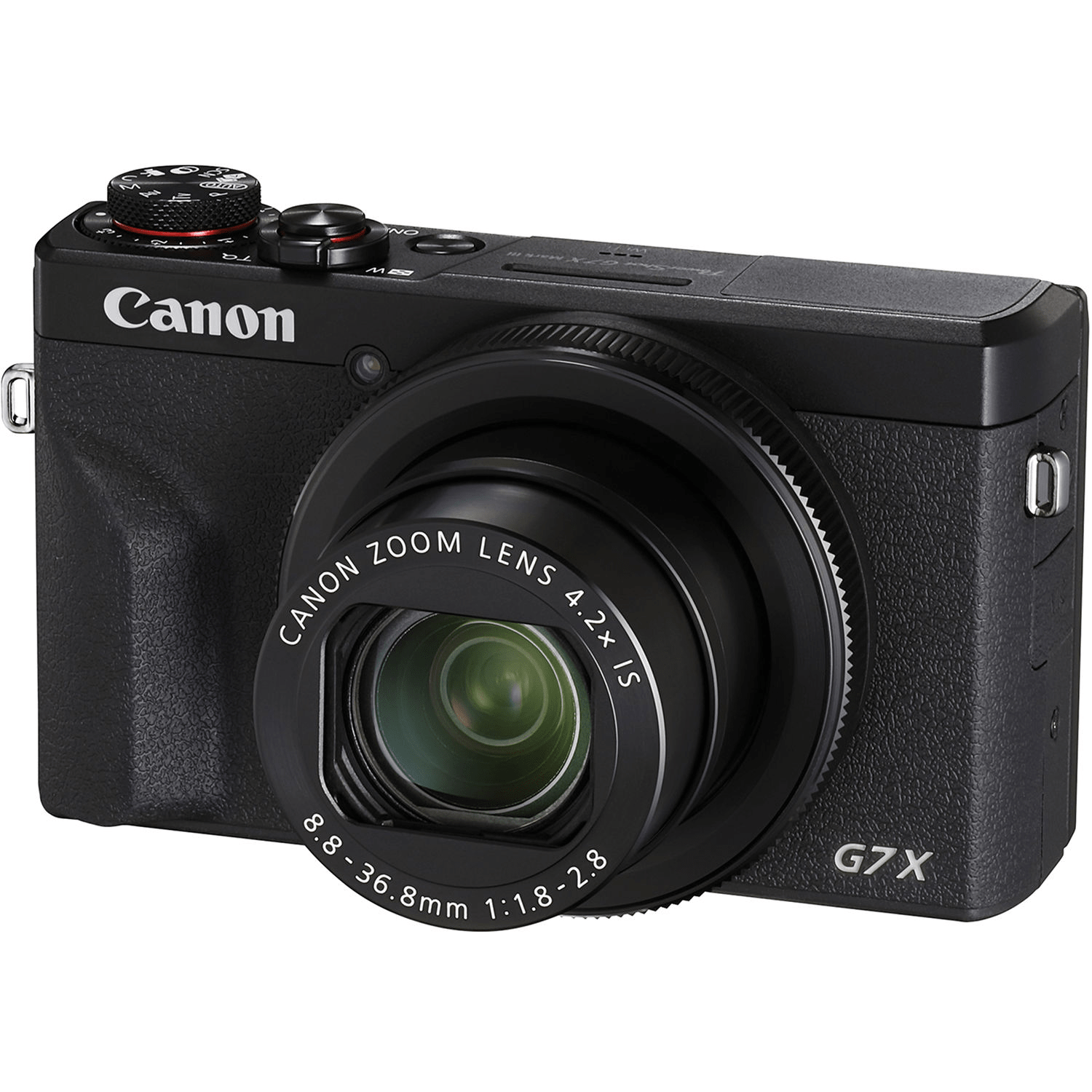 Price: $690.00
If there ever was a digital camera fit for casual users, then it'd have to be the Canon PowerShot G7X. It's lightweight, compact, and comes with decent specs that would allow photography lovers to play around and get creative with their shots. It's because of these specifications that make us consider the Canon G7X one of the best vlogging cameras for 2021.
Speaking of specs, the Canon PowerShot G7X comes with 20.1MP, a 1.0 inch Stacked CMOS Sensor, 4.2x optical zoom, and even a DIGIC 8 Image Processor — which is why we consider it one of the best digital cameras in Singapore.
On top of that, it features 4K quality for video recording, allowing users to record and shoot high-quality videos. Say goodbye to low-quality, blurry videos with the Canon PowerShot G7X!
Needless to say this is the best digital camera in Singapore for you if you're into vlogging or just love taking video footage anywhere anytime.
Pros
Compact design
1MP
4K resolution
Cons
2.   Sony Cyber-Shot DSC W830
Best for Affordability

Price: $219.00
If you're a beginner looking for an easy, compact camera, then you might want to get your hands on the Sony Cyber-Shot DSC W830, considered one of the most affordable and best digital cameras in Singapore.
Opting for a compact camera is ideal for those who want to start exploring photography as a hobby. It's cheap and doesn't come with complicated features and specs.
The Sony Cyber-Shot DSC W830 is so compact and portable that it can fit inside anyone's pocket, allowing users to carry it around and shoot photos comfortably.
In terms of specs, Sony Cyber-Shot DSC W830 doesn't have much up its sleeve, but it has a decent megapixel count of 20.1MP.  It also comes with a steady shot feature that makes it easier to shoot moving subjects.
Another feature we love about is that it allows users to edit and improve photos on the spot with its built-in photo editing application.
Overall this is the best digital camera in Singapore if you're a novice looking to improve your skills big time.
Pros
Cheap price
Compact
Lightweight
Cons
Fewer features than the others on this list
3.   Sony ZV-1 Digital Camera
Best for Vloggers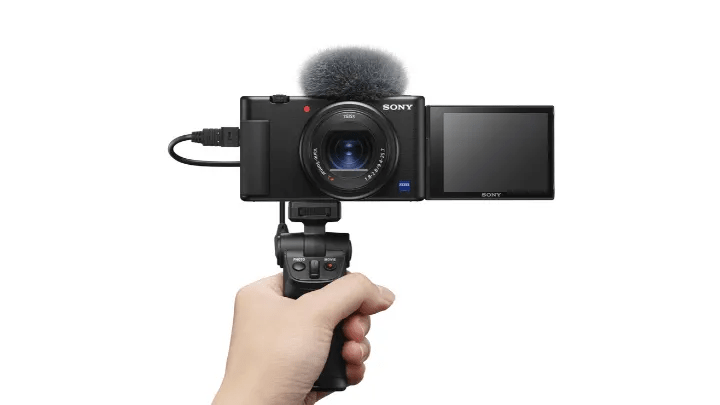 Price: $1,139.00
Since vlogging has been on the rise, digital cameras that help vloggers create content have surfaced as well, one of which is the Sony ZV-1 Digital Camera. It's been tagged one of the best digital cameras in Singapore for videography!
It comes with a selfie-friendly, vari-angle LCD screen that makes it easier to see what's being recorded. It features a 3-capsule mic as well with the ability to cancel out wind noise, picking up the user's voice clearly.
In terms of video quality, the Sony ZV-1 Digital Camera comes with a large 1.0-type Exmor RS CMOS image sensor that's capable of producing smooth, high-quality videos. No need to spend extra hours improving the quality of your video during post-production!
Above all, every purchase of the Sony ZV-1 Digital Camera comes with free accessories that would make it easier for vloggers to shoot content, such as grip and battery kit.
Considering its price, we can't recommend it to beginners as it's going to make their pockets hurt, so make sure to save up more money before buying the Sony ZV-1 Digital Camera.
Pros
4K video resolution
Design for vlogging
Compact and lightweight 
Cons
Customer Reviews
Take a look at what a buyer had to say about it:
I have been considering a HUGE purchase like this for years. Wow can I say this is just perfect! So clear and crisp 4K sooo HD ! So tiny and the buttons are easy to learn. I am so excited for this journey. Also with wifi, built in filters and beauty mode.
4.   FUJIFILM X100V Digital Camera
Best for Overall Value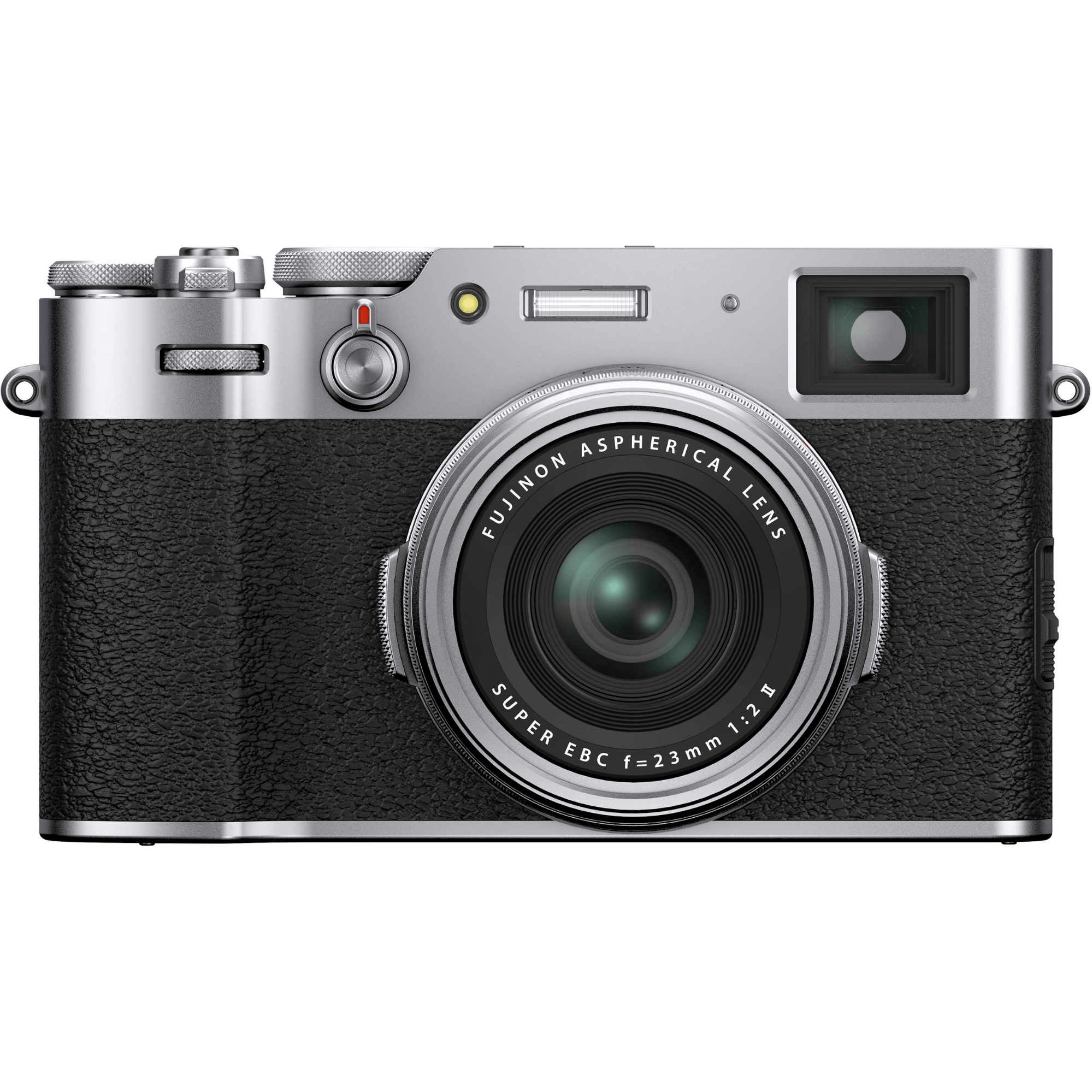 Price: $2,090.00
If you're seeking a digital camera with better features to replace your old one with, then look no further than the FUJIFILM X100V Digital Camera. We believe it's one of the best digital cameras in Singapore for its impressive specs and features.
For one, it sports a classic, elegant design that's made with plates of high-end aluminium: it's a camera that can last for a long time. It definitely has a look that would make photography lovers fall in love.
On top of that, it's one of the few cameras designed with protection from a variety of elements, such as water, harsh weather, and the like — which is why we call it one of the best digital cameras in Singapore.
The FUJIFILM X100V Digital Camera comes with easy and intuitive controls that allow users to play around with their shots without having to struggle to adjust its settings.
It will make photography a lot more enjoyable for its users. And this is why we think this is the best digital camera for beginners or those who can't be fussed with complicated operations.
Above all, its megapixel count is one of the highest in our list, boasting a 26.1MP sensor. Considering such features, we strongly recommend it to advanced photography lovers, especially if they're thinking about investing in a better digital camera.
Pros
Waterproof and weatherproof
Elegant design
1MP and faster AF speed
Cons
A bit heavier and bulkier
5.   LEICA Q2
Best for Pro Photographers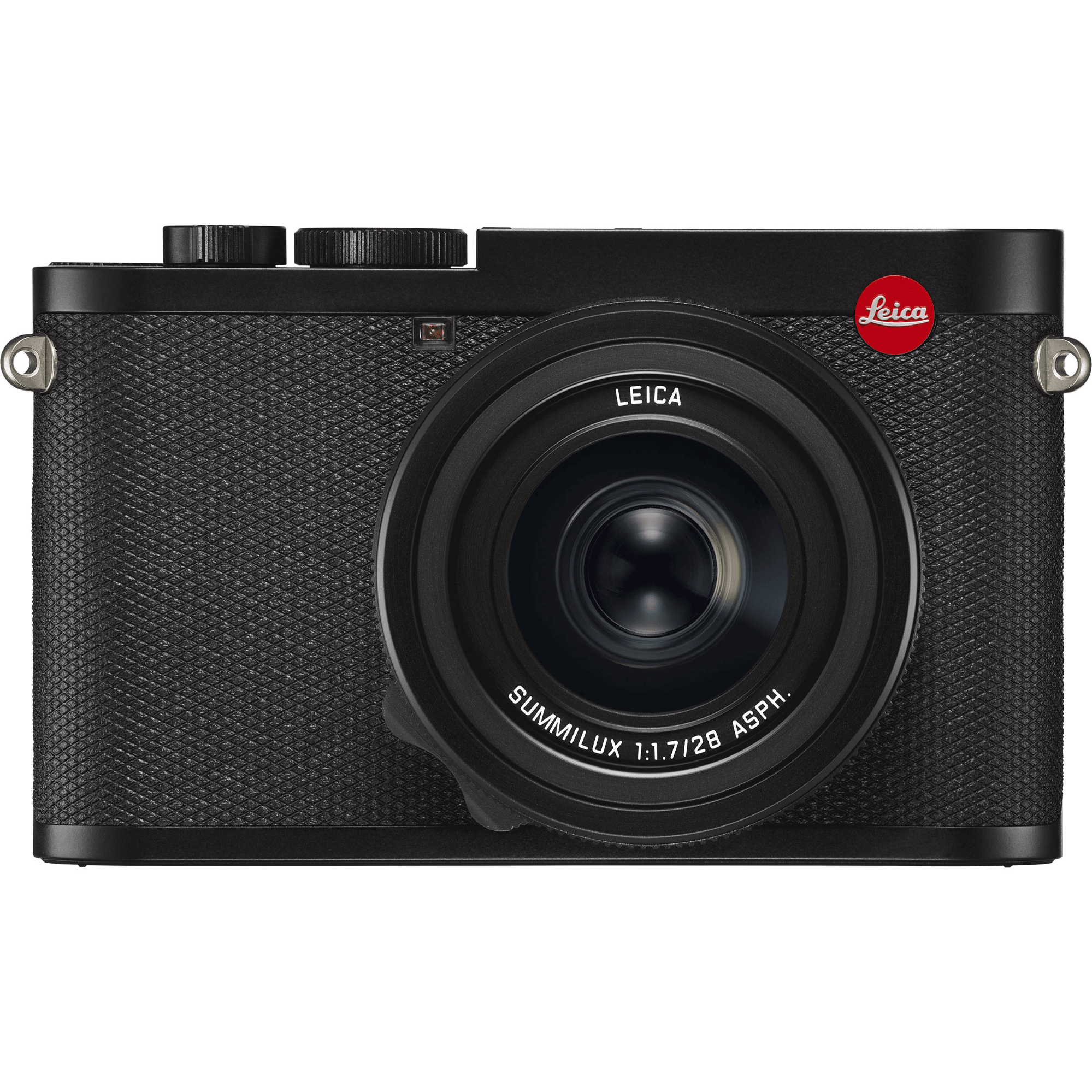 Price: $7,750.00
Considering its expensive price, we can only recommend the Leica Q2 to professional photographers. It comes with complicated yet impressive features that will only be worth it if the user has enough experience.
It surely is the most pricey option in our list, but what it can offer is worthwhile. Some of its features are a 47.3 megapixel full frame sensor, quick autofocus, OLED technology, fast Summilux 28 mm f/1.7 ASPH prime lens, and of course, a classic design.
What's more, the Leica Q2 features an IP protective seal, making it safe from water, dust, and harsh weather conditions.
Lastly, the Leica Q2 provides vivid, true-to-life quality videos with its 4K video mode with 3840 x 2160 pixels and frame rates of 30/24 frames per second. So, it's no surprise we call it one of the best digital cameras in Singapore.
Pros
Elegant design
Fast autofocus
3MP sensor
Cons
Expensive
Gets sold out quickly
6. Olympus PEN E-PL9 
Best for User-friendly Settings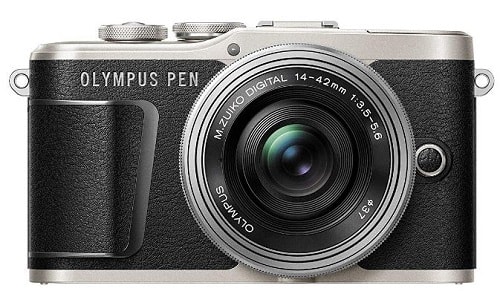 | | |
| --- | --- |
| BEST FOR | User-friendly settings |
| PRICE | SGD 710.00 |
| MEGAPIXELS | 16 Megapixels |
| RESOLUTION | 4608 x 3456 |
| WHERE TO GET IT | Shopee Singapore |
For those who find it hard to get a grasp on complex camera settings, you should see the Olympus PEN E-PL9.
It has on-screen guides and an auto mode that'll immediately detect the entire scene and choose the best settings. You can make it more professional by using photographic techniques.
When it comes to video recording, it features in-body image stabilisation that can adapt to every movement and produce clearer videos. You can also compile your short clips and make a movie without using editing software.
Another impressive feature of this camera is the Touch AF Shutter. With this, you can just tap the area that you want to focus on and it'll certainly be captured without any delay.
Pros
180º Tilting touch LCD
Selfie mode
Built-in flash
Art Filters
Wi-Fi and Bluetooth connectivity
Cons
16 mp image sensor is not the latest
Customer Reviews
The Olympus PEN E-PL9 gained positive reviews for its portability, stylish design, and easy-to-use features, image and video quality, and many more.
However, some said that it might not be suitable for a professional because it doesn't have a viewfinder, high ISO limit, and above-average sensor specs.
Here's a review left by a verified buyer who goes by the username TB:
I'm really pleased with the PEN E-PL9. Takes great photos, even for it's smaller size. I was concerned about the picture quality based on some of the digital cameras I've used in the past, usually a a lot of JPG artifact spoiling the image detail and color, Not so with Olympus. Good color with crisp imagery. Olympus make a solid, well thought out camera.
7. Fujifilm X-T30
Best for 4k Video Shooting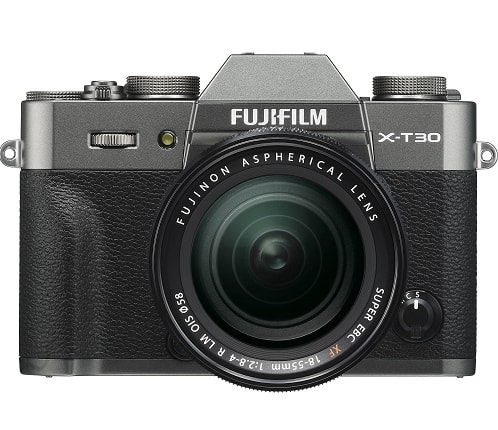 | | |
| --- | --- |
| BEST FOR | 4K Video shooting |
| PRICE  | SGD 1,549.00 |
| MEGAPIXELS | 26 MP |
| RESOLUTION | 26.10 megapixels |
| WHERE TO GET IT | Shopee Singapore |
The Fujifilm X-T30 is known for its blackout-free and rapid continuous shooting. So if you want to capture the perfect image by taking multiple shots, this can be the best mirrorless camera in Singapore for you.
For portrait shots, it has face and eye detection. Therefore, settings will be automatically adjusted to highlight the features of your subject.
It also has the most desired functions for professionals such as colour chrome effect and a sports viewfinder.
Different modes are provided to cater to any shooting condition. Its exterior design is compact and lightweight, making it an ideal travel companion.
Pros
4K video recording
Face and eye detection
Lightweight
Cons
Customer Reviews
Most reviewers complimented the Fujifilm X-T30's excellent image quality, portable design, and HD video quality. A few of them also shared that it may be too small for some, though, and has only standard battery life.
Nevertheless, DPreview has pointed out its good features and wrote this feedback:
"The Fujifilm X-T30 is an exceptional value for the money, offering excellent image quality, a (generally) well-designed body with plenty of direct controls, and an autofocus system that handles most situations with ease, with face detection being a weak point. Video is a real highlight, in terms of both quality and controls, and offers features previously found on more expensive cameras. All-in-all, it's hard to go wrong with the X-T30, one of the best midrange cameras we've tested in a long time."
8. Sony Alpha A6100
Best for Personalised Control Settings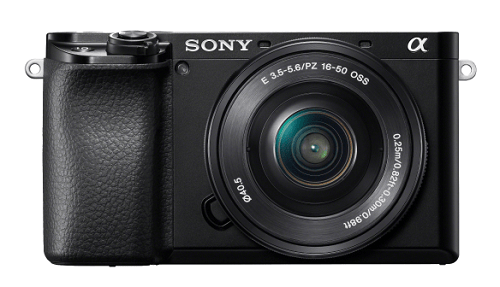 | | |
| --- | --- |
| BEST FOR | Personalised control settings |
| PRICE | SGD 1,040.00 |
| MEGAPIXELS | 24.2 MP |
| RESOLUTION | 24.2 |
| WHERE TO GET IT | Shopee Singapore |
Similar to the Fujifilm, the Sony Alpha A6100 also has high-speed tracking to make sure that you don't miss a single shot. It's built with brilliant and wide autofocus that can keep up with fast continuous shooting, producing uncompromised and realistic image quality.
As you record movie clips, you can do continuous focus tracking for a consistent setting. Slow-motion and quick motion effects are also available in this model.
This also has a highly customisable user-interface and control settings. This is the main reason it's considered the best mirrorless camera in Singapore for many novices.
Pros
Real-time tracking and autofocus
External microphone jack
Touch Focus feature
Cons
Customer Reviews
TechRadar featured the Sony Alpha A6100 on their website and they've stated that its the best choice for vloggers. They praised its compact design, real-time tracking autofocus, microphone jack, and 4k video recording.
Despite this, they also found some downsides. This includes the absence of headphone jack and image stabilisation.
Here's their final verdict:
"A great all-round introduction to the world of interchangeable lens cameras, this mid-level APS-C mirrorless camera offers 4K video and stills with real-time autofocusing, including on the eyes of people and animals."
9. Canon EOS M5
Best for Stable Device Connection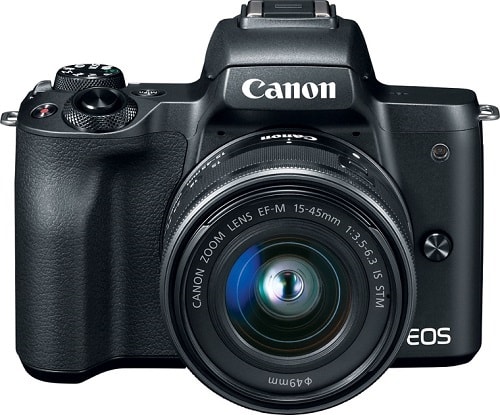 | | |
| --- | --- |
| BEST FOR | Stable device connection |
| PRICE  | SGD 2,006.00 |
| MEGAPIXELS | 24.2 MP |
| RESOLUTION | 24.2 (maximum) |
| WHERE TO GET IT | Shopee Singapore |
Being the flagship mirrorless camera of the brand, the Canon EOS M5 is said to be capable of taking breathtaking shots with its high-quality sensor and viewfinder.
The Touch & Drag AF feature offers accurate autofocus while its image processor provides stunning visual resolution, regardless of poor shooting conditions.
If you're experiencing inconsistent device connection with your current camera, this might be the best digital camera in Singapore that's mirrorless for you. It has Bluetooth low energy technology, that gives a stable connection so you can navigate through your files, for as long as you want.
Pros
Wi-Fi/NFC and Bluetooth low energy technology
Touch & Drag AF
Competent image quality
Cons
Customer Reviews
In spite of its amazing feature set, some users have shared that the Canon EOS M5 is not a good choice for those who need a 4k video capture. They've also noticed the limited lens range, which is a concern in finding a suitable lens size.
Still, reviewers commended the solid photography, touchscreen controls, and reliable connectivity. DPReview posted this feedback:
"The EOS M5 has plenty going for it. Shooting smooth, properly focused video is incredibly easy, and the new 24MP sensor has made great strides in overall image quality. Dual Pixel autofocus makes for faster, more precise focusing and really makes the M5 shine with adapted lenses. Unfortunately, it sits in a crowded market and its excellent usability can't quite make up for the fact that you can arguably get more camera for less money elsewhere." 
10. Nikon 1 J5
Best for Wide Variety of Lenses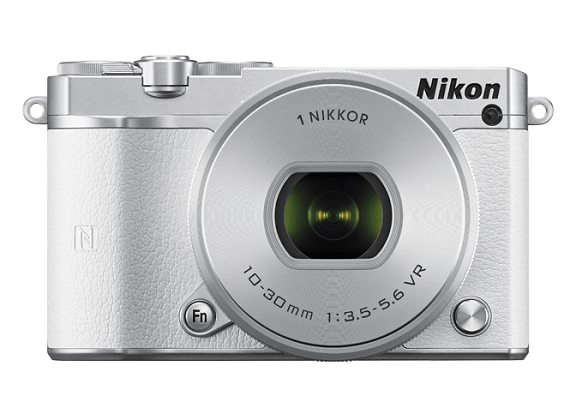 | | |
| --- | --- |
| BEST FOR | Wide lens variety |
| PRICE | SGD 809.00 |
| MEGAPIXELS | 20.8 MP |
| WHERE TO GET IT | Shopee Singapore |
The Nikon 1 J5 can be paired with all NIKKOR lenses, which means that you can even use DSLR lenses with it for impeccable image quality. 
It can capture enhanced images and videos even in low-light surroundings. It's also capable of doing time-lapse and slow-motion sequences. 
With its realistic photography and cinematic videography, this is possibly the best mirrorless camera in Singapore that you could ever have! 
Pros
180° tilting touch screen
Extensive range of interchangeable lenses
Cons
Customer Reviews
Reviewers were mostly satisfied with the built-in flash, picture and video quality, and travel-friendly design of the Nikon 1 J5. However, they said that it's not the best pick for longer battery life and external flash.
Tom's guide recommended the camera and wrote this review:
"Nikon is to be commended for greatly improving the photo and video quality of the Nikon 1 series. The new $500 J5 is the first camera in the lineup I wholeheartedly recommend. This is a great camera for parents with children, as it really does a great job capturing frenetic kids in motion — or other fast-moving subjects. It's easy to use, a vast improvement over the majority of compacts and opens a world of advanced adjustments and interchangeable lenses. Your pictures and movies will look much better. The $500 kit price is reasonable, but I'd prefer a less expensive body-only configuration so you could add your own lens, especially that sweet 32mm prime."
11. Panasonic Lumix DMC-G85
Best for Outdoor Shooting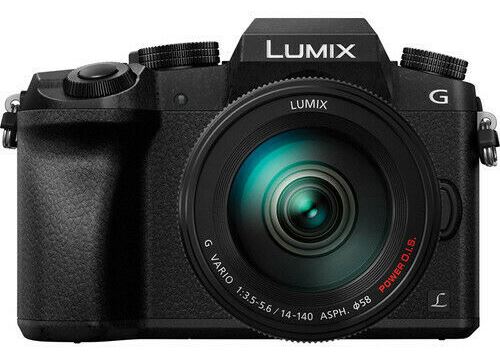 | | |
| --- | --- |
| BEST FOR | Outdoor shots |
| PRICE | SGD 798.00 |
| MEGAPIXELS | 16 MP |
| WHERE TO GET IT | Shopee Singapore |
Are you looking for a mirrorless camera that can accompany you on an adventurous journey? Then, the Panasonic Lumix DMC-G85 is a must-have camera for you!
This model proudly presents its exceptional image stabiliser that eliminates inaccuracy and blurred images due to inevitable jitters. This feature lets you capture the perfect shot in a fast-moving environment.
It's truly built for outdoor scenes because of its rugged design, in fact. It's a big deal for most users that it's splashproof and dustproof enough to withstand any kind of environment.
Pros
4k photo and video quality
Splash and dustproof design
Lifelike details
Cons
Customer Reviews
Imaging Resource made a review about the Panasonic Lumix DMC-G85. They were delighted by its sharp images, precise colours, dual image stabilisation, fast autofocus, and more.
The review also stated its flaws, which include the short battery life, lack of low pass filters, and limited continuous autofocus.
Nonetheless, these concerns didn't hinder them from recommending it and giving it these compliments:
"The Panasonic G85 is an excellent addition to Panasonic's camera lineup and a boasts a healthy array of upgrades over the G7. It includes numerous high-end features, particularly with regard to the camera body itself and its 4K video features without leaving the mid-range price point of its predecessor. We were very impressed by its performance across the board and combined with the versatility of the MFT lens mount, the G85 is easy to recommend as it is a great all-around DSLR-style mirrorless camera — a definite addition to our list of Dave's Picks."
12. Ricoh GR II
Best for Street Photography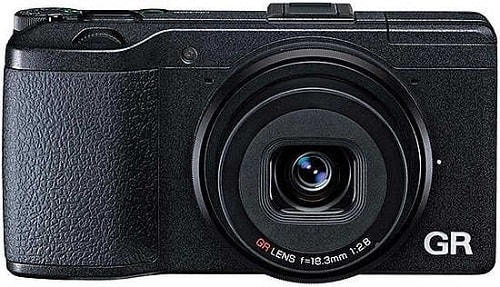 | | |
| --- | --- |
| BEST FOR | Street photography |
| PRICE | SGD 740.00 |
| MEGAPIXELS | 16.2 megapixels |
| WHERE TO GET IT | Carousell Singapore |
If the Panasonic model doesn't come with an optical low-pass filter, the Ricoh GR II has a prime sensor that produces superior image resolution and sharpness.
It features a high-speed autofocus system to achieve the best shot and take a full HD motion picture. A built-in flash is also provided so you can't miss out the night scenes.
It has all the essentials that every beginner will need. This is why it's a part of our lineup of the best mirrorless cameras in Singapore.
Pros
High-speed autofocus system
Built-in flash
Full HD video recording
Cons
Customer Reviews
Many reviewers have claimed the Ricoh GR II as the most suitable pick for street photographers. For those who are currently exploring the different sides of photography and who've come to like the diversity of street life, this might be an ideal choice for you.
Despite deeming it a little expensive for some, The Phoblographer gave this feedback:
 "It's an absolute honour to give the Ricoh GR II the Editor's Choice award. This camera is fantastic for the street photographer, travel photographer or even for a blogger that doesn't want to or care to shoot a whole lot of video. Its compact size, great image quality, fairly reliable autofocus, and fantastic lens make it a must for many photographers. Even better, the JPEG image quality is so good that I'd probably never worry about doing a whole lot of editing to my RAW files. The autofocus suffers in low light and sometimes the controls can be a bit finicky, such as in manual exposure mode, but I'm positive most shooters will probably just work with this camera in aperture priority and call it a day. The Ricoh GR II is surely a fantastic camera if it's going to be your only camera at this price point."
And that's it for our list of the best digital cameras in Singapore. If you've tried any of these digital cameras before, share your experience using them!
We're also open to topics you may be interested in, say perhaps the best mirrorless cameras for beginners. If you're interested in these just let us know!
By the way, if you go on a lot of travels, you might want to equip yourself with the best travel cameras in Singapore. These travel cameras are lightweight and handy, so no worries about struggling to carry a bulky and heavy camera while on the road!