The 5 Best Travel Cameras in Singapore
Getting ready for your most awaited trip but not sure which type of camera to bring? Well, to help you get out of this dilemma, we've found you some of the best travel cameras in Singapore!
Whether it's a short or long trip, a travel camera will always have advantages over smartphones. Travel cams offer more focused and detailed photography as well as sturdy constructions that can withstand harsh conditions — something not many smartphones can match.
If you're still having second thoughts because it might be too hard to carry, there's no need to worry either. Our selected best travel cameras in Singapore come in compact forms yet also boast highly functional features.
Anyway, if you want to see which models we picked, you may head directly to our list! However, if you're not quite familiar with how to pick a camera, you may need to know first which essential factors to consider when choosing a travel camera.
What to Look for When Buying a Travel Camera
Travel cameras come with different builds, lenses, storage capacities, and more. So, if it's your first time to buy one, it can be a bit overwhelming and confusing.
That's why we've listed some key features that you must keep in mind when you go on a camera shopping spree. Check these out!
1. Travel Style
First of all, you need to consider what kind of traveller you are. If you're a light traveller, then a point-and-shoot camera would be a good option for you.
For those who like to move around busy cities and visit various sites, you may opt for a fixed-lens camera so you can easily put the focus on your subject despite hectic surroundings.
If you're going on an extreme outdoor adventure like mountain trekking, sea divings, riding water rafts, and more, you'd need an action camera that can capture fast movements.
2. Lens
The lens is the main highlight of every camera, so this must also be in your list of priorities. If you prefer to take landscape and architecture shots, you need a camera with a wide-angle lens and a good focal length range.
A camera that features a prime lens is an ideal choice for portrait or street photography. When capturing photos of wildlife and mountains, your camera must have a zoom lens.
You should look for the one that has a lens range between 24-70mm so you can get a higher percentage of the shots that you'd take.
3. Storage Capacity
Each shot may have a large file size if you're using a high-quality lens, so you'll need a camera with a large memory card storage. A 32GB or 64GB memory card can last for a few days, so it's a fine choice.
It's also recommended to buy more cards so you don't have to clear your memory card every few days.
4. Durability
As you go around different places and go sightseeing, you may encounter common issues like the sand getting stuck in the lens or rain on your sensitive camera.
Therefore, it'd be wise to choose a camera that's dust-proof and waterproof and sturdy enough to withstand tough weather conditions.
Best Travel Cameras in Singapore
Now that you know what to look for in a travel camera, let's take a look at some of the most recommended cameras.
Whether you're a photography beginner or a pro, see our list of the best travel cameras in Singapore below to find the perfect companion to bring during your trip!
1. Canon Powershot SX620 HS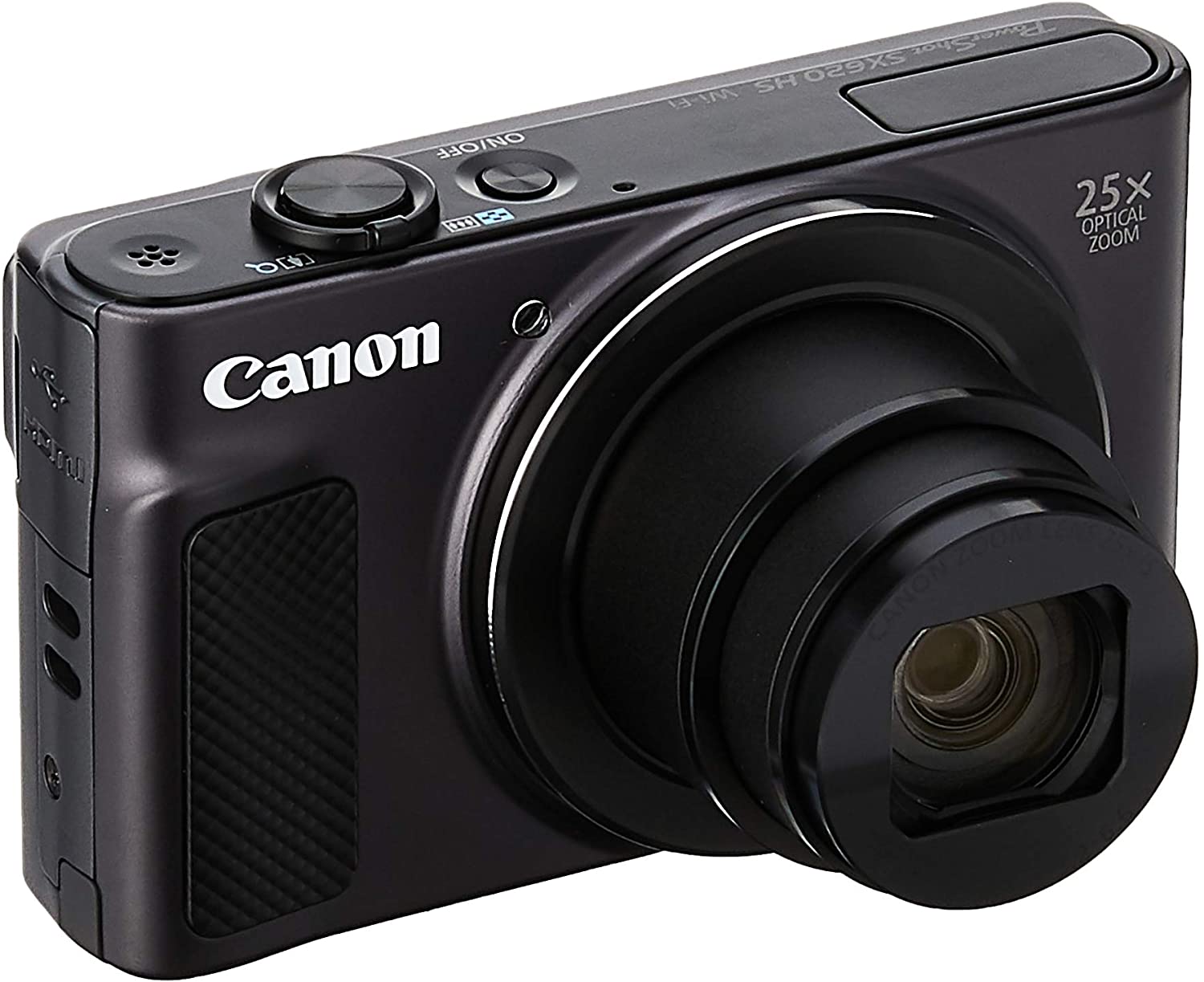 Price: $262.00
If you're the type who likes to capture spontaneous yet sharp and detailed shots, then the Canon Powershot SX620 HS can be the best travel camera in Singapore for you!
It's mostly known as a lightweight point-and-shoot digital camera that provides excellent image stabilization, avoiding blurred shots even when you're in a hurry. It's the perfect choice to bring if you're going to take photos on busy streets.
It's equipped with an advanced image processor and high-resolution CMOS sensor that can deliver quality images despite low light. For full and clear shots, it features an impressive automatic optical zoom that can go up to 50x to get every little detail.
With this camera, you can also easily share your photos, for it has built-in WiFi connectivity. Just use the Camera Connect app and you can immediately share your memories with your loved ones, anytime and anywhere.
Finally, all of these exceptional features are packed into a compact body so you can quickly store it into your handbag or backpack.
Pros
Face detection focusing
Image stabilization
NFC connectivity and WiFi-enabled
High-resolution sensor
Lightweight
Strong build
Cons
Lack of touchscreen
No Nult-in viewfinder
No environmental sealing
Customer Reviews
The Canon Powershot SX620 HS has earned tons of praise from users. They shared that it's a versatile camera that truly provides excellent image quality and it's ideal for beginners because it's so easy to use.
A reviewer gave this verdict:
"A no-frills camera at a decent price. The Canon PowerShot SX620 HS is a great compact camera for travel and everyday shooting. It is a simple device that's easy to learn and operate, allowing you to capture shareable photos and video with a touch of a button"
2. GoPro HERO7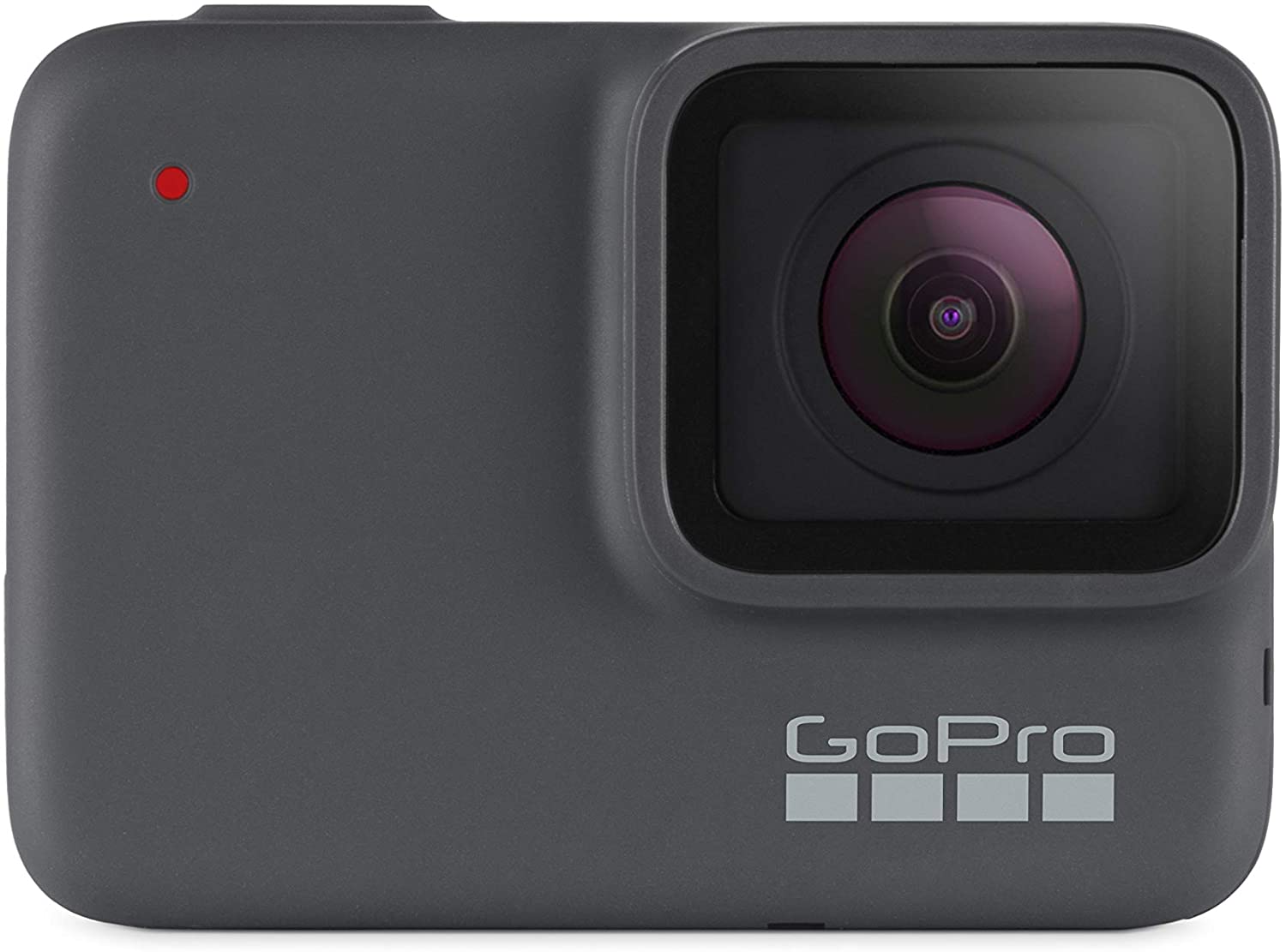 Price: $418.00
Searching for a camera to bring during your under-the-sea adventures? Look no more, because with the GoPro HERO7, you can instantly capture every unforgettable shot underwater!
This best travel camera in Singapore is a waterproof one that offers smooth time-lapse video recording with absolute image stabilization. It's made of tough, rugged material, so it can totally withstand harsh conditions.
You can also take a photo with it just by using voice command, which can come in handy at spontaneous moments. For high-quality images under poor lighting, it features automatic HDR function, local tone mapping, and noise reduction.
If you love to share your experiences right at the moment they take place, this best travel camera in Singapore also has a live stream feature and the option to store the footage in your memory card later on.
Pros
Smooth video stabilization
User-friendly touchscreen interface
4K video and image quality
Unique live stream function
Waterproof even without a case
Cons
Low battery life
Voice commands are not quite accurate
Can heat up while recording 4K videos
Customer Reviews
Many reviewers praised the great video stabilization, improved audio quality, and live stream feature of the GoPro HERO7. They also said that it's easier to find compatible cases and mounts with this camera compared to other models.
A customer wrote this feedback:
"I know that this term gets thrown around a lot in tech, but as a travel blogger the GoPro Hero 7 Black is certainly a game changer – especially for action video shooting and for anyone looking to up their video game without investing heaps in expensive, bulky kit. Sure it's still not perfect – but this is easily my favourite GoPro yet and has firmly found its place in my travel kit list as well as allowing me to shed some extra weight and space in my hand luggage, which any traveller will tell you is always welcome!"
3. Sony A6000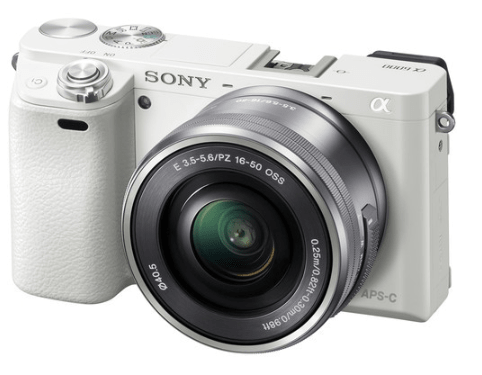 Price: $899.00
Do you prefer to use a camera where you can see the actual shot even before you capture it? You should see the features of the Sony A6000, a mirrorless camera suitable for everyone!
This portable camera offers quick autofocus with 24MP quality and viewfinder, making it the best alternative to a bulky DSLR. With its high-speed contrast-detection and movement tracking, you can have precise image and video shots.
It also has wide coverage so you can capture everything you need in a single shot. Its impressive processor will let you reduce blurry details, giving you crystal-clear photos/videos.
Since it has a high ISO range, it produces great quality when you're using indoor or outdoor lighting. You can manage the settings through customisable buttons and manual controls.
Pros
Fast autofocus
High ISO image quality
Tilting Rear display
High-resolution sensor
Cons
Show startup
Lacks analogue mic input
Sensitive eye sensor
No touchscreen
No levelling gauge
Customer Reviews
Most customers were satisfied with the super-fast focusing and quiet shutter of the Sony A6000. They were also impressed with the image/video quality as well as the reliable WiFi connectivity.
A user recommended the product and wrote:
"All told, the Sony A6000 is a very versatile mid-level to advanced camera, able to handle everything from high-resolution landscape shooting to family vacations and fast-moving sports. It's easy to carry, a strong performer, a pleasure to use, and, best of all, at around US$800 with a lens, it's a pretty fantastic value."
4. Garmin VIRB Ultra 30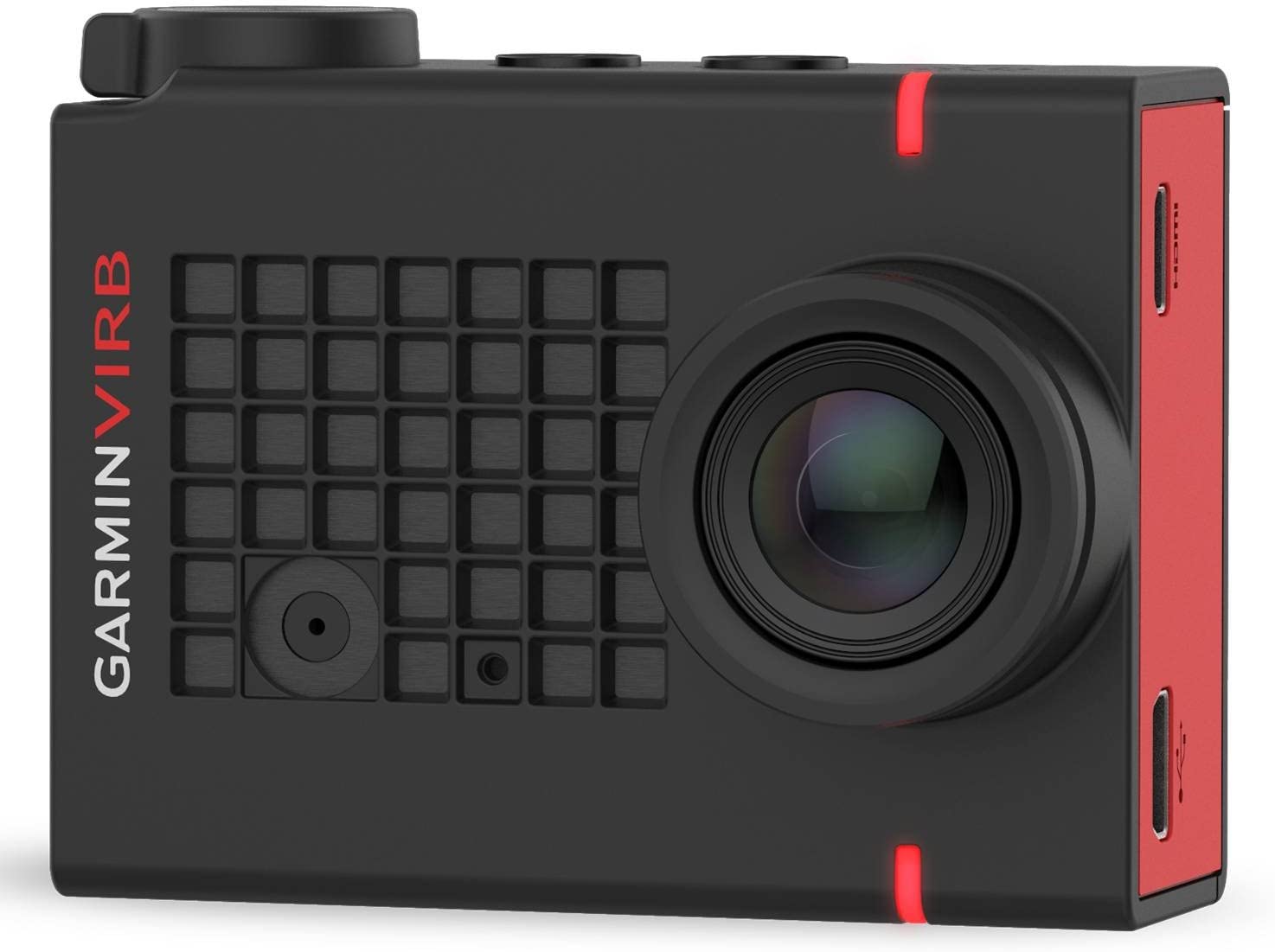 Price: $599.00
If you're preparing for an extreme outdoor trip, then you should get the Garmin VIRB Ultra 30. It's one of the best travel cameras in Singapore that lets you record ultra HD video with 3-axis image stabilization for smooth and steady footage regardless of the terrain.
It also has built-in sensors and GPS to keep track of the distance and speed that you've experienced. It features voice control functions so you can instantly capture any moment without using your hands, which makes it ideal for cycling activities.
This sturdy and waterproof camera also features a live streaming function so you can instantly share your encounters with your family and friends.
Pros
Can capture 4K videos with high-speed function
Robust and waterproof
Can connect external sensors
Advanced electronic image stabilization feature
Connectivity and stats options
Cons
Slightly low battery life
Only waterproof in case
Customer Reviews
Users loved the 4K content quality and high-speed options of the Garmin VIRB Ultra 30. They also mentioned that it's highly compatible with all existing mounts, making it easier for them to find the right accessory to use.
A reviewer left his feedback:
"The ViRB Ultra 30 is a superb action camera for those people wanting sharp, detailed 4K footage of their cycling. While it's not perfect – the battery life could be better – it's one of the best action cameras out there at the moment. It's probably overkill for sticking on your helmet and riding around town, but if you are that way inclined, it does have a video loop mode for recording a set period of time before writing over the already recorded footage – useful for commuting."
5. Canon Powershot SX740 HS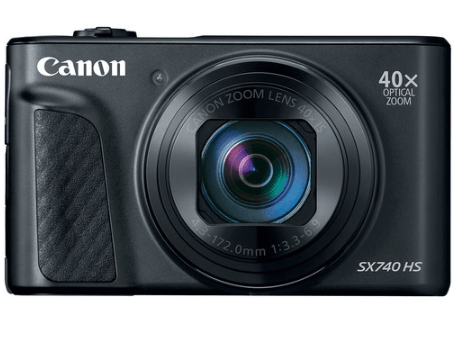 Price: $440.00
The Canon Powershot SX740 HS is the best travel camera in Singapore for capturing wildlife and the other wonders of nature. With this pocket-sized camera, you can experience 40x optical zoom and 4K movie resolution, letting you see the beauty of nature with a brighter and clearer view.
Aside from these, it also provides other powerful features such as 5-axis stabilization, which is better than the stabilization in the previous options on this list. You can also constantly manage the camera settings for more detailed shots.
To share and back-up your photos, you can easily connect it with smart devices or PCs at home. See why we think it's among the best travel cameras in Singapore?
Pros
Auto and manual exposure controls
180-degree tilting LCD
4K quality
Easy to use
Up to 40x zoom feature
Auto lighting optimizer
Long battery life
Impressive focal length range
Cons
Small sensor
No raw image format
No touchscreen
Limited ISO/low-light performance
Customer Reviews
Many users said that the Canon Powershot SX740 HS is a great option for beginners due to its simple and easy-to-use settings. They also complimented the excellent colour reproduction and optical zoom lens.
A user posted this verdict:
"Even though there were some things that I didn't particularly liked, it shouldn't take anything away from the fact that the Canon SX740 is in fact a brilliant photography camera and if you just want to do some simple, straight forward videos just to capture the moment, I can't think of a better point-and-shoot camera. I would give this device a solid 7 out of 10 and strongly recommend it for beginner photographers. For the advanced and the intermediate, I am sure canon has a wealth of other options for you."
And that's our list of the best travel cameras in Singapore! If you'd like to suggest more options, let us know all about it as we may also add your selections to our list!
And for those who are just beginning to take interest in photography, it'd be a nice starting point to have the best mirrorless camera in Singapore! As mentioned earlier, this type of camera allows you to view the actual result before taking it so you can practise your adjustment and editing skills!