5 Best Binoculars in Singapore Less Than $900
When you go sightseeing or travelling, you'd probably prefer to see even the most distant details clearly. Well, once you have the best binoculars in Singapore, everything on your horizon will be visible to you.
Binoculars have several types, though, and each of them is designed to cater to specific functions. First and foremost, you must ask yourself, where would you use it?
Are you going on a wildlife venture or a night sky gazing? Do you want the kind that your kids can use? Perhaps you need it to watch a concert, opera, or even a race!
You should also consider things like the lens quality and coating when picking a pair. To help you with that, we'll explain the factors to consider when choosing binoculars and the types available.
After that, we'll give you a list of the models we think are the best binoculars in Singapore. So, let's get started!
Types of Binoculars
There are many types of binoculars, as we said earlier. We're quite sure that when you search for binoculars for sale in Singapore there are different types that come up. It can be confusing if you have no idea about binoculars so we thought to explain a little. Here, we'll look at the most common or well-known:
1. Roof Prism Binoculars
For nature enthusiasts, a Roof Prism binocular would be a good choice. They allow a lot of light to pass through, providing greater magnification and more vivid display.
Since you'll be seeing subjects from a longer distance, it'd be wise to get ones with higher magnification to have a clearer and brighter view.
With these features, they're generally designed to be straight and compact, which makes them lightweight and easy to carry around during long walks. This is why they're also the most popular choices for binoculars for bird watching in Singapore.
2. Porro Prism Binoculars
The Porro Prism binoculars are quite similar to the previous type when it comes to magnification. Though they may not fully reflect the light, they still offer an average quality display.
A pair of Porro Prism binoculars doesn't have an aligned design. Instead, it's built with a V-shaped body, giving a gap between the eyepieces and making it a bit heavier.
They're on the economic side too. So if you're going to use your binoculars for casual activities or give them to your kids, these are the best types of binoculars for you.
3. Night Vision Binoculars
Do you plan on having an adventurous trip focused on viewing nocturnal wildlife? If so, then you should consider buying a night vision binocular.
Strong magnifications in the dark cause blurred images. That is why this kind doesn't usually have high magnification.
They make the best binoculars for hunting as they perform very well in the dark. You can also use it for camping so it can accompany you through the night.
4. Marine Binoculars
Marine binoculars are waterproof so you can take a deeper look at the ocean's beauty. They feature moderate specs because an extremely high magnification will only result in shaky views (and discomfort) underwater.
5. Astronomy Binoculars
These have exceptional magnification and large lens diameters, providing a brilliant view. Due to this design, they're known to be heavier so you might need a tripod to ensure a stable view.
6. Opera Glasses
Among the other options, the opera glasses have the least magnification strength and smallest lenses as they're solely built for enhancing detail on a stage. They're also commonly used as fashion pieces.
Features to Consider When Buying Binoculars
But of course, type isn't everything. Even once you've identified which type you want, you now have to take a look at specifics like these:
1. Magnification and Objective Diameter Lens
The magnification is complementary to the lens's size because it identifies the light that passes through the binoculars. The greater the light, the clearer the view.
So if you have a bigger-diameter lens, you'll see a better display. The standard magnifications range between 7x and 12x.
For those who don't settle for less and those who need it for astronomy, then a higher magnification is the best pick. Otherwise, lower magnifications will be fine.
2. Lens Quality and Coating
The lens coating also affects the reflected light. Therefore, if all of the components in a lens are coated, then it'll certainly go beyond the standard view.
To know if a binocular has a coating, just look at the artificial light reflection on the lens. If it's yellow, green, or purple, then it has a coating. But if it's clear, then it's not coated.
However, more coats/layers don't automatically guarantee the best display. Take a look at the types of lens coatings here:
a. Coated (C)
At least one optical surface is coated. This is the basic and most common option.
b. Fully Coated (FC)
With this one, at least one layer of anti-reflective coating is applied to the objective lens, ocular lens, and long side of the prism. Some say it's better to have a single coating on each surface, as the end result will be sturdier and more durable.
c. Multi-Coated (MC)
Binoculars with this type have multiple layers on one or more lens surface(s).
d. Fully Broadband Multi-Coated (FMC)
With this type, the light reflectivity will be enhanced by decreasing the existence of surface reflectivity.
Translation? Higher performance. These are usually found on high-end optical instruments.
e. Phase Correction Coating
It's a thin layer that's applied to one side of the prism for a better light wave process, allowing good image quality.
3. Eye Relief
This determines the gap between your eyes and the binoculars. For the standard, a 5mm to 23mm range would be fine.
If you wear glasses, it's advised to use one with at least 14mm eye relief. That will ensure you can still see the full angle.
The Best Binoculars in Singapore 
Now that you know which factors you must keep in mind while choosing the best binoculars in Singapore, let's search for the right one!
We went all over the island looking for the best picks for various users. Here are the ones we though most worth our money:
1. Nikon Monarch 5 10x42mm
Best for Nature Sightseeing, Bird Watching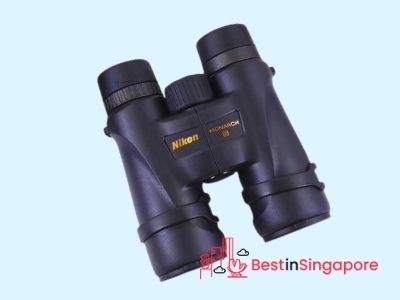 Price: $448.00
The lightweight and portable Nikon Monarch 5 10x42mm features upgraded glass lenses that enhance contrast and resolution for a more natural view. Its lenses are also fully multicoated, with a phase correction coating.
It has turn-and-slide rubber eyecups for an adjustable eye-relief range. That means you can still have a full wide view even when wearing glasses.
For its outer design, this waterproof and fog-proof binocular is also covered with a rubber-armoured body that can withstand a harsh environment.
A central focus knob is even included so it'll be easier for you to focus and get a more detailed view. With these features, you can now get a good look at nature's beauty and appreciate it at its most spectacular.
Highlights
10x42mm
Roof Prism
Fully multicoated lenses with phase correction coating
Improved contrast and resolution for a natural view.
Rubber-armoured body
Central focus knob
4mm eye-relief
Lightweight and fog-proof
Customer Reviews
The Nikon Monarch 5 10x42mm has received a lot of positive feedback from many reviewers. They stated that it's admittedly on the expensive side, but for its specs and quality, it's totally worth it.
They also shared that these are possibly the best binoculars in Singapore for those who enjoy birdwatching. Here's a review from the Scope Views blog:
"The view is quite bright and very sharp, if rather narrow and with more off-axis curvature and astigmatism than the best. False colour correction is up with the best. Handling comfort and eye relief are good. Built quality is very decent. Even stray light suppression, apart from some prism spikes in extreme circumstances, is excellent. Their compact size and light weight are a real bonus on long walks or for travel. 
The Monarchs have few real downsides, with that spiking from the prism edges on a bright security light the only issue of real note apart from the narrow usable field. 
The Monarch 5 10x42s work very well for their intended use as a birding binocular, but on the night sky too. I test a lot of quality binoculars, but would be quite happy owning and using a pair of these."
2. Celestron SkyMaster 25X100mm
Best for Night Stargazing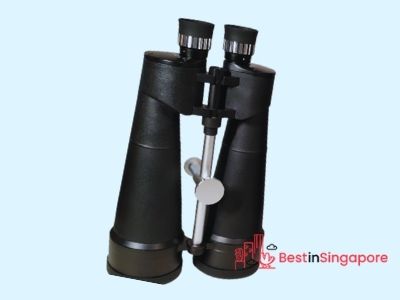 Price: $586.71
If you're planning to spend a weekend stargazing with your family and friends, then you should come prepared and bring the Celestron SkyMaster 25X100mm with you!
This pair of binoculars is mainly designed for astronomical viewing, featuring a huge 100 mm objective lens. That lens offers superior image brightness even in low light and at long distances.
It also has an Eyepiece Focus for a detailed and maximised view as well as a stabilised focus position. A 15mm eye-relief is also supplied — a good choice for those who wear eyeglasses.
For a comfy grip, it's designed with a protective rubber covering. You can also conveniently connect it to a tripod with its integrated tripod adapter rod.
Highlights
25X100mm
Porro Prism
Multicoated lens
Maximum image brightness in low light and long distances
Rubber covering
15mm eye-relief
Integrated tripod adapter rod
Water-resistant
Customer Reviews
Reviewers shared that the Celestron SkyMaster 25X100mm truly has powerful optics that allow them to see constellations with ease. However, they also noted that the manual is not the best for beginners.
Therefore, they claimed it as one of the best binoculars in Singapore for those who are already relatively experienced with using similar gear. The target market may be those who are upgrading their current astronomy binoculars.
Astronomy Scope gave this verdict:
"If you're looking for a pair of some of the highest-powered astronomy binoculars then get yourself a pair. These are very well designed, have top of the range optics and they can be purchased for an excellent price. There are dozens of positive and 5* reviews over at Amazon which are worth a look at if you are still not sure. 
I would recommend that you also get a Tripod. You're going to need one that can carry their weight (and you'd be surprised at how many can't). I would strongly advise a Orion Paragon Tripod appears to be one of the best in this category."
3. Steiner Safari Ultrasharp 10x30mm
Best for Outdoor Activities
Price: $336.43
Get ready to enjoy some active outdoor activities with the Steiner Safari Ultrasharp 10x30mm! With its high-contrast optics, you can have a view full of clarity and invigorating colours!
The main highlight of this model is the Sports-Auto-Focus function that gives you a brilliant focus on both eyepieces and shows ultra-sharp images.
Skin-friendly eyecups are also provided for more comfort and incident light protection. It's also highly durable, thanks to its polycarbonate and non-slip rubber-armour covering — that makes it the best binoculars in Singapore for adventurous users.
Highlights
10x30mm
Porro Prism
Fully-coated lens
Auto-focus feature
Rubber-coated body
Rain protection cap
Lightweight
Waterproof
4. Olympus Tracker 8-16x25mm
Best for Long Distances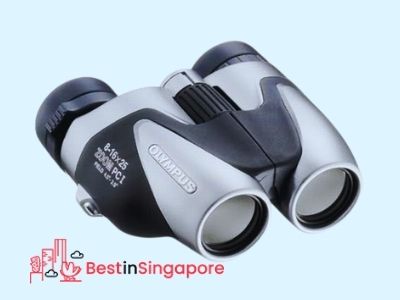 Price: $122.99
The Olympus Tracker 8-16x25mm is known for its strong zooming capacity and high-quality optics, which makes it one of the best binoculars in Singapore if you've got the farthest seat on a concert or a show.
It's also an ideal travel-buddy if you need to get a clearer view of the city or urban sceneries. The longer eye-relief range gives you enough space for a full wide-angle.
It also features a UV protection coating so you can enjoy carefree viewing even on extremely sunny days. Overall, we think this is a the best binoculars for casual, everyday use.
Highlights
8-16x25mm
Porro Prism
Full multi‑coating
Excellent zooming capacity
15‑12mm eye-relief
UV‑Protection
Central focus knob
Lightweight
Customer Reviews
Many customers shared that they were able to enjoy a show or get a full scenic view with the Olympus Tracker 8-16x25mm. Though some said that the eyepieces were a bit hard to adjust, they're still satisfied with their purchase. '
An Amazon customer posted this feedback:
"I ordered these because I wanted a reasonably priced, compact pair of binocs with a zoom function for bird & wildlife identification.
 The magnification is very good & the zoom function was fairly easy to use (though I wish they had put it up top instead of on the right eyepiece). I didn't expect the field of vision to be wide with such small objective lenses, but it was still smaller than expected when zoomed out. The optics are pretty sharp, though there's some distortion around the outside, especially when I pan the binocs. 
When I put the strap on the binocs, I found that hanging them from my neck was uncomfortable: the position of the strap attachments (midway down the binocs) make the top lean out, so the edge with the objective lenses digs right into my sternum. (They do provide you with a soft pouch that you can wear on your belt.) 
As others have mentioned, the eyepieces are hard plastic and uncomfortable, and I sometimes found it hard to open/adjust the binocs properly to get a good stereoscopic image."
5. Bushnell Falcon 133410 7×35 mm
Best for Affordability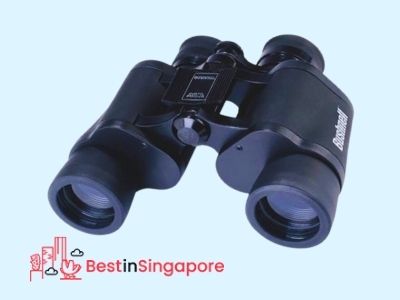 Price: $45.09
The Bushnell Falcon 133410 is among the cheapest options you'll find, and yet it offers a competent magnification level. It also takes pride in its InstaFocus feature, which provides a fast and smooth focus function.
It's built with a sturdy rubberised design and abrasion-resistant finish. We also like that the fold-down eyecups help provide for possible scratching on eyeglasses. 
Highlights
7×35 mm
Porro Prism
Fully coated
Fast focus
12mm eye-relief
Rubberised design
Customer Reviews
Based on reviewers' feedback, the Bushnell Falcon 133410 7×35 mm is often recommended as the best binocular in Singapore for the beginners. Owners of the model complimented its affordable price and easy focus.
Best of Binoculars blog posted this feedback:
"If you are a beginner in the bird-watching hobby and looking to find the best binoculars under 50 $ that actually work great, the Falcon 7×35 from Bushnell is a good choice that will suit beginners well. It will zero in on your subject fast and easy without the blur and other kinds of hassles. The Bushnell Falcon is a very affordable pair of binoculars that works well and will make any budget-conscious bird-watching enthusiast or hiker happy."
And there you have it! These are the best binoculars in Singapore for whatever you may need, from a wonderful sightseeing experience to one at a sports game or theatre!
As you travel, you may want to capture some memorable moments too. If so, consider our list of the best mirrorless cameras in Singapore, so you can take snaps of all your memories.
If you'd prefer a DSLR, though, we have a list of the best DSLR cameras in Singapore too. Either way, you can find your perfect shots with one of the binoculars in our list first!