Top 6 Best HDMI Cables in Singapore Reviewed
The best HDMI cable in Singapore should provide a stable connection that offers superb audiovisual or AV quality as well as support for all the latest features, like HDR.
A poor hdmi cable will result in a disappointing viewing experience. A great hdmi cable can help you set up your own home-theatre event, on the other hand.
Now, if you want to find the best HDMI cable in Singapore, there are a lot of things to consider. If you're not too familiar with tech of this type, it may even be a challenge.
However, we're here to help you. For your convenience, we've scoured the market for the best HDMI cables in Singapore, which you can see below.
1. Belkin Ultra HD High-Speed HDMI Cable 

Price: $65.20
Gadget accessories like hdmi cables that are compatible with Apple products are quite hard to find. However, with the Belkin Ultra HD High-Speed HDMI Cable, you can connect your device to an Apple TV, Macbook, gaming consoles, Blu-ray players, projectors, and other HDMI-enabled devices.
This hdmi cable can give you one of the highest resolutions and fastest transfer rates on the market. You'll be able to watch your series and movies and play video games with Dolby Vision, which is commonly used by Netflix and other streaming sites.
This hdmi cable's design is also thin and flexible, and suitable for a small home entertainment area. It's especially good for use with laptops, because it only has a maximum length of 2 meters.
It can be considered one of the best HDMI cables in Singapore because of its high tech and device compatibility. Just plug it in and you will see your movies, series, and games in full HD!  
Highlights
High device compatibility
Dolby-Vision-compatible
2-year limited warranty
Customer Reviews
 The Belkin Ultra HD High-Speed HDMI Cable is mostly used by those who have problems with their Apple TVs. Most customers stated that they solved their connection and resolution issues once they tried this cable.
As such, the general consensus is that it might be pricey but it would be worth it. An Amazon reviewer shared this story:
"Better than the other 4k cables I have. It's worth it to spend a little more on a quality product. Its a nice tight fit into my already been used a lot 4-year-old tv HDMI slot It does NOT pull out of the HDMI slot, like other, heavier, longer HDMI head cables do Its slim, and easier to hide. Not once has the picture fuzzed, pixelated, or the signal dropped. Not a single time, unlike some other cheaper cables I have had, have done. The only con I can think of it that the cable has a very rubbery texture to it, unlike most cables out there that are slick surfaced. Maybe it's not a con also, in that maybe the rubbery-ness of the cable is actually keeping it in place, by not moving at all because it is 'gripping' the tv and the tv stand? I don't know, but I don't think it is really a bad thing to be so 'grippy'. The price, on the other hand, is pretty steep. But, you get what you pay for, and this cable has not let me down, and is SO good I ordered another 2 of them for my other devices (whos cables DO keep slipping out of the HDMI slots). Very much recommended."
2. Monoprice Ultra Slim High-Speed HDMI Cables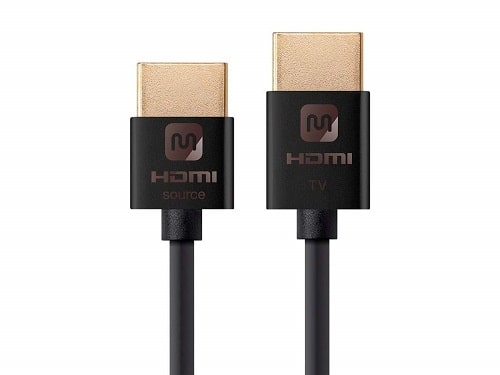 Price: $12.23
If you're having trouble with your current cables because they take up too much space, the Monoprice Ultra Slim High-Speed HDMI Cable is the perfect choice for you!
With its short and slim design, it will certainly fit in even tight spaces. It provides the highest resolution with its premium HDMI signal quality too, which has 4K 3D support.
Even when used on multiple devices, it can still maintain the best quality in your HDMI-enabled TV. Aside from the televisions, it's also compatible with other HDMI-enabled devices including the Xbox, PS4, Blu-Ray players, Apple TV, computers, and many more.
It can also produce theatre-quality audio to make your watching experience more enjoyable.
Highlights
4K 3D support
Slim design
Lifetime warranty
Customer Reviews
Customers loved the Monoprice Ultra Slim High-Speed HDMI Cable because of its thin design and high-quality display.
Even the cable's limitation, length-wise, hasn't seemed to hurt its popularity. Regardless of not being able to go beyond 3 feet, it's still praised as one of the best HDMI cables in Singapore.
An Amazon reviewer wrote this feedback:
"This cable helped me reduce my bag weight and have an HDMI cable at all times. We use this while travelling to connect to televisions. The cable is as thin as you might expect and the quality is good. Picture quality is not affected by the thinner cable at this length, but I am certain there are higher quality cables out there. If you need a cable to carry with you and do not want to have the weight of standard cables, this will fit your need!" 
3. AmazonBasics High-Speed 4K HDMI Cable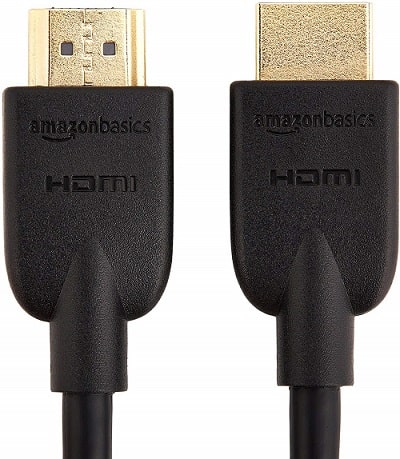 Price: $23.86
Among the other two options, AmazonBasics High-Speed 4K HDMI Cable would be the one with the longest length. It's 6 feet long, durable, and able to cater to the basic demands of the best HDMI cables in Singapore.
You can be sure that it will last for a long time, since it has gold-plated connectors. It's the ideal choice for HDT and HDR.
Like many other cables in this list of the best HDMI cables in Singapore, it's also compatible with Apple TVs and other HDMI-enabled devices. This also works great as an hdmi to hdmi cable.
The special thing about it is that it can be used to share an Internet connection, even without a separate Ethernet cable. You can also use it for in-wall installation and since it's quite long, there'll be no struggles with the connections.
Such premium hdmi cables are rare, especially paired with a lifetime warranty. Just because of that, it's already worth a look!
Highlights
Shared Internet connection
Durable gold-plated connectors
Lifetime warranty
Customer Reviews
Named one of the best HDMI cables in Singapore, The AmazonBasics High-Speed 4K HDMI Cable is said to be affordable yet high-quality. It offers features that can compete with more costly cables.
Most customers have not found much fault with this product either, which makes it very trustworthy. An Amazon reviewer gave this positive review:
"Amazing cables at an affordable price. Tested with 4K HDR and Dolby Vision. Works with Apple TV too. I have this HDMI cable going from my Denon AV receiver to my LG OLED TV and all my devices hooked to my AV receiver using this HDMI cable as well. Everything works great. Don't listen to the reviews that said Dolby Vision doesn't work on the Apple TV. They probably didn't set up their AV receiver and TV settings properly. The TV and the AV receiver has a setting that is listed as HDMI Deep Color or HDMI Enhanced that you will need to enable for HDR and Dolby Vision. Also, it is prefered to set up the match settings under the video settings for Apple TV." 
4. iBirdie 4K High-Speed HDMI Cable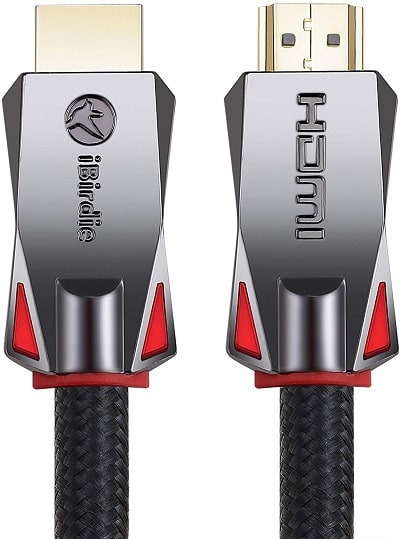 Price: $55.90
Looking for the longest best hdmi cable in Singapore? If you think that there are no HDMI cables longer than 6 feet, think again. The iBirdie 4K High-Speed HDMI Cable is built with an 8-foot cord, so you don't have to worry if it can reach the TV or not.
You might assume that these longer cables compensate by offering lower quality, but that's not the case with this product. This is compatible with 4k videos and 32 channel audio of all ranges of UHD and HDMI-enabled devices.
It can also accommodate Dolby Vision and Dolby Atmos, making your viewing experience more realistic and vivid as well. For gamers, it's highly recommended for UHD 3D gaming.
It's easy to see why it's in the running to be the best HDMI cable in Singapore. If you want a long, high-compatibility cable, this is one of the best 4K hdmi cable to look for.
Highlights
8 feet long
UHD 3D gaming
Customer Reviews
Both the outer and inner features of the iBirdie 4K High-Speed HDMI Cable have impressed many customers. They do note that it costs a little more than the shorter cables, of course.
Most admit this is understandable due to its length advantage against rivals. Owners still believe that it's a good investment because it will definitely last for a long time.
Here's a review from an Amazon buyer:
"I've gone through several cheap 25-foot HDMI cables where the connector pulled out of the rubber sheath at the end when the cable was inadvertently stretched when moving things around. This cable is constructed with metal plugs and the connector should withstand any such abuse. Signal fidelity is excellent as well. Definitely worth the extra cost if you need a more robust cable."
5. Syncwire HDMI Cable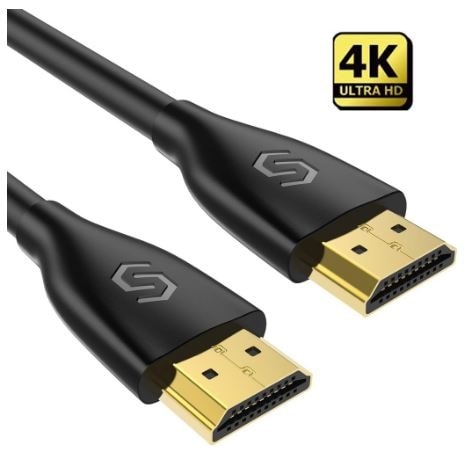 Price: $20.00
Most often, cables can get tangled over time and this will be the cause of possible damage. Syncwire HDMI Cable is designed with gold-plated connectors and triple-braided copper shielding, making it highly durable and flexible.
These elements also provide a faster transmission for a high-definition resolution and prevent any signal interference.
It's not common for cables to have these two premium features but with this product, you have both. That makes it one of the best HDMI cables in Singapore.
If you're planning to use it during travel, it's also recommended. This is because it can withstand any kind of environment and being bent and plugged/unplugged constantly.
It's also the best hdmi cable in Singapore for connecting your PC to the TV monitor, say most owners. The price is reasonable and the features are competent — what more could you ask for?
Highlights
Triple-braided copper shielding
Fast transmission
Customer Reviews
Despite the economical price, the Syncwire HDMI Cable has been receiving a lot of good reviews. Customers are very much impressed and satisfied with its quality.
An Amazon reviewer wrote:
"I am a big fan of Syncwire's products (I already own a lightning wire cable and an international USB travel charger made by them), so when I needed an HDMI cable, it was an easy decision to go with a company that I had previously purchased from with positive results and a company I trust. The HDMI cable I received is of excellent quality. The cable itself has a good weight to it and is well-insulated while also being quite flexible. I have used cheaply made HDMI cables in the past and they are often very stiff and difficult to straighten; not the case with this one. The connectors are gold-plated and plugin easily. I did not experience any interference/signal issues and the picture quality is excellent. All in all, I am very satisfied with my purchase (generous warranty and fair pricing don't hurt!) and would purchase from Syncwire again." 
6. ATZ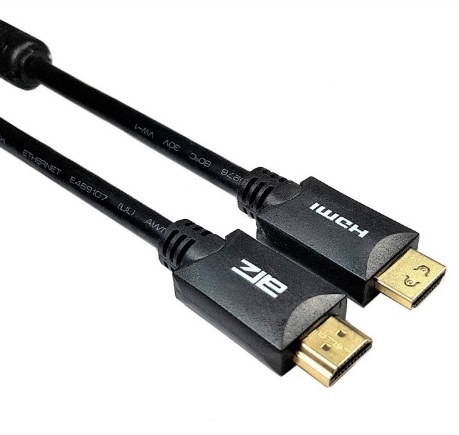 Price: Ranges from $11 to $19
ATZ produces premium cables and other media devices at an affordable cost. They guaranteed their customers that their products are of high quality. As a matter of fact, their production facilities are licensed and observant of the guidelines set by Safety and Environmental Industry. 
The company also has an online shop where buyers can purchase their products. They have bestselling HDMI cables and various products for connectivity. Although their items are sold at an affordable cost, they ensure their customers that the quality is not compromised. Their company is dedicated to their core values up to nowadays that they are still in the service. 
Their hdmi cables are claimed to have a strong following among Solution Integrators, Installers, Contractors, Designers, Event planners for their longer lengths (>10m) that recognizes the need for industrial grade HDMI cables to establish fail-proof uninterruptible reliable HDMI signals up to HDMI V2.1 – [email protected], 48Gbps, supporting Ethernet & Audio Return(ARC), BT.2020 and Dolby Vision theatre qualities.
Likewise, the same quality is also made available and affordable for shorter lengths for the discerning, within the Home entertainment and Gaming industry.
Highlights
HDMI Accessories such as Splitter

USB/Monitor and KVM

Cables/Adapters/VGA/SDI
That wraps it up for our list for the best HDMI cables in Singapore!
With these HDMI cables, you will surely enjoy watching your favourite movies and series on your TV monitor! You can also indulge in some serious gaming on your big-screen TV, if that's your thing.
Let us know which one of these cables you end up with, by the way. We also like to get more input from users of the product, so we can update our reviews with further information.
Oh, and if you run into some other wiring or power problems with your viewing or gaming setup, refer to our list of the best electricians in Singapore. They're the perfect professionals to assist you in ensuring everything is wired correctly.