Our 7 Favourite Clinics for Invisible Braces in Singapore
As much as we want to have a perfect smile, we can get overly conscious while wearing braces — that's why many people prefer to use less visible braces. And if you're one of them, you might want to look for the most-recommended dental clinics that offer the best invisible braces in Singapore!
We've carefully selected the best ones with advanced treatments, great facilities, and affordable costs. So, make sure to see our selected clinics with the best invisible braces in Singapore to find out which clinic is nearest your place.
1.  Zenyum
BEST FOR
Affordable treatment plans
PRICING
Rates
WEBSITE
https://www.zenyum.com/
ADDRESS
298 Jln Besar, Singapore 208959
CONTACT DETAILS
+65 3165 4923
+65 8768 1823 (Whatsapp)
OPERATING HOURS
Weekdays: 9am–7:30pm
If you're having a dilemma on whether or not to get braces because it might cost you a lot, then you should visit Zenyum! This D2C smile cosmetics startup offers free initial survey, site assessment, and additional sets in case you haven't seen improvements according to your treatment plan.
With this great deal, the only thing you need to save up for are the invisible braces itself. Their best invisible braces in Singapore are designed with high quality and functionality that can correct moderate and complex conditions.
They also offer a one-of-a-kind service with their mobile app that can track the patient's journey with weekly uploads and that answers all inquiries with real-time customer service. That's why they're said to provide some of the best transparent braces in Singapore.
Highlights
Advanced diagnosis and treatment plans
Mobile app tracking
2. About Braces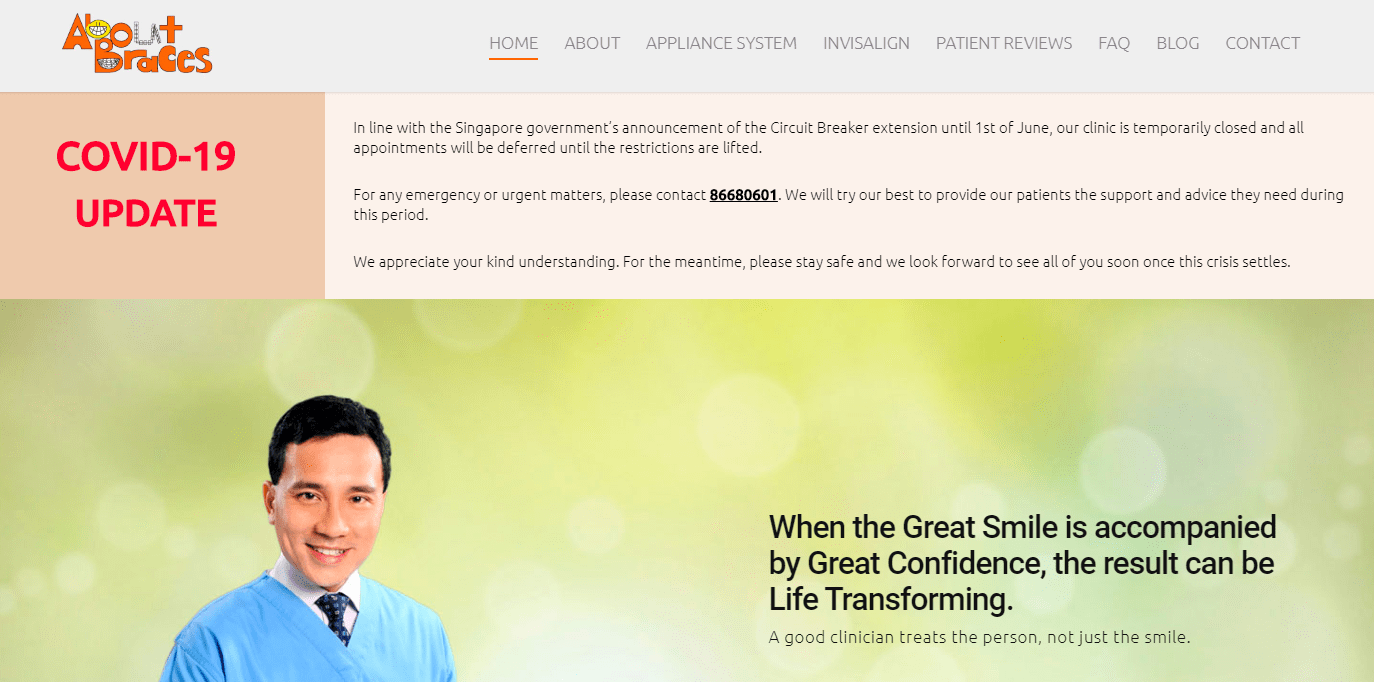 BEST FOR
Invisalign and ceramic braces packages
PRICING
Starting from S$3000
WEBSITE
https://aboutbraces.org/
ADDRESS
8 Sinaran Drive Novena Specialist Center #06-01Singapore 307470
CONTACT DETAILS
6397 7177
OPERATING HOURS
Monday: 1.00 PM – 5:30 PM

Tuesday – Friday: 8.00 AM – 5:30 PM

Saturday: 8:00 AM – 1:00 PM
About Braces offers the well-known Invisalign braces made with advanced technology, providing custom-made aligners with a great sense of comfort and functionality.
With Invisalign, there's less limitation when eating, brushing and flossing. They also offer ceramic braces, an ideal option if you don't qualify for Invisalign.
Highlights
Affordable braces packages
Invisalign specially made for teens
3. Dental Works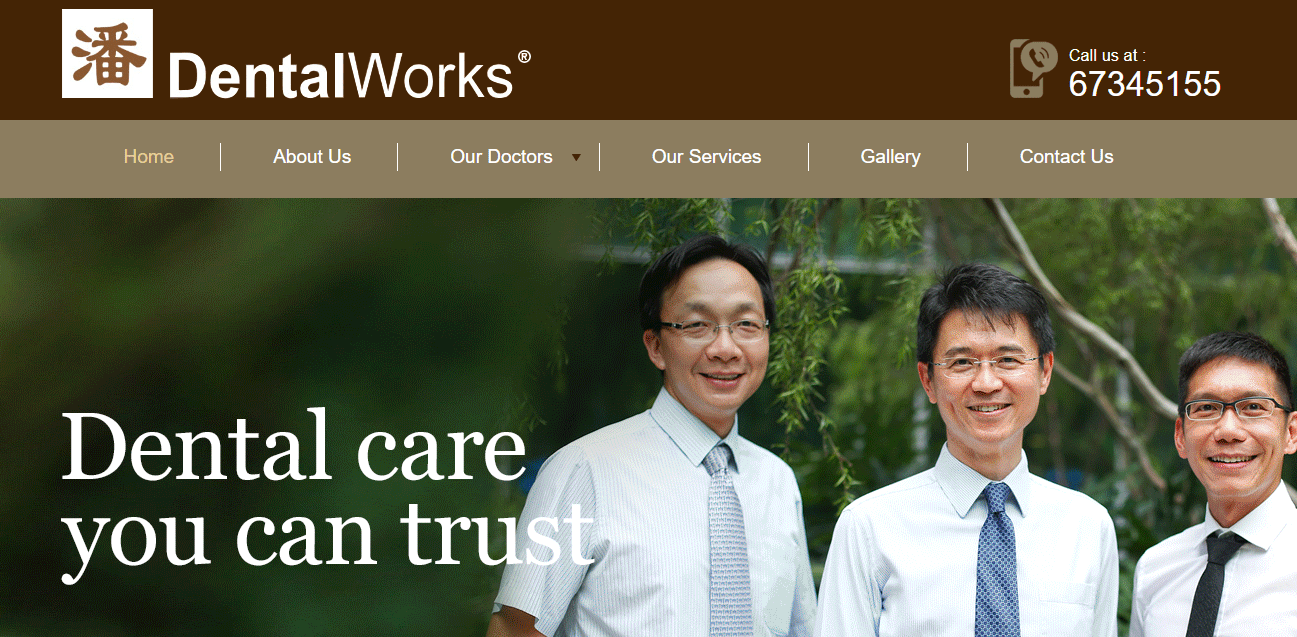 BEST FOR
Wide selection of invisible braces
PRICING
Rates
WEBSITE
https://www.dentalworks.com.sg/
ADDRESS
10 Sinaran Drive #10-22 Novena Medical Center Singapore 307506
CONTACT DETAILS
67345155
OPERATING HOURS
Weekdays: 9am–5pm

Saturday:
At Dental Works, you can explore some of the best invisible braces in Singapore. They have ceramic braces, lingual braces, and clear aligners… so no matter how mild or complex your current condition is, they have all the treatments that you need.
They also offer particular orthodontic treatment for children that can help to minimise crooked teeth, overbite, and other teeth and jaw complications as well as oral habits.
Highlights
Children's dentistry
Accessible locations
Medisave and Baby Bonus accreditations
4. Align Braces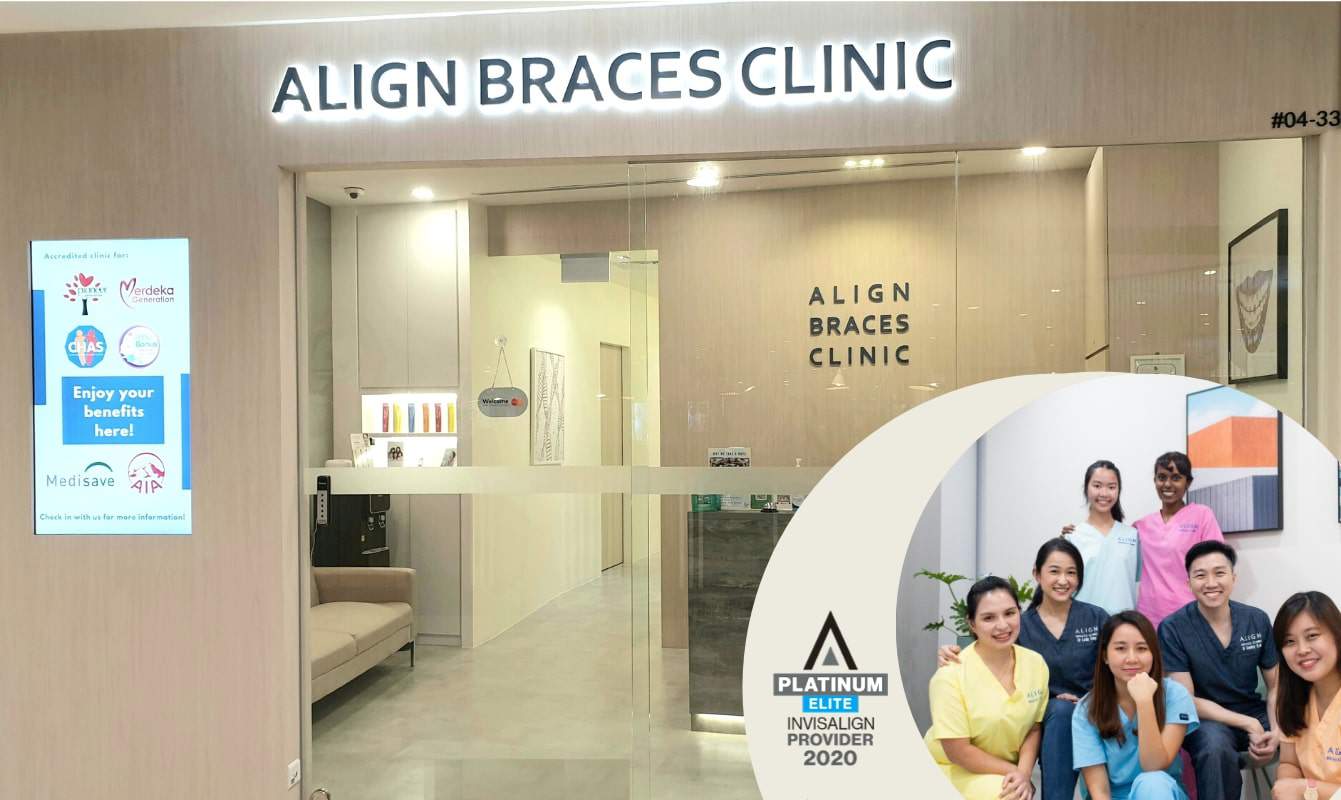 WEBSITE
https://www.alignbracesclinic.com/
LOCATION
68 Orchard Road, Plaza Singapura #04-33, S238839
CONTACT DETAILS
Tel: 6513 0686
WhatsApp: 8348 0708
Email:

[email protected]

CLINIC HOURS
Monday — Friday: 11 AM — 8 PM
Saturday — Sunday: 10 AM — 5:30 PM
Closed on selected Public Holidays
A smile is the best makeup you can wear, as some may say. Fortunately, your dental health can rest easy with Align Braces Clinic. They have a skilled and experienced team of braces Specialist Orthodontists and dentists with a Masters Degree in Orthodontics ready to assist you. They're one of the best when it comes to providing customised care and affordable services.
Align Braces Clinic only uses trusted products and materials from international companies, such as the renowned Invisalign, as well as Damon braces. They're confident that you will be able to find the type of braces that suits your needs. If you walk into Align Braces Clinic, you're sure to leave with a confident smile.
Highlights
Qualified and experienced Specialist Orthodontists and dentists with Masters Degree in Orthodontics
Accredited Invisalign Platinum Elite providers
Damon Clear Self-Ligating Braces
Affordable packages
Accessible central location at Plaza Singapura
5. ClearSmile Invisible Aligners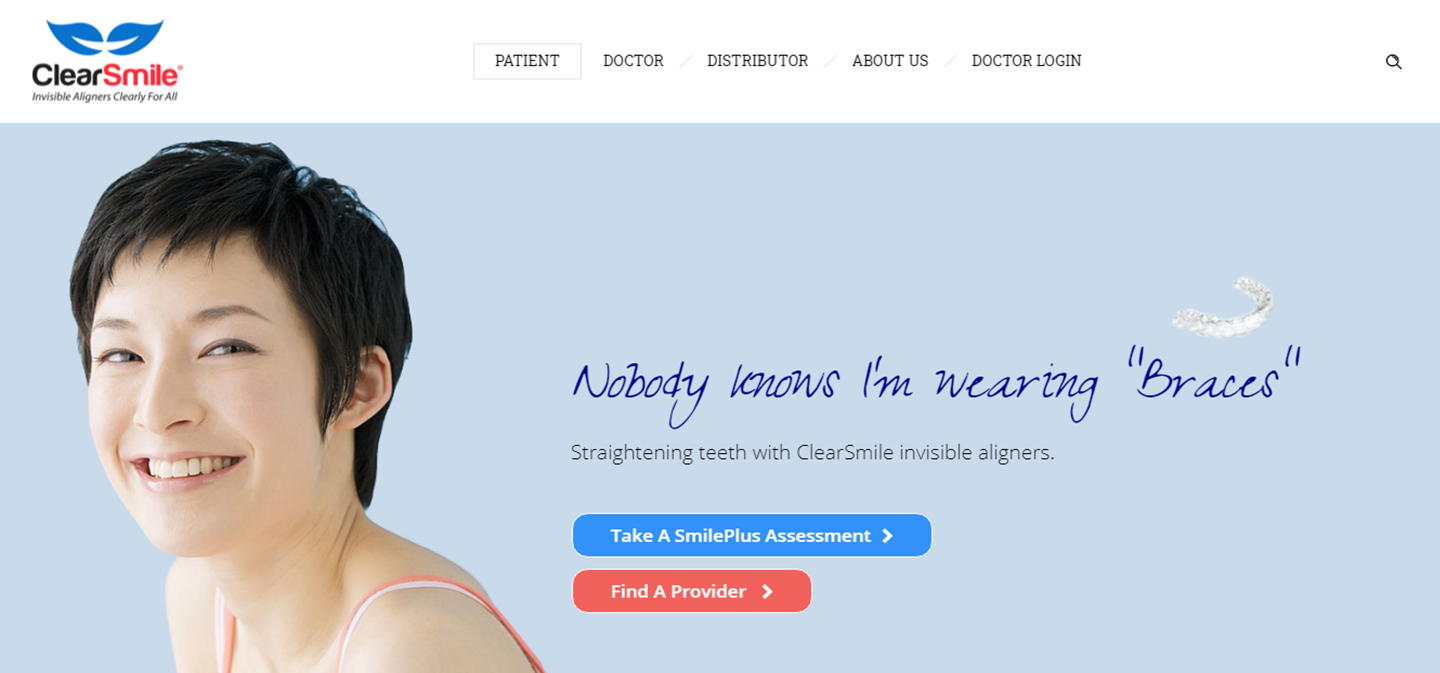 ClearSmile concerns itself with ensuring that your teeth are in perfect shape. Founded in 2012, they are probably the first aligner provider that offers aligner treatments to doctors and patients in the South East Asia region.
ClearSmile offers an affordable and faster alternative to aligners treatments compared to the market leader. You'll be assured that all their aligner treatments are performed by a licensed doctor in-person right from the start of the initial consultation, prescription, treatment, and monitoring until the completion of your treatment.
Their treatment covers a wide range of cases from simple, moderate to difficult and also ensures that your bite is corrected. ClearSmile will be more than happy to provide you with the appropriate treatment and care that you need.
Highlights
Oral Hygiene
Affordable
Comfortable
6. Dental Studio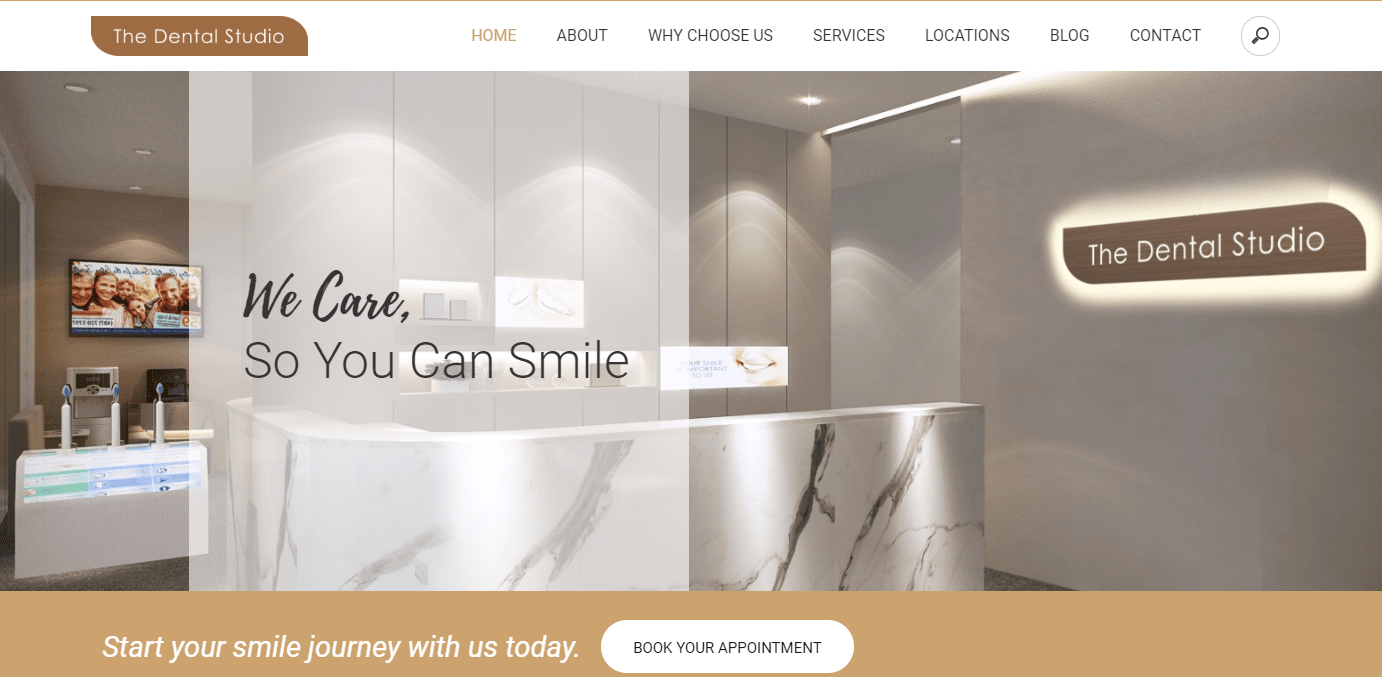 Dental Studio is a one-stop dental clinic where they provide general and specialist services. This includes their orthodontics speciality, through which they offer ceramic invisible braces that some say are the best transparent braces in Singapore.
The ceramic type is a great alternative to metal braces for they're strong and effective. They come with a white base and tooth-coloured brackets so the braces will be less visible, the perfect option for teenagers/students whose graduation is finally coming or young adults getting ready for job applications.
Highlights
Children's dentist
Medisave- and CHAS-accredited
Dental insurance
7. Ocean Dental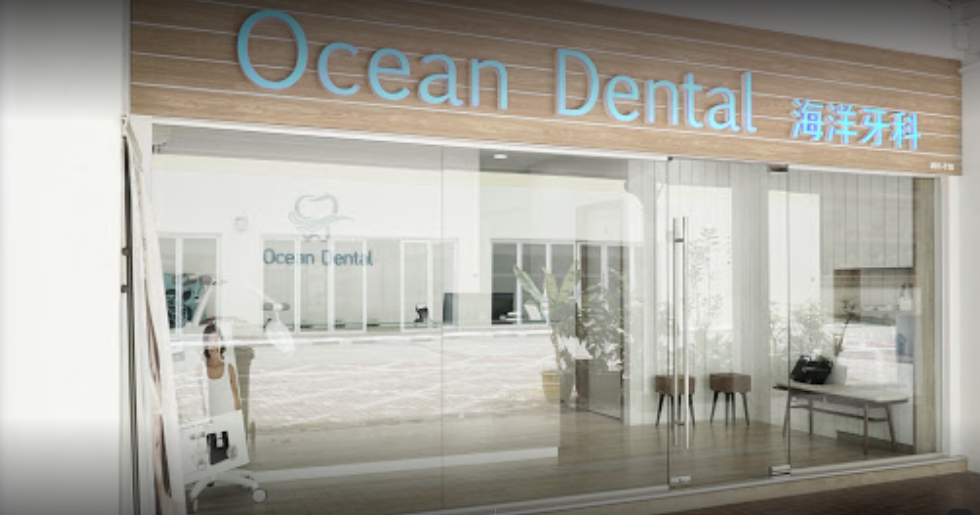 BEST FOR
Complimentary retainers
WEBSITE
https://www.oceandental.sg/braces/
ADDRESS
Blk 721 Clementi West Street 2 #01-118 Singapore 120721
CONTACT DETAILS
+65 6266 3011


[email protected]

OPERATING HOURS
Monday – Friday: 9:00 AM – 9:00 PM
Saturday – Sunday: 9:00 AM – 6:00 PM
Ocean Dental is a full-service dental clinic that is also an expert in cosmetic procedures such as braces. For cosmetic treatments, it has four different types of braces options: metal, ceramic, self-litigating, and clear (Invisalign).
They conduct X-ray examinations pre and post-braces using panoramic & lateral cephalogram and OPG X-ray. You can also avail of these imaging services alone for $200.
Another benefit of Ocean Dental's braces treatment is that it comes with a complimentary set of retainers.
Highlights
Professional treatment from dentists
Invisalign and three other braces options
Pre and post-braces X-ray photography
---
That's our list of the leading clinics with the best invisible braces in Singapore! If you've got more options in mind that you think also carry the best transparent braces in Singapore, tell us all about it as we may also include them in our list.
However, if you're not familiar with any dental clinics at all, you may also want to see these best braces clinics in Singapore. They offer all kinds of braces, giving you more options to choose from.