8 Best Coffee Grinders in Singapore Less Than $400
If you're very particular with your coffee and you have your personally chosen coffee beans, then having a coffee machine or coffee grinder at home is definitely worth it. Luckily for you, we're going over the best coffee grinders in Singapore today.
But before jumping into our list of the best coffee grinders in Singapore, let us determine first the things that must be considered while choosing the right coffee grinder for you.
Factors to Keep in Mind When Buying a Coffee Grinder
Coffee grinders are usually on the pricier side so there should be a lot of considerations before making a purchase. It'll only cost you more in repairs or replacements if you get the wrong one.
Also, choosing the wrong coffee grinder in Singapore might result in unequal particle sizes once you grind the coffee beans. To prevent such inconveniences, here are some things that you must always take note of when you go shopping for a coffee grinder in Singapore.
1. Type
First and foremost, you must know that coffee bean grinders in Singapore are classified into two types. Each type has its functions.
These kinds are commonly called as manual grinders and are much cheaper. However, they come with the downside of producing inconsistent results.
They're also said to have the potential of burning the coffee if you use them for too long. That can cause low-quality flavour in the resulting ground beans.
It might not be on the economical side but most people prefer using this type of coffee grinder in Singapore because it tends to produce perfectly ground coffee. This type is categorised into two kinds too, though — flat and conical burr.
A flat burr grinder is more costly but is known to have consistent particle sizes. On the other hand, the conical burr coffee grinder is less expensive and produces less noise as well.
2. Capacity
For those who enjoy making coffee for only a few family members or even just for themselves, it'd be wise to buy a coffee grinder in Singapore with smaller capacity. This would prevent waste as you can more easily measure amounts.
However, if you're the type who likes to serve coffee for a lot of guests, then you need a larger grinder.
3. Speed
Since coffee grinders are built with a motor to operate, some buyers immediately think of a high-speed motor as a better option. However, a faster speed may cause more heat… and that may burn the coffee and affect the aroma and flavour.
Rather than focusing on high speed, it's more advisable to consider if the coffee grinder has excellent gear reduction. This feature will create a balance during the grinding process.
4. Heat
A great balance of speed comes with even heating, which is better for your coffee's quality. So it's very important to check the speed and amount of heat that a coffee grinder can produce.
Of course, with manual options, it's usually determined by your own operation of the unit. That said, most of the electric coffee grinder versions are produced with an eye to regulating their speed for optimal results now.
5. Burr Size
The burr size is highly relevant to heat production. A larger burr has lower RPM (Rates per Minute), which causes less heat and provides consistent results.
The larger ones are of high quality and they're more costly. Therefore, you must consider how often you use a coffee grinder and if it's worth it to choose a larger one.
6. Grind Settings
Each coffee grinder model varies on grind settings and it's either categorised into stepped grinders or stepless grinders.
The former is designed with a specific number of settings. Meanwhile, the latter offers more options when it comes to adjustment, so you can "fine-tune" your grind better.
When it comes to pricing, the stepless type is usually more expensive, for obvious reasons.
7. Material and Durability
For higher durability and functionality, it'd be better to choose a coffee grinder in Singapore that is made of ceramic material. It may cost more, but it's generally going to last longer than the other common option, which is stainless steel.
What the stainless grinders have going for them is that they're much cheaper. It's also easier to repair and find replacement parts for a stainless steel option.
The Best Coffee Grinders in Singapore
Now that you're aware of the important factors, it's time to see the best coffee grinders in Singapore! Our list consists of selections that range in size, use, and price — so, we're pretty certain you'll find one that suits you here.
1. Baratza Encore
Best for Overall Value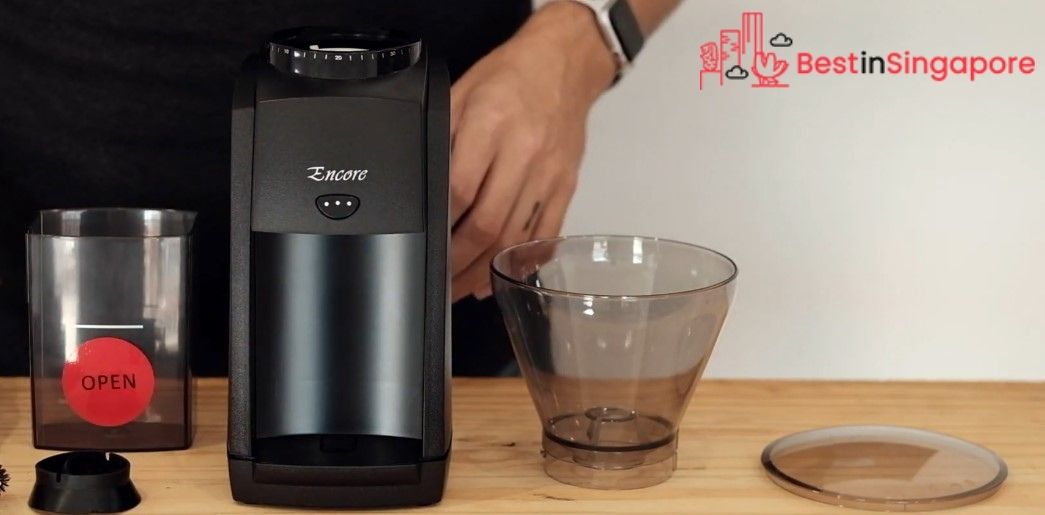 Price: $364.50
Whether it's for espresso or French press, the Baratza Encore is the ultimate electric coffee grinder in Singapore for the coffee enthusiast!
This easy-to-use coffee grinder can easily become a part of your daily routine as it has nice, simple operation. It's built with conical burrs too, so you can be sure that it'll produce consistent and high-quality ground coffee.
It features stepless grind settings that will help you find the right grind size for any type of brewing method. It also has a direct drive gear reduction and thermal overload cutout, both of which prevent overheating.
It's operated with a powerful yet quiet motor that you can use for long grinding cycles. It runs at 550 RPM.
With these features, it can truly be the best coffee grinder in Singapore and works best with your coffee maker machine!
Highlights
40mm conical burrs
550 RPM (burr speed)
227g (bean hopper capacity)
Stainless steel material
Automatic resetting
Thermal cutoff switch
Removable burrs
Easy to clean
Manual brewing
Customer Reviews
Many reviewers were very impressed with the affordability of the Baratza Encore despite its superior qualities and features. Though some said it might be a bit slower than expected, it's still one of the best in the market.
A reviewer from CNET wrote:
"The Baratza Encore is an excellent choice for home coffee brewers who seek an affordable, highly capable grinder, but its no-frills design isn't best for grinding rookies. On the other hand, I heartily recommend the Encore to anyone who's a fanatic for brewing with superior coffee grounds. The same goes for shoppers looking for a grinder able to keep up with the needs of their fancy but manual home espresso coffee machine. And if you belong to either group but want to spend as little as possible, the Encore is your friend, too, since its unique combination of low price and quality output is enticing compared with ultra-premium grinders from Rancilio and higher-end Baratza units."
2. Breville BCQ-820BSS
Best for Advanced Features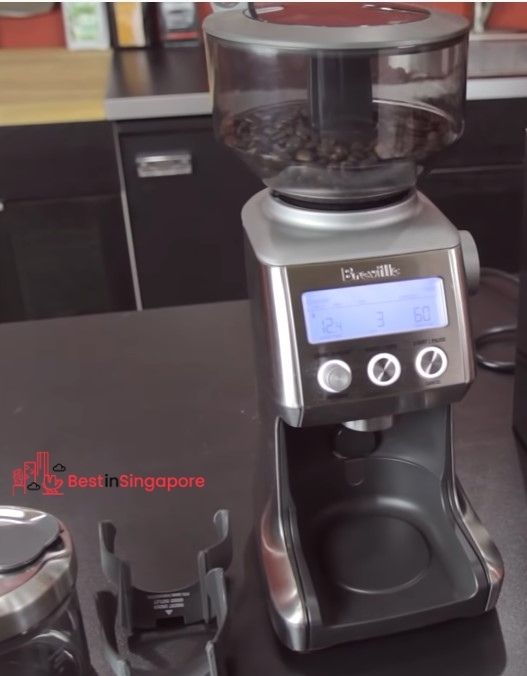 Price: $398.00
The most outstanding feature of the Breville BCQ-820BSS is being able to automatically adjust the dose every time you change the size. This will avoid waste and other inconveniences.
Unlike the previous option, this electric coffee grinder designed with an LCD display so you can immediately see the current status of your grind. It also has an airtight storage canister that's suitable for a plunger or filter coffee and more.
The grind sizes are adjustable and it also comes with some pre-programmed settings. These functions are the reasons why it's in our list of the best coffee grinders in Singapore.
Highlights
Conical burr
450g capacity (bean hopper)
Stainless steel material
Pre-programmed settings
Manual grinder
Customer Reviews
Most reviewers admired the variety of grinds that they could produce with the Breville BCQ-820BSS, as well as its smart and chic design.
A few of them also stated the downside of customisation for a certain number of cups only, though. They also shared that there's a need to continuously hold the button while grinding.
A reviewer from CNET posted this review:
"If individual servings of pour-over or espresso are what you drink, the Breville Smart Grinder Pro might suit your needs, but experienced home baristas are better off buying a kitchen scale and a more affordable manual burr grinder."
3. Porlex Mini Hand Grinder
Best for Portable Coffee Grinder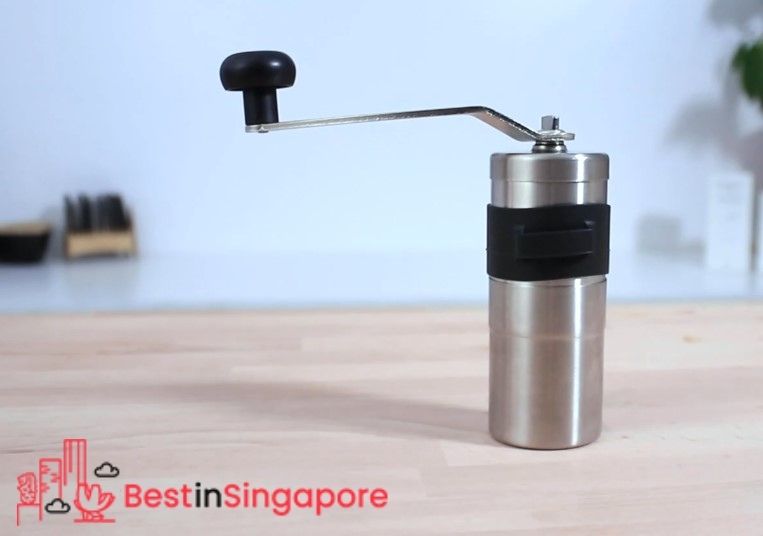 Price: $85.00
If you prefer a more compact design, then the Porlex Mini Hand Grinder can be the best coffee grinder in Singapore for you!
The model of this coffee bean grinder is an upgraded version that features a well-made circular outer burr that can provide more consistent grind.
With the new patented design of the connectors, you'll no longer struggle with possible slippage from the handle. Hence, you can now smoothly grind coffee beans.
The conical ceramic burrs are also laser-etched for premium design. The ceramic means they'll stay sharp for a long time so the grinder should still be efficient even after a good number of uses.
Highlights
Conical ceramic burrs
Stainless steel material
Manual grinder
24g capacity (ground coffee)
Customer Reviews
Most customers said that the Porlex Mini Hand Grinder may not be the best for those who need a lot of coffee quickly, but it's a great travel buddy to bring throughout a trip! HomeGrounds published this review:
"The Porlex Mini Mill is the ultimate grinding tool for the traveling coffee enthusiast. Though skeptics may not have thought it possible, the designers at Porlex managed to build a lightweight, precise, durable, and consistent grinder that is still small enough to fit inside an Aeropress. While the size definitely means sacrificing capacity, it's well worth it for campers, digital nomads, and vacationers who want guaranteed delicious coffee on the move."
4. Hario Skerton Ceramic Coffee Mill
Best for Cold Brew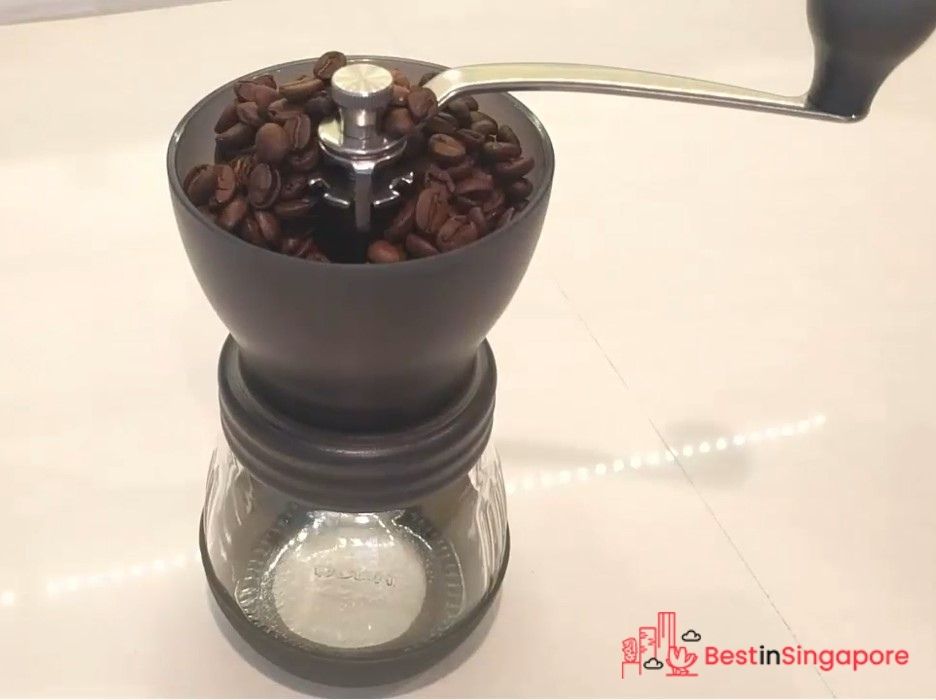 Price: $38.90
For those who enjoy cold-brewed drinks, you should try using the Hario Skerton Ceramic Coffee Mill. It offers a wide range of settings, including a coarser grind for cold brews or finer grinds for espresso!
You can do Aeropress, Siphon, Pour Over, Espresso, and more with its range of sizes. The grind settings are also adjustable, so you can easily use it.
The conical burrs are made of ceramic, so they're highly durable. It doesn't produce too much heat too, ensuring that the coffee is protected.
This manual coffee bean grinder in Singapore features a heatproof glass body for safety and an anti-slip silicone base to make sure that you'll be able to pull off a stable grinding process.
Highlights
Conical ceramic burrs
Ceramic material
100g capacity (coffee grounds)
Manual grinder
Adjustable grind settings
Heatproof glass body
Customer Reviews
Reviewers complimented the top-notch quality of the coffee that the Hario Skerton Ceramic Coffee Mill produces. But if you're searching for a portable one to carry during travel, they said that it might not be the most suitable option.
Still, they recommend it for many coffee lovers. HomeGrounds gave this verdict:
"The Hario Skerton Ceramic Coffee Mill provides most of the benefits of a manual grinder: inexpensive, mess-free, lightweight. However, it falls a bit short in the portability category. The glass body of this tiny grinder made us less likely to toss it into a bag and take it traveling or on a camping trip. If you're looking for something more portable and durable, the JavaPresse Coffee Company Manual will serve you better. If you just want a hand grinder so you can quietly and discreetly grind beans at your desk or in the kitchen before everyone else wakes up, the Hario Skerton is a bit faster than the JavaPresse."
5. DeLonghi KG89
Best for Finesse Settings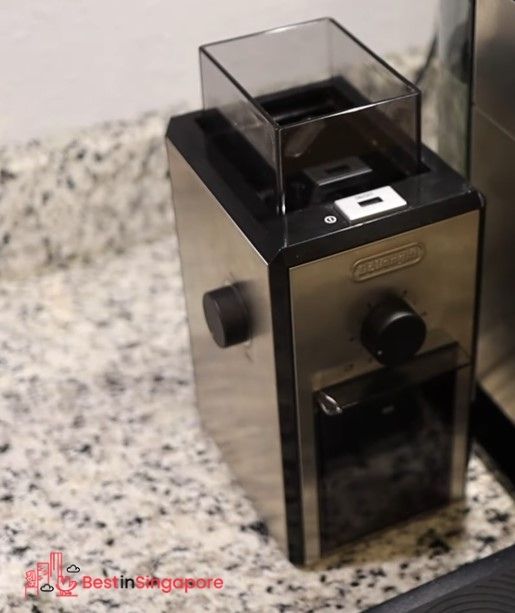 Price: $82.00
For those who are very particular with the finesse of their coffee, you'd absolutely love the DeLonghi KG89 coffee grinder. This goes well not just with any DeLonghi coffee machine but most brands as well.
This coffee grinder features a broad range of settings. This electric coffee grinder also has a control knob to help you manage the number of servings you'd like to prepare.
This uses two grinding wheels that produce perfectly ground coffee, preserve aroma, and prevent overheating as well.
It also has a dual safety system that automatically turns the unit off if the container or the lid is not in place. In this way, you can avoid possible spills and other hazards.
Highlights
120g capacity (bean hopper)
Stainless steel material
Finesse settings
Dual safety system
Customer Reviews
A reviewer said that the DeLonghi KG89 is perfect for home-brewers and it's also one of the best for a budget-wise option.
The Coffee Barrister shared this review on their blog:
"The DeLonghi KG89 Stainless Steel Burr Coffee Grinder is an entry-level machine that's aimed at home-brewers and baristas who're just starting out. It boasts an unconventional boxy design that uses a set of steel burrs for uniform and consistent grinding. Some advantages, a few disadvantages, the DeLongi KG89 Stainless Steel Burr Coffee Grinder is a value-for-money proposition. I understand it's not perfect, but the flaws are minor and not things we've not heard of from an entry-level coffee grinder."
6. Bodum Bistro Blade Grinder
Best for Affordability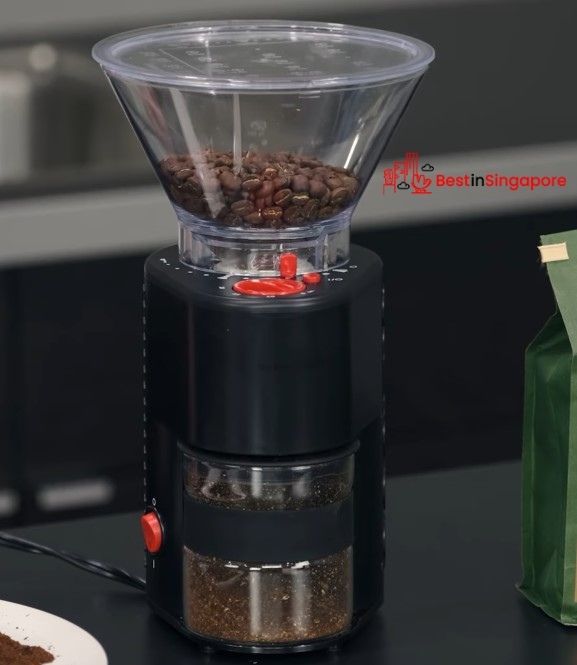 Price: $75.00
Are you looking for a coffee grinder in Singapore that can fit within a tight budget? If so, then you should take a look at the Bodum Bistro Blade Grinder, an electric coffee grinder with excellent features and a low price.
It's built with a strong stainless steel cutting blade that runs at an accurate RPM and provides consistent results. Together with its push-button control, you can opt for a continuous grind.
To monitor the progress of your desired coarseness, it's designed with a transparent lid on the top.
Highlights
Stainless steel material
Blade cutter
Electric grinder
Affordable price
Customer Reviews
Though there have been complaints from some customers, many of the users said that these flaws are minor and can be solved with simple solutions. That's why they still marked the Bodum Bistro Blade Grinder as one of the best coffee grinders in Singapore.
A customer from Amazon left this feedback:
"I read all the customer reviews and as the former owner of both a really fancy burr grinder and a Krups blade grinder (lost in the last move, darn), I can say that those folks complaining about static, uneven grind, cleaning issues, mess when uncapping it (hint: Hold it upside down and tap the bottom gently to loosen the grinds then slowly release the cap), and breaking the red contact pin… I have to wonder: do they complain because they're socks aren't labeled L and R? It's a blade grinder. It does a perfectly good job of grinding my coffee beans every morning. This, in my household, is a very important job indeed. Yes, it "sheds" a little bean dust when you remove the cap. I have never ever had a grinder of any price or type that didn't. Get a sponge. *sigh* I loved my Krups, I loved the burr grinder (ex got it in the divorce), and I love the Bodum."
7. Krups GVX23
Best for Easy to Use Settings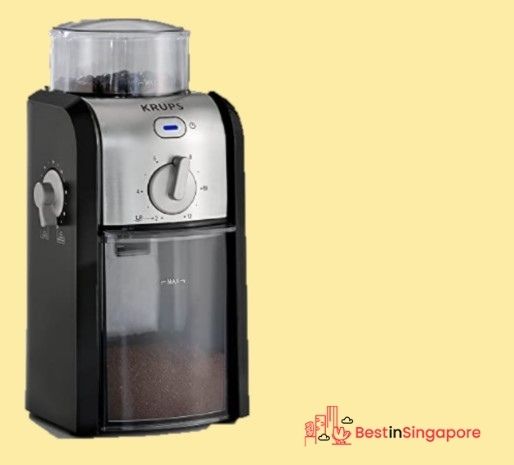 Price: $79.00
The Krups GVX23 features a total of 17 customised grind settings so you can have a more personal experience grinding coffee beans. That's perfect for the finicky coffee lovers.
It has a two-burr grinder system that opts for efficient and consistent performance. To adjust the amount of coffee that you'd like to have, you can use the cup selector function with a maximum capacity of 12 cups.
This stainless steel coffee grinder even prevents waste by automatically turning off once a certain amount has been reached. With features like that, we definitely think it's one of the best coffee grinders in Singapore!
Highlights
Stainless steel material
Customisable grind settings
Cup selector function
Customer Reviews
Owners said that despite not having sufficient storage for a lot of coffee beans, the overall performance of the Krups GVX23 was still satisfying. An Amazon customer gave this feedback:
"This is a very good Grinder. I have found that it is very easy for me to change the grind settings. There are around 17 different settings but in reality you will only ever use a few. I found that if you are using a manual pump espresso machine then you will be able to fairly quickly find what grind you like in order to be able to pull a good shot. You are also able to grind coffee up to the amount of 12 cups at a time which is good. I do think that there is not a very large amount of coffee beans that can be stored in the grinder at a time which is the only thing that really annoys me when using the machine. I think that the grinder is easily worth the money. I am very happy with this grinder and I am sure that I will be continually happy using it."
8. Bezzera Crema DE PID Espresso Machine
Best for Speed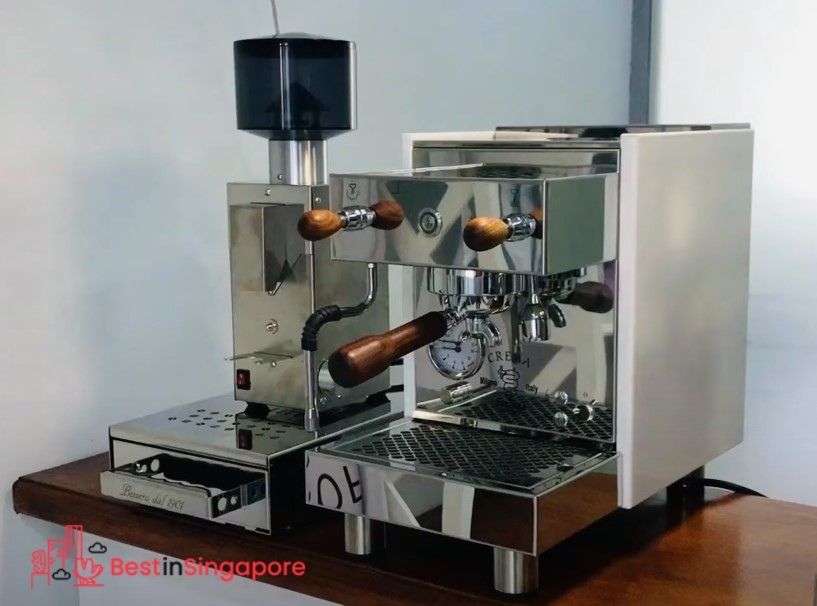 Price: $2,499.00
Get Yours From Fine Coffee Company
Now, if you want a product from the authentic and first ever manufacturer of the modern espresso machine, then this product from Fine Coffee Company's catalogue may be what you need.
The Bezzera Crema is the best semi-professional espresso machine for its speed as it's 20% faster than its predecessor BZ10 and 50% faster than the E61. This way, you won't have to wait too long for your jolt of energy early in the morning.
Compared to older models, the Bezzera Crema DE PID is also smaller, more durable, and easier to clean. It even has a special grouphead gasket for easier fastening of the portafilter.
Speaking of filters, this coffee brewer also comes with water softening upgrades. This way, you can avoid any mineral accumulation in your machine and keep it functional for long for a small additional fee.
Temperature is also an important component in the extraction process, which is why the Bezzera Crema DE PID machine features a temperature controller. This feature helps control the bitterness, sourness, and aroma of the resulting coffee.
All of these upgrades make the Bezzera Crema DE PID coffee brewer a product worthy of its expensive price.
Highlights
50% faster than E61 and 20% faster than BZ10
Water softening upgrade
Upgraded gasket for portafilter fastening
Improved thermal control
More portable than predecessors
And that's a wrap for our list of the best coffee grinders in Singapore!
Have you already picked the one that suits you the most? If you've thought of other options that must be included on the list too, you share them with us!
And for the coffee lovers out there whose mornings would not be complete without an espresso, you might want to see these best coffee espresso machines in Singapore too. Pair one of those with one of these grinders and you can have your home feeling like a private cafe in no time!