11 Firms for the Best Scandinavian Interior Design in Singapore
Are you one of those people who want to turn their homes into a minimalist paradise? Searching for the contractors that offer the best Scandinavian interior design in Singapore can be a bit stressful, especially if you don't know which ones have the skills.
Well, if that's your problem, then don't stop reading just yet. We have a list of the leading contractors with the best Scandinavian interior design in Singapore. These can come up with the best minimalist interiors for your beloved home!
1. RenoNerds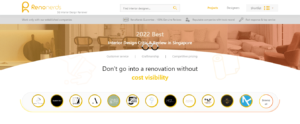 | | |
| --- | --- |
| BEST FOR | Home Renovation Platform |
| SERVICES/SCOPE | Renovation |
| PRICING | Send an enquiry to the designer via the platform |
| WEBSITE | https://renonerds.sg |
| ADDRESS | 60 Paya Lebar Rd, #06-21, Singapore 409051 |
| CONTACT | 65) 8784 7688 |
One of the things we appreciate most about RenoNerds is the number of viable options it provides homeowners. Its extensive listing features some of the most reputable interior designers known for their brilliant Scandinavian design approach.
We like how transparent RenoNerds is about designer feedback. All of the designer reviews that appear on their website are not at all curated, which will help clients make the best design decision for their space.
To help them further in their decision-making, RenoNerds features a free quick consultation for any of their listed interior designers. This enables the client to discover whether or not a designer he or she is interested in is an ideal fit for the vision for the space.
Finally, RenoNerds offers a S$50,000 renovation guarantee when users utilise the RenoNerds quotation to sign with a designer. We love that this guarantee safeguards clients' deposits until the said amount in the case of a firm insolvency.
Highlights
Extensive listing of established and reputable interior designers
100% genuine designer reviews
Free quick consultation
S$50,000 renovation guarantee via RenoNerds quotation
2. Qanvast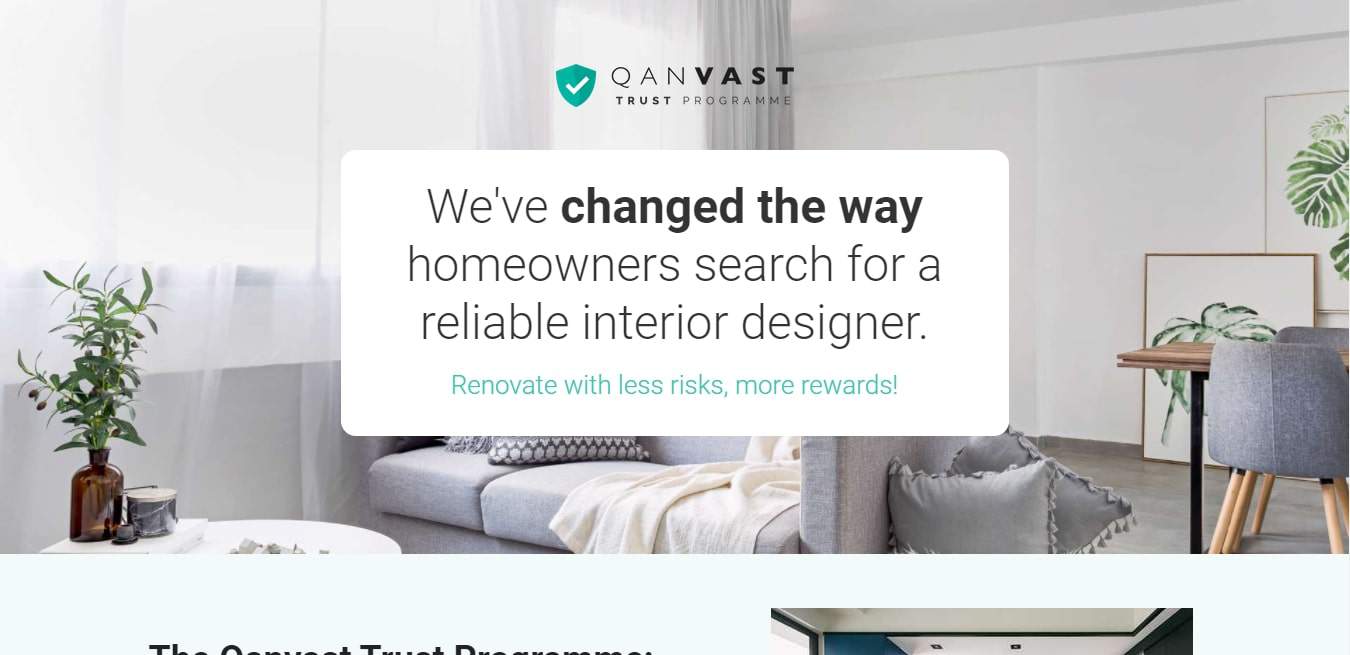 Qanvast aims to assist various clients with their home renovation. With Qanvast, interior designing won't be a hassle– it enables clients to find and connect with accredited interior designer firms that suit their tastes and expectations best.
Quality recommendations are something that Qanvast ensures to provide at all times. Their portal not only enlists excellent interior designer firms, but also records the feedback of homeowners who have previously availed of their services. In addition, Qanvast makes selecting the best interior designer firm less costly for clients, discounting the fees that they need to pay.
Qanvast has already helped over 25,000 homeowners build the house of their dreams. Become one of them by signing up on the Qanvast platform today. They also offer free sample designs so you can consult them for ideas for Scandinavian interior design in Singapore.
Highlights
Wide Choices of Designs
Awesome Staff
Professional Customer Services
High Quality Designs of Home
Customer Reviews
"Isaac was very patient with our demands in realising our Dream Home. He took the effort to research the best for our homes. For instance, we wanted to install a movable ladder to our built-in library. We got our awesome dream home library. Our renovation was done relatively fast, and of very good quality. Isaac ensured that the workmanship was according to the designs we dream for and advise us to ensure the practicality of the designs we ask for. All in all, super satisfied with our home."
3.  The Interior Lab
If you're searching for a firm that does the best Scandinavian interior design in Singapore, then The Interior Lab would be the ideal match for you! It specialises in residential and commercial design projects.
It's also known to customers for being an interior design firm that commits itself to innovative and creative designs — which is why it offers a long list of services that include minimalist interior design, project management, space planning, and even customised furniture.
The Interior Lab will make sure that living inside your dream house will be possible without spending a huge sum of money!
Highlights
Veteran designers
Experienced staff
Award-winning designs
Customer Reviews
Here are some reviews left by satisfied customers of The Interior Lab:
"Matty has worked with us on several projects over the past 10 years including the recent project in 2019. She is very creative in her use of colors, patterns and textures, and we love the results! Matty also has a great network of specialists, so she can pull together large projects as well as small.I would not hesitate in recommending Matty for all interior design needs."
"My family engaged Jason and team at TIL for interior design services. We have been very pleased with the experience and the responsiveness of Jason. Jason is a very meticulous and patient as well as responsible ID. He has understood our design requests and has also been very honest about what is realistic and given his professional advice on what will work /will not work. We fully recommend Jason and the TIL team!"
4.  Hamid & Sons Interior Design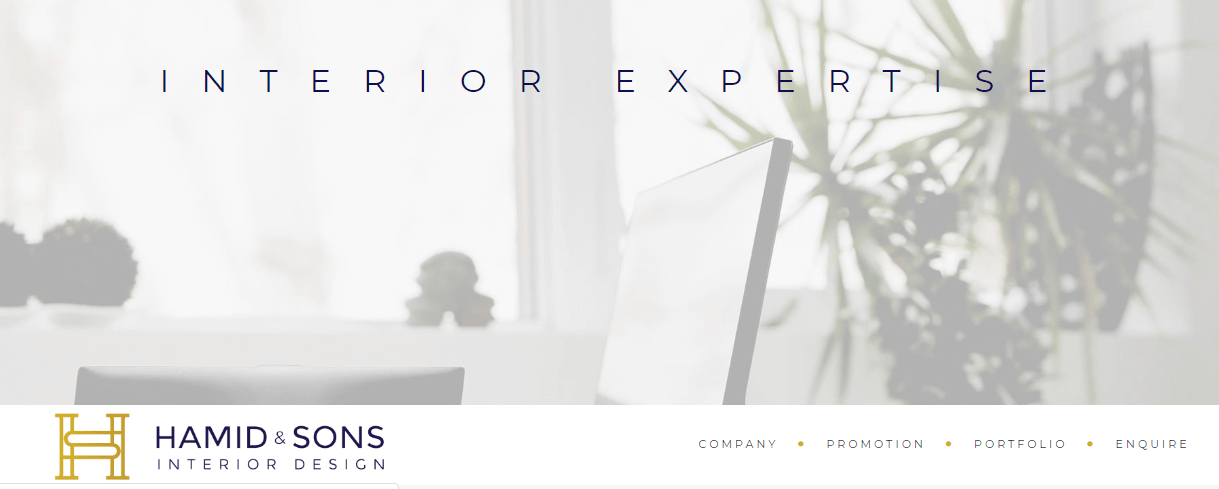 BEST FOR 
Reasonable Prices
SERVICES
Scandinavian Interior Design, Design Consultation, Renovation Projects, Interior Expertise, and Carpentry Works
WEBSITE
https://www.hamidnsons.com/
ADDRESS
18 Marsiling Industrial Estate Road 9 #01-08 S739173
CONTACT DETAILS
+65-6487-1101 |

[email protected]

OPERATING HOURS
Monday – Friday, 9:30 AM – 9:00 PM
With almost 30 years of experience, Hamid & Sons Interior Design has worked on thousands of households, providing them with quality yet affordable services.
It's also considered one of the top contractors for the best Scandinavian interior design in Singapore, so rest assured that it has a team of designers who can do minimalist designs.
What's more, it also has an in-house carpentry factory in which all furniture and products are made. All products created by Hamid & Sons are proven to be durable and made from high-quality materials.
Hamid & Sons also offers free consultations to clients who want to know what type of service best fits their home.
Highlights
Competitive pricing
Free consultation
Interior design experts
Customer Reviews
Hamid & Sons Interior Design has consistently received praise from past and frequent customers. Here are some comments:
"We had a tight schedule as the rental was ending and we had to shift ASAP. The entire renovation was completed 2 weeks ahead of schedule! Initially we had doubts about payment for cleaning fee in the quotation, but it was worthwhile the moment we took over the house and didn't have to do much scrubbing. Thank you so much Sean for making the entire design and renovation process stress free and you've done an excellent job!"
"All thanks to Sean Koh and his team from the Marsiling branch for making my dream home come true. They came in mid-way for the rescue Mission from my previous ID who was terrible and helped realise my seemingly impossible dream. Kudos to them for paying attention to every detail and taking care of all my needs and wants. I would definitely engage them again for my next property. Remarkable design, Excellent service and great experience!"
5.  Home Guide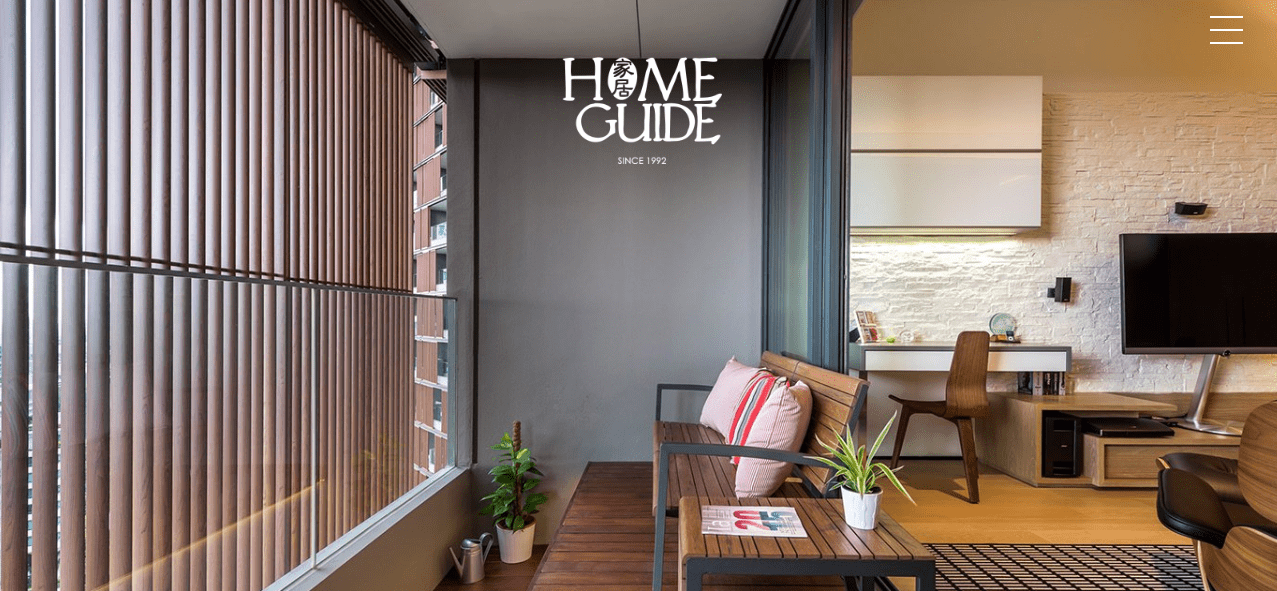 BEST FOR 
Functional Designs
SERVICES
Scandinavian Interior Design, Design Consultation, Renovation Projects, Interior Expertise, and Carpentry Works
WEBSITE
https://www.homeguide.com.sg/
ADDRESS
2 Leng Kee Rd., #01-06, Thye Hong Centre Singapore 159086
CONTACT DETAILS
(65) 6253-2539 |

[email protected]

OPERATING HOURS
Monday – Friday, 10:00 AM – 7:00 PM
Established in 1992, it's been slowly building its name as one of the top firms for the best Scandinavian interior design in Singapore. It has worked on countless homes and turned them into minimalist spaces filled with muted colours and durable furniture.
On top of that, it boasts a team of design professionals who each have years of experience under their belts. All of its designers also specialise in functional designs that don't rely only on aesthetics but usefulness as well.
Highlights
25 years of experience
Professional designers
Licensed and accredited
Customer Reviews
Take a look at the following comments posted on Google Reviews:
"We are very happy with the design work and the project that transformed our old, cramped, water logged and inefficient kitchen into a fully functional and modern one! We specified an aggressive completion date and the original plan was slightly longer than we had hoped but in the end everything was completed ahead of schedule. We would fully recommend James and his designer Sushi of Home Guide, plus their entire team of sub-contractors, for any home renovation project large or small."
"Quality design and workmanship. Wick was very patient, he listened to our many ideas and shared his expert opinions and advice in a humble manner. It was nice to work with him to create something together when we renovated our new home. He still kindly offers his assistance through Home Guide services or recommended vendors even when we need help after a few years. Appreciate Home Guide's reliability and support."
6.  Darwin Interior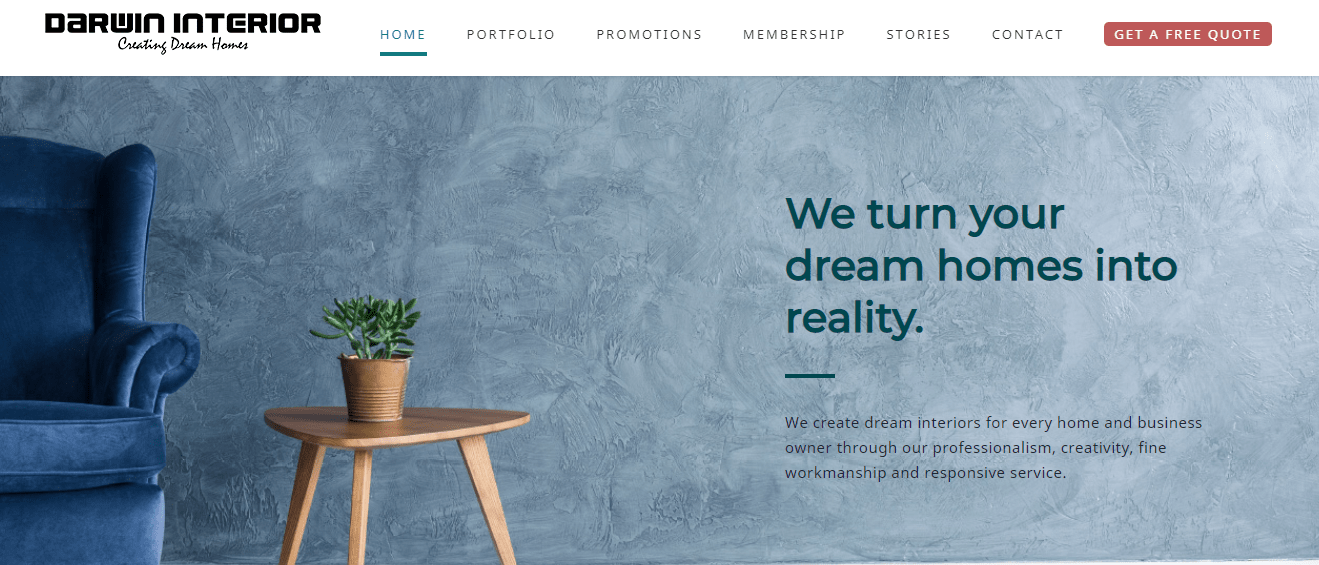 | | |
| --- | --- |
| BEST FOR  | Free Quotation |
| SERVICES | Scandinavian Interior Design, Commercial Projects, Space & Layout Planning, Carpentry Workmanship, and and 3D Design |
| WEBSITE | https://darwininterior.com.sg/ |
| ADDRESS | 70 Bendemeer Rd., Luzerne #01-01 (Formerly known as Hiap Huat House) Singapore 339940 |
| CONTACT DETAILS | +65-6396-8558 |
| OPERATING HOURS | Monday – Friday, 10:00 AM – 7:00 PM |
If you're looking for an interior design firm with a great track record, then look no further than Darwin Interior.
It has more than 40 experienced designers and consultants who can deal with any type of project thrown their way — which is why it's easy for us to name it one of the top firms for the best Scandinavian interior design in Singapore.
Some of the design projects it offers include residential and commercial interiors, homeowner protection, space and layout planning, and carpentry works. What's more, each project will come with a 3-year warranty to ensure accountability.
Highlights
3-year warranty
Insured payments
7.  Monoloft
BEST FOR 
Comfortable and Fresh Designs
SERVICES
Scandinavian Interior Design, Space Planning, Project Management, and Interior Furnishing
WEBSITE
https://www.monoloft.sg/
ADDRESS
Nordcom 1, 3 Gambas Crescent #04-07, Singapore 757088
CONTACT DETAILS
+65-6677-0396 |

[email protected]

OPERATING HOURS
Monday – Friday, 12:00 PM – 8:00 PM
Monoloft is famous for its fresh, innovative, and sustainable designs that make households more comfortable. We included it in our list of the top firms with the best Scandinavian interior design as it specialises on minimal interiors.
Moreover, it offers personalised services to ensure that every customer's demands and preferences will be accommodated, from designs down to the furniture used.
It has a team of competent project managers who ensure that the renovation will be completed within the set timeframe and not go beyond the budget of customers. That's one of the reasons they're so highly regarded.
Highlights
13 years of experience
Personalised services
Customer Reviews
Take a look at some of the reviews posted by satisfied customers:
"Thank you Joseph! If not for you, we will be ripe-off by our previous contractor. We were completely at ease when you oversaw our two student hostel construction projects. Your attention to details and problem solving skills is way beyond our expectations. Good to have you on our back when we take on bigger projects in future! All the best to your business."
"Just completed our renovations using Monoloft and overall we are very happy and satisfied with the outcome as well as service. It was great working with Joseph who is very responsive, replying to our queries at even odd hours, and also very helpful, assisting us on some requests which are not within the scope of his services. Would highly recommend it!"
8. Sync Interior Pte. Ltd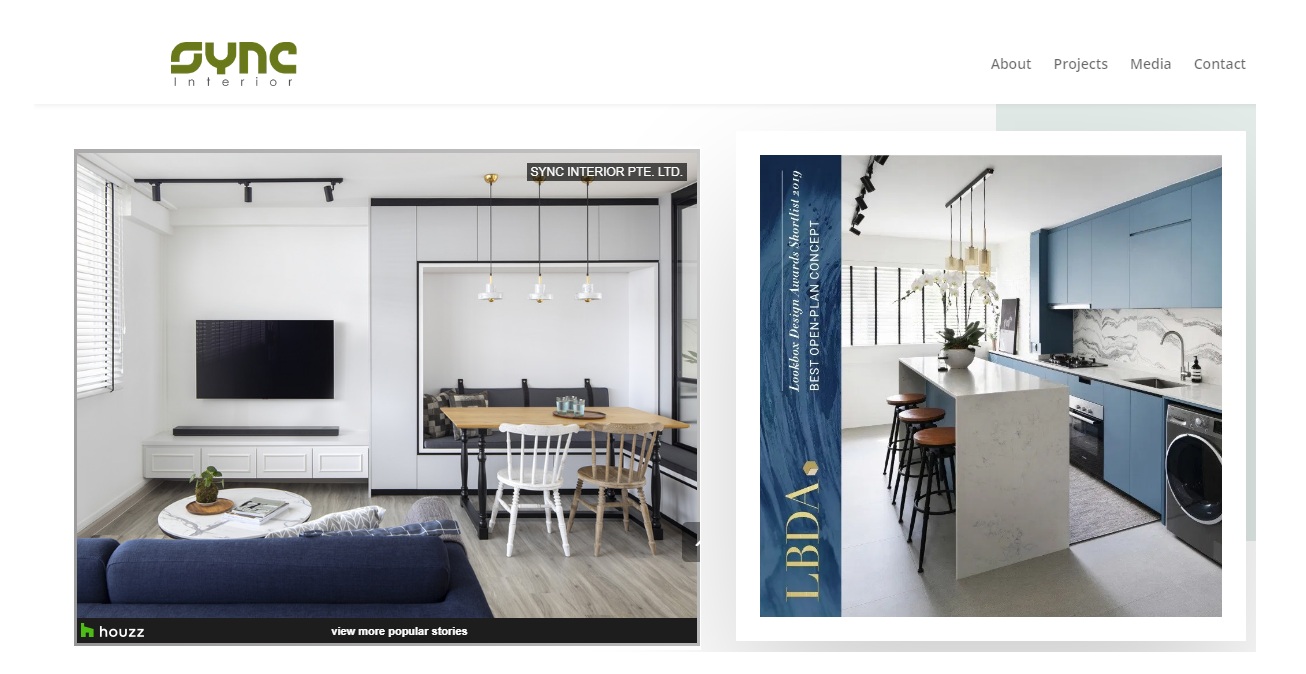 BEST FOR

Condominium interior

SERVICES

Condominium, HDB Flat, Landed House

WEBSITE

https://www.syncinterior.com/

ADDRESS

400 Balestier Road #02-34 Balestier Plaza Singapore 329802

CONTACT DETAILS
[email protected] / (+65) 9179 6294
OPERATING HOURS
Monday – Friday:

9:00 am to 5:30 pm

Saturday: 9:00 am to 1:00 pm
Sync Interior Pte. Ltd is composed of a team of dedicated interior designers. They work especially close with their clients—dealing and consulting with the details of the project. Most of their work circles on condominiums or flat. However, they also design the interiors of HDB. You may contact the firm using their phone number or email address.
Highlights
Modern and stylistic design

Minimalist design
9. Meter Square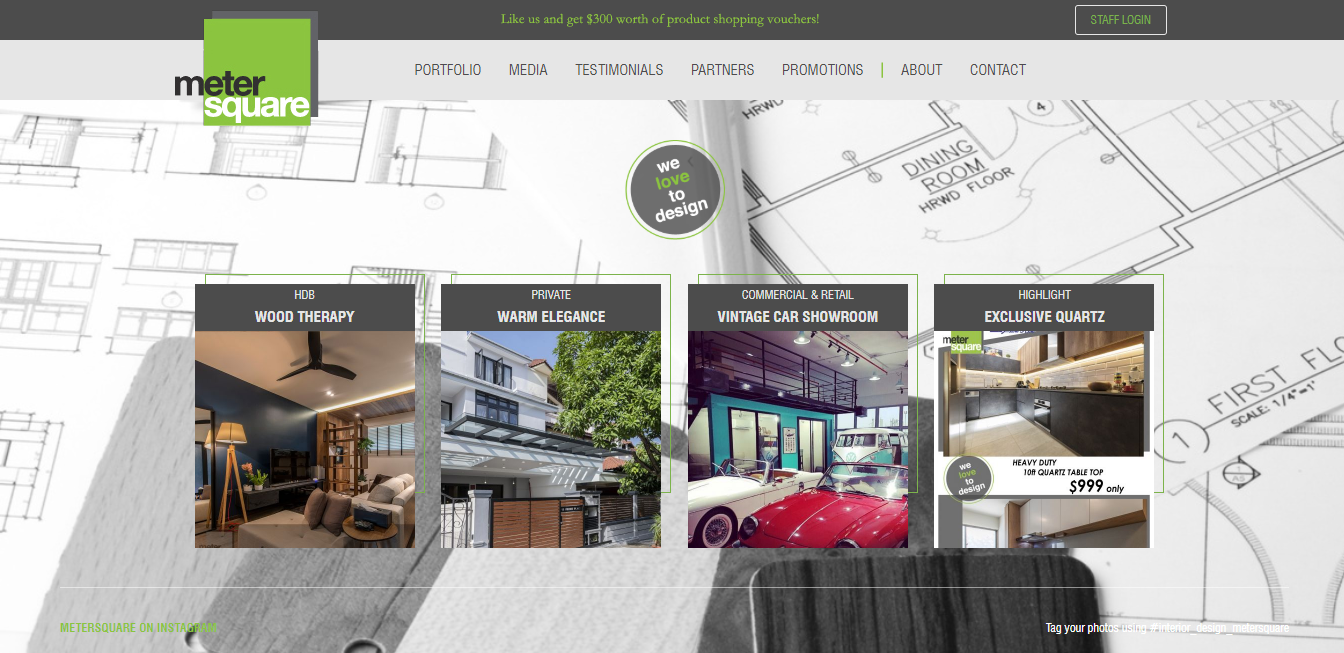 BEST FOR
Interior Designs
SERVICES
Multi-faceted Designs, Renovation Projects, Interior Expertise, and Carpentry Works
WEBSITE
http://www.metersquare.com.sg/
ADDRESS
62 Ubi Rd 1 Oxley Bizhub 2
#01-37
Singapore 408734
CONTACT DETAILS
65 6256 2586 | [email protected]
OPERATING HOURS
Monday – Friday, 11:00AM-6:00PM
Meter Square is an established interior design firm in Singapore, founded by their director May Chang. May Chang was once a struggling entrepreneur who now has over two decades' worth of experience that allows her to lead Meter Square the way she does today.
The firm believes that creating multi-faceted designs by marrying sleek forms with practical functionality. Meter Square also places a strong focus on each task they are given and is committed to understanding the client's needs, like budgetary and time concerns.
The holistic approach that the Meter Square team takes on can help make your interior design dreams into a reality.
Highlights
High client engagement during projects
Offers carpentry services
Customer Reviews
Here are some testimonials left by satisfied customers of Meter Square:
"Mint was a joy to collaborate with. She has a keen eye for details and often identifies issues preemptively that she knows we would be concerned about. She actively highlights the pros and cons of choices we were presented so that we could make the best decision. Above all that, she endeavors to achieve the vision of what we wanted, going beyond what is readily available in the market or what she has done before. Highly recommended if you are looking for someone whom can make your vision a reality and just produce a run of the mill job."
"We engaged May and Michele sometime in May 2018 before we collect our keys to our new place which we planned to do an overhaul renovation. After speaking to few IDs, we are most impressed with the open kitchen layout proposal from May and Michele as well as their attention to fine details. Their meticulous approach of going through every single design and work with us gave much assurance to us especially we are both quite hectic with our work. During the project, they were responsive to our calls and WhatsApp messages, and able to deliver the place to us by our required deadline without compromising the quality of their workmanship. We have moved in to our new place for 2 months now, yet they are always accommodating with our request to touch up certain things. Well done to May, Michele & Meter Square's Team"
10. Neu Konceptz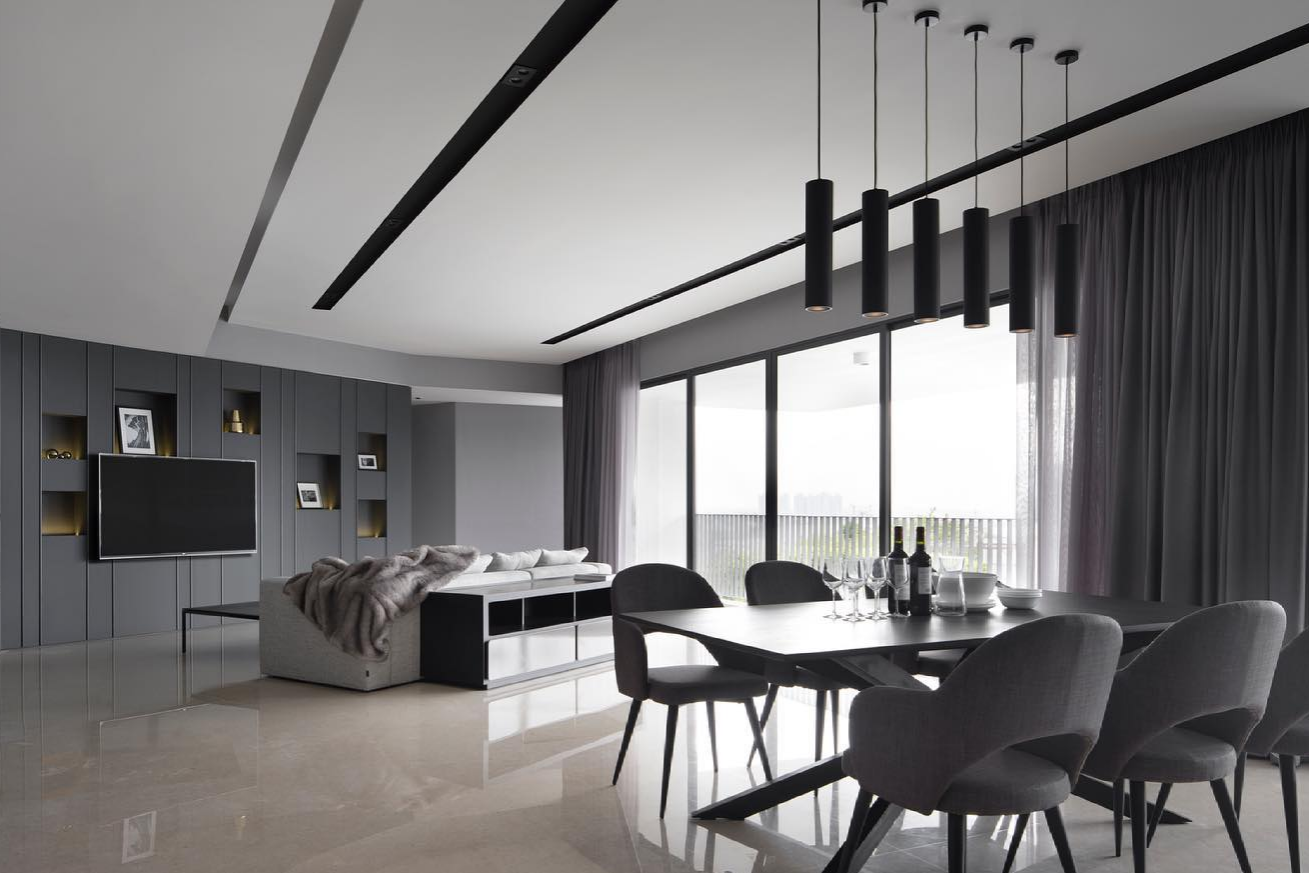 BEST FOR
Award-Winning Refined Designs
SERVICES/SCOPE
Project Consultancy
Design Conceptualisation
Space Planning
Project Management
Design & Build
A&A and Reconstruction
Home Automation
Landscaping
Interior Styling
PRICING
Contact for more information
WEBSITE
https://www.neukonceptz.com.sg
ADDRESS
28 Senang Crescent #03-11, Bizhub 28
Singapore 416601
CONTACT
Tel:
+65 6746 3723
Email:
[email protected]
Established in 2013, Neu Konceptz is an award-winning interior design firm that focuses on aesthetics, purpose and sustainability in all of their projects.
Their team consists of diverse, talented individuals, each with their own specialities. The diversity makes it possible for Neu Konceptz to work with clients regardless of the request, resulting in an effective partnership that creates the beautiful spaces that Neu Konceptz is known for.
If you work with Neu Konceptz, you can expect to be included every step of the way. Not only that, but there are little to no fusses in the firm's workflow since it's all very straightforward, from initial conceptualisation to digital screen rendering, followed by the execution to the handover of the projects.
So, if you're looking for a firm whose achievements show for their work, with a highly professional and communicative team, Neu Konceptz may be an excellent choice for your next project, no matter if it's residential or commercial.
Highlights
Award winning design firm
Follows a stringent workflow from start to finish
Prompt, professional, and diverse team
11

. Livspace Singapore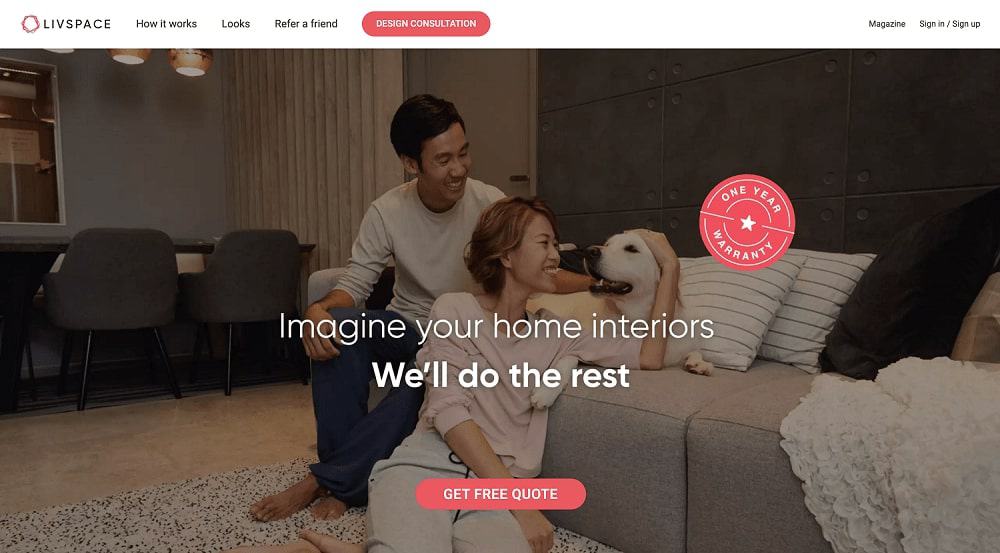 BEST FOR
Renovations, Full Home Interiors, Landed Interior Design
SERVICES/SCOPE
Renovations
Design and build
Carpentry work
Demolition, hacking, masonry, plumbing, etc.
Furniture and decor sourcing
PRICING
You can talk to a designer to get a free quote and sample designs.
WEBSITE
https://www.livspace.com/
ADDRESS
Level 6, Beach Centre, 15 Beach Road, Singapore 189677
CONTACT
[email protected]
Livspace, Asia's biggest interior designer, is also a platform that allows you to connect with experienced and highly renowned interior designers all around the country. There's no doubt that they're partnered with professionals, ones that have many years of experience.
Navigating their site is incredibly easy, even if you aren't used to finding interior designers online. As a plus, they even offer free consultations so you can contact them now to find the best Scandinavian interior designer in Singapore for you. Take the next step for your dream home and visit their website now!
Highlights
Award-winning designers
Verified contractors
$4 million cover by AXA
One year warranty
Customer Reviews
After meeting a few renovation companies, we decided to go with Livspace to design and renovate our new home. We worked with William and found him to be approachable and accommodating. Mostly, he could articulate designs, which were practical yet appealing while taking into consideration safety aspects for our young child.
–Willie Yeo via Trusted Interior Singapore
Livspace was highly recommended and we were pleased. It was the first time we have used a design professional and I would highly recommend leveraging the skills and experience of Livspace.
–Andy Clark via Trusted Interior Singapore
I recently dealt with Livspace for the renovation of my apartment. Their suggestions were non-intrusive but useful and my designer was able to understand my taste, budget and requirements and plan accordingly.
–David McGoldrick via Trusted Interior Singapore
And with that, we conclude our list of the firms that offer the best Scandinavian interior design in Singapore. If you've tried out the services of any of these interior design firms, don't hesitate to share your experiences with us!
And if you're looking for financial support to help you have your house renovated, then take a look at our list of the best renovation loans in Singapore. These can be of aid if you want to bulk up your renovation budget a little.