20 Best Painting Services in Singapore for House Projects (2022)
Renovating a space or trying to put the finishing touches on one? You'll need the best painting services in Singapore for that to go perfectly, as getting amateurs can lead to more trouble than it's worth.
A poor paint job not only looks shabby but can also be less durable than a good one. Poor painters may have uneven work, or may not be aware of the effects factors like the weather can have on what they're doing.
That's why we've decided to help you out today by giving you a list of the best painting services in Singapore. See our list of the best painters on the island here:
1. Singapore Painter Compared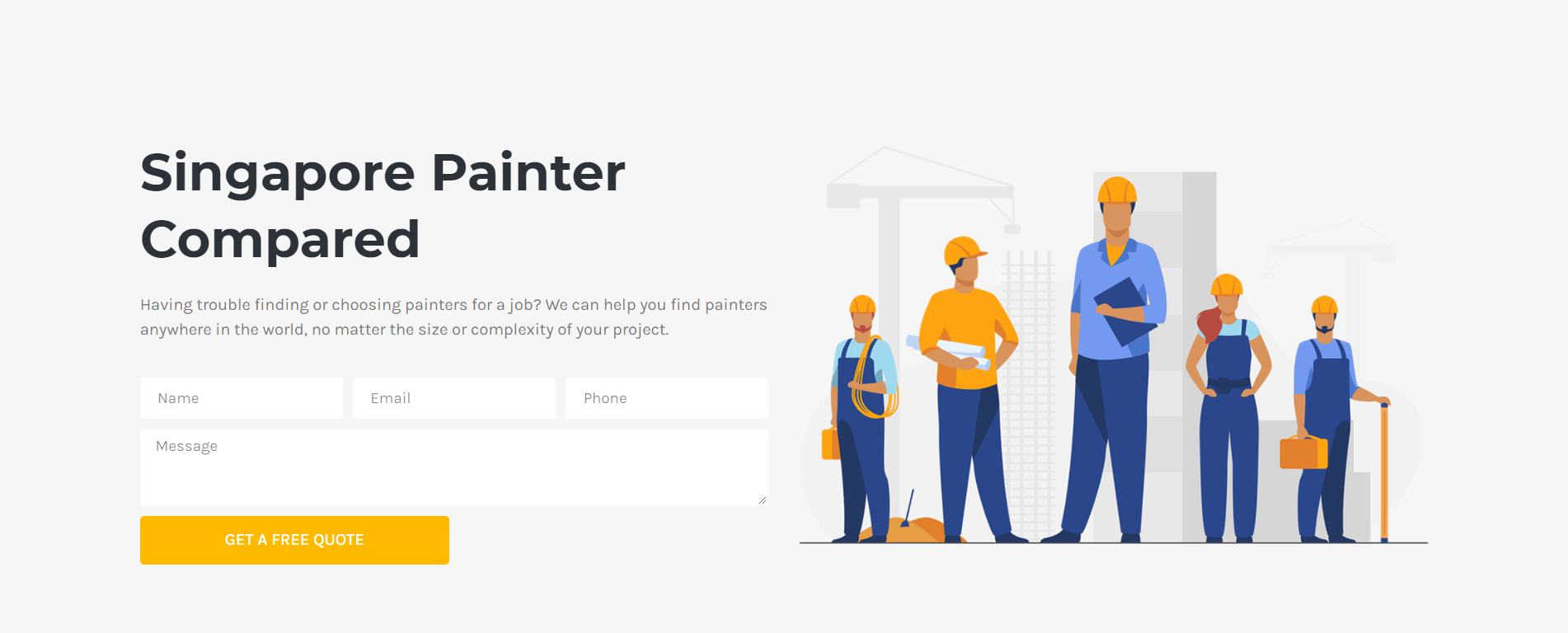 Do you want to compare the cheapest painting services in Singapore? We've found the platform just for you. 
Singapore Painter Compared is a platform that allows you to compare painting service providers all around Singapore. Their extensive directory allows you to connect with only the most reliable companies available.
Their filtering process can account for both your area and painting requirements, leading to more accurate price estimates that are sure to fit your budget. If you're in need of a painting contractor in Singapore, don't hesitate to try their website out — you certainly won't regret it.
Service Highlights
Free quote available
Extensive global directory
Accounts for your area and painting requirements
Provides accurate price estimates
2. Reliable Painting SG
BEST FOR
Quick painting services for any property type
SERVICES
HDB Painting
Condo Painting
Landed Property Painting
Commercial Office Painting
Retail Shop Painting
Factory Workshop Painting
Handyman Service
Electrical Service
Plumbing Service
Professional House Cleaning
WEBSITE
https://www.reliablepaintingsg.com/
ADDRESS
Sims Ave, Singapore
CONTACT DETAILS
OPERATING HOURS
Contact for more information
If you need a home painting service in Singapore, you will want a company that's reliable and trustworthy. 
As the name suggests, Reliable Painting SG is a company one can depend on when on the search for high-quality painting services. Their range of expertise is one of the widest on the list, offering to paint HDBs, condos, landed properties, commercial properties, and even factories.
The company's expert team makes use of Nippon Paint, ensuring that the job is done quickly and excellently. This has made them a popular choice for commercial, home or wall painting in Singapore.
Moreover, Reliable Painting SG also offers renovation services like handyman, electrical, and plumbing services, making them one of the most comprehensive property improvement companies in all of Singapore.
Service Highlights
Outstanding team of over 10+ painters 
Lowest painting costs in Singapore
Renovation services available
Paints a wide array of property types
Customer Reviews
Here are some feedback left by previous clients:
"We engaged Reliable Painting to repaint our home. We choose a darker colour to match our theme and we couldn't be way happier on the outcome. The painters were very detailed and made the process so much easier. Definitely recommended!"
"David and his team was efficient, painting was careful and neat. Me and my husband was really satisfied with the quality service provided. Will highly recommend them to my friends and family. Was a pleasure working with them."

"Good workmanship and good service. Mr David is very helpful and responsive. Thanks again for the great job done."

3. PAINT SERVICE SINGAPORE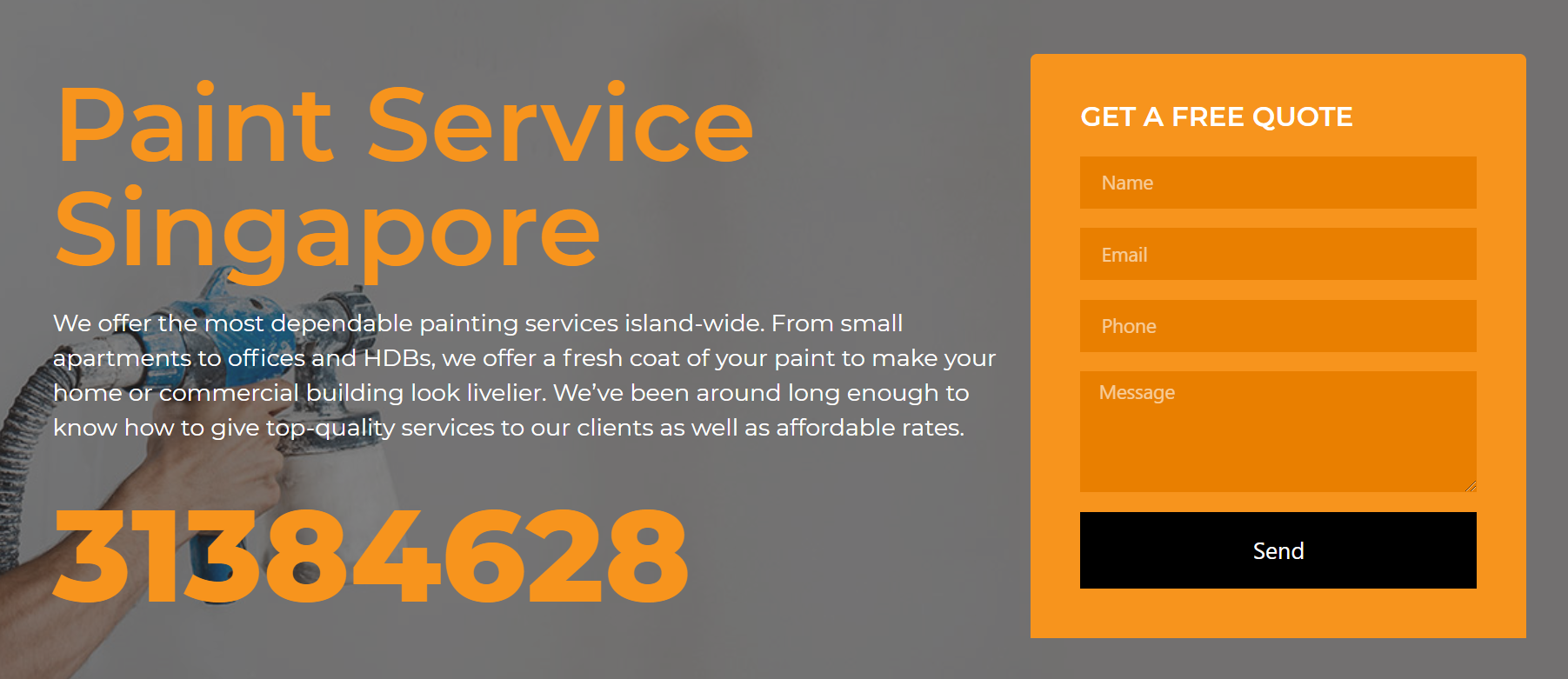 Paint Service Singapore is an excellent choice for those looking to liven up their space. Whether it's for commercial or house painting services in Singapore that you're after, the painters of Paint Service Singapore is guaranteed to deliver a job well done.
One of the main reasons why top-notch services are ensured with Paint Service Singapore is their expertise in interior design. The team's knowledge regarding the subject matter allows them to work proficiently, all the while choosing the perfect colours for your space.
Not only that, but they only use the best paint in their projects, too. This way, you can rest easy knowing that some of the best painting services in Singapore are also using high-quality paint to brighten up your property.
Service Highlights
Offers cost-effective services
Open to painting residential and commercial spaces
Excellent warranty
4. A&J PAINTING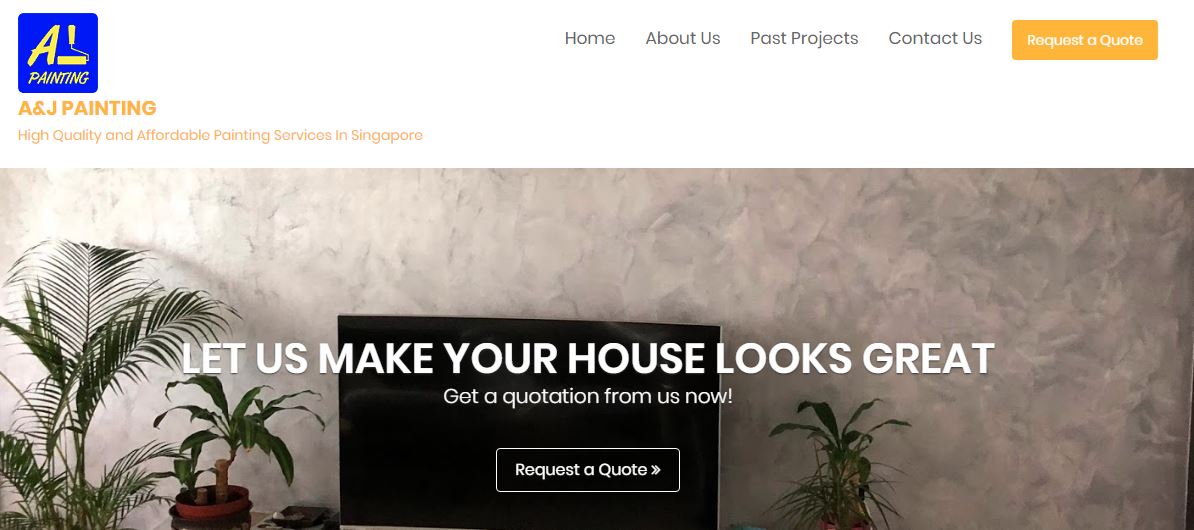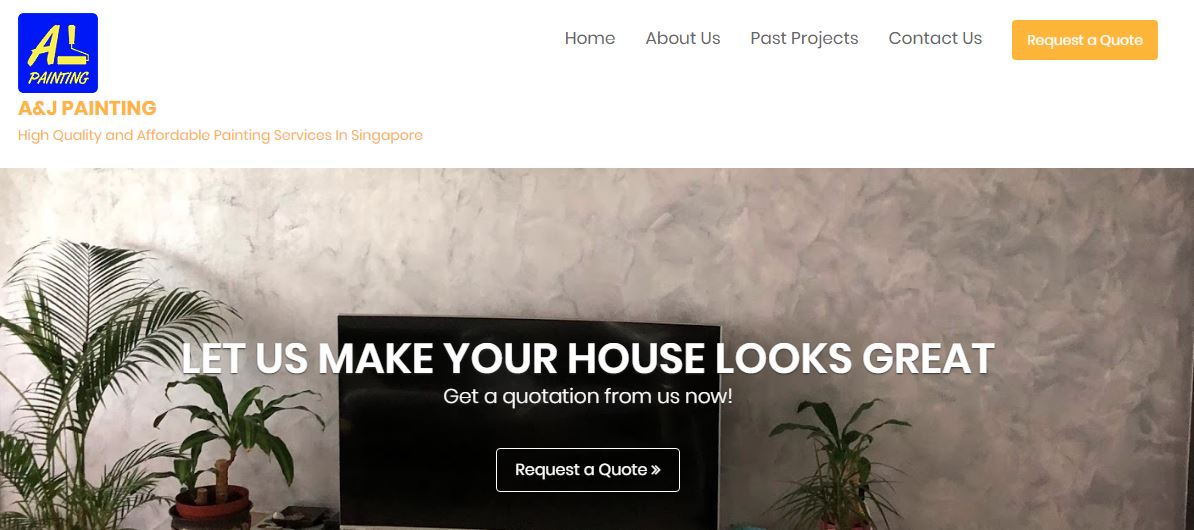 BEST FOR
High Quality and Affordable Painting Services
SERVICES
Contact for more information
WEBSITE

https://ajpainting.com.sg/

ADDRESS
190 Middle Road, #19-05, Fortune Centre Singapore 188979
CONTACT DETAILS
93821820
[email protected]
OPERATING HOURS
Contact for more information
A&J Painting only uses Singapore Professional Painters to ensure Excellent painting service for your lovely home or office. Aside from painting, they provide Handyman work like electrical, aircon, floor polishes, plumber, drilling holes to hang pictures, etc.
Their competitive rates have made them one of the preferred cheap painting services in Singapore by many. 
Service Highlights
Specialised in repairs and services for:
Painting
Aircon Systems
Electrical
Floor Polishing/Parquet Varnish
Marble Polishes
Dismantle Build in furnitures
Carpentry
Plumbing
Wall Papers
Partition
False ceiling
Tiles hacking
Renovation works
Other handyman works
Customer Reviews
5.0-star Google review from:
"I am lucky to chance upon A&J for a home painting job. From quotation to job done, the experience has been positive, reliable and trustworthy. Special thanks to the painter who is very professional and skillful, it was not an easy job considering the poor condition of my ceilings. I'm happy with the results – Highly recommended!!!" 

5. STAMFORD PAINT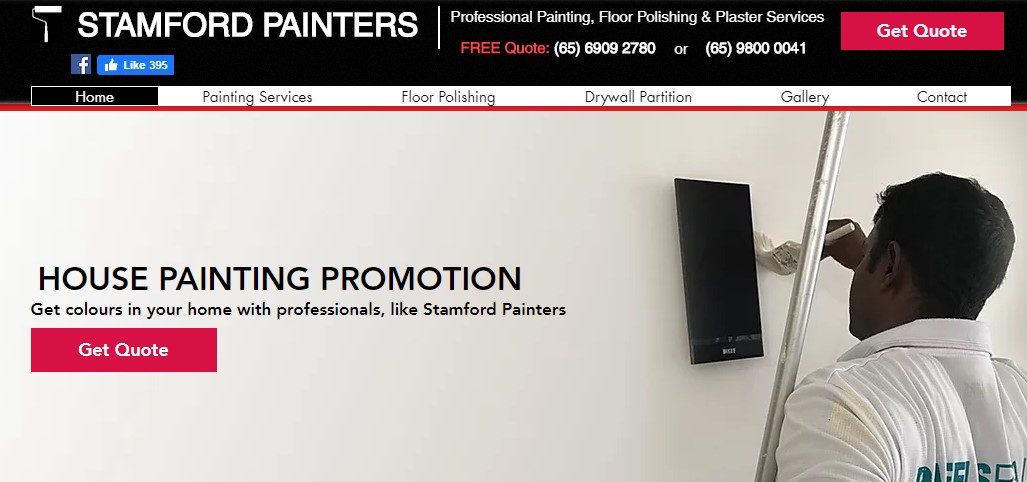 BEST FOR

Professional painters

SERVICES

HDB/Condo Painting
Landed House Painting Commercial Painting
Texture Painting
Parquet Floor Polishing
Marble Floor Polishing
Metal & Wood Painting
Drywall Partition

WEBSITE

https://www.stamfordpaint.com/

ADDRESS
367 Jalan Besar S(208996)
CONTACT DETAILS
6906 2780 | 9800 0041
OPERATING HOURS

Contact for more information
Perhaps you're working on a home renovation project and want a company that can do quality house painting in Singapore?
Stamford Painters can provide with you an accurate quote and dedicated project manager to book your paint job. Paint with Singapore's leading painting company. They will be there to walk you through the painting process, answer your questions and help you schedule our painting contractors. Whether you're looking for commercial or residential painting services, Stamford Painters can help you.
Service Highlights
Fast service and flawless painting for fair prices
Professional painting, floor polishing, and dry wall partitioning services
Customer Reviews
Sergio Tang's 5-star Google review:
"5 STARS FOR SURE!!!! I engaged Stamford Painters to polish my living room marble and the results are insane!!! My marble is now smooth and shiny compared to the worn out condition that it was previously. The service provided was also awesome, which makes life easier." 
6. Benjamin Moore Singapore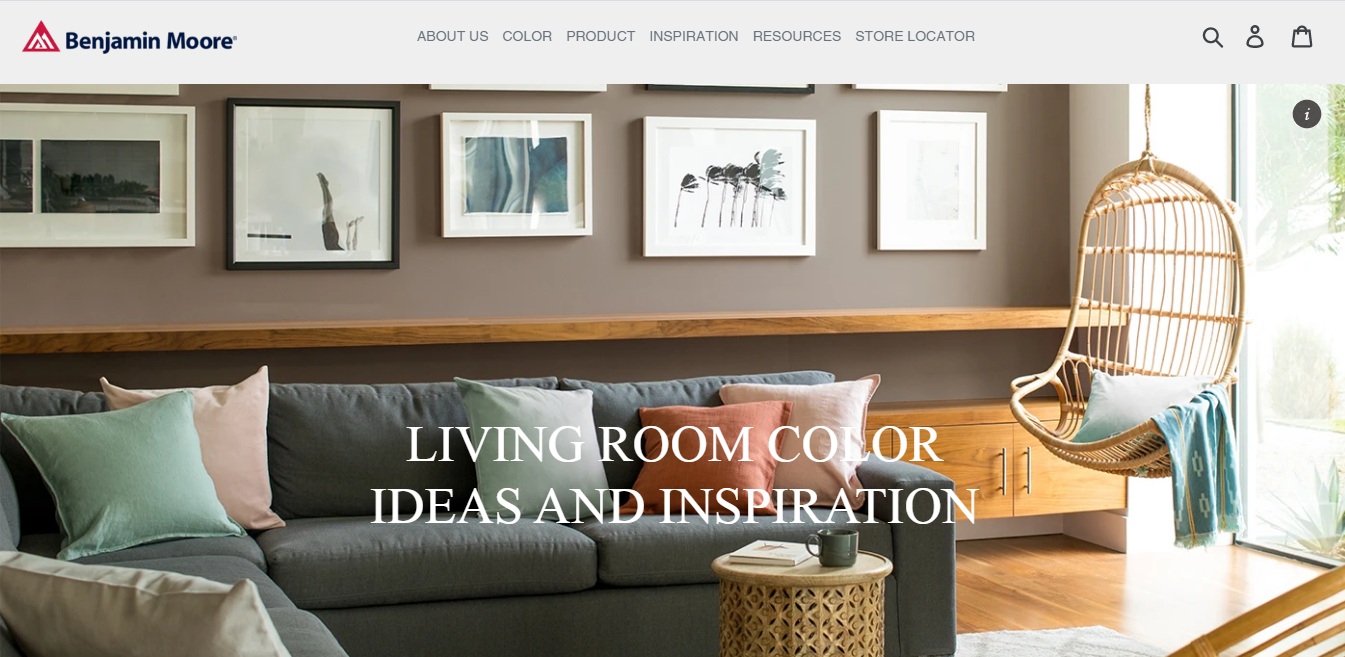 Look no further than Benjamin Moore Singapore if you are looking for top-notch professional painting services for both homes and offices. With transparent pricing packages for different home types, you can count on them for a seamless painting experience.
The company only uses premium quality Zero-VOC Benjamin Moore Paints which is manufactured in the U.S and has a rich history dating back to 1883. Paired with their incomparable selection of more than 3600 premium colours, you can be assured of beautiful, lasting results when you paint with them.
They also pride themselves on their service level for every painting job that they embark on, making sure you receive the best advice on every single detail of the job and ensuring your satisfaction.
Their wide selection of paint and colour palettes and years in the industry has no doubt made them one of the most preferred painting services in Singapore.
Service Highlights
Premium quality paints and professional workmanship
Widest selection of colour palettes
Complimentary tailored colour advice
Customer Reviews
"From start to finish, Ricky gave excellent advice on both aesthetics and technical fronts. Customer service definitely A* too. Although I wasn't in Singapore while the paint work was carried out, he updated me daily via photos and texts, and visited my house daily to check on progress. Great follow- up too, and workmanship is very good. I'm very pleased with Ricky and his team. Would 100% recommend. Thanks again, Ricky and team!"
7. 5 Star Painting

5 Star Painting emphasises that timeless design is part of maintaining the true value of a place. This is why they strive to provide the finest-quality services for their clients.
They have a large number of skilled painting contractors. They may not have the widest range of services (because they only include HDB and Condominium properties in their painting services), but their quality is hard to fault.
Contact them soon if you want to know more about painting services in Singapore price and rates.
Service Highlights
HDB and condo painting services
Professional contractors
Affordable rates and special discounts
Customer Reviews
With the prime services of 5 Star Painting, clients claim that they keep coming back to the company whenever they have need of painting services. Azhra Begum wrote this feedback on Google Reviews:
"Mr.Joshua is a very organized and systematic person.  He has great interpersonal skills and is good in recommending the paint colours to us.  The painters are very punctual in neat in their work thus taking the extra pride in doing a good work done. Their work is highly recommended to those who want good quality workmanship and work done on schedule. Well done to the team of 5 Star Painting Services."
8. Coozy Painting Services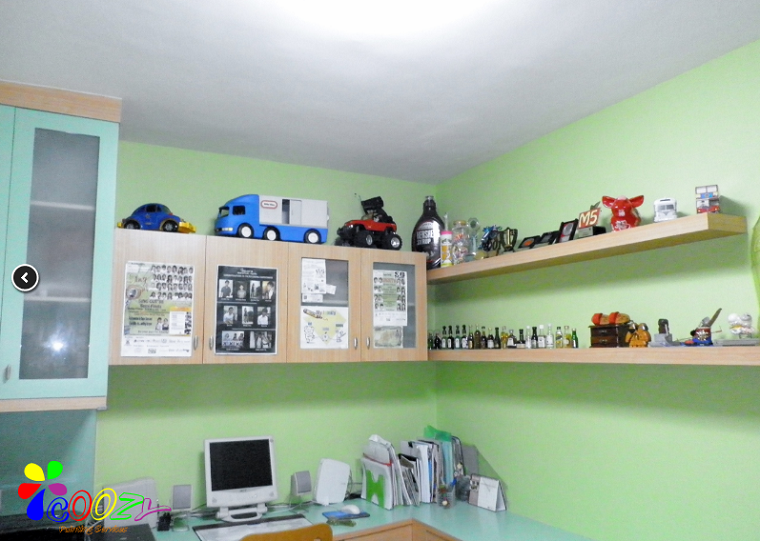 Coozy Painting will assist you with every step of the design process. From the consultation and preparations up to the actual painting work, they will give you the professional assistance you require.
They are also one of the longest-operating companies in the industry so when it comes to painting in Singapore, they're one of the most reliable. They're especially skilled at providing creative painting solutions.
Service Highlights
Plumbing and electrical services
Personalised budget and schedule
Free on-site quotation
Customer Reviews
Other than painting your place with relevant and favourable schemes, their additional services such as wallpaper removal and painted special effects have gained the loyalty of their clients.
Ms. Lim Fang Yann praised the team and gave them these compliments on the official website:
"From initial on-site viewing quotation; request through post painting clean up, whole process was a breeze, comforting and happy experience. Mr Raymond and his team took pride in their job. Their integrity and professionalism have earned my full trust. It is a fantastic feeling knowing that my house is secure and safe in their hands. Value for money service, with reasonable quote and free plumbing services thrown in! Fabulous lobang, no need to search further! They provide one-stop electrical services." 
9. Nouve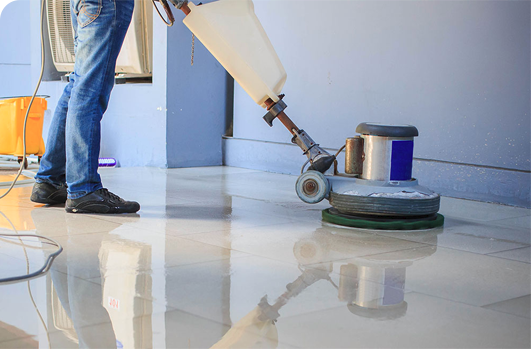 | | |
| --- | --- |
| BEST FOR   | House painting and maintenance services |
| PRICING | Rates |
| WEBSITE | https://www.nouve.com.sg/paint.html |
| ADDRESS | 190 Middle Road #19-05 Fortune Centre Singapore 188979 |
| CONTACT DETAILS | (65) 6826 1187 |
| OPERATING HOURS | Monday – Sun: 9.00am – 6pm |
Nouve Home Services is a one-stop solution for residential remodelling or renovation projects. They offer professional home cleaning and removals, overall house painting, aircon cleaning, curtain dry cleaning, and even marble polishing.
With their extensive home maintenance services, you're assured that everything will be taken care of. Once you have finalised your ideas, simply inquire with them and they will immediately do a free pre-painting site inspection. 
Service Highlights
Marble polishing services
Shifting and protection of furniture and floors
Proficient and talented contractors
Customer Reviews
The management of Nouve Home Services has earned numerous positive reviews from their former clients. Here's a review from one customer:
"Just want to let you know that your team were excellent. They were very professional and took no time at all to complete the job. I just wanted to let you know because it is the best service I have ever experienced in Singapore. So, congratulations to you. I shall recommend you to my friends."
10. SERVICE SCHULZE PTE. LTD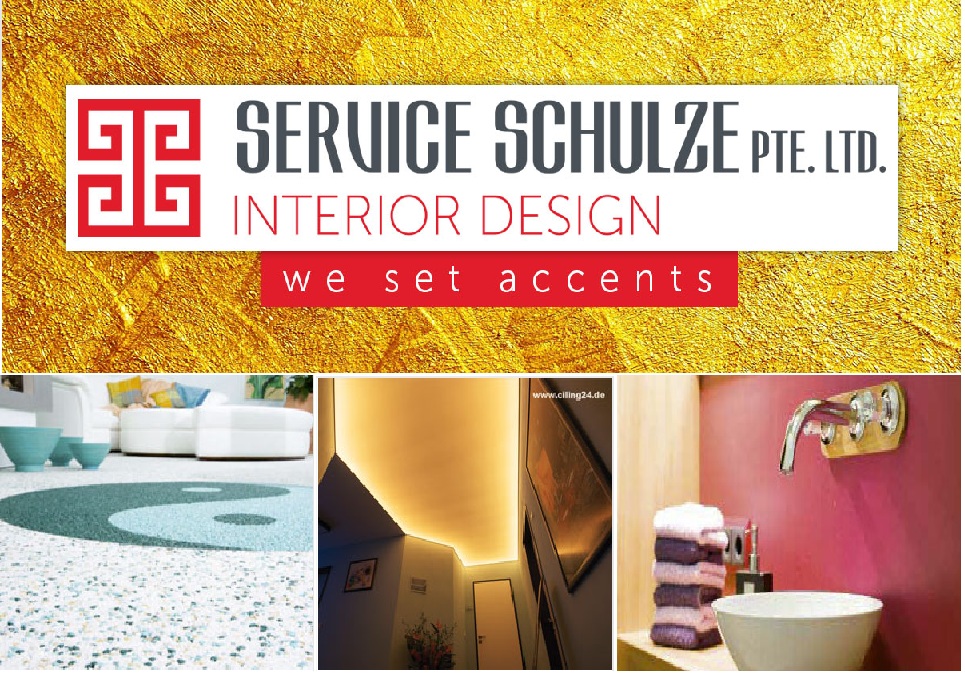 Services Schulze Pte. Ltd is a company which focuses on renovation and interior designing. The mother company, Service Schulze, has been in the business for over 15 years and has continued to provide services in different countries.
They have products for sale but usually, these are used for their renovation and interior design projects. The company has partnered with different brands for wall and ceiling design. Included in their renovation program is the painting of your houses. You can choose among the classes as well as the colors from their website. 
Service Highlights
Wall painting and ceiling refurbished

Moulding and foam tiles

Creative wall design

Special wall covering

Painter service
11. STARLIGHT BUILDING MAINTENANCE SERVICES

Since their establishment in 1983, Starlight has completed over 2,000 projects with the highest caliber of service through their team of experienced workmen and the finest quality of materials.
Some of their high-profile clients include SMRT, Resorts World Sentosa, Four Seasons Hotel, Hard Rock Cafe and many other household names. Browse through their extensive portfolio and testimonials to see which of their works can come close to your request.
Service Highlights
Painting Contractors
Wall Painting Services
Waterproofing Specialist
Epoxy Flooring Services
Customer Reviews
They've earned 5.0-rating on Google based on 5 reviews. One of their clients, Savaridos Vivian Richard, have stated that they have "very polite and great customer service." 
12. CleanWorthy

We believe that engaging painting services should be hassle free, transparent pricing and as easy as 123.
CleanWorthy with a team of painters with decades of experience and specialise in house and office painting services. Leave your painting job to CleanWorthy, you are in good hand.
Service Highlights
Cleanliness and Longevity

Professional Painters

Friendly Painters
Customer Reviews
With CleanWorthy's Professional service, surely the customers will be satisfied and would always want to come back for another appointment..

"I have used a CleanWorthy service for about two years. Service exceeded my expectations. The manager is professional, flexible and very reasonable. I trust them and their service has been consistently high quality. Highly recommend cleanWorthy to everyone. Thank you."
13. PAINTING.COM.SG

BEST FOR

Nippon Paint

SERVICES
WEBSITE

https://www.painting.com.sg/

ADDRESS
22 Sin Ming Lane #06-76 Midview City Singapore 573969
CONTACT DETAILS
Tel: 6522 7803
Email: [email protected]
SMS/WHATSAPP : 9843 3982
OPERATING HOURS

Contact for more information
Painting.com.sg offers an easy 7-step process to get your painting job done. Fast service is possible because all of their painters are in-house and they can start painting in the next 24 hours. Painting.com.sg is also a Nippon Painters' Club Member. There are also no middlemen fees and they won't reuse paint in any home.
Service Highlights
Customer Reviews
Chan di zhao's 5-star Google review:
"Needed a paint job urgently and they were able to respond to us within the day and start painting the next day. Not to mention their pricing is very competitive." 
14. Nippon Paint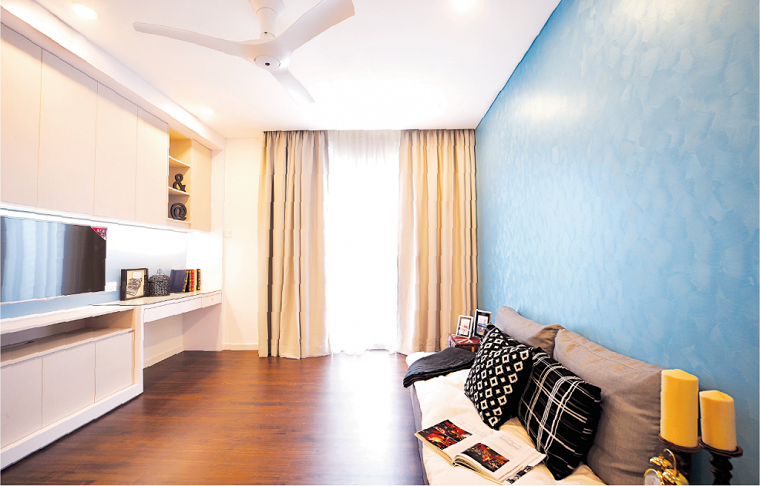 | | |
| --- | --- |
| BEST FOR  | Affordable and environmentally-friendly painting services |
| PRICING | Rates |
| WEBSITE | https://www.nipponpaint.com.sg/ |
| ADDRESS | 1, First Lok Yang Road Jurong Singapore 629728 |
| CONTACT DETAILS | 6319 7222 |
| OPERATING HOURS | Mondays to Friday, 8.00am – 5.00pm excluding public holidays |
Whether you need a painting service for home furnishings, skyscrapers, or business and industrial buildings, Nippon Paint can provide the services you need.
Their painting services come in affordable packages so it will be easy for you to budget all the expenses. Each package is categorised by the range of areas that they will be working on too.
The offers include HDB, private apartments, condominiums, and landed properties. If you don't have a theme in mind, they provide schemes and palette options that you can choose.
Aside from that, they also sell a variety of excellent paint products to help you coat your space with high-quality designs.
Service Highlights
Special promotions and packages
DIY paint tips
Wide range of paint products
Customer Reviews
Satisfied customers are pleased with Nippon Paint's efficient services, attentive team, and great range of colours. Most of them praised the company for their work, noting that the company also made living in the newly-painted spaces comfortable by avoiding paints with highly pungent or toxic components.
Low Kheng Guat shared this experience on the company's official Facebook account:
"Recently, we engaged Nippon Service for indoor painting for our new house. The marketing staff- and the supervisor are very professional and provided very good services and support. They checked their workers daily and ensure they completed the paint works well in advance. Nippon Service provided good quality work at reasonable cost. Highly recommended for anyone looking for painting works." 
15. Painting Services Singapore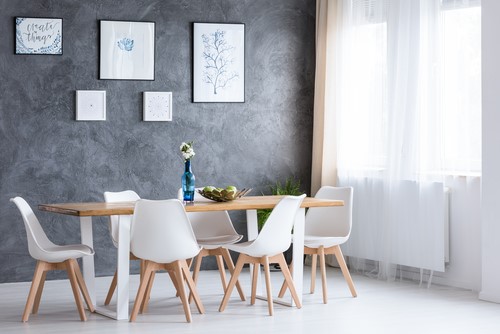 | | |
| --- | --- |
| BEST FOR | Broad range of painting services |
| PRICING | Rates |
| WEBSITE | https://www.paintingservicesingapore.com/ |
| ADDRESS | Kaki Bukit Avenue 1 Shun Li Industrial Park Singapore, Singapore 417943 |
| CONTACT DETAILS | 6844 3382 |
| OPERATING HOURS | Monday to Sunday, 8am –10pm |
Painting Services Singapore has years of experience in serving their customers with premium painting services. Their area of expertise covers both commercial and residential areas.
They have also partnered with Nippon Paint and Dulux to deliver top-notch and durable coating for clients. Their services extend to offering useful tips for cleaning, upholstery, and moving.
Service Highlights
Excellent painting techniques
Free quotes
Helpful topics and reminders
Customer Reviews
Painting Services Singapore has earned a good reputation among customers due to the quality of their work. Today, they are one of the most recommended companies in the industry.
Madam Lim left this feedback on the company's official website:
"Got my 4 room HDB flat painted by them. They came down and gave me a free quotation and I paid the deposit on the spot and my house is painted within 1 day. I remember they even mop the floor for my house after the painting work is done. Superb service and very good price!" 
16. Colour Creative Painting Service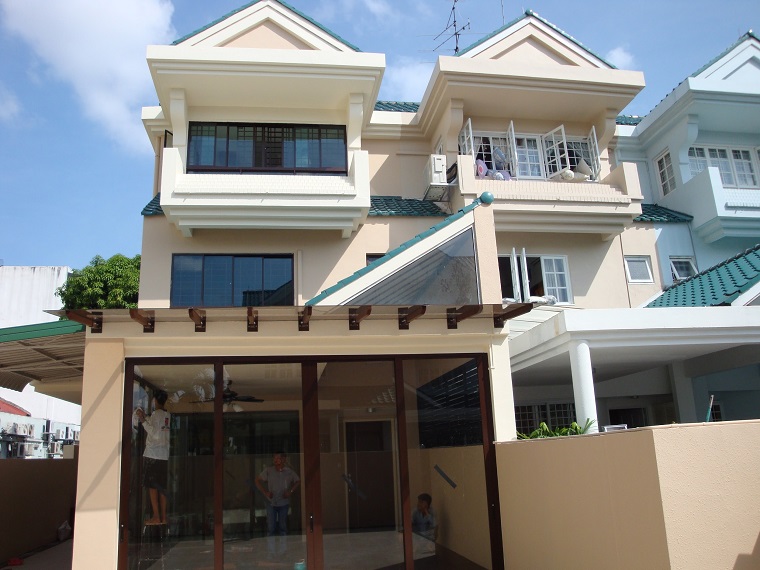 If you are currently residing in a place far from the city, you might be wondering if professional painting companies still provide their services in your area. Luckily for you, Colour Creative Painting Service serves all areas of Singapore.
For over a decade, their trained and skilled contractors have been serving clients by giving them guidance on colour choices and design, besides implementing the selections in a tasteful paint job. Apart from residential purposes, they also offer home cleaning and moving services.
Service Highlights
Personalised interior decorations
Overall residential painting services
Free consultation services
Customer Reviews
Colour Creative Painting Service has received compliments from their customers because of their talented contractors. Florentina Husandy expressed these thoughts and gave a 5-star rating on Google Reviews:
"Had a very pleasant experience repainting my 4 room flat. They were very patient with us while we were making up our minds about the colours and even offered very good colour suggestions which we eventually took up. Their workers did a very good job and the price quoted was also very competitive. Would definitely use them again in the future."
17. Painting Guy SG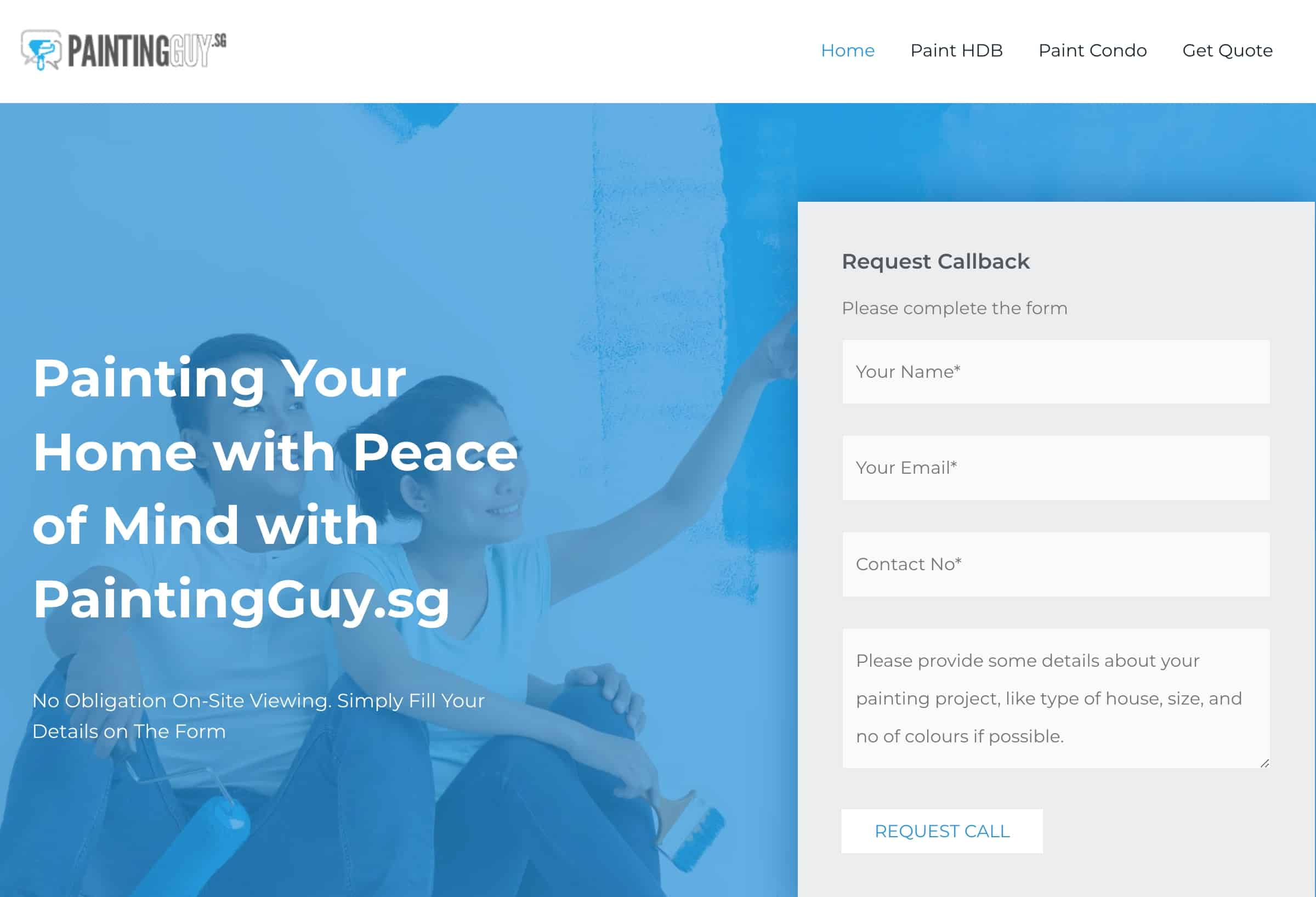 BEST FOR 
Professional home painting services
PRICING
Contact for more information
WEBSITE
https://paintingguy.sg/
ADDRESS

55C Lavender Street, Singapore 338713

CONTACT DETAILS
Email :
[email protected]

 

WhatsApp or Telegram :
+65 9001 1606
Painting Guy SG is an excellent choice for homeowners and property managers looking for hassle-free painting services. The company's competent team goes the extra mile to provide topnotch customer service, from offering site inspection and the opportunity to choose the type of paint, to protecting the items found within the site before commencing painting.
Another interesting fact about Painting Guy SG is that it's very transparent with the fees. Contact Painting Guy SG today to learn more about its services.
Service Highlights
No obligation on-site viewing
Reliable and skilled team
1-year warranty
Protection for furnishing and flooring provided
18. SG ONE STOP SERVICES & REPAIR SOLUTION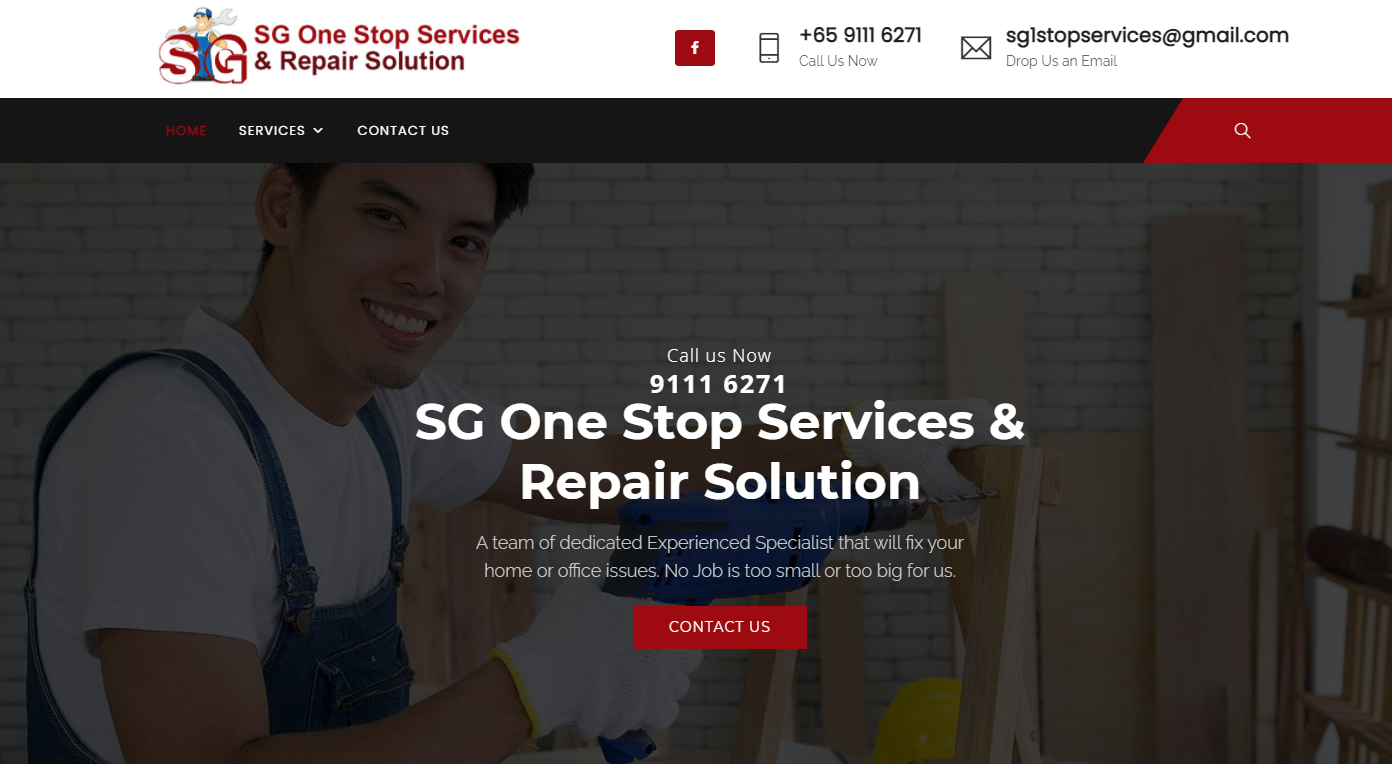 | | |
| --- | --- |
| BEST FOR  | One-Stop Solutions |
| PRICING | Contact for more information |
| WEBSITE | https://sgonestopsolutions.com |
| ADDRESS | 25 Woodlands Industrial Park E1, #04-02, Singapore 757743 |
| CONTACT DETAILS | 9111 6271 |
Try as we might to make it reality, our houses won't always be perfect. It's like other things we own — the quality depreciates the more we use it.
Here is where SG One Stop Services & Repair comes in. This company, as its name suggests, is known for offering an extensive selection of house improvement services, which include painting, plumbing, electrical, brickwork, and many more.
While we especially enjoy their long list of services, SG One Stop Services & Repair come strongly recommended for a different reason. That is, the company's team.
See, SG One Stop Services & Repair comprises experts from different fields, all of whom come together to make a highly proficient, dependable team. So, regardless of your housing problems, SG One Stop Services & Repair may be able to help you as soon as possible.
Service Highlights
Wide array of housing services
Professional and prompt team
Free quotation
19. Raffles Paint Singapore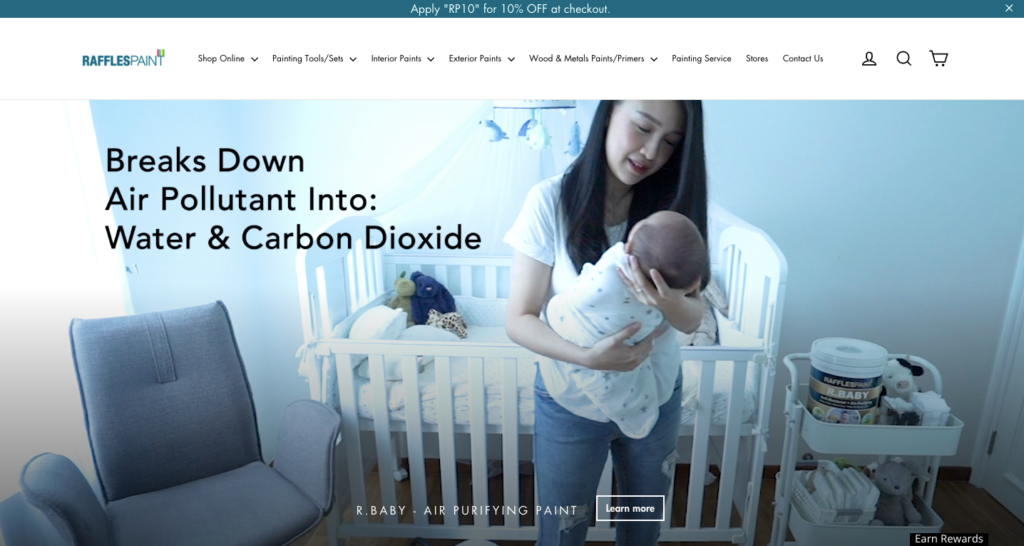 Next on our list is Raffles Paint Singapore. We are amazed when companies tend to be more sensitive to nature these days and Raffles Paint Singapore is one of those companies that pioneered in manufacturing eco-friendly paints in Singapore.
With the use of their eco-friendly paints, they also provide Professional Home Painting Services where on their sight, they are transparent with their rates. These paints that they have manufactured make them stand out causing them to be the paint of choice, especially these days that the pandemic is still out there.
An example of one of their paints is the Raffles Paint R.ANTIVIRUS which is Singapore's First Anti-Viral Paint & Primer 2-in-1 – Certified by Biomaster UK. This paint is suitable for Children's Nursery, Medical Clinics, and Operating Theatre for Sterile and Aseptic environments. Once you avail of their painting service and opted for this paint, their Anti-Bacterial technology creates a special dry film that inhibits microbial growth and provides ultra-long-lasting protection against pathogenic bacteria such as E.Coli and MRSA. R.ANTIVIRUS also has excellent broad-spectrum antifungal properties. R.ANTIVIRUS is a Paint+Primer with high water resistance and efflorescence resistance, providing your home with long-term protection and appeal. Use R.ANTIVIRUS to keep your loved ones in a sterile and clean environment. Two highlights of this paint's features are Anti-Coronavirus – Tested base on ISO 21702:2019 standards for Feline-Coronavirus and Antibacterial Protection – Tested base on MOD ISO 22196 for both E.Coli & Staph Aureus
, Service Highlights
Eco-friendly paints
Anti-virus paints
Anti-bacterial and Air-purifying paints
Transparent quotation
20. Meptech Painting Services
One more option for companies to help you out with painting your home is Meptech Painting Services. 
This company has more than a decade of experience in the industry and employs experienced and professionally trained painters, so we think that you'll be in good hands with them. 
We've looked through some of the thousands of projects that they've done and we think that they stay true to their 100% satisfaction guarantee. 
What we also like about them is that they have no hidden costs, and no middleman costs since they are direct painters. 
It's nice to note that they don't only offer residential painting jobs, but they can also do commercial painting. 
Past customers have only said great things about their experience with Meptech, and this makes us confident about suggesting them to you.
Service Highlights
Prices start at $600
One year warranty for painting works
100% satisfaction guarantee
No hidden costs 
---
The painting services we've listed above are truly the cream of the crop on the island. Still, if you believe we missed another great painting service, let us know which one it is and why it should be in this list!
And in case you need a little help cleaning up after the painters or workers are done, check out our articles on cleaning services. We have a list of the best cleaning services in Singapore and of the best part time cleaners in Singapore, for example.
*Images are taken from each company's official websites/social media.