21 Best Renovation Contractors in Singapore
Are you thinking about expanding and improving the quality and value of your home? If so, you'd need to ask for help from the best renovation contractors in Singapore for that.
Luckily for you, we have your needs covered for all things renovation in Singapore . We scouted the entire island in search of trusted renovation contractors that can bring you one step closer to having your dream house come to life!
Let's start off by detailing the expected costs of renovation services in Singapore, since we know that our readers are curious about how much money they need to spend. We've also answered some questions about renovation contractors and their services.
What's the Cost of Renovation Services in Singapore?
There's no doubt that the prices of real estate on the island are steadily increasing, making it harder to get the keys to our dream houses. This explains why most homeowners tend to opt for old and depressed homes to remodel them.
In fact, that's among the reasons why consumers hire the services of the best renovation contractors in Singapore.
This poses the question: how much does it cost to renovate or remodel a house in Singapore?
After researching, we found out that the cost of renovating a four-room HDB flat (approximately 90 sqm) is more or less S$56,000. It's good to start with the cost of a four-room HDB flat because it represents a huge portion of houses in Singapore.
For a three-room HDB flat (60 to 65 sqm), it'd cost around S$40,000 to S$45,000 to remodel it, while renovating a five-room HDB flat (110 sqm) can cost as much as S$70,000.
Keep in mind that larger and resale flats cost more to renovate compared to smaller and newer flats.
Another factor that influences the cost of renovation in Singapore is the type of service needed to complete the project. Generally, here are the common renovation labours you need to pay for:
Masonry
Painting walls and ceilings
Hacking, rebuilding, and touching up walls
Carpentry works for cupboards, wardrobes, cabinets, and other storage
Cleaning and polishing the entire house
Plumbing works for sinks, showers, and water heaters, among others
Electrical works for lighting and electric wiring
Glass and aluminium works for windows, door grilles, and mirrors.
Let's dig deeper into the cost of renovation in Singapore, using a four-room HDB flat as an example and factoring in these renovation services.
The Best Renovation Contractors in Singapore
Let's take a look now at the top renovation contractors in Singapore. Continue reading below to see which contractor offers the type of services you want for your home.
1.   Pop Motif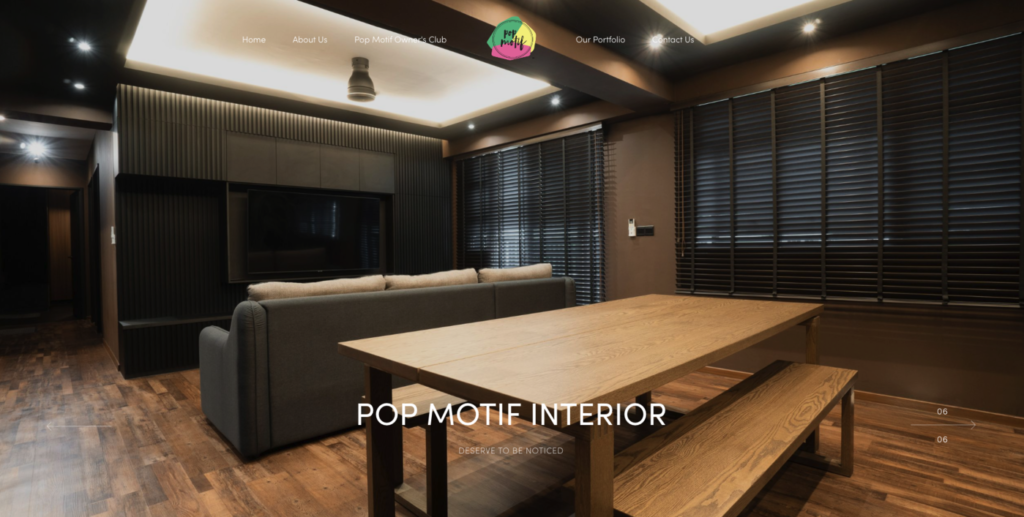 Pop Motif is an HDB-accredited renovation contractor that specializes in catering to all residential and commercial renovation needs. Their services encompass a wide range of tasks, from hacking and electrical work to plumbing, carpentry, and painting.
Their accreditation by the Housing & Development Board (HDB) can provide clients with confidence in their quality and reliability for residential projects in Singapore. Wherein, the company's project management services can help streamline the renovation process, ensuring that projects are completed on time and within budget.
They also offer a one-stop solution for renovation needs, covering all aspects from structural changes to finishing touches, reducing the hassle of coordinating multiple contractors.
Note though that rates of their services and prior consultations aren't readily available on their website wherein interested clients may need to inquire further for more information on this beforehand.
Overall, Pop Motif, as an HDB-accredited renovation contractor, offers comprehensive renovation services for residential and commercial projects. Their experienced team, project management services, and tailored solutions can be appealing to clients seeking a full-service renovation experience.
Customer Reviews
Here are some reviews from their clients:
"Engaged Pop Motif with the recommendations of a podcast channel. We require a simple partial renovation works to improve the outlook, feel and functionality of the house. We informed Farhan our vision and also the budget he had to work with. I would say the quality of work is good and up to our expectations. Throughout the renovation journey, we had multiple changes and add ons and Farhan was able to accommodate and gave his input. They constantly update on the progress and also inform you of the week's plan. The handover was what impressed me the most. It was one of the cleanest handover I've seen and I almost didn't had to do much to clean before I moved on. Overall, i would recommend this company and they can deliver to your needs. Any issues with the works, Farhan would be more than happy to resolve the issues."
"Very hassle free, clear & transparent from quotation to work done to final handover. Kudos to Amran, Farhan & team. Rectification were done quickly and the team were very responsive. Everything was mentioned clearly, the can & the cannot. PopMotif 👍👍 💯 recommended!!"
2. Qanvast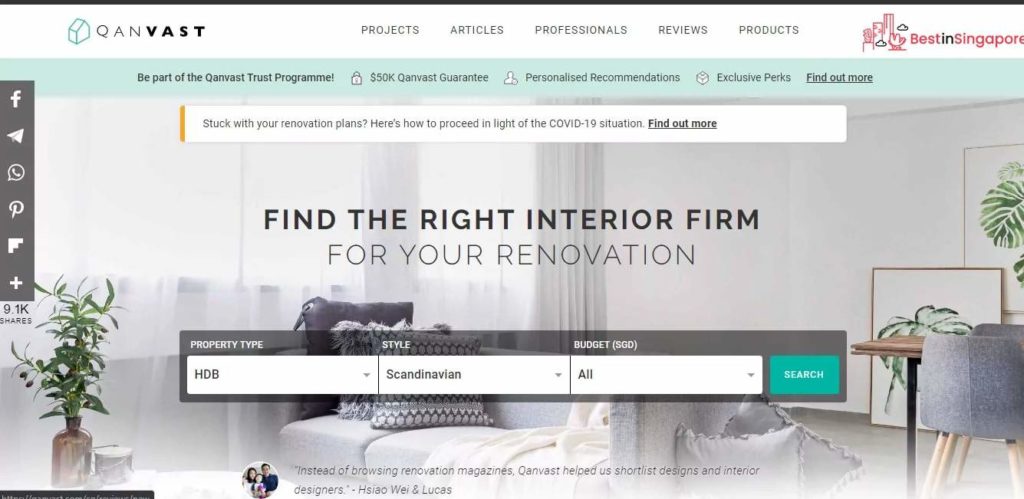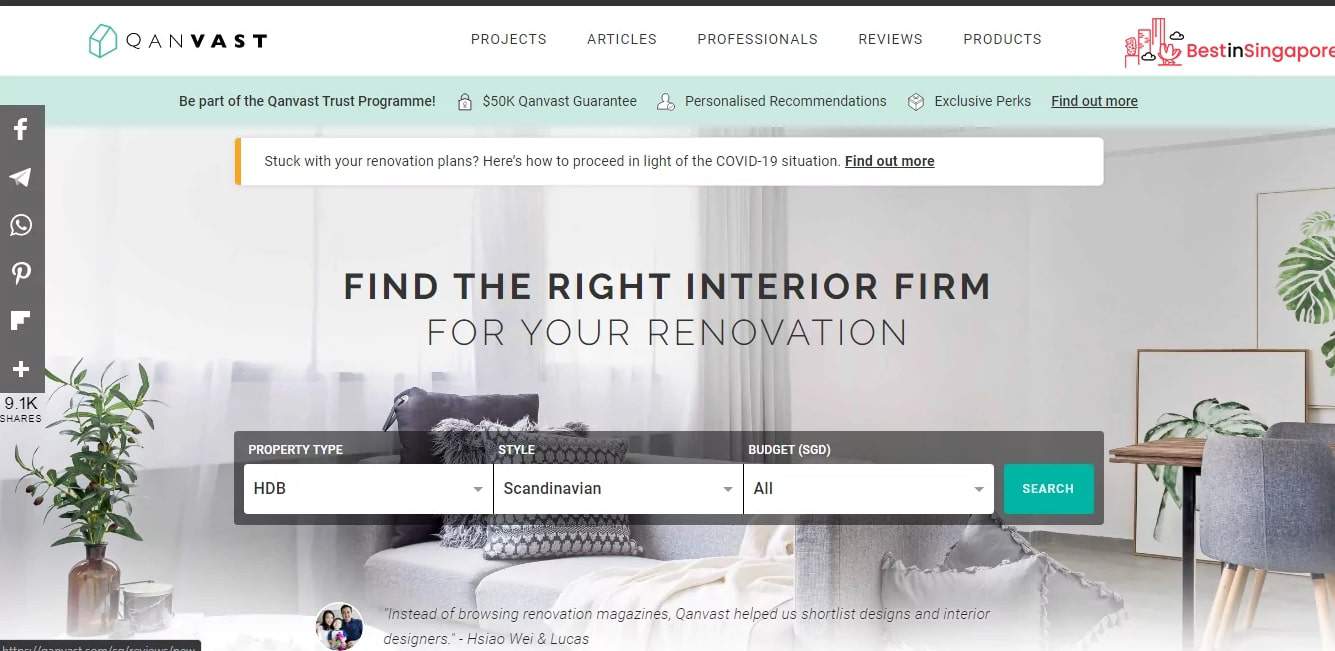 Qanvast isn't technically a renovation contractor by itself. However, we're listing it here because it's an amazing way to connect with them.
This is a home renovation platform that connects homeowners with the right interior design firms on the island. If you use it to connect with them, you get several perks – which we'll discuss later.
As of writing, Qanvast has helped more than 25,000 homeowners in Singapore find interior designers that can cater to their needs and preferences. It's constantly reviewed to ensure its reliability and to give homeowners peace of mind when using its platform.
Another benefit that comes with getting in touch with Qanvast is discounts on furnishings and appliances, making it a perfect option for those looking to reduce renovation expenses.

It even offers a free service where clients can safeguard their renovation deposits, amounting to up to S$50,000. It covers 50% of your contract value, in case your interior designer fails to deliver.
Qanvast also does not receive any commission from interior firms, so there are no hidden charges added in your renovation quotation. If you want access to the most firms in your quest to find the best renovation contractor in Singapore, this platform is for you.
Customer Reviews
Here's what a customer had to say about his experience after getting in touch with an interior designer recommended by Qanvast:
"Isaac was very patient with our demands in realising our Dream Home. He took the effort to research the best for our homes. For instance, we wanted to install a movable ladder to our built-in library. We got our awesome dream home library. Our renovation was done relatively fast, and of very good quality. Isaac ensured that the workmanship was according to the designs we dream for and advised us to ensure the practicality of the designs we ask for. All in all, super satisfied with our home."
3. Renovation Contractor Singapore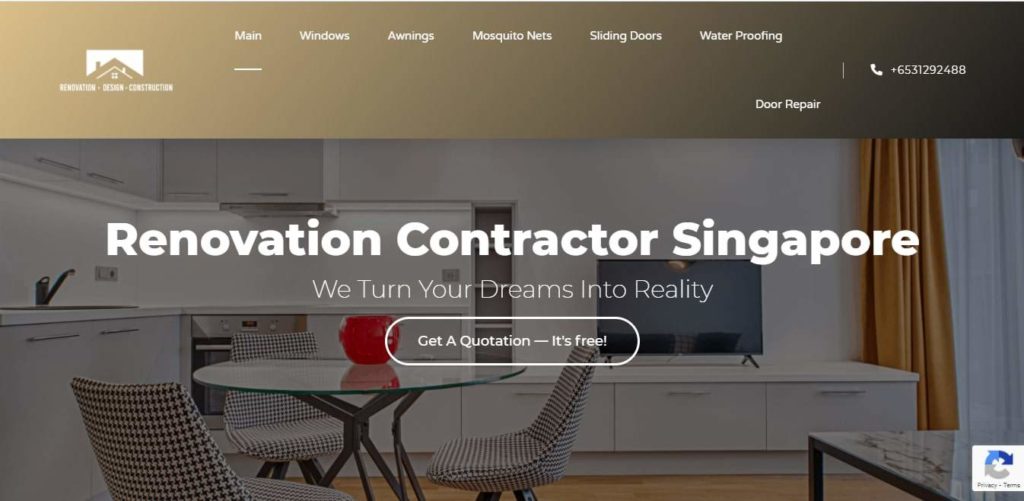 If you're after a trusted renovation contractor, then you might want to take a look at what Renovation Contractor Singapore can offer. It's a full-service contractor that can turn your dream house into a reality.
What makes it stand out from other contractors is that it can deal with all types of residential homes, from flats to landed houses. It houses a team of professional interior designers who have experience in designing different types of homes in Singapore.
With Renovation Contractor Singapore, you won't have to worry even if you have the smallest condominium unit on the island. It can take on jobs as simple as painting the walls and as complicated as a full-range renovation.
4. ZLC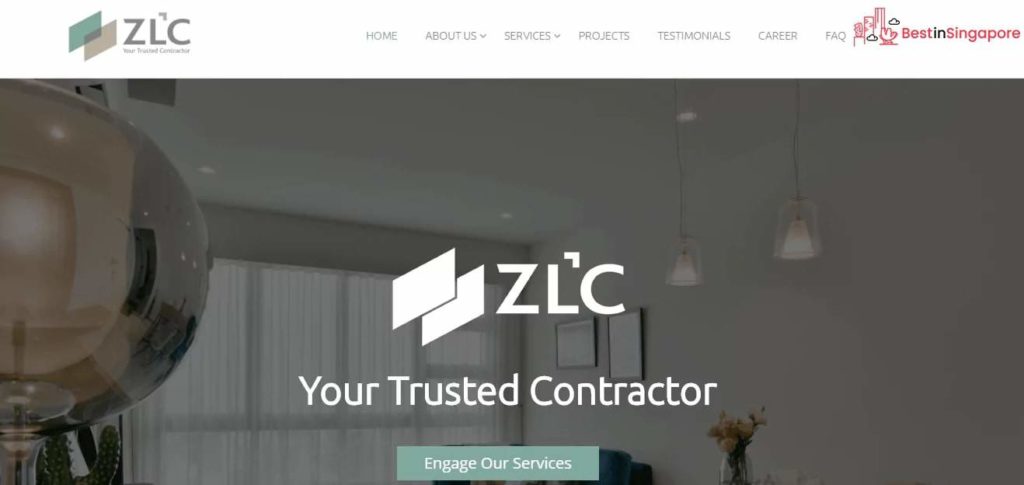 ZLC is a boutique design company that specialises in office and home renovation in Singapore and they are armed with more than 30 years of experience.
It's composed of a large team of project managers, creative managers, interior designers, renovation specialists, and carpenters. Its focus on functionality rather than aesthetics is what ultimately sets it apart from other contractors.
ZLC offers comprehensive interior and renovation services that start from consultation up to furniture selection. Its residential services cover resale HDB flats, condominiums, private housing, and new BTO.
It would be a perfect choice for those who want to improve the interiors of their kitchen too. ZLC provides a service called "BLUM Urban Kitchen" that aims to put a European twist on local kitchens at an affordable rate.
Customer Reviews
Take a look at some feedback left by previous clients:
"Engaged ZL Construction on 2 occasions for a customised display board. They were able to deliver on time and provide great recommendation on how my display board should be done. The finished product is excellent. and the workmanship is awesome! Will definitely recommend it."
"It is a joy when one comes across a company like this. Tony and his team were excellent in communication, timing and follow up service. Upon encountering a small issue, Tony and his team immediately rectified the issue at no cost. A pleasure to do business with."
5. Jaystone Renovation Contractor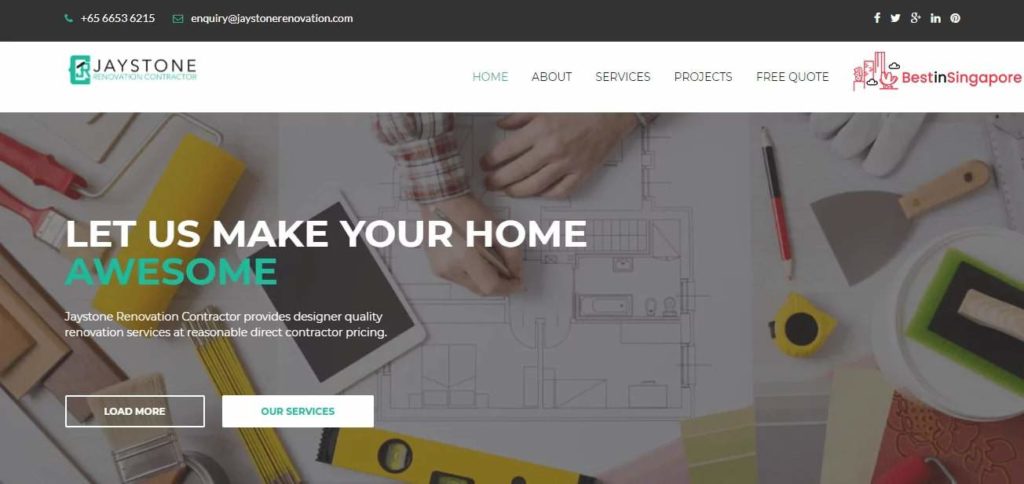 If you're looking for an all-around renovation contractor in Singapore, then look no further than Jaystone Renovation Contractor. It's known for its one-stop renovation services that include consultation, a drawing plan, conceptualisation, project costing, and project management.
It specialises in all types of renovation works for any type of home, whether it's a small flat or a large landed property. It's made up of experienced tilers, carpenters and interior designers who can come up with different ways to remodel your home.
Other inclusions of its renovation services are plumbing, electrical works, painting, waterproofing, carpentry, and door and window installation, among others.
Choosing its services doesn't cost as much as other contractors in Singapore because it's a direct contractor, so no middleman fees will be charged. It'd be a great choice for those who want to minimise their expenses.
Since most of the work will be done in-house, its renovation team can guarantee more competitive rates and costing than other contractors.
Customer Reviews
Most clients of Jaystone Renovation Contractor only have positive things to say about its services. Here are some comments:
"I would like to thank Jaystone Renovation Contractor for their job well done in helping us complete our full renovation in our new home. They were helpful throughout and came back multiple times to make sure everything was alright. Our project manager Ethan was responsible and made this renovation very enjoyable. Thanks!"
"In the search for renovating my BTO, there were many options for renovation contractors but I chose Jaystone ultimately because they were able to give me the concept and design that I want at a very reasonable pricing that suits my budget."
6. Thomson Renovation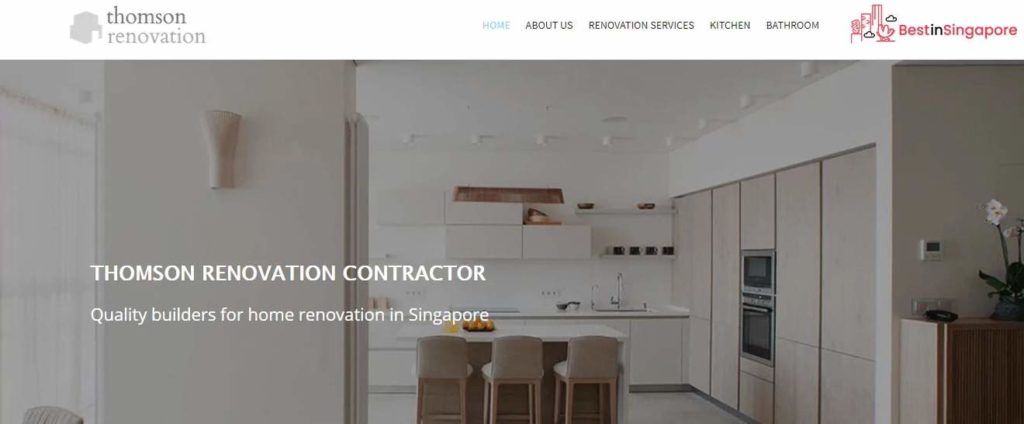 Thomson Renovation has completed more than 500 residential and commercial projects and renovations in Singapore in its 10 years of experience. These include renovations for all types of homes and commercial spaces of all industries and sizes.
What we like about Thomson Renovation is that there's no project too small or huge for its renovation team. Even renovation works as simple as painting walls and ceilings are treated just like any other project.
Its project managers, designers, and carpenters will take charge of the project consultation until post-construction. Interested parties may avail of its no-obligation consultation just to see how its team can improve your home or your office.
The people working behind Thomson Renovation are known for being great communicators as well, informing clients of the status of the project and being always open to client feedback.
Customer Reviews
If you're still not convinced of how great Thomson Renovation is, then read some of their clients' feedback. It clarifies why we're listing them as one of the best renovation contractors in Singapore:
"I highly recommend Thomson Renovation.I found the service extremely professional and simple to work with for someone who works full-time and travels a lot. The team had a brilliant understanding of what I liked and didn't like and made the most of my budget to make our home a lovely home. We enjoy all about our new home and I'd suggest it to anyone who wants quality expertise with value for money. For the price I am really pleased with the quality of workmanship and materials, compared to the past few renovations I have had. The process was super smooth and I would definitely hire them again should I need any future renovation work."
"Highly impressed with Sunny and his team, who did an amazing job at my place. Sunny was extremely meticulous and accommodating to our requests along the way. In the end we were surprised that the outcome was even better than we expected! Great value and trustworthiness."
7. Chuan Fong Renovation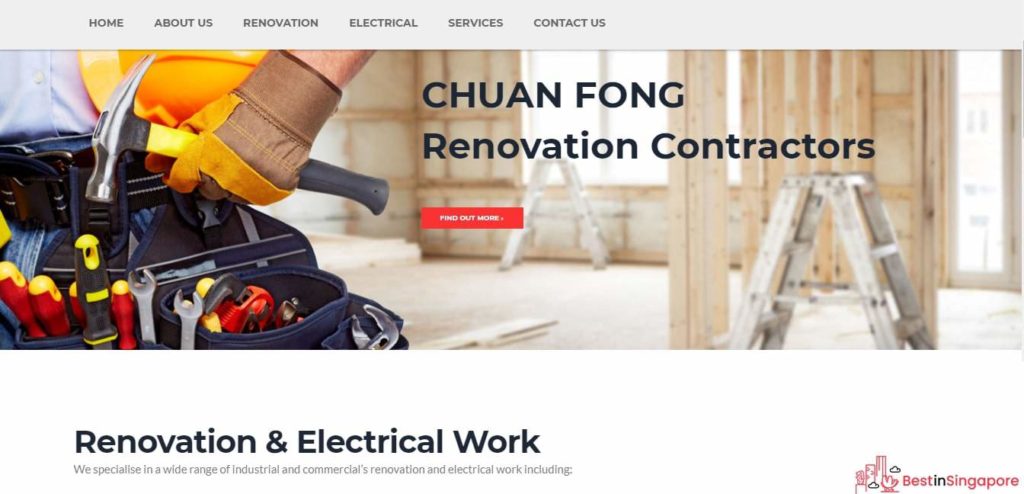 Established in 1989, Chuan Fong Renovation has been involved in remodeling and improving close to a thousand residential and commercial spaces in Singapore. It's safe to say that it's one of the most trusted renovation contractors working today.
Apart from renovating houses and offices, it provides electrical services to industrial companies all over the island. It's a direct contractor, so there are no middleman fees unlike most renovation contractors.
It's also known for having some of the cheapest renovation rates in Singapore, proving that there's no need to go beyond the budget in order to achieve your dream house. It doesn't charge customers with consultation fees as well.
Some inclusions of their renovation services are planning, layouting, ceiling reworking, flooring, tilling, welding, power installation, network and telephone system, and demolishing, among others.
8. Childcare Renovation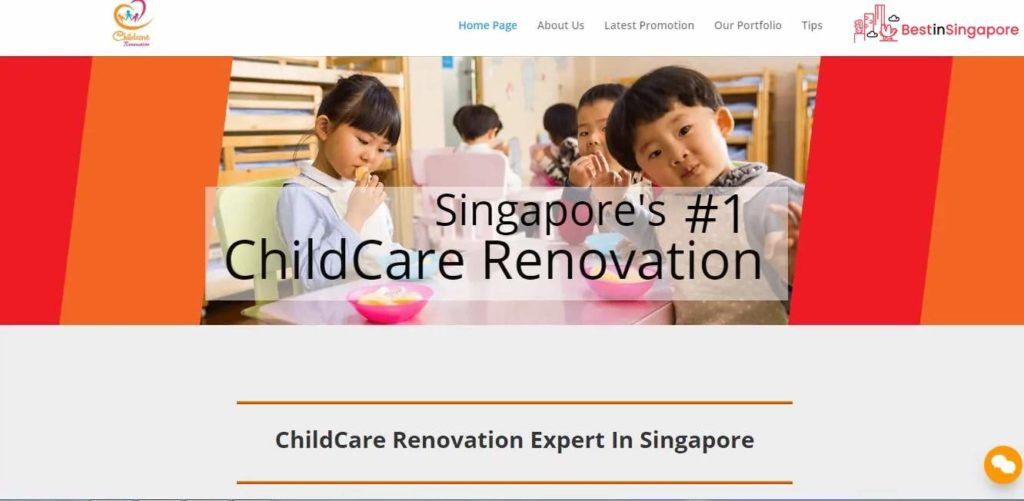 Do you want to turn your space into a child-friendly environment? If so, we strongly recommend hiring the services of Childcare Renovation, one of the first renovation companies to focus on creating safe spaces for children.
While most of its clients are residential owners, Childcare Renovation caters to the needs of commercial establishments as well, such as schools, indoor play centres, medical facilities, and other learning spaces for children.
Aside from creating a safe indoor environment for babies and children, Childcare Renovation makes sure that the space will be appropriately designed to develop their cognitive, motor, and social skills of children.
9. Om Decor Pte Ltd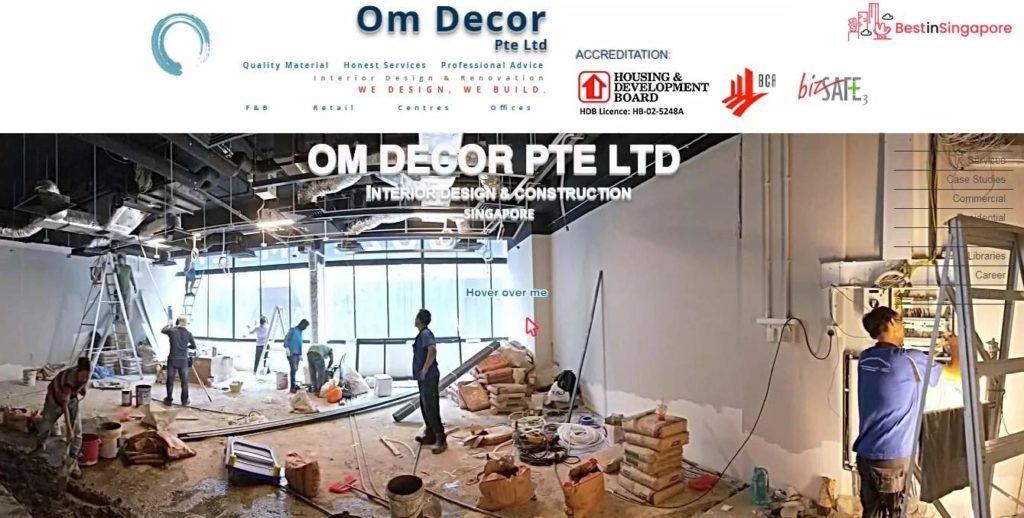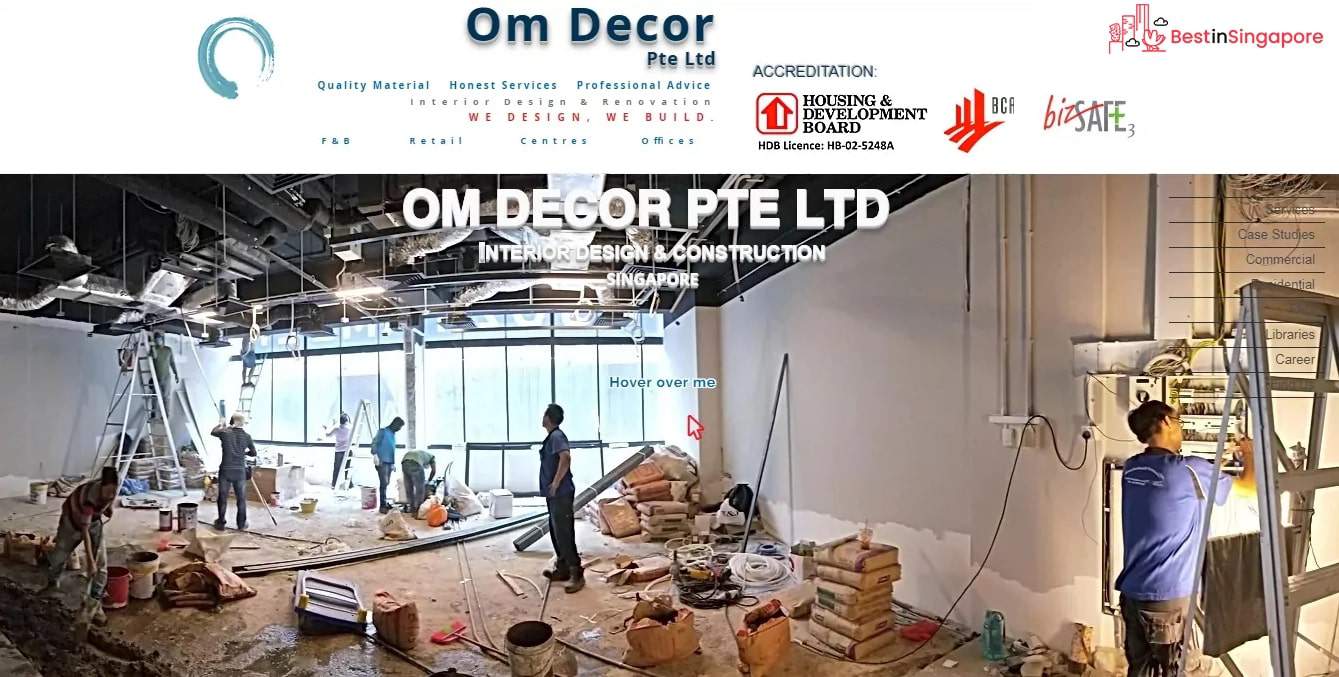 Om Decor is one of the few contractors on the island that focus on retail and F&B renovations, targeting small and medium-sized businesses. It's made up of a team of designers and carpenters who specialize in creating and remodelling commercial spaces.
It started as a masonry contractor, but due to the rising demand from customers, it grew into a full-range business renovation contractor
In fact, Om Decor is known for providing comprehensive renovation services, which include budget planning, design consultation, furniture detail and drawings, site inspection, structural QP/PE endorsement, and applying for business certifications.
Customer Reviews
Om Decors boasts an average rating of 4.9 out 5 on Google Reviews, making it one of the top-reviewed contractors on the island. Here are some comments:
"I have engaged a number of so called big ID companies before. with many or big portfolios. However, I chose Om Decor to do up my commercial unit, as they have the same project lead. Things went off smooth. Their price is reasonable and practical and no additional variation orders during the renovation."
"I was looking for a Designer and a Contractor to set up my 2nd clinic but I was rather busy then. Joseph, from Om Decor, was highly recommended by my friend. Met Joseph and explained briefly on my requirements. He is a very experienced & honest guy who knows about not just about interior design, but also very good at handling his people. The problem was fixed and the project was on schedule. Thanks to Joseph & team."
10. 3D Innovations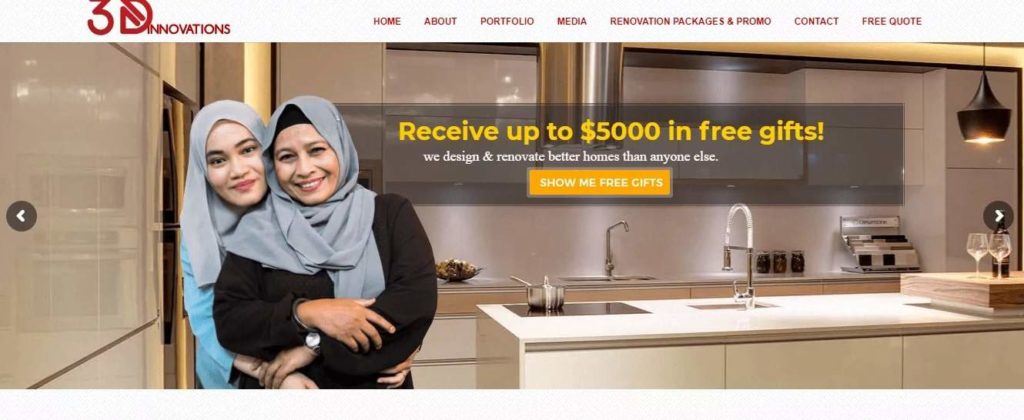 Do you have an HDB flat that needs to be renovated? There are few better contractors to ask for help from than 3D Innovations, one of the few renovation companies that specialise in HDB renovations and designing.
If other contractors tend to outsource their renovation team, then consider 3D Innovations different. It has its own team of contractors, designers, carpenters, painters, and craftsmen, which means cheaper renovation costs.
It's safe to say that it doesn't take advantage of its clients by hiking up the renovation rates. What its team will do is offer a reasonable rate that allows them to work comfortably and achieve the expectations of their clients without compromising quality.
3D Innovations also has its own carpentry workshop that allows it to do strict quality and material control to make sure that every item used is of quality.
If you're interested in its services, you can check out its showrooms that are scattered all over the island to get an idea of how it can remodel your HDB flat.
Customer Reviews
With over 100 reviews on Google, 3D Innovations is considered one of the best renovation contractors in Singapore. Here are reviews from their clients:
"I chose Keith after meeting with him at his office, which assured me of their proven experiences and professional consulting and design services. He has a very customer oriented mindset and shown a willingness to resolve all issues as a priority. He was always reachable and responsive to me whenever there was any issue on renovation works. Communication between me and him was very clear and work arrangement, coordination was streamline"
"Consulted them to design my new home. They gave brilliant suggestions and modified them according to my feedback. Friendly and most importantly they handled the suppliers well and coordinated with all the schedule, updating me with photos. Thanks for the pleasant experience!"
11. JS Carpentry & Contracts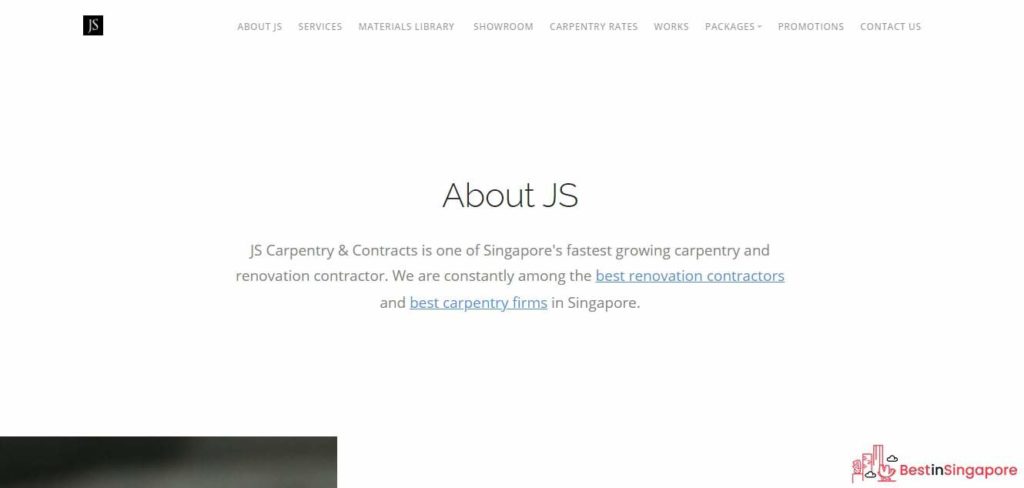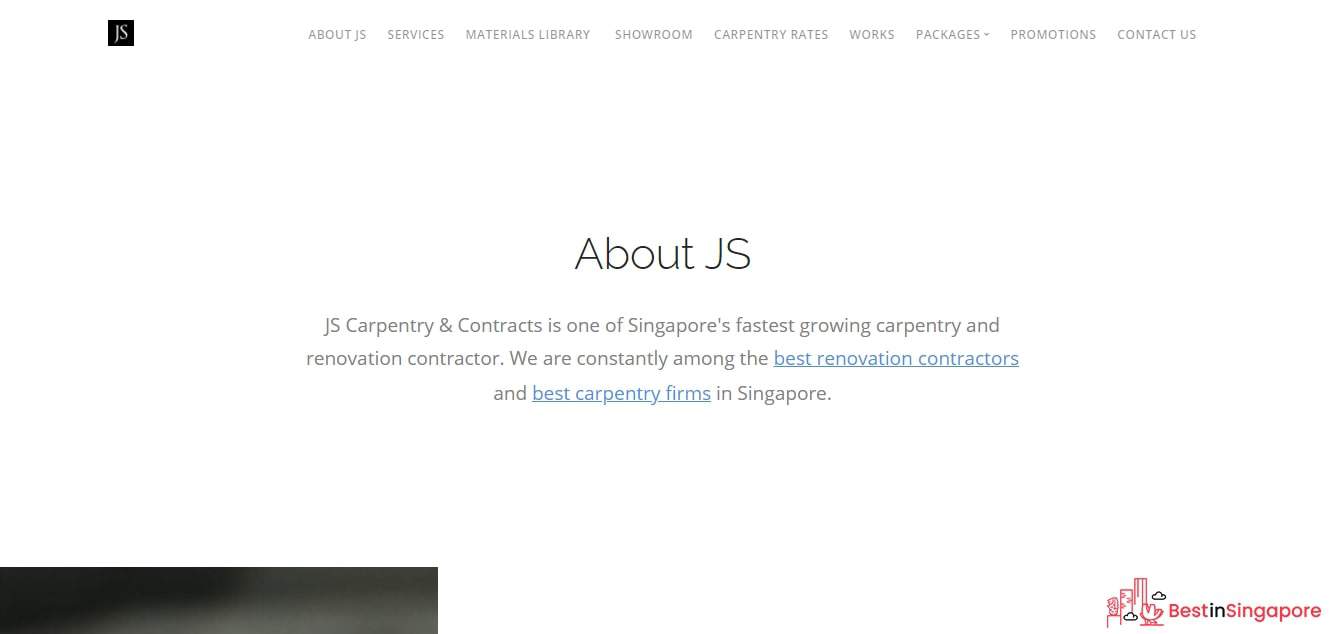 As one of the first renovation contractors in Singapore, JS Carpentry & Contracts has improved thousands of residential homes and retail spaces.
It may be more famous for its carpentry services, but it can deal with all types of properties, from resale homes to commercial units.
It has a carpentry workshop that's considered the heart of its services. It's where most of the custom-made items are produced, including bed frames, cabinets, feature walls, bedside tables, storage beds and headboards.
Its renovation services include minor electrical works, painting, flooring, wetworks, wallpapers, general protection, demolition, plumbing, and general cleaning, among others.
Minor renovation services are also open for customers who find its main renovation works a bit too much for their budget. Those are cheaper because only minor electrical works and dismantling tasks are involved.
JS Carpentry & Contracts doesn't engage with middlemen, so customers don't need to worry about hiked-up fees. It's a perfect option for those who don't want to go over their budget.
Every custom-made carpentry task is covered with a three-year warranty, while renovation services are protected by a one-year limited warranty.
Customer Reviews
It has a 4.5 star rating on Google reviews. Here is a testimonial from satisfied customers:
"We have used JS Carpentry previously and had good results and this time was no different. Nic was our consultant this time and I cannot sing enough praises for his dedication and hard work. He was patient, helpful and very responsive. He helped us to achieve the look we wanted despite the tight deadline and within our budget. His responsiveness even after the project was over was also praiseworthy. We highly recommend him. The work of the carpenters, tilers, plumbers and electricians also deserve to be highlighted and praised. Great job everyone from JS Carpentry."
"We were always made to feel that our satisfaction and needs were the first priority for Nic Tan. The project was always on time and we were kept in consistent contact on all progress and updates. At every step of the renovation, NicT an fulfilled all commitments on time and it was truly commendable. It is exceptionally well built with amazing attention to detail and convenience. It is the kitchen, common and master bedroom bathroom that my wife and I always hoped to own. Thank you for all your efforts and we truly appreciate it."
12. Reno Pro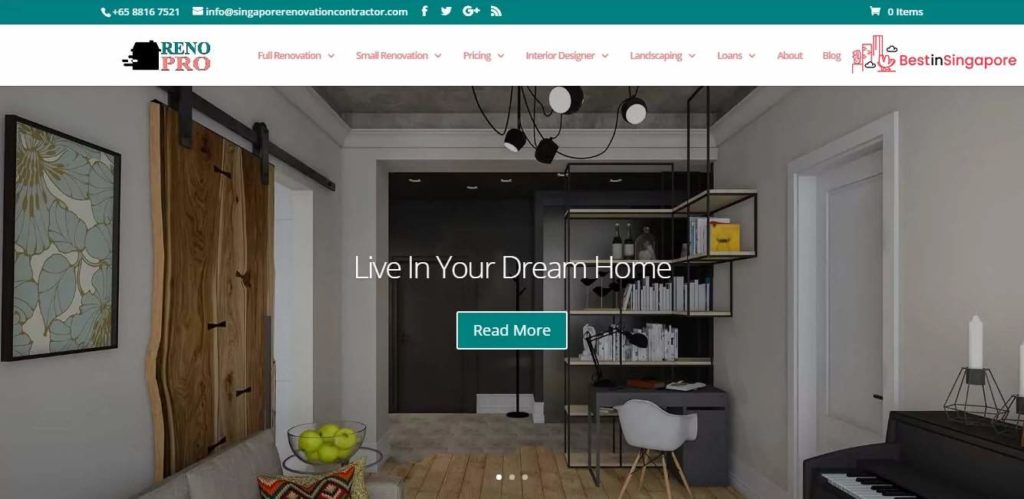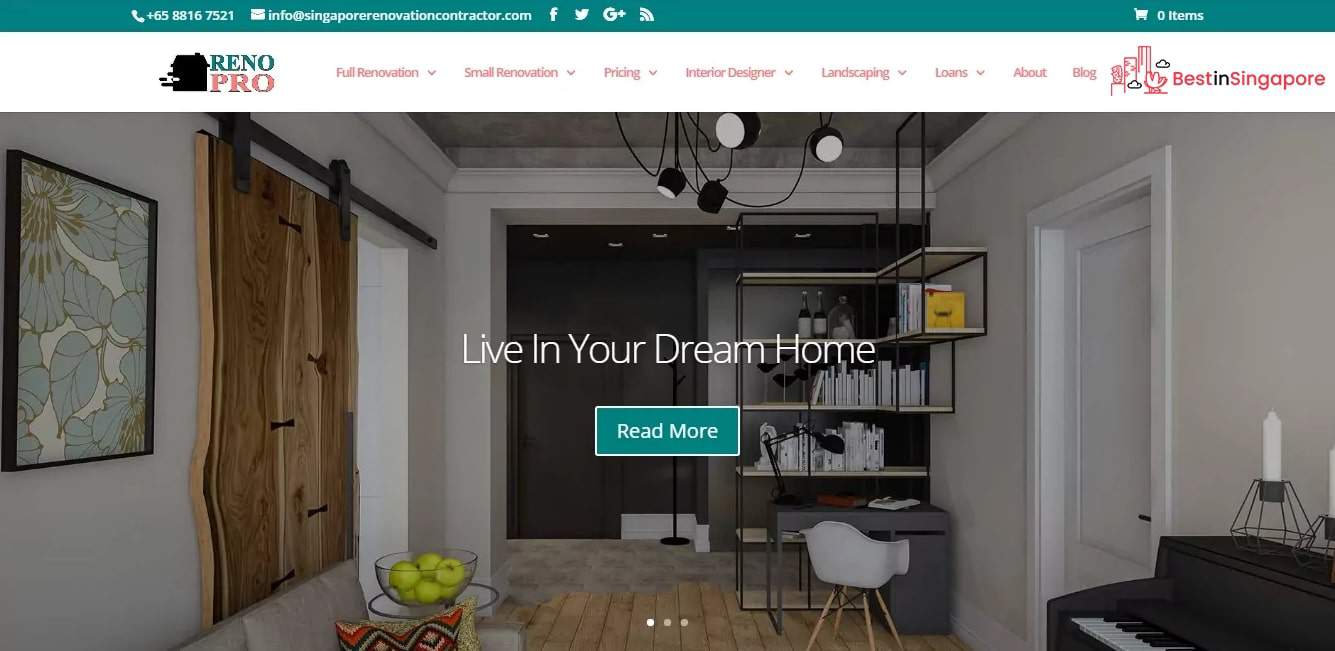 Reno Pro is a renovation company that services residential homes and commercial spaces in Singapore and Malaysia. It can deal with most types of properties on the island, including HDBs, condominiums, BTOs and landed properties, among others.
In terms of business renovation, Reno Pro accepts clients from all sorts of industries, such as food, insurance, retail, education, and even healthcare.
What customers like the most about Reno Pro is that it offers full and partial renovation, which is perfect for those who want only a single room to be renovated. There's no need to pay for services that you won't be needing in the future.
Before booking its renovation services, clients may take advantage of its free consultation services, where they will get to know how its team plans to remodel their homes. All of their preferences will be considered during the consultation stage.
After the renovation is completed, its team will do a thorough check to make sure that the renovation meets your requirements before closing it. If you have any questions post-renovation, Reno Pro will still be more than willing to answer them.
13. Titanz Interior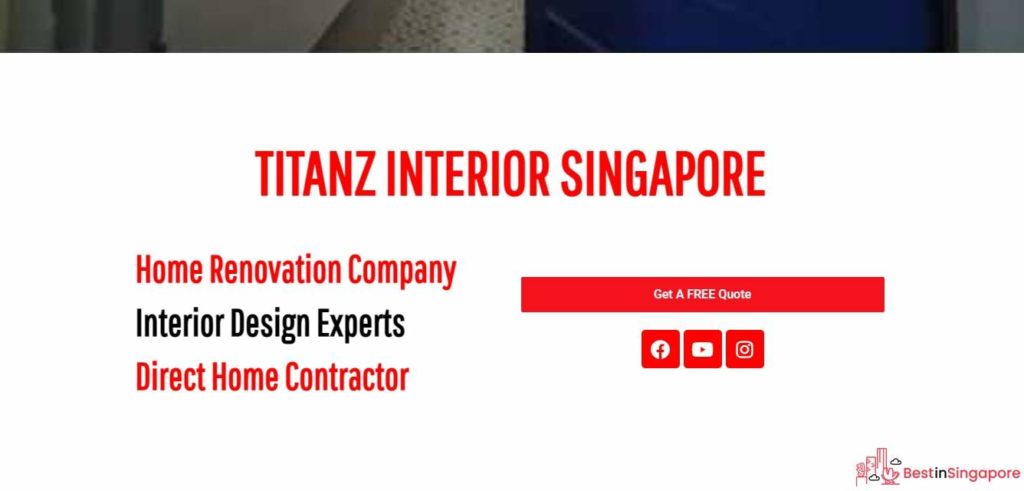 Established in 2013, Titanz Interior has grown into one of the most in-demand renovation contractors in Singapore. It mostly works on small residential houses but doesn't back out when it comes to extensive renovation projects.
Since there's a rise in demand for renovations in Singapore, Titanz Interior decided to take direct carpentry to its own hands in order to serve clients better and faster. It gives its carpenters an advantage because carpentry works are normally the main bulk of its projects.
Currently, it has a team of more than 10 carpenters and a factory of more than 5,000 square feet, allowing them to serve more homeowners.
Among its renovation services are demolition, carpentry works, tiling, plumbing, electrical works, painting, false ceilings, and glass works, among others.
14. Artdecor Design Studio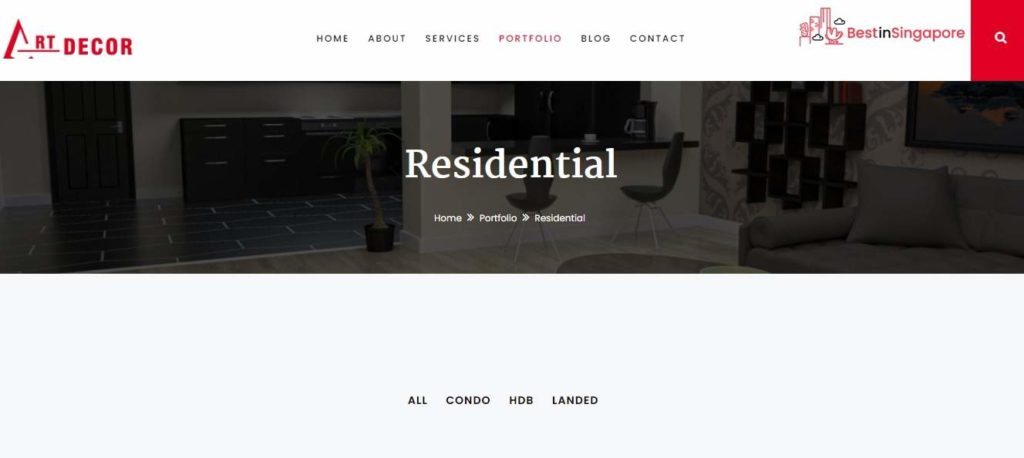 If you're after a contractor with a positive track record, then you want to check out the services of Artdecor Design Studio. It's a premier interior design studio that offers home renovation, commercial renovation, and custom-made furniture.
Artdecor Design Studio is known for combining aesthetics and functionality in order to create useful and eye-catching spaces. All clients will be assigned a team that oversees the entire project, from consultation down to post-construction cleaning.
Another thing worth noting about Artdecor Design Studio is its dedicated carpentry factory in Hougang. This is where all custom-made furniture are produced and quality controlled, including cupboards, bed frames, cabinets, tables, and headboards, among others.
In terms of rates, customers don't need to worry about spending beyond their budget because Artdecor Design Studio also strives to escape unnecessary renovation expenses.
15. KWYM Interior Designs

KWYM Interior Designs is a full-service residential and commercial interior design firm in Singapore that offers renovation services at an affordable price.
Since opening its door in 2008, it has completed thousands of home and commercial renovations all over the island, including HDB flats, corporate offices, and retail spaces, among others.
Compared to most contractors, KWYM can't do extensive home renovations. Instead it focuses on minor home renovations, making it a great option for clients who don't need to completely overhaul the interiors of their home.
KWYM's rates are cheaper than most design and renovation contractors in Singapore. Its renovation services include painting works, wallpaper decorations, plumbing and electrician works, demolition, carpentry, and home protection.
No customer will feel left out because its design and renovation team will collaborate with them in all aspects of the project, from design development until procurement of furniture.
16. Renovation Guys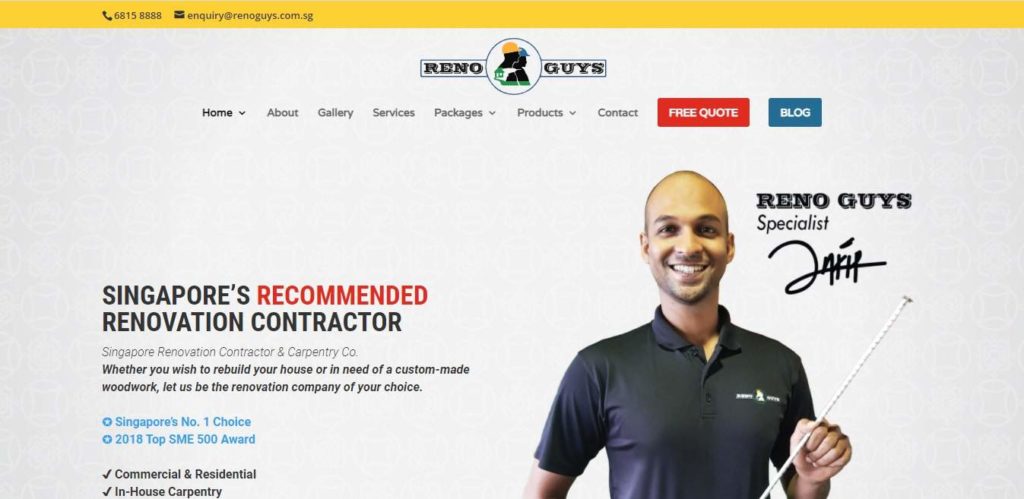 Considered one of the best renovation contractors in Singapore, Renovation Guys offers groundwork, brickwork, plastering, plumbing, electrical works, custom carpentry, and flooring finishes to residential homes and commercial establishments.
What makes it a perfect option is that it follows a competitive pricing policy that allows it to create a renovation package that fits the budget of a client. It's quite rare for renovation prices to not go beyond the budget, so it's good thing that it has this type of policy.
Renovation Guys promises that the entire renovation process will be an exciting, positive, and hassle-free experience. Clients don't have to worry about anything other than approving designs and layouts here and there.
Its complete list of services include kitchen renovation, bathroom renovation, bedroom renovation, ceiling renovations, electrical services, painting services, and plumbing works, among others.
Customer Reviews
Here's what a client had to say about his experience with Renovation Guys:
"From experience, I had trust issues with renovation companies.. But thank God Renovation Guys' services were beyond my expectations.. Honourable mention to Faiq & Bilal for being extremely patient with me during the process of renovation.. They were not pushy in upselling irrelevant things for my house and definitely honest.. Price wise no comment Lah, hands down cheaper then most reno companies I've surveyed before.. Hook 'em up guys, really friendly and affordable..
17. OfficeStac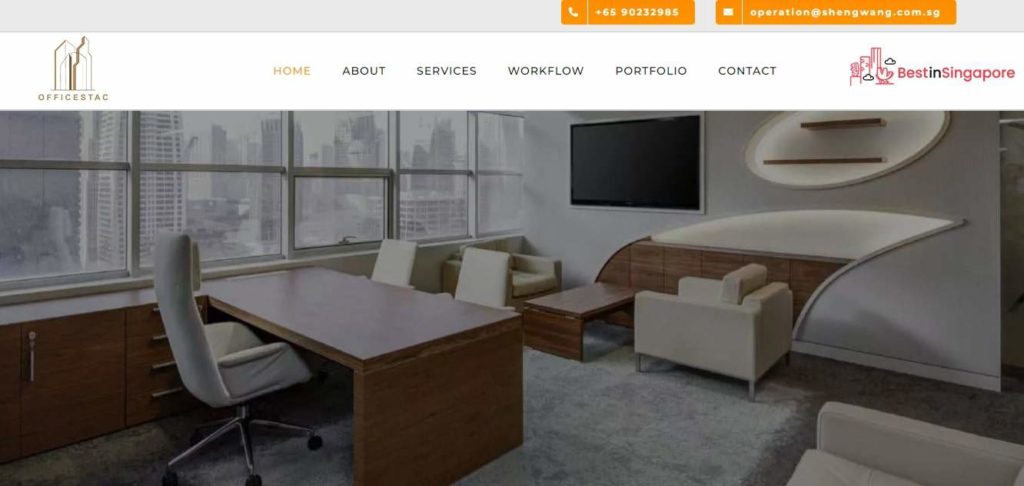 OfficeStac is a professional commercial office renovation contractor that deals with all types of commercial spaces, from corporate offices down to retail spaces. In fact, it's one of the few contractors on the island that specialise in office renovations and designs.
It houses an experienced team made up of qualified designers, carpenters, painters, plumbers, electricians, and wall art designers. Whether it's a small office or large one, its renovation team will know exactly how to improve it.
When it comes to rates, OfficeStac has been praised by many MNCs & SMEs for having some of the cheapest renovation prices on the island. It's no surprise that it ended up on our list of the top renovation contractors in Singapore.
Some of the commercial renovation projects that OfficeStac accepts are executive room remodelling, modular office renovation, basement office renovation, garage office space renovation, and office wall art design, among others
Customer Reviews
Lubin Tan, one of OfficeStac's clients, left this review on Google Business:
"Very happy with the pricing, the quality of work and the speed as well. Honest, open and effective communicators. I appreciated the additional feedback on my reno ideas without making me feel pressured to take up their suggestions or any products. They were also helpful in making sure regulatory requirements were adhered to."
18. TCA Design & Build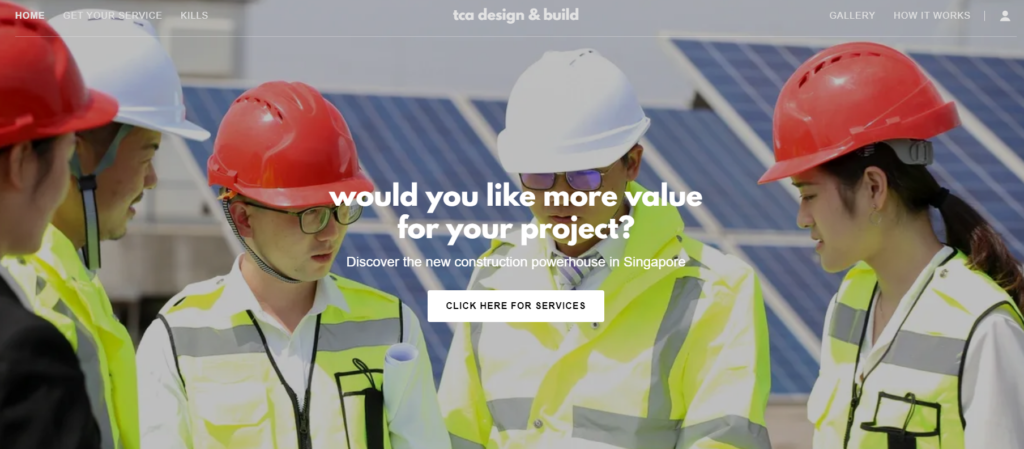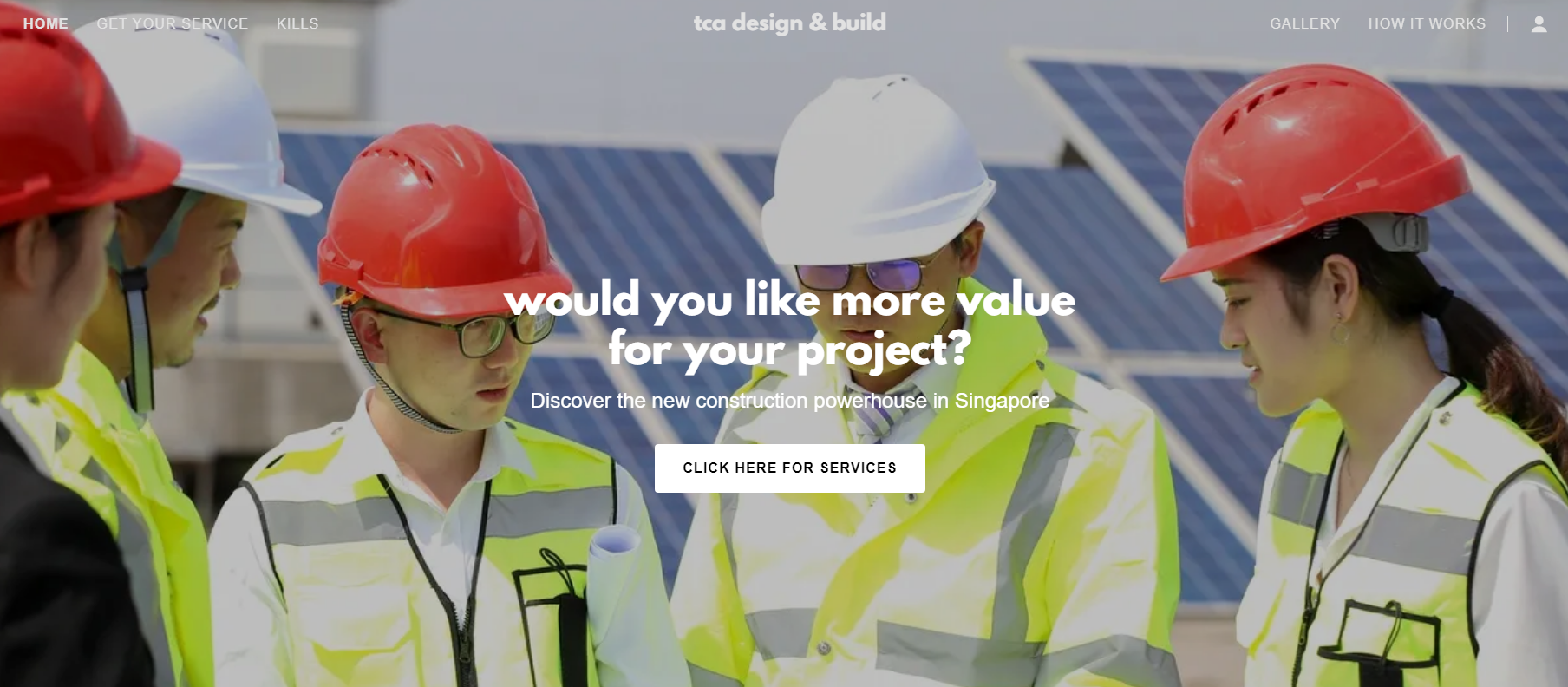 Founded in 2011, TCA Design & Build is a design and build construction consultancy firm based in Singapore. The firm caters to both residential and commercial project needs, endeavouring to create one-of-a-kind experiences through their eye-catching, sturdy builds.
Now, the process of working with TCA Design & Build is quite simple, requiring only three easy steps: (1) Meet the designer and get quotations for the build; (2) Consult and finalise the design; and (3) Relax as TCA Design & Build takes on the design and delivers what the client has asked for.
Consistency is key with TCA Design & Build, which is why the firm dedicates itself to deliver quality work regardless of the project they take on. Aside from consistency, TCA Design & Build also offers range, with the list of services including design, project submissions, construction, custom builds, building maintenance, and project reinstatements.
19. New Interior Design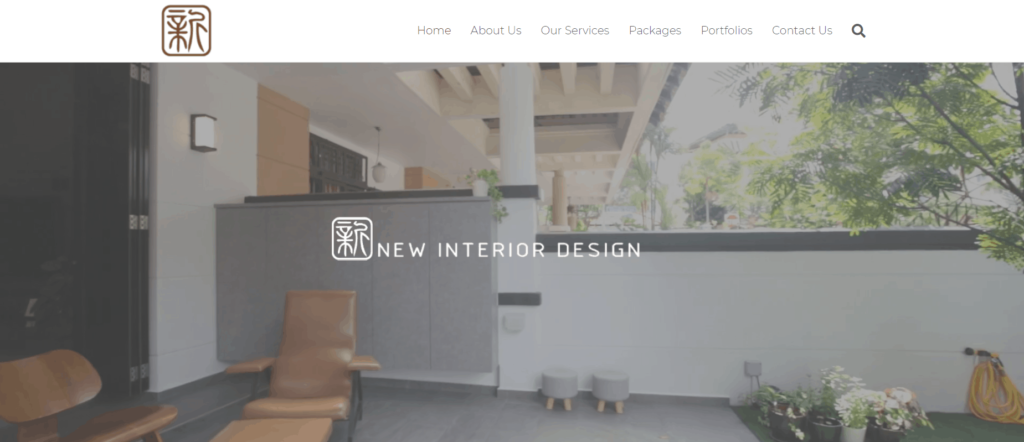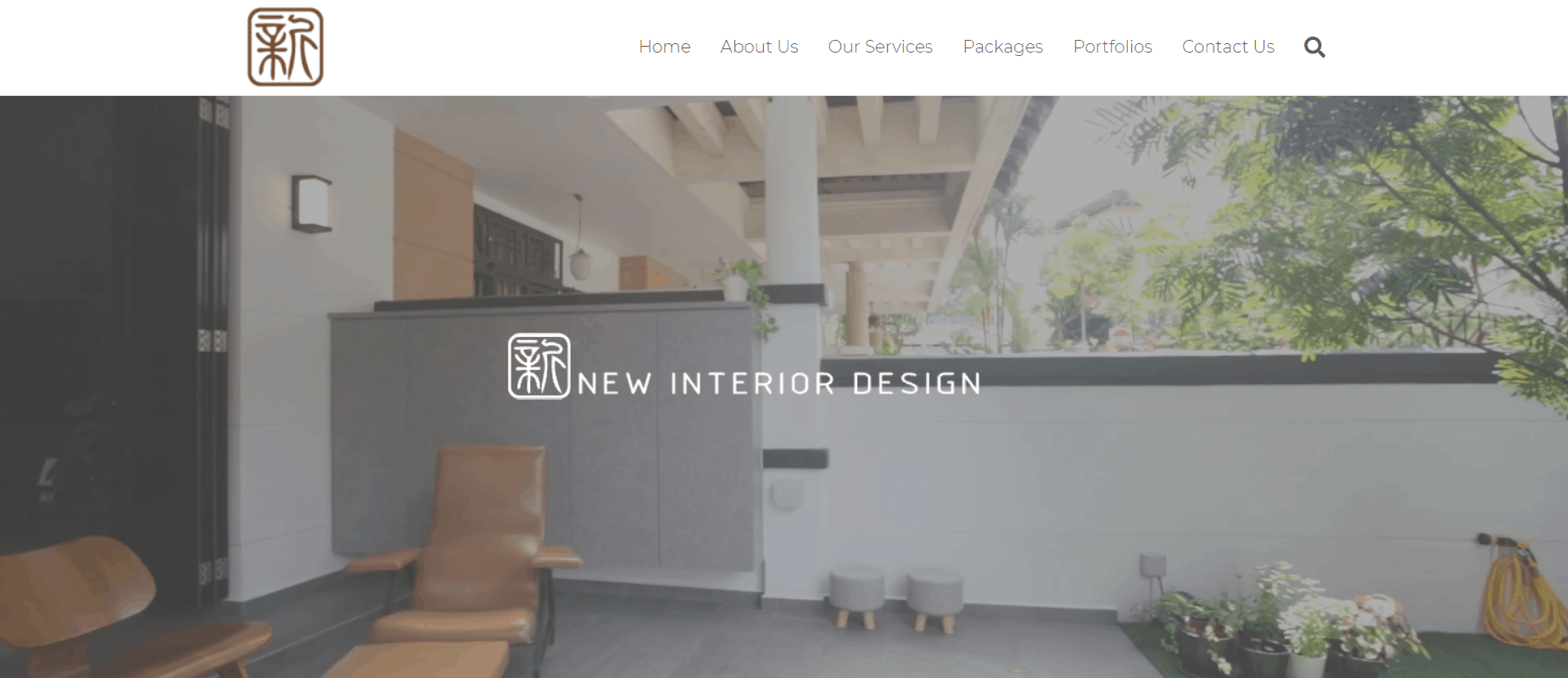 If you're looking for an interior design firm that can address your aesthetics and design needs for every room, then you may want to look into New Interior Design.
Established in 2011, New Interior Design has proudly served the community by offering interior design and carpentry services for renovation works or new construction. The firm confidently and competently does so thanks to its team, which comprises professional designers as well as workmen and carpentry experts.
These individuals take pride in being a part of one of the most reliable firms in the business. Their years of experience, skills, and expertise allow them to work on a slew of properties and rooms, including but not limited to regular houses and condos, kitchens, toilets, and many more.
So, if you're looking for a firm with a diverse portfolio, New Interior Design makes an excellent choice for the job. The rates may be higher than you expect, but the quality they offer in return is well worth the price.
20. TK Contractors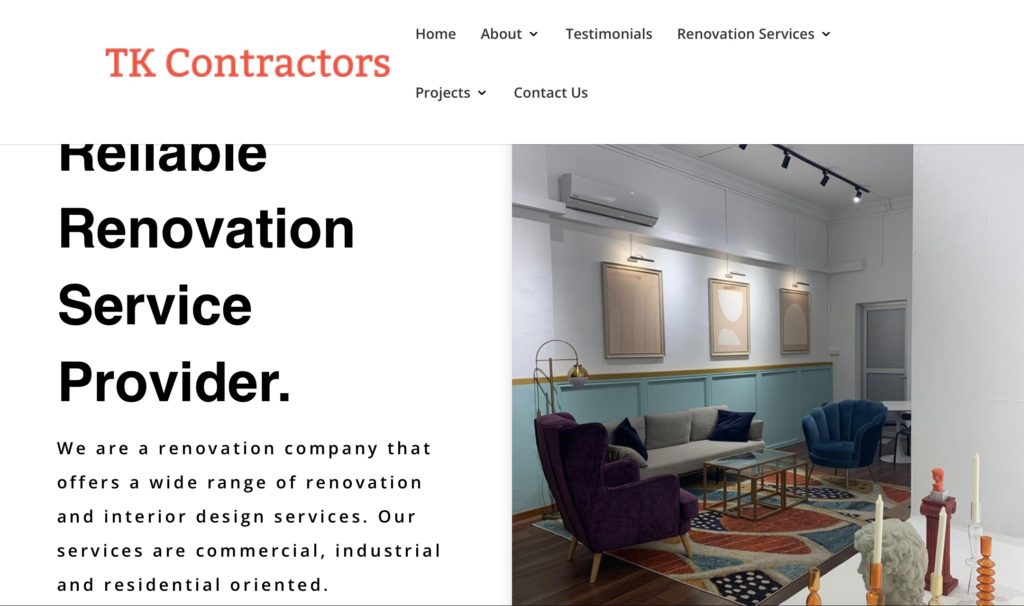 Our experience with TK Contractors left us thoroughly impressed. From start to finish, they exemplified professionalism and proficiency in the realm of general contracting.
The convenience they offer is commendable. TK Contractors streamlined the entire process, making it effortless for us.
Their responsive communication and punctuality were impeccable. We always felt like a priority, not just another project.
Quality is paramount in the construction world, and TK Contractors delivers excellence in every facet.
The craftsmanship displayed in our project was nothing short of exceptional. It's evident they take immense pride in their work, and it shines through in the finished product.
In the realm of cost, TK Contractors strikes the perfect balance between affordability and value.
Their transparent pricing structure gave us peace of mind throughout the project. We felt confident we were getting top-notch service without breaking the bank.
We particularly appreciate how they went above and beyond to ensure our satisfaction. They didn't just meet our expectations; they exceeded them.
The attention to detail and the commitment to delivering a flawless result are traits that set TK Contractors apart.
TK Contractors also demonstrated their ability to adapt and overcome challenges swiftly.
When unexpected issues arose, their problem-solving skills were truly remarkable. It's reassuring to know we had a reliable partner who could navigate any construction obstacle.
However, they don't offer promos at the present. We suggest checking their website for other affordable deals.
21. Livspace Singapore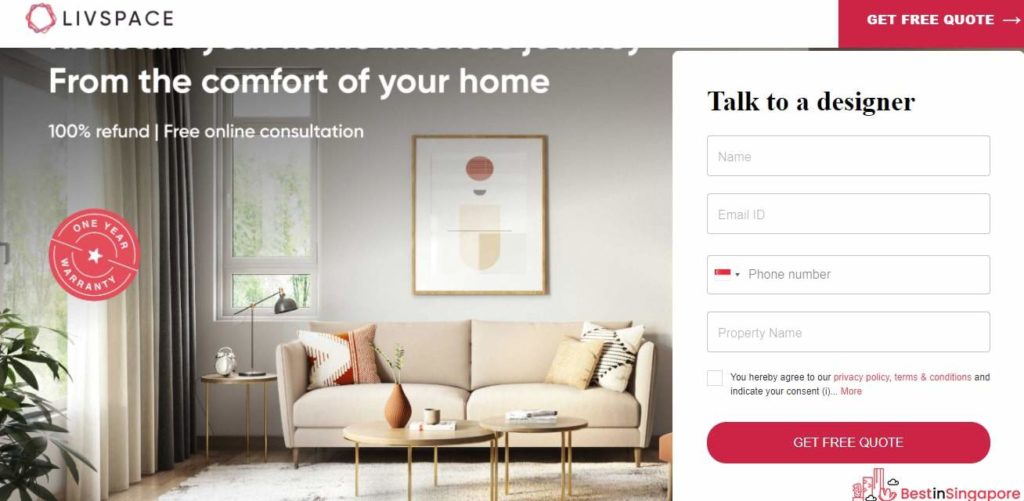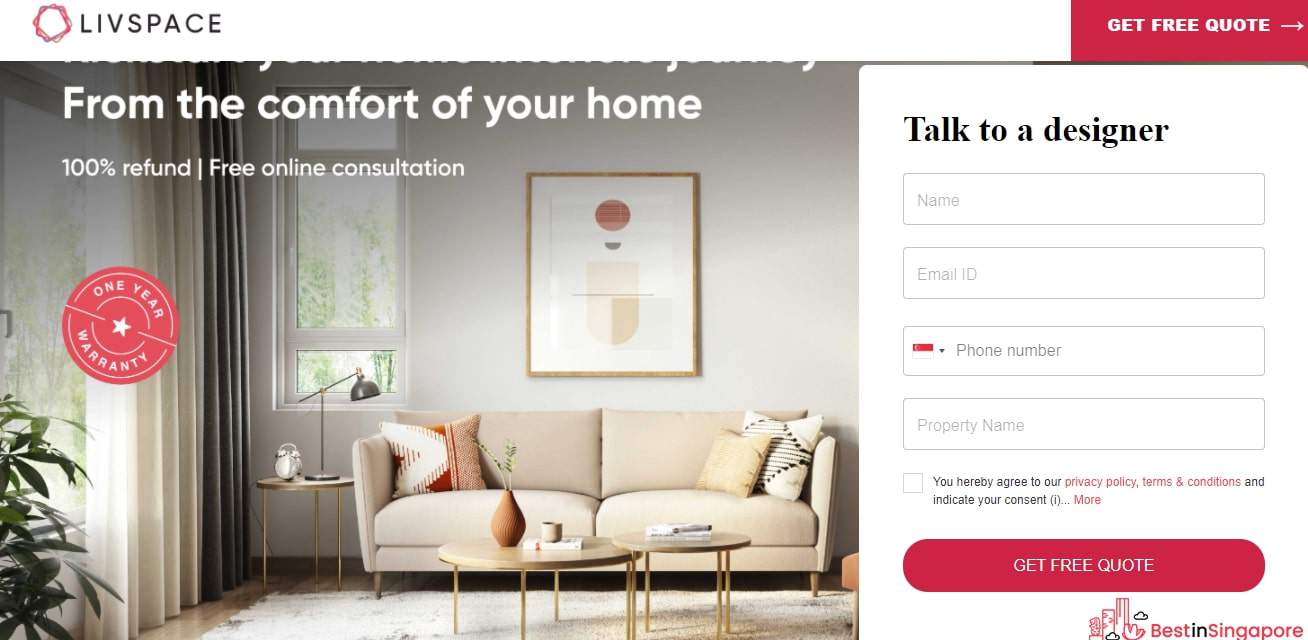 Livspace, while being Asia's biggest interior designer, has remained a top choice for renovation contractors in Singapore due to its comprehensive renovation services. It works with award-winning interior designers who oversee each project of home renovation in Singapore from start to finish.
How does Livspace make sure that only qualified and experienced designers are hired? Well, each candidate goes through a three-step quality check: portfolio screening, performance evaluation projects, and project monitoring.
Only those who pass that rigorous test will be able to join Livspace's experienced and talented pool of contractors and designers.
Livspace's portfolio includes all types of living spaces in Singapore, including condos, HDB homes, and landed homes. Its designers and contractors are trained to manage any type of residential home on the island.
On top of that, all of its renovation services are covered by four-million dollars' worth of insurance from AXA to provide peace of mind to its customers. Every renovation service also comes with an extensive one-year warranty.
Customer Reviews
Here are some comments from its previous clients:
"After meeting a few renovation companies, we decided to go with Livspace to design and renovate our new home. We worked with William and found him to be approachable and accommodating. Mostly, he could articulate designs, which were practical yet appealing while taking into consideration safety aspects for our young child."
"I recently dealt with Livspace for the renovation of my apartment. Their suggestions were non-intrusive but useful and my designer was able to understand my taste, budget and requirements and plan accordingly."
"Livspace was highly recommended and we were pleased. It was the first time we have used a design professional and I would highly recommend leveraging the skills and experience of Livspace."
FAQS about Renovation Services in Singapore
---
Choosing the right renovation contractor for your home isn't easy, but we hope that you were able to pick one from our list of the best renovation contractors in Singapore. Any of these options will definitely help you achieve the look of your dream house.
And in case you know a renovation contractor that should've been on our list, tell us its name by leaving a comment below.
We know that searching for contractors in Singapore can be such a hassle, but if you're also looking for companies that are great at installing blinds, then feel free to read our list of the best blinds installers in Singapore. They offer different kinds of services that'll make your windows more attractive to visitors