32 Companies to Call for the Best Blinds Installation in Singapore
Window blinds don't always come with easy installation and the manual might be too complicated for you as well. That's why acquiring the services of the companies offering the best blinds installation in Singapore would be a great idea then.
Consulting with an expert can help prevent incorrect installation and possible damage to your new blinds. If you've decided you need an expert, take a look at our inclusive list of the top services to call for blinds installation in Singapore!
1. Everyday Curtains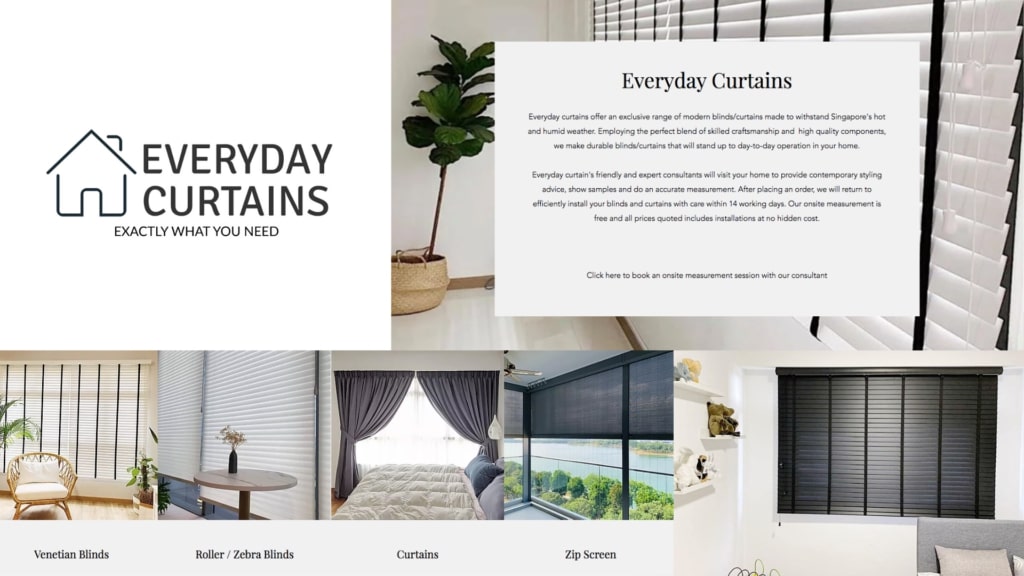 At Everyday Curtains, they promise to be at your service from the beginning until the end. From measuring your windows to get accurate calculations, to creating and designing them, until the installation process, you can trust Everyday Curtains to provide you with promising services.
You can choose from their 3 types of blinds appropriate for homes and offices: Venetian Blinds, Roller Blinds, and Zebra blinds.
Everyday Curtains guarantees that all of their blinds collection can withstand high levels of humidity and direct sunlight while keeping your place looking posh and sophisticated.
Highlights
Exclusive range of modern blinds/curtains made to withstand Singapore hot and humid weather.
Offers free on-site measurement and consultation,
Direct factory price
No GST
2. Direct Curtain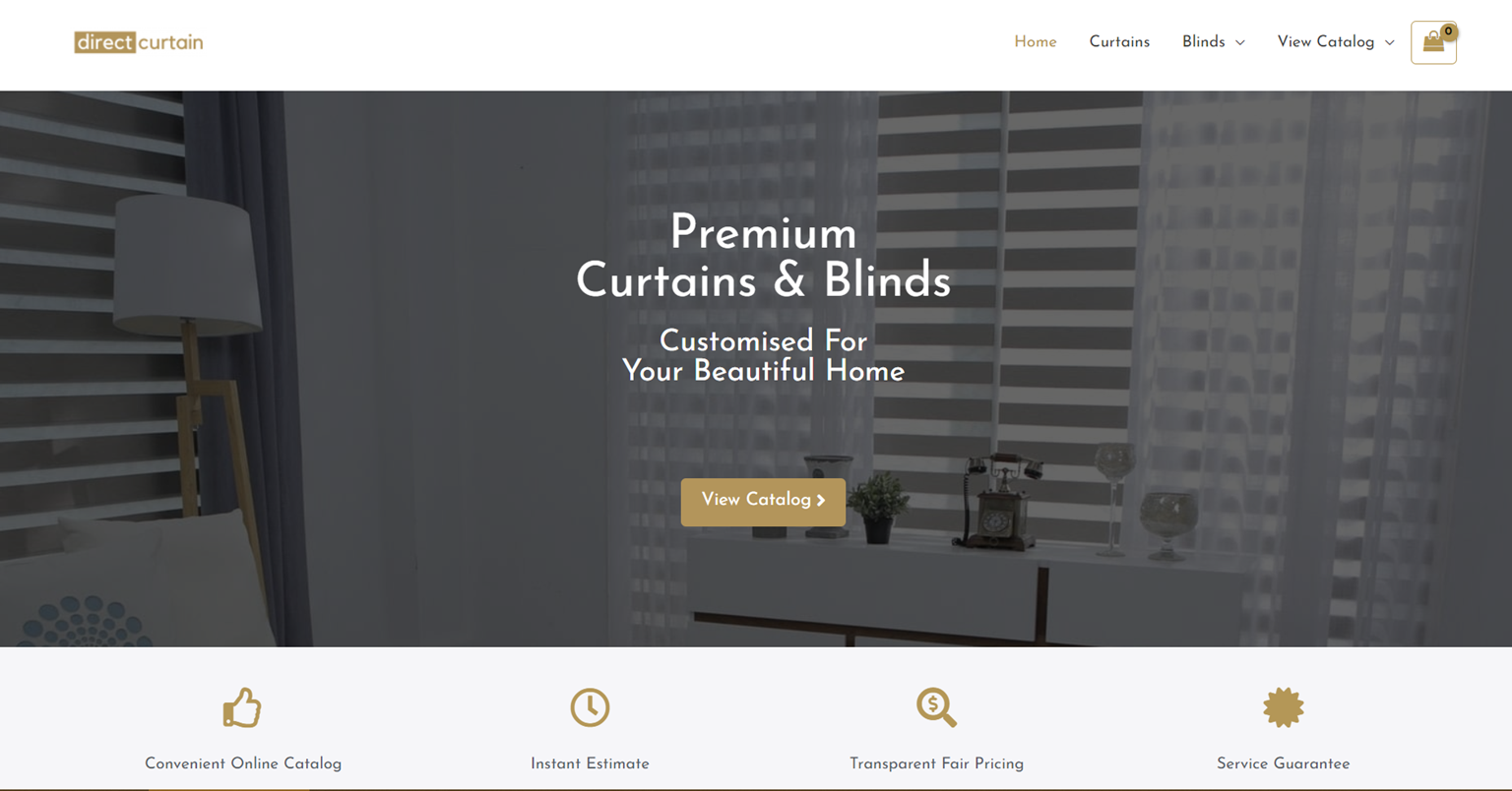 Direct Curtains is one of the best installation companies to consider when it comes to buying blinds and curtains. They have the highest quality of products, sourced from both inside and outside the country.
Direct Curtain knows how frustrating selecting quality blinds can be, as there are literally hundreds of colors and designs to choose from. The establishment makes sure to provide you a list of options that caters to your furnishing style and home structure. You also have the option to buy pre-made items or to customise ones to suit your taste.
Highlights
Seamless installations
Fast services
Professional staff
Convenient order system
Customer Reviews
Here's what a few satisfied clients had to say about Direct Curtain:
"Direct Curtain has impressed me for their fast and efficient service as I confirmed on Wed 1/4 and curtains was installed on Sat 4/4 just before the circuit breaker. I was so happy otherwise I would have to wait for another 1 more month. Thank you Direct Curtain for your excellent service."
"We asked for a quotation via WA and the response came back almost immediately. That's only the beginning of our pleasant experience with Direct Curtain. Within a day the representative came to do an onsite assessment and gave us a quotation for the blind we wanted to install, the price was very reasonable and there was no upselling attempts unlike some other companies, just giving us what we wanted. Just a few more days the installation took place and so far no issue with their product. For the price we paid I would say it was value for money especially it includes the cost of installation. Well done Direct Curtain!"
3. Singapore Blinds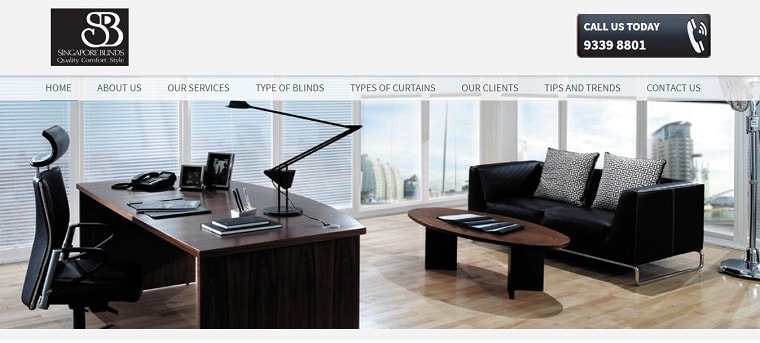 | | |
| --- | --- |
| BEST FOR | Customisable window dressings |
| WEBSITE | http://www.singaporeblinds.com.sg/ |
| ADDRESS | 24 Sin Ming Lane #02-105 Midview City Singapore 573970 |
| CONTACT DETAILS | (+65) 9339 8801 |
| OPERATING HOURS | Weekdays, 10am–6pm |
Singapore Blinds offer a variety of blinds and curtains that'll certainly match your interiors and even your tight budget!
They make sure that their clients will make the right decision by guiding them before making purchases. Therefore, they make personalised approaches for every client.
When it comes to their services of the best blinds installation in Singapore, you can rest assured that their skilled team will have it done in no time.
Highlights
Personalised selections
Broad range of blinds and curtains
4. SG Handyman Services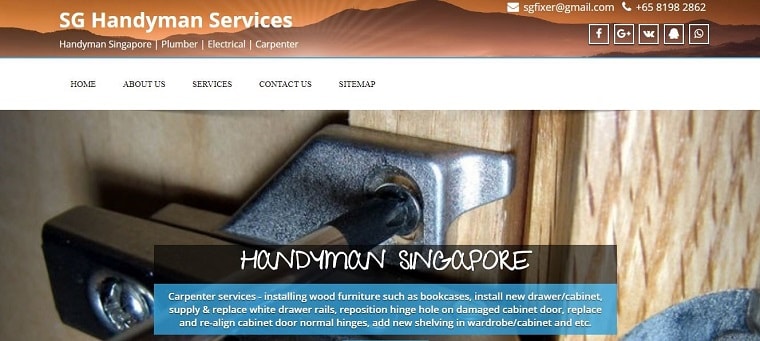 If you've recently moved into your new home or office, you might have a lot of appliances, furniture and treatments to install. In this case, it would be nice to consult with SG Handyman Services.
Their services include plumbing, carpenter work, and even electrical placements. The most impressive thing about them is their general installation, where they can assist you in installing blinds, curtain rods, and kitchen accessories as well as wall-mounted TVs.
As they provide island-wide operations, they've reached a lot of residence and commercial areas. SG Handyman Services have gained the trust of many locals because of their excellent and reliable services.
With their dynamic solutions, they indeed deserve to be named as one of the top companies that offer the best blinds installation in Singapore.
Highlights
General installation
Plumbing and electrical
Carpenter works
5. Singapore MTM Curtains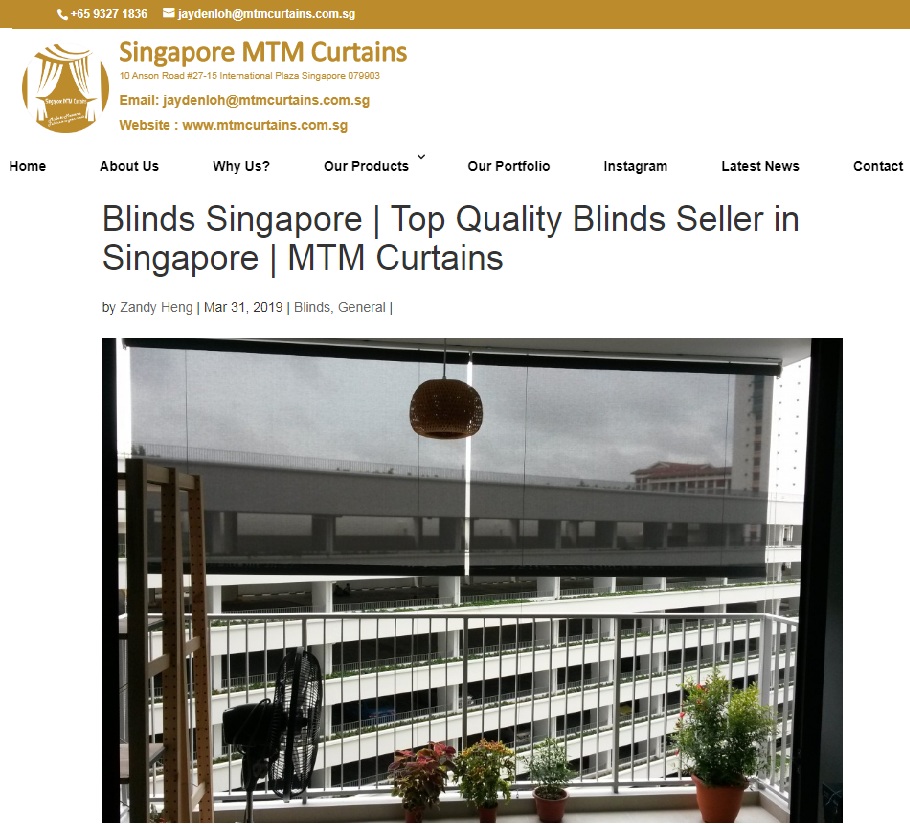 For the best blinds for all sorts of windows, you can always head on to Singapore MTM Curtains. They've got one of the largest collection of all things curtains and blinds that varies in sizes, function, and affordability. You won't have a problem picking the best blind for your window with the number of products they have available.
From picking to installation, trust the experts at this company to help you. They aim to provide a one-on-one customer experience to ensure you get the proper help you need.
Highlights
Affordable pricing

Wide variety of durable blinds

Customized Printed Blinds
6. Budget Curtain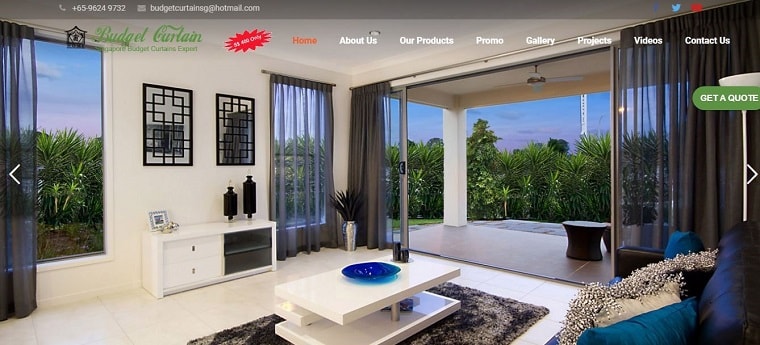 | | |
| --- | --- |
| BEST FOR | Installation and repair services |
| WEBSITE | http://www.budgetcurtainsg.com/ |
| ADDRESS | Blk 335, Smith Street,#01-224, Chinatown Complex Singapore 050335 |
| CONTACT DETAILS | (+65) 9624 9732 / 62212971 |
For those who are having window blinds installation and reinstallation issues, you can visit or contact Budget Curtain. They offer both installation and repair services.
Moreover, if you have an ideal look regarding a curtain or cover design, they can take personal requests, measure the furniture's size, and create your own personal style.
Highlights
Customised upholstery accessories
Repair services
Special promotions
7. WallSG Pte Ltd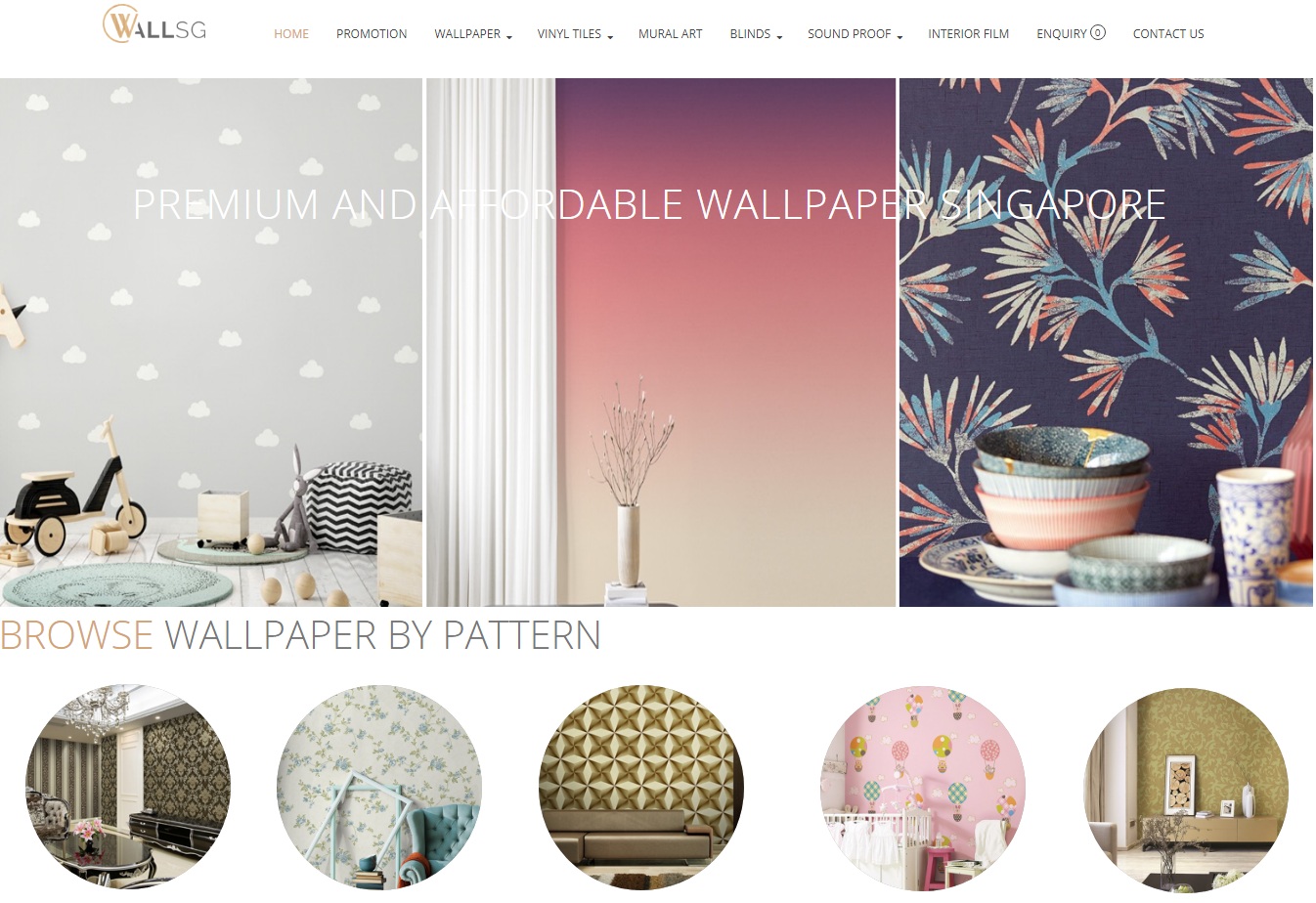 BEST FOR

One-stop wallpaper solutions

SERVICES

Wallpaper solutions, Vinyl flooring, Blinds installation, Sound proofing

WEBSITE

https://wall.sg/

ADDRESS

1 Genting Lane #03-03, Singapore 349544

CONTACT DETAILS

Terry +65 9328 2157

JiaZin +65 8818 1850

OPERATING HOURS

Monday – Sunday – 11am to 6.30pm
At WallSG you can find a variety of premium quality blinds perfect for homes or offices. You can choose from Korean Blinds, Roller Blinds, Venetian Blinds, and Unislat that also come in varieties of color.
WallSG takes pride in their team of installers that has 20 years of combined experience, thus making sure to provide their clients with secured and high quality wallpaper and blind installation services.
The company makes sure to provide affordable yet cost-effective products and services for their residential and commercial clients.
Highlights
Extensive range of blinds

Expert team of installers

Flexible operating hours
8. Rollerblinds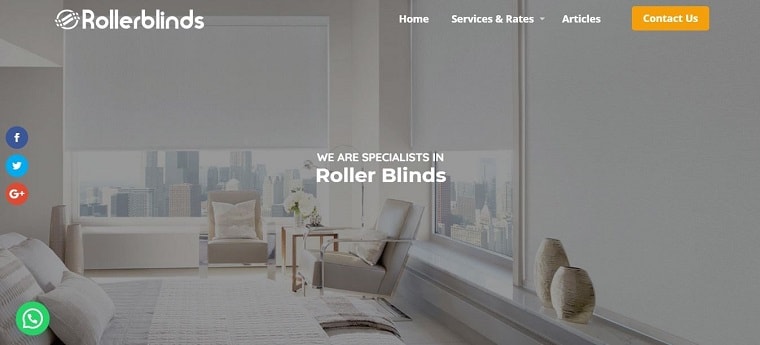 | | |
| --- | --- |
| BEST FOR | Affordable installation services |
| WEBSITE | https://www.rollerblinds.com.sg/ |
| ADDRESS | 5, Ang Mo Kio Industrial Park 2A Singapore 567760 |
| CONTACT DETAILS | +65 6871 8924 |
| OPERATING HOURS | Daily, 9am–8pm |
As the company name states, Rollerblinds specialises in installing roller blinds and other kinds of window treatments such as outdoor, office, vertical, and motorised blinds.
They have a wide range of designs and styles to choose from so you can surely find the best choice for your home or office! Each item is built with high-quality and long-lasting materials.
You don't have to worry about costly installation charges too. Their services are very affordable and they fit within most budgets.
Highlights
Different blind designs
Free quote
Customer Reviews
Rollerblinds has captured the interest of many customers because of the great customer services, stylish collections, and practical options. This is why they're known to have the best blinds installation in Singapore.
A customer from Google Reviews recommended the shop and wrote:
"We were given a free onsite quote to quote for roller blinds for living room and curtains for bedroom. They came down and measured our window and we were given a quotation within 2 days. I must say that their rates and service are very good. I will certainly recommend your company to my friends."
9. Curtains House Singapore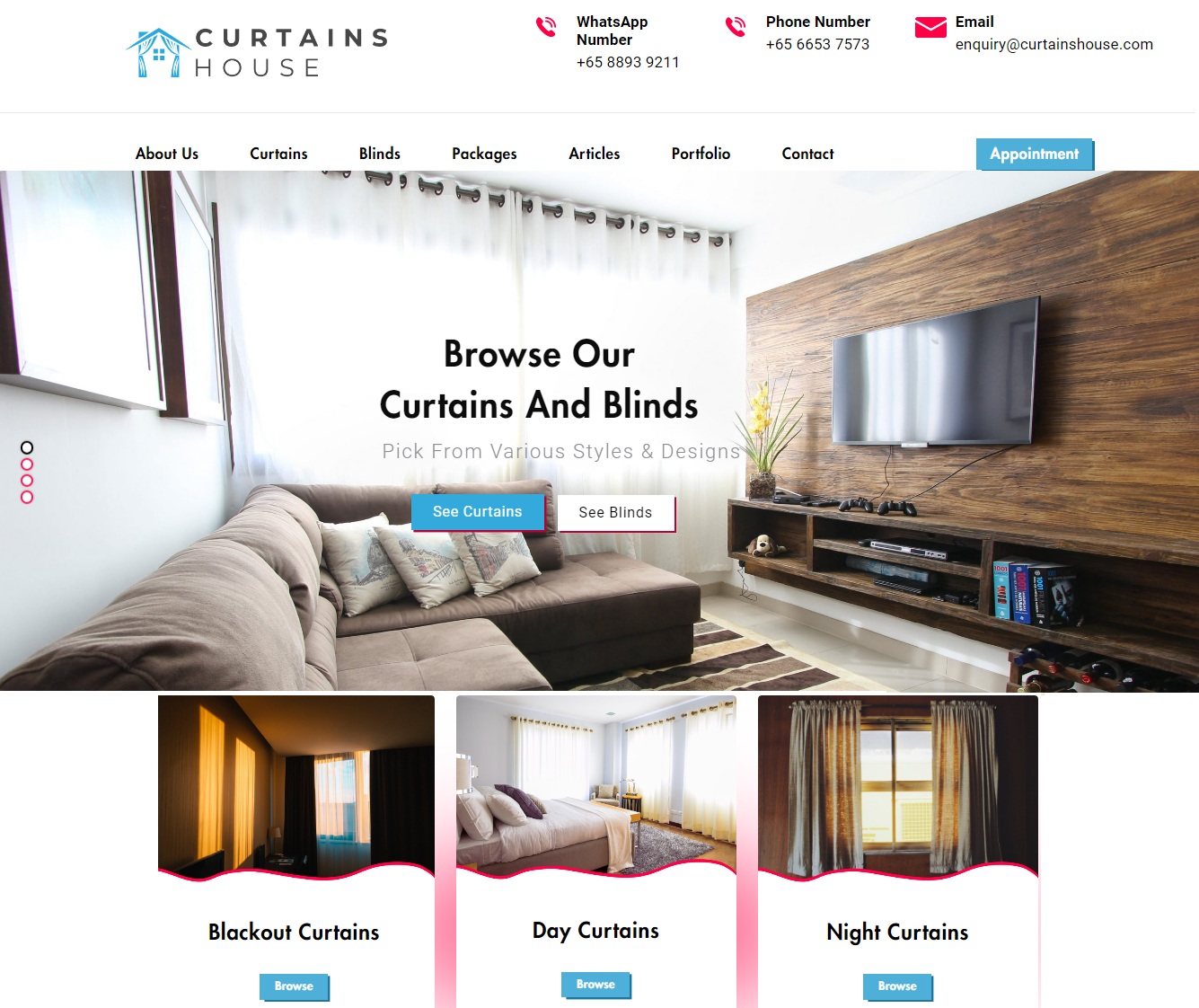 | | |
| --- | --- |
| BEST FOR | Supply & Installation Services |
| WEBSITE | https://www.curtainshouse.com/ |
| ADDRESS | 1090 Lower Delta Road #03-07S Singapore 169201 |
| CONTACT DETAILS | 6653 7573 |
| OPERATING HOURS | Mon – Sun, 9AM – 6PM |
Curtains House Singapore is a trusted direct contractor for all popular types of curtains (Blackout, Day and Night) and blinds like Roller Blinds, Venetian Blinds, Roman Blinds, and Korean Blinds. They provide free in-home consultation and custom-made curtains and blinds, with full supply & installation services.
Their HDB curtain packages are the most affordable in Singapore and have a very responsive customer service.
Highlights
Comprehensive installation packages

Custom-sized blinds

Reliable consultation from experts
10. YHH Plus Enterprise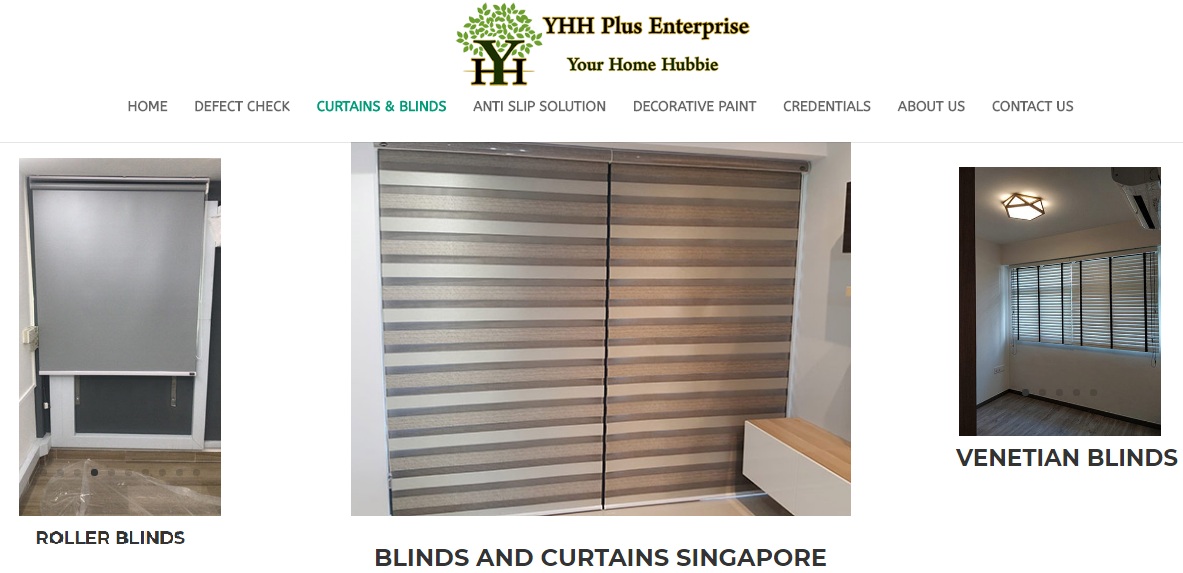 YHH Plus has a wide range of products for your every need. They keep in mind the various interior designs that the blinds and curtains should blend with.
Apart from that, they wanted to fulfill your objectives in your purchase. While design is one important factor, they also ensure that the blinds would provide for the purpose of your purchase.
Whether you're buying blinds for privacy, security, or design, you could always count on YHH to help you.
Highlights
Wide range of products

Customized blinds and curtains

Installation process

Reasonable prices
11. First Curtains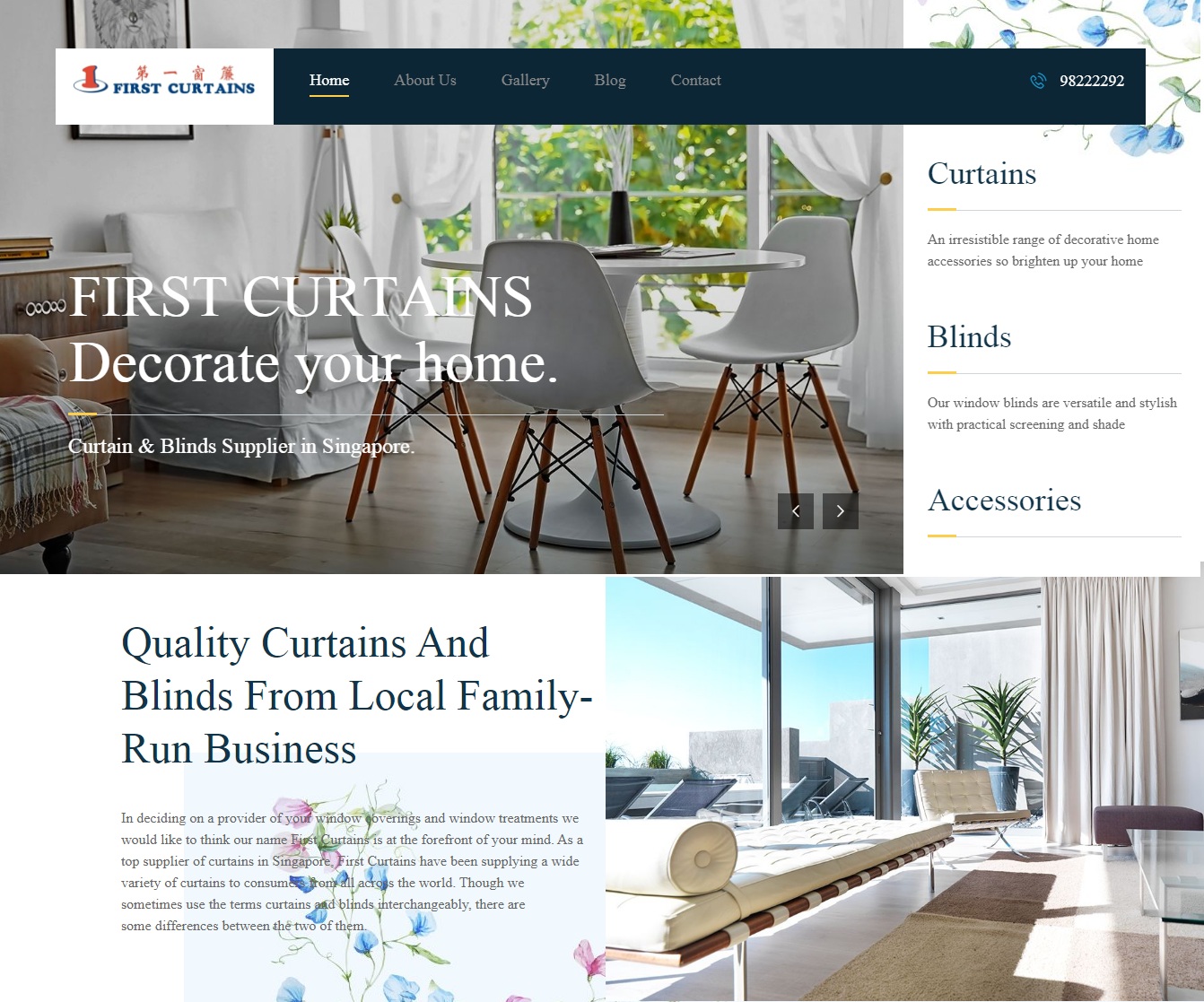 | | |
| --- | --- |
| BEST FOR | Stylish Blinds and Curtains |
| WEBSITE | https://www.firstcurtains.com/ |
| ADDRESS | 21 Toh Guan Rd E., #04-15 Toh Guan Center, Singapore 608609 |
| CONTACT DETAILS | +65 9822 2292 |
| OPERATING HOURS | Monday to Sunday: 9:00 am – 6:00 pm |
Tired of conventional curtains to cover the light coming out of your window? First Curtains design blinds and curtains that are stylish and functional. They are well known in Singapore for providing the best quality curtains and blinds.
While there is no exact formula to creating the most preferred curtains or blinds, they still make sure that their design is stylish and could go well on different interiors. They also consider functionality to meet its purpose.
Lastly, they wanted to always deliver quality service to their customers.
Highlights
Beautiful home accessories

Quality and affordable curtains

Customized window blinds and curtains
Customer Reviews
Their customers were impressed with the prompt service and stylish design of curtains /blinds. In fact, here are some of their testimonials if you're still not convinced with First Curtains.
"Very happy with their work and service. Price is also reasonable – value for money. will not hesitate to recommend it."
"David is professional and very experienced. He has a good and experienced team of people working for him. Highly recommended."
12. Window Blind Singapore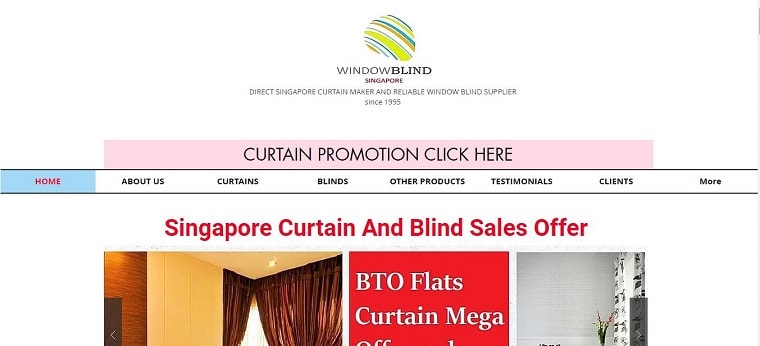 For many decades, Window Blind Singapore has been creating original curtain designs and supplying premium window blinds to Singaporeans.
Along with their commendable products is the guaranteed and hassle-free installation. During operation, they're also equipped with cleaning tools so you can be sure that there'll be no dirt and dust lying around the room afterwards.
Highlights
Absolutely clean installation
Original curtain designs
2 years guarantee
Customer Reviews
From their craftsmanship to their overall services, Window Blind Singapore truly have the best blinds installation in Singapore, according to their customers. Their clients praise their excellent solutions and fair prices.
A customer left this feedback on the company's official website:
"I highly recommend Window Blinds Singapore, because they can provide solutions at very reasonable pricing to enhance my home. The service from both the sales and installation groups were excellent. There were no hidden charges on whatever. I have done curtains and timber blinds from them. Thank Chua and teams!"
13. Singapore Curtains Blinds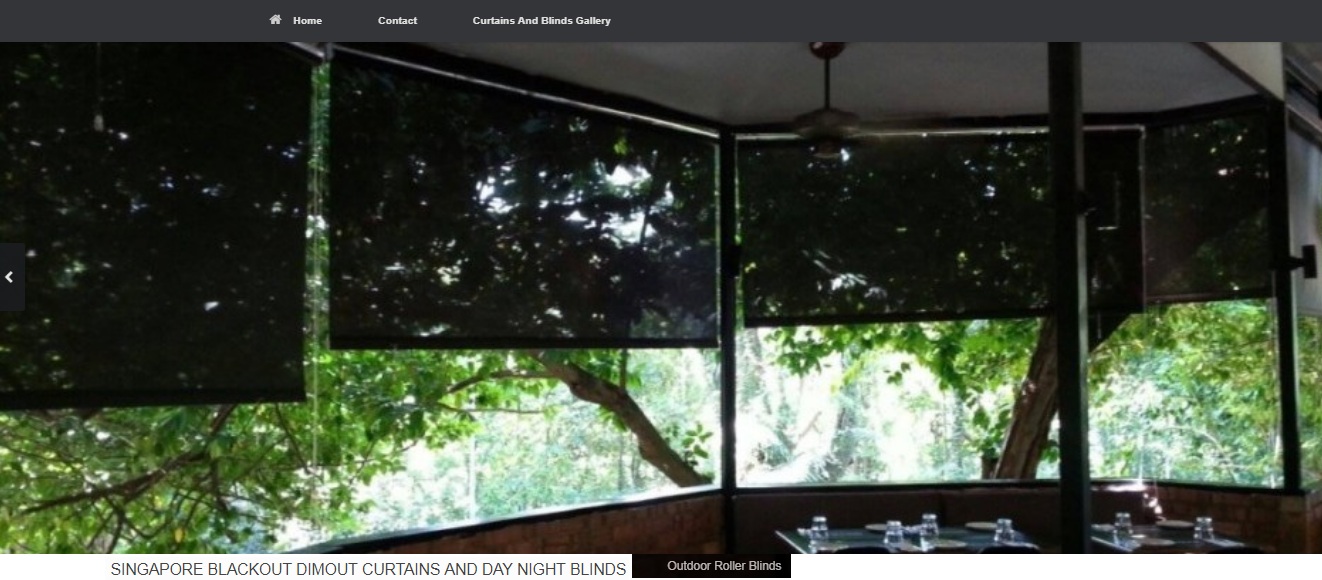 Singapore Curtain Blinds takes pride in their large inventory of Curtain Drapes, Roller Blinds, Rainbow Blinds (Combi Blinds), PVC Blinds, Wood Blinds, etc. which they custom-made according to their clients' requirements and preferences.
These blinds are designed to satisfy various room requirements. For example, if you want your room to be a bit cozier and modernly looking, you may opt to avail Blackout Roller Blinds or Day Roller Blinds. Otherwise, you may choose PVC Venetian Blinds or Wood Blinds for a fresher and brighter room ambiance.
The company promises to take care of your curtain and blinds needs from the creation to installation, all guaranteed to be of the best qualities.
Highlights
Custom-designed

Large inventory of curtains and blinds

Modern and stylish designs
14. ASRO Interlink Pte Ltd
Uncomfortable with light glaring directly from the window? Well worry not for Asro Interiors is here to provide only the best blinds for your home or office! Long term usage is the aim as only the finest fabrics and system are used, having been confirmed for more than 30 years in the business.
Even if the materials are locally carried out, the systems created by Asro has continuously been a bestseller not only in Singapore, bu also in Japan and USA; definitely a world-class service for the right price.
You may choose from their different blind categories; roller blinds, vertical blinds, and aluminum Venetian blinds to name a few. If you're also interested with curtains, vinyl flooring, and new carpets, that Astro's the one made perfectly for you.
Highlights
Professional Installation
Customisations
Cost-efficient
15. SOL HOME Blackout Curtain
Best for Maximum Privacy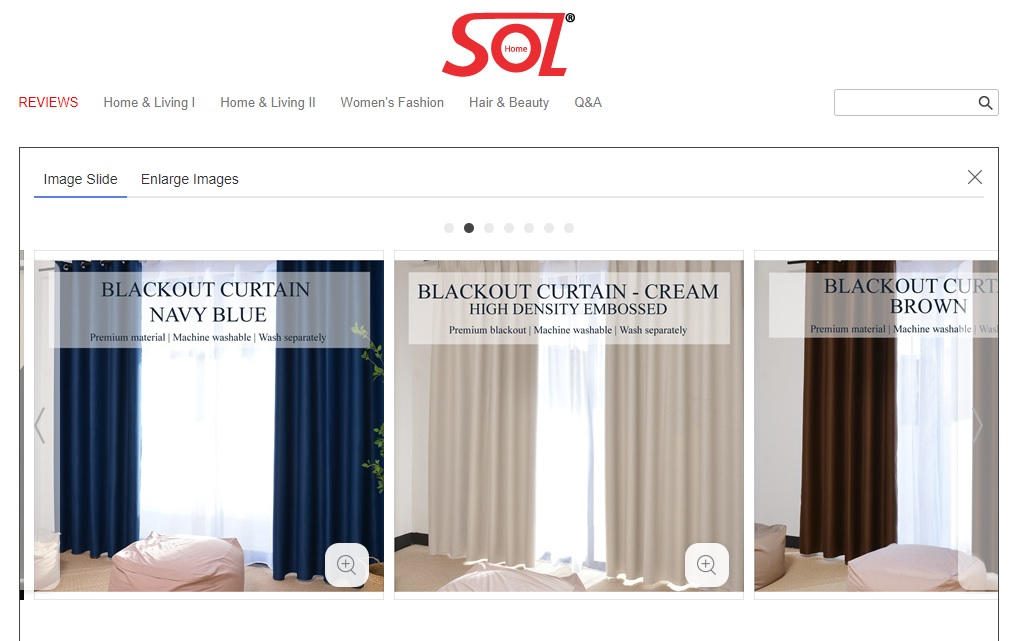 Price: $48.90
If you want complete privacy inside your home, then consider getting your hands on the SOL HOME Black Curtain. Every order on Lazada comes with 2-piece, durable and washable curtains that will protect your room from any type of surveillance.
These curtains are also made from quality, premium materials, so rest assured that they will stick around for a long time. We highly recommend using your set master bedroom, especially if you have large windows.
On top of privacy, these blackout curtains can also help you sleep longer because they're excellent at blocking out sunlight, especially during mornings.
Washing these curtains won't be a hassle as well because they're extremely lightweight — which is why we've named the set one of the best curtains in Singapore.
Highlights
Made from premium materials
Durable and lightweight
Great for privacy
Customer Reviews
Customers who purchased the SOL Home Blackout Curtains on Lazada mostly rated the set 5 stars, commenting that they're indeed made from quality materials that are great for one's privacy.
Some customers also commented that the curtains' light weight has made them easy to wash. A few customers even noted that they were able to hand-wash these curtains.
16. Riteng DIY Blackout Curtains
Best for Children's Room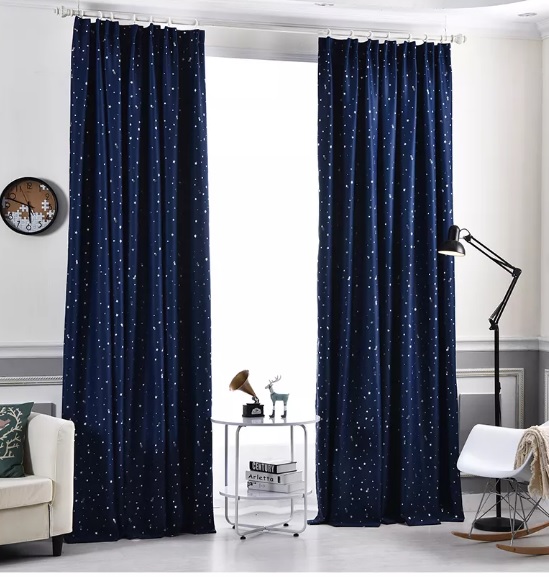 Price: $27.50
If the previous blackout curtain is perfect for the masters bedroom, the Riteng DIY Blackout Curtains are ideal for your children's rooms! Not only are these curtains perfect for keeping privacy, they're also great for adding personality to your kid's room.
These blackout curtains are filled with star patterns that small kids will definitely love! In terms of the fabric, these curtains are made from cotton and linen, so room ventilation definitely wouldn't be a problem.
Above all, they're cheaper compared to other blackout curtains sold in Singapore. These curtains only prove that you don't need to spend a lot of money on quality curtains that provide maximum privacy.
Highlights
Made from cotton and linen
Great for ventilation
Filled with star patterns
Bedroom privacy
17. Eurotex Half Length Curtain
Best for Small Windows
Not every house in Singapore comes with large French windows, so we also made sure to include those houses with small windows. Here's the Eurotex Half Length Curtain, and we believe that it's among the best curtains in Singapore.
Speaking of brand, Eurotex remains among the top curtain suppliers on the island, so rest assured that their curtains are durable and of high quality.
The Eurotex Half Length Curtain is made from polyester, not exactly the best material for a curtain. However customers who have bought it mentioned that it's excellent for blocking out sunlight during the morning.
More than this, it's also extremely lightweight, unlike most other curtains that are made to block out sunlight. So, we believe that washing it won't be too much trouble.
It also comes with a 3-way hanging option, allowing customers to hang it however they want. It's the ideal option for those who want to add more statement to their rooms without using pattern-heavy curtains.
Highlights
3-way hanging option
Competitive price
Washable material
18. Laura Ashley Pencil Pleat Curtains
Best for Living Rooms with Large Windows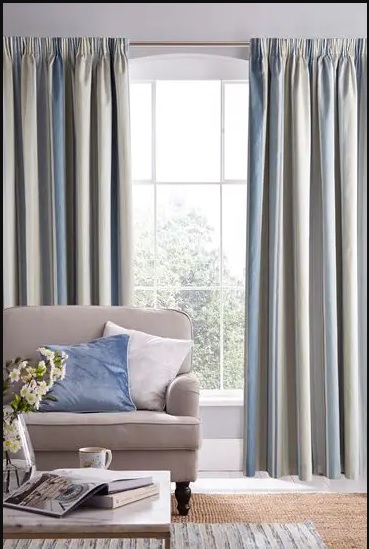 Price: $77.70
If you have some extra bucks to spare on curtains, then we strongly recommend the Laura Ashley Pencil Pleat Curtain. It's definitely one of the best curtains in Singapore that we've come across with.
The Laura Ashley Pencil Pleat Curtain is definitely not the cheapest option out there, but having it inside your room will surely add more personality to your space and make it look brighter. It's the perfect curtain for those who want to get one chiefly for aesthetic purposes.
In terms of privacy, this one might not be the best option, though, as it's made from soft materials. However, that fact that it's made from pure cotton makes up for it for most people.
Since it comes with a variety of designs, customers are free to choose which one fits their personality. After all, everyone wants their room to reflect their own character, right?
Highlights
Variety of designs
100% cotton
Washable material
19. SOL HOME Day Curtain
Best for Natural Sunlight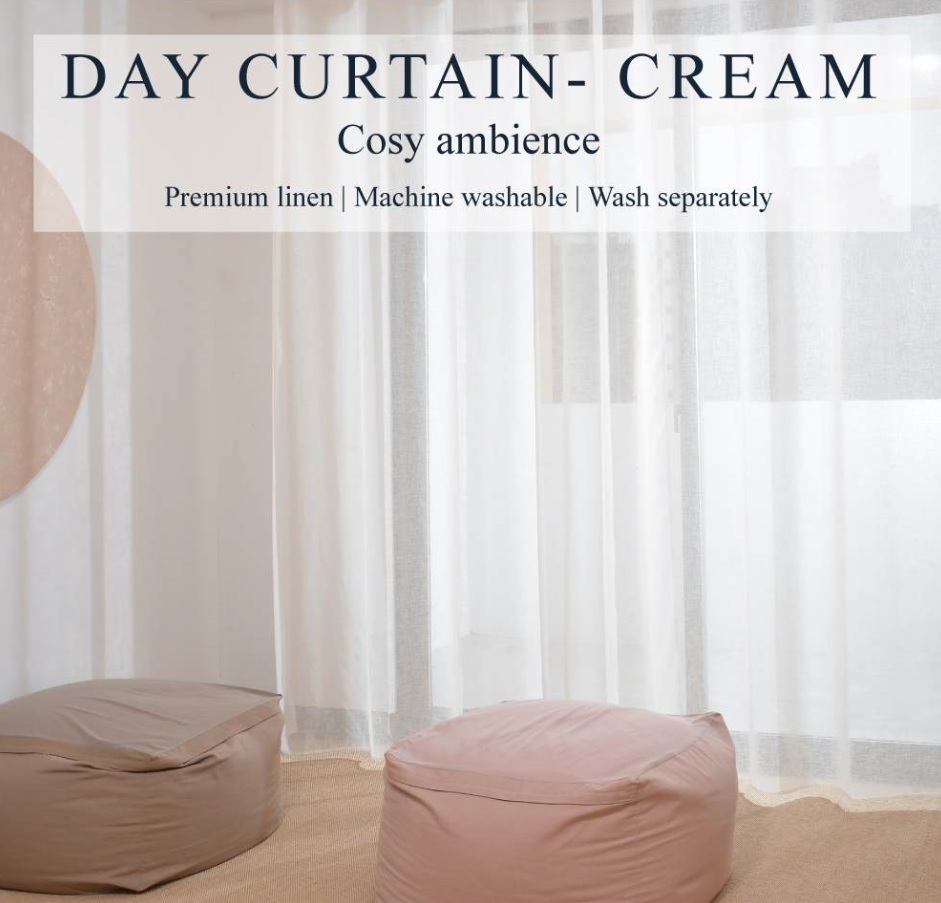 Price: $35.90
Since we can't get enough of SOL HOME's quality curtains, we decided to include another one of its most in-demand curtains. If the other product is best for privacy and blocking out sunlight, the SOL HOME Day Curtain is the complete opposite.
It's the perfect set of curtains for people who don't see privacy as an issue, mainly because of location. Since it's made from light materials, it doesn't do well at blocking out sunlight — which makes it perfect if you want to keep your living room well-lit throughout the day.
And of course, it's made from 100% premium linen, so rest assured that it's durable and can last for a long time.
If you don't like washing heavy curtains, then you also won't have a problem with this one. It's extremely lightweight, making it ideal for machine or hand-washing.
Highlights
Lightweight and durable
Made from pure linen
20. The Curtain Boutique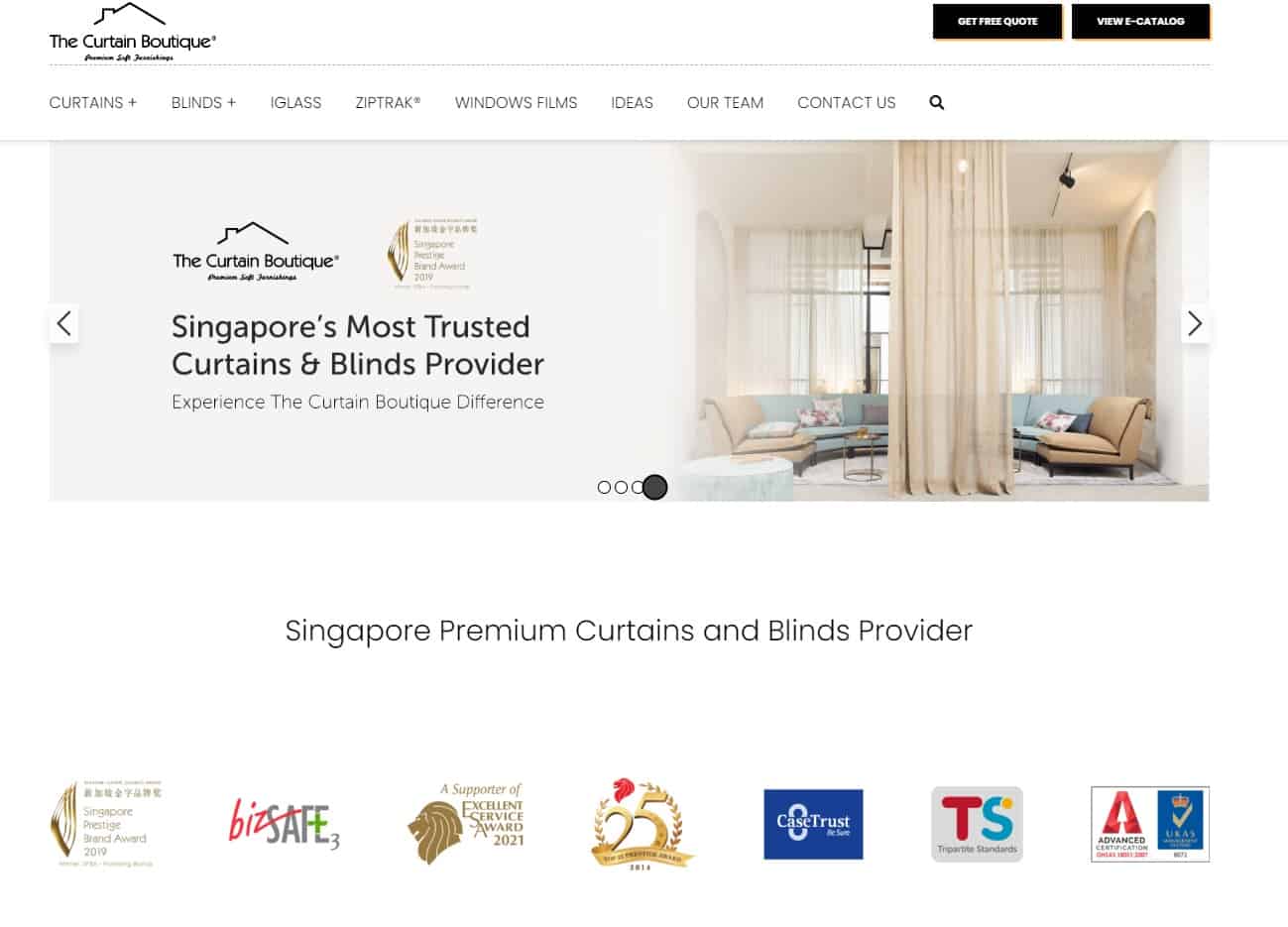 BEST FOR
Wide selection of materials and quality
SERVICES
Ziptrak, Day Curtains, Night Curtains, Window Blinds Blinds, Roman Blinds, Vertical Blinds, and Venetian Blinds
WEBSITE
https://www.tcb.com.sg/
ADDRESS
81 Ubi Ave 4, #01-14, Singapore 408830
22, Boon Lay Way, #01-60, Singapore 609968
CONTACT DETAILS
+65 6846 1128 | [email protected]
OPERATING HOURS
Monday – Sunday, 10:00 AM – 7:00 PM
If you want a blinds store that's trusted by thousands of clients in Singapore, then consider checking out The Curtain Boutique. It has also received countless awards over its years of operation, so rest assured that their products are all top-notch.
Some of the products sold by The Curtain Boutique are venetian blinds, night curtains, day curtains, roman blinds, vertical blinds, bamboo blinds, and many more. We think it has the best venetian blinds in Singapore as it offers them in three materials: wooden, PVC, and aluminium.
What's more, it's one of the stores that offer free installation of blinds and curtains — which is why we've named it a store with the best blinds in Singapore.
Highlights
Free consultation
Friendly services
Free installation
Customer Reviews
The Curtain Boutique has mostly positive reviews from Google Reviews. Here are some them:
"Andrew has been great in his service and the Ziptrak Pano installed by his colleagues looked perfect as well. Meticulous in ensuring that the product was explained properly and when installing, they came by twice to make sure the measurements are accurate. And thank you for squeezing in time so it is completed before CNY!"
"I am very satisfied with the 2 different blinds that I got from The Curtain Boutique. I love the material especially the rainbow blinds which are installed in the living room as well as the bedrooms. Jason is courteous and friendly as well as informative. As we discussed what I would like, Jason was also able to give advice on the suitable options that would suit my lifestyle. His coordination with the technical support was also good. Very happy with the services rendered from the point of sale, taking measurements up to the installations. It was quicker than expected. I commend the respective guys who were tasked for my flat for their excellent service! Thank you! I highly recommend The Curtain Boutique! I actually already have been recommending my friends too!"
21. Meridian Curtains and Furnishings
BEST FOR
Free Consultation
SERVICES
Roller Blinds, Curtain Blinds, Rainbow BlindsDay Curtains, Night Curtains, Roman Blinds, Vertical Blinds, Motorized Curtains and Venetian Blinds
WEBSITE
http://www.meridiancurtains.com.sg/
ADDRESS
349 Changi Rd, Singapore 419817
CONTACT DETAILS
9025 1681 |

[email protected]

OPERATING HOURS
Monday – Saturday, 9:00 AM – 6:00 PM
Meridian Curtains and Furnishings offers clients blinds and curtains that can complete the interiors of their homes. Whether you prefer bright and vibrant window blinds or dark blackout curtain blinds, you can expect to find everything at its physical stores.
It also sells some of the best curtain blinds in Singapore, as per customer reviews. They are not only great for blocking sunlight but help to improve the atmosphere inside the household as well.
What's more, Meridian Curtains and Furnishings is among the few blinds stores with a product warranty. If the blinds turn out to be defective, customers can have them replaced for no additional charge.
Highlights
Free consultation
Durable blinds
Product warranty
22. SoftHome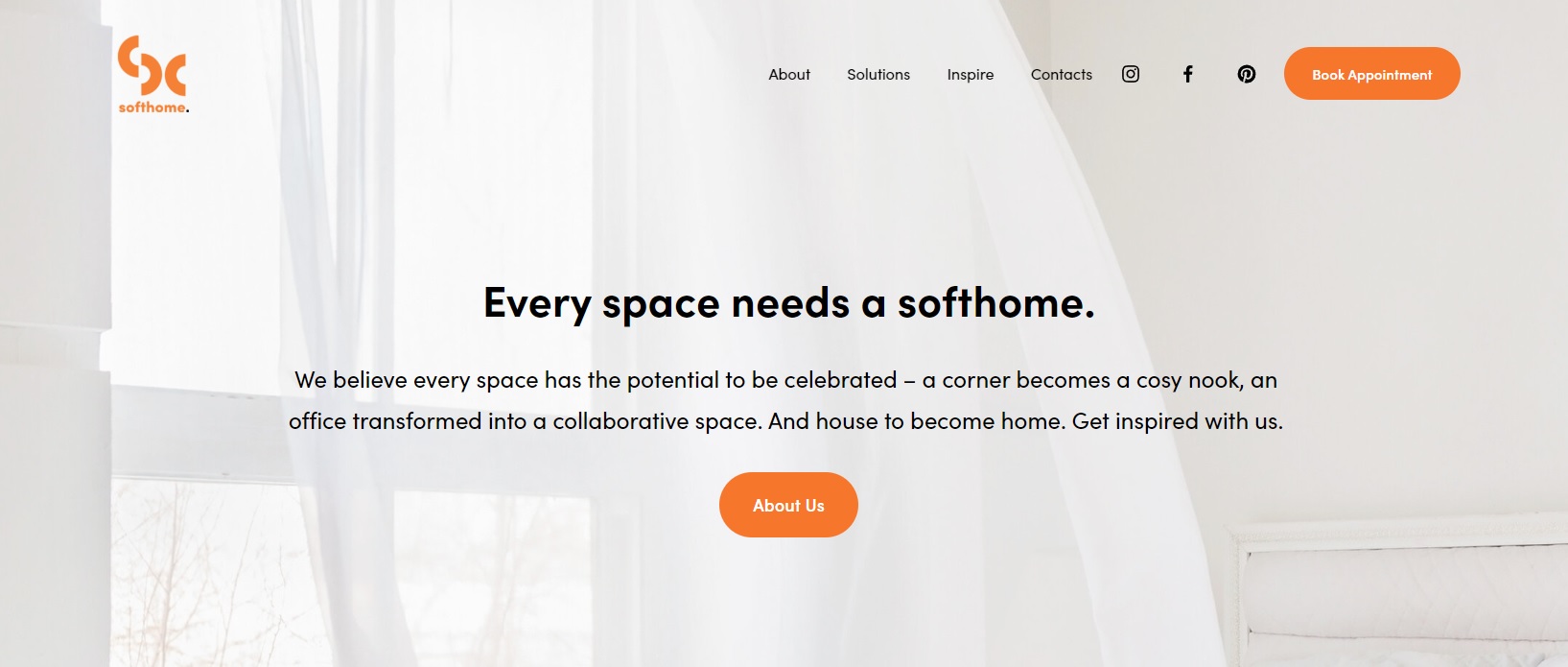 | | |
| --- | --- |
| BEST FOR | Home Furniture |
| SERVICES | Roller Blinds, Blackout Curtains, Curtain Blinds, and Window Blinds |
| WEBSITE | https://www.softhome.sg/ |
| ADDRESS | #04-00A TAILOO, 48 Tannery Ln, Singapore 347795 |
| CONTACT DETAILS | +65 9221 9632 |
| OPERATING HOURS | Monday – Friday, 9:30 AM – 5:30 PM (Except Thursday) |
If you're looking for the best blackout curtains in Singapore, then Soft Home would be the perfect match for you. All of its curtains and blinds are made from durable and premium fabric and materials, so rest assured that its products will last for years.
Soft Home doesn't limit its services to just blinds and curtains. It also sells a wide range of home furniture items that are perfect for different homes in Singapore, from small apartment units to landed properties.
Highlights
Made from durable materials
Great customer service
23. TG Curtains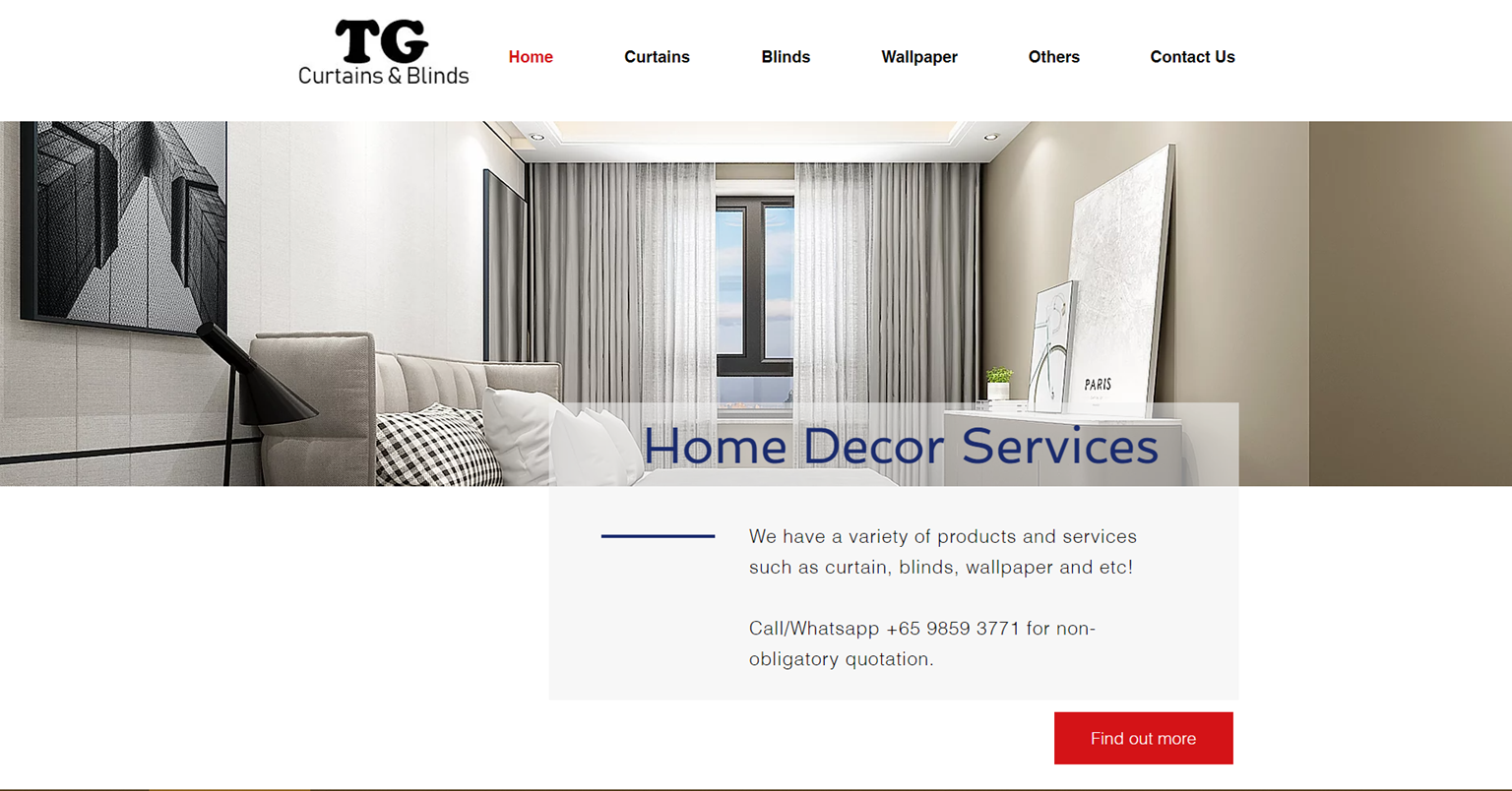 | | |
| --- | --- |
| BEST FOR | Window Dressings |
| WEBSITE | https://www.tgcurtains.sg/ |
| ADDRESS | N/A |
| CONTACT DETAILS | Call/Whatsapp +65 9859 3771 |
| OPERATING HOURS | Open 24 hours daily |
TG Curtain and Blinds offers a variety of designs and fixtures for you to choose from when it comes to high quality blinds. They have three main options, namely Korean Combi Blinds, Venetian Blinds, and Roller Blinds. Each have their own unique features, so you're sure to find something that fits your home.
When it comes to the installation, you're still able to receive quality service. They're known to work fast and are flexible enough to fit in your free time– accommodating most of your requests. In addition, installations are free if you purchase blinds from them.
Aside from your normal blinds, they also have curtains, wallpapers, and more for you to consider when revamping your home! Make sure to check out their product options on their site if you're in need of more window services.
Highlights
Free quotation
Packaged services
Wide range of products
24. RH2S Deco Curtains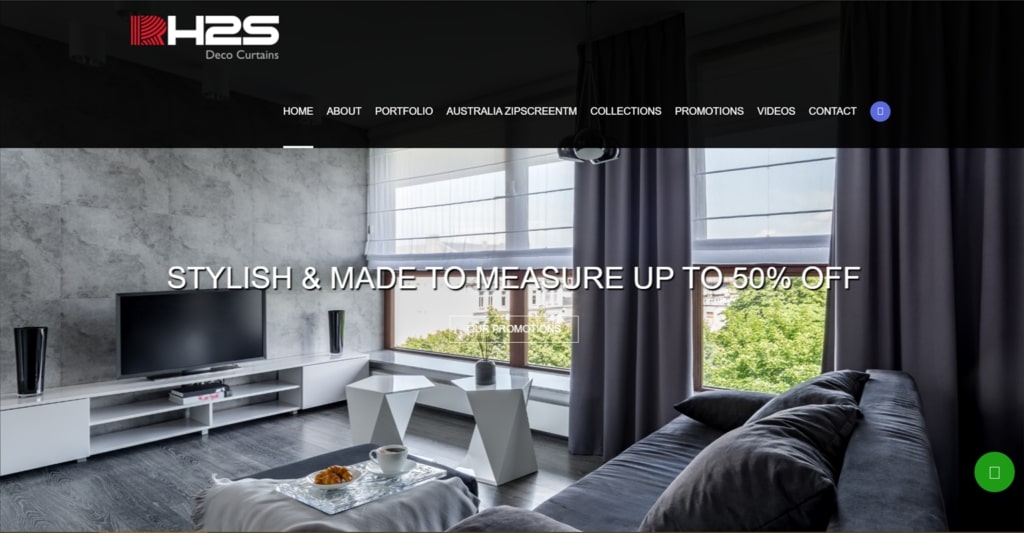 BEST FOR
Australia Zipscreen
WEBSITE
http://www.rh2s.com.sg/
ADDRESS
Showroom: 21 Woodlands Close, Primz Bizhub #01-29 Singapore 737854
Showroom: 3 Ang Mo Kio Street 62 #05-33 Singapore 569139 Link @ Ang Mo Kio ( Strictly by appointment )
Factory: 21 Woodlands Close, Primz Bizhub #02-22 Singapore 737854
CONTACT DETAILS
HP: +65 9423-8608 / +65 9385-0879
OPERATING HOURS
10AM – 8PM (Monday – Saturday)
10AM – 5PM (Public Holidays)
RH2S is a multi-award winning establishment that focuses on home furnishings, ranging from beautiful curtains to sturdy blinds, for you to choose from. Their collection is large so you'll surely find something that you would love.
You won't have to worry about finding the right set of blinds, as RH2S creates custom made products to suit your home. Costs are at their lowest too, as the shop has their own professional installers and tailors in their very own manufacturing company. It helps them have more control on the quality of their products, ensuring that each meet the high standards that they maintain.
You can check out their show rooms if you're curious on how they actually look like in a residential setting. If you have more questions or are in need of a quotation, message them to receive a consultation with no strings attached.
Highlights
Sturdy and durable blinds
High quality installation service
Low rates
25. Window Story
BEST FOR

Provide unique products for different design themes.

WEBSITE
https://www.windowstory.asia/
ADDRESS
City Square Mall,180 Kitchener Road #03-14 Singapore 208539
CONTACT DETAILS
6604 7180
8121 7110
9112 5733
OPERATING HOURS
Daily: 11am–9pm
Window Story offers blinds that are fit for different functions and standards, namely to block out sunlight, increase privacy, reduce your cleaning time, and even accommodate your budget! They provide almost every type of blinds as well as every material it can be made of, so you're sure to find something in their catalogue.
Their offerings include a Proof-screen Zip system, Day / Night Curtains, Hunter Douglas Blinds, Roman Blinds, Vertical Blinds, Office blinds, Window Films, Wallpapers, Mosquito Nets, and Handmade furniture.
The process of installation is also guaranteed to be hassle-free, so all you actually have to do is pick out what you want, and let them do the rest for you. If you have more questions or are in need of a quotation, feel free to message them.
Highlights
Good variety of rollerblind designs
Very friendly service
Good communication
Customer Reviews
Sharon Sim, a previous client, commented:
"Simon and Maxine helped to do up the curtains for my home. I'm very pleased with their work and high level of service!"
26. MGL Curtain and Furnishing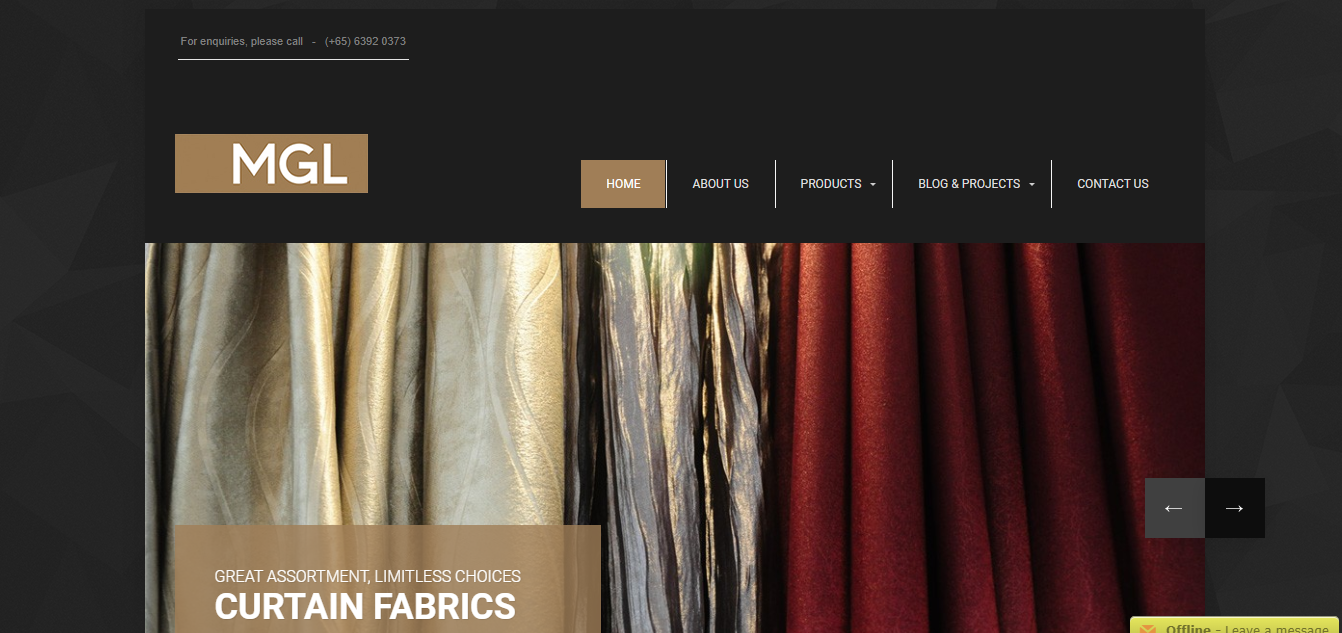 BEST FOR
Affordable installation services
WEBSITE
http://www.mgl.com.sg/
ADDRESS
270 Balestier Road
Singapore
329721
CONTACT DETAILS
[email protected]
6392 0373
6258 9972
OPERATING HOURS
Daily, 11:00am–8:00pm
MGL Curtain & Furnishing are experts on providing door-to-door services for your furnishing needs. They offer a variety of products and with services, such as consultations, free measurements, installations, and many more.
The company is staffed by dedicated and reliable employees that aim to satisfy their client's needs and make their furnishing experience memorable and stress-free.
Other than window treatments, they also offer services for wallpapers, cushions, and headboards, to fit your designs and customization needs. They promise to deliver high quality service and provide expert insights– making an effort to consider your needs without compromising quality workmanship.
Highlights
Custom made products
Top Quality Fabric
Customer Satisfaction
Customer Reviews
"MGL curtain shop is very nice. They have good collection of curtains n blinds. Excellent service. We always get immediate response and competitive pricing. We recommend this place strongly."
27. Nobel Curtains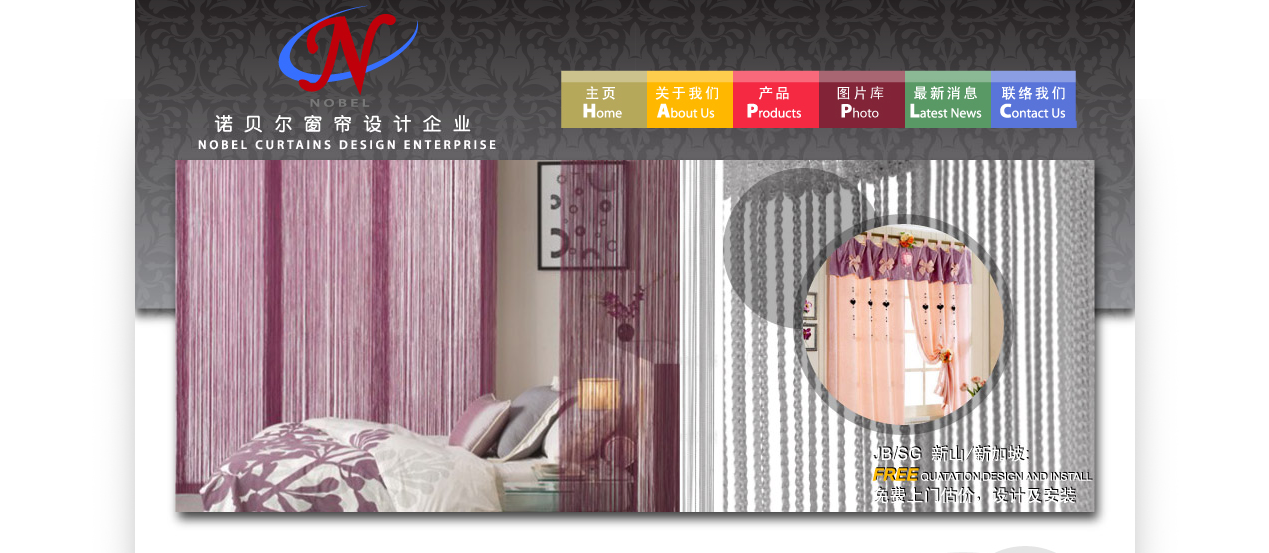 As its name would suggest, Nobel Curtains specialises in offering customised curtains and blinds that complement your home.
They offer a variety of styles and designs, all available for an affordable price. They also guarantee high-quality fabrics with both modern and contemporary designs.
You won't have to worry about additional fees, since quotation, design, and installation are all free!
Highlights
Free Quotation, Design and Installation
Customised Curtains
28. CurtainTalks & Grille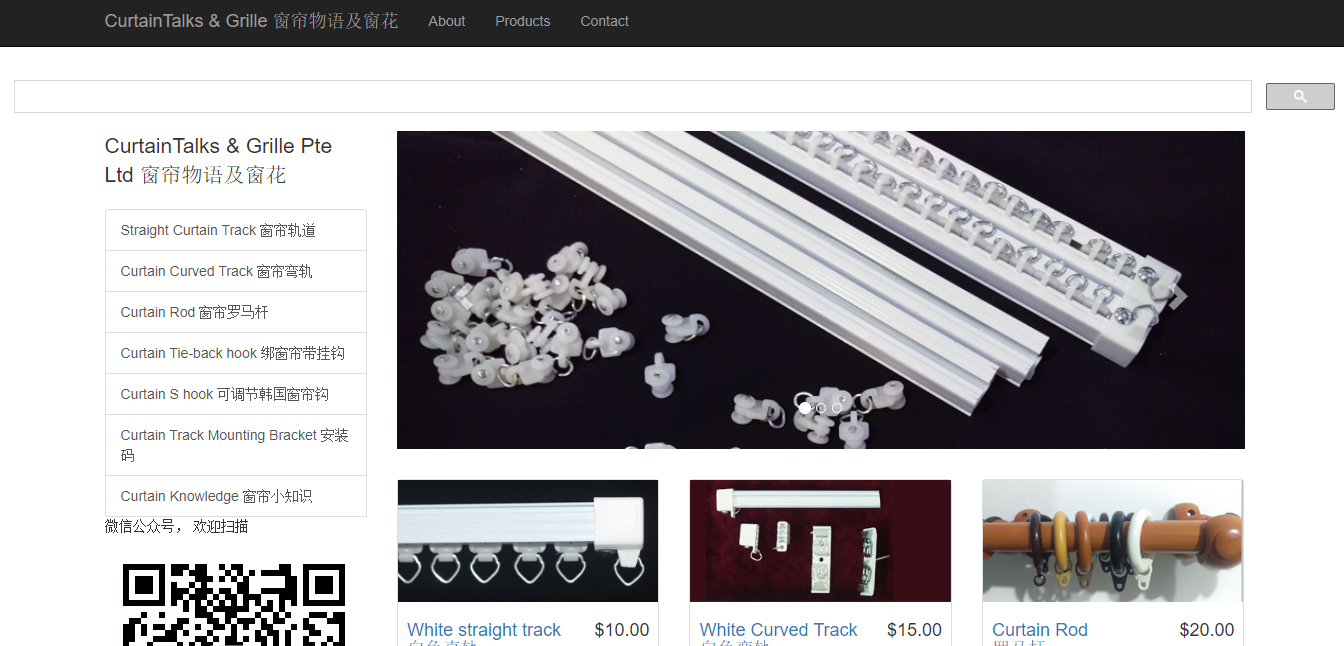 CurtainTalks & Grille is a soft furnishing company in Singapore that was established in 2011. They offer a variety of curtain, wallpaper, flooring options for you to choose from. They also provide curtain accessories and installation services.
Moreover, Curtain Talks & Grille guarantees that your needs at home are fulfilled, even if the style of what you are looking for may be traditional or modern — they do not disappoint with their unique designs!
Highlights
Excellent Workmanship
Fast and Hassle Free Service
Customer Reviews
"Very professional curtain and blind company. The workmanship and materials are quite nice. I went to their Aljunied showroom to visit and had a nice talk with their manager. I ordered full house curtains and blinds in this company and quite satisfied with their service. Strongly recommend their Korean combi blind."
29. Jimmy Textiles

| | |
| --- | --- |
| BEST FOR | Curtain Products |
| WEBSITE | https://jimmytextiles.com/ |
| ADDRESS | 845 Geylang Road, #01-03, Tanjong Katong Complex Singapore 400845 |
| CONTACT DETAILS | 96844334 or [email protected] |
| OPERATING HOURS | Monday to Sunday (10am to 9pm) |
Jimmy Textiles specialises in providing top quality curtain products and accessories to homes and offices. For them, curtains not only provide shade and privacy, but also enhance the aesthetics of the space.
To better serve their beloved customers, they have provided a wide selection for everyone to choose from. This is to meet the diverse and varied window dress needs of today's market, as well as to fit your personal preference.
For the sake of their customers, Jimmy Textiles always provides a clear analysis of one's needs and suggests practical solutions for your dilemmas. They offer reasonable prices while maintaining a stringent quality control. At the end, they always make sure that their top priority is the customers' satisfaction.
Highlights
Team of Committed Professionals
Customers' Satisfaction as Top Priority
Fast & Accurate Delivery of Goods
Stringent Quality Control
Affordable Prices
30. Min Cai Furnishing House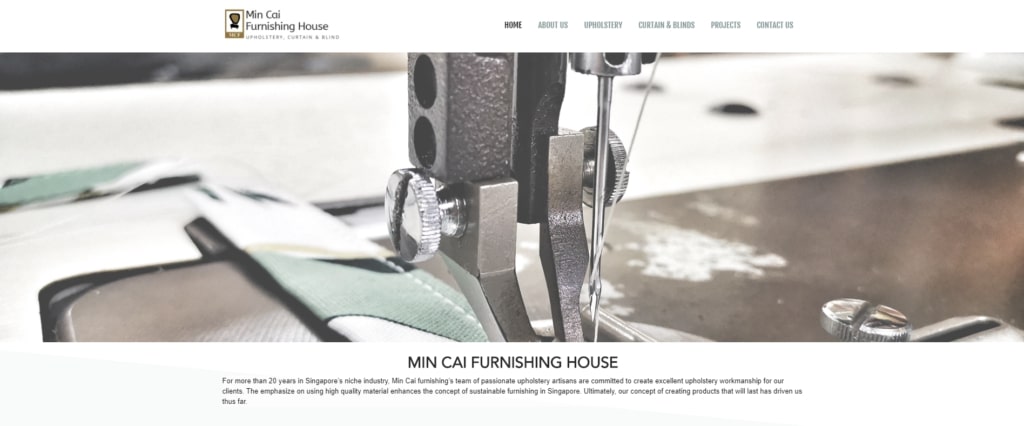 BEST FOR
Upholstery Trade
WEBSITE
https://mcf.com.sg/
ADDRESS
190 Woodlands industrial Park E5, Woodlands BizHub #05-10, Singapore 757516
CONTACT DETAILS
6368 9925 | [email protected]
OPERATING HOURS
Monday – Saturday 9:00am – 6:00pm
Sunday: Closed
With more than 20 years of experience in the Singapore upholstery trade, Min Cai Furnishing House has grown over the years and has achieved many great things. They specialize in constructing customised furniture & repairing pre-loved cushion furniture.
Their vast experience in upholstery, along with their extensive range of quality fabrics and materials, has brought them many loyal clients in the past years. Their dedication to create and enhance customised interior furnishing has made them locally known.
If ever you need something for your house, do not hesitate to give them a call. For all they want is for you to have the best furniture in your home. You can rest assured that they will not disappoint you with their pieces.
Highlights
Excellent Upholstery Workmanship
Passionate Upholstery Artisans
High Quality Material
31. twomoms.sg


| | |
| --- | --- |
| BEST FOR  | Upholstery Trade |
| WEBSITE | https://www.twomoms.sg/ |
| ADDRESS | 38 Ang Mo Kio Ind Park 2, #04-34, Singapore 569511 |
| CONTACT DETAILS | 86130605 |
| OPERATING HOURS | Monday to Sunday 10am–4:30pm |
Next on our list is twomoms.sg, a curtain shop that has been serving the people of Singapore for a number of years now.
twomoms.sg is known for offering options and quality to its customers.
The shop's catalogue features premium quality yet affordable curtains and blinds, some are ready made, while others are customised. There are also day curtains, night curtains, venetian blinds, roller blinds, as well as curtain accessories.
All of these items come from various markets all around the world, including not only Singapore, but Malaysia, China, Korea, and Turkey. twomoms.sg takes great care in procuring these items, checking over their make before bringing them back to the island. 
Aside from offering a wide array of window accents, twomoms.sg also offers installation services, provided for by trained, highly professional technicians.
Those who are interested will be happy to know that there are various packages available for choosing. These packages are divided by the number of rooms that need curtains or blinds, and go for as low as $588.
For further inquiries, twomoms.sg can be reached through phone.
Highlights
1-4 weeks wait time for curtains and blinds
Ready-made and customised curtains available
Expert installment services
32. ShadeSpace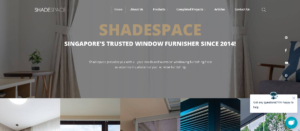 | | |
| --- | --- |
| PRODUCTS | Curtains, Day Curtains, Night Curtains, Window Blinds, Roller Blinds, Honeycomb Shades, Wooden Venetian Blinds, PVC Venetian Blinds, Korean Combi Blinds, Outdoor Zip Blinds, ZipBlind™, Shyzip®, ZipScreen™, Pergolas, Invisible Grille and iGlass. |
| WEBSITE | |
| ADDRESS | 33 Ubi Ave 3, #01-22 Vertex, Singapore 408868 |
| CONTACT DETAILS | 9816 8847 |
| OPERATING HOURS | Monday – Sunday, 10:00 AM – 7 PM |
ShadeSpace has established itself as the preferred window furnishing provider in Singapore, thanks to its dedication to quality and exceptional service over the past 5 years. The company offers a wide range of products, including curtains, blinds, outdoor zip blinds, pergolas, and more, catering to different aesthetics and functional needs.
One of the standout features of ShadeSpace is its professional team of designers and installers. With their passion for creating stunning window furnishings, they bring elegance and functionality to every window in your home or office. The team's attention to detail and meticulous workmanship ensure that the installation process is seamless and of the highest quality.
Customers have consistently praised ShadeSpace for its outstanding customer service. From prompt communication and attention to detail to knowledgeable guidance, the company keeps clients informed at every stage of progress. The friendly experts at ShadeSpace offer free quotations and work closely with customers to bring their vision to life, providing personalized solutions tailored to their preferences and needs.
ShadeSpace's commitment to innovation is evident through Singapore's First Ever Mobile Showroom. This unique concept brings ease and convenience right to the customers' doorstep, allowing them to experience the window furnishings firsthand without the hassle of visiting showrooms. Additionally, ShadeSpace's online store revolutionizes the shopping experience by offering up to 3 Cut Out Color Samples mailed for free, ensuring the perfect match for customers' walls.
With an experienced team, up to 5 years of warranty on products, a premium selection, and responsive after-sales service, ShadeSpace goes above and beyond to exceed customer expectations. Whether you're looking for curtains, blinds, or outdoor zip blinds, ShadeSpace is the go-to destination to transform your living spaces. Contact ShadeSpace today to schedule a consultation and unlock the true potential of your space.
Highlights
Wide range of high-quality window furnishings for various needs.

Professional team ensures seamless installation with attention to detail.

Outstanding customer service, personalized solutions, and innovative mobile showroom.
Customer Reviews
Exceptional service and quality products
"Thank you, SpadeSpade, for installing my Zip Track and curtains. The installation process was a full day's work and not an easy task. However, the installer team, consisting of Kelvin, Zhong and Rahman were highly experienced and did a brilliant job. Even after the installation was complete, I requested some adjustments to the zip track, and William continued to provide excellent service by sending in his team. I highly recommend SpadeSpade for their exceptional service and quality products." – Jennifer Chua
Thanks to Shade Space for your curtains and Zip Screen installation!
"Thanks to Shade Space for your curtains and Zip Screen installation! Installers Kelvin and Awlad had installed the zip screen and curtains, took about 5 hours starting in the morning. After that Awlad demonstrated the Zip Screen functionality. Not to forget William who introduced the product at their showroom in Ubi and was very knowledgeable and responsive to queries over Whatsapp regarding the products which convinced me go for Shade Space. Also thanks to Candy who arranged the delivery date. Very good job to Shade Space team"  – Jerome Won
With all of these services supplying the best blinds installation in Singapore, you should be able to put up the window treatments of your dreams! Make sure to choose the one that will meet your needs and preferences best, of course.
Have you already acquired a professional installation service for your window treatments? If so, you may share your experience with us, along with the name of the company involved!
Oh, and if you're having a total renovation, you might be interested in these best kitchen renovation services in Singapore. They offer different kinds of solutions that'll make your home more pleasant and livable.