Window blinds don't always come with easy installation and the manual might be too complicated for you as well. That's why acquiring the services of the companies offering the best blinds installation in Singapore would be a great idea then.
Consulting with an expert can help prevent incorrect installation and possible damage to your new blinds. If you've decided you need an expert, take a look at our inclusive list of the top services to call for blinds installation in Singapore!
1. Rollerblinds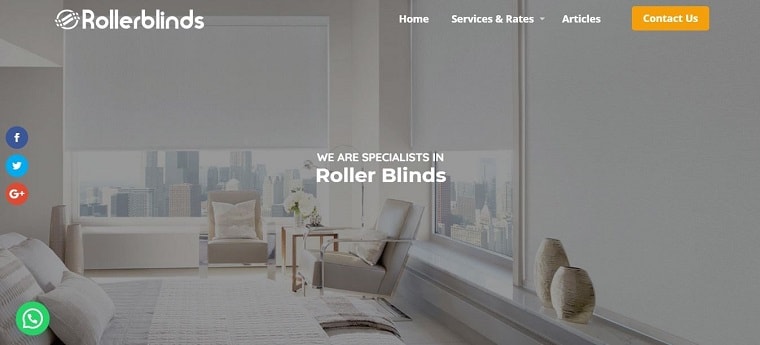 | | |
| --- | --- |
| BEST FOR  | Affordable installation services |
| WEBSITE | https://www.rollerblinds.com.sg/ |
| ADDRESS | 5, Ang Mo Kio Industrial Park 2A Singapore 567760 |
| CONTACT DETAILS | +65 6871 8924 |
| OPERATING HOURS | Daily, 9am–8pm |
As the company name states, Rollerblinds specialises in installing roller blinds and other kinds of window treatments such as outdoor, office, vertical, and motorised blinds.
They have a wide range of designs and styles to choose from so you can surely find the best choice for your home or office! Each item is built with high-quality and long-lasting materials.
You don't have to worry about costly installation charges too. Their services are very affordable and they fit within most budgets.
Highlights
Curtain cleaning
Different blind designs
Free quote
Customer Reviews
Rollerblinds has captured the interest of many customers because of the great customer services, stylish collections, and practical options. This is why they're known to have the best blinds installation in Singapore.
A customer from Google Reviews recommended the shop and wrote:
"We were given a free onsite quote to quote for roller blinds for living room and curtains for bedroom. They came down and measured our window and we were given a quotation within 2 days. I must say that their rates and service are very good. I will certainly recommend your company to my friends."
2. Singapore Blinds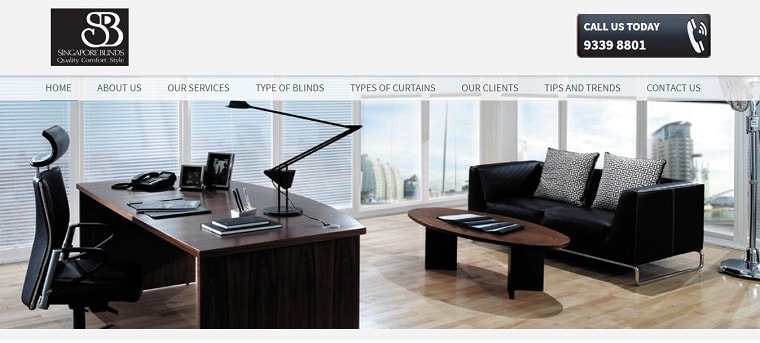 | | |
| --- | --- |
| BEST FOR  | Customisable window dressings |
| WEBSITE | http://www.singaporeblinds.com.sg/ |
| ADDRESS | 24 Sin Ming Lane #02-105 Midview City Singapore 573970 |
| CONTACT DETAILS | (+65) 9339 8801 |
| OPERATING HOURS | Weekdays, 10am–6pm |
Singapore Blinds offer a variety of blinds and curtains that'll certainly match your interiors and even your tight budget!
They make sure that their clients will make the right decision by guiding them before making purchases. Therefore, they make personalised approaches for every client.
When it comes to their services of the best blinds installation in Singapore, you can rest assured that their skilled team will have it done in no time. 
Highlights
Personalised selections
Broad range of blinds and curtains
3. SG Handyman Services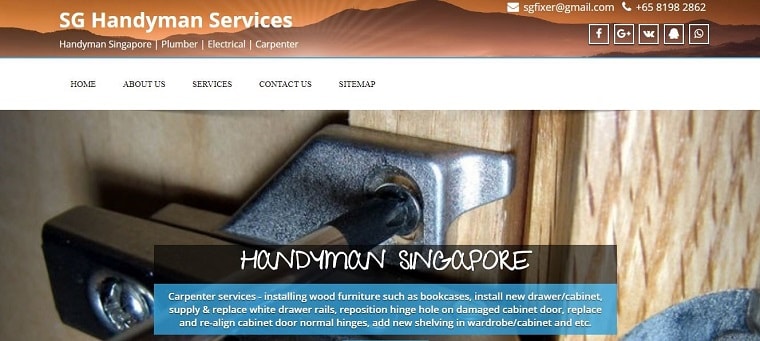 If you've recently moved into your new home or office, you might have a lot of appliances, furniture and treatments to install. In this case, it would be nice to consult with SG Handyman Services.
Their services include plumbing, carpenter work, and even electrical placements. The most impressive thing about them is their general installation, where they can assist you in installing blinds, curtain rods, and kitchen accessories as well as wall-mounted TVs.
As they provide island-wide operations, they've reached a lot of residence and commercial areas. SG Handyman Services have gained the trust of many locals because of their excellent and reliable services.
With their dynamic solutions, they indeed deserve to be named as one of the top companies that offer the best blinds installation in Singapore.
Highlights
General installation
Plumbing and electrical
Carpenter works
4. Window Blind Singapore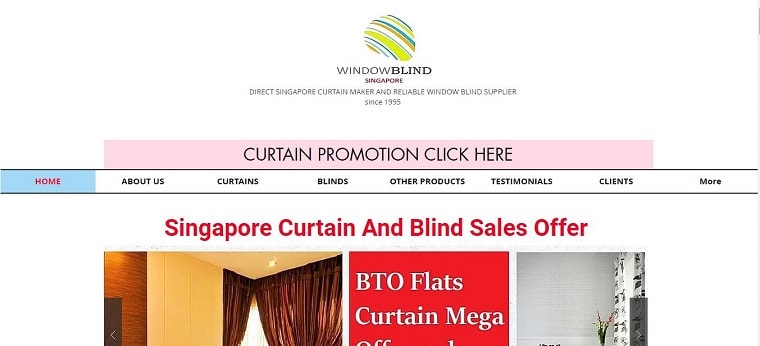 For many decades, Window Blind Singapore has been creating original curtain designs and supplying premium window blinds to Singaporeans.
Along with their commendable products is the guaranteed and hassle-free installation. During operation, they're also equipped with cleaning tools so you can be sure that there'll be no dirt and dust lying around the room afterwards.
Highlights
Absolutely clean installation
Original curtain designs
2 years guarantee
Customer Reviews
From their craftsmanship to their overall services, Window Blind Singapore truly have the best blinds installation in Singapore, according to their customers. Their clients praise their excellent solutions and fair prices.
A customer left this feedback on the company's official website:
"I highly recommend Window Blinds Singapore, because they can provide solutions at very reasonable pricing to enhance my home. The service from both the sales and installation groups were excellent. There were no hidden charges on whatever. I have done curtains and timber blinds from them. Thank Chua and teams!"
5. Budget Curtain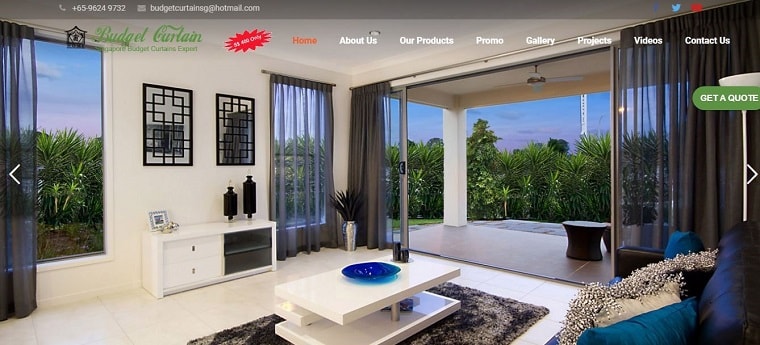 | | |
| --- | --- |
| BEST FOR  | Installation and repair services |
| WEBSITE | http://www.budgetcurtainsg.com/ |
| ADDRESS | Blk 335, Smith Street,#01-224, Chinatown Complex Singapore 050335 |
| CONTACT DETAILS | (+65) 9624 9732 / 62212971 |
For those who are having window blinds installation and reinstallation issues, you can visit or contact Budget Curtain. They offer both installation and repair services.
Moreover, if you have an ideal look regarding a curtain or cover design, they can take personal requests, measure the furniture's size, and create your own personal style.
Highlights
Customised upholstery accessories
Repair services
Special promotions
6. WallSG Pte Ltd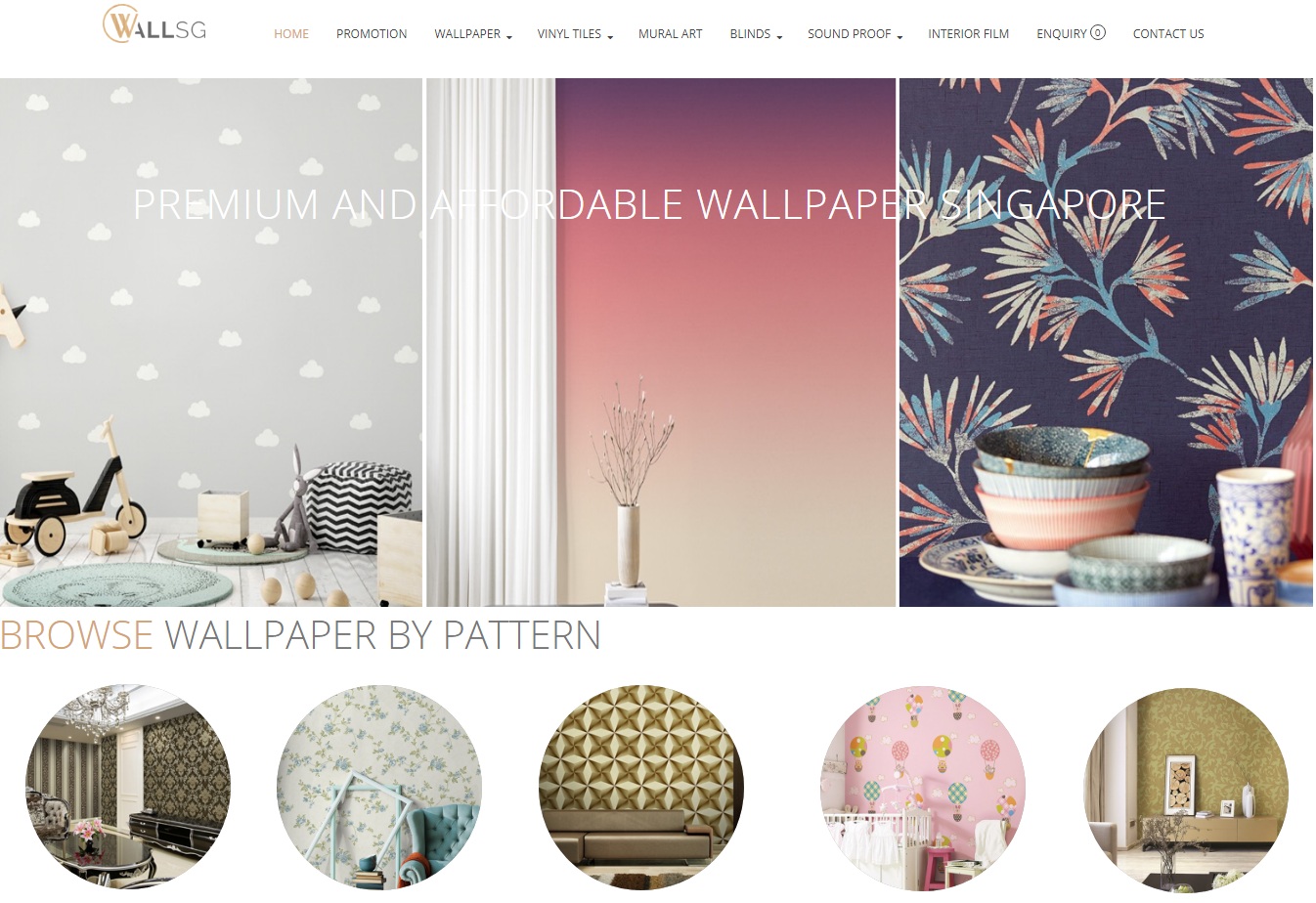 BEST FOR

One-stop wallpaper solutions

SERVICES

Wallpaper solutions, Vinyl flooring, Blinds installation, Sound proofing

WEBSITE

https://wall.sg/

ADDRESS

1 Genting Lane #03-03, Singapore 349544

CONTACT DETAILS

Terry +65 9328 2157

JiaZin +65 8818 1850

OPERATING HOURS

Monday – Sunday – 11am to 6.30pm
At WallSG you can find a variety of premium quality blinds perfect for homes or offices. You can choose from Korean Blinds, Roller Blinds, Venetian Blinds, and Unislat that also come in varieties of color.
WallSG takes pride in their team of installers that has 20 years of combined experience, thus making sure to provide their clients with secured and high quality wallpaper and blind installation services.
The company makes sure to provide affordable yet cost-effective products and services for their residential and commercial clients.
Highlights
Extensive range of blinds

Expert team of installers

Flexible operating hours
7. Everyday Curtains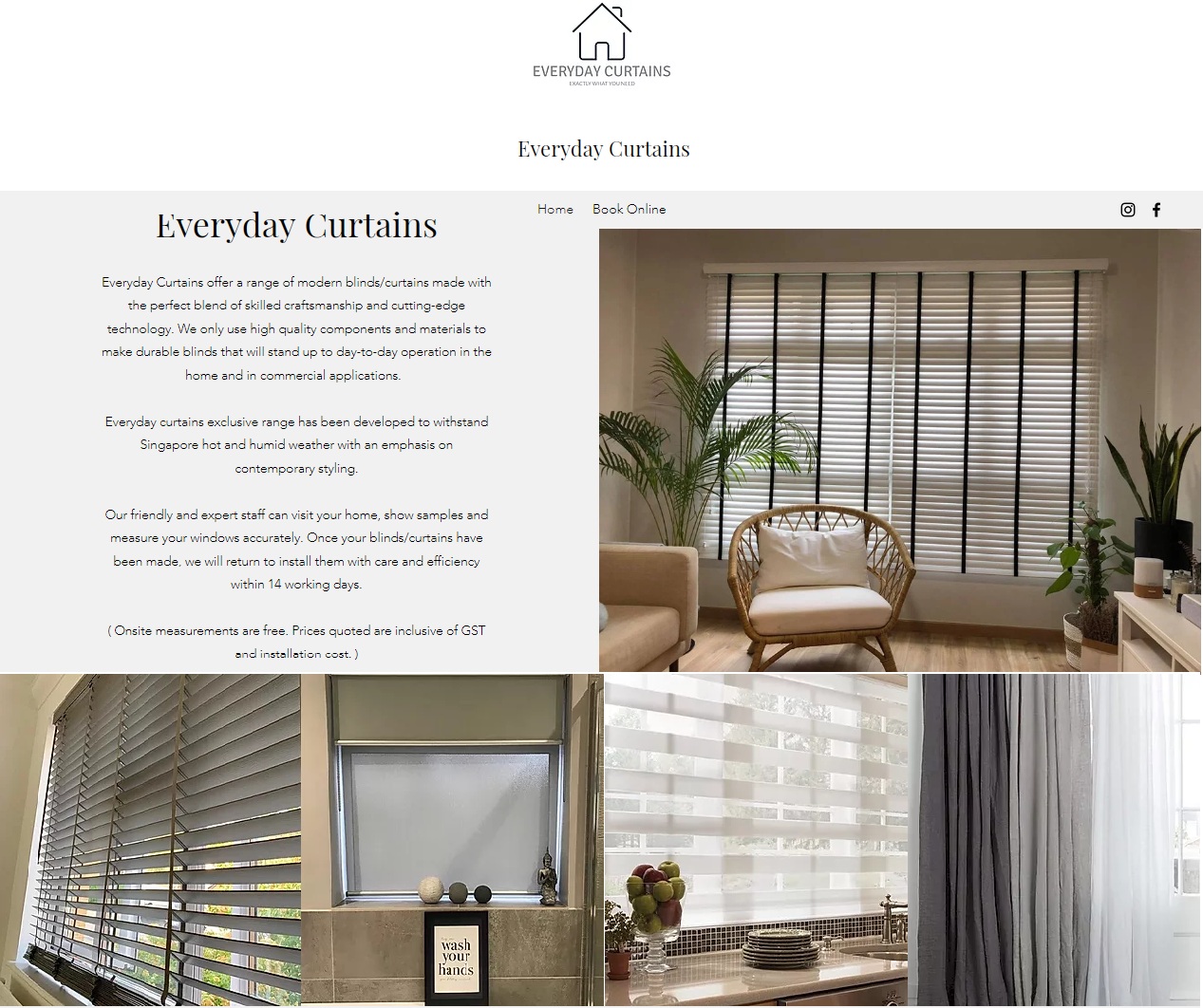 At Everyday Curtains, they promise to be at your service from the beginning until the end. From measuring your windows to get accurate calculations, to creating and designing them, until the installation process, you can trust Everyday Curtains to provide you with promising services.
You can choose from their 3 types of blinds appropriate for homes and offices: Venetian Blinds, Roller Blinds, and Zebra blinds.
Everyday Curtains guarantees that all of their blinds collection can withstand high levels of humidity and direct sunlight while keeping your place looking posh and sophisticated.
Highlights
Available for operations 7 days a week

Offers on site consultation or mobile consultation

Contemporary and high quality blinds selection
8. Curtains House Singapore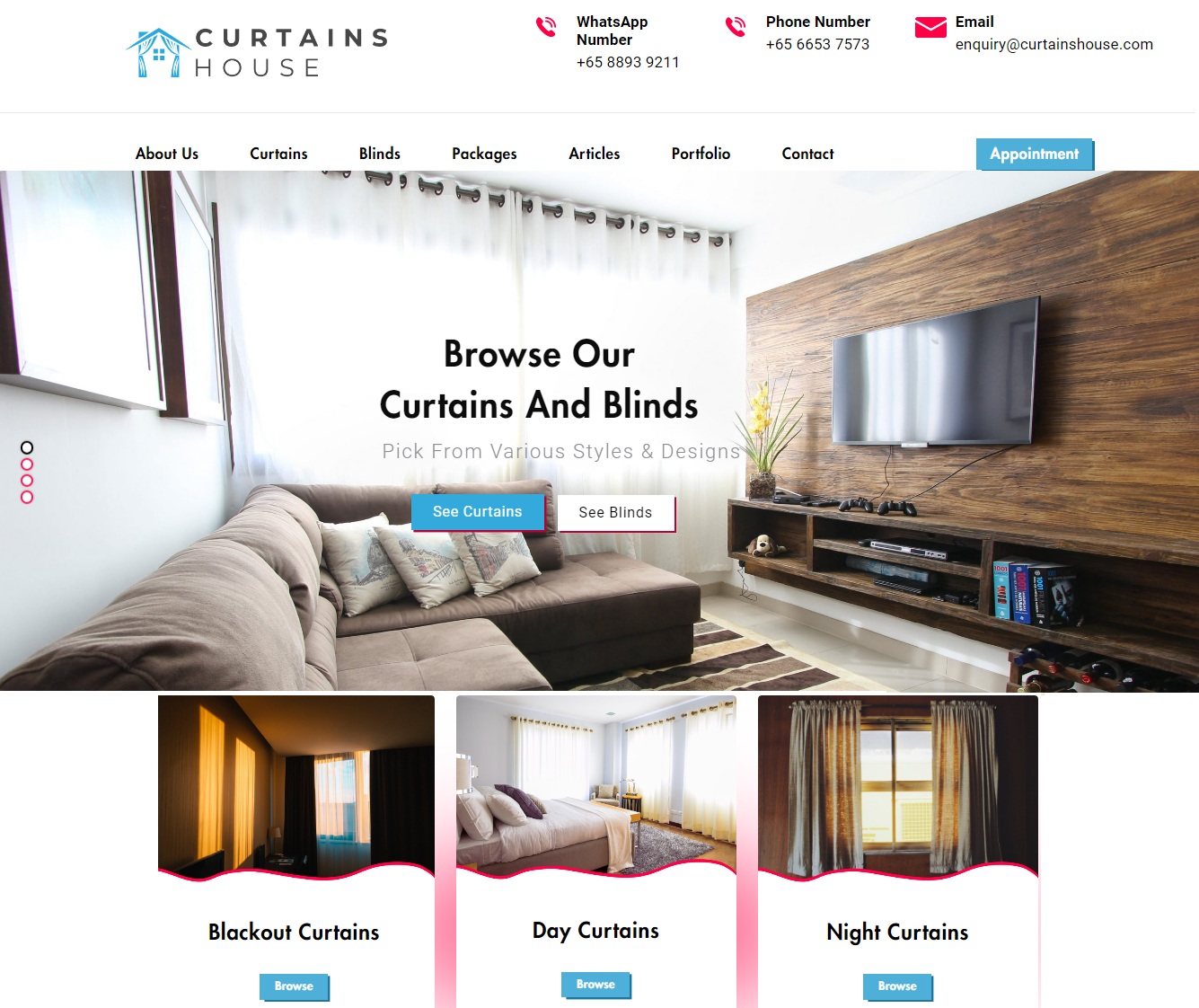 | | |
| --- | --- |
| BEST FOR | Supply & Installation Services |
| WEBSITE | https://www.curtainshouse.com/ |
| ADDRESS | 1090 Lower Delta Road #03-07S Singapore 169201 |
| CONTACT DETAILS | 6653 7573 |
| OPERATING HOURS | Mon – Sun, 9AM – 6PM |
Curtains House Singapore is a trusted direct contractor for all popular types of curtains (Blackout, Day and Night) and blinds like Roller Blinds, Venetian Blinds, Roman Blinds, and Korean Blinds. They provide free in-home consultation and custom-made curtains and blinds, with full supply & installation services.
Their HDB curtain packages are the most affordable in Singapore and have a very responsive customer service.
Highlights
Comprehensive installation packages

Custom-sized blinds

Reliable consultation from experts
9. YHH PLUS ENTERPRISE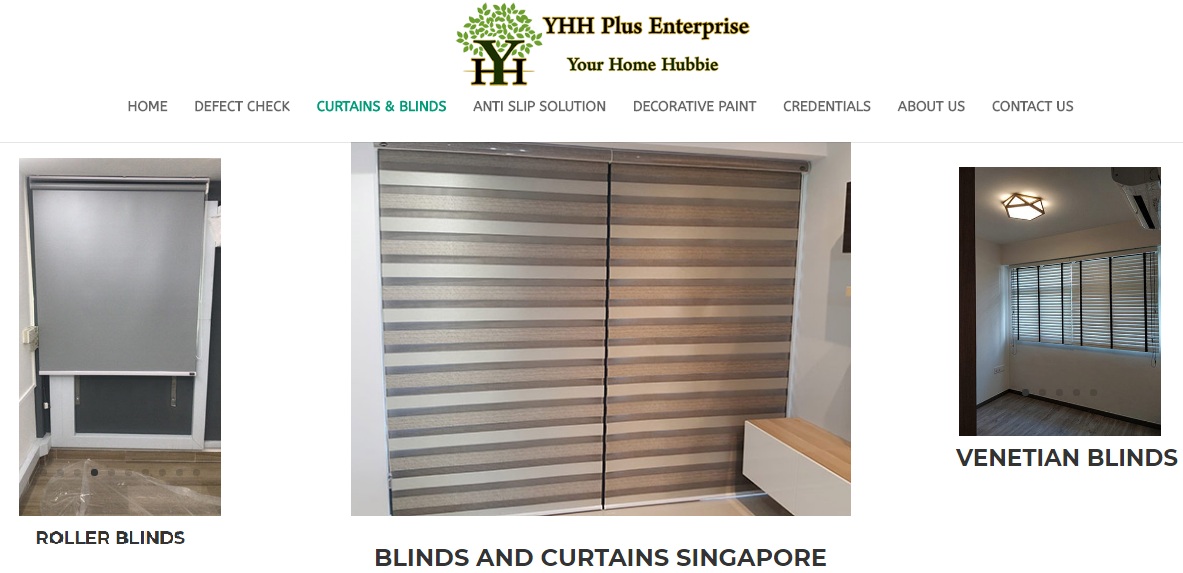 YHH Plus has a wide range of products for your every need. They keep in mind the various interior designs that the blinds and curtains should blend with. 
Apart from that, they wanted to fulfill your objectives in your purchase. While design is one important factor, they also ensure that the blinds would provide for the purpose of your purchase. 
Whether you're buying blinds for privacy, security, or design, you could always count on YHH to help you.  
HIGHLIGHTS
Wide range of products

Customized blinds and curtains

Installation process

Reasonable prices
10. FIRST CURTAIN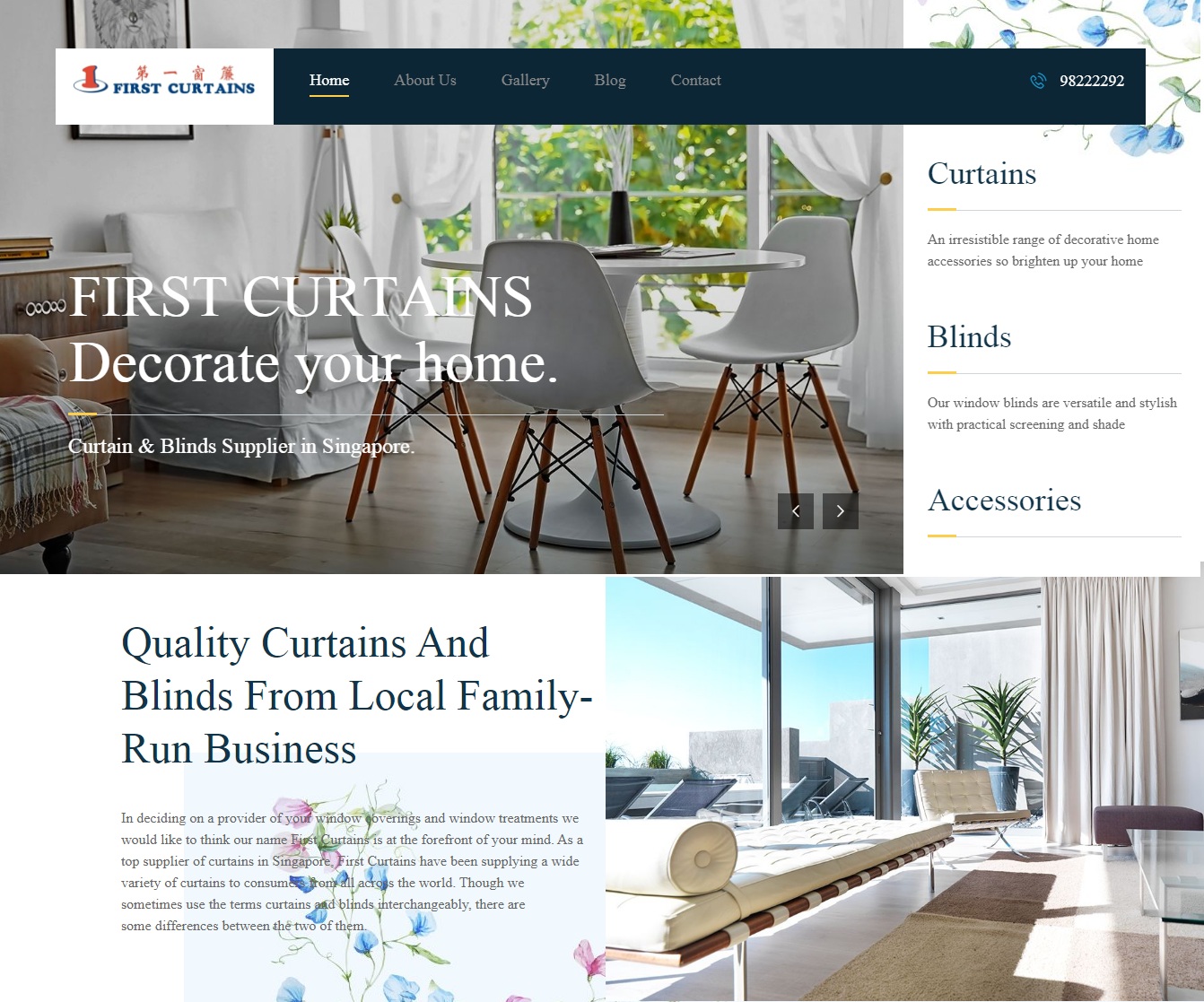 | | |
| --- | --- |
| BEST FOR | Stylish Blinds and Curtains |
| WEBSITE | https://www.firstcurtains.com/ |
| ADDRESS | 21 Toh Guan Rd E., #04-15 Toh Guan Center, Singapore 608609 |
| CONTACT DETAILS | +65 9822 2292 |
| OPERATING HOURS | Monday to Sunday: 9:00 am – 6:00 pm |
Tired of conventional curtains to cover the light coming out of your window? First Curtains design blinds and curtains that are stylish and functional. They are well known in Singapore for providing the best quality curtains and blinds. 
While there is no exact formula to creating the most preferred curtains or blinds, they still make sure that their design is stylish and could go well on different interiors. They also consider functionality to meet its purpose. 
Lastly, they wanted to always deliver quality service to their customers. 
Highlights
Beautiful home accessories

Quality and affordable curtains

Customized window blinds and curtains
Customer Reviews
Their customers were impressed with the prompt service and stylish design of curtains /blinds. In fact, here are some of their testimonials if you're still not convinced with First Curtains. 
"Very happy with their work and service. Price is also reasonable – value for money. will not hesitate to recommend it."
"David is professional and very experienced.  He has a good and experienced team of people working for him.  Highly recommended."
11. Singapore MTM Curtains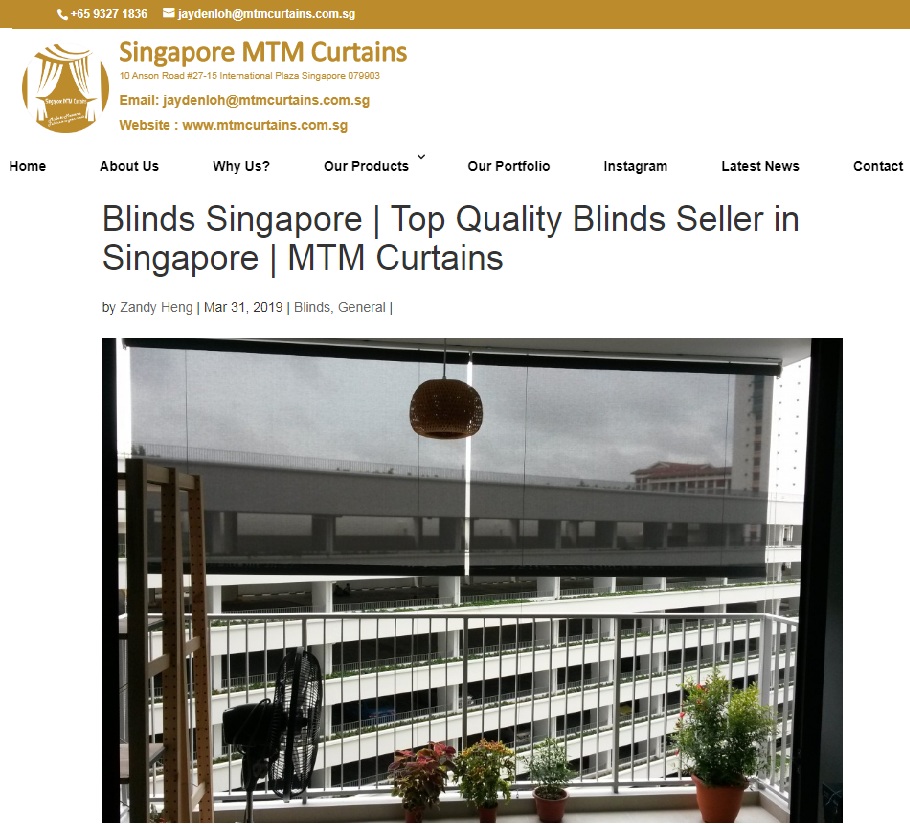 For the best blinds for all sorts of windows, you can always head on to Singapore MTM Curtains. They've got one of the largest collection of all things curtains and blinds that varies in sizes, function, and affordability. You won't have a problem picking the best blind for your window with the number of products they have available. 
 From picking to installation, trust the experts at this company to help you. They aim to provide a one-on-one customer experience to ensure you get the proper help you need. 
Highlights
Affordable pricing

Wide variety of durable blinds

Customized Printed Blinds
With all of these services supplying the best blinds installation in Singapore, you should be able to put up the window treatments of your dreams! Make sure to choose the one that will meet your needs and preferences best, of course.
Have you already acquired a professional installation service for your window treatments? If so, you may share your experience with us, along with the name of the company involved!
Oh, and if you're having a total renovation, you might be interested in these best kitchen renovation services in Singapore. They offer different kinds of solutions that'll make your home more pleasant and livable.