12 Best Kitchen Renovation Services in Singapore
Do you have a faulty sink, a loose cabinet, or dirty countertops that need repairing? You might be thinking of where to look for help… and if that's the case, you need the best kitchen renovation services in Singapore.
Nobody wants to spend time in a kitchen that is dirty and full of broken equipment, much less prepare and cook food in it. Kitchen contractors are a great help in improving the atmosphere of your kitchen so it becomes an inspiring haven where you can cook for your family and friends.
To help you out, we've created a list featuring the best kitchen renovation services in Singapore. Check them about below!
1. Qanvast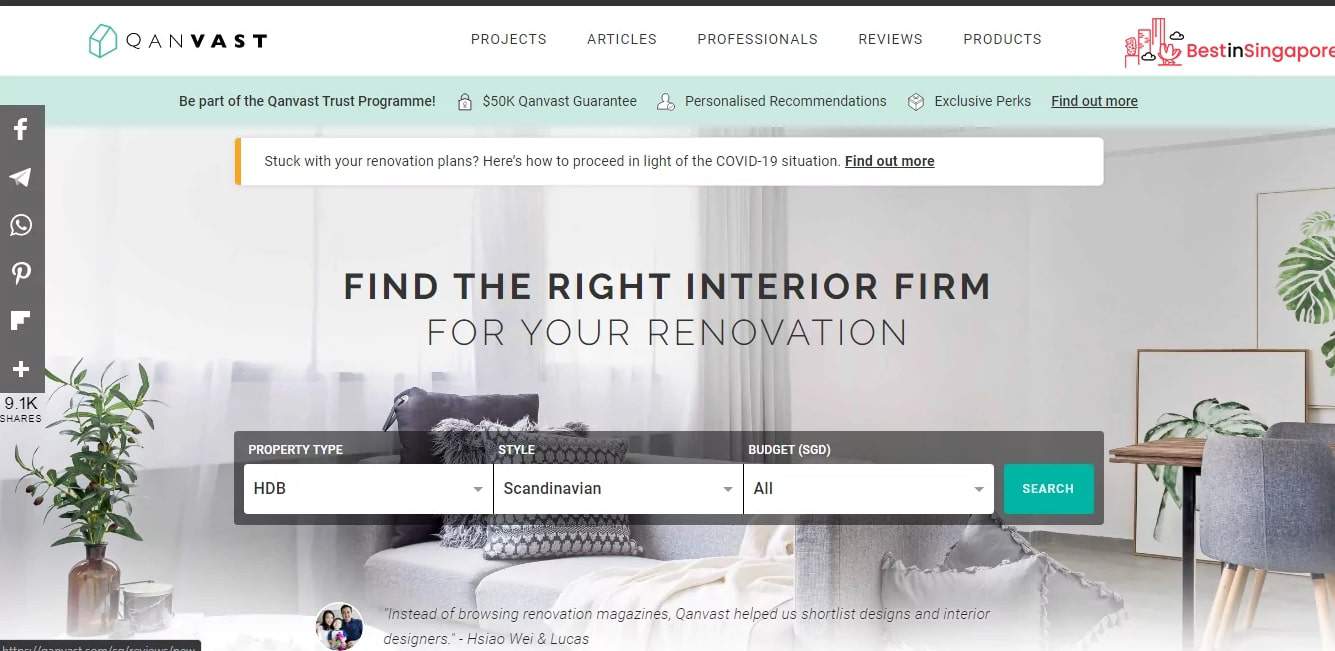 Qanvast's goal is to help clients with their home renovation. With Qanvast, your kitchen renovation will be stress free– it enables clients to find and connect with accredited interior designer firms that suit their tastes and expectations best.
Qanvast guarantees that it will provide its users with quality recommendations at all times. Their portal not only enlists excellent interior designer firms, but also records the feedback of homeowners who have previously availed of their services. Qanvast also makes choosing the best interior designer firm less burdensome for clients, discounting the prices they need to pay.
Qanvast has already helped many homeowners build the kitchen of their dreams. You can become one of them by signing up on the Qanvast platform today. We recommend using their portal if you want to find not just accredited but also cheap kitchen renovation in Singapore.
Highlights
Wide Choices of Designs
Awesome Staff
Professional Customer Services
High Quality Designs of Home
Customer Reviews
"Isaac was very patient with our demands in realising our Dream Home. He took the effort to research the best for our homes. For instance, we wanted to install a movable ladder to our built-in library. We got our awesome dream home library. Our renovation was done relatively fast, and of very good quality. Isaac ensured that the workmanship was according to the designs we dream for and advise us to ensure the practicality of the designs we ask for. All in all, super satisfied with our home."
2. Renovation Contractor Singapore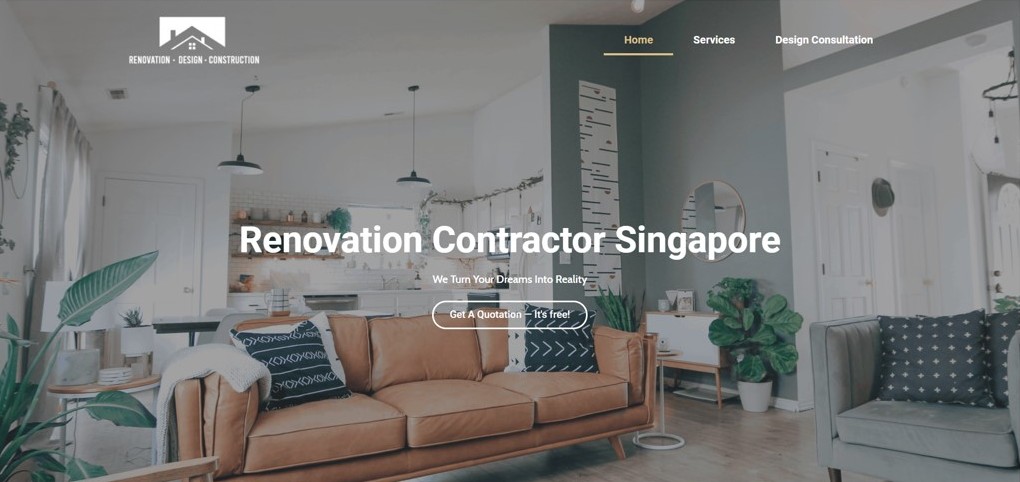 Renovation Contractor Singapore can turn your design dreams of kitchen renovation in Singapore into reality. With award-winning interior designers at your disposal, they can create your perfect home, including kitchen cabinet renovation from start to finish. In their capable hands, any room can be both functional and inspirational. They can turn the heart of your home, the kitchen, into a space that inspires you to cook, bond, indulge and more.
This full service contractor and interior designer can handle any job, big or small, be it a simple paint job or a full renovation. You'll find yourself in exceptional hands with licensed professionals, responsive customer service and excellent after sales support.
Highlights
Design to installation service
Licensed professionals
Assured quality and workmanship
Prompt after-sales support
3. JS Carpentry & Contracts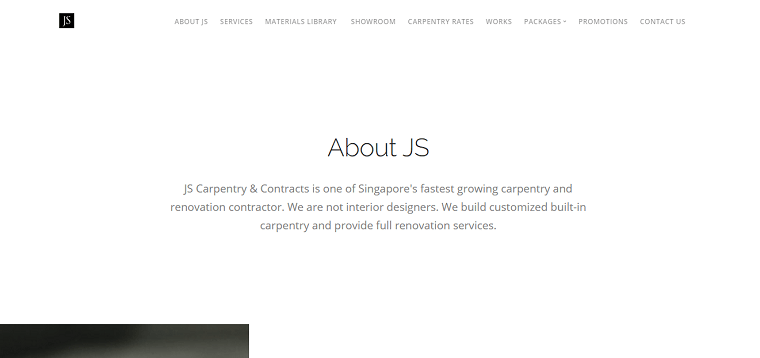 | | |
| --- | --- |
| BEST FOR | Carpentry Services and Home Renovation |
| SERVICES | Kitchen Renovation, General Cleaning, Painting Services, Custom Carpentry, Residential Renovation, and Retail/Commercial Renovation |
| WEBSITE | https://www.jscarpentry.com.sg/ |
| ADDRESS | 184 Woodlands Industrial Park E5, #02-01A, Singapore 757514 |
| CONTACT DETAILS | +65 9488 5077 |
| OPERATING HOURS | Monday – Saturday, 8:30 AM – 8:00 |
JS Carpentry & Contracts is a full-service carpentry that specialises in home renovation. With over 60 years of experience, they have managed to gather a large following of loyal customers who swear by their work.
Unlike most contractors, they only work with professional carpenters, not with interior designers. They believe that if you know exactly what you want to do with your kitchen, you don't need the guidance of interior designers — only carpenters who know exactly what they're doing.
Whatever it is you want your kitchen to have, they have you covered. They are experienced in building kitchen cabinets, storage platforms, and many more from scratch.
What's more, their services aren't expensive. Since they don't work with middlemen such as interior designers and architects, the cost of their projects is significantly lower compared to most contractors.
We highly recommend them to home owners who are hands-on with their Singapore kitchen renovation or those who already have a designer.
Highlights
Affordable rates
Quality materials
3-year limited warranty
Customer Reviews
Some customers on Google reviews left the following comments:
 "I highly recommend this company, especially thankful to Nick. He is very responsible, polite, and prompt replies. Was a great experience to dealing with his dedicated work way.  Their workmanship is good, quick to install and very reasonable pricing. Went to look at many providers but JS Carpentry is a good choice."
 "We have used JS Carpentry previously and had good results and this time was no different. Nic was our consultant this time and i cannot sing enough praises for his dedication and hard work. He was patient, helpful and very responsive. He helped us to achieve the look we wanted despite the tight deadline and within our budget. His responsiveness even after the project was over was also praiseworthy. We highly recommend him.
 The work of carpenters, tilers, plumbers and electricians also deserve to be highlighted and praised. Great job everyone from JS Carpentry." 
4. Singapore Kitchen Contractors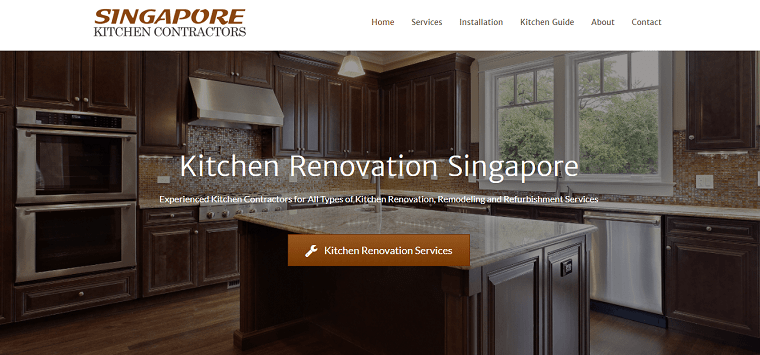 | | |
| --- | --- |
| BEST FOR  | Residential and Commercial Kitchen Renovation |
| SERVICES | Kitchen Renovation, Custom Design, Remodeling, Refurbishing, and Appliance Installation |
| WEBSITE | https://singaporekitchencontractors.com/ |
| ADDRESS | Singapore |
| CONTACT DETAILS | 93871398 |
| OPERATING HOURS | Weekdays, 9:00AM – 6:00PM |
 Unlike many other kitchen contractors, Singapore Kitchen Contractors can deal with all types of kitchens, from  commercial kitchens down to the small ones. Each of their services are geared towards improving the overall appearance and atmosphere of your cooking area.
They have a team of contractors, interior designers, and craftsmen ready to collaborate with you to achieve your dream kitchen renovation in Singapore. They will also make sure that the entire project won't go over your budget.
Highlights
Affordable rates
Free quotation
State-of-the-art equipment
Team of interior designers and craftsmen
5. Cheong Cheng Renovation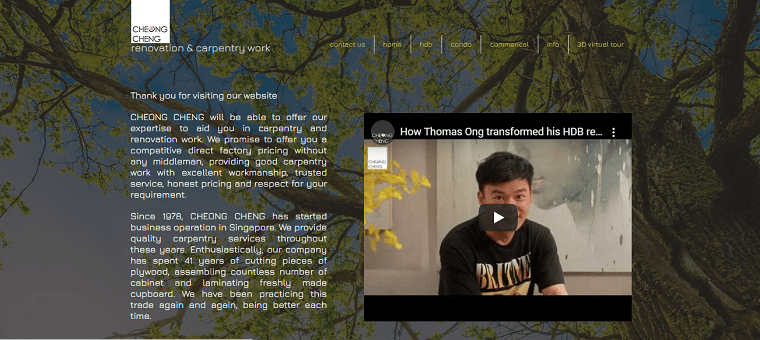 | | |
| --- | --- |
| BEST FOR | Renovation and Carpentry Services, Residential and Commercial Services |
| SERVICES | Kitchen Renovation, Furniture Layout Plan, General Cleaning, General Maintenance, and Plumbing Services |
| WEBSITE | https://www.cheongcheng.com/ |
| ADDRESS | 280 Woodlands Industrial Park E5, #08-12/13 Lobby 2, Harvest @ Woodlands, Singapore 757322 |
| CONTACT DETAILS | 6262 6763 |
| OPERATING HOURS | Monday – Saturday, 9:00AM – 6:00PM |
If you're getting tired of what your kitchen looks like, then we suggest that you seek out the services of Cheong Cheng Renovation. Considered one of the leading kitchen renovation services on the island, they can definitely brighten up your space through their carpentry work and interior decoration.
With over 40 years of experience in the business, they know their way around household spaces. Once you hire their services, you can be assured that you're entrusting your home to experts who know what they're doing.
We also like that they will first visualise what your kitchen is going to look like by presenting you with a 3D mock-up. That's a great way to figure out whether or not you like the renovation plans. This also helps ensure that your kitchen renovation cost in Singapore is worth it.
Highlights
Carpentry work
ISO certified business
Free 3D design visualisation
Installment payment with zero interest
6. Jaystone Renovation Contractor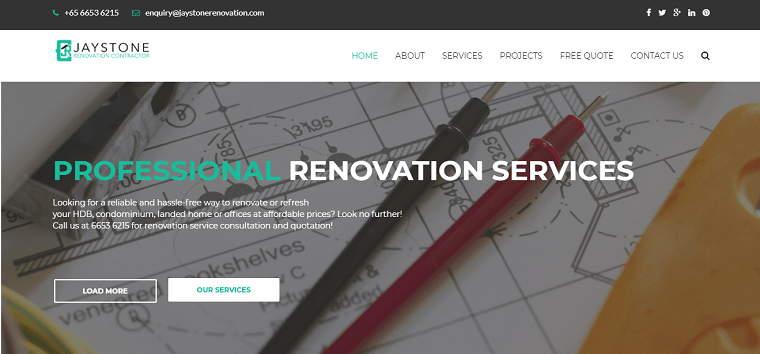 | | |
| --- | --- |
| BEST FOR | All-around Renovation Services |
| SERVICES | Kitchen Renovation, Toilet Renovation, Carpentry, Flooring Tiling, Feature Wall, Drywall Partition, Painting, Waterproofing, and Plumbing |
| WEBSITE | http://www.jaystonerenovation.com/ |
| ADDRESS | 1090 Lower Delta Road #03, 07N, Singapore 169201 |
| CONTACT DETAILS | +65 6653 6215 |
| OPERATING HOURS | Monday – Friday, 10:00AM – 6:00PM |
If you're looking for a kitchen contractor with a great track record, then you should check out Jaystone Renovation Contractor. Regarded as one of the top renovation contractors on the island, they're unlikely to disappoint.
Since each customer has a different preference, they make sure to offer different renovation packages to meet the varying demands of their customers. Each package is designed to meet the specific needs of your household.
Most of their kitchen renovation packages include the following: consultation, carpentry work, plumbing, installation of sink, and general cleaning. You may also ask to customise their package if you want something specific done to your kitchen.
More importantly, their rates are really affordable. Despite being in-demand contractors, they don't price their services exorbitantly.
Highlights
Free customised quotation
Trained staff and installers
Affordable rates
Consultation services
Customer Reviews
Jaystone Renovation Contractor is known for their professional team of craftsmen and carpenters who do their work seriously. They have some of the friendliest staff in the industry, and customers can always expect a warm and friendly approach from their team.
Clients also say that Jaystone Renovation Contractor ensures that every day counts. They don't rush their work, but they also make sure that they finish the project on time.
7. Diatom Reno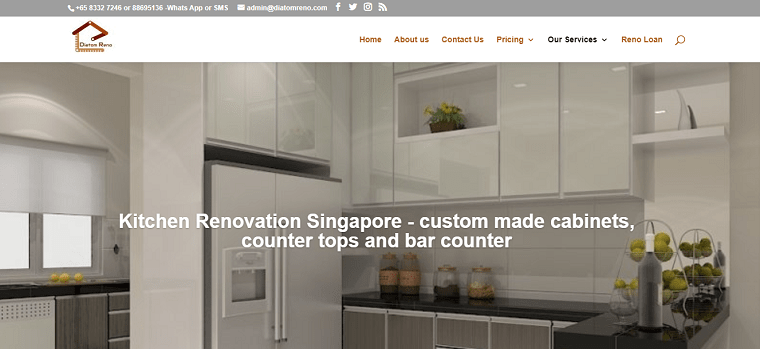 BEST FOR
Residential and Commercial Renovation Services
SERVICES
Residential Renovation, Commercial Renovation, Minor Renovation, Ceiling Treatment, Water Proofing, and Wall Leakage
WEBSITE
https://www.diatomreno.com/
ADDRESS
71 Prestige Centre #06-03 Bukit Batok Crescent Singapore 658071
CONTACT DETAILS
(65) 8332 7246

94606785

OPERATING HOURS
Monday – Sunday, 10:00AM – 8:00PM
Diatom Reno is one of the most trusted renovation and interior design contractors in all Singapore, boasting a list of clients coming from residential and commercial sectors. They strive to provide services that meet their customers' expectations without hurting their budgets.
If your kitchen is starting to fall apart, call their services and they will be at your doorstep right away. They can fix everything from broken sinks, loose cabinets, and even pipe leakages.
If you want to improve the overall design of your kitchen, they have that covered as well. They can make your kitchen as functional as possible and maximise the space no matter how small it is.
What's more, you don't have to worry about going beyond your budget because they will make sure to minimise cost as much as possible.
Highlights
Free quotation
Multiple kitchen packages
Customisable renovation packages
Consultation with their team
8. Sin Siang Huat Renovation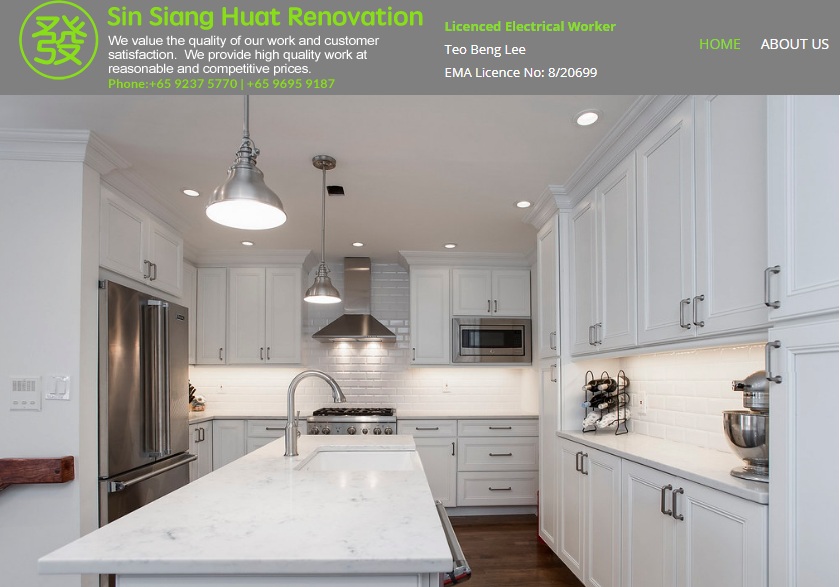 | | |
| --- | --- |
| BEST FOR | Modern design |
| SERVICES/SCOPE | Interior and Office Renovation, Light and Ceiling Fan Installation, Tiling and Flooring, False Ceiling, Painting, Electrical and carpentry |
| PRICING | Contact shop for quota |
| WEBSITE | https://sshreno.com.sg |
| ADDRESS | 10 Anson Road #10-20 International Plaza Singapore 079903 |
| CONTACT DETAILS | +65 9237 5770 | +65 9695 9187 | [email protected] |
Sin Siang Huat Renovation has been in the business for over 40 years. This made them who they are today and has shaped them to become one of the most reliable contractors in the country.
They provide interior renovation which includes kitchens. Before they do the work, their staff provides free consultation. This is to make sure that the output will be satisfactory to their client. Further, they charge less than what you expect from their work.
Highlights
Free consultation

Finishes work on time

Reasonable price
9. RENO PRO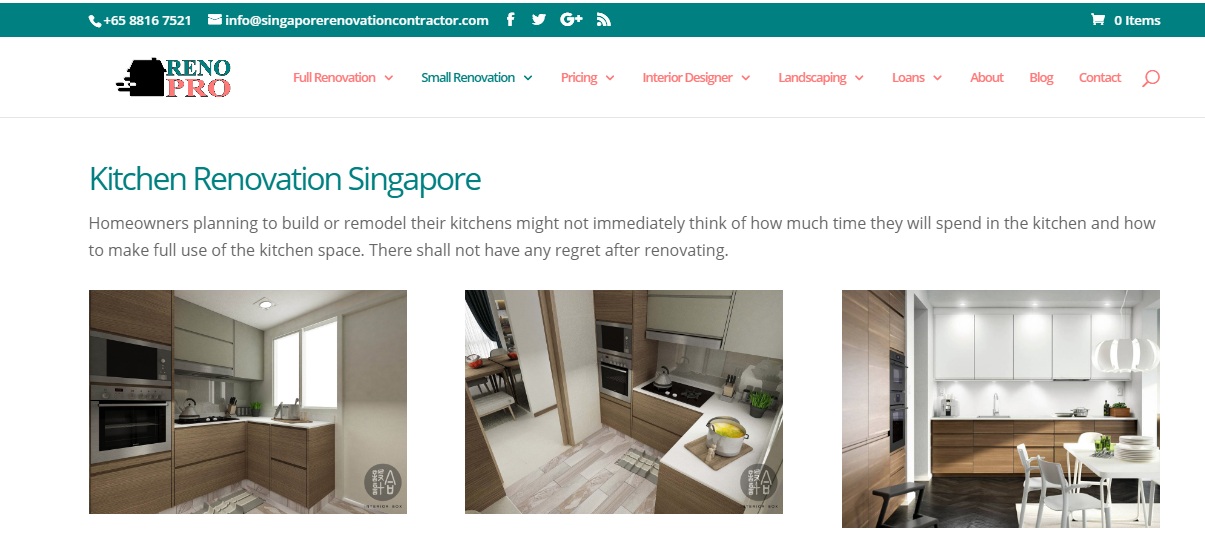 Reno Pro offers a great range of services from small to large renovation. But if you're thinking of renovating your kitchen, they could also do it for you.
They know how important the kitchen is for everybody that's why they wanted to analyze your cooking situation. This way, they could recommend better ways to utilize your kitchen that could be helpful in modeling the kitchen renovation.
Aside from that, they could help you in designing the new kitchen whether you like it to be traditional or contemporary.
Highlights
Personalized Service

Renovation consultation

Various design type for your preference
10. Kluje
Kluje is the optimal platform to find the most fitting contractor for you. Established to make lives for homeowners easier, Kluje allows you to avoid the long, painful process of deciding whether someone can be trusted to do a good job or not, as you can see real-time reviews on the site as well.
You can post on the site what services you require and have contractors contact you in no time. With Kluje, you'll be able to pick out the best people for the job without the hassle of looking up companies one by one.
For window instalments or repair, you can simply write on the site that you're in need of a window contractor, and you're good to go!
Highlights
Fast responses
Best online platform to look for contractors
Easy contracts and trusted companies
11. New Interior Design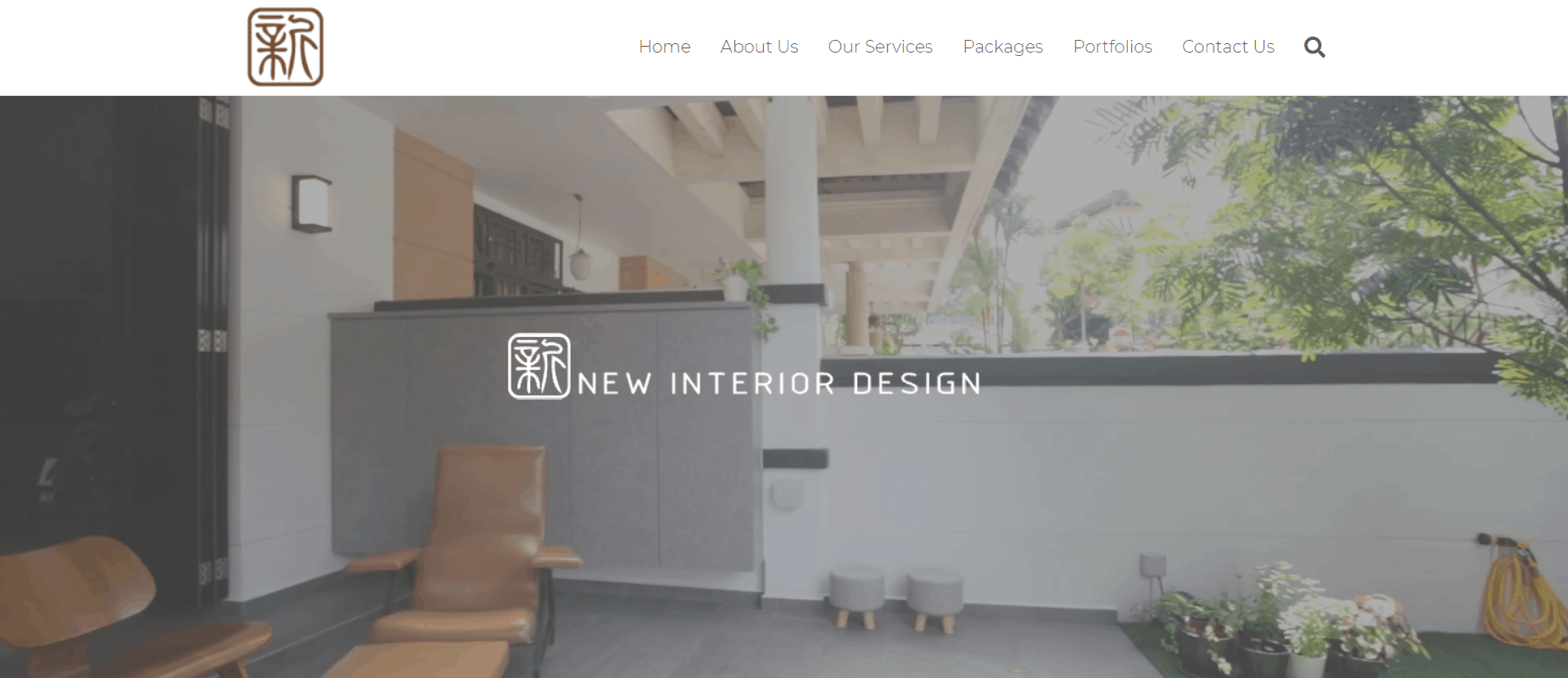 BEST FOR
Good renovation workmanship
SERVICES/SCOPE
Carpentry, Design & Layout Planning, False Ceiling & Partition, Hacking & Haulage, Masonry & Tiling, Painting
PRICING
Packages
WEBSITE
https://newid.com.sg
ADDRESS
Block 3 Marsiling Industrial Estate Road 4 #01-33 Singapore 739230
CONTACT
[email protected]
6366 7478
If you're looking for an interior design firm that can address your aesthetics and design needs for every room, then you may want to look into New Interior Design.
Established in 2011, New Interior Design has proudly served the community by offering interior design and carpentry services for renovation works or new construction. The firm confidently and competently does so thanks to its team, which comprises professional designers as well as workmen and carpentry experts.
These individuals take pride in being a part of one of the most reliable firms in the business. Their years of experience, skills, and expertise allow them to work on a slew of properties and rooms, including but not limited to regular houses and condos, kitchens, toilets, and many more.
So, if you're looking for a firm with a diverse portfolio, New Interior Design makes an excellent choice for the job.
Highlights
Award-winning company
Diligent and efficient staff
Diverse portfolio
12. Livspace Singapore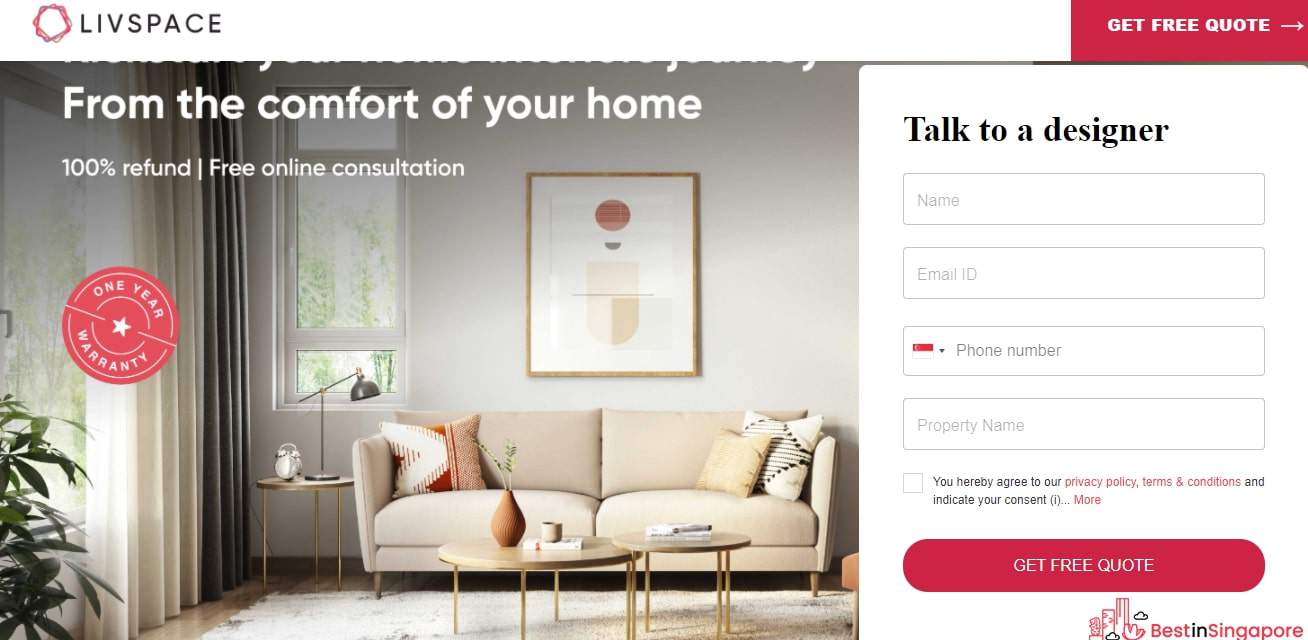 BEST FOR
Renovations, Full Home Interiors, Carpentry
SERVICES/SCOPE

Renovations
Design and build
Carpentry work
Demolition, hacking, masonry, plumbing, etc. Furniture and decor sourcing

PRICING
You can talk to a designer to get a free quote and sample designs.
WEBSITE
https://www.livspace.com/
ADDRESS
Level 6, Beach Centre, 15 Beach Road, Singapore 189677
CONTACT
https://www.livspace.com/
Livspace, Asia's biggest interior designer, is one of the leading choices if you need the best contractors and kitchen specialists in Singapore for home interiors and innovation. They have award-winning designers and verified contractors to help customers make their long-lasting dream homes a reality.
To make sure they only hire proven contractors and service professionals, each contractor undergoes a 3-step quality check: Onboarding (portfolio screening), Testing (performance evaluation projects) and Monitoring (via a project manager). For peace of mind, customers also get $4 million insurance cover by AXA as well as one year warranty on all civil and woodwork.
Livspace has proven their mettle in various living spaces, including condos, HDB homes and landed homes. You can start the process of building or kitchen renovation in 5 easy steps via their convenient and easy-to-use platform.
Don't just take our word for it, check out past testimonials and feedback from over 20,000 happy and satisfied clients. In fact, 4 out of 5 customers recommend Livspace!
Highlights
Award-winning designers
Verified contractors
$4 million cover by AXA
One year warranty
Customer Reviews
After meeting a few renovation companies, we decided to go with Livspace to design and renovate our new home. We worked with William and found him to be approachable and accommodating. Mostly, he could articulate designs, which were practical yet appealing while taking into consideration safety aspects for our young child.
–Willie Yeo via Trusted Interior Singapore
Livspace was highly recommended and we were pleased. It was the first time we have used a design professional and I would highly recommend leveraging the skills and experience of Livspace.
–Andy Clark via Trusted Interior Singapore
I recently dealt with Livspace for the renovation of my apartment. Their suggestions were non-intrusive but useful and my designer was able to understand my taste, budget and requirements and plan accordingly.
–David McGoldrick via Trusted Interior Singapore
And with that, our list of the best kitchen renovation services in Singapore concludes! These are the contractors we've found with the best track records and most impressive teams, so you should be able to find a provider that can give you the kitchen you want from here.
If you've tried out any of these kitchen contractors, let us know about your experience with them! Feel free to include photos of your finished renovation too!
Oh, and if you're looking forward to improving the overall interior of your home, give our list of the best interior designers in Singapore a try.
You may also want to take a look at some of our kitchen appliance line-ups. Try our roundup of the best ovens in Singapore, for example.