10 Best Ovens in Singapore: Buying Guide for 2021
Does your list of favourite dishes to cook include pastries, biscuits, and mouth-watering roasts? If that's the case, you'll want to take a look at the best ovens in Singapore.
The best ovens in Singapore offer even and powerful heating, ample space, and fine temperature control. Some even offer features like dual-oven design, convection cooking, and more.
Whatever you may be looking for, we're sure we've found the one to fit your needs. Below is our list of the best ovens in Singapore at this moment.
And if you've long wondered about oven prices in Singapore, we have included links where to get them, as well as the price of each unit.
1. Bosch HBF114BR0K Built-in Oven
Price: $788.00-895.00
The Bosch HBF114BR0K Built-in Oven brings stylish heat to your home's kitchen. It may be one of the most elegant of our picks for the best ovens in Singapore.
Food is heated through the 3D hot air technology. The oven also supports 6 other heating modes.
Specifically designed for easy cleaning, the oven has a seamless interior as well. It sports no sharp edges and is crafted in granite enamel for a sleek finish that does not tarnish.
The Bosch HBF114BR0K is the best oven in Singapore for those who want to up their baking skills a notch from beginners. 
Highlights
Customised cooking in 7 different heating modes – 3D hot air, full-width variable grill, bottom heat, conventional heat, hot air grilling, hot air gentle, and pizza setting
Round knobs and a straight bar handle make for easy handling
Heats food up to 275 degrees Centigrade
Customer Reviews
For its price, the Bosch HBF114BR0K Built-in Oven is a steal, say many owners. It heats powerfully and quickly, proving that its low price is no indication of its quality. For many owners, it's among the best ovens in Singapore on a value-for-price basis.
2. Brandt BOE5302x Built-in Enamel Oven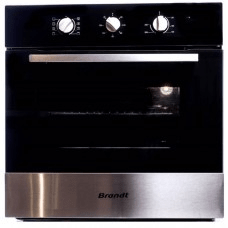 Price: $749.00
Fit for smaller homes, the Brandt BOE5302x Built-in Enamel Oven is a compact heater that can add zing to your kitchen. It also runs on only 15A of power, which makes it very practical for most apartment-dwellers or bungalow owners.
Homeowners can install the oven on their own too. It's meant for users who want built-in ovens but have limited space in which to fit appliances.
An ideal, practical choice for a built in oven in Singapore for single dwellers, couples or those who simply want a basic oven that's energy-friendly.
Highlights
Has 65L storage for ample cooking space
Heat- and corrosion-resistant with stainless steel and heat-absorbing black glass
Customer Reviews
Owners of the Brandt BOE5302x Built-in Enamel Oven are generally pleased with their purchase. Specifically, they praise the basic heating functions and the even heating the appliance is capable of producing. Many also appreciate its easy-to-install design.
3. Elba Elio 624 Baker Built-in Oven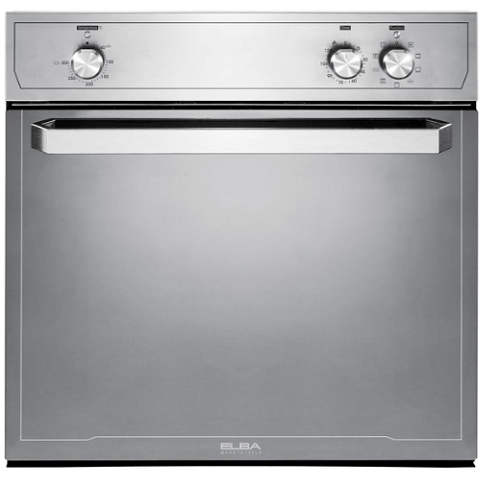 Price: $710.00
If you're looking for the best built-in oven for baking in Singapore, you must consider this next oven on our list. The Elba Elio 624 Baker Built-in Oven is another of the more elegant entries in our list of the best ovens in Singapore. Its design isn't dedicated to aesthetics alone, though.
The oven uses mirror glass to sustain heat in its cooking space while the exterior remains at room temperature. Food is heated up to 300 degrees Centigrade in evenly distributed warmth.
Users can also select from among its 9 cooking modes for easy heating adjustment.
Highlights
Has 9 cooking functions including Oven Light, Top and Bottom Heat, Full Grill, and Pizza Function
Built with a removable door for easy interior cleaning
Customer Reviews
There are a lot of things owners of this oven praise. For example, many of them say that the Elba Elio 624 Baker Built-in Oven is the best built-in oven in Singapore in 2020 for cooking bigger servings because of its capacity.
Many of them also appreciate the elegant exterior as well as removable door. On the other hand, most customers wish it would warn them when the food is ready (pointing to the lack of a dinging sound once the timer runs out).
4. Ariston FA3834HIXAAUS Built-in Oven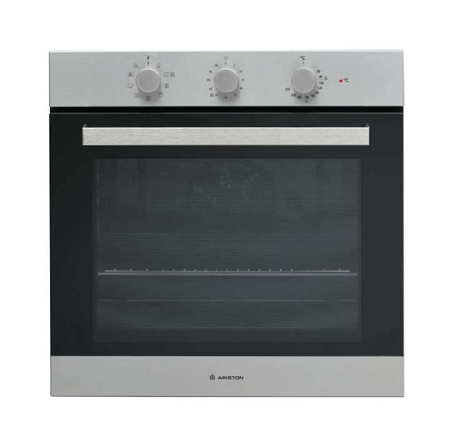 Price: $619.00 (On Sale)
If you're one whose preferred language of love is  making food for your friends and loved ones, then this is our recommended built in oven in Singapore for you. You can serve more food for social events when using the Ariston FA3834HIXAAUS Built-in Oven. Its massive 61L interior can cook a feast!
The oven is loaded with 10 cooking functions such as pizza, conventional, and turbo grill. But the icing on the appliance's cake is the Diamond Clean feature, which is an easy cleaning system made possible by the stain-resistant interior coating.
Highlights
Other cooking modes are bread heater, forced air, and grill tilting
Cook food in desired warmth by using the Temperature Control
5. Teka HSB 645 Oven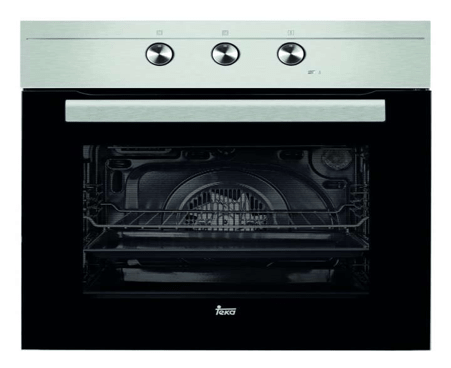 Price: $1,450.00
You can cook food without having to consume an exorbitant amount of energy through the Teka HSB 645 Oven. This energy-efficient oven reduces power consumption by 20%!
Its SurroundTemp technology evenly heats food too. A multi-cook tray even comes with the oven to help users.
Highlights
Constructed with fingerprint-proof stainless steel to preserve the oven's sleekness
Up to 65L capacity for heating loads of food
Has 5 cooking functions for specific heating
Dynamic forced ventilation to eliminate hot air build-up in the oven
6. La Germania Prima Series 90 RIS95C 61L B X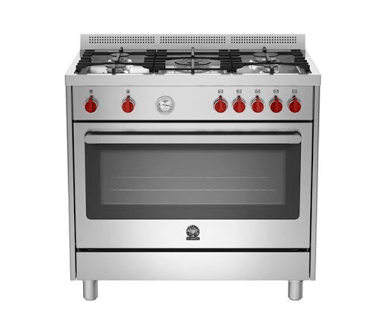 Price: $2,779.00
Although constructed with a stove, the La Germania Prima Series 90 RIS95C 61L B X is astonishingly space efficient. It can fit in any kitchen, and lets you cook various dishes on its 5 burners simultaneously.
The fact that his comes with both burners and an oven may make it one of the best ovens in Singapore looking to get cooking essentials for a new kitchen.
Highlights
With fast preheat and convection bake modes
Designed with an eye-catching stainless steel frame
Customer Reviews
Customers are very impressed by the overall performance of this oven, saying that the burner stoves function as reliably as the oven itself. Thus, it should be the best oven in Singapore for those who demand an all-in-one solution for their cooking needs.
7. Rinnai Combo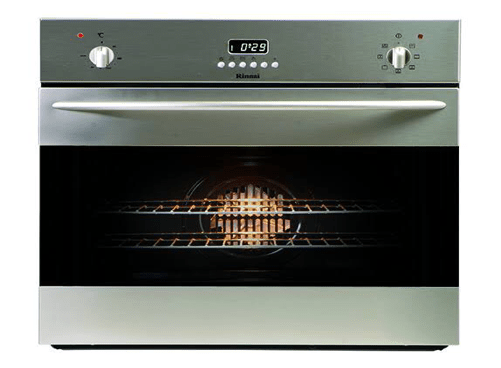 Price: $707.00
The Rinnai Combo Oven is another multi-cooking-implement appliance in this list of the best ovens in Singapore. It has an induction top for cooking as well as an integrated oven below that.
It offers massive cooking capacity in its oven as well as easy removal of the door for easier maintenance. Plus, a lower heating mode can be selected for concentrated cooking.
Highlights
Heats loads of food in its 61L storage
With a removable double glass door for easy cleaning
8. WHIRLPOOL AKZM693 67L BUILT-IN OVEN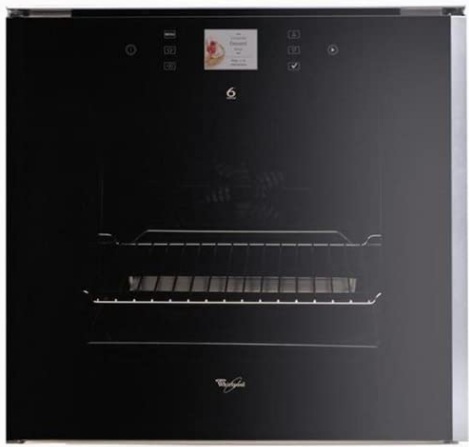 Price: $1,399
If you're looking for an innovative oven that will ultimately ease your cooking experience, just choose Whirlpool AKZM693 67L Built-In Oven. Beginner and expert home cooks alike will definitely have fun playing with this oven's exciting features. 
Multifunction cooking mode, extra-large capacity for heating up and cooking food, smart control system, and pyrolysis self-cleaning feature make for the best partner in the kitchen everyone would love to have. 
This is the best oven for baking in Singapore for households with both a novice and an expert (or even just enthusiast) in baking due to its versatile settings. 
Highlights
Lots of space to heat up food with its 67L storage

With its pyrolisis cleaning function, expect a nifty self-cleaning feature with option of full or express pyro.

Whirlpool's 6th Sense Total Power guarantees automatic adjustment of time, temperature, and humidity settings for quality oven experience. 
9. EF Microwave Oven with Grill EFMO 8925 M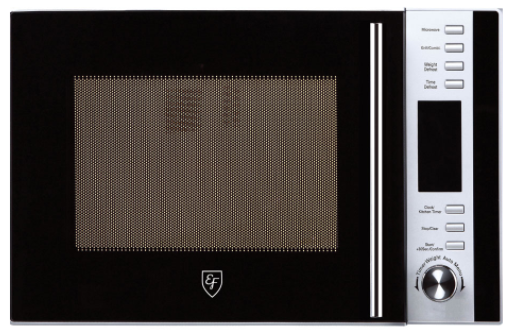 Price: $259.00
The EFMO 8925 M is the perfect companion for modern kitchens. You can use it to not only reheat your leftovers, but also cook a small number of dishes.
This sleek black microwave oven comes with a wide range of functions. Besides the usual microwave features, it also has a microwave grill, full grill, and defrost option.
Not only that, but its 5 microwave power levels gives you a finer and more accurate control over whatever you're making. Finally, its 8 auto cooking menus makes cooking easier overall, even for those inexperienced in the kitchen. 
Highlights
Sleek, modern design
8 auto cooking menus
2 combi functions
5 microwave power levels
10. 13 Functions Fermentation Multifunction Oven BO AE 1370 A
Price: $1,299
The BO AE 1370 A offers the latest in oven technologies, all fit into a stylish, full black body. This built-in oven comes with a full sensor touch control, featuring 13 functions which include grilling, delicate cooking, baking, fermentation, and more.
With its multiple functions comes numerous trays to accommodate it, such as a grill tray, deep tray, and baking tray. As a plus, fermenting using this oven won't need any fermentation jars either.
Another thing worth noting is that its large cavity volume ensures that you can cook your dishes without worrying about space. Most importantly, its safety features — namely, its triple glazed glass door, soft door close system, and auto safety switch off — reduce the chance of accidents from occurring.
Highlights
13 functions
Fermentation function at 40°C
Triple glazed glass door
Soft close door system
And with that, we have our list of the best oven brands in Singapore at the moment. As you can see, these are all capable of helping you produce your best baked or roasted dishes yet, from crumbly shortbread creations to fragrant loaves.
We hope you found our list of oven review in Singapore helpful!
Have you used any of the ovens we've recommended? If so, let us know about it and tell us what you think of it!
You can also check our article on the best air fryers in Singapore if you need help buying other kitchen appliances. We'll be doing a lot of these in the future, so stay tuned if you're planning to fill out your kitchen appliance roster in the next few months!