Top 13 Firms for the Best Condo Interior Design in Singapore
Have you been looking forward to changing the overall look of your condo? If so, then you need to hire the top interior design firms that offer the best condo interior design in Singapore.
If you're clueless as to where to get the best condo interior design in Singapore, worry no more. We found great interior design firms worth checking out, based on our research.
What's more, all these interior design firms can achieve the dream look that you want for your own space! So, without further ado, here's our list of the top options for the best condo interior design in Singapore.
1. Qanvast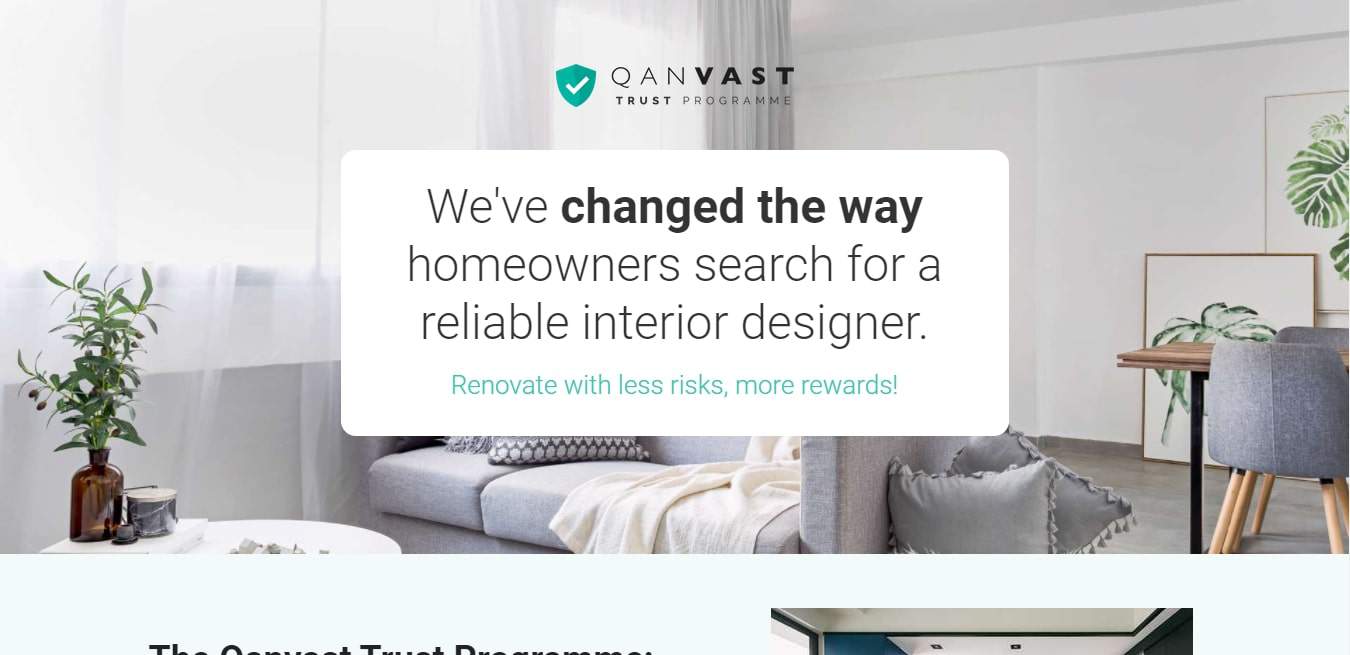 Qanvast's objective is to assist their clients with their home renovation. With Qanvast, interior design will be a cinch– it enables clients to find and connect with accredited interior designer firms that suit their tastes and expectations best.
Qanvast provides its users with high quality recommendations at all times. Their portal not only enlists excellent interior designer firms, but also records the feedback of homeowners who have previously availed of their services. In addition, Qanvast makes choosing the best interior designer firm less burdensome for clients, lowering the prices that they need to pay.
Qanvast has already helped many people build the home of their dreams. You can become one of them by signing up on the Qanvast platform today.
Highlights
Wide Choices of Designs
Awesome Staff
Professional Customer Services
High Quality Designs of Home
Customer Reviews
"Isaac was very patient with our demands in realising our Dream Home. He took the effort to research the best for our homes. For instance, we wanted to install a movable ladder to our built-in library. We got our awesome dream home library. Our renovation was done relatively fast, and of very good quality. Isaac ensured that the workmanship was according to the designs we dream for and advise us to ensure the practicality of the designs we ask for. All in all, super satisfied with our home."
2.  I-Max Design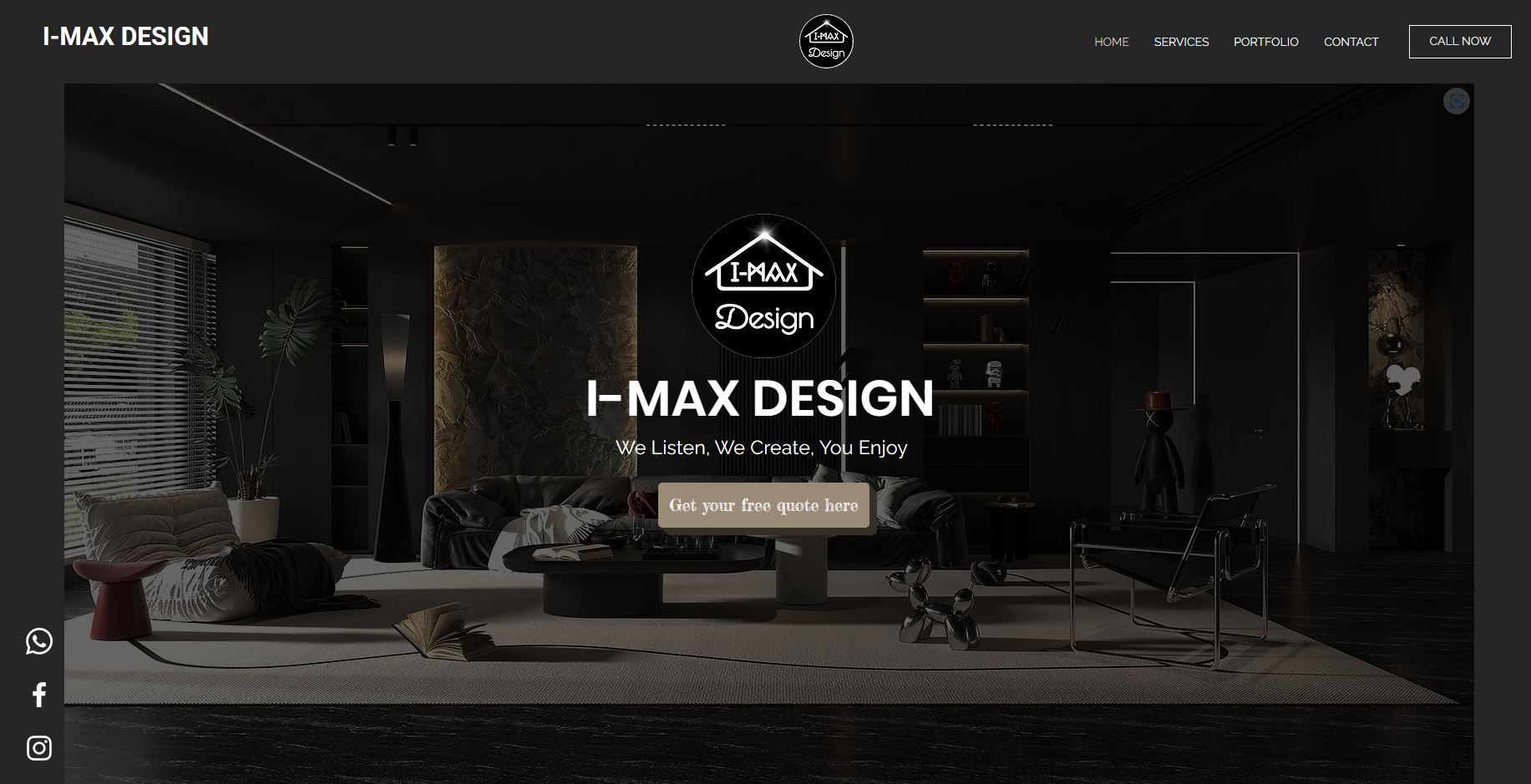 BEST FOR 
Renovation and Redesign
SERVICES

In-house Carpentry worker

In-house Plumber

Hacking (HDB or PE, SCDF submission etc,)

Electrical

Door & Window

Masonry work

Glass work

FREE Design consultation

FREE 2D & 3D Drawings

WEBSITE
https://www.imaxgroup.org/
ADDRESS

482 Tampines Street 43 #01-234

Singapore 520482

CONTACT DETAILS
[email protected] | 6781-3816 / 9183-9939
OPERATING HOURS

Weekday: 10:00 am – 8.00pm

Weekend: 10:00am – 3:00pm
I-Max Design was founded in 2014. It's a small firm that only started with three employees and has now grown into a team of more than twenty amazing designers and staff. 
Their services include In-house Carpentry Worker, In-house Plumber, Hacking (HDB or PE, SCDF submission etc,), Electrical, Door & Window, Masonry Work, and Glass Work. Plus, they offer free design consultation and free 2D & 3D Drawings!
We find that they're one of the firms that produce high quality work with an impeccable eye for detail. They also offer their services to both commercial and residential property owners.
We think the spaces they create are also ones that inspire because of how innovative and immersive their designs are. 
What's more is they make sure that their designs fit the personality and lifestyle of their clients, while remaining functional and practical. 
They're capable of simple redesigns to full-scale renovations so high chances are they can help you with whatever you need. 
They know how to work within budgets without compromising the quality and this is why we also highly vouch for them. 
Highlights
Variety of services 
Free design consultation and 2D & 3D drawings 
High quality work 
Simple redesigns to full-scale renovations 
Offers services to both residential and commercial residents
Customer Reviews
"Engaged I-Max Design 3 days before the house handover and Alan Ong had no hesitation to come along for house inspection within short notice. Overall was a positive experience with I-Max Design where Alan Ong was keen to work around your budget and shared his reno experience with you for your reno reference. Definitely, I-Max Design is your choice."
3.  Renovation Contractor Singapore
Renovation Contractor Singapore understands the importance of good Interior Designers in making a house feel like a home. With their help, you can be connected with professionals that specialise in improving various areas of the house, may it be the living room, kitchen, or bedroom.
The areas you need renovated will be improved from floor to ceiling, down to the finest detail. In addition, the placement of utilities, such as the plumbing and electrical wiring, will also be considered during the planning process.
With Renovation Contractor Singapore, you can design the condo of your dreams. Get started now with a free quotation service.
Highlights
Excellent customer service
Unique and modern designs
Professional designers
Customer Reviews
Take a peek at some of these comments posted on Google Reviews:
"Big thanks to Jake and the team at Renovation Contractor Singapore. They took the time to listen and delivered a beautiful new kitchen for my HDB. I love it! "
4. Mow Interior Design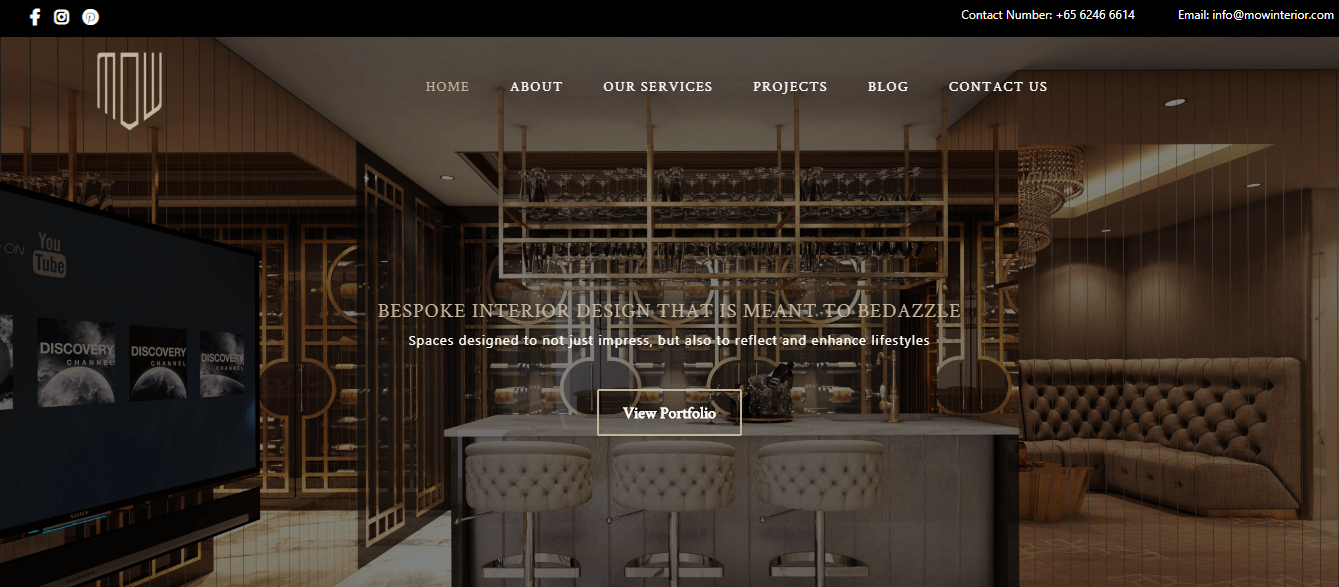 Mow Interior Design is the go-to interior design firm of customers who want their condos to look luxurious and elegant. It offers services to both residential and commercial clients, specialising in luxury interior design.
It's headed by Mr. Wong and Mrs. Ong, who have over 18 years of experience in renovating condos and commercial spaces. As a customer, you get to be confident that the people you let inside your home are the ones most capable of doing the job.
As a company, it's also committed to creating spaces that are not only sophisticated but reflect the personalities of its customers as well. Thanks to its team of efficient designers who all share the same goal of improving the lives of customers through functional aesthetic spaces!
Highlights
18 years of experience
Committed designers
Systematic design process
Customer Reviews
Most customers had a delightful and memorable experience in dealing with the team behind Mow Interior Design. They mentioned how its interior designers were with them every step of the day to help achieve their dream look for their condo.
Here are some customer reviews:
"Special thanks to Project Manager Victor Zeng, who was very committed to the project and responsive throughout the entire process and even post renovation. His patience and calm composure definitely helped in customer management and set and even mood and pace for the project, ensuring smooth execution and completion. I feel both lucky and thankful to have engaged him!"
"The whole renovation process was made a lot simpler thanks to the team comprising of Shermaine, Chien I and Victor. The end result exceeded expectations and the finishing is of high quality. Even when changes were required along the way, the job was done promptly without any questions asked. Although the price may seem slightly steeper comparatively, looking back now, it is definitely worth it!"
5. Vegas Interior Design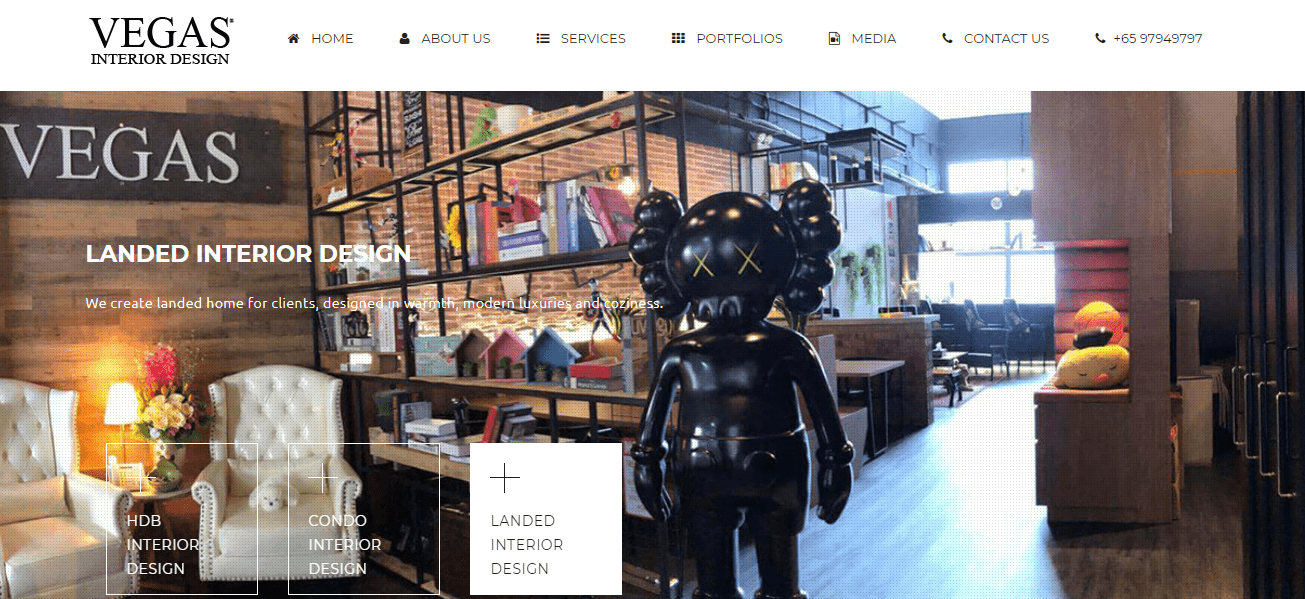 If you're looking for an interior design with excellent track record, then consider checking out Vegas Interior Design.
As one of the best interior design firms that provide the best condo interior design in Singapore, it has a team of certified interior designers who can deal with both residential and commercial spaces.
In addition, each of its interior designers has extensive experience, so best believe that they're capable of creating spaces that meet your standards and preferences. No need to worry about whether you're going to receive the quality of service that you paid for and are expecting.
On top of that, they can make your condo look more appealing without minimising the space. Your space will definitely look brighter and better than ever without decreasing its functionality.
Highlights
Experienced interior designers
Quality services
6. ZLC Contractor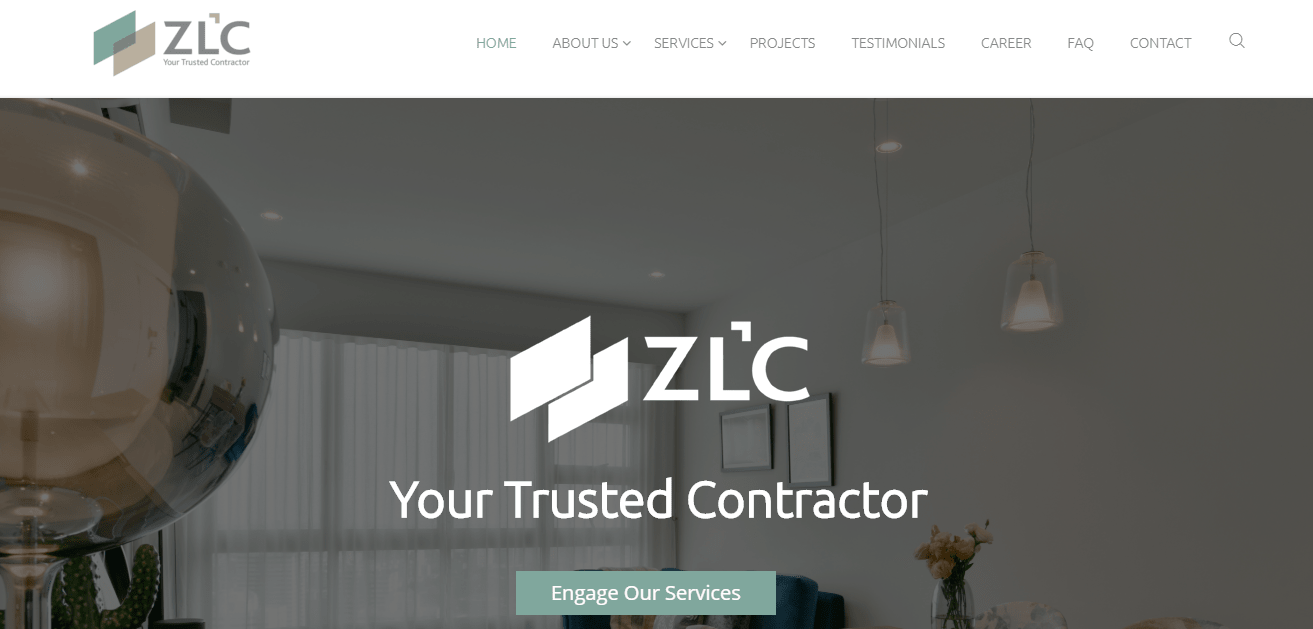 ZLC Contractor is among the few contractors in Singapore that also double as interior designers.
On top of this, it is also part of a small population of contractors that are accredited by HDB, bizSafe, BCA, RICS, SOCOTEC, and ASME, proving that its services are efficient and of high quality.
One of the reasons we consider it one of the top options for the best condo interior design in Singapore is its wide range of expertise. On top of carpentry and wetwork, it can also install craftstone products, do elderly car renovations, and even consultation services.
Highlights
HDB-accredited
Quality assurance
Certified Craftstone installer
Customer Reviews
Here's what its clients have to say about its services:
"The proficient support and design intricacies by the Z L team is highly commendable, and the proposals gave our work environment a professional yet cosy facelift. Despite the many design iterations, we appreciate your effort in completing the project well on time."
"Dedication & served with their hearts! We stumbled upon ZLC through my hubby friend. The uniqueness of ZLC is that our project manager is a local around our age. Rare to see locals around our age in this line. It was easy for Vincent, our project manager to understand our needs and requirements. Vincent documented the details well which made my hubby happy as it clearly showed the progress of our reno. He is very dedicated and goes out of his way to help us. We are thankful for that. Can consider this company if you need a contractor you can trust!"
7. Starry Homestead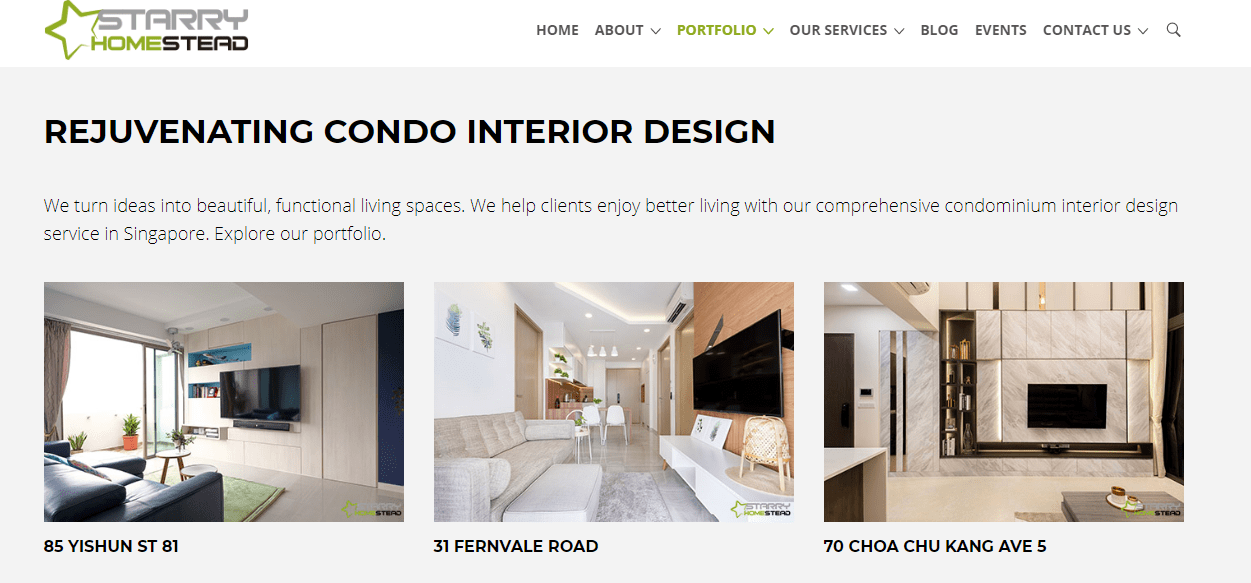 Starry Homestead is the ideal interior design firm for people who don't want to go beyond their budget for renovations. It's known for providing competitive rates without compromising the quality of its services, on top of offering a wide variety of renovation services.
What's more, it can turn small condos into functional yet beautiful living spaces. One of its goals as an interior design firm is to turn condos into spaces where clients can work productively and relax with friends and families.
If you're still not convinced by what it can do, we're here to tell you that it's one of the few interior design firms accredited by industry leaders. So, it's really the top option for the best condo interior design in Singapore.
Highlights
Professional interior designer
Affordable yet quality services
8. Craftwerkz Interior Design

Craftwerkz Interior Design knows that everyone in Singapore wants to go home to a cosy and comfortable space after a long day. That's why it offers a long list of services that aim to turn your condos into a beautiful and functional space, on top of improving overall appearance.
With its team of professional interior designers, it can turn your basic-looking condo into a condo that has only existed in your dreams! What's more, its designers can guarantee a smooth and hassle-free renovation.
Highlights
Dedicated interior designers
Wide range of services
Hassle-free renovation
9. FINELINE DESIGN PTE. LTD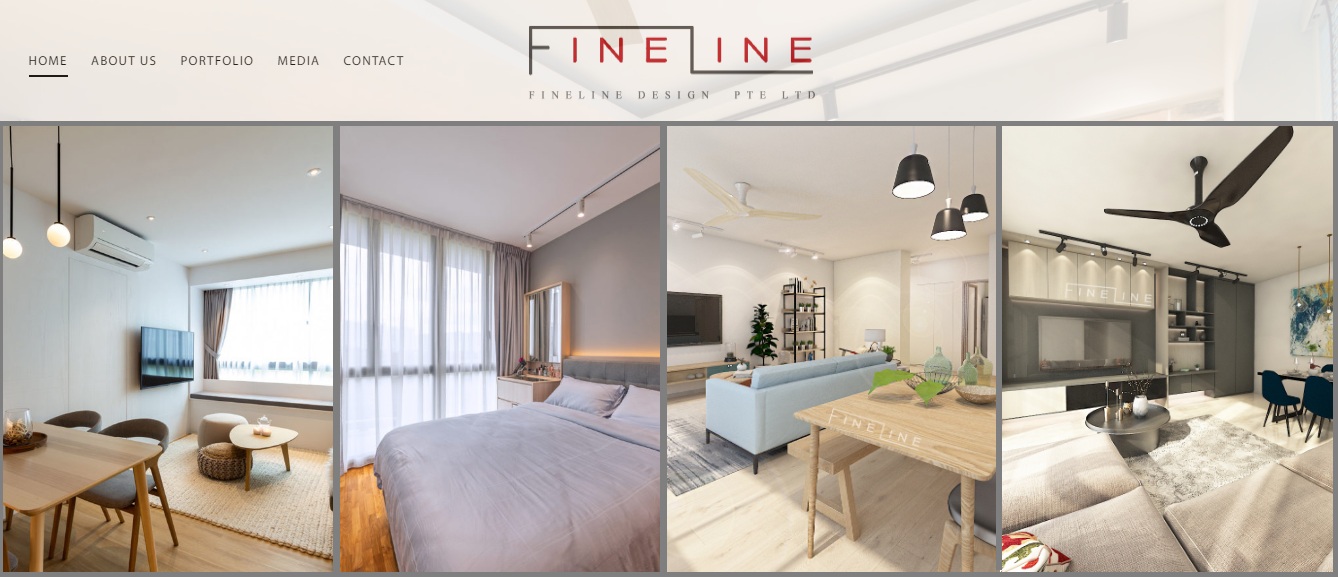 BEST FOR

Residential, Commercial and Private Housing Re-construction Projects

WEBSITE

https://fineline.com.sg/

ADDRESS

Central:

441 Balestier Road, #02-01/02 Leong Hin Building S329820

North:

7030 Ang Mo Kio Ave 5, #09-54 Northstar @AMK S569880

West:

20 Boon Lay Way, #01-169 Tradehub21 S609967

CONTACT DETAILS
t +65 6570 0040

f +65 6570 1477

email: [email protected]

OPERATING HOURS

9am – 9pm daily incl. Public Holidays

PORTFOLIO

https://fineline.com.sg/portfolio/
Highlights
Providing interior designing and project management services to their clients availing of their residential, commercial and private housing re-construction services, Fineline Design has paved their way into the interior designing industry with a decade long of fruitful and successful experience.
Fineline Design has earned its clients' trust by assuring them their full commitment towards fulfilling their desire to create the ultimate dream home of their own. They are also very keen on details when executing designs for their customers, keeping in mind their requirements and lifestyle, while producing innovative and creative ideas.
Customer Reviews
Satisfied customers are writing about their wonderful experience with Fineline Design's services. Here's what Johnathan wrote on their website:
"We are first time home buyer and we have searched many ID companies and in the end Fineline Design stood out and we decided on Fineline Design because of the value and the quality of the project that we were shown.
During the design phase, Minyi is responsible and helped to make sure everything is in order. When we found some small defects, Minyi was quick to help us remedy and even for things that we wanted later after renovation has started she also did her best to accommodate us.
I am really glad that we went along with Fineline design. After hearing my friends describe their nightmarish experience. I am glad that my experience is mostly positive and I am the proud owner of a beautiful and practical home.
5 stars experience. Cannot emphasise how important a supportive and responsible an ID can be."
10. COZY IDEAS INTERIOR DESIGN PTE LTD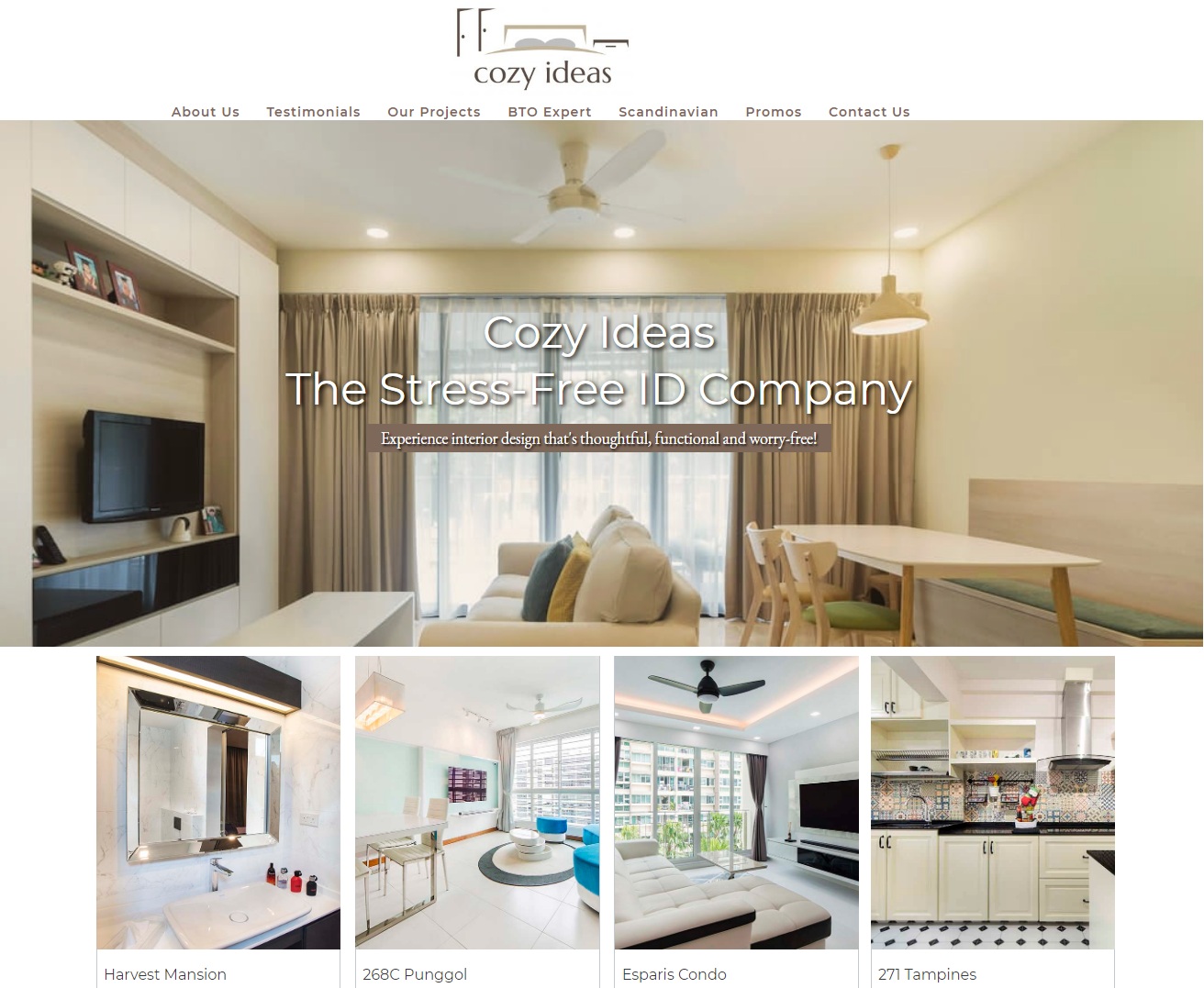 Cozy Ideas Interior Designs ensure that they deliver the best works and attitude towards their customers. This in return results in customer satisfaction which is very evident as their new clients are mostly brought by referrals.
They guarantee that they charge reasonable prices for their customers. They ensure that the quotation will show the correct breakdown of fees. No hidden fees will be charged to you or your company.
Moreover, their team of architects and staff are professional and skilled to give you a great design for your condo. They also ensure that your timeline will be met with efficient workers with top quality craftsmanship.
Highlights
Reasonable prices

Professional and prompt team

Time efficient
Customer Reviews
Customers of Cozy Ideas were impressed with their works. In particular, they liked their process as it involves consultation with their client.
"Belinda is a responsible and creative designer. She well accepted our requirement and respected our choices. While maintaining the overall work high standard, she is also able to give out-of-box solutions to meet our budget. Of course she also keeps a good track of the project schedule.
"We are very pleased with Cozy Ideas, and especially with Loy for working closely with us to get our dream home renovated in a relatively tight timeframe. Loy was patient and consultative throughout the entire renovation process, listening closely to us on what our priorities are."
11. New Interior Design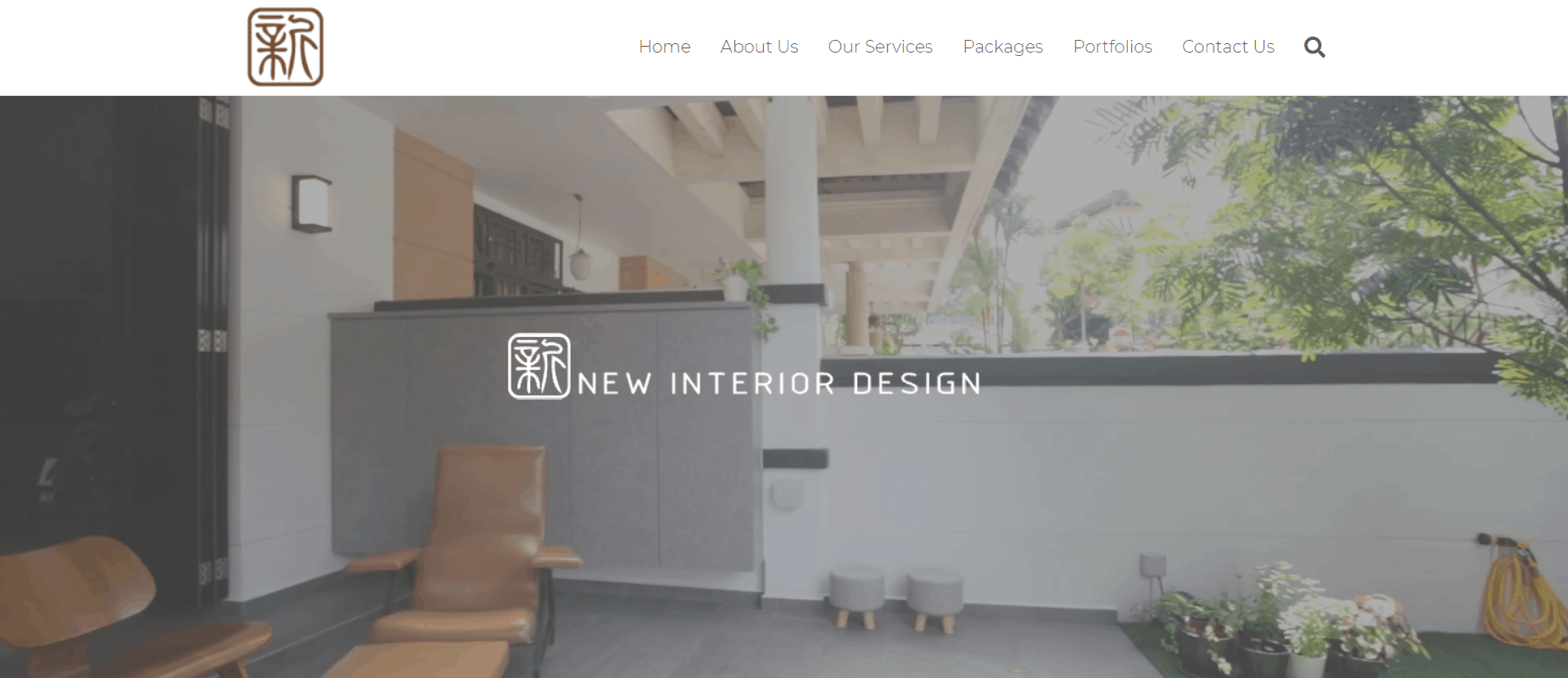 BEST FOR
Renovations and Good Workmanship
SERVICES/SCOPE
Carpentry, Design & Layout Planning, False Ceiling & Partition, Hacking & Haulage, Masonry & Tiling, Painting
PRICING
Packages
WEBSITE
https://newid.com.sg
ADDRESS
Block 3 Marsiling Industrial Estate Road 4 #01-33 Singapore 739230
CONTACT
[email protected]
6366 7478
If you're looking for an interior design firm that can address your aesthetics and design needs for your condo, then you may want to look into New Interior Design.
Established in 2011, New Interior Design has proudly served the community by offering interior design and carpentry services for renovation works or new construction. The firm confidently and competently does so thanks to its team, which comprises professional designers as well as workmen and carpentry experts.
These individuals take pride in being a part of one of the most reliable firms in the business. Their years of experience, skills, and expertise allow them to work on a slew of properties and rooms, including but not limited to regular houses and condos, kitchens, toilets, and many more.
So, if you're looking for a firm with a diverse portfolio, New Interior Design makes an excellent choice for the job.
Highlights
Award-winning company
Diligent and efficient staff
Diverse portfolio
12. U-Home Interior Design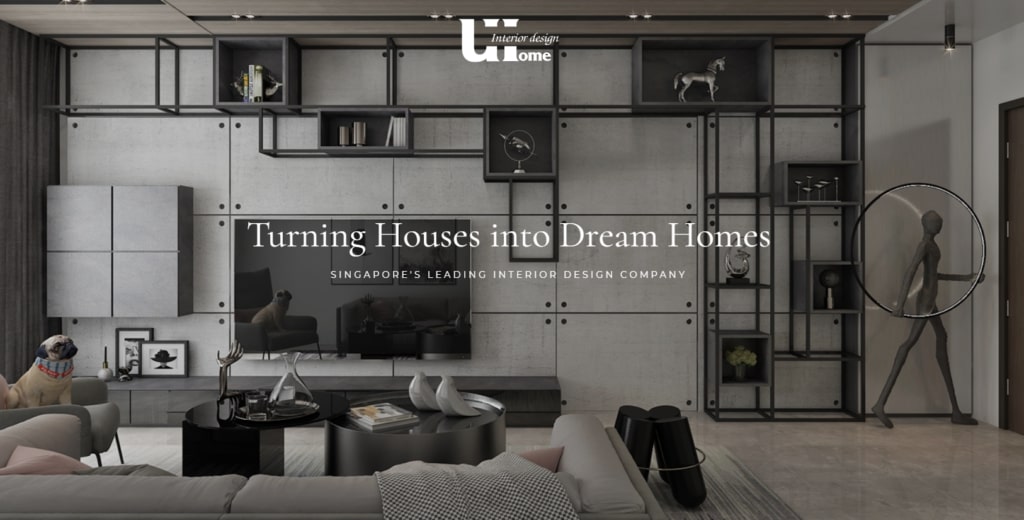 BEST FOR
Home Renovations
SERVICES/SCOPE
Interior Design Consultancy
Colour and Material Proposal
Renovation Works (Residential and Commercial)
Site Co-ordination and Supervision
Architectural (A&A/Construction)
FSSB Submission
Application of HDB Renovation Permit / MCST / Relevant Authorities
PRICING
Contact for more information
WEBSITE
https://www.u-home.com.sg
ADDRESS

81 UBI AVENUE 4, #01-20/21 UB.ONE, SINGAPORE 408830

2 JURONG EAST ST 21, #03-02A IMM BUILDING, SINGAPORE 609601

CONTACT

Ubi Avenue

Jurong East
Established in 1999, U-Home Interior Design is a firm that strives to bring clients' visions of dream homes and properties to life.
Now, there are many reasons why one should consider U-Home Interior Design for their next renovation project. For one, the firm's team consists of experienced and creative interior designers and dedicated project coordinators, all of which are equipped with the necessary skills and expertise to deliver what is asked of them.
Second, U-Home Interior Design specialises in both residential and commercial projects, and also offers a full range of services that have to do with pre-, during, and post-renovation work, helping ensure total customer satisfaction. These services include consultation for the project, colour and material proposals, renovation works, and even permit applications.
With over 20 years of collective experience in the field, U-Home Interior Design is set to take on any project that is brought to them.
The firm brings to the table a variety of core values and methodology that continually evolve with the renovation field. The team is always ready to share their insights with clients, helping them make better, more informed decisions that have to do with renovation and design.
Highlights
Award-winning design
Caters to commercial and residential clients
Comprehensive interior design and renovation work
Skilled, highly professional team of designers and project coordinators
Accredited by CaseTrust and RCMA
Approved BCA Window Contractor
13

. Livspace Singapore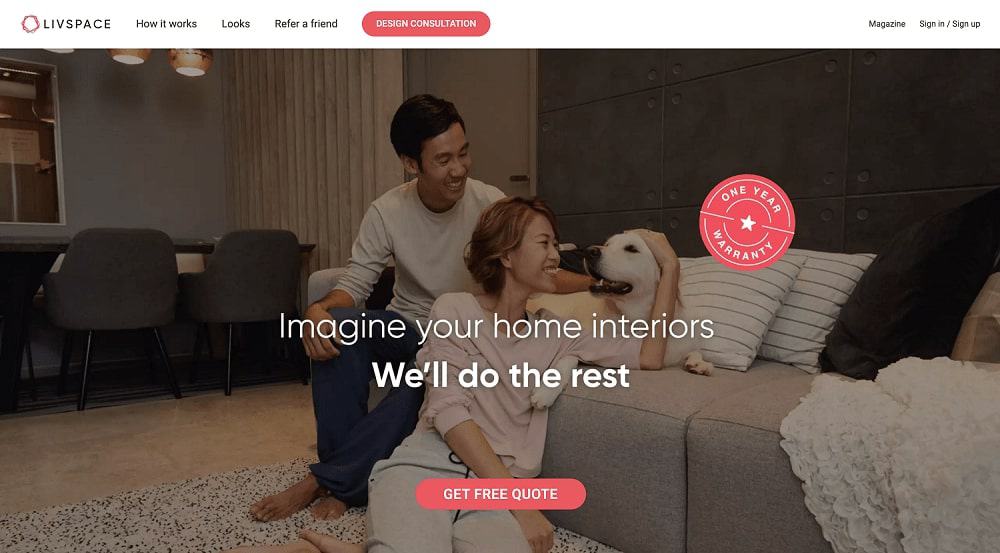 BEST FOR
Renovations, Full Home Interiors, Landed Interior Design
SERVICES/SCOPE
Renovations
Design and build
Carpentry work
Demolition, hacking, masonry, plumbing, etc.
Furniture and decor sourcing
PRICING
You can talk to a designer to get a free quote and sample designs.
WEBSITE
https://www.livspace.com/
ADDRESS
Level 6, Beach Centre, 15 Beach Road, Singapore 189677
CONTACT

[email protected]
Livspace, Asia's biggest interior designer, is a platform that allows you to connect with experienced and highly renowned interior designers all around the country. There's no doubt that they're partnered with professionals, ones that have many years of experience.
Navigating their site is incredibly easy, even if you aren't used to finding interior designers online. As a plus, they even offer free consultations. Take the next step for your dream home and visit their website now!
Highlights
Award-winning designers
Verified contractors
$4 million cover by AXA
One year warranty
Customer Reviews
After meeting a few renovation companies, we decided to go with Livspace to design and renovate our new home. We worked with William and found him to be approachable and accommodating. Mostly, he could articulate designs, which were practical yet appealing while taking into consideration safety aspects for our young child.
–Willie Yeo via Trusted Interior Singapore
Livspace was highly recommended and we were pleased. It was the first time we have used a design professional and I would highly recommend leveraging the skills and experience of Livspace.
–Andy Clark via Trusted Interior Singapore
I recently dealt with Livspace for the renovation of my apartment. Their suggestions were non-intrusive but useful and my designer was able to understand my taste, budget and requirements and plan accordingly.
–David McGoldrick via Trusted Interior Singapore
And with that, we conclude our list of the top interior design firms that offer the best condo interior design in Singapore. We hope that you were able to pick one firm that you think can turn your simple condo into your dream space.
If you believe we missed out on some great interior design firms, leave its name below and we'll add them to our list… if they're worthy.
By the way, if you also happen to be looking for a dependable contractor, you might want to read our list of the best contractors in Singapore. With the best interior designers and contractors in Singapore, you'll definitely be one step closer to achieving the look of your dream space!