The 21 Best SEM Agencies in Singapore
The marketing world has never been the same since the digital age started dominating our daily lives. It's why a lot of startups and large businesses are now using digital marketing strategies — and this includes looking for the best SEM agency in Singapore.
SEM (Search Engine Marketing) has proven to be one of the most effective ways to promote a business as it helps websites achieve higher rankings on Google, Yahoo, Bing, and other search engines' result pages.
It comes with a vast range of strategies and you'd need a skilled team to create and manage every part of the process. That's why we're here to help you find the best SEM agencies in Singapore, as recommended by many small and large business owners.
Take a look at our list below to see which agency offers the most suitable services for your business needs.
1. KPI Media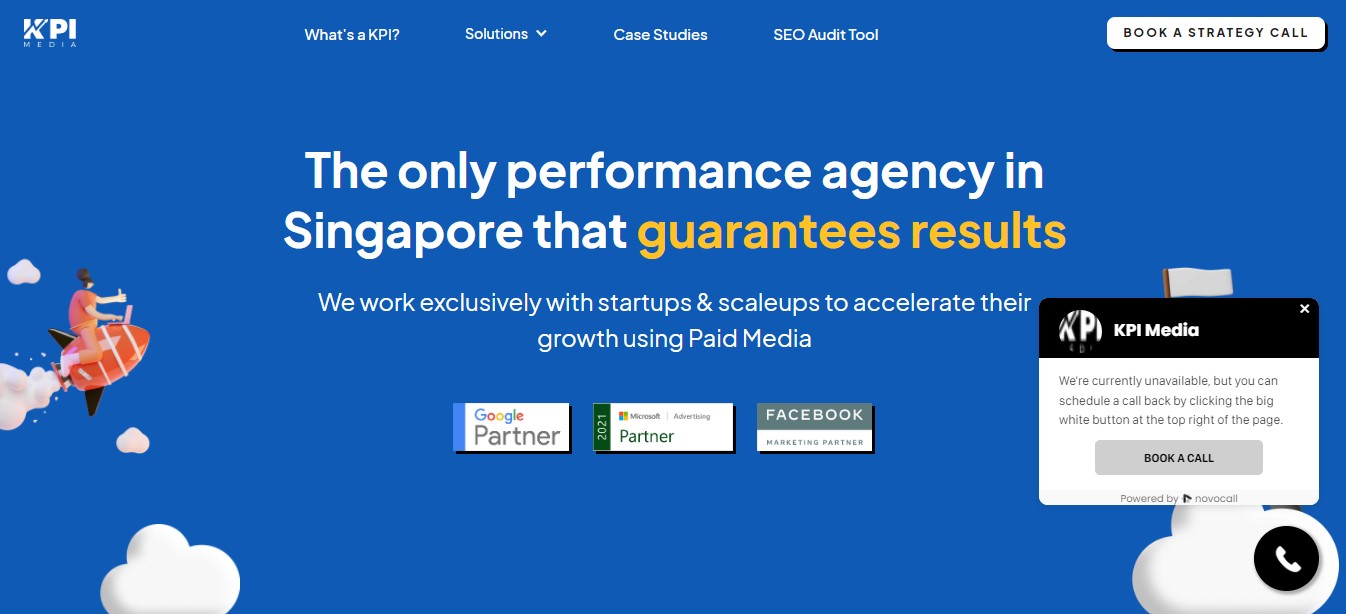 BEST FOR 
Startups and Scaleups
WEBSITE
https://www.kpimedia.sg/
ADDRESS
138 Robinson Road
Oxley Tower, #15-04
Singapore 068906
CONTACT DETAILS

Email: [email protected]

Phone: +65 8161 2926

OPERATING HOURS
Contact for more details
Let KPI Media apply battle-tested strategies and hyper-target your audience with their proprietary technology on different platforms such as Facebook, Instagram, LinkedIn, and Twitter.
What makes them stand out from their competitors is their monthly retainer that covers all media buying. This includes unlimited ad channels, real-time dashboards, conversion tracking, and worldwide targeting.
So believe us when we tell you that you will definitely get more traffic and sales with them because they can reach people from all over the globe.
The main reason why we prefer them over other companies because for every project, they make sure to work hand-in-hand with their clients to determine their goals.
After knowing their goals, that is when KPI Media's team will plan and prepare for the future of the businesses of their clients.
Apart from all of these, they still have more!
They have add-ons you can choose from to add to your selected plan and these are image ads design,  video ads, design, landing page design, and analytics package.
Highlights
Narrow down on a single objective and work towards hitting the target
Clients will have a dedicated account manager and at least one digital specialist working on their account regardless of the retainer amount
Customer Reviews
Here's what some people have to say about KPI Media:
"KPI Media has broad experience in working with clients from diverse industries. Delivering results is of utmost importance with every engagement, and they have always exceeded our expectations."
"Our Search ads are crushing and this dude's amazing. Our customer acquisition cost is lower than ever before and we're ready to raise more money to scale Noah into the SEA market. KPI Media has been the perfect media partner to help us achieve our performance goals."
2. OOm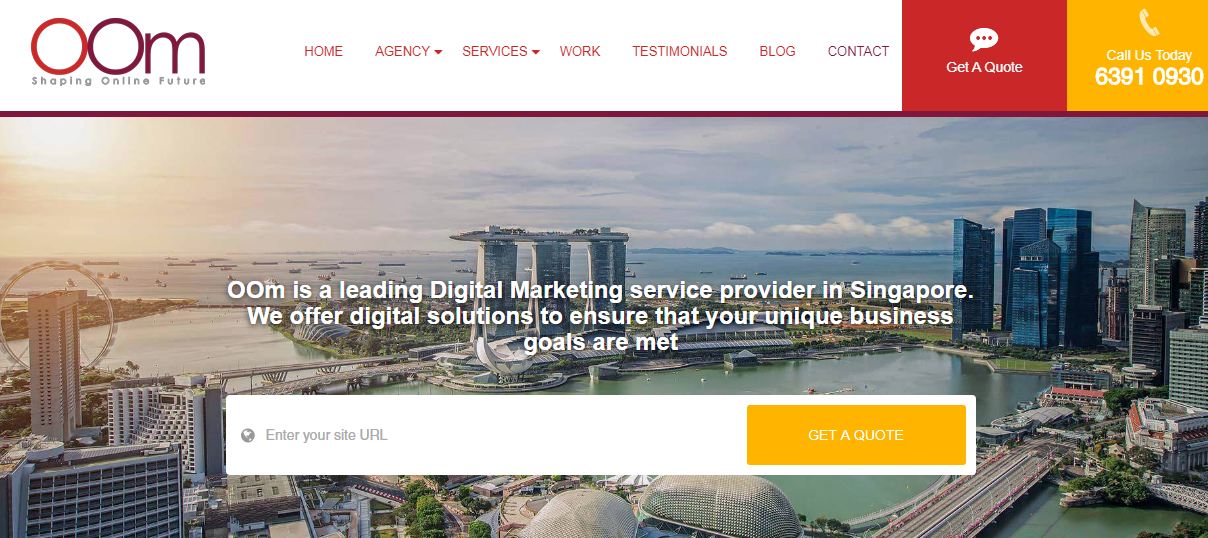 BEST FOR 
Fast launching of ads
WEBSITE
https://www.oom.com.sg/
ADDRESS
141 Middle Road, GSM Building #05-04 and #06-05, Singapore 188976
CONTACT DETAILS

Email: [email protected]

Phone: +65 6391 0930

OPERATING HOURS
Weekdays: 9am to 6pm
OOm is an award-winning agency that's partnered with several search engines and digital platforms such as Google, Bing, Yahoo, Facebook, and more — which is why they're known to establish well-managed SEM campaigns.
They make sure to take the business to the next level with their paid campaigns made by trained experts. They'll execute a strategic approach and give you full access to the statistical performance of the campaign.
Highlights
SEM campaigns in China
Cost-effective SEM campaigns
Customer Reviews
Due to their realistic goals, transparent communication, and well-mannered professionals, OOm has been named one of the best SEM agencies in Singapore. Many clients applauded their successful campaigns, which led to an impressive growth of brand recognition and sales.
A client shared this experience:
"OOm helped us to revamp our website and did what is right for our SEM. We also embarked on SEO with OOm, to get them optimize our website. We have seen a good increase in quote requests from our website and online marketing. All the team members in OOm are simply amazing. They have great customer service and are super dedicated in their work. The best part was that we could completely trust their team with their professionalism. Keep up the good work!"
3. Obizmax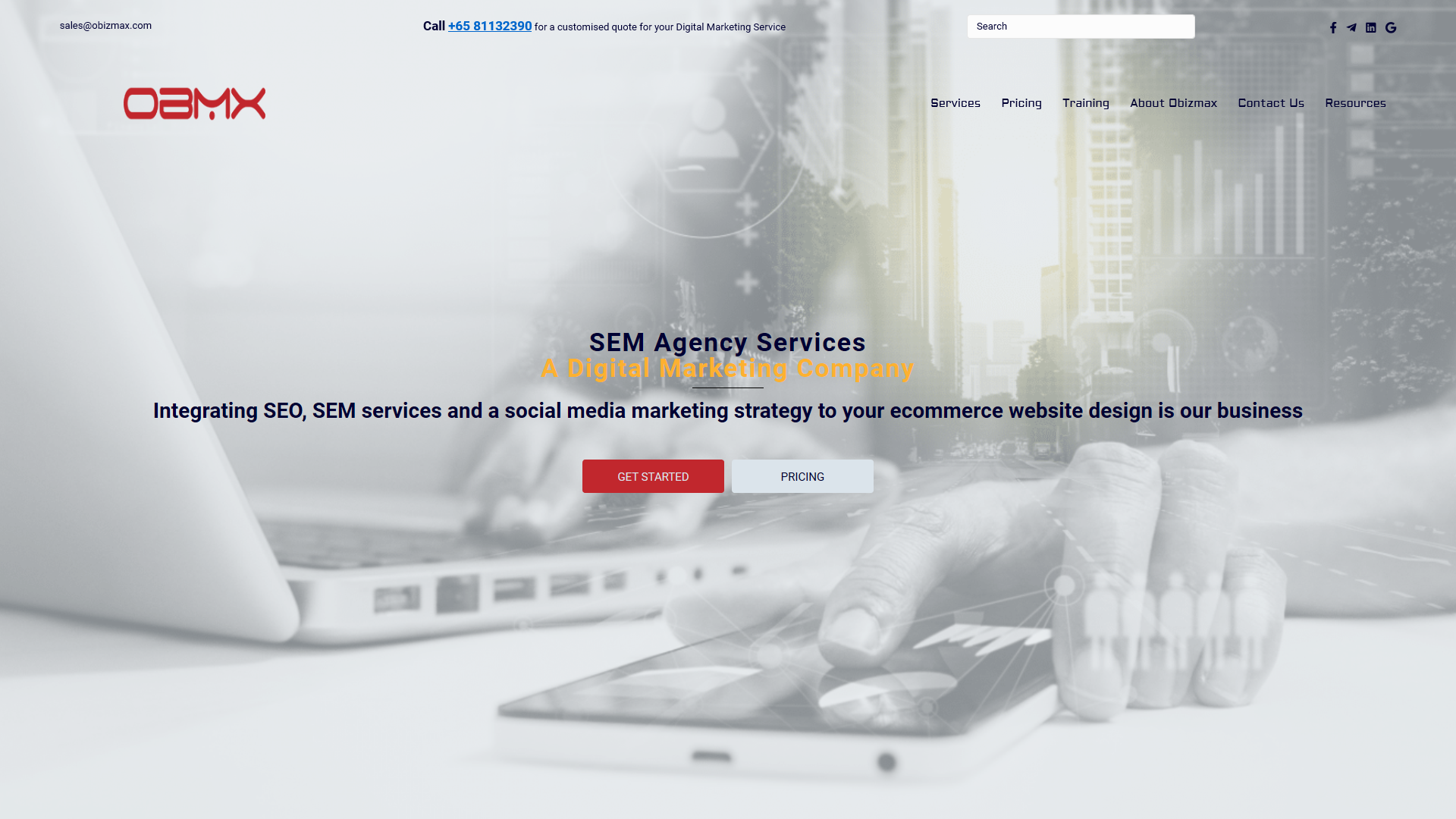 | | |
| --- | --- |
| BEST FOR  | SEO & SEM Services |
| WEBSITE | https://obizmax.com.sg/ |
| ADDRESS | 7 Temasek Boulevard #12-07 Suntec Tower 1 Singapore 038987 |
| CONTACT DETAILS |  +65 8113 2390  | [email protected] |
| OPERATING HOURS | 9:00AM – 5:00PM |
As a digital marketing agency, Obizmax specialises in the integration of e-commerce website design. They also offer SEO services, SEM assistance, and social media marketing strategies.
Their digital services are proven to enhance their client's online presence, mainly due to their digital marketing services. They also provide avenues to learn with SEO courses, WordPress management training, and Magento operator training.
Obizmax is an agency that caters to all the interactive digital needs of their clients. SMEs will particularly benefit in enhancing their presence on the internet, using Obizmax's effective digital solutions.
Highlights
Website Design
Search Engine Optimisation (SEO)
Search Engine Marketing (SEM)
Social Media Marketing (SMM)
Customer Reviews
Here is a review left by a very satisfied client:
"Professional insights with practical tools to optimize business objectives! Highly recommend to anyone wanting use social marketing to bring their business to the next level up."  – Ning Lim
4.  Media One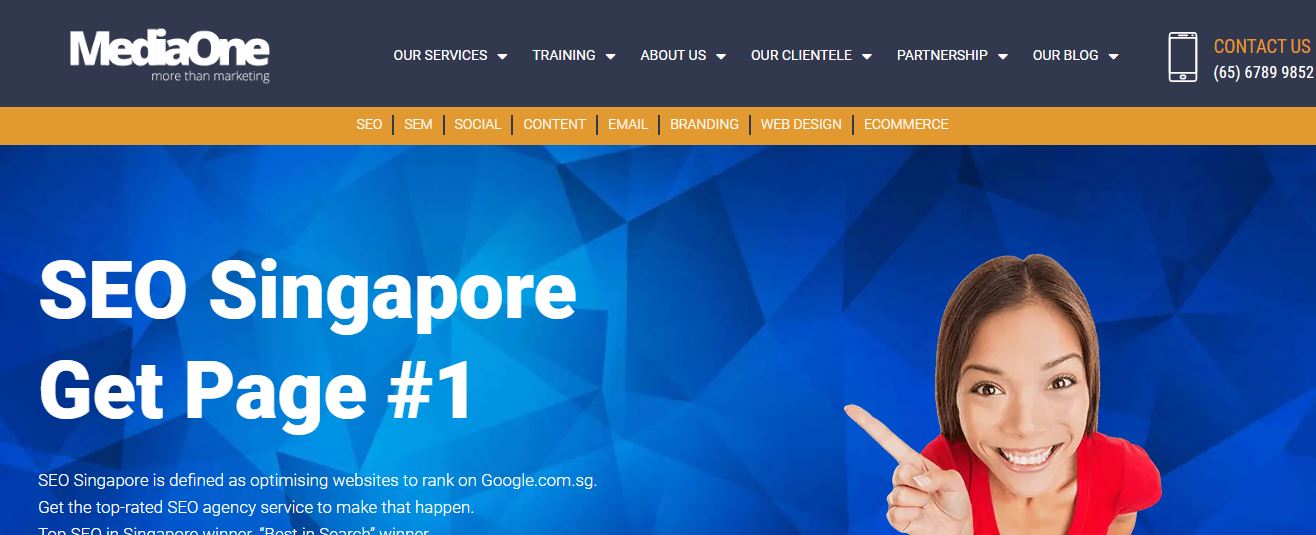 | | |
| --- | --- |
| BEST FOR  | Comprehensive SEM analysis and reports |
| WEBSITE | https://mediaonemarketing.com.sg/ |
| ADDRESS | 4B Craig Road, Singapore 089664 |
| CONTACT DETAILS | (65) 6789 9852 |
| OPERATING HOURS | Weekdays: 9:30am–6:30pm |
Media One offers award-winning PPC campaigns that'll surely generate a boost in leads and sales. What makes their services different is the way they transform conservative methods into an innovative strategy that can compete with other businesses.
Their skilled campaign specialists plan and create great ads with a goal of countless profitable clicks. They've worked with varied industries, so no matter what type of business you have, they'll help you achieve your desired results.
Highlights
Creative and technical SEM experience
Lower-cost PPC strategies
Customer Reviews
Due to the genuine promotional campaigns of Media One, clients were able to earn leads, and say Media One is one of the best SEM agencies in Singapore.
A client wrote this review: 
"MediaOne is our partner in Website Design and Search engine Marketing. We find them very honest and very knowledgeable. There is no BS and no painting a too rosy picture. What you see is what you get."
5. Healthmark SG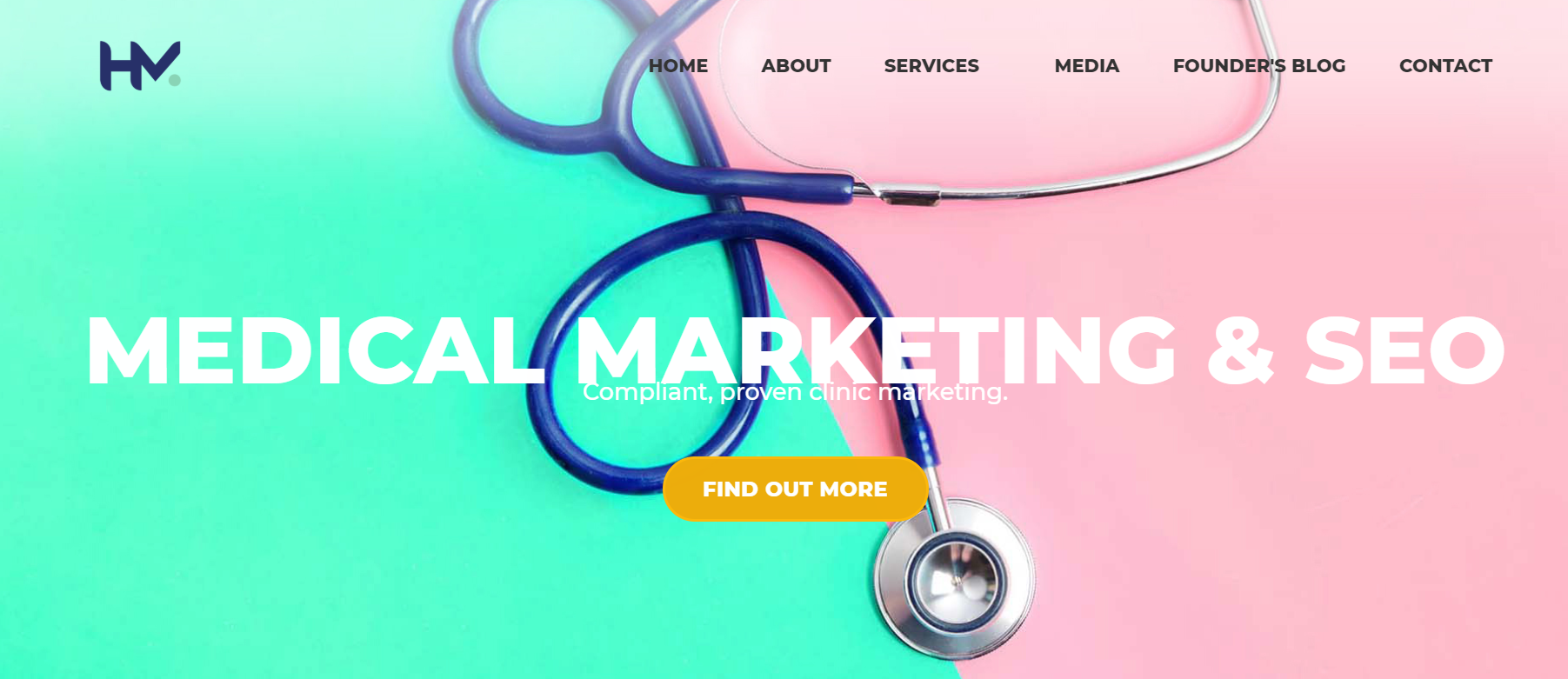 BEST FOR 
Medical SEO and SEM
WEBSITE
https://healthmark.sg/
ADDRESS

31F, 9 Temasek Boulevard, Suntec City Tower 2, Singapore 038989

CONTACT DETAILS
Phone : +65 6559 6135
WhatsApp : +65 9007 5432
Email: [email protected]
OPERATING HOURS
Mon – Fri: 8:30am – 7:30pm
Sat: 8:30am – 3:30pm
Pioneers in the field of medical marketing, Healthmark is known industry wide as
medical regulations experts with a strong grounding in knowing how to rank clinic websites
from brand new all the way to the top of Google. They have been featured in magazines like
Forbes, Prestige and Digital Journal.
Founded by ex-clinic owners, Healthmark has worked with a variety of medical
specialists ranging from gastroenterologists, ophthalmologists, gynecologists, aesthetic
doctors and more. Their nuanced insights into the ever-evolving medical industry allows
them to craft bespoke marketing campaigns for doctors to make an immediate impact in
their chosen medical niche.
As a company that advertises themselves as having "premium prices", if you're
looking for a discount option then you might want to go somewhere else. For those willing
to invest in the long-term digital presence of their clinic & brand – Healthmark stands out as
Singapore's premier medical digital marketing option.
Highlights
Regulation-safe advertising
Niche specific SEO
Believes in results over fluff
High standards
6. 5ive Media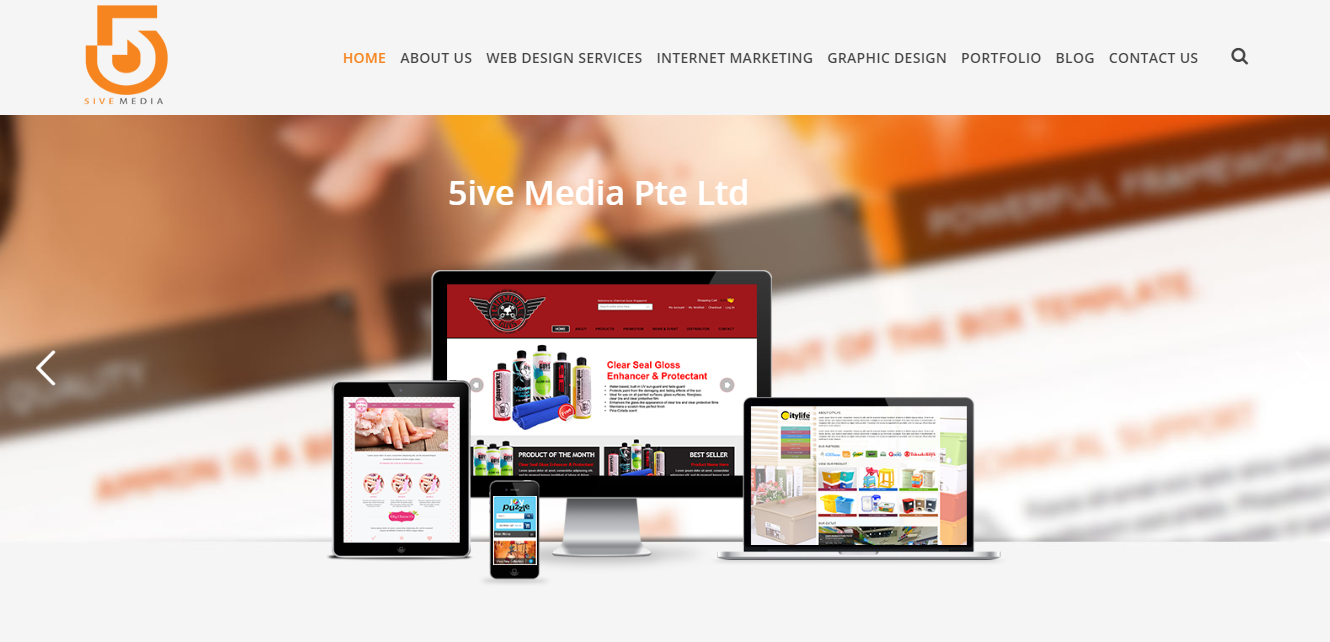 | | |
| --- | --- |
| BEST FOR | Graphic Design, Web Design and Internet Marketing |
| WEBSITE | https://5ivemedia.com.sg/ |
| ADDRESS | 2 Gambas Crescent, #06-03, Nordcom II Tower 1, Singapore 757044 |
| CONTACT DETAILS | [email protected] +65 6362 3937 |
| OPERATING HOURS | Weekdays: 8:00am–6:00pm |
5ive Media is a dynamic, service-oriented enterprise, posed to quickly respond to trends and changes in the information technology industry in Singapore.
The firm is known as a one-stop shop for any and all online services. Notably, digital marketing and web development.
The 5ive Media team is ready to cater to all of your needs, regardless of size and difficulty, providing you with the highest quality service.
Highlights
E-commerce website
Logo Design
Website Development
7. Smmile
Established in 2012, Smmile is a firm that has helped countless businesses with their marketing campaigns. The team's experience is backed by years in creative marketing, design, and digital solutions, allowing them to guarantee that they can and will fulfill any client's integrated marketing needs.
Isn't this enough proof of their skill? The Smmile team will certainly take care of your business once you hire their services. Give their website a visit and lead your business to success!
Highlights
Search Engine Marketing
Search Engine Optimization (SEO)
Social Media Marketing
Digital Lead Generation
Marketing Retainer
Sales Landing Pages
Company Website
eCommerce Website
Website Maintenance
8. Rioks
Based in Singapore, Rioks Corporation is a marketing consultancy focused on B2B industries, SaaS product marketing, and E-commerce. They don't just work locally– they also provide marketing consulting services all around the globe.
They are one of the industry leaders in strategic marketing planning, inbound marketing strategies, and search engine optimization campaigns. Since 2012, they have continued to use only the most effective marketing strategies.
Rioks Corporation advises their clients in marketing technologies & automation, which helps raise marketing and campaign effectiveness. By acquiring their services, you can benefit from their top rated social media campaigns, cutting-edge inbound marketing campaigns, and custom-made web applications.
Highlights
Marketing Department on Outsource
Account Based Marketing
Industry-specific Marketing Solutions
9. AdAsia Holdings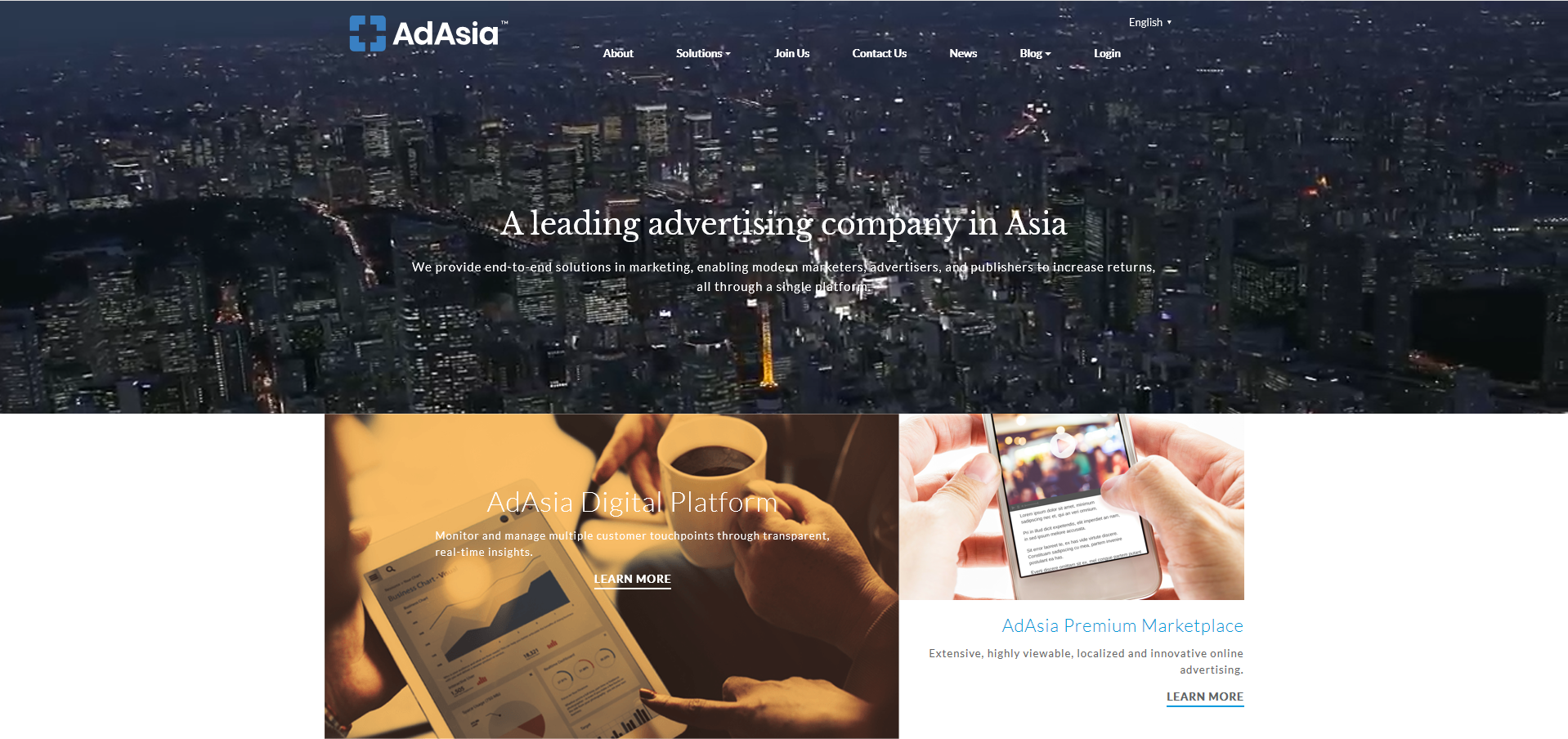 Under the AnyMind group, AdAsia started in 2016 as a marketing focused company. Using various methods and technology, they offer marketing solutions to different advertisers and publishers. They provide their services to companies all over Asia, primarily through three platforms.
The AdAsia Digital Platform for Advertisers allows clients to monitor the progress of the project clearly and contribute ideas of their own. The AdAsia Premium Marketplace, meanwhile, provides clients with the data they need to further their advertising and business goals.
Finally, AdAsia360 allows publishers to increase their revenue, through identifying and pursuing opportunities for monetization. No matter the services needed, clients are sure to benefit greatly from AdAsia's professionally skilled team.
Highlights
AdAsia Digital Platform
AdAsia Premium Marketplace
CastingAsia, An Influencer Marketing Platform
Digital-out-of-home (DOOH) Marketplace
Professional Services
10. Notion Age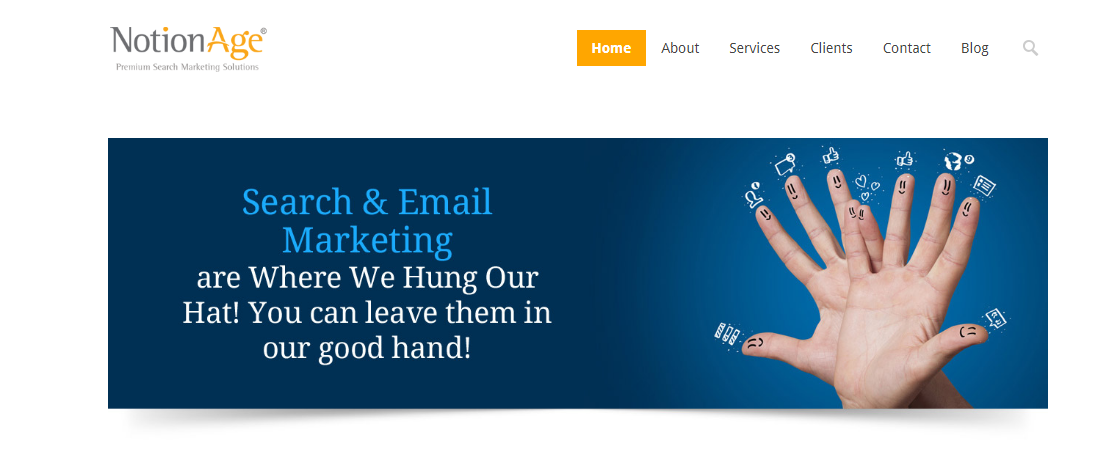 | | |
| --- | --- |
| BEST FOR  | Digital Marketing |
| WEBSITE | https://notionseo.com/ |
| ADDRESS | 1 Kallang Junction, Vanguard Campus Level 6, Singapore 339263 |
| CONTACT DETAILS | +65 64388303  | [email protected] |
| OPERATING HOURS | Monday – Friday 9:30am – 6:30pm |
Founded in 2001, Notion Age has since then become one of the leading digital marketing agencies and top notch SEO/SEM companies in Singapore. Using creative solutions and digital marketing strategies, they provide the digital boost that most companies need.
The Notion Age team consists of SEO and SEM experts, along with experienced online marketers. With dedication and passion, they provide only the finest quality work– their marketing campaigns are sure to meet any client's requirements.
By setting high expectations for themselves, they believe that they'll be able to continuously deliver excellent service to their clients. Notion Age guarantees that investing in them will always bring exceptional results.
Highlights
Premium SEO Services
SEM & Pay Per Click Search Advertising
Content Creation & Marketing Services
Email Marketing & EDM Blasting Services
Customer Reviews
Here is a review left by a very satisfied client:
"Professionalism, Quality, Responsiveness and Value. They are one of the reputable and amazing SEO company that headquarter based in Singapore. Only SEO agency in Singapore with strong international portfolio."  – Maggie Chu
11. PurpleClick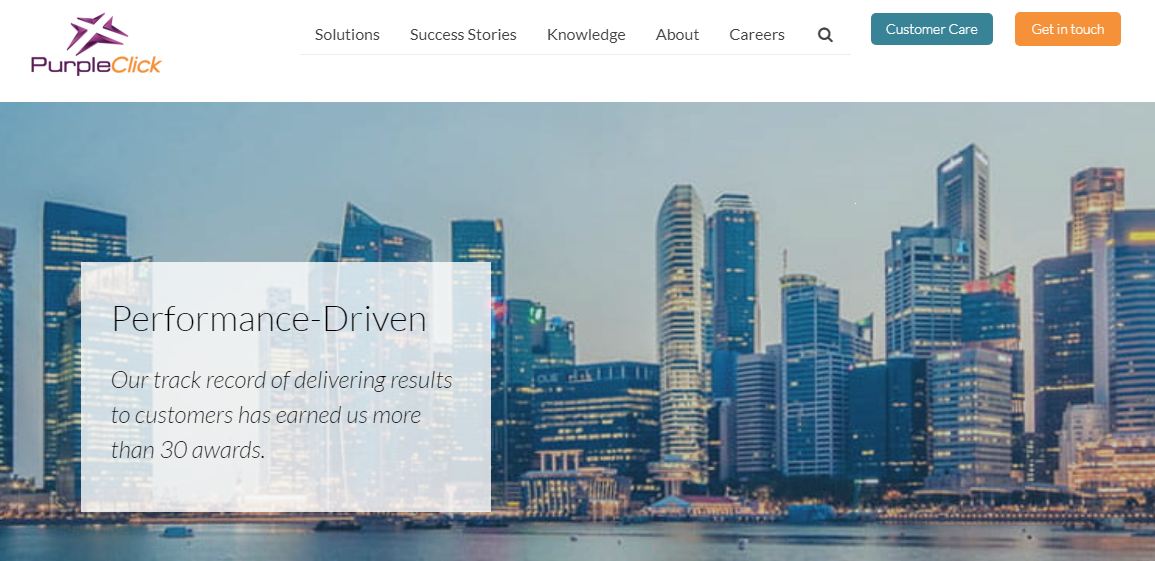 | | |
| --- | --- |
| BEST FOR  | Authentic digital marketing strategy |
| WEBSITE | http://www.purpleclick.com/ |
| ADDRESS | 51 Goldhill Plaza, #14-01, Singapore 308900 |
| CONTACT DETAILS | +65 6533 8655 |
| OPERATING HOURS | Weekdays: 8:30am–6pm |
If you're wondering whether you can afford to get SEM services despite your small business scale, you should see the versatile digital marketing solutions of PurpleClick.
They publish customer-centric advertising campaigns that are designed to improve the website's appearance in search results and make it easy for users to find the site. They have Google-certified consultants that'll help you gain high-performance results while keeping your budget efficient.
Highlights
Google-certified consultants
Customised SEM campaigns for the target audience
12. Maple Tree Media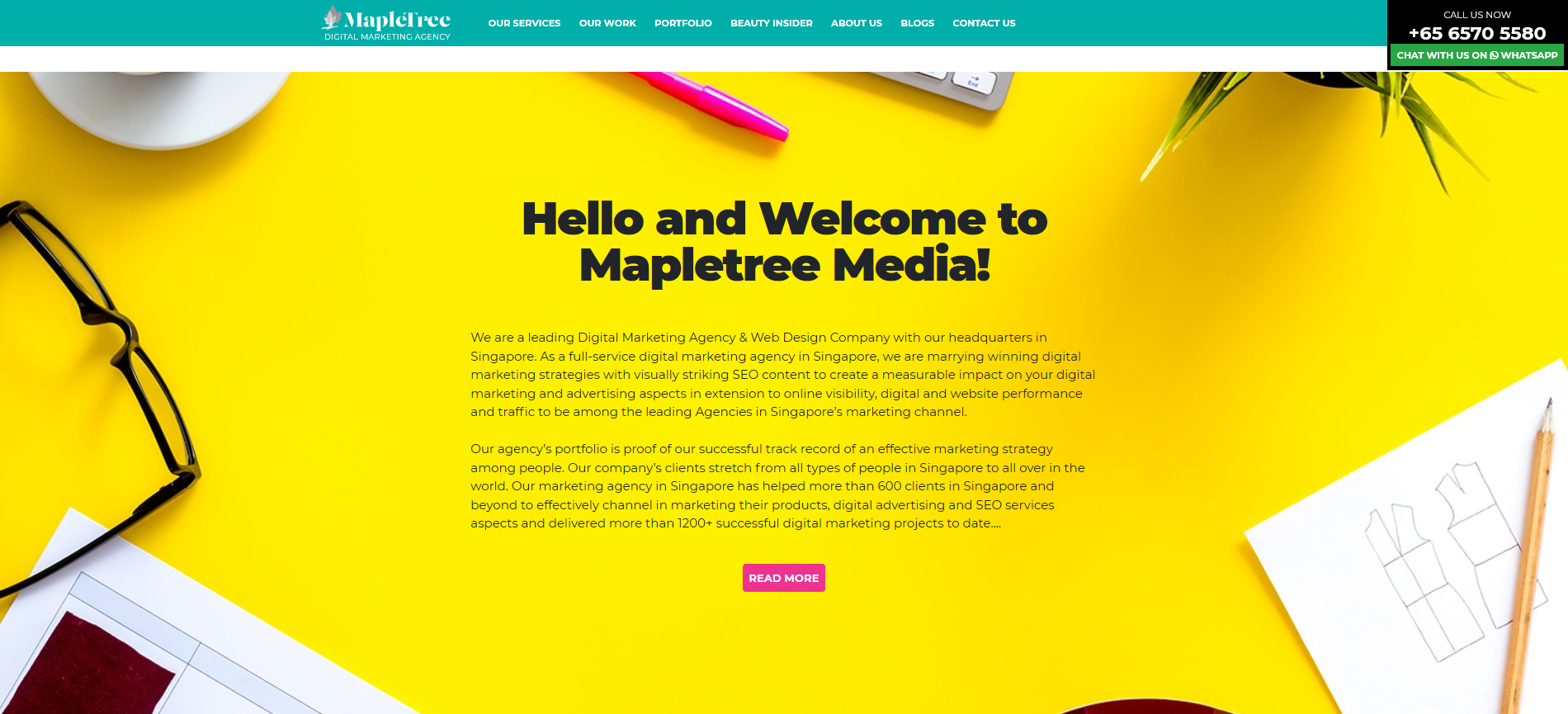 As one of the leading Digital Marketing agencies & Web Design companies in Singapore, Mapletree Media vows to serve their customers only the best quality service. As digital marketing experts, they have winning online strategies with visually striking content– something that is sure to have to have an impact on their client's online presence.
Mapletree Media has been creating content even before "digital" became a catch phrase. They started as print publishers in 2006, and have since then created and distributed over 60 magazines and 7 coffee table books across Southeast Asia.
As publishers, they know how to create content that will sell to the targeted, specific market. This is their advantage over other digital agencies– they understand customer psychology and know how to grab the audience's attention best.
Highlights
Digital Marketing Services
Website Design Services
SEO Services
Social Media Marketing & Management
Design & Copy Writing
E-commerce Development
Customer Reviews
Here is a review left by a very satisfied client:
"The Account Servicing was really impressive and I had Gio regularly speak to me and go over various rounds of changes with me. They produced a great looking site for my skincare launch and I have enjoyed working with their team and would be happy to recommend them to you for your future services."  – Sandra Yeo
13. Lean Metrics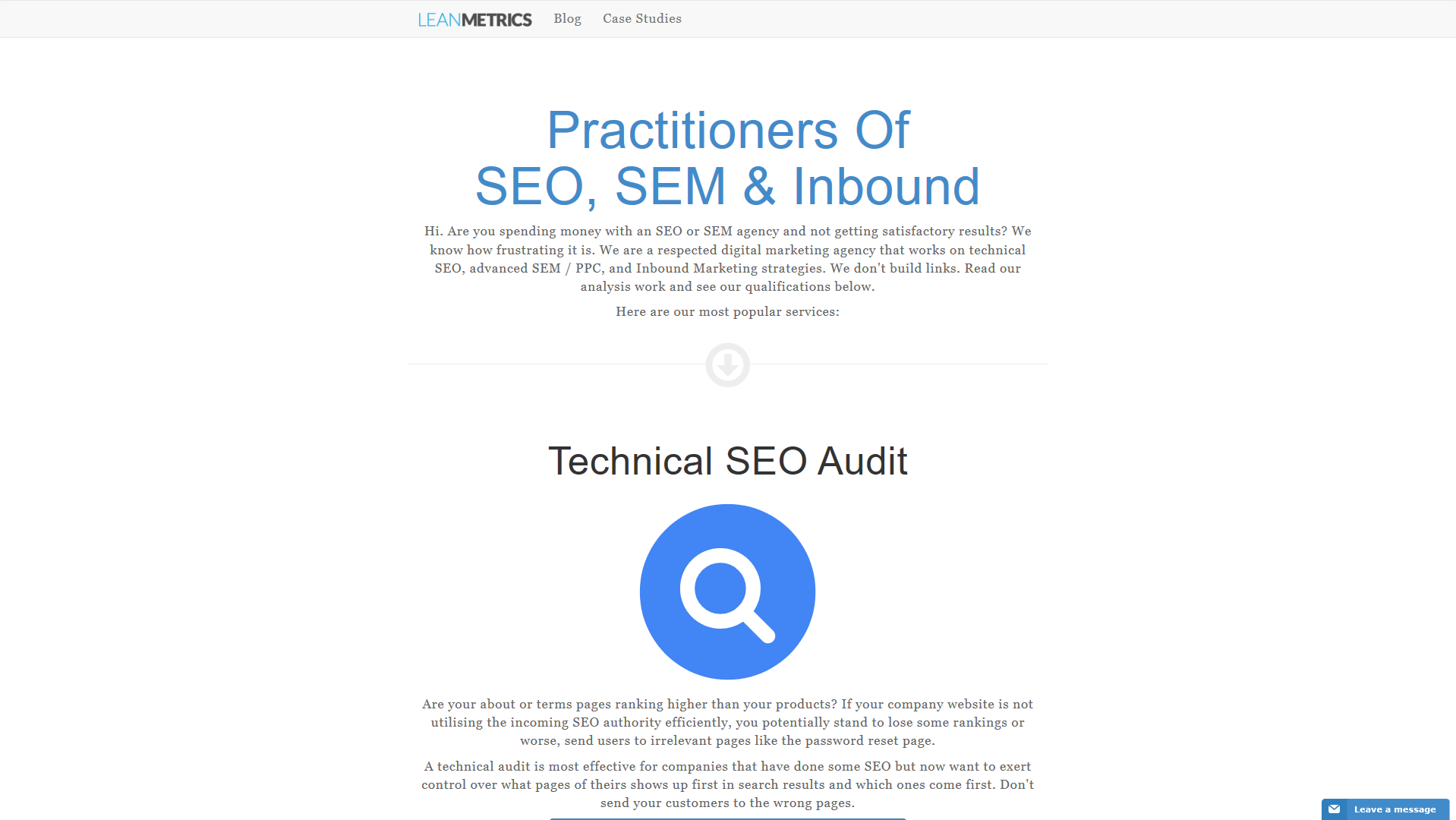 | | |
| --- | --- |
| BEST FOR  | Digital Marketing & Web Design |
| WEBSITE | https://leanmetrics.io/ |
| ADDRESS | 10 Raeburn Park, 02-08 Greenhub Suited Offices, Singapore 088702 |
| CONTACT DETAILS | +65 6631 8395  | [email protected] |
| OPERATING HOURS | 9:00AM – 6:00PM |
Known as a respected digital marketing agency, Lean Metrics offers technical SEO, advanced SEM/PPC, and Inbound Marketing strategies to their clients. They make sure that every penny spent is used wisely.
By acquiring their services, they can help drive traffic towards your site, engage the audience, and allow you to keep in contact with your market. They generate leads efficiently using data that proactively addresses the market.
They don't simply build links. They strategize and brainstorm for the betterment of their clients.
Highlights
Inbound Marketing
SEM Services
SEO Services
Customer Reviews
Here is a review left by a very satisfied client:
"LeanMetrics has been our secret weapon in helping us generate traffic for our site! The Digital Marketers  at LeanMetrics were great in responding to our question on how Digital Marketing could benefit our startup. Their fees were very reasonable but most importantly they helped us achieve our initial desired site traffic and goals!"   – Chee Man Chin
14. Best SEO Marketing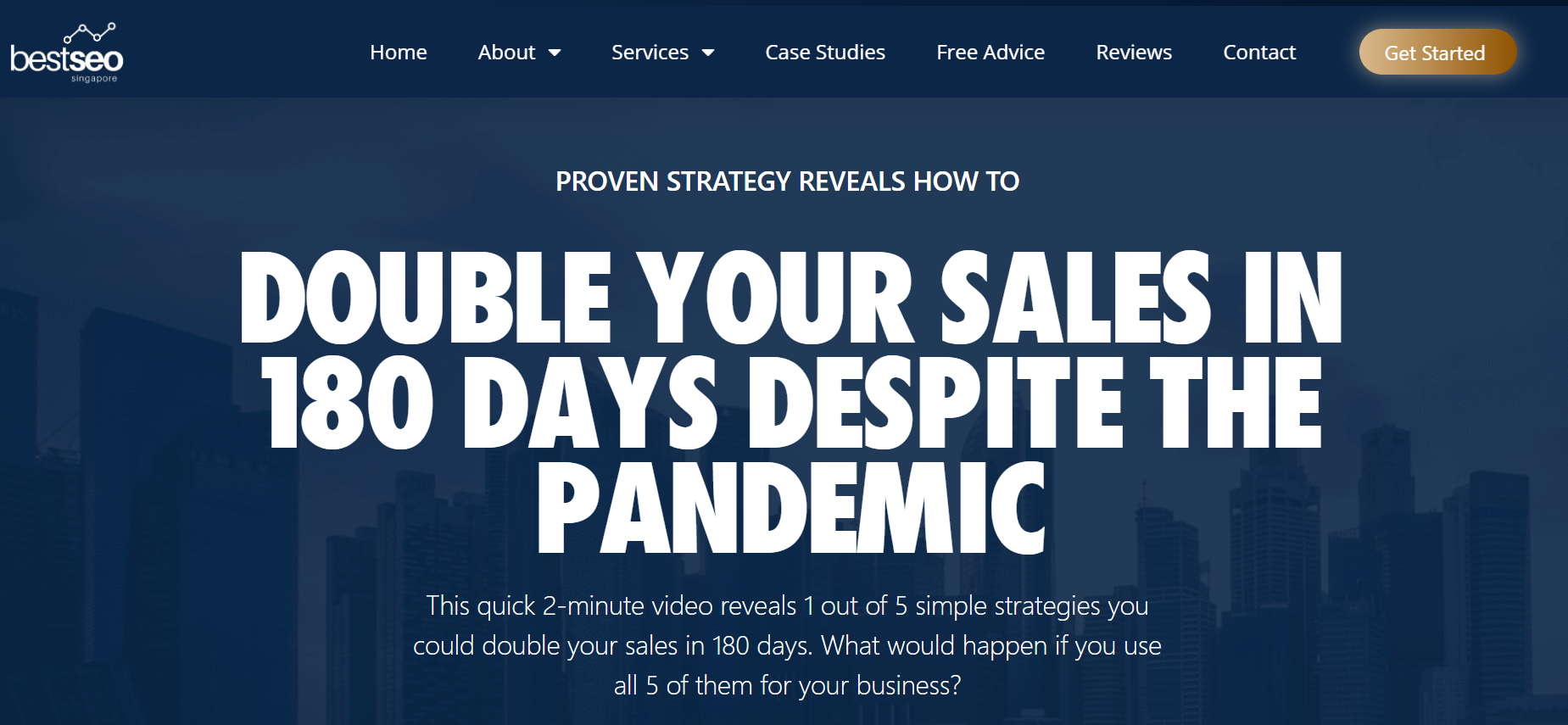 BEST FOR
Wide range of marketing services
WEBSITE
https://www.bestseo.sg/
ADDRESS
30 Kallang Place, #03-18 Singapore 339159
CONTACT DETAILS
+65 9231 3757
[email protected]
OPERATING HOURS
Monday – Friday: 9:00 AM–6:00 PM
Saturday – Sunday: Closed
When it comes to marketing services, Best SEO Marketing is, quite literally, one of the best choices. The agency has built up a name for itself in Singapore after providing aid to countless business, big and small alike.
Why do businesses favour Best SEO Marketing? Well, it's because they offer the best quality marketing services at affordable rates, making them popular regardless if one is already established or not.
It's also worth mentioning that their assistance is tailored to getting you more sales, rather than just simple leads.
Along with their SEM services, Best SEO Marketing has multiple things to offer you with it. This includes their best selling SEO, Google Ads, Social Media Marketing, and of course, maintaining positive online reputation. You may choose between their services or simply combine them all to receive optimal results while also getting a bit of a discount for the packaged deal.
Highlights
Professional and experienced marketing personnel
Impeccable services
Amazing website developer
15. Heroes of Digital

BEST FOR
Efficient Digital Marketing
WEBSITE
https://www.heroesofdigital.com/
ADDRESS
44 Kallang Place, #06-09, Four Star Building,
Singapore 339172
CONTACT DETAILS
+65 6802 3658
OPERATING HOURS
Mondays – Fridays: 9am to 6pm
Closed on Public Holidays
One of the biggest problems with digital marketing is selecting the right digital marketing method. If you use the best method for your brand, you're sure to save time and resources.
Heroes of Digital is an excellent digital marketing agency to consider for SEM, due to their data-based approach. In addition, they also use machine learning programs, which enhances their work effectiveness.
When it comes to digital marketing agencies, you deserve only the best. If you choose Heroes of Digital, they will be a reliable partner for as long as you need them.
Highlights
Google Ads
SEO
Social Media Marketing
Website Design
16. Disruptive Digital

The Disruptive Digital team dedicates itself to formulating marketing solutions that can help clients succeed digitally. Their services begin with creating strategies and end with delivery.
Disruptive Digital spends the time to consult with every client, getting to the heart and soul of the business since they believe that marketing is not a one size fits all endeavour. After consultation, they then correspond with the rest of the team to come up with a plan that can further grow the client's business.
Their wide range of services is divided into three (3) groups: Online Presence, Traffic Building, and Maximising Profits. Depending on the client's choice, these services can either build visibility and establish credibility for the brand, help the business get more sales, or improve the success of the client's marketing efforts. 
Clients who are at a loss can contact Disruptive Digital to find out more about the extent of their services.
Highlights
Transparent and honest rates
Highly knowledgeable marketing team
Adjustable services
17. WhooshPro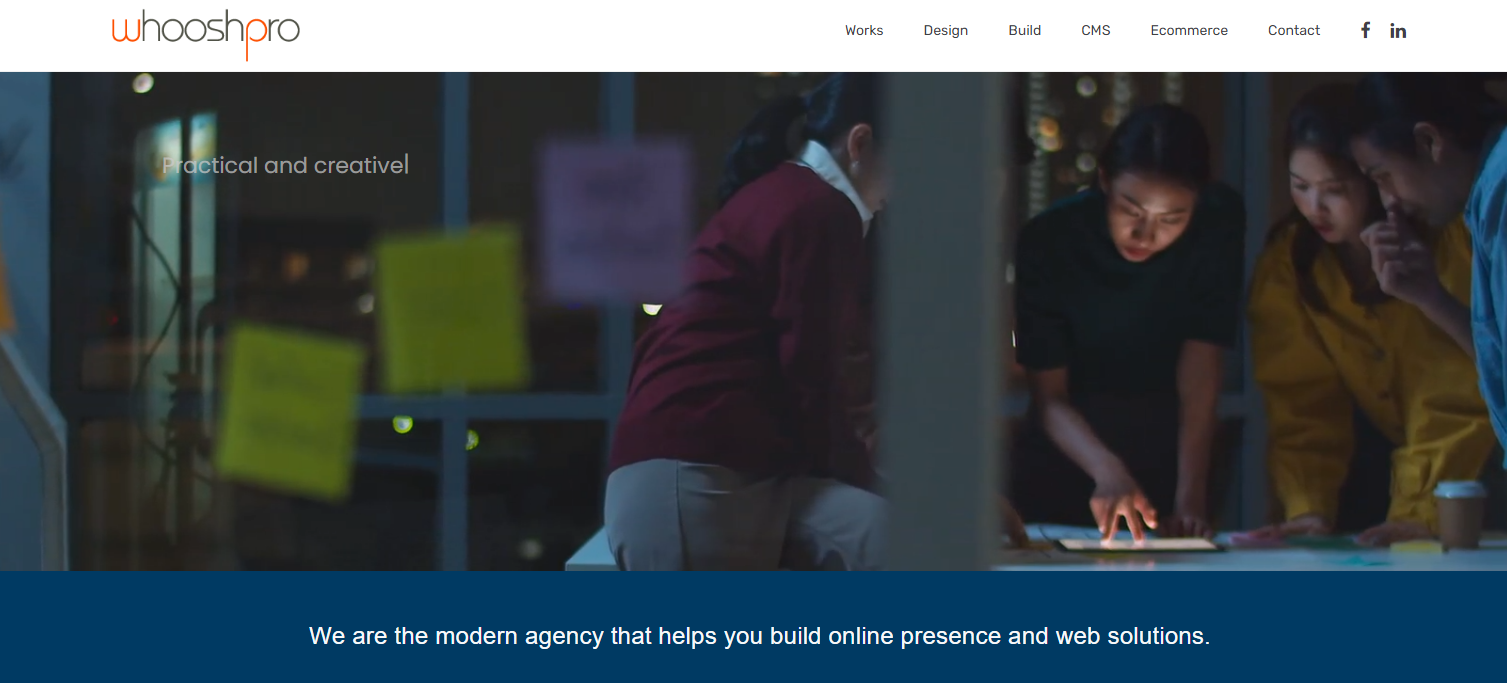 BEST FOR 
Custom web solutions
WEBSITE
https://www.whooshpro.com
ADDRESS

69 Ubi Road 1, #08-21 Oxley Bizhub, Singapore 408731

CONTACT DETAILS

Email: [email protected]

Tel: 6844 9856

OPERATING HOURS
Monday 9am–6pm
Tuesday 9am–6pm
Wednesday 9am–6pm
Thursday 9am–6pm
Friday 9am–5:30pm
It's a given that a solid brand and a formidable online presence are needed to thrive in the digital space. If you're looking for a firm that can help you build both, then WhooshPro may be the right choice for you.
WhooshPro is a modern digital design and branding agency composed of skilled individuals who excel in design, content management, marketing, and e-commerce.
The team takes the time to consult with clients numerous times, reviewing and consolidating data, learning the intricacies of company backgrounds, before formulating digital solutions most suited for specific clients.
When it comes to marketing, they offer SEO, SEM, and Email Marketing. 
While working with WhooshPro, you'll find that their services don't end once the web solution has been created. No, it continues long after since they give reliable support and maintenance to ensure continuity of the web solutions.
Highlights
Microsoft-certified partner
Custom modern web solutions
Excellent post-solution services
Great attention to detail
Customer Reviews
With a rating of 5 stars on Google Reviews, WhooshPro proves that they're professional and highly competent in their field. Previous clients wrote:
"WhooshPro is a very professional and experienced digital design agency! Perfect experience working with them! Interaction, communication and development of my webpage and blog was always flexible and on the spot. Not the cheapest but worth the quality they deliver. My high recommendation for all professionals!"

"Great experience working with the team. Quality output, attention to detail and going out of the way to provide solutions. We are absolutely satisfied with the genuine and professional service WP provided. Thank you!"
18. Outrankco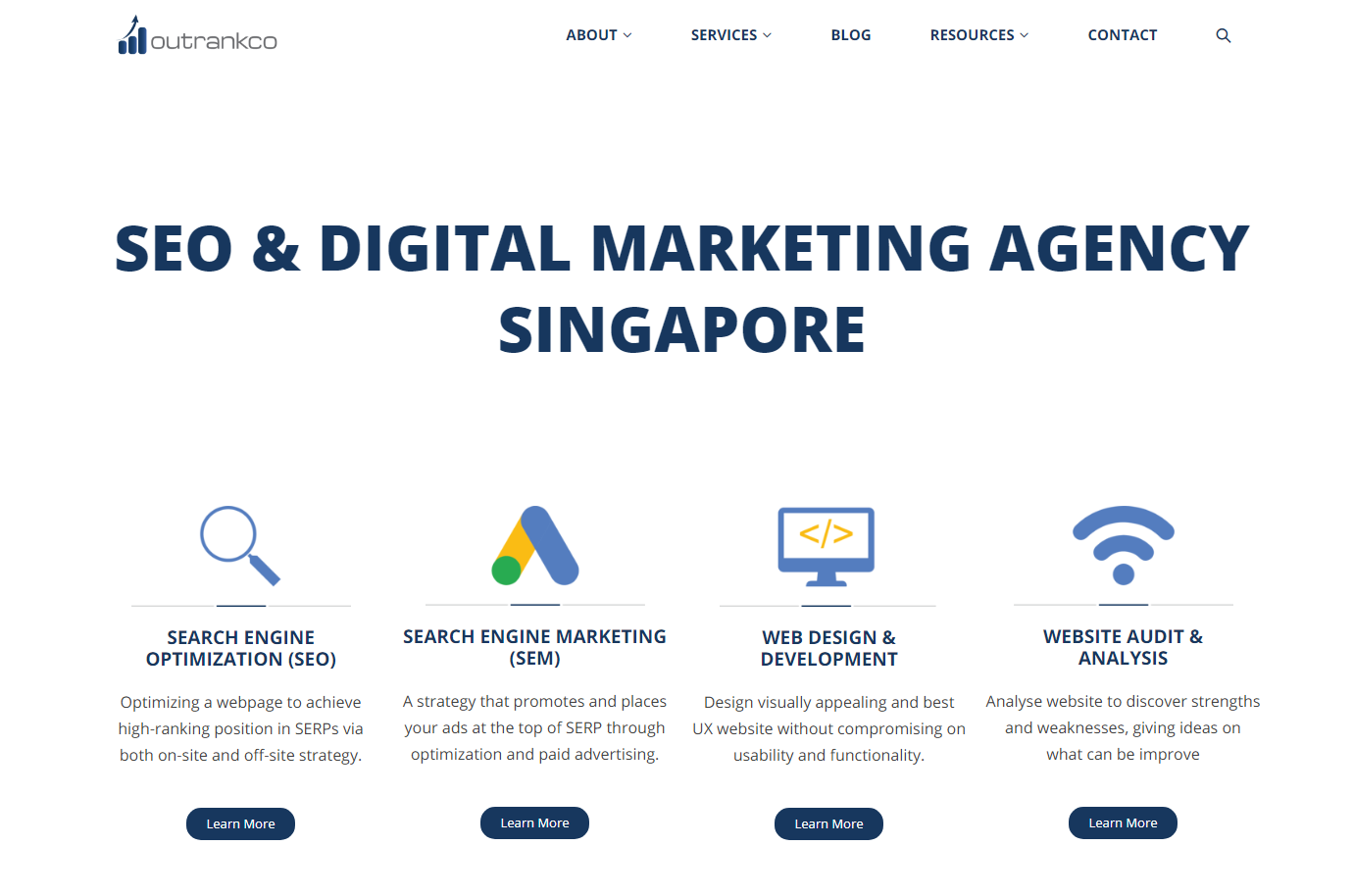 BEST FOR 
Digital marketing services
WEBSITE
https://outrankco.sg
ADDRESS

[email protected], 3 Ang Mo Kio Street 62,
#02-02, Singapore 569139

CONTACT DETAILS
OPERATING HOURS
Contact for more information
One of the leading SEO agencies in Singapore, Outrankco is known for creating custom digital solutions to bolster their clients' presence in the digital landscape.
When it comes to Search Engine Marketing and Search Engine Optimization, Outrankco strives to formulate solutions that can get client websites to the front page of Google search. 
They're highly communicative and transparent in every job they take on. Not only that, but they go above and beyond to ensure their clients' online growth. 
Highlights
Custom-fitted digital solutions
Money-back guarantee services
Customer Reviews
Learn more about what Outrankco has to offer through these testimonials:
"Initially we are very reluctant to spend more for another SEO service. Had been cheated before, and the SEO agency claim that they will rank us. But in the end, no rank then they just stop collecting payment from us and say will keep doing till we rank, and no news after that. For Outrankco, the reason we use them is that they provide a money-back guarantee for their SEO service and that is something that makes us feel confident to go with them. In the end, we are not disappointed. Special thanks to Hanwei. He is super responsive. As we are not really tech-savvy, whenever we got questions, he will explain to us patiently and make sure we understand the concept. Definitely recommend using their service."
"The SEO services provided by Outrankco SEO agency prove to be beneficial to our business. We experience a dramatic increase of web traffic to our website, and more importantly, the amount of qualified leads increases too. Chris is easy to work with and he is very informative and well-prepared."
19. Wiz Marketing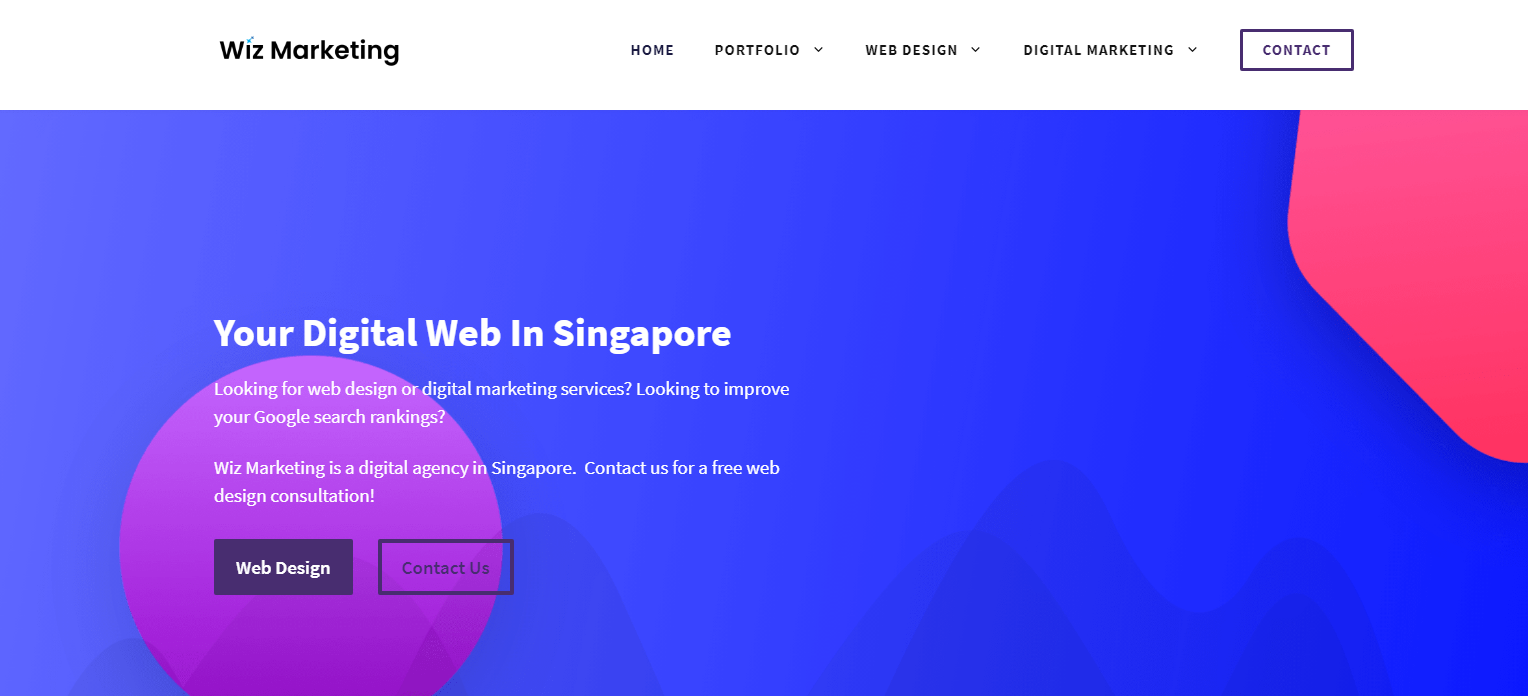 | | |
| --- | --- |
| BEST FOR  | Digital marketing and web design |
| WEBSITE | https://www.iwizmarketing.com |
| ADDRESS | 17 Phillip Street, Raffles Place, Singapore |
| CONTACT DETAILS | |
| OPERATING HOURS | Contact for more information |
Wiz Marketing is a humble digital marketing agency in Singapore that specialises in both marketing and website design.
Despite being smaller than other agencies, Wiz Marketing has proven its worth by consistently delivering results to their clients. Their digital marketing services, which include SEO, SEM, Facebook marketing, and online reputation management, have helped clients grow continually, allowing the brands to extend their reach in the digital landscape.
It's very much the same for their website design, which includes regular websites as well as eCommerce pages. Wiz Marketing always takes the time to get to know each client, diligently noting down what makes their brands unique, before setting forth and crafting digital solutions that can boost their presence online. 
Highlights
Contacts clients within two working days
Extensive digital marketing and web design services
20. Sojern

BEST FOR 
Travel and Tourism
WEBSITE
https://www.sojern.com/
ADDRESS

9 Raffles Place
#17-02/03 Republic Plaza
Singapore 048619

CONTACT DETAILS
OPERATING HOURS
Contact for more information
Sojern is a leading digital marketing platform built for travel marketers.
The firm's vision? To become the #1 travel marketing platform in the market.
Sojern endeavours to achieve such a feat with the help of artificial intelligent and traveler intent data. Powered by both, the firm activates multi-channel marketing solutions to drive direct demand.
Seeing Sojern prove its prowess in the online space, thousands of hotels, attractions, tourism boards, and travel marketers rely on Sojern annually to engage and convert travelers around the world.
Aside from its digital reach, Sojern is also particularly noteworthy because of its multinational level. The firm has grown so much thanks to constantly delivering results, which has also led to the need to establish multiple bases around the globe.
These bases make it easy for clients to reach out to Sojern regardless of the continent they are in. If you're interested in working with an exemplary and highly accessible digital marketing platform that specialises in travels, then Sojern may be the one for you. 
Highlights
Multi-national digital marketing firm
Specialises in travel and hospitality
Highly accessible
And that's our list of the best SEM agencies in Singapore! Did we miss out on other great marketing agencies? If so, then let us know more about their services as we may also include them on our list.
But if you're not really familiar with digital marketing strategies, see these best advertising agencies in Singapore. They make online marketing easy and help your business stay competitive.
21. AUN Global Marketing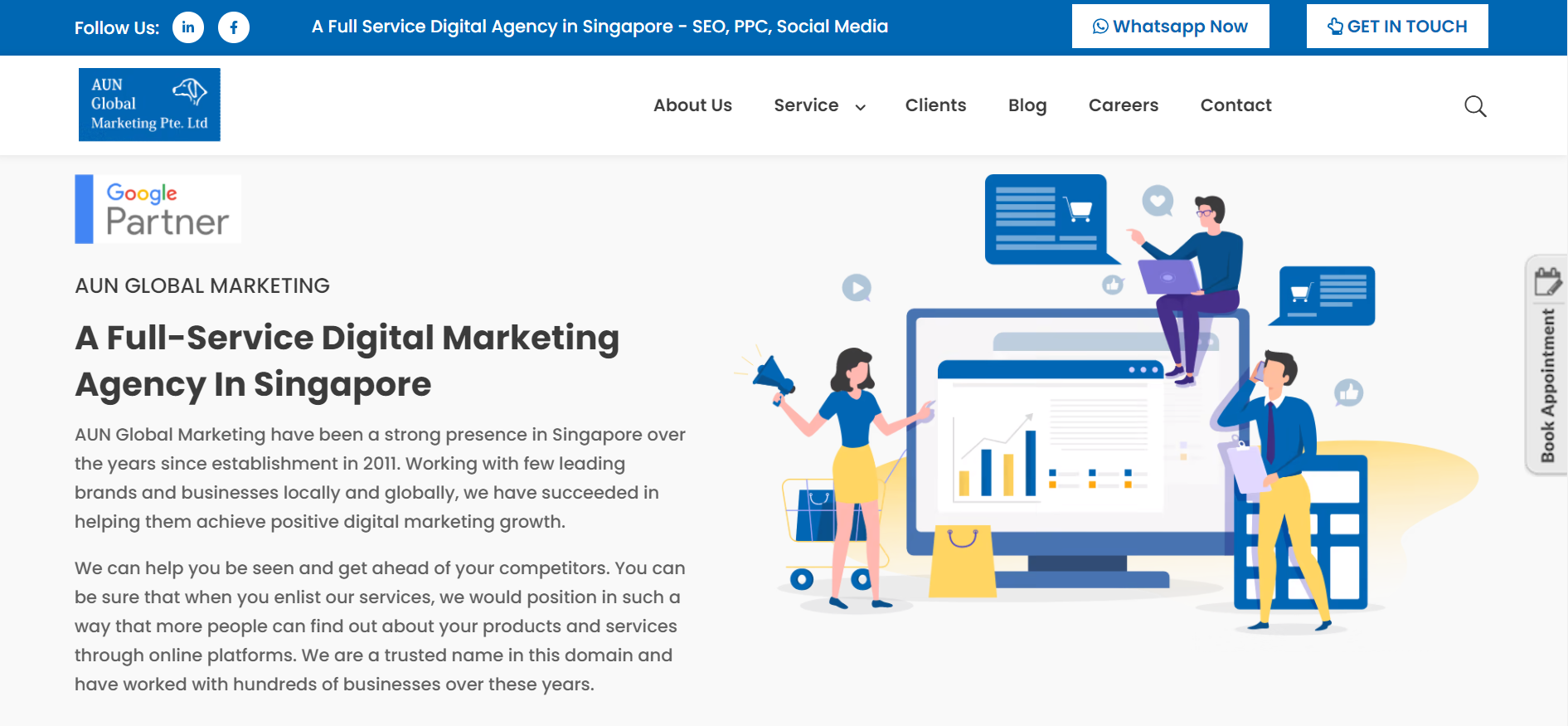 AUN Global Marketing first began its endeavours in Singapore in 2010. However, the company has been operating since 1998, with their headquarters in Tokyo, Japan.
Throughout the years, they have expanded rapidly throughout Asia, helping countless companies along the way. These days, they have regional offices in Thailand, Taiwan, Hong Kong, Philippines, and Vietnam.
In 2005, a few short years since they first started, AUN was first listed in the Tokyo Stock Exchange Market (JPX: 2459). It made them one of the few publicly listed companies in the world that specialises in Digital Marketing and Search Engine Marketing.
22. Adssential Marketing

Adssential Marketing has one goal: To help your brand be seen by your target market. Using their Digital Marketing Tools and Website Development, they will put you on the fast track to brand visibility and business success.
Their team of professionals is well versed in SEO, Website Development, and Analytics Marketing. They stay on their toes when it comes to trends– their knowledge and adaptability allows them to quickly identify what currently sells.
With their services, you can easily get ahead of other competitors in your market by pinpointing the audience that is right for you.
Highlights
Search Engine Optimization
Search Engine Marketing
Social Marketing
Website Creation
Customer Reviews
Here is a review left by a very satisfied client:
"Amazing group of digital marketer offering beyond their job scope to enable us to be digitally seen. They are willing to provide helpful tips to help us improve on our rankings."   – Hong Yew