The 8 Best POS System in Singapore
Throughout a stressful day of dealing with countless customers, have you ever experienced some calculation errors in your transaction accounts? If you have, then it's time for you to get the best POS system in Singapore that can help you manage all payments and other operations with an automated system.
Taking orders as well as monitoring inventory are complicated tasks that can be especially susceptible to calculation or documentation errors. An excellent automated management system can reduce the chances of such errors occurring, besides also reducing your work.
Take a look at our list of the best POS systems in Singapore to find out how they work and which features cater to your business needs.
1. Revel Systems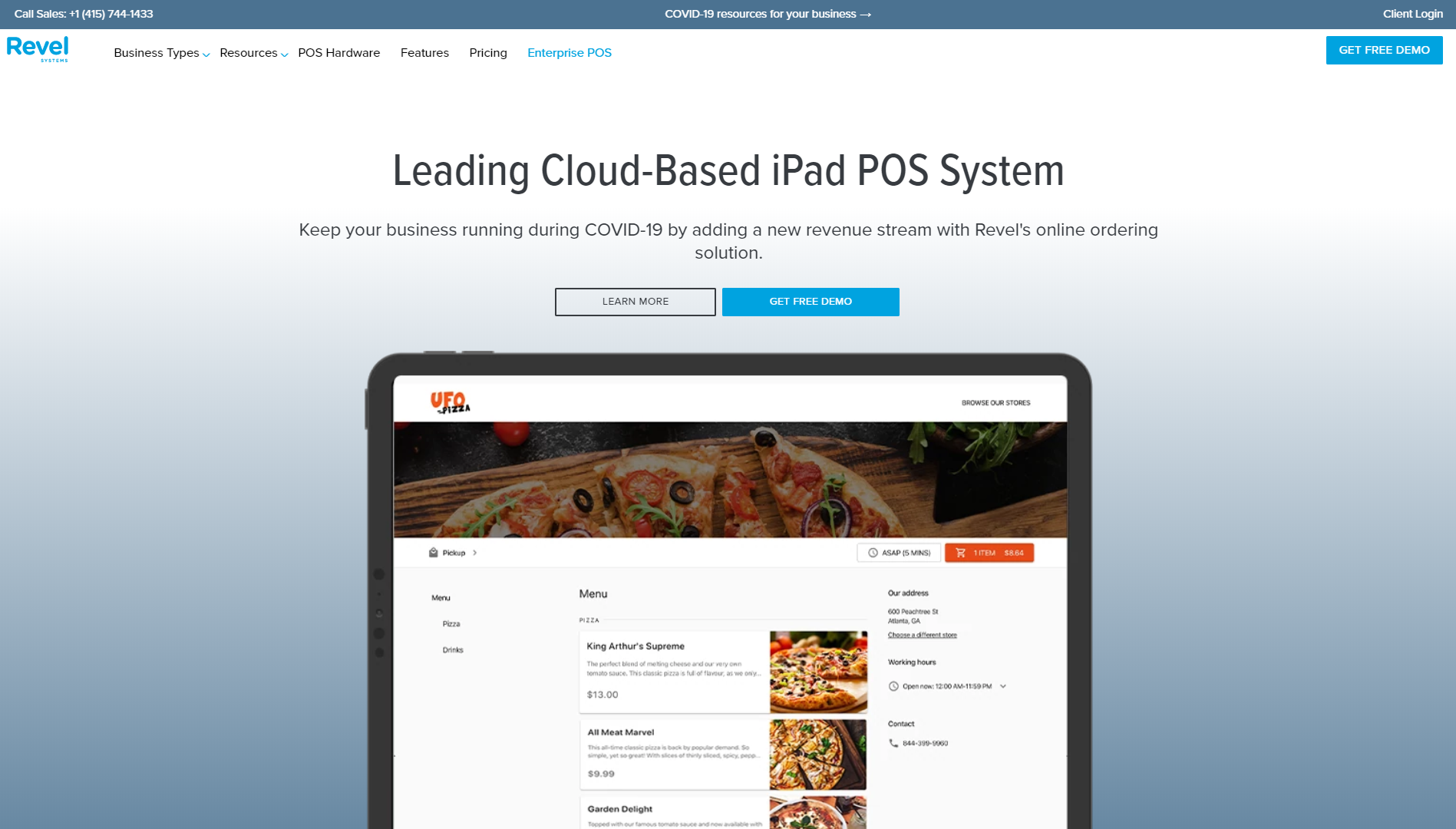 Revel Systems offers the best POS systems for quick service and food-oriented businesses. Their iPad POS system is designed to provide fast transactions, data security, and comprehensive operational management.
Many leading businesses use Revel Systems for a good reason– its intuitive design makes customers transactions and employee training a breeze. It can also aid your business decisions by collecting real-time data and detailed analytics.
Revel Systems' POS system is a platform that will help your business grow immensely and will adapt to it too. This innovative technology has many more features you can use and tailor to your own business. Contact them now and avail of their free demo.
Highlights
Free demo available
Real-time insights
Customisable technology
2. OpenPOS Square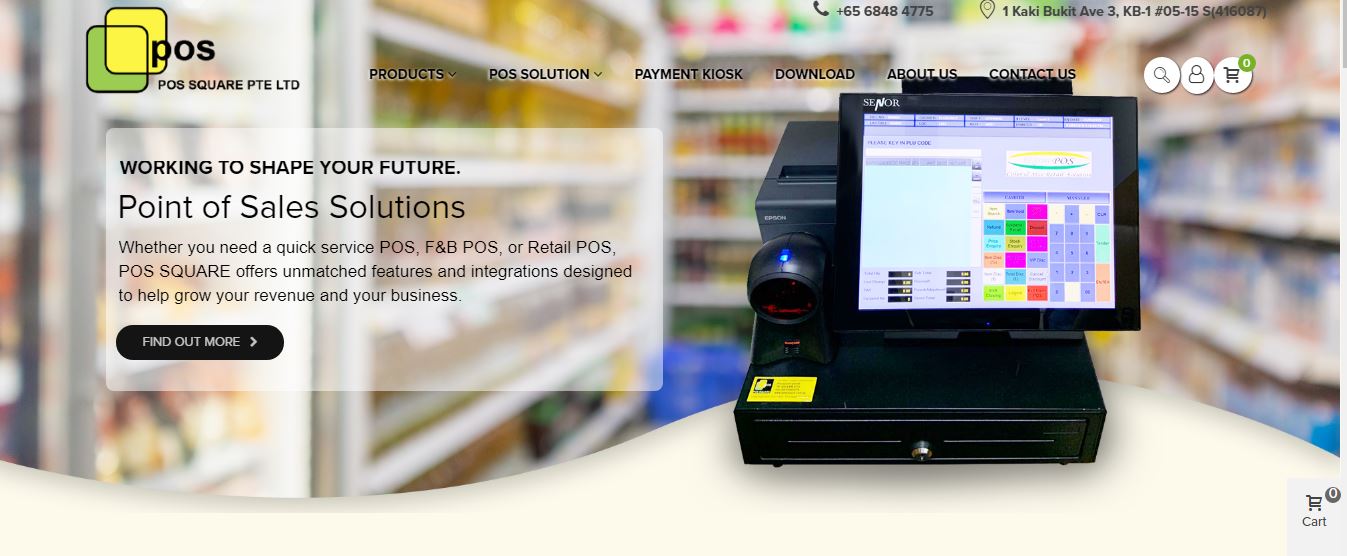 POS Square is one of the most-mentioned management systems when it comes to handling major client-customer transactions.
It features a user-friendly platform where you can manage back-office operations, product and sales inventory, audit reports, and more — all on a single platform.
It also comes with a reporting package, staff and member management, and supported hardware and installation. All of the operations done on the system are fully secured with top security protection.
Highlights
Customisable settings
Direct database for printing
3. Shopify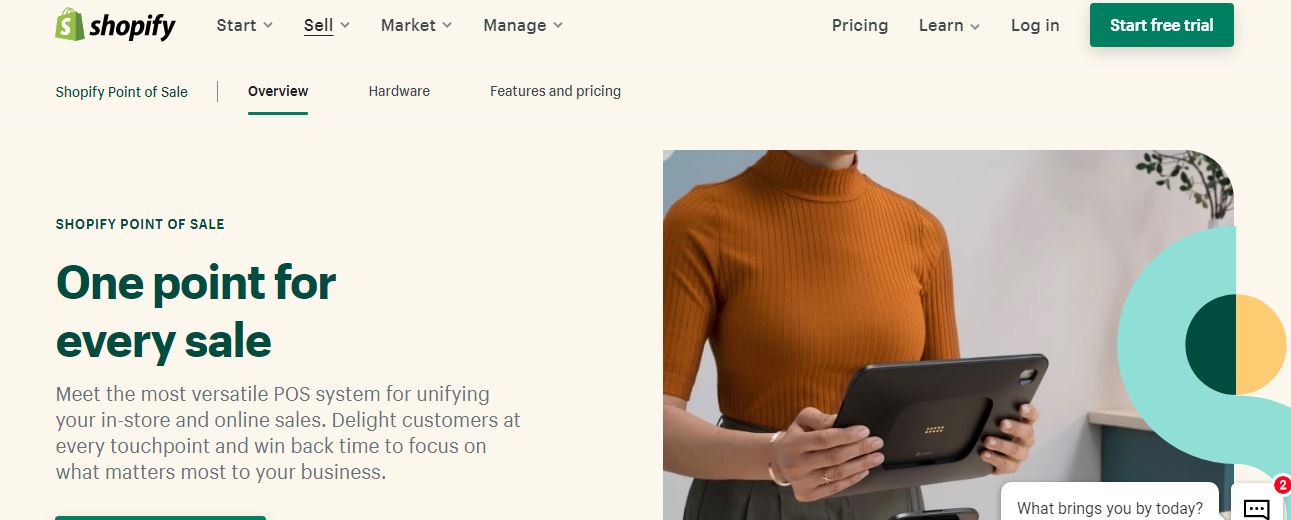 For online retail shop owners, Shopify can be the best POS system in Singapore for you! This versatile system provides unified reports of both offline and online sales and manages inventory as well.
It also provides faster transactions for major operations so you can save time and effort and focus on your business. It's also accessible on all devices, so you can be updated on all business transactions even when you're on the go.
To provide an efficient customer experience, you can let them create their profiles with this system. You can also include a loyalty programme, refund and exchange policies, and even flexible checkouts.
Highlights
Customise discount codes
Inventory and transfer management
Compatible with existing hardware
Customer Reviews
Many shop owners have found Shopify to be one of the best POS systems in Singapore that they've ever used. They said that this is because of its organised and well-managed database.
Here's feedback from one of its users:
"Shopify POS and the back-end reporting has helped us analyze our business in a way that we couldn't before. To have one POS system where every aspect of the store is put together has been helpful."
4. TouchBistro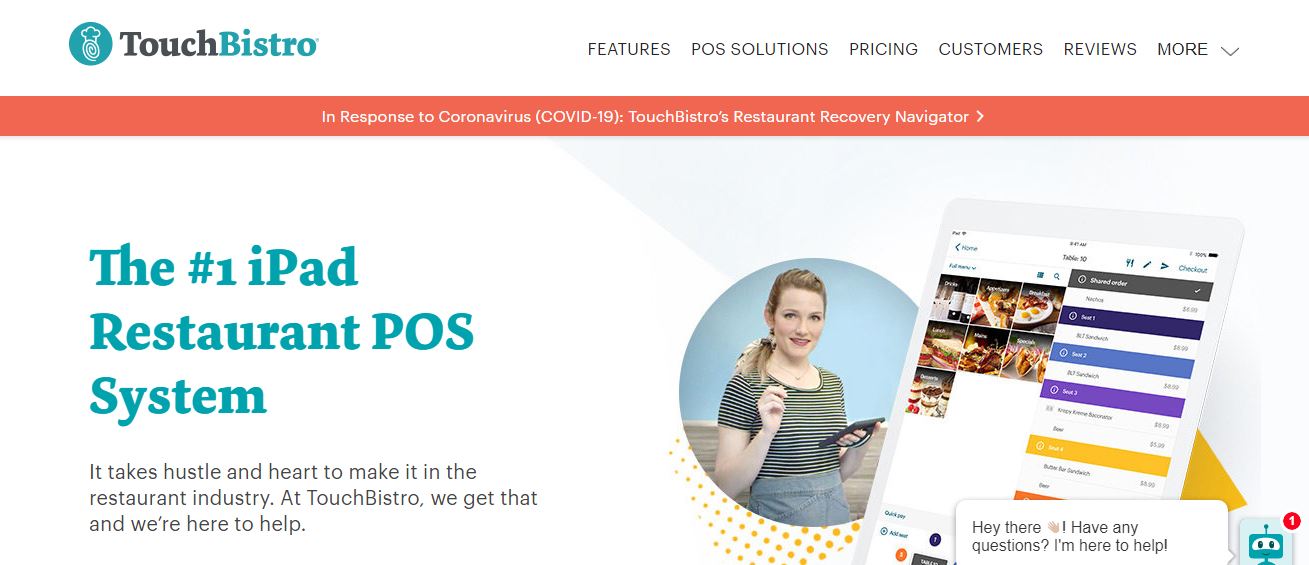 TouchBistro is the best POS system in Singapore for all restaurant owners due to its features such as menu and table management. With this platform, you can have hassle-free operations and convenient management of all transactions.
It's designed for entrepreneurs, staff, and customers. This award-winning solution can help you set up your menu within the system, take orders, present the current best-selling menu items, and let your customers change their chosen meals through a smart self-ordering Kiosk.
Highlights
Menu and table management
Self-ordering Kiosk
iPad POS system
5. ShopKeep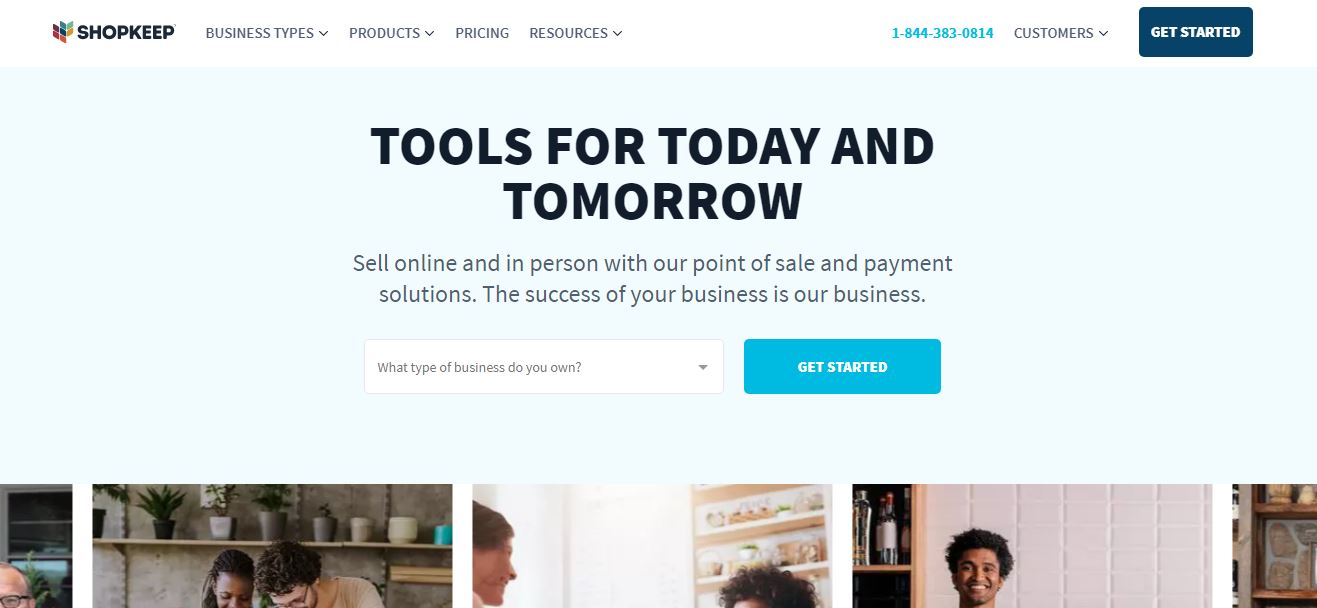 ShopKeep is another iPad POS system that's built with a simple yet powerful interface where you can easily manage real-time sales inventory, stock management, reporting, and many more!
It's one of the best POS system in Singapore for those who have a small business. It features competent point of sale and payment solutions that'll help grow your business and take it to greater heights.
The best thing about this platform is that you can have a customised bundle to enhance the time-efficiency of your business.
Highlights
Bookkeeping
Employee time tracking
Customer data management
built-in payment solutions
Customer Reviews
Many users loved the overall features of ShopKeep and praised its easy-to-use system. A business owner posted this feedback:
"I've used ShopKeep for a little over 3 years. I love how easy it is to use the system and train new employees. My workload is so much lighter."
6. Lightspeed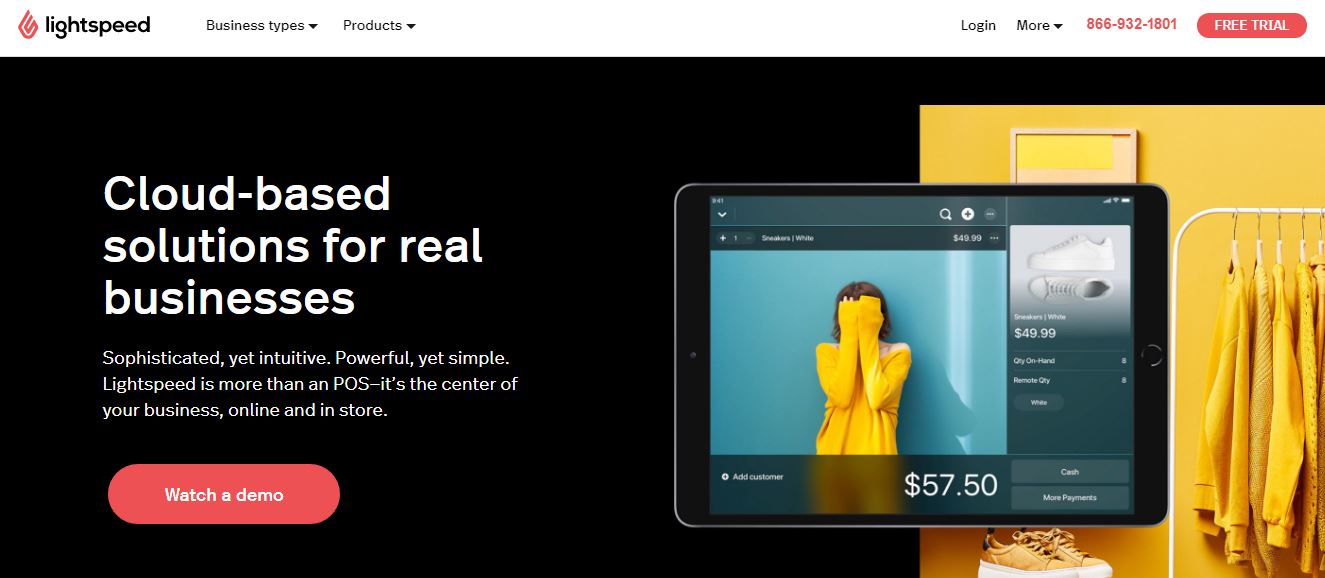 Lightspeed offers a powerful cloud-based business solution designed with a minimalist interface where you can keep track of your in-store and online sales. Whether it's for retail or restaurant businesses, this best POS system in Singapore consists of features tailored to your business needs.
It's also the perfect choice for those who own several outlets across the island, for it can manage multiple stores and even menus with a highly organised platform.
Highlights
Full-featured offline mode
Integrated marketing tools
Customer Reviews
Due to its advanced features and impressive capability to manage multiple sales records, Lightspeed has earned the trust of many business owners.
A client wrote this review:
"Le Trunkshop is boosting loyalty, streamlining workflows and making better business decisions with Lightspeed POS systems."
7. iCHEF F&B POS
After encountering problems with POS vendors in the past, iCHEF has decided to create a smarter and more flexible POS system that can assist the workflow of a restaurant. They created it to be user friendly, something that will improve a restaurant's operations greatly. Because of this, they are recognised by critics as The Most Awarded POS Design.
iCHEF is a pre-approved vendor under Enterprise Singapore's PSG (Productivity Solutions Grant) so customers can save up to 80% on packages and IMDA's Digital Resilience Bonus (customers can get $2500 bonus under Category 1 – Digital Ordering if they meet the qualifying criteria).
Being frustrated with the present POS systems ignited their passion to help others with their respective POS Systems. Their mission is to make running a restaurant easier, so that you can better focus on thinking of new ideas to grow your business. By acquiring their services, they hope that you will be able to work towards creating your ideal restaurant.
Highlights
Planning and Installation
Free Monthly Training
On-site Support
8. IRMCS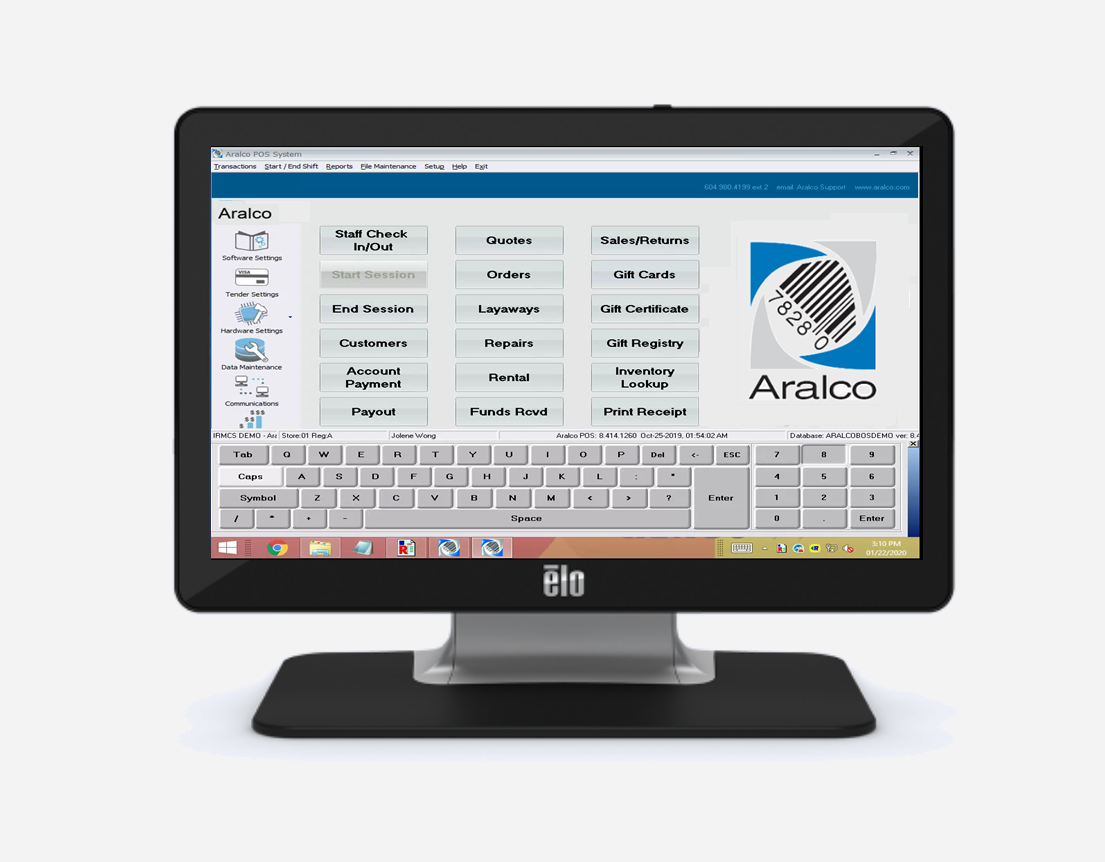 | | |
| --- | --- |
| BEST FOR | Real-time Retail Store, Inventory Management, CRM & POS Systems |
| PRICING | One-time license fee – quote available after requirement gathering |
| WEBSITE | www.irmcs.asia |
| CONTACT DETAILS | +65 62728700 or [email protected] |
At IRMCS, we understand your business needs. Our user-friendly multi-channel retail software systems from Aralco enables you to tackle business challenges quickly, accurately with real-time data.
Aralco Retail Systems accommodate a broad range of business requirements making it ideally suited to a large variety of POS applications – it delivers extraordinary powerful features retailers and their employees need to streamline every work process to improve productivity and efficiency so that they have more time to engage customers deeper.
Retailers and their customers will also benefit from seamless processing at the POS enabled by Aralco's rich features that give cashiers the agility and flexibility to complete every transaction quickly.
Let us partner with you in creating a feature-rich and integrated management software solution for your precise business needs.
Highlights
Robust, powerful and feature-rich software
Scalable and fail-safe systems
Unlimited database size
Multi-channel capability
Real-time data query, processing and analytics
Secure data communication architecture
Centralized database server and controls
Monthly software update and enhancements
Customer Reviews
Here are some reviews from satisfied clients:
"With over 20 stores and counting, having Aralco retail software system with the functionality for multi-store and multi-location is an asset to streamline our business"
"We had lots of limitations with our previous POS on features, file sizes, and reports – it was not real-time and we had to do batching every day which was very cumbersome.
Ever since we changed to Aralco in 2015, our team has seen lots of improvements allowing us to stay on top of everything, from the back office to our retail space. I would strongly recommend Aralco Retail Systems because it is always evolving to meet our new challenges."
"Finally, a system that does what it says it is going to do! Aralco Retail System is very easy to use, but some parts require a certain competency."
And that's our list of the best POS systems in Singapore! Have you already tried one from our selected platforms? If so, then tell us about your experience as we'd like to know more about its features.
Also, if you'd like to explore more business solutions, you may see these best Singapore IT companies. They specialise in software development, cybersecurity, and more comprehensive solutions!