The 25 Best Singapore IT Companies
As a business owner, have you ever experienced delayed transactions, disorganized records, negative customer feedback, and other hassles? If you have, then it's probably the time to upgrade your management system, switch to digital platforms, and look for the best Singapore IT companies to help you.
The best IT companies in Singapore can give you a strategic, efficient, and responsive management system. That can make the admin work easy and accessible — allowing the creative professionals to focus on priority projects.
Therefore, with a team that can build functional platforms and provide IT support services, you can achieve higher performance.
Don't know where to start looking for an IT company? Take a look at our list of the best Singapore IT companies that offer different kinds of development services.
1. TechTIQ Solutions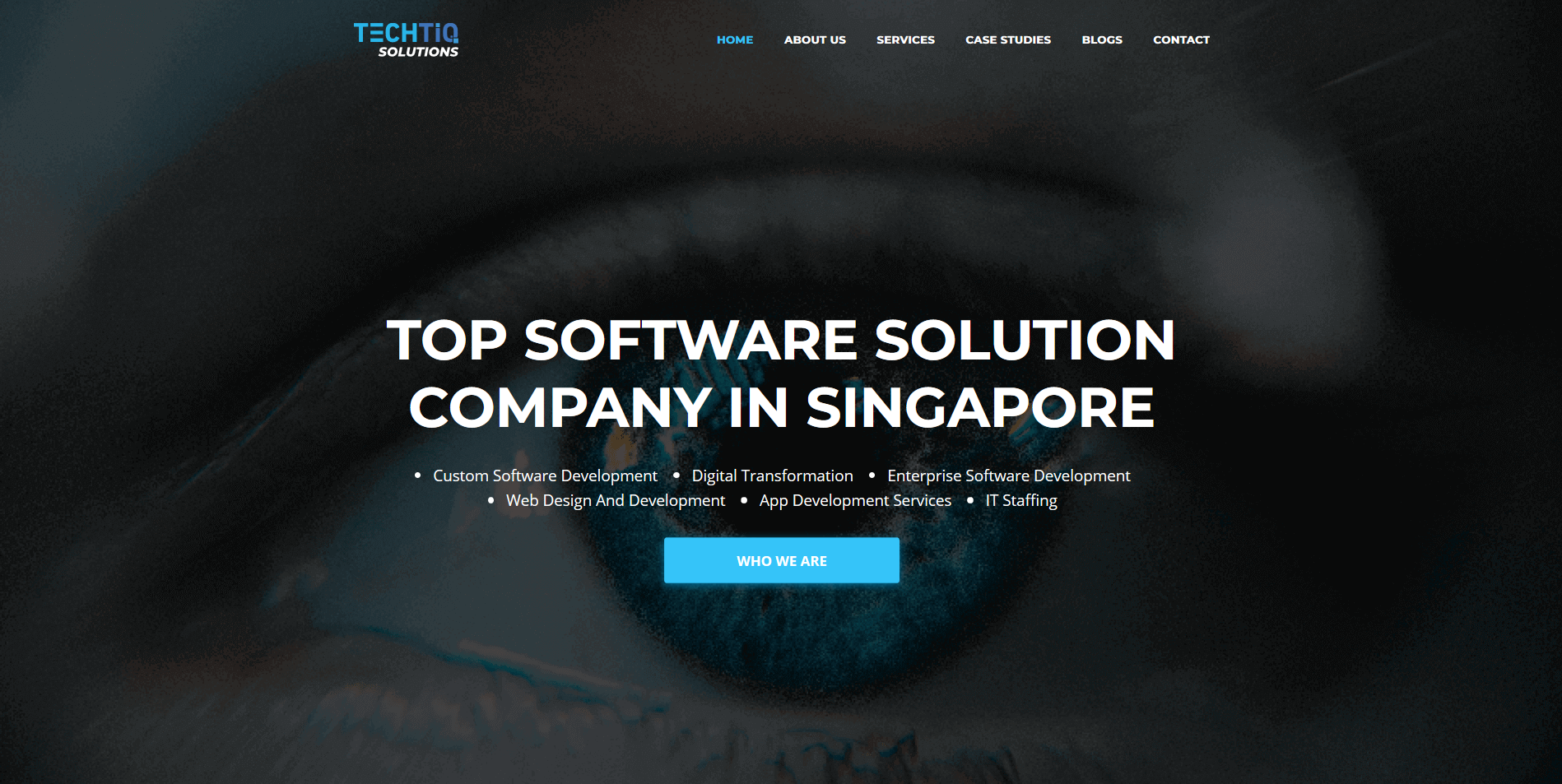 | | |
| --- | --- |
| BEST FOR  | Digital Transformation Services |
| SERVICES | Custom Software Development, Digital Transformation, Enterprise Software Development, Web Design And Development, App Development Services, IT Staffing |
| WEBSITE | https://techtiqsolutions.com/ |
| ADDRESS | 22 Sin Ming Lane, Midview City, #03-78 Singapore 573969 |
| CONTACT DETAILS |  (+65) 8251 0251  | [email protected] |
TechTIQ Solution's comprehensive digital transformation services will help your business deliver prolific results. Their engineers and analysts will ensure that your strategies are effective and efficient, producing outcomes like reduced operational costs, enhanced customer engagement, and increased revenue.
They aim to bring cost effective digital solutions to customers who have a tight budget– more businesses will have better engagements with their customers and experience better growth in this digital era.
TechTIQ Solution also offers consultancy services, leading to better client satisfaction. They believe that businesses should continue to focus on what they do best when serving their customers, instead of getting bogged down by the details of digital transformation.
Highlights
Software Development
Application Development
Website Design
Customer Reviews
Here is a review left by a very satisfied client:
"Working with the Techtiq team has been an amazing experience. The project was delivered a week earlier than expected and all deliverables were over and beyond my expectations. Techtiq is the future of web and mobile development."
2.  Apixel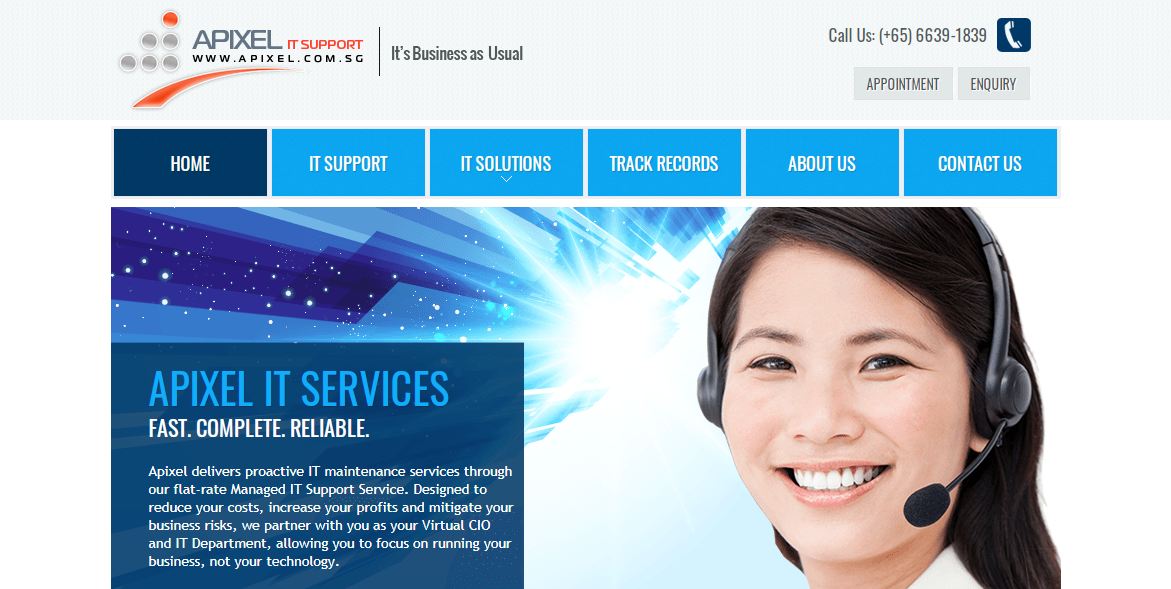 BEST FOR 
Full range of IT support services
SERVICES
IT setup for new offices , small business server, data security and theft prevention, backup systems, solutions
WEBSITE
https://www.apixel.com.sg/
ADDRESS
10 Marina Boulevard #39-01 MBFC Tower Two Singapore 018983
CONTACT DETAILS
(+65) 6639 1839 |

[email protected]

OPERATING HOURS
Weekdays: 8:30am–5:30pm

 

Saturday: 8:30am–12:30pm
Searching for the best Singapore IT company that provides cost-effective solutions and that can completely replace an in-house IT department? If so, Apixel is a great choice for you!
They offer a one-of-a-kind managed IT support package consisting of inclusive and reliable services such as onsite and remote tech support, communications support, technology procurement, and more.
They're also equipped with a well-experienced team that can provide immediate assistance and resolutions. In short, they're one of the best IT companies in Singapore.
Highlights
Network support and management
Server support
IT asset management and documentation
Data recovery services
3.  IT Block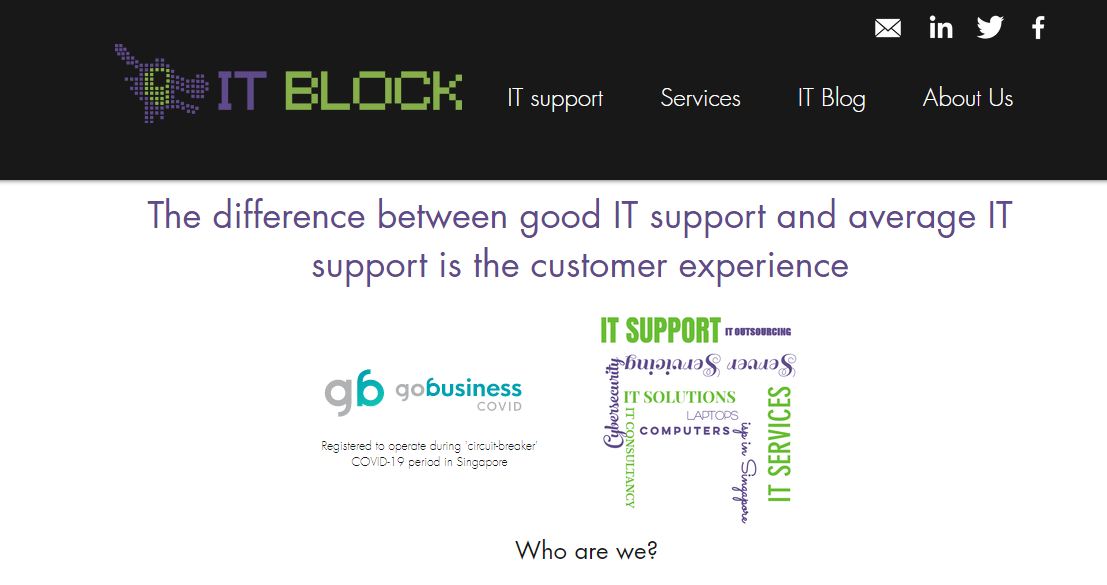 | | |
| --- | --- |
| BEST FOR  | Startups and small to medium business scale |
| SERVICES | IT support, outsourcing, consultancy, and solutions |
| WEBSITE | https://www.itblock.sg/ |
| ADDRESS | 49 Joo Chiat Ln, Singapore 428106 |
| CONTACT DETAILS | +65 6972 9314 |
| OPERATING HOURS | Weekdays: 9am–5pm |
For the owners of startups or small-to-medium businesses, you can find the best customer-centric platforms at IT Block. They offer a vast range of managed services that strive to improve customer experience, simplify workflow, and boost performance.
From an office IT setup to SEO research services, they have everything you need to build a strategic system, increase your brand presence, and maintain good customer relations. This includes 24/7 IT support, email administration, server maintenance, etc.
Highlights
Network and cloud administration
Vendor management
Cybersecurity services
Disaster recovery
Customer Reviews
Most clients have recommended the reliable services of IT Block which is why they've become one of the best Singapore IT companies for business owners.
A client posted this review:
"Great service, very professional and exceeded our expectations. Not only did IT Block fix our IT related problems upon request, they took the initiative to evaluate and identify other problematic areas, and taught us how to solve them. Will recommend them to anyone."
4.  Dynatrace

| | |
| --- | --- |
| BEST FOR  | Software development |
| SERVICES | System monitoring, performance management, digital business analytics |
| WEBSITE | https://www.dynatrace.com/ |
| ADDRESS | #37-02 Raffles City Tower 250 North Bridge Road Singapore 179101 |
| CONTACT DETAILS | +65 3159 0544 |
When it comes to developing digital platforms, you can rely on the all-around development services of Dynatrace. They create innovative software designs that provide efficient management for every industry.
This award-winning company is known for their software intelligence platform. It's an AI-powered platform that consists of hybrid cloud, wide network, updated events and logs, managed transactions, and more.
Highlights
Multi Cloud environments
Real-user monitoring
Accurate conversions
Customer Reviews
Clients shared that they've seen a significant growth in their business performance because of the offered solutions of Dynatrace. This is why they've been named as one of the best Singapore IT companies.
A client gave this feedback:
"Dynatrace's automated deployment capabilities made rolling it out quick and easy. Previously this might have taken a sprint cycle to deploy, but with the one agent approach we got up and running within a day."
5. KG Sowers Group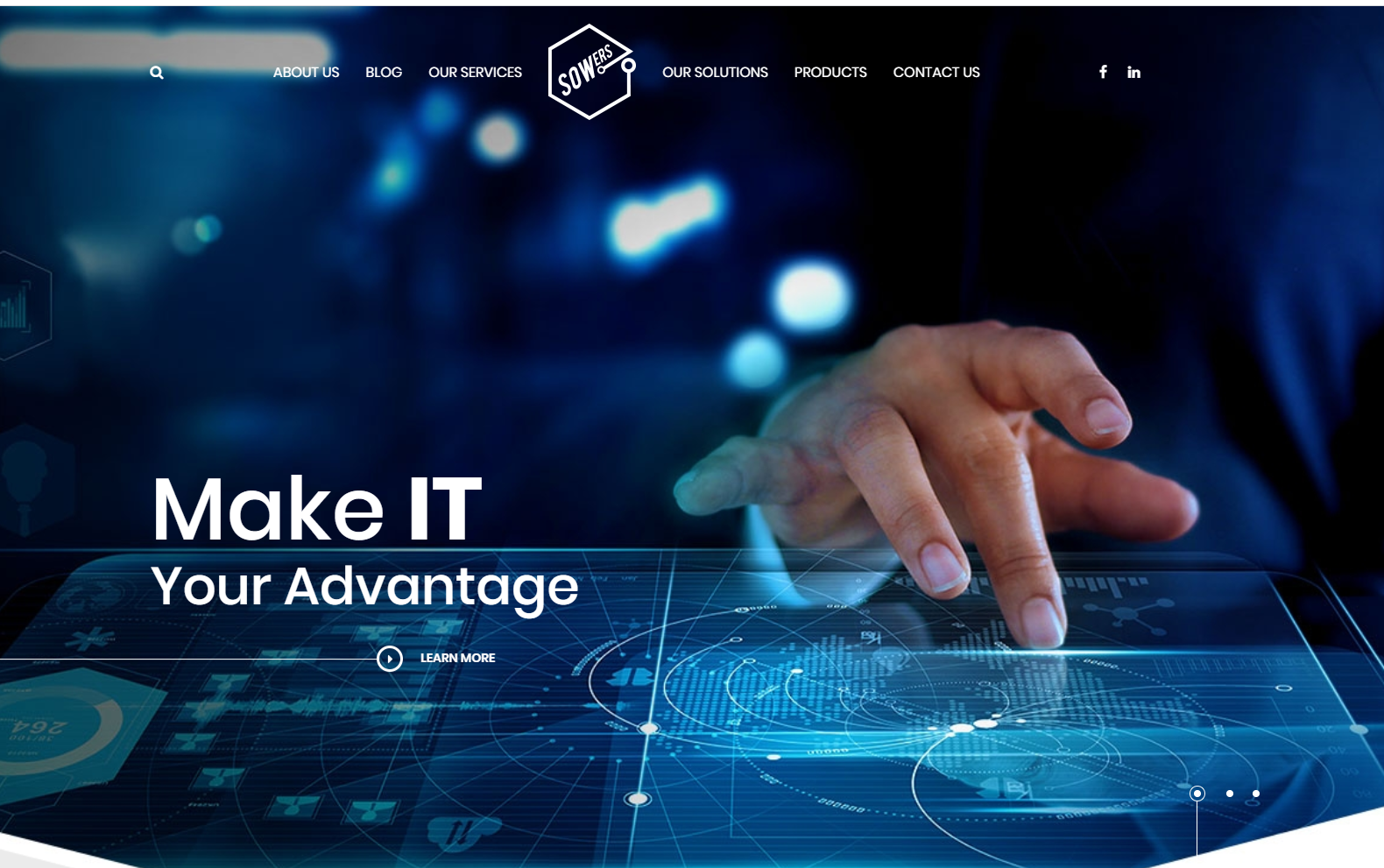 | | |
| --- | --- |
| BEST FOR  | IT Professional Services |
| SERVICES | IT Infrastructure, IT Equipment Rental, Backup Power Solutions, IT Asset & Data Management, Premises Security, Telephony Solutions |
| WEBSITE | https://www.sowers.com.sg/ |
| ADDRESS | 3 Ang Mo Kio Street 62, #08-33, Link @ AMK, Singapore 569139 |
| CONTACT DETAILS |  (+65) 6250 2083  | [email protected] |
KG Sowers Group is an IT professional service company. Their team of experienced personnel is commited when it comes to bringing efficient solutions to their clients.
To be recognised as a premiere IT service company, their main goal is to propel today's business into better productivity in the future. They also aim to train and supply IT professionals all over the region.
KG Sowers Group prides themselves on being reliable and efficient when it comes to customer service. They want to be an IT support company that makes a big impact on their respective stakeholders.
Highlights
IT Infrastructure and Equipment Rental
IT Asset & Data Management
Backup Power and Telephony Solutions
Premises Security
Customer Reviews
Here is a review left by a very satisfied client:
"KG Sowers has been really helpful with resolving our IT issues. Really professional and responsive. Highly recommend."
6. Sleek Digital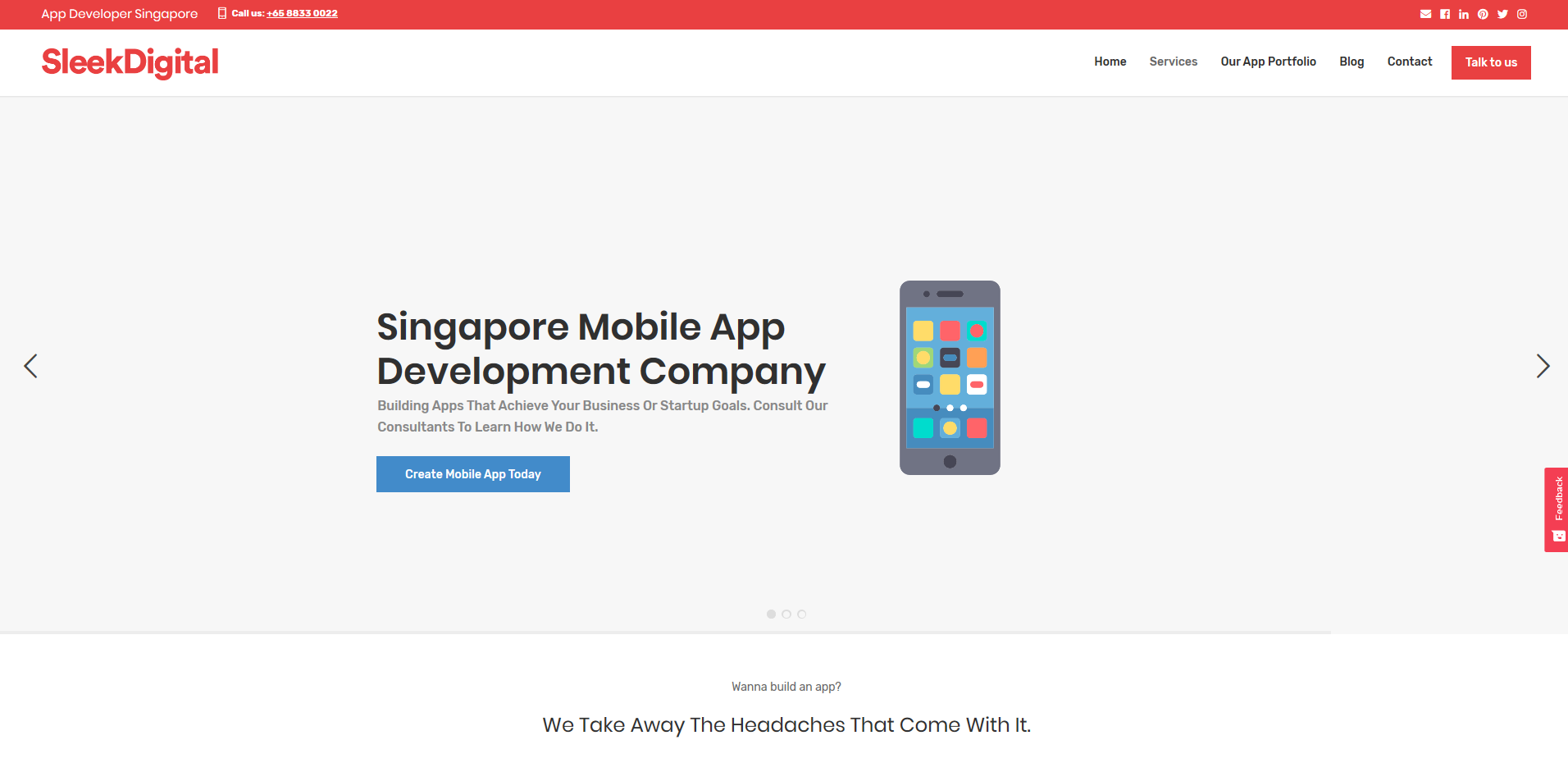 | | |
| --- | --- |
| BEST FOR  | App Development |
| SERVICES |  App Development, ERP System Development, Digital Transformation Consultaion, WeChat Mini Program |
| WEBSITE | https://www.sleekdigital.sg/ |
| ADDRESS | TechPlace II, 5008 Ang Mo Kio Avenue 5, #04-09, Singapore 56987 |
| CONTACT DETAILS |  (+65) 8833 0022  | [email protected] |
Recognised as Singapore's Top App Developer, Sleek Digital provides a wide variety of services to their clients. From bespoke app development services to mobile application consultation, they will handle all your software application needs.
By pioneering app development technologies, they develop remarkable systems. They constructively transform enterprises with their skilled mobile app developers and expert consultants. With their wide experience in the field, they can turn any tranditional business into successful mobile app ventures.
Highlights
Mobile Application Development
Application Design
Software Development
Customer Reviews
Here is a review left by a very satisfied client:
"One thing I must say about Sleekdigital is that they really know what they are doing. I didn't know what to expect from a mobile app when I first consulted them, but they understood my problems and made it easy for me. Unlike other mobile app developers, they actually came up with a whole mobile app plan on where my project was going and what to expect. Had quite a good experience working with them."
7. EC Infosolutions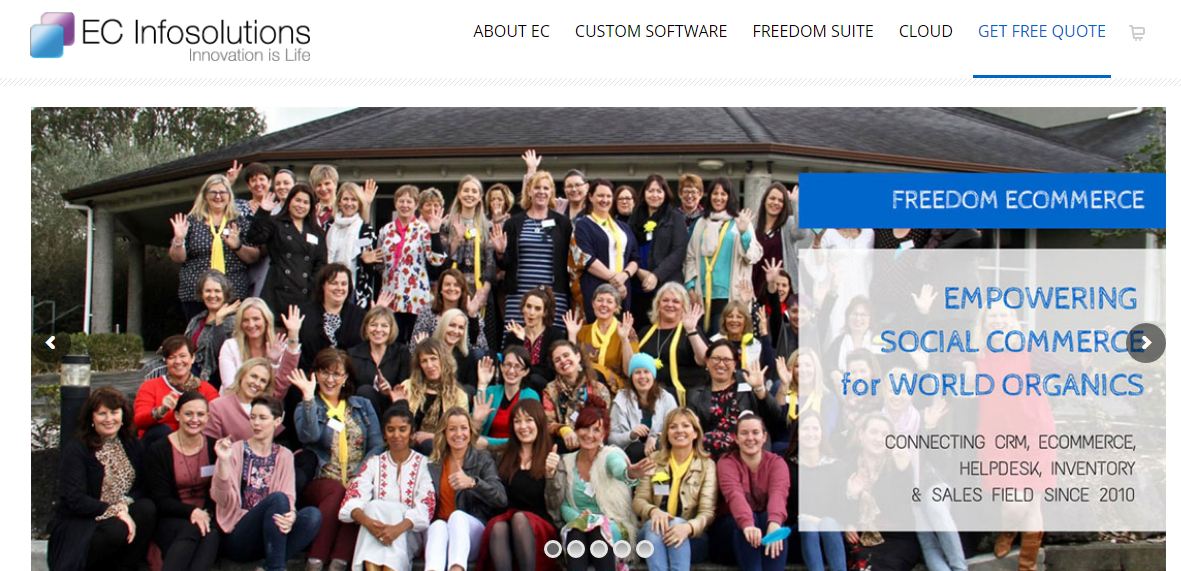 Whether you need a dynamic platform to enhance your business transactions or a team that can optimise your cloud storage, EC Infosolutions offers Web, mobile, and desktop applications designed for all of your needs!
They develop customized software solutions with an emphasis on roles, workflows, and reports. As for their ready app templates, you can choose between digital products, rental marketplace, social networking, and many more apps.
They're also partnered with a wide selection of networks to further improve user experience — such as Google Cloud where you can securely store a large amount of data.
Highlights
Accounting solutions
Order processing
Inventory management
Mobility solutions for eCommerce
Customer Reviews
Due to the accessible solutions and talented professionals of EC Infosolutions, clients have praised their work and considered them to be one of the best Singapore IT companies.
Here's a review from one of their clients:
"EC Infosolutions is very a customer-focused company, whose core strength ins a young, well informed, and skilled team of Directors. They are always welcome and friendly techno crafts. They are very responsive to the needs of their clients, and are willing to take additional efforts and time to educate their client & build relationships. Web & related e-commerce support to promote products or services is a complicated process that needs macro and micro capabilities, which they are highly capable of."
8. Typent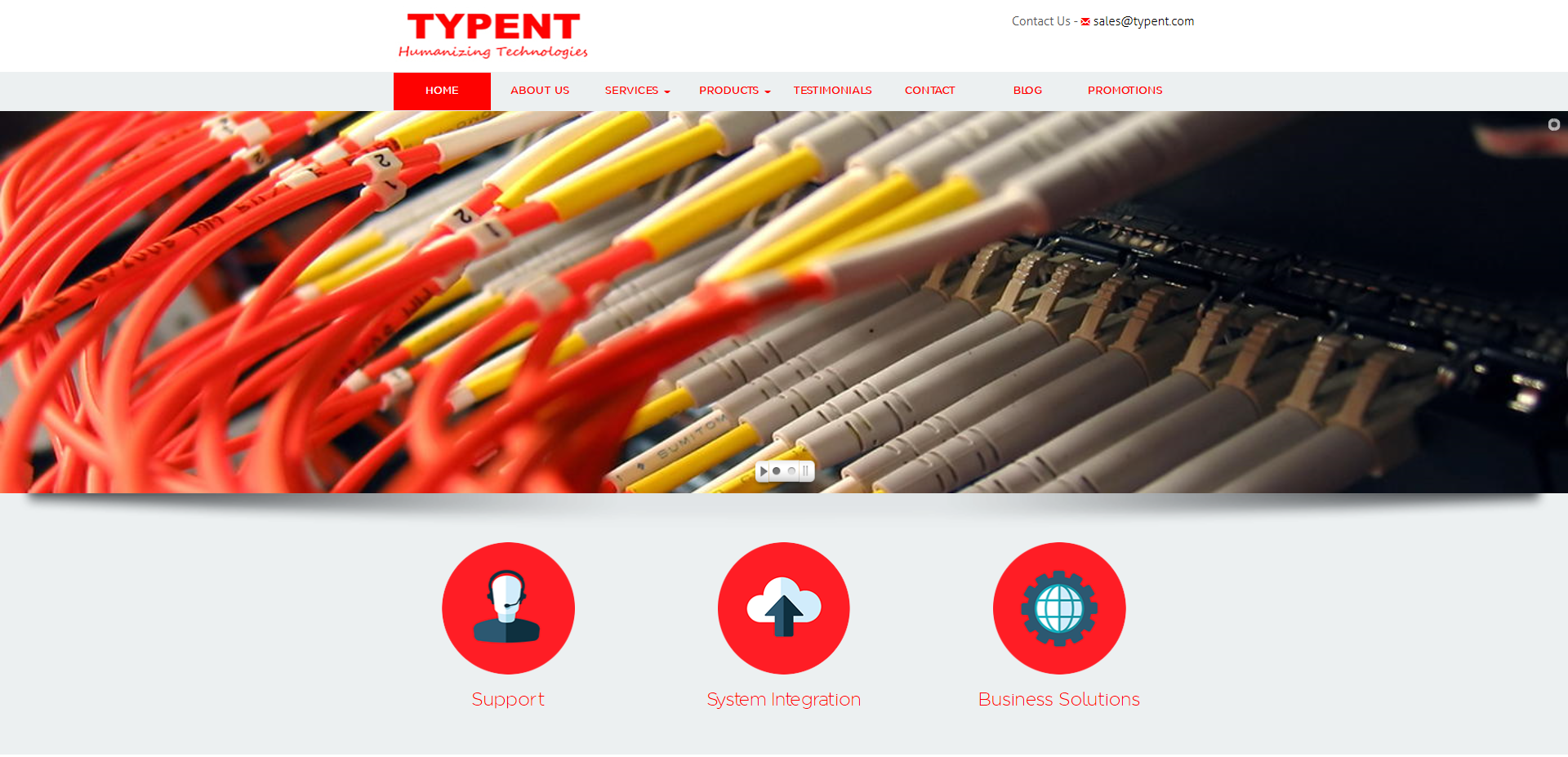 | | |
| --- | --- |
| BEST FOR  | IT Outsourcing Services |
| SERVICES | Business Solutions, System Integration, Window Server Migration, Server Virtualization Services, Corporate Cloud Storage |
| WEBSITE | https://www.typent.com/ |
| ADDRESS | 342 Ang Mo Kio Ave 3, #03-1561C, Singapore 560342 |
| CONTACT DETAILS | [email protected] |
With professional support from Typent, efficient and reliable technology will undeniably become the cornerstone of any modern office. When it comes to factors crucial to your business' stability, it pays to outsource to trusted professionals.
Typent is one of the top IT outsourcing service companies in Singapore that provides a range of solutions designed to ensure IT infrastructure reliability. As an experienced team with diverse expertise in various operating systems and hardware, they are keen on ensuring that everything is in its right place.
From simple maintenance scheduling to office relocations, they have the IT solutions your office needs. If you find yourself in need of IT services in the future, make sure to visit Typent first.
Highlights
Business Solution
Experts in Operating Systems and Hardware
Customer Reviews
Here is a review left by a very satisfied client:
"Typent have provided us with critical onsite support and technical advice in our hardware and software requirements since we established our branch office in Singapore. They have looked after our growing needs for ongoing IT support and maintenance with their expertise and responsive service. We are pleased to have them as our IT service provider."
9. Aryan Solutions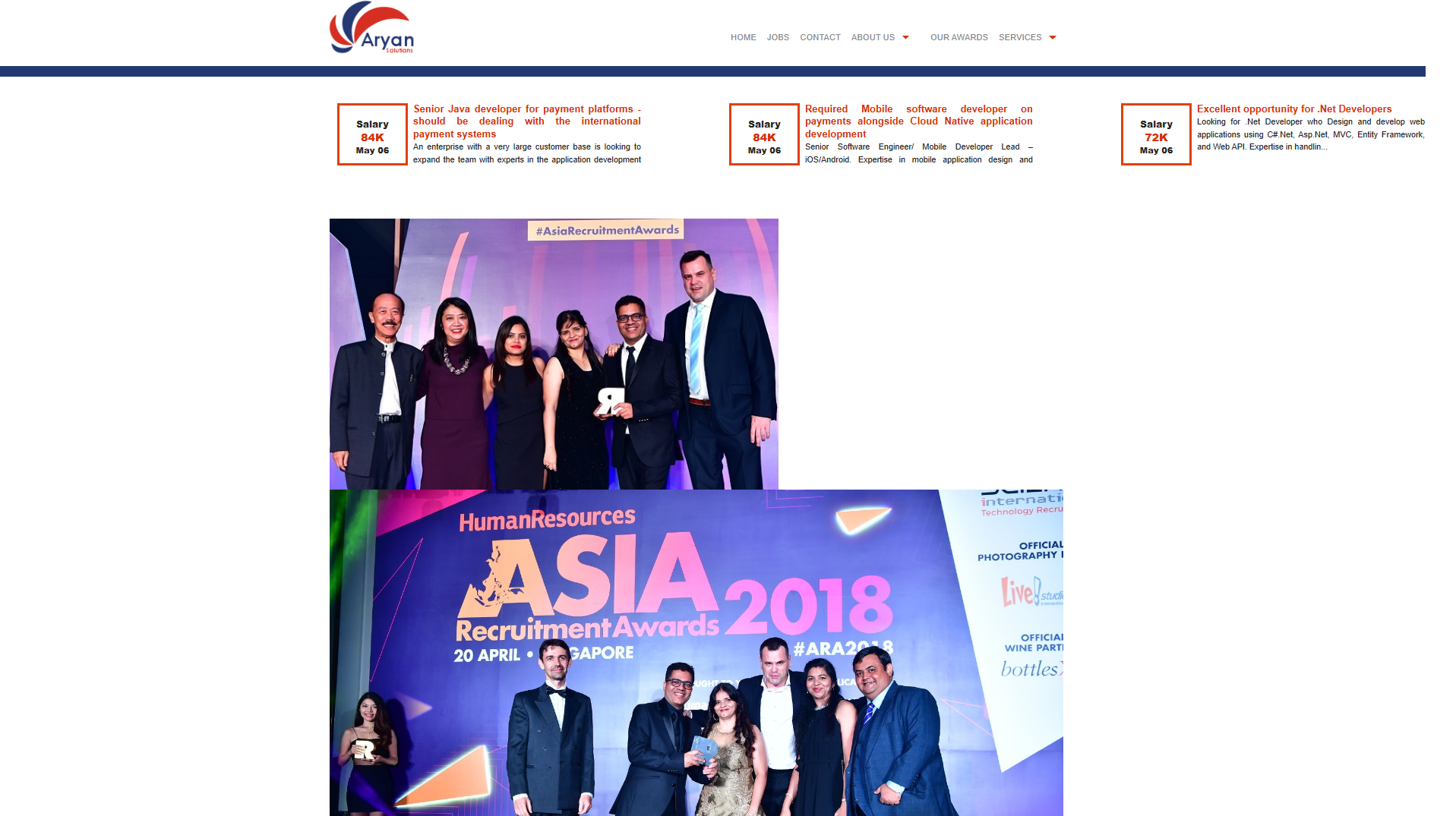 | | |
| --- | --- |
| BEST FOR  | Technology Solutions |
| SERVICES |  Consulting Services, Project Outsourcing, Staff Augmentation, Managed Services, IT Service Support, Agile Transformation |
| WEBSITE | https://aryansolutions.tech/ |
| ADDRESS | Paya Lebar Square,60 Paya Lebar Road, #11-10, Singapore, 409051 |
| CONTACT DETAILS | (+65) 6708 7429  | [email protected] |
Aryan Solutions is a Certified Technology Consulting & Staffing Company. They specialise in providing a wide selection of services, where clients can freely choose the type of service they need. From technology solutions to information technology, they make businesses evolve into digital enterprises.
Their team includes highly experienced consultants, all working across the region. Their mission is to outperform their competitors in both quality and customer service. They aim to disrupt the industry with their innovations, ultimately delivering nothing but the best for their clients.
Highlights
Consulting Service
Expert Consultants
Customer Reviews
Here is a review left by a very satisfied client:
"Great Company and Great People, Came Singapore via aryan solutions and they have been spot on."
10. PMAspire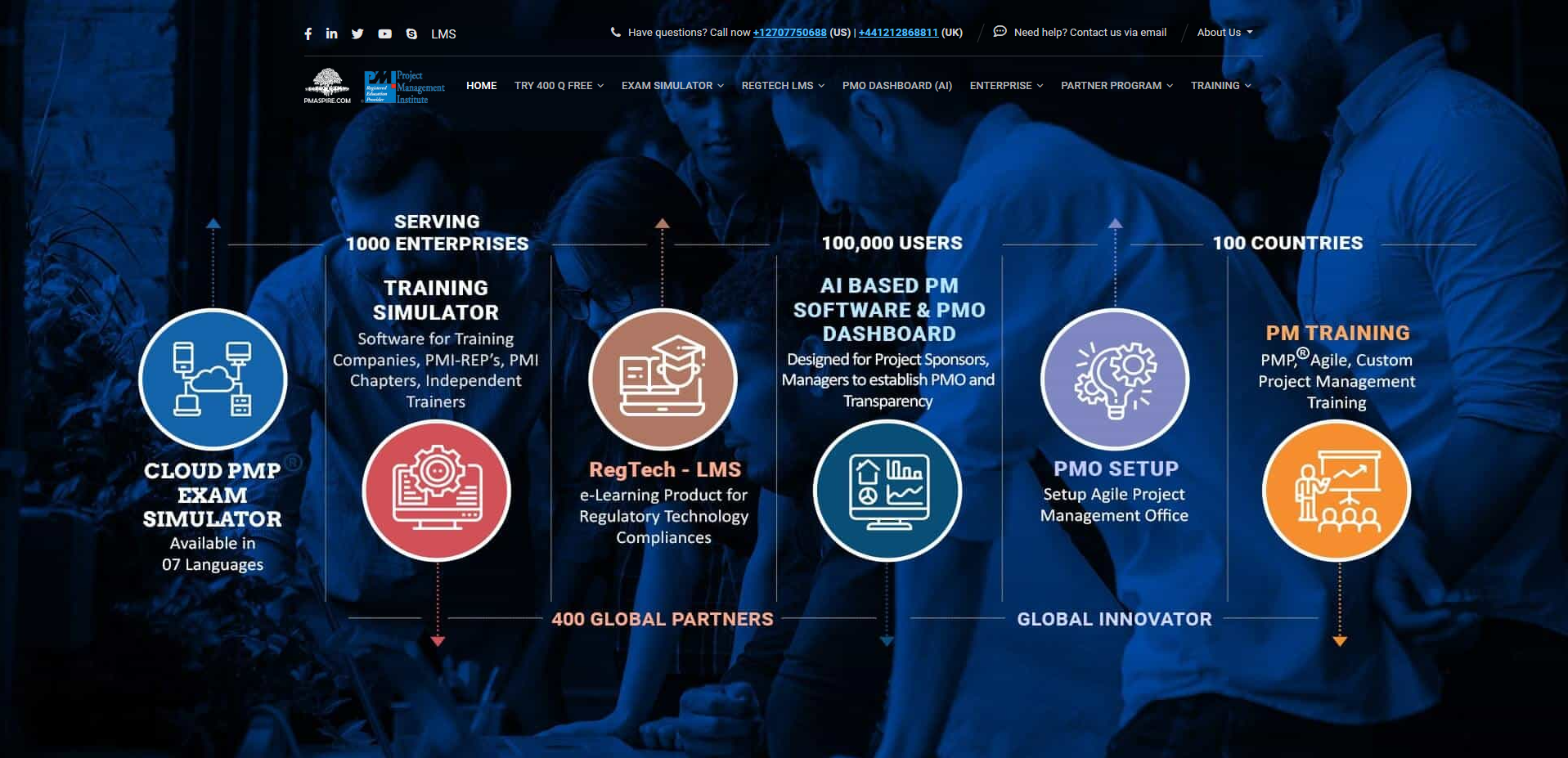 | | |
| --- | --- |
| BEST FOR  | Project Management Training |
| SERVICES | Project Management Training |
| WEBSITE | https://pmaspire.com/ |
| ADDRESS | 201709421K, 1 Magazine Road #04-11, Central Mall Singapore 059567, |
| CONTACT DETAILS | [email protected] |
PMAspire is a globally registered education provider of the Project Management Institute. They help aspirants learn about project management through practical case studies and hands-on exercises, as well as simulation experiences.
With their expertise, PMAspire has earned the prestigious BASIS National ICT Award 2018 for Multilingual Enterprise E-Learning and E-SaaS Platform. They're considered one of the best in Project Management Training sites in the world.
PMAspire was founded to accomplish one goal: To help PMP® aspirants pass the PMP® certification on the first try. Put PMAspire's experience and technology to work to ensure that you and your team are successful.
Highlights
Global Educational Provider of Project Management Institute
Customer Reviews
Here is a review left by a very satisfied client:
"PMAspire is such an excellent Place To Learn PMP.Their Courses, Training Are Superb. The 36hours really worth it. All Their Past Questions, Tutorials Are Excellent."
11. Applify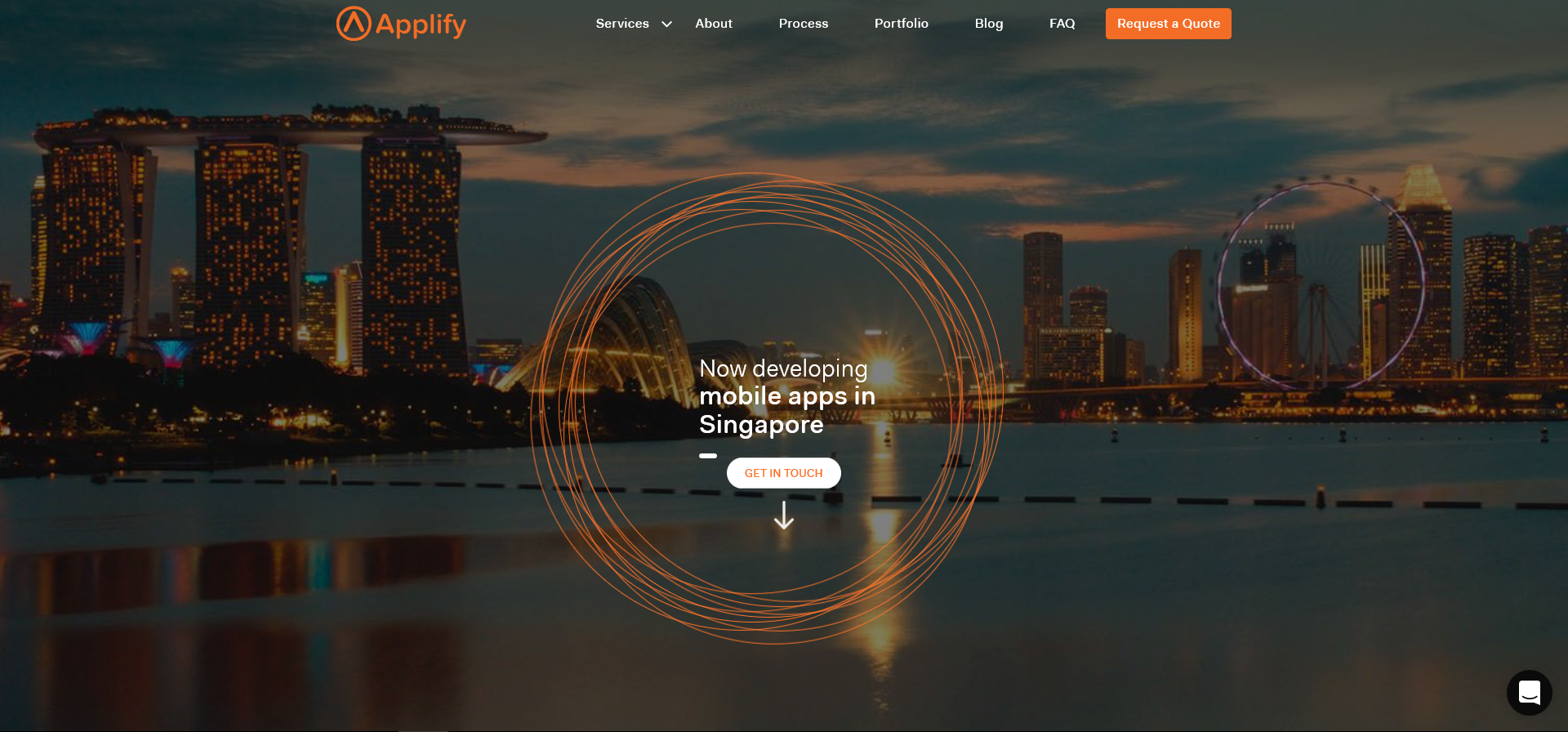 Applify is an award-winning web and mobile development company, thanks to the smart and intuitive solutions that they provide to their clients. One of their goals is to become the main solutions provider for their clients' application needs. There are many reasons why they are continuously able to fulfill all their client's demands.
Their team of designers are experts in their field, so you can rest assured in their expertise. In addition, they offer a comprehensive suite of services– each tailor made for a specific application need. If you decide to work with them, you can only expect quality services, every time.
Highlights
Mobile App Development
Mobile App Design
Strategy
Maintenance
Customer Reviews
Here is a review left by a very satisfied client:
"Great company. Highly recommended. A good place for learners and to start with software cycle. Awesome work environment & time flexiblity."
– Katherine Gelbart
12. ALC Technologies Pte Ltd

| | |
| --- | --- |
| BEST FOR  | Full Range of Auto-ID Products such as barcode scanners and Solutions |
| WEBSITE | https://alcglobal.com/ |
| ADDRESS | 998 Toa Payoh North #07-07/08/09, Toa Payoh North Industrial Estate, Singapore 318993 |
| CONTACT DETAILS | +65 6354 1650 | [email protected] |
| OPERATING HOURS | Weekdays: 8.30am-5.30pm |
ALC has always been characterised as a Value-Added Distributor of Auto-ID products and services, specialising in card printers for customisation, barcodes, smartcards, RFID technologies and more.
With their complimenting range of after-sales support and resources, they flexibly adapt to their customers' needs and requirements. ALC helps corporations in the every industry revolutionise their communication goals simply through barcodes and customised cards. From barcode scanners/printers to membership cards to food display tags, there are endless opportunities with ALC.
Highlights
Barcode Scanners/Printers
Card Printers for ID and Food Tags
Mobile Computers
RFID Solutions
Access Control/Time Attendance
13. IT Fixed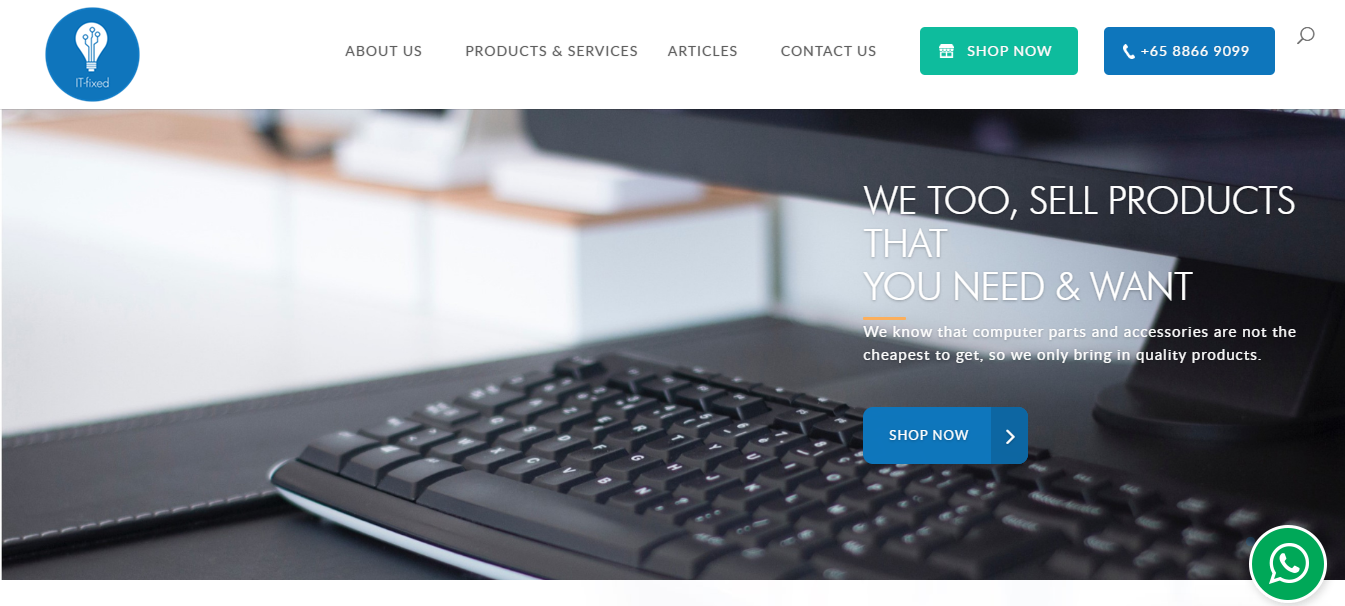 BEST FOR 
IT Service Provider
WEBSITE
https://it-fixed.com/
ADDRESS
Block 129 Geylang East Ave 2
#01-106 Singapore 380129
CONTACT DETAILS
 65 8866 9099 (WhatsApp)
Email: [email protected]
OPERATING HOURS
N/A
Tired of using a typical computer? Convenience is an important key component when using technology– which is why IT Solution & Services may be the best IT company for you!
Their vision is to establish a reputation as a dependable, trustworthy and quality IT service provider. They ensure that they operate to fulfill your IT-related concerns.
Some of the services that they offer include OnSite and HelpDesk IT support, Onsite/Offsite solutions, and Project Management — just what you'd expect from a high performing IT business.
Highlights
One Stop It Solution
Satisfaction Guaranteed
Quick Response Team
High Service Quality
Customer Reviews
"Thank you so much for your attentive & timely response to my need of support matter. It's been such a very long time since I've experienced such superbly professional dedicated client support. As guest i am very much impressed and happily shocked to have found such an awesome customer-oriented service provider."
"King is a knowledgeable and genuine IT specialist that goes the extra mile for clients. I'm very happy with the service provided by him and thanks for the new set up and configuration! God bless."
14. The World Management
BEST FOR 
Office Total Solution Consultation
WEBSITE
https://twm.com.sg
ADDRESS
No. 100 Lorong 23 Geylang #06-01 D' Centennial
CONTACT DETAILS
+65 6741 9198
[email protected]
OPERATING HOURS
Mon – Fri 9am to 5.30pm
The World Management provides consultancy services to their clients. They specialise in the areas of Business Management, Enterprise Resource Planning, Project Management, Accounting, and Customer Relation Management.
They also provide software solutions for technical problems. No issue is too big or small for their professional team of consultants.
Their partnerships to prestigious companies around the world serve to keep their services in excellent quality. With their drive to continuously improve, you can count on them to assist you reliably no matter your problem.
Highlights
Award-winning company
Team of professionals with diverse backgrounds
Experienced consultants
Works with prestigious partners
15. Vinova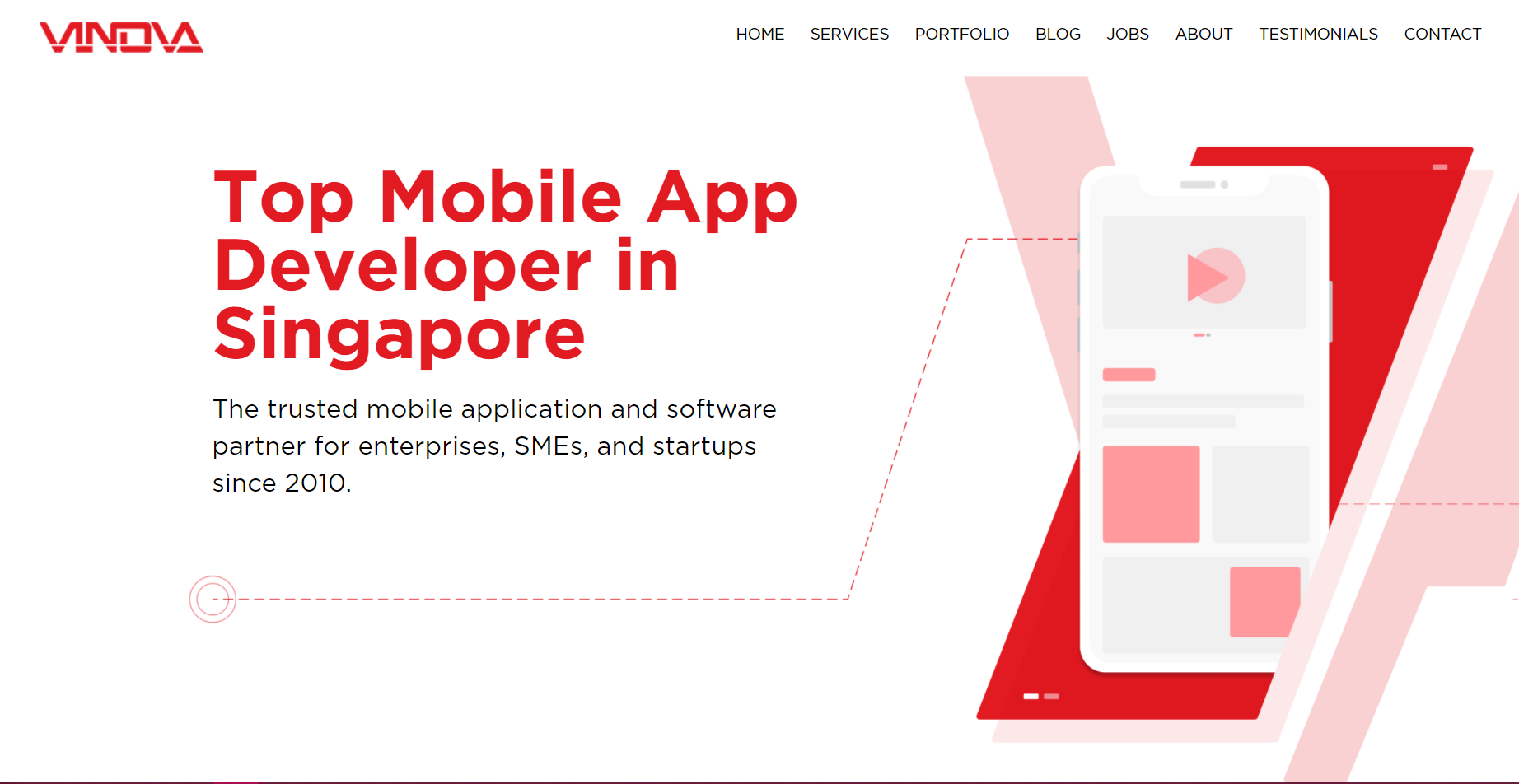 BEST FOR 
Web & Mobile App Development
WEBSITE
https://vinova.sg
ADDRESS

18 Sin Ming Lane #08-21, Midview City, Singapore 573960

CONTACT DETAILS
[email protected]
+65 6707 3597
OPERATING HOURS
Monday – Friday: 9:30 AM – 6:30 PM
With today's competitive online landscape, what you need is a company that will help you keep up. Vinova is the one of the companies you should consider if you're in need of top notch web development services for your company.
Their team of expert programmers have many years of experience in the field. What makes them a cut above the rest is their persistent pursuit of the latest knowledge in the software industry, may it be methods or technologies.
No matter your company's industry, you can rest assured that they will be able to identify the best solution your business. Innovative and professional services are all you can expect from Vinova.
Highlights
Complete professional solutions
Makes use of the latest methods and technology
Many years of experience
Attentive and constantly improving service
16. Synergix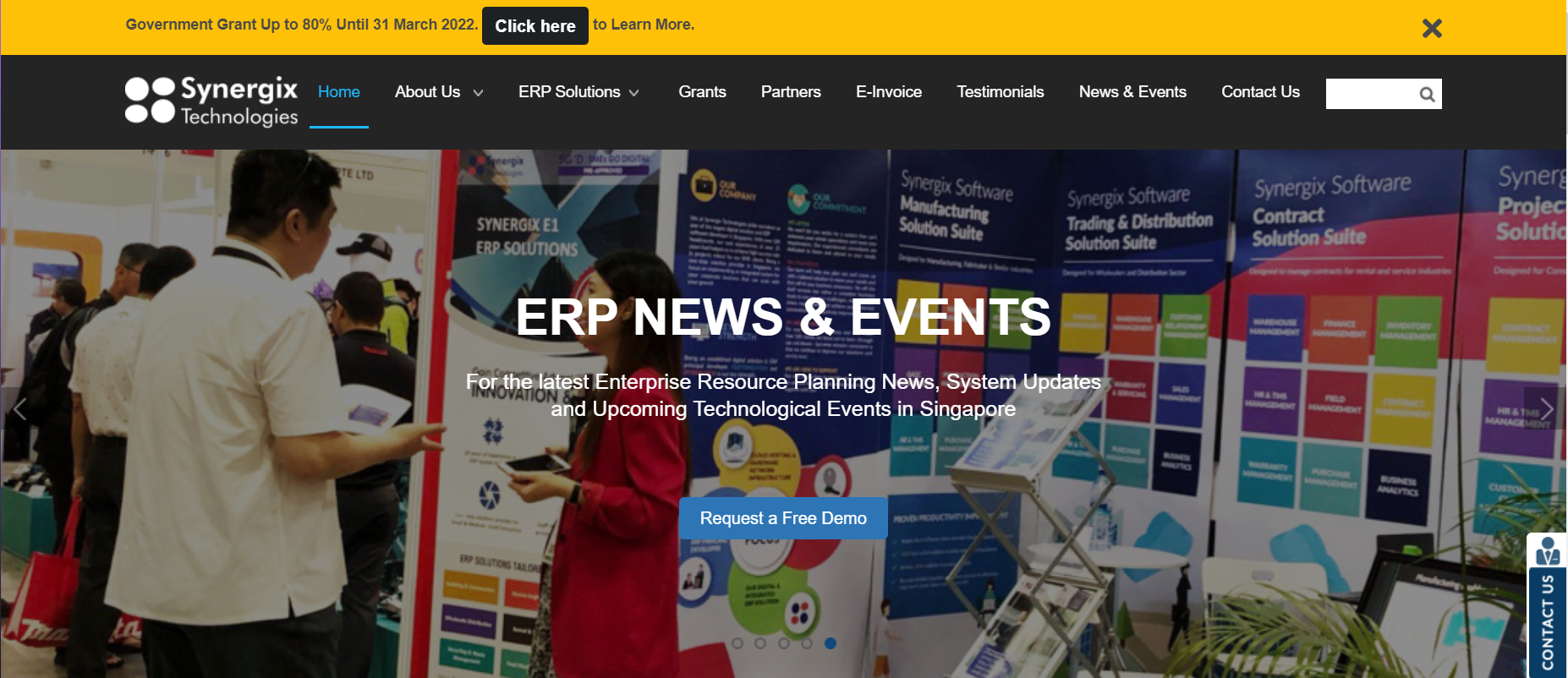 BEST FOR 
Enterprise Resource Planning, ERP system
WEBSITE
https://www.synergixtech.com
ADDRESS
2 International Business Park
#07-05/06 The Strategy Tower 1
Singapore 609930
CONTACT DETAILS
Tel : +65 6664 3030
Fax : +65 6275 5335
Email: [email protected]
OPERATING HOURS
Monday – Friday: 9 AM – 6 PM
One of the important factors of company growth is enterprise management. That's where Synergix Technologies – the principal developer of the Synergix web-based ERP software, comes in.
With more than 30 years of experience, they have helped over 600 SMEs and MNCs in Singapore to go digital successfully. You can count on them to help you with your company's ERP adoption, no matter the industry you belong to.
Many know them for their ability to customize, as they can handle any customisation as compared to off-the-shelf software. Therefore, when there are more automation or requirements regarding the business expansion, Synergix is there to help.
In addition, as the company has been recognised as the pre-approved vendor of PSG grant, eligible customers who adopt Synergix ERP system are able to receive funding of up to 80% of the qualified cost.
Highlights
100% customisation
Comprehensive range of modules and more features
Continuous innovation and improvement
PSG pre-approved vendor
17. OTG Labs

If you're in need of mobile applications, one of the companies you should keep in mind is OTG Labs. They take pride in offering the latest mobile app technologies for the most cost-effective prices.
All their solutions are built from scratch, which ensures that you receive fully customised solutions that are tailored to your needs. You won't need to worry about late projects either — their systemic and efficient way of working ensures that each commission they receive will be done as soon as it can be, if not earlier.
Best of all, you'll be receiving regular updates and reports regarding your project. If you're interested, you might be happy to know that their first consultation is free.
Highlights
Fully customised solutions
Detailed and transparent cost-breakdown
Timely project management
Free consultation at the start of project
18.  RAMMP IT Solutions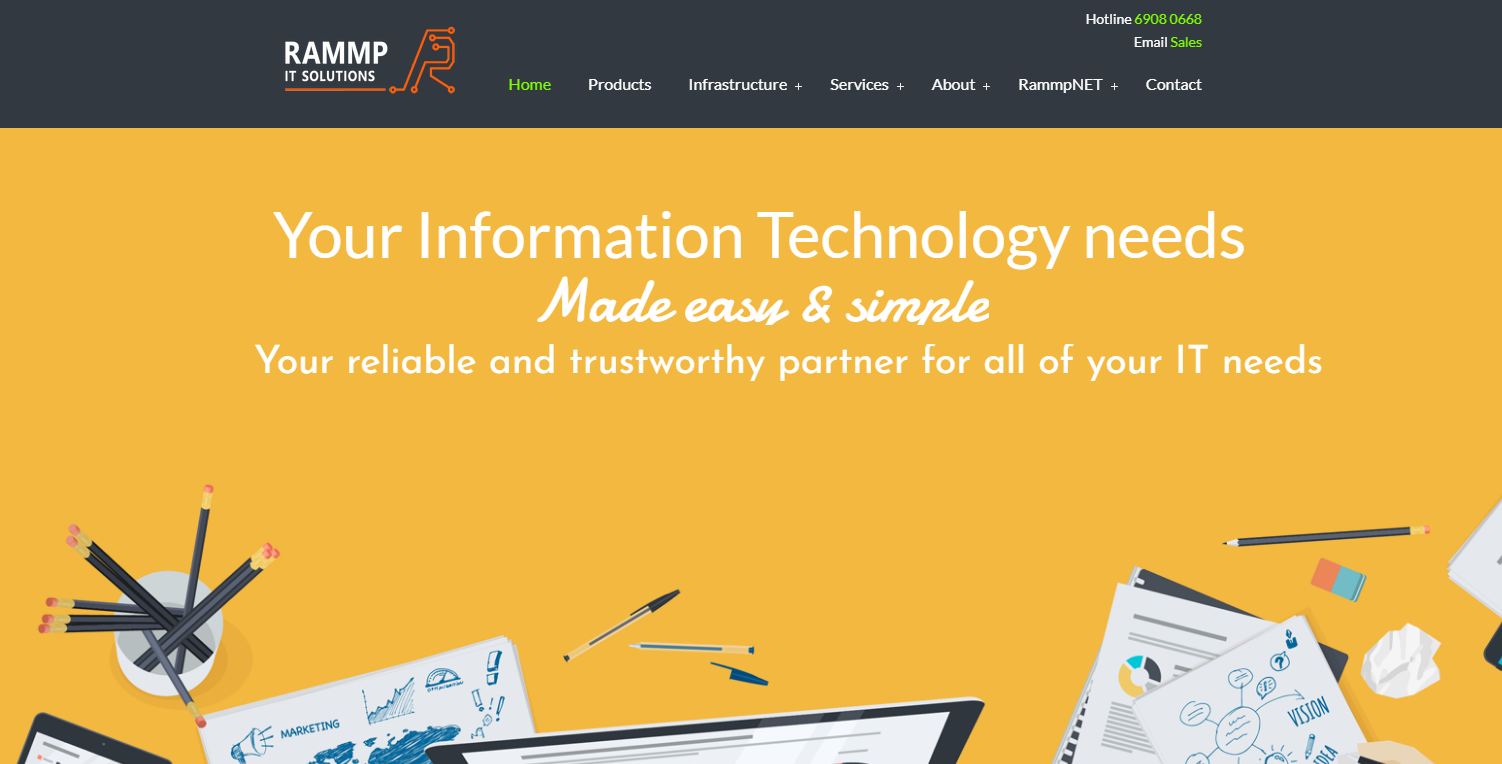 BEST FOR 
IT Services and Solutions
WEBSITE
https://rammp.com.sg
ADDRESS
#20-11 Tong Eng Building
101 Cecil Street
Singapore 069533
CONTACT DETAILS
OPERATING HOURS
24/7
Established in 2016, RAMMP provides IT solutions and cloud services to the people of Singapore. The clients are of utmost importance with RAMMP, which is why the company puts great focus on providing excellent support and excellent ROI.
RAMMP's wide array of services include IT support, software development, web development, cloud solutions, and more. Regular clients can vouch that these services are cost-effective and tailored to fit their needs.
Aside from extensive service options, RAMMP also takes pride in its team, which consists of professionals with extensive background in the fields of IT, programming, and development. These professionals come together to create a company that constantly strives to attain 100% client satisfaction by constantly delivering results. 
Highlights
Experienced management
Focus on clients' ROI
Prompt and professional team
Wide array of IT services
19. Viperlink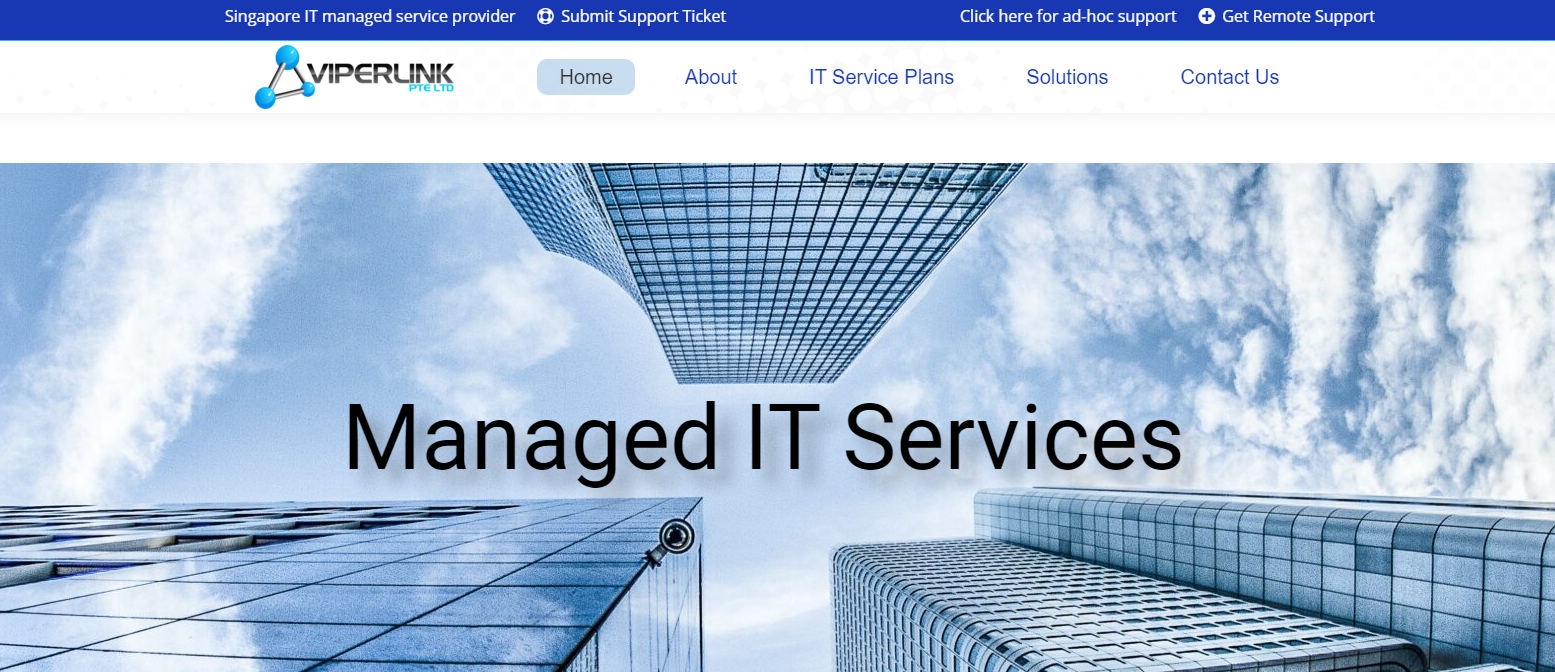 BEST FOR 
IT Services and Solutions
WEBSITE
https://www.viperlink.com.sg/
ADDRESS
10 Ubi Crescent ,#02-22 Lobby B ,Ubi Techpark , Singapore 408564
CONTACT DETAILS

+65 6848 7102
sales(at)viperlink.com.sg

OPERATING HOURS
Monday to Friday, 9:00AM to 6:00PM
Viperlink provides a range of IT infrastructure solutions from simple monitoring services to comprehensive managed solutions to help SME organisations modernise their IT for better productivity.
With more than 20 years of experience in delivering services that assist you to work together, securely and from anywhere. More than 200 clients have trusted Viperlink and continue to trust the company to take responsibility of their IT infrastructure.
Depending on your goals and budget, Viperlink offers flexible IT support plans that are easily scalable to work effectively increasing client's productivity.
One of the products Viperlink is most known for is their Cloud Solutions.
Cloud computing is the delivery of computing services—including servers, storage, databases, networking, software, analytics, and intelligence—over the Internet ("the cloud") to offer faster innovation, flexible resources, and economies of scale.
You typically pay only for cloud services you use, helping you lower your operating costs, run your infrastructure more efficiently, and scale as your business needs change.
Enhance the way you use applications and store files with cloud computing solutions. Viperlink offers several cloud solutions at affordable pricing.
Highlights
Steady customer support
Reasonably priced services
Wide array of IT solutions
20. IsupporT Service Singapore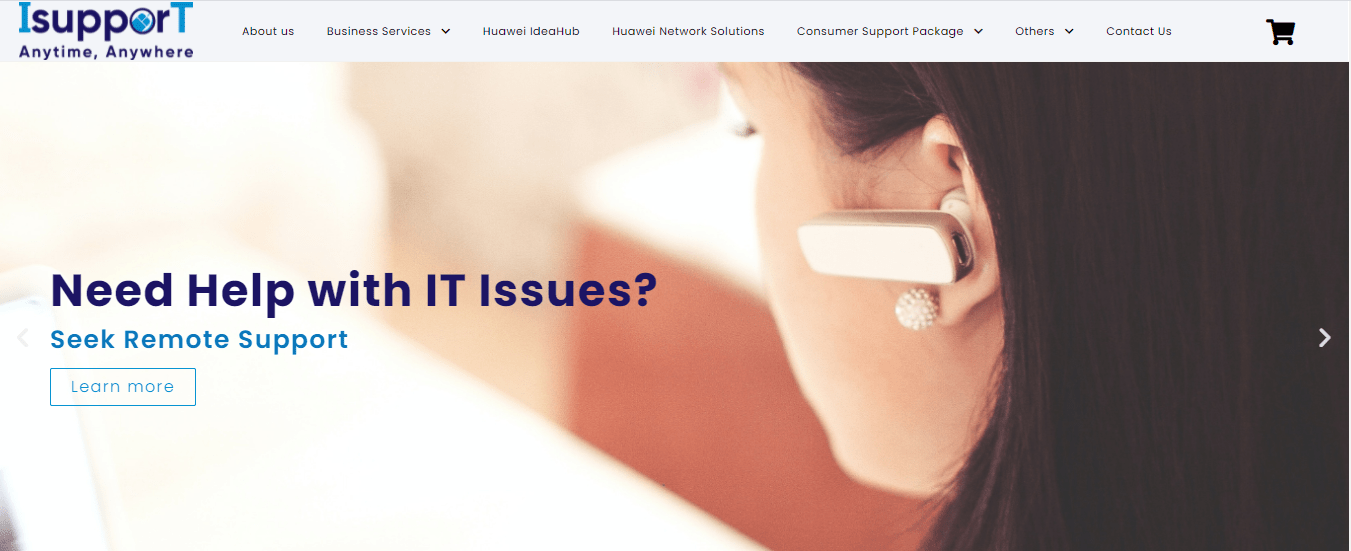 | | |
| --- | --- |
| SERVICES | Virus removal, data back-up, printer and computer installation and troubleshooting, OS, software, and online account setup |
| WEBSITE | |
| ADDRESS | 89c Science Park Drive #01-10 The Rutherford, Lobby, C, Singapore 118261 |
| CONTACT DETAILS | +65 6586 7711 |
| OPERATING HOURS | Monday – Saturday: 11:00 AM – 7:00 PM |
Whether for the camera, desktop, laptop, tablet, wifi router, and printer IsupporT Service Singapore is ready to help with your IT issues. It has certifications like ISO 9001 and bizSafe as credentials.
IsupporT Service Singapore's services span everything, from security setups and optimisation up to troubleshooting and virus removal. This company even offers two packages, the online protection package and the protection plus package.
For the online protection package, clients can receive computer and printer troubleshooting, virus removal, software installations and setup, and online account setup services.
On the other hand, the protection plus package offers all these services and comes with additional services like data back-up and transfer, wifi and connectivity support, OS installations, security optimisation, and even smart security camera installations.
IsupporT carries out all these services by hiring no less than trained professionals with excellent clean records.
The best thing about IsupporT is that it does all these IT support services remotely. So, any SME from any area in Singapore can benefit from its services.
The only thing we don't like about IsupporT is that its opening hours end as early as 7 PM. they're even unavailable on Sundays and Public Holidays.
Highlights
Protection plus package with a full range of IT services

Online protection package for basic support needs

Remote IT support for SMEs

Certifications from four standardizing authorities

Extensive background checks for employees
Customer Reviews
Here are some reviews that'll help you manage your expectations should you choose IsupporT for your IT needs:
"Have taken up their service during start of Circuit Breaker.  Really thankful for their timely expertise in setting up our computer systems for WFH."
"Very good support provided and resolve problem instantly."—Anna Soh
21. Win-Pro Consultancy Pte Ltd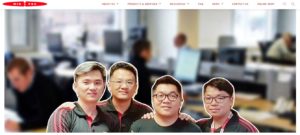 SERVICES

WEBSITE

IT Support Service Company Singapore

ADDRESS

38 Jln Pemimpin, #07-04, M38, Singapore 577178

CONTACT DETAILS

Hotline
+65 6100 8324 (TECH) IT Support
+65 6100 2100 (SALES)

Phone
+65 6717 8729

Fax
+65 6717 5629

OPERATING HOURS

Contact for more information
Given their 5-star rating on Google, we automatically know that they are the [perfect IT company for you. Given their six core competencies and expertise in three IT areas, they can provide you with almost all IT services.
Similar to others, they support machines that are running the Microsoft Windows, Apple Mac OS, and Linux operating systems. But what makes them stand out is their specialization in sales and deployment of IT Services and Products. 
They have Microsoft Office 365, Microsoft Azure, Kaspersky, Fortinet, Qnap, Synology, ShadowProtect, APC UPS, Datto, HPE, Ubiquiti, and more.
Apart from these, we love how they can accommodate any sized business. No matter how small you are in the industry, outsourcing IT-related services from them will most likely benefit you way more than you have ever imagined.
It is never too late to improve your business' productivity, scalability, and profitability!
Highlights
Has been in business since 1993
Has engaged more than 5000 customers in Asia
Extensive range of services
Customer Reviews
Here are some reviews from their clients:
"Great service ! Very efficient service. Winpro JJ Chan remotely set up my office 365. Team did a great job to help transfer my calendar, contact details , sorted out my mess up personal data-base (Contacts, birthdates reminders, etc) previously located partially in gmail contacts, partially in office 365 contacts and my iphone contacts – merged them all and now I am able to work via my Iphone , office 365 and gmail after a on site visit at their office. Great job to Adam Kian for assistance."
"Recently purchased a Kaspersky anti-virus software through Win-Pro's website. I received excellent support from its engineer VJ when I encountered problem with the download. Thank you for your patience and prompt response. Keep up the good work !!!"

22. Tigernix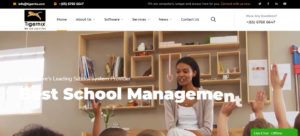 | | |
| --- | --- |
| SOLUTIONS | |
| WEBSITE | |
| ADDRESS | 21, Woodlands Close, #05-47 Primz Bizhub, Singapore 737854 |
| CONTACT DETAILS | |
| OPERATING HOURS | Monday – Friday: 9:00 AM – 6:00 PM |
Tigernix has been in the industry since 2006. Their expertise is now expanded to Indonesia, Malaysia, Australia, and Sri Lanka.
Just like the other companies on this list, they also offer customized software solutions and professional services that are perfect for those who need specific solutions or services.
We believe that partnering with them will help you implement your software solutions, optimize your business productivity, and increase your profit rates. With their consulting and training services, your business will successfully transform.
No matter what type of industry you are in, they have the expertise and the right software to help you. From Customer Relationship Management, Enterprise Resource Planning (ERP) System, School Management System to Procurement Management System and many other solutions are offered by Tigernix available here.
Their website has more information regarding contact details, appointment booking and requesting training services for their clients. Let them know what you need before they become fully booked!
Highlights
Can cater to 30 industrial business realms
More than 20 software solutions
15+ years of experience
Customer Reviews
Here are some reviews from their satisfied clients:
"No other company exists like Tigernix, for providing the exact requirements as the customer wanted.
– School Management Solution with all the features, including special assistance kids schools
– Warehouse management system for a typical warehouse to an advanced automated warehouse
– ERP systems, and more.
* I have approached Tigernix for a fully secured video conferencing (web conferencing) system. Due to the COVID-19 situation, all companies and institutions started moved for work-from-home and online video conferencing software. But there are many consequences such as data privacy, vendor locking issues, monthly subscription payments with existing giant software Zoom, Google Hangout, Microsoft Team. TigernixJoin is a simple to use web & mobile based web conferencing software. And they host the server within Singapore to ensure data privacy. Also, local support in Singapore is a massive advantage for us."
"Tigernix provide Good Quality and Premium Services."

23. systemsGo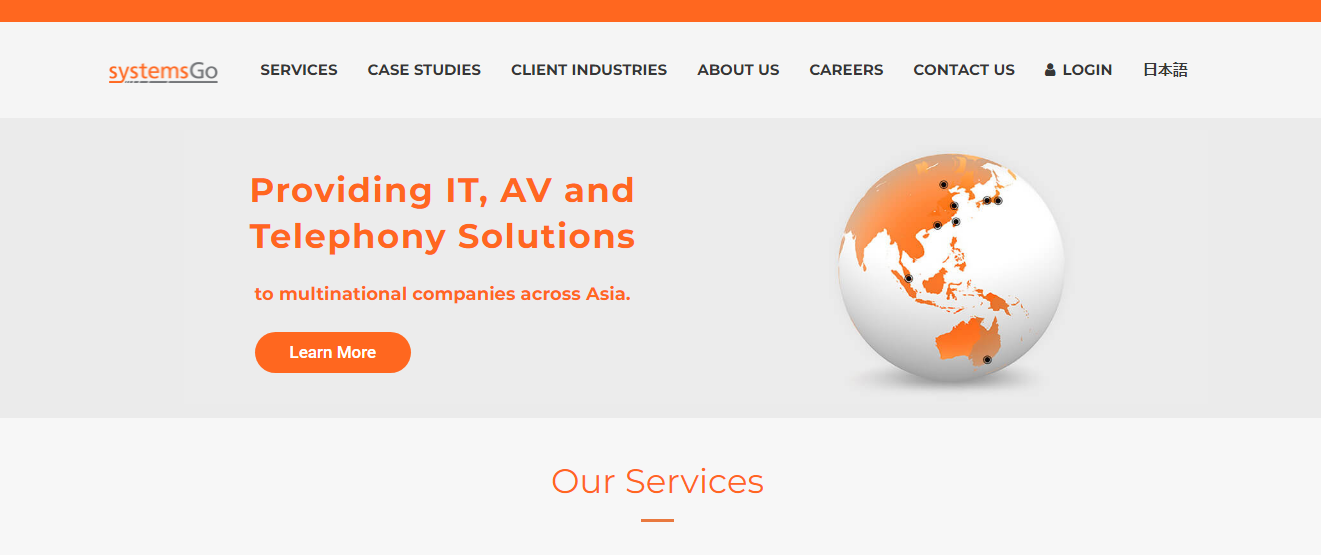 SERVICES

Workplace Technology
IT Support
Procurement Services
Systems Integration
Cloud Services

WEBSITE

ADDRESS

70 Shenton Way #12-03, EON Shenton Singapore 079118

CONTACT DETAILS

+65-6715-1530

+65-6221-0928

OPERATING HOURS

 
systemsGo is a company founded in 1998 that was established to cater to the demands of It services of Tokyo businesses in the area. Due to their commendable and consistent services, they have since then expanded to accommodate more countries in Asia such as Singapore and Hong Kong.
All employees they assign for the job are adequately trained and experienced so that there will always be quality control when it comes to employing professionals such as engineers and project managers among others.
We find it very exemplary that they can accommodate almost every industry imaginable and offers full-time technical support such as cloud services, procurement services, and systems integration to form a comprehensive approach.
We also believe that clients can be assured that they are working with professionals who have experienced various partnerships with both large and small companies in each industry.
Nonetheless, case studies are readily available on their website and serve as concrete testimonials of how they work and what they can do. This is a recommended feature for new clients to check out once they visit their site.
Highlights
Numerous locations
All-around services
Various network of connections
24. Softuvo Solutions Pvt. Ltd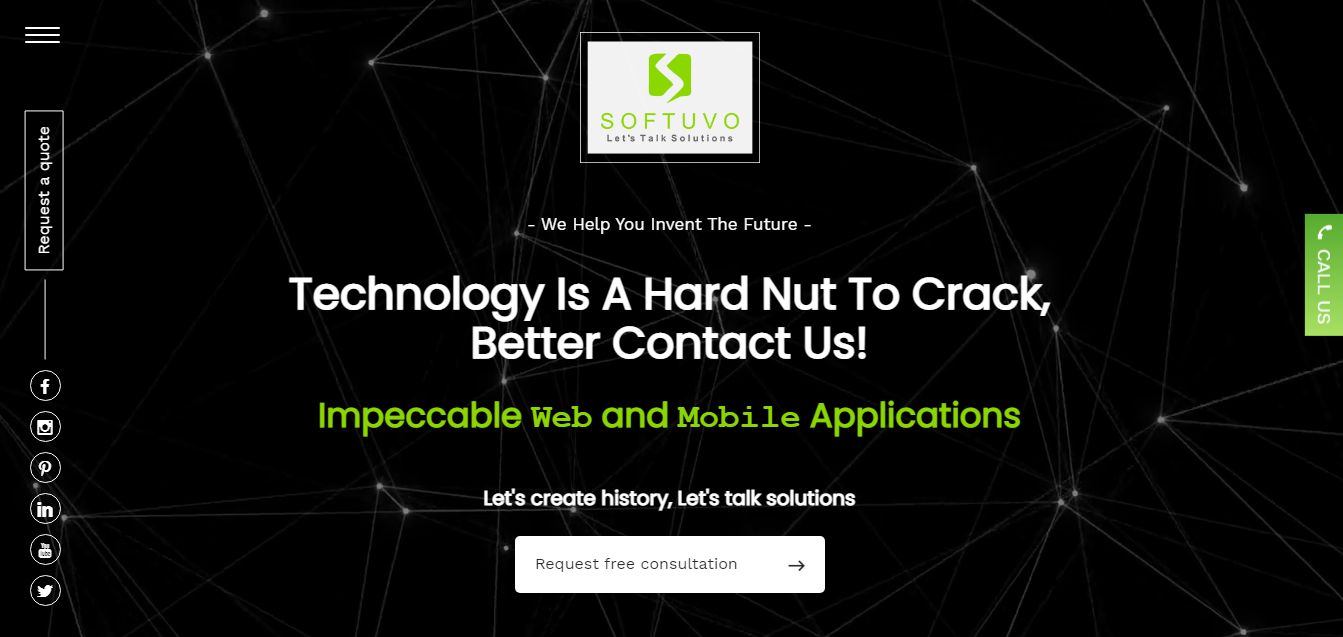 Softuvo Solutions Pvt. Ltd is a company that offers a wide range of digital marketing services to help its clients make an impact online. They are among the leading figures in the industry that is able to aid clients in various platforms such as mobile applications, social media along website development as well.
We find it exemplary that they have a standard approach for each client that starts with a comprehensive consultation so that they can best tailor the needs of their clients with that of their business.
From start to finish, we perceive their balanced approach to be efficient in terms of cost and time since they employ only individuals with expertise in the field for the job.
Price ranges aren't readily available; however, clients get to have a consultation with them that is completely free of charge to better assess if their services are the right one for them.
Overall, with their efficient communication system and steadfast customer service, we believe that their company is highly ideal for clients who are looking to increase if not introduce their business online and have a wider customer reach.
Highlights
Smart communicative approach
Cost effective services
Acccommodates various development platforms
25. Ranosys Technologies Pte Ltd.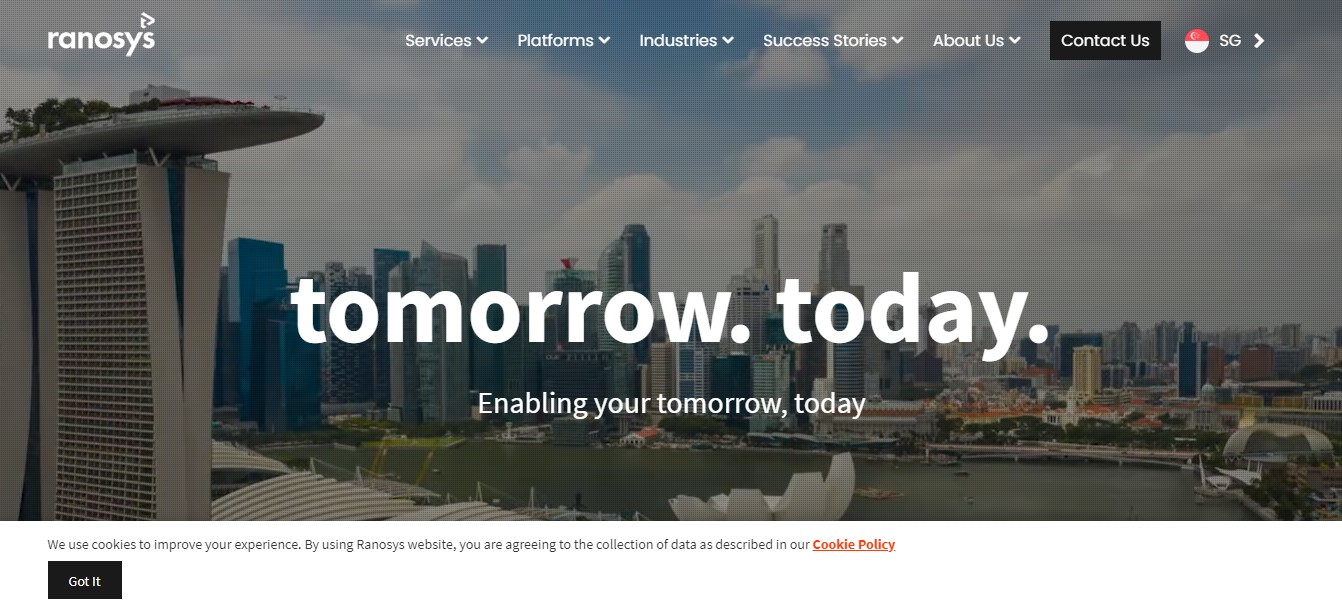 BEST FOR 
Startups, SMBs and Enterprises
SERVICES

Digital Commerce, Digital Transformation & Product Engineering

WEBSITE
www.ranosys.com
ADDRESS
Oxley BizHub, 73 Ubi Rd 1 #06-48 Singapore – 408733
CONTACT DETAILS
Contact No: +65 6702 2132
Email:

[email protected]
Ranosys is a CMMI Level 3 Global Digital Consulting Company headquartered in Singapore with international footprints in the UK, US, Middle East, and APAC regions.
Unlike other companies, they are already in partnership with Adobe Commerce Cloud, Salesforce, OutSystems, Shopify Plus, Microsoft, commercetools, and BigCommerce. This shows how much they are trusted by big companies in comparison to the others on this list.
What made us love them, even more, is how they can cater to numerous industries. Some of these are retail & e-commerce, oil & gas, telecom, fashion & apparel, and so much more.
We prefer them more than the others because they do not settle for less. They are one of the few companies that always raise their bars, set higher standards, and find enjoyment in new challenges.
Now what makes them stand out the most are their clients. Knowing that these huge brands like Charles & Keith, mothercare, Shell, Nespresso, etc., trust Ranosys Technologies Pte Ltd., we can say that they are already one of the most trusted companies in this industry.
Highlights
13+ years of experience in digital commerce, digital transformation, and product engineering initiatives
Successful partnerships with Adobe Commerce Cloud, Salesforce, OutSystems, Shopify Plus, Microsoft, commercetools, BigCommerce and other experience design solutions
Our innovative approach has earned us the 2021 Adobe Partner of the Year, 2020 Delivery Quality Solution of the Year, and 2020 Best Digital Consulting Partner of the Year awards
Earned the Quality add badge from OutSystems for Logistics & Transportation
Customer Reviews
We are giving this recommendation in good faith to our vendor as a result of their trusted performance in providing IT web/mobile solutions in our company. The breadth and depth of their knowledge combined with a proven reliability qualify them to implement complete IT projects. Given our experience with Ranosys, we are happy to recommend them as a vendor of professional IT service.
And that's our list of the best Singapore IT companies! If you'd like to suggest more services, let us know, as we may also consider adding them to our list.
Also, if you're looking for digital platform development assistance, you may see these services for the best software development in Singapore! They offer all types of desktop and mobile software for better system management.