The 7 Best Online Shopping Sites in Singapore
Have you ever spent the whole day roaming around the mall and going home without buying the things that you plan to buy? Sometimes, an entire day is not enough for us to decide what to buy — therefore, it'd be better to just do a shopping spree at the best online shopping sites in Singapore.
This will save us a lot of time and costs from travelling and buying unnecessary stuff. So, take a look at our list of the best online shopping sites in Singapore and you'll find the right item that you've been looking for.
1.  Qoo10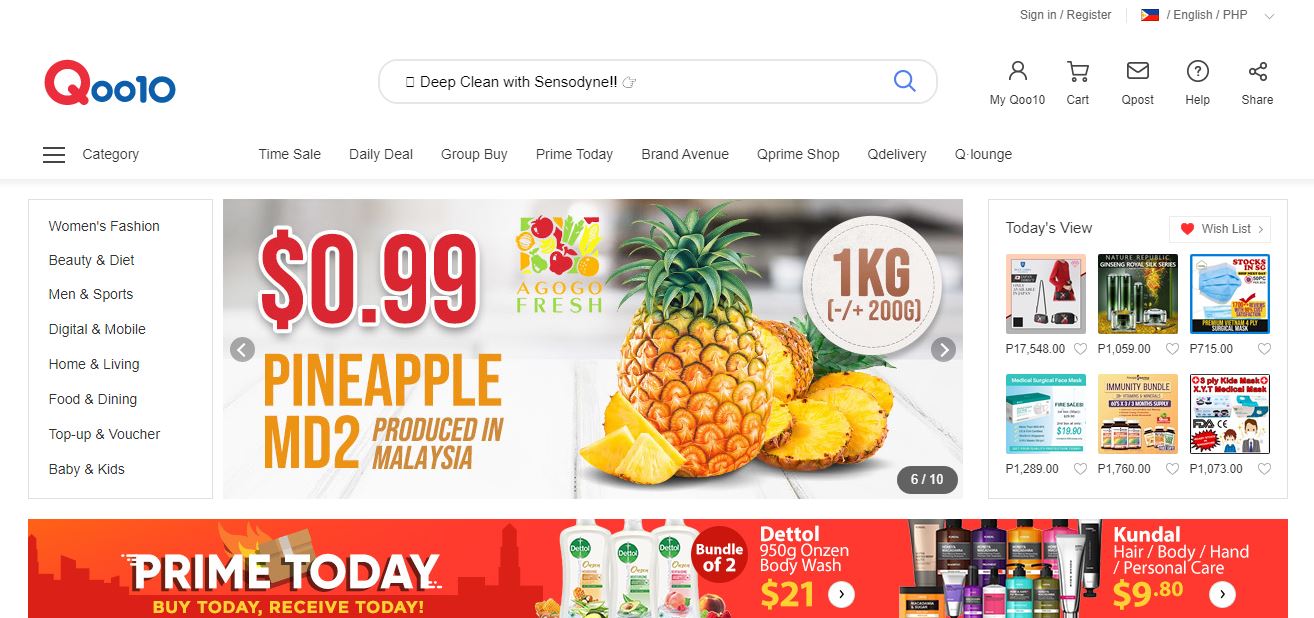 Qoo10 has always been the go-to shopping website for many Singaporeans because you can find almost everything you need in here! It has daily and home essentials, food items, kitchen utensils and equipment, cosmetics, and many more!
It also claims to be the largest online marketplace where you can enjoy a convenient and secure shopping experience. You'll have a blast with its discount promotions and other great deals!
Highlights
Gift cards and vouchers
Special promotions
Customer Reviews
Many customers had a delightful shopping spree at Qoo10 because of its full range of items, fast delivery, and flexible payment options. These are the reasons it has become one of the best online shopping sites in Singapore.
Here's a review posted by a customer:
"I bought a few stuffs here eg, winder and watches among others things. I always buy from sellers with good feedbacks ratings and have not encountered any problems with sellers or the products. I have not bought anything like admission tickets and the sorts. However, there's always some risk involved in internet shopping. Good Luck!"
2.  Zalora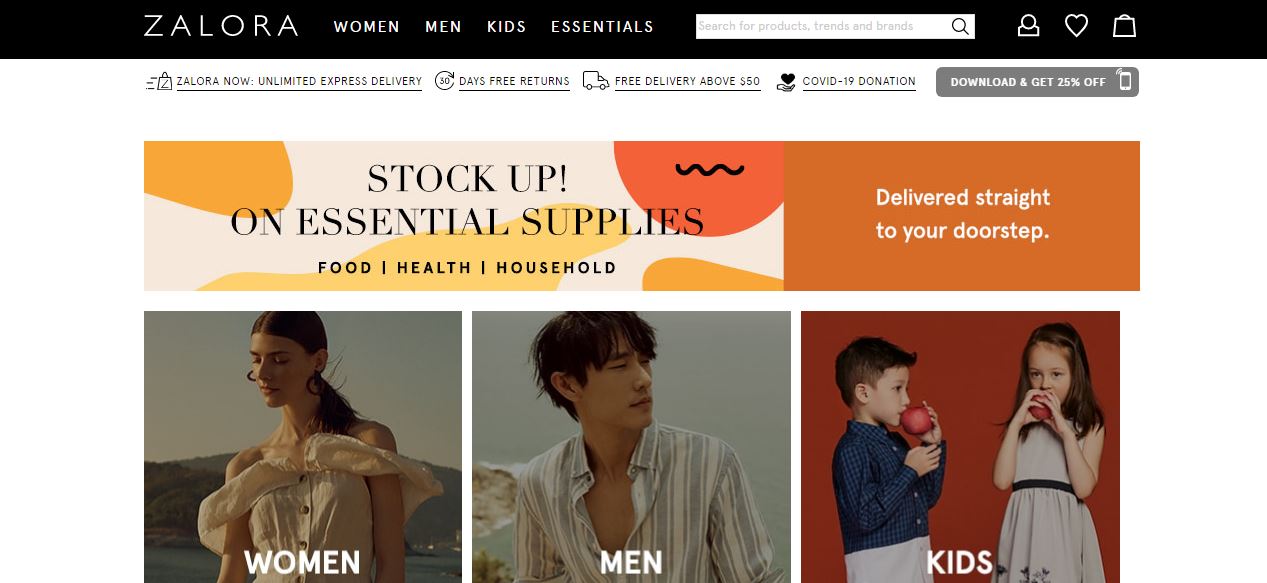 Already looked at all the stores at the mall and you can't still find the style that you've been looking for? Well, you should try to go online and see the timeless collections of Zalora!
This fashion retailer features its own brand as well as famous designer labels. They've got clothes, shoes, bags, accessories, cosmetics, and even travel essentials!
From classic style up to trendy outfits, you can have your dream OOTD with their collections.
Highlights
Membership perks
Secured online payment options
Customer Reviews
Customers said that they've discovered a lot of international and local brands through Zalora and have found a variety of styles on it. This is why it's known to be the best online shopping site in Singapore!
A customer wrote this feedback:
"I am the biggest fan of Zalora 🙂 Their customer service is spectacular, fast delivery, amazing choices for clothing 🙂 Thank you Zalora! There are times when I ordered the wrong size, a new size will be delivered. Zalora also makes sure I am satisfied with my product. Otherwise, they'll do a refund. I really can't find any fault with Zalora 🙂 Thanks crew!"
3.  Carousell
Searching for a place where you can buy high-quality products offered at a much lower cost? If so, Carousell is the best online shopping site in Singapore for you!
In this online marketplace, you can browse an extensive range of new and old items. It has fashion items, health and beauty products, home essentials and appliances, books, electronics, and many more!
You can also purchase cars and motorbikes and even accessories. The best thing about it is that you can promote your skills and services such as IT services, home cleaning, home repairs, and other home and business services.
Highlights
Vehicle rentals
Home and business services
Job findings
Customer Reviews
Carousell has received a lot of compliments from customers saying that it's indeed an all-in-one marketplace where they can find cost-effective products and services. A customer posted this review:
"You can find whatever you want or need easily. Easy to communicate with the interested buyers. I would recommend this app for both buyers and sellers."
4.  Redmart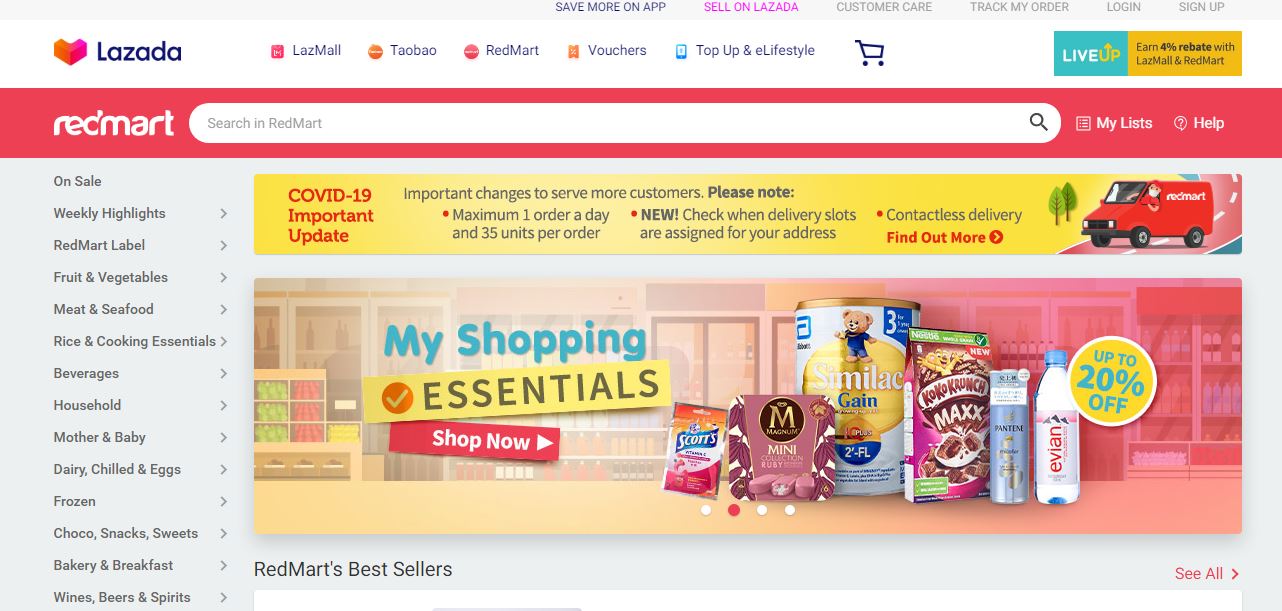 Redmart is part of Lazada, one of the most well-known online shops in Asia. It's an online grocery store where you can buy all of the necessities at home.
This shop features a wide range of products including fruits and vegetables, meat and seafood, beverages, snacks, and many more! Beauty and healthcare products are also part of its selections.
Highlights
Farmers market
cookbook recipes
Pet care items
Customer Reviews
Customers said that they were freed from the long lines at the supermarket ever since they started to shop at Redmart, making it the best online shopping site in Singapore.
One of its customers gave this feedback:
"RedMart has become quite popular with competitive prices that are comparable to those at, say, NTUC FairPrice. The quality of their fresh produce is also at least average. From my experience — I'm personally a RedMart fan — the in-app customer service is quite efficient. (Well, it was before COVID-19 anyway.)"
5.  HipVan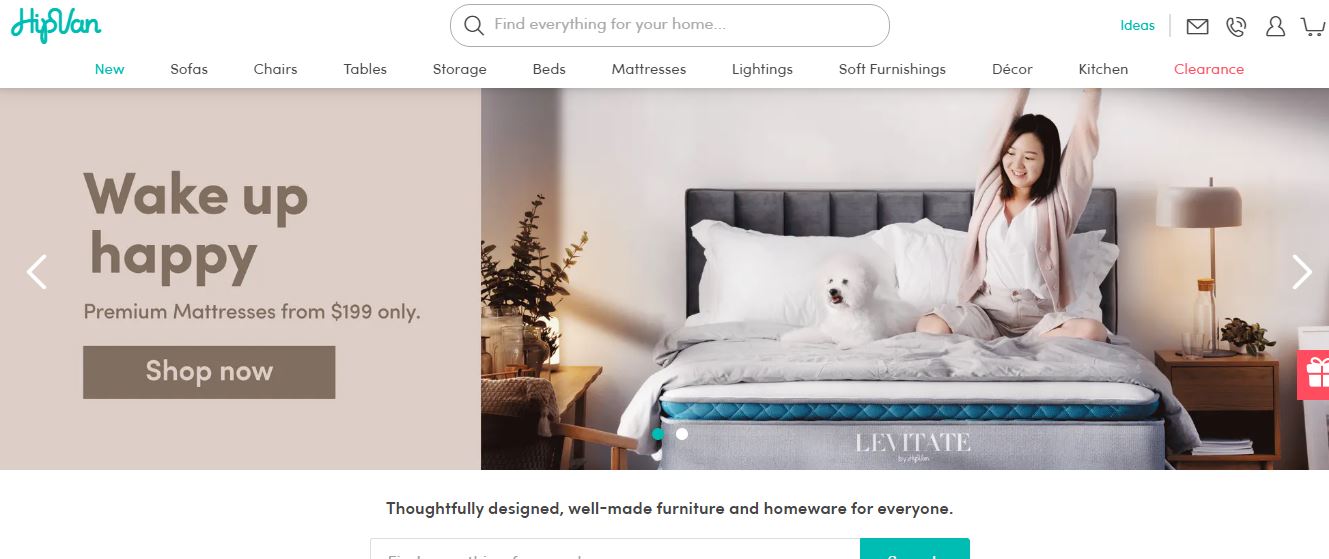 If you've recently moved into a new place, you should see the elegant and unique furniture collections of HipVan. This online store offers well-designed furniture and homeware including kitchenware, sofas, tables, chairs, rugs and mats, storages, beds, and more!
You can also manage your purchases through their mobile app so you can do a shopping spree anytime and anywhere.
Highlights
Lookbook for ideal styles
Free delivery and assembly services
Affordable prices
Customer Reviews
Most customers shared that they've received quality products and fast delivery services from HipVan. A customer left this review:
"Excellent quality mattress. Had my doubts over buying something over the internet but this mattress is amazing. Very comfy. Have been sleeping very comfortably. It is a medium firm mattress. The cooling pad also works very well."
6. MakBesar
MakBesar is a company that offers a wide variety of services. One of these services is Makbesar Garage, their online shop.
This shop offers quite the diverse set of products, from accessories to clothing and more. If you're interested, feel free to check out their shop and see if anything catches your eye.
Highlights
Diverse set of products
Affordable prices
7. Yeobuild HomeStore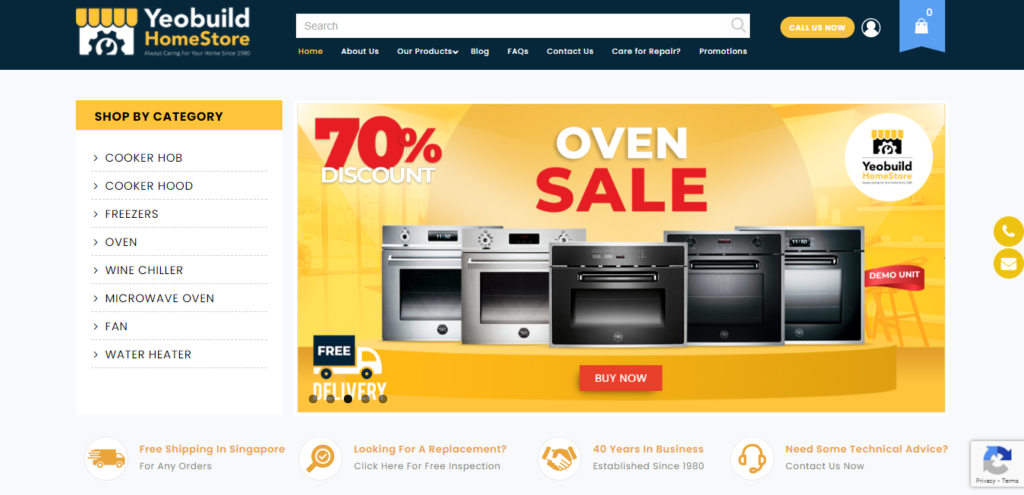 | | |
| --- | --- |
| BEST FOR    | Home appliances |
| WEBSITE | https://www.ybhomestore.com.sg/ |
| ADDRESS | 5000 Ang Mo Kio Ave 5, #02-10 Techplace 2, Singapore 569870  |
| CONTACT DETAILS | +6562329328 |
| OPERATING HOURS | Monday – Friday: 8:30 am – 6:00 pm |
Yeobuild HomeStore has been caring for Singaporean households since 1980, when it started as a home repair service provider. Now, it's grown to provide everything you need to make your home a liveable and functional space with its products and services.
Its online shop has cooker hobs, wine chillers, ceiling fans, and many more. Aside from equipment, you can also find replacement parts from this online shop so you can easily repair your home appliances.
Another great deal Yeobuild HomeStore has is that it offers free delivery for all purchases within Singapore!
Highlights
Free delivery
Home appliance and parts
Over 40 years of service experience
Product sales and repairs
Customer Reviews
Here are some reviews to share to you about how customers feel about Yeobuild HomeStore:
"I just made my first purchase with Yeobuild HomeStore, and everything is smooth!"
"good service, good product,good staff"
And there you have it! Now you know some of the best online shopping sites in Singapore, let us know once you've made a purchase and share your experience with us!
However, if you prefer to visit physical stores for certain items like mobile gadgets and other electronics, check out these best shopping malls in Singapore!