5 Best Deep Fryers in Singapore Less Than $300
Whether you want to prepare Turkey, fried chicken, fries, potato chips, cheese sticks or other treats, you want the best deep fryer in Singapore for the best-quality fried food.
Luckily for you, we're going through several of those today. But before we start with our list of favourite deep fryers, you should know some important things first.
Factors to Consider when Buying a Deep Fryer
Getting a good deep fryer isn't as simple as just buying the cheapest one you can find. There are types, sizes, and more to consider.
Let's take a look at them one by one so you can pick a deep fryer more easily later.
1. Types
Some buyers are not aware that deep fryers are categorised into two different types. They're distinct from each other and yet they cater to the same purpose, which is to serve perfectly cooked dishes.
a. Electric Deep Fryer
An electric deep fryer in Singapore is mostly used at home and it's also the most common and safest option to use indoors. When it comes to the results, it might differ based on the model.
There are a lot of affordable electric deep fryers if you often prepare small fried foods such as chicken strips, fries, chips, and more. But for the dishes like turkey, you'd probably need a larger one, which will also cost more.
b. Propane Deep Fryer
If you want even crispier results, you should go for a propane deep fryer. Since it's gas-operated, it comes with a lot of instructions that you must learn first.
This type can only be used outdoors or for commercial ventures. You'd also have to learn how to go about refilling, moving, and storing the propane tank.
Despite this, it still heats up the food faster than an electric deep fryer.
2. Size and Capacity
For those who often cook simple dishes, a smaller one will do. If you also have a few family members and enjoy some deep-fried foods every now and then, a bigger one isn't worth it.
However, for a large group or someone who loves to host celebrations and parties at home, you should take a look at the bigger deep fryers that can cook more.
3. Temperature Control
It's a basic feature for each fryer to have temperature control selections including low, medium, and high. This will keep your food at the right cooking temperature, ensuring perfect results.
Just make sure that if the deep fryer has two compartments, it should also have two separate temperature settings for each one of them.
The Best Deep Fryers in Singapore
Let's now move on to our list of the best deep fryers in Singapore and see which one perfectly fits your cooking needs and preferences. We'll begin with a small but powerful little Cuisinart model.
1. Cuisinart CDF-130
Best for Small Servings
Price: $119.00
If you're looking for a durable and long-lasting deep fryer in Singapore, you may be interested in this one.
The Cuisinart CDF-130 is built with a durable stainless steel design and an immersion-style heating element that provides faster heating. With this feature, your favourite foods will surely be done in no time.
It also has a temperature control dial so you can easily change the heat levels and have an evenly cooked meal! You can enjoy some fries, chicken wings, onion rings, tempura, and many more treats with the help of this appliance.
It can be the best deep fryer in Singapore for couples too, as it has the capacity to serve up to two people. A nice choice for a date night at home! 
Highlights
2L capacity
Ideal for cooking for two people
Temperature control dial
Easy to clean and dishwasher-safe
Customer Reviews
Most customers had a wonderful experience with the Cuisinart CDF-130. Surprisingly, some even said that they were able to serve a large group with food cooked in it, but they did have to cook several batches.
Some had concerns with the maximum temperature level and wished it could be higher, but they were still satisfied with the overall performance. An Amazon customer wrote this feedback:
"We bought this fryer for Easter Sunday because we were making fried chicken and we've always done it in a frying pan on the stove. We figured this would be much more efficient and make much less mess. We actually set it up in the backyard so we could keep the Heat and the smell out there and it worked wonderfully. The chicken came out gold and brown and crispy and not greasy. The temperature got where it needed to be and showed us when it was ready and stayed hot throughout. We did several batches of chicken because we had a large group over and every batch came out perfect. Everybody was raving about how good the chicken was. It does stay hot for quite a long time afterwards. We left it out there for several hours before the oil was cool enough to transfer to the storage container. We are very happy with this purchase. It's pretty big, we store it in a closet where we keep the pressure cooker and other items we don't use daily and can't afford to sacrifice cabinet space for."
2. T-fal FR8000
Best for Healthier Meals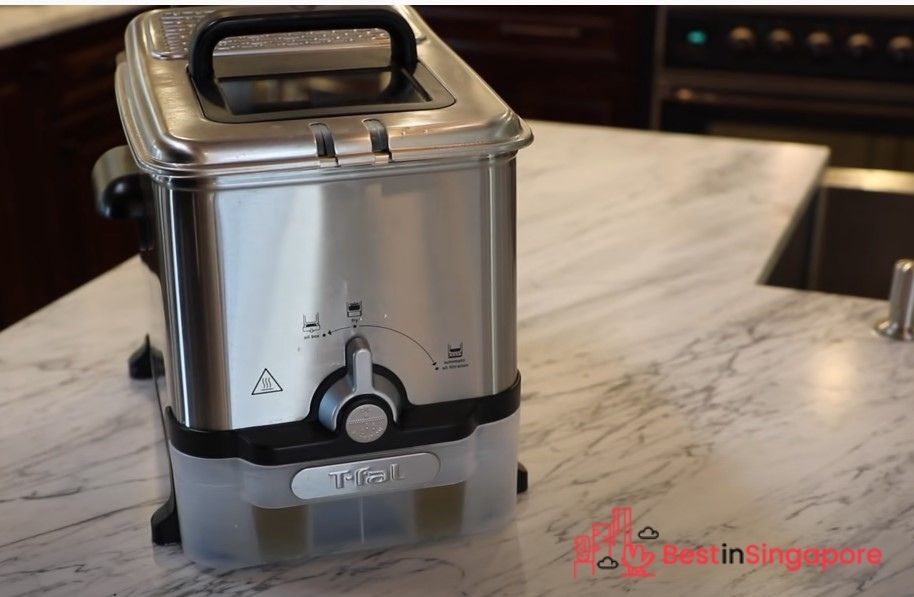 Price: $692.05
With the T-fal FR8000, you won't have to deal with the problem of oil disposal. It has filters that automatically drain and store clean oil for your next use.
Moreover, the oil is placed in a separate and sealed container so you can easily bring it out for your next recipes.
It's also worth noting that this deep fryer features an advanced heating system that ensures minimal oil absorption for each dish, serving a healthier meal. Furthermore, its 3L capacity is sufficient to cook for more medium-sized families!
Highlights
5L capacity
Adjustable thermostat selections
Oil filtration system
Minimal oil absorption
Customer Reviews
There are customers who wished for a deeper surface so it'd automatically fry all sides of particular dishes. However, this was possibly the only downside users of the T-fal FR8000 noted.
Thus, most of them still considered it one of the best deep fryers in Singapore. Here are some reviews from Amazon customers:
"I really like this fryer. I fried 2 lbs of frys and 1 lb of fish fillets and it took under 30 minutes total and that includes heating the oil up to temp and the frys took 15 minutes. Temp was verified pretty accurate by another thermometer. A lot of reviews I read before I purchased claimed it didn't reach temp. Also the UL label on the back says it consumes 1700 watts. I measured 1780 with my meter so I know it was giving it everything it had. Really very happy overall. Filter does a really good job of cleaning out the oil for the next run. If the oil pan is full be very careful handling it, it doesn't seal tight and the lid can and probably will pop off if you carry it vertically so don't do that. Also I set it up in the garage so the house didn't smell like fish. However with the lid and everything contained so well there was hardly any odor."
"The actual frying space is not very deep. I tried to fry homemade tortillas into taco shells the other day in a mold that I own. I had to fry one side and then the other because I did not have the 3 inches of oil necessary to plunge the entire thing under the surface. I really think this fryer could be deeper. A couple more inches of frying space depth would make this a 5 star appliance."
3. Toyomi DF 323SS
Best for Travel Use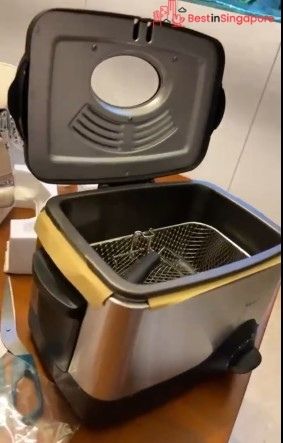 Price: $66.00
The Toyomi DF 323SS features a simple and compact design that is ideal to bring during a family outing. Most deep fryers come with a sealed lid, but with this one, you can observe the food as it cooks through the large and see-through lid window.
An adjustable thermostat and non-stick aluminium bowl are also provided for faster and efficient frying. What's more, there's no need to worry if it'll stumble when placed at rough areas for it has anti-sleep feet, preventing possible damage to the fryer.
This is why it might be the best deep fryer in Singapore for an outdoor cooking experience or trip.
Highlights
5L capacity
Anti-slip feet
Adjustable thermostat
Non-stick aluminium bow
Dishwasher safe
1-year local manufacturer's warranty
4. Hamilton 35034
Best for Large Group Gatherings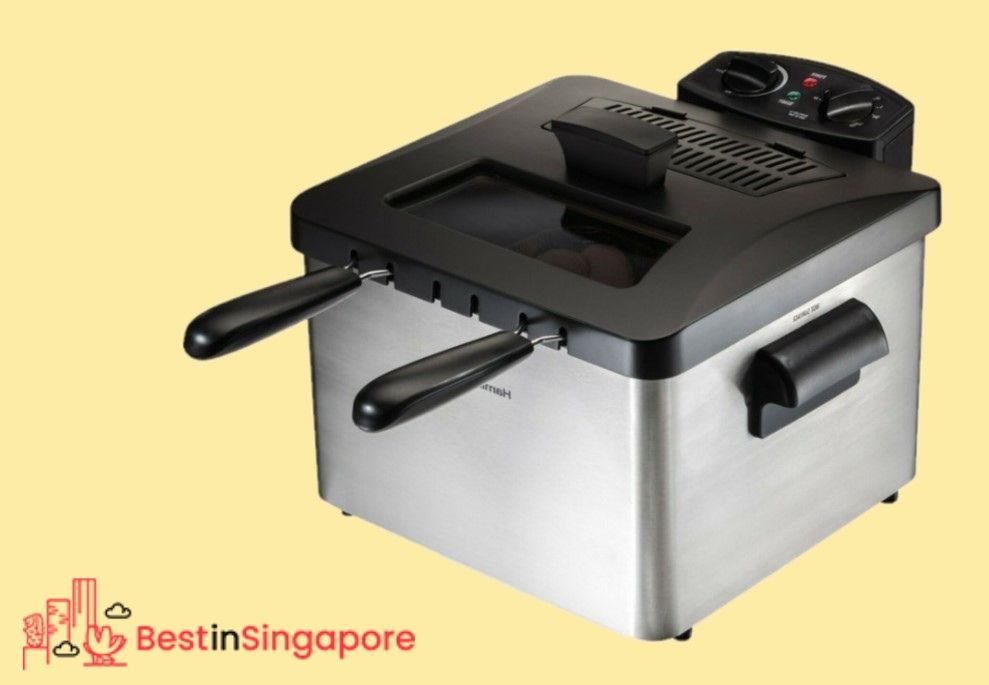 Price: $226.54
If you're getting ready for a festive occasion with a big group of guests, then you should see the Hamilton 35034. It's built with a unique design, featuring a double basket style so you can cook two different dishes at the same time.
It also sports an extra-large capacity that means it can serve a total of 12 cups per batch, making it the best deep fryer in Singapore for larger crowds.
The powerful heating element and adjustable timer and temperature settings opt for faster and evenly cooked results.
Highlights
5L capacity
Double basket feature to cook two foods at once
Adjustable timer and temperature settings
Breakaway cord
Easy to use and clean
Customer Reviews
The Hamilton 35034 has received plenty of compliments from owners. They were impressed with the overall features, although some also noticed a slightly inaccurate temperature level every now and then.
Nevertheless, they said that it's a trivial concern and they still recommended it. A customer from Amazon wrote:
"This is my first electric deep fryer and it's great. It makes frozen generic brand French Fries better than any restaurant I've been to. The lid works well, close to no oil gets on your counter tops. Much cleaner than when I had to fry on the stove in a pan. Easy to remove the oil and clean all the parts, just make sure you use warm/hot soapy water and be careful with the heating element because that's where the electrical components are. I use a wet hot rag to wipe it down. A few individuals mentioned they don't like the cord design but I don't see anything wrong with it. It's a pretty short, but I only have the fryer out when in use then I put it away when I'm done.
 My only gripe is the temperature dial. Everything I've made so far calls for a temperature of 350°F. Well, 350°F isn't even labeled on the dial. It's somewhere between 340 and 375. Not a huge deal but a little annoying if you're looking for a precise temperature. 
Side note, be careful if you're making fried chicken or anything that was marinated in buttermilk/dairy. It calls for 350°F but that's way too hot. It will burn very fast, rather than cook. Maybe try 300-320°F." 
5. Daneng Commercial Gas Deep Fryer
Best for Business Kitchens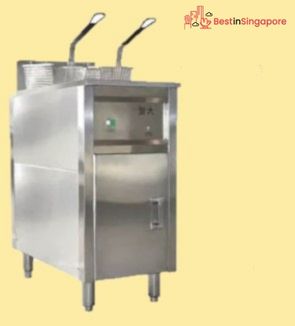 Are you looking for a commercial deep fryer in Singapore that you can use at your recently established food business? If so, the Daneng Commercial Gas Deep Fryer might be the ideal pick for you!
Coming from a brand that specialises in producing excellent kitchen equipment, this propane deep fryer features efficient functions such as saving up more energy for efficient use. This is very helpful during long business hours.
It also has two fryer baskets so you can cook multiple dishes all at once. For smooth and hassle-free cooking, it has a cool zone under the heating elements.
To ensure absolute safety in commercial kitchen areas, it features an automatic shut-off system. With these qualities, it can truly be the best deep fryer in Singapore for food establishments.
Highlights
Energy-efficient
Durable stainless steel build
Two fryer baskets
Automatic shut-off system
There you have it! Our lineup of the best deep fryers in Singapore should have shown you what appliance to get if you need a frier for daily meals, grand celebrations, business ventures, or even during travel!
Have you already chosen your favourite? If you know other deep fryer options that were not included in our list, you may also share them with us!
You may also see these best air fryers in Singapore for a healthier deep frying method. Air fryers are known to use minimal oil for a healthier alternative!