12 Best Espresso Machines in Singapore for the Home
Going to a cafe is nice… but wouldn't it be great to be able to make your own steaming cup of espresso at home? Well, with the best espresso machines in Singapore, you can do just that!
When seeking the best coffee machines in Singapore for espresso, you must make sure that the machine is easy to use, serves quality drinks, and has versatility. And you might as well consider the stylish design that can complement your kitchen interiors.
It's obviously not the easiest thing to comb the market in search of coffee machines in Singapore that tick all those boxes. So, we've decided to do the legwork for you by finding the best espresso machines in Singapore for home users.
Take a look at the products below and see if any of them fit the bill for that vacancy in your kitchen counter!
1. Nespresso Inissia Coffee Machine
Best for Flavour Variations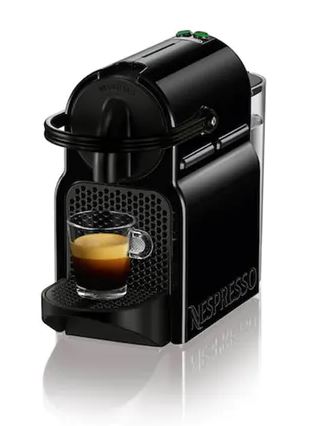 Price: $149.90
If you want a coffee machine in Singapore that can produce different varying flavours, this could be the one for you.
Wary of the common critique from home espresso machine owners that the appliances make loud noises? Then you'll surely love the Nespresso Inissia Coffee Machine, which even has customisable volume control.
It features an accessible capsule system that can contain up to 11 glasses. You can also adjust the setup for different cup sizes.
This compact and lightweight espresso machine can heat up water in a span of 25 seconds. To ensure safety, it also has an automatic shutoff function after 9 minutes.
Included with it are a removable water tank and folding drip tray for Latte Macchiato options. With these excellent features, it may truly be the best espresso machine in Singapore that you could ever have!
Highlights
Plenty of flavour selections
Rapid heating within a few seconds
Easy to use
Customer Reviews
Most customers are impressed by how fast how this coffee machine heats up as well as the variety of flavours available. However, some of them were also bothered by the small tank and by the fact that the capsules demand special recycling.
Nonetheless, they recommended the Nespresso Inissia Coffee Machine as the least expensive yet functional release of the brand for espresso lovers. A reviewer from Amazon shared this experience:
"Love this little machine. I have many devices that I've used to make coffee and espresso (machines. pour over, aero press, chemex, etc). I love coffee dearly, but some of the methods take time and makes a mess which I don't have time for in the am. I was looking for something that would make is easier, cleaner and quicker in the am to make espresso and and still be delicious – this fits the bill. I was avoiding buying this because pods are wasteful and then I found out that the entire pod can be recycled. If you go to Nespresso's site, they have bags that you can get and return the pods to them (Nespresso pays the postage) and have the pods recycled. They are also refillable pods as well which I've ordered on Amazon. The unit comes with a package of different flavors of espresso and lungo and all of them were delicious. It's small and takes up very little counter space. You can also adjust the amount of water you want added to your espresso/lungo – I like that feature a lot. The most important thing about this unit and all coffee/espresso makers is the taste. The espresso and lungo are delicious and smooth tasting. I add some hot water to the espresso when I feel like having an americano. You can't beat the price for this little espresso maker."
2. Bialetti Moka Express
Best for Authentic Espresso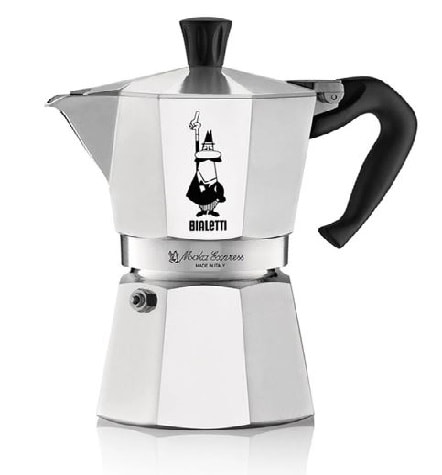 Price: $89.00
The Bialetti Moka Express takes pride in serving up a genuine taste of espresso. This is the best espresso machine in Singapore for those who value traditional coffee brewing.
The 8-sided design of the aluminium pot provides even heat to produce consistent and well-brewed flavours.
This is also a stovetop espresso maker that's safe and convenient to use. It can serve up to 6 cups, which is perfect for the average family.
Highlights
Evenly distributed heat
Authentic taste
Customer Reviews
Customers who've tried the Bialetti Moka Express claim it to be one of the best options for home-brewed espresso, as they say it delivers in taste and aroma.
However, they've also said that it doesn't work on ceramic stovetops. So, it's advisable to use it only with fire-based ones.
Here's some feedback from Amazon:
"This does make some fantastic coffee. The 3-cup version is 3 shots of espresso worth, so it's perfect for me. I would recommend getting a larger one if you want to serve multiple people. Between this, my aero press and a French press I can't drink coffees any other way. The moka pot is an excellent substitute for espresso in my opinion. It may not be as well extracted but it sure does get the job done with better tasting products in my opinion. Aero press is faster and a great go between for the moka pot and a French press. Get the moka pot. You won't regret it."
"This Moka Maker is a good one. The brand itself is one of the best in Europe. However, it does not work well on ceramic stovetops based on an electric system. it is mainly working for fire based stovetops. At least this was the experience with my stovetop. when the water started boiling the coffee maker slides on the stovetop and moved around."
3. Nescafe Dolce Gusto Piccolo Coffee Machine
Best for All Seasons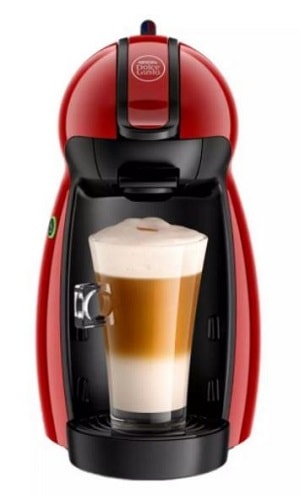 Price: $82.00
Compared to the two previous options, the Nescafe Dolce Gusto Piccolo Coffee Machine has a more compact design that'll certainly save you some counter space. If you have a smaller kitchen area, this would be the best espresso machine in Singapore for you!
It features a pressure system that can be set up to 15 bar, producing a velvety drink with a thick, delicious aroma. Using this in your kitchen will make you feel like you're in a cafe!
They have a total of 19 flavours to choose from so it's one of the best espresso machines in Singapore for those seeking variety. You can just slide in the capsule and process the drink with the manual lever.
Aside from this, it can also help you prepare some cold beverages during the summer season. So, be it rain or shine, you can enjoy a delightful drink with this one.
Highlights
Eco-mode for reduced energy consumption
Slim and compact design
Customer Reviews
Customers love the fact that they can do different types of coffees with the Nescafe Dolce Gusto Piccolo Coffee Machine. They also compliment its size and say that it can fit just about anywhere.
They've also stated that it might not be an ideal choice if you prefer less noise, though. Regardless, they still marked it as a worthy item.
An Amazon customer gave this review:
"I grew to love Dolce Gusto coffee while living in Europe the last three years. It gives you the quality of coffee shop coffee in your own home. When I moved back to the US, we bought a Keurig machine, expecting the same level of quality but were very disappointed. It's much easier to find Keurig coffee cups, but the quality of the coffee is not nearly as good. Even if you buy the premium brand cups. So I was very happy to find this Dolcu Gusto Piccolo machine for such a low price. It makes great coffee with the Nescafe Dolce Gusto cups and is small and compact enough to fit on a desk or coffee bar. It only holds two cups of coffee worth of water at a time, but this is plenty for me. I just keep a bottle of water on my desk to refill it! If you have never had coffee from a Dolce Gusto, try it! The high pressure system and higher quality coffee cups make much better coffee than a Keurig. You can also do Cappucinos, Espressos, and many other types of coffees that you can't make in many of the Keurigs. And you can order the coffee cups on Amazon and end up costing about the same as Keurig coffee. My only critique is that the machine is pretty loud when running. I warn my coworkers when I'm about to make a cup because it buzzes. It's worth it though!"
4. Wacaco MiniPresso GR
Best for Travel Use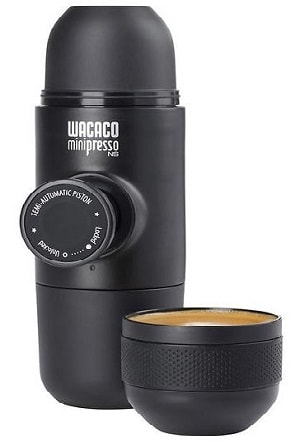 Price: $77.72
If you're looking for a coffee machine in Singapore that can easily travel with you, you shouldn't miss this one.
With the Wacaco MiniPresso GR, you can have your own espresso drink anytime, anywhere! During travel, this portable espresso maker will certainly come in handy whenever you're craving caffeine.
You don't need to prepare extra batteries or power cords to use this one. You can easily brew the coffee beans with a simple push of a button.
It's also designed with a modern and classic style exterior. To control the amount of coffee you make with it, you may simply use hand pressure.
It's both small and lightweight, making it the perfect partner to bring throughout a long-hour trip. For the adventurers out there, this is the best espresso machine in Singapore, built just for you!
Highlights
Portable espresso maker
Hand-operated
Customer Reviews
The Wacaco MiniPresso GR has been reviewed by the Tech Gear Lab and they've come to the conclusion that its the best choice for espresso lovers on the go. They also said that it's so much easier to clean compared to the other portable espresso makers that they've tried (not least because it's so small!).
Here's a review published on their official website:
"If you're looking to bring your espresso habit with you anywhere you go, the Wacaco MiniPresso GR is the best way to do it. It brews a surprisingly good shot, on par with the Nespresso machines we tested and is the most rugged of the two portable models we tested. Plus, the required cleanup is relatively painless, and you can often save the more thorough cleaning for when you get home."
5. Delonghi ECP33.21 Pump-Driven Espresso Maker
Best for Faster Brewing Process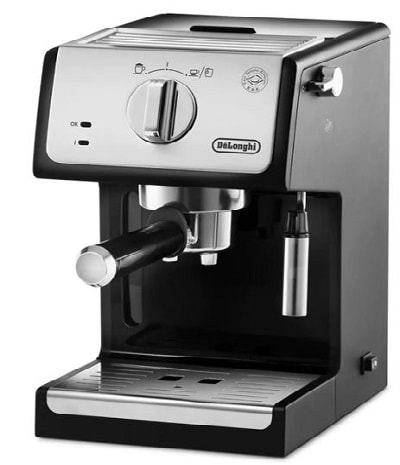 Price: $239.00
If you're looking for the best espresso machine in Singapore that can give you the barista and cafe experience at home, this could be the match for you.
The Delonghi ECP33.21 Pump-Driven Espresso Maker features 3 filters and ESE pods that make the brewing process much easier and faster.
It also has two thermostats that produce excellent heating distribution for a great espresso, cappuccino and latte.
Moreover, a drip tray is included, as well as an electronic auto-off system to keep you safe. It's simple yet is also one of the best espresso machines in Singapore.
Highlights
Two separate thermostats
Cappuccino system
Customer Reviews
For the overall performance of the Delonghi ECP33.21 Pump-Driven Espresso Maker, most customers are satisfied with its filters and pod selections.
Some say that though it may not offer great control over the amount of water used, it's still recommendable. A Lazada customer gave this review:
"Good product, consistent performance. The coffee flow is smooth, filter doesn't clog with different powders used. The froth maker gives good micro foam, not too many big bubbles on top. Attachment for pods and bigger filter basket included in package. There are grooves built in to the water compartment lid to hold the extra accessories – nice touch, avoids having to hunt for them."
6. Illy Y3.2 iperEspresso and Coffee Machine
Best for Beginners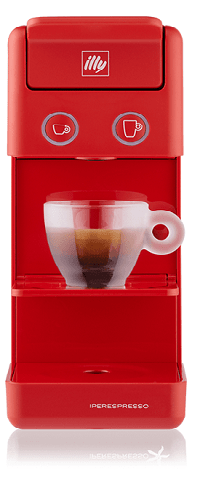 Price: $471.00
The illy Y3.2 iperEspresso and Coffee Machine is another model with a compact design that's suitable for both kitchen areas and offices' pantries.
Unlike other coffee machines in Singapore, it has 19 bars for a higher pressure pump, which means better coffee extraction.
It's also designed with a minimalist and sophisticated style, together with user-friendly settings. Thus, it only features two main buttons for a typical coffee or special espresso type.
Due to the iperEspresso capsule system, it delivers a rich and long-lasting aroma and cream. For those who find some other espresso machines too complex, this might be the best espresso machine in Singapore that you can use.
Highlights
User-friendly
Quick and easy cleanup
Customer Reviews
Owners have praised the super-accessible design and features of the illy Y3.2 iperEspresso and Coffee Machine. Some of them wished for more flavour selections, though.
Nevertheless, they still praised it for its simplicity and efficacy. Amazon reviewers left these feedback:
"This is the easiest espresso machine I've ever used. It makes a superb espresso with less effort than making coffee from a Keurig as it even self-empties the last pod into a collection bin. Heats up in no time, auto-off feature is convenient."
"Easy to use machine. Produces great tasting espresso and lungos. Only wish it had more choices of pods to use!"
7. Morphy Richards 172002 Espresso
Best for Frothing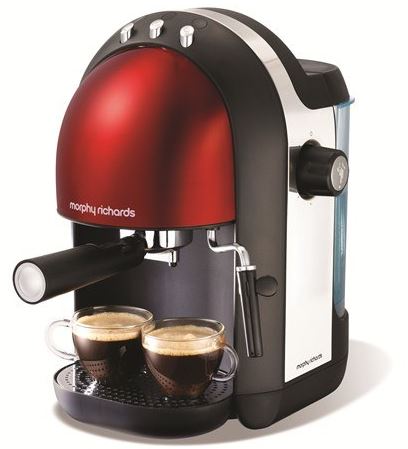 Price: $299.00
For the coffee lovers who love to drink ground coffee and ESE pod, the Morphy Richards 172002 Espresso could be the best coffee machine in Singapore for you.
With its dynamic design, you can prepare one or two cups at the same time. It's also built with a special steam wand function for frothing.
With this machine, you can have a variety of drinks including cappuccinos, lattes, mochas and many more!
Highlights
Brews from ground coffee and ESE pods
Frothing function
Customer Reviews
A customer was a little bothered with the mounting position of the milk frother/steamer but still recommended the Morphy Richards 172002 Espresso. Overall, reviews indicate that it's a good buy for those who like a very creamy, frothy espresso.
Reviewers from the brand's official website wrote:
"Ergonomic Design with easy to use features including a good Steam wand to froth and warm milk. Separate single & double expresso coffee shot filter dispenser are simple to use and produces that authentic coffee shop experience in your home kitchen.The MorphyRichards – Accents Red Espresso Coffee Maker is a lovely looking machine that should last many years of use. It is simple to clean & use. I wish the machine could fit a full size cup under the dispenser but you will have to buy separate expresso cups or use a smaller cup or mug.The expresso produced is thick & creamy, with an orange-brown crema on top"
"Been using the machine for a few weeks now and i have to say that the machine is near perfect for my needs, it gives a great espresso and is so easy to use. My only minor issue is the mounting position of the milk frother/steamer in that the arm is a little low to use so i found that its easier to stand the unit towards the edge of the worktop so that you can put the milk vessel underneath to heat/froth properly. As i said that is a minor point and overall the unit is great. I would definately reccommend this to anyone in the market to buy."
8. Mr Coffee Automatic Dual Shot Espresso/Cappuccino System
Best for Single or Double Shot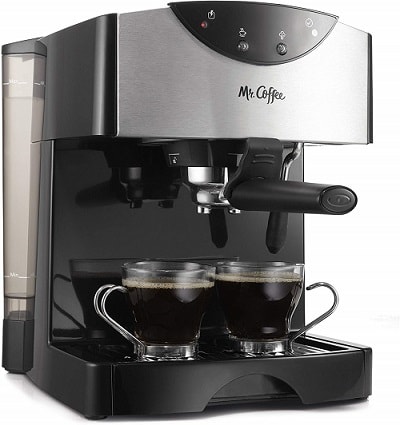 Price: $123.38
The Mr Coffee Automatic Dual Shot Espresso/Cappuccino System has a topnotch thermal block heating system that provides rapid heating. Its 15 bar pump system also produces creamy and tasty espresso drinks.
You can choose whether to have a single or double shot for varying sizes. It also comes with a tamping tool for more efficient use.
Additionally, recipes are given so you can explore different kinds of coffee treats. For easier cleaning and refilling, there's also a removable water reservoir included in the design.
This is hands down the most affordable option for those who need the best coffee machine in Singapore that can give the closest to an actual cafe experience.
Highlights
Easy to refill
Tamping tool and recipes
Customer Reviews
Most customers were satisfied with its features and capacity. However, there were also users who demanded a longer froth than it afforded them.
Despite this, they still recommend the Mr Coffee Automatic Dual Shot Espresso/Cappuccino System for its price. A reviewer wrote this feedback on the brand's official website:
"So far this has been a great machine for the price! It's fairly simple to use and makes a fantastic cup of coffee. The unit is compact and fits well on the counter and the stainless steel accent pieces go with my other kitchen appliances. My only issue is that I wish the for thing wand were longer as you can't froth milk in a mug, it's too short. I also wish it were more powerful as this doesn't seem to be strong enough and essentially just heats the milk. Clean up is simple. Overall, a decent maker for the price and I recommend it! I received this Espresso Machine as a sample to review, and am very happy I did because I love it!"
9. Ninja CF091 Coffee Makers
Best for Bigger Capacity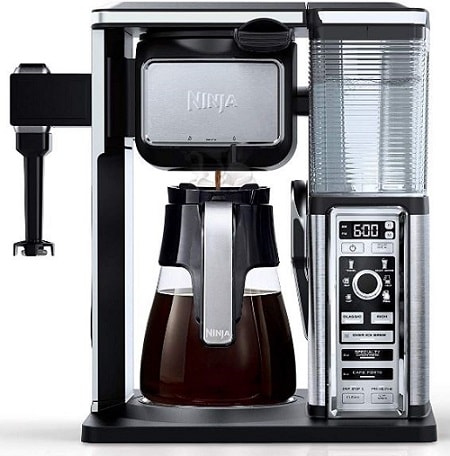 Price: $394.82
Isn't it better if you can share your favourite espresso with everyone? The Ninja CF091 Coffee Makers features different brew sizes and types that can cater to your family and friends.
You can also have it with a classic style or with a stronger taste. Either way, it'll definitely be a delight to use this coffee machine in Singapore!
It also has plenty of flavours that can be served either hot or cold. No matter what style or size you prefer for your espresso, it's truly one of the best espresso machines in Singapore that you can get.
Highlights
6 brew sizes
Hot or cold beverages
Customer Reviews
Though some customers had a concern with controlling the amount of water and cleaning the equipment, they still admired the flexibility of Ninja CF091 Coffee Makers.
An Amazon customer shared this experience:
I feel compelled to write this review not just of the product, but also of the amazing customer service from Amazon. The coffee maker is very good – I have had a Keurig for years, and I like the flexibility of the Ninja to make a decent single serving, a full pot, or even a capucino. Plus I can use whatever coffee I like – no more pods! I only wish I could adjust the size of the single serve cup, as it brews a larger cup than I like. Which brings me to the service issue… The coffee maker I first received from Amazon turned out to be defective – it was overfilling. Instead of an 8.7 oz cup on the rich brew cycle, I was getting 10 oz. Needless to say, the coffee didn't taste very good. I contacted Ninja customer service, who recommended I run a clean cycle with vinegar and water. This did not correct the problem, so I called Ninja back, and they said to go ahead a return it to Amazon. I was skeptical, thinking it was a warranty issue Ninja would have to address, but they insisted I contact Amazon. To my surprise (and delight) Amazon not only immediately sent me a label to return the defective machine, but I had a new machine the NEXT DAY. (It was promised for a two day delivery, but came sooner.) The replacement coffee maker is working perfectly, and the defective one is on it's way back to Amazon. Yay! Love that Amazon stands behind what it sells, and made the whole exchange process so painless. 5++ stars for Amazon!
10. DR. COFFEE F11
Best For Self-clean Mechanism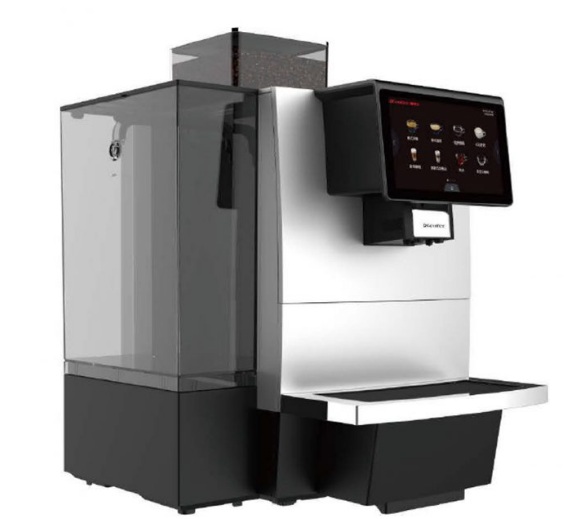 If you are looking for just a small-sized espresso machine but definitely delivers flavorful coffee, Dr. Coffee F11 is the perfect one for you. It is a stylish compact machine that delivers a range of high quality, rich tasting coffee that easily rival traditional bar machines you would find in many coffee shops.
Upon looking at it, its 7" touch panel will definitely capture your attention because aside from it's beautifully designed, it is also user-friendly which makes coffee-making convenient and quick. Most importantly, its advanced grinder made up of ceramic flat-type blades produces fine powdered coffee beans for a guaranteed rich flavor.
Highlights
Different ways of water supply and self-clean mechanism can deal with any occasions.

The combination of enlarged bean hopper, water tank and grounds container can easily cope with peak hour demand

The pioneering brewing system can meet your need for both non-pressurised regular coffee and pressurised espresso
11. Cowpresso Burr Grinder
Best for On-The-Go Grinder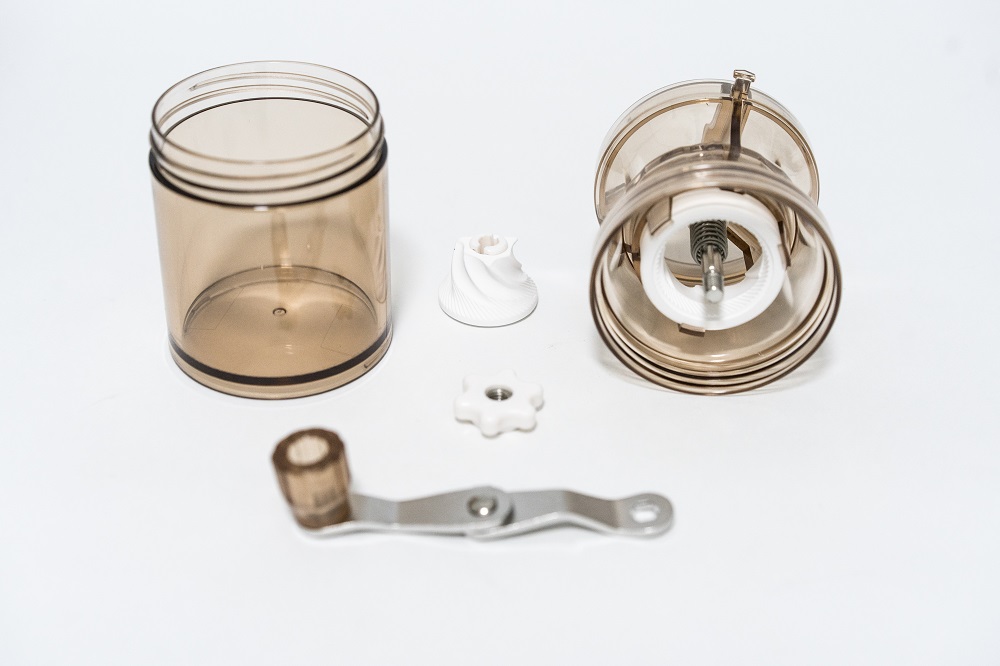 Price: $50.00
Shop Now on Cowpresso Coffee Roasters Singapore
Always running late for work and got no time to make your freshly brewed coffee? You should really invest in an espresso machine in Singapore that's so handy and can allow you to have a sip of hot coffee even while walking.
Cowpresso Burr Grinder is a compact and lightweight coffee grinder that is perfect for the aesthetic, ergonomic and adventurous brewer. Just twist to adjust grind settings from coarse to very fine grinds to brew your cold brews and espresso grinds. Well-defined grind sizes will be obtained with minimum effort and time.
Its compact and detachable handle makes it perfect for carrying anywhere lending itself well to its lightweight and the hustlers who just want a cup of good freshly grounded and brewed coffee anytime, anywhere.
Highlights
Easy to wash

Durable and lightweight

Makes no noise when grinding

Stainless
Customer Reviews
When it comes to portability and convenience, Cowpress Burr Grinder is truly a great choice. Despite its lightweight material compared to typical coffee machines, this product can truly stand among its competitors. A reviewer has left this note about the product:
"Great Coffee! Not only did I achieve a consistent grind, I love it's portability and value. Special mention to it's aesthetic and premium quality feel and touch."
12. Gemma Nespresso Capsules Coffee Machine
Best for Portable Spaces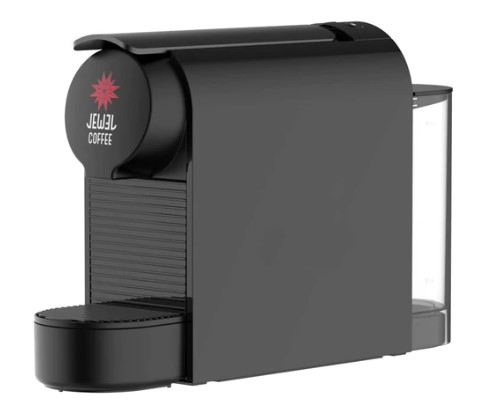 Price: $188.00
Gemma Nespresso Capsules Coffee Machine is one of the premium selections offered by Jewel Coffee who was founded back in 2011. Established by Adrian Khong, each of their products are geared to accommodate all types of coffee blends just for any individual who wants to try it.
This product in particular offers clients with a sleek and modern design which is also ideal for small spaces due to its portable structure.
We find it accommodating that it can handle both espresso and lungo cup sizes and is compatible with nespresso capsule. However, this could be a problem for clients who wish to try other types of capsules apart from what they offer.
That's not all, they currently offer a promo of 11% off from its original price and even installment payments to accommodate a more budget-friendly option.
Overall, past buyers of the product is also commended for its simple and easy-to use system along with Instagram-worthy designs and noise levels that are tolerable in the household setting.
Highlights
Acommodates two cup sizes
Easy to use
Portable in structure
Customer Reviews
Here are some reviews from their clients:
"The machine is beautiful and easy to clean, and the brewed coffee is very strong. The operation is very simple and can be used by both adults and children. The quality is also very good. every morning uses it."
"Small profile for little kitchens & Super simple operation."
Have you already decided on which one of these espresso machines to buy? No matter the size, functionality, capacity, or design, our list of the best espresso machines should have everything you've been looking for!
By the way, just in case you want a nice piece of toast to go with your espresso in the mornings, you may want to check out our list of the best toaster ovens in Singapore too! With that and one of the espresso machines above, you should start every morning right from now on!