14 Best Diaper Bags In Singapore For Everyday Use
If you've ever travelled with your baby, you know how stressful changing diapers can be. That's why all parents need the best diaper bag in Singapore — so we can easily organise all essential items and have a hassle-free trip!
There are a lot of things to consider to find the right diaper bag. To ensure quality and comfort, it must be lightweight, waterproof, spacious, and easy to clean.
For most parents, it should also have insulated pockets for milk and food… and of course, compartments for all those other baby essentials. 
Luckily for you, we've gone ahead and reviewed the options on the market. We came up with the following as our top picks for the best diaper bags in Singapore!
1. Jujube Convertible Diaper Bag
Best for Multi-functionality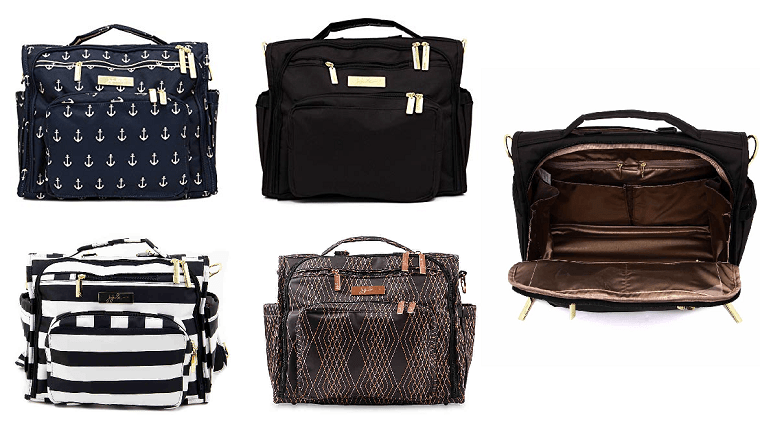 Price: $230.00
If you're looking for a diaper bag in Singapore that will organise your life and make you look chic at the same time, you shouldn't skip this one.
You can be the most stylish parent on the streets with the Jujube Convertible Diaper Bag. Aside from being fashionable, it also has plenty of pockets to keep your items organised.
This includes insulated bottle pockets, gusseted and zippered compartments, key holders, and back pockets for diapers and wipes.
The strap is also adjustable and detachable, so it'll be easy-to-carry with your own preferred length. Shoulder straps are included and optional for more comfort.
If you want a chic carry-on, backpack, or a shoulder bag where you can fit in all the baby essentials, then this might be the best diaper bag in Singapore for you!
Highlights
Insulated bottle pockets
Stain-resistant
Anti-microbial design
Customer Reviews
Many customers loved the overall quality and features of the Jujube Convertible Diaper Bag. They were able to make full use of each compartment and they also shared that it's easy to clean.
On the other hand, based on the review by the Baby Gear Lab, they stated that it's quite pricey. Fortunately, the materials make up for the cost, as it has high quality and durability.
Here's their final verdict, published on their official website:
"The B.F.F. is expensive. It is only $10 less than our most expensive bag, the Pacapod Mirano. While this bag does sport tons of great features, should last awhile, and is super cute, you will need to make sure that it fits the budget. Overall, we feel that with the great quality of the bag, it should be a good investment that will last through your diapering years. 
The Ju-Ju-Be B.F.F. is our Editors' Choice bag for great reasons. We love how versatile it is, multiple designs to choose from, the great organization it offers, and the ability to easily wipe it clean. We think that this bag is a top choice if your budget allows it."
2. Petunia Pickle Bottom Axis Backpack
Best for Classic Style and Practicality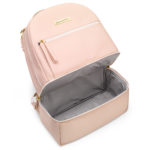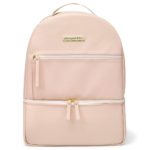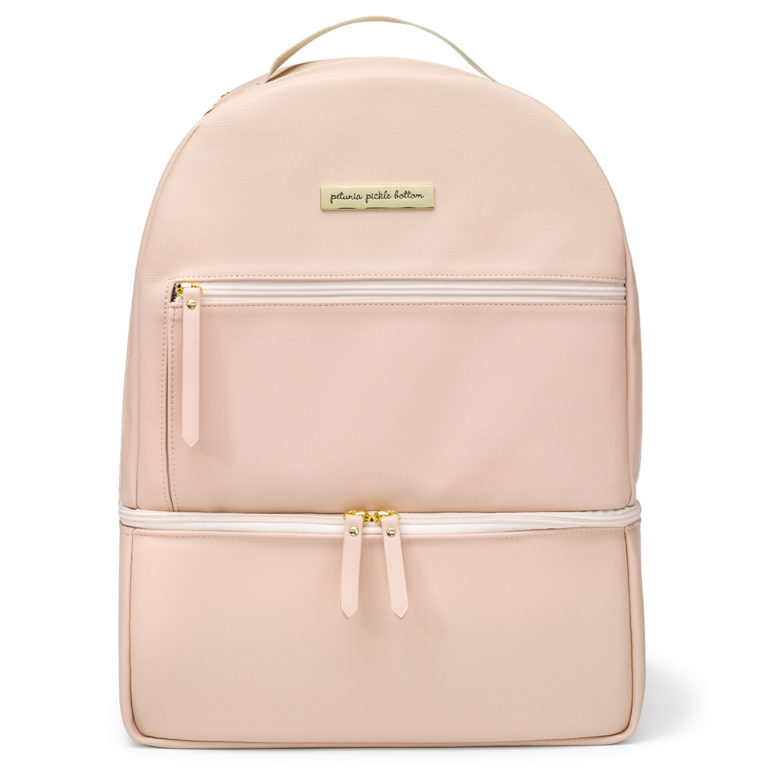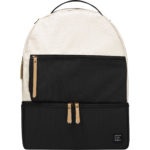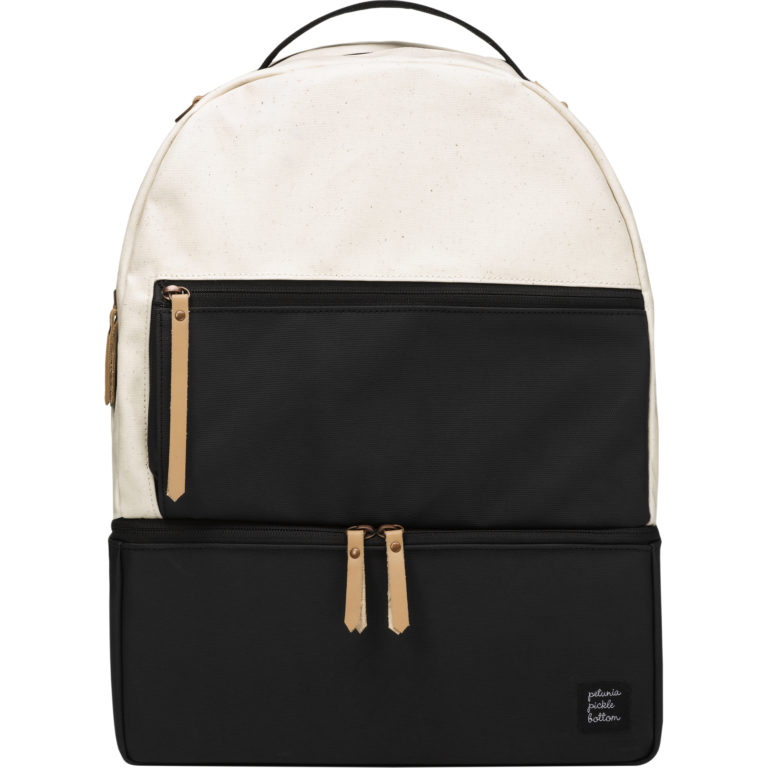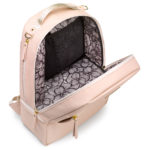 Price: $139.00-159.00
If you prefer a big yet stylish diaper bag in Singapore, then the Petunia Pickle Bottom Axis Backpack is a great pick for you!
The most unique feature of this bag may be the insulated and zip-around bottom compartment where you can store milk bottles, snacks, and even a breast pump. This is the reason it's one of the best diaper bags in Singapore.
A removable and washable changing pad is also included. What's more, the padded straps are wide and adjustable, so it's much easier to carry.
It's made with vegan leather detailing, which lends it a sophisticated and elegant style. Some may not even notice that it's actually a diaper bag!
Highlights
Easy to clean interior and exterior
Zip-around insulated bottom section
Insulated Side Bottle Pocket
Changing pad & wipes case included
Customer Reviews
Apart from the small top exterior pocket, customers were delighted with their purchase of the Petunia Pickle Bottom Axis Backpack. They loved the leather quality and large compartments.
A customer from Amazon left this feedback:
"I love this diaper bag. I get a ton of compliments on it and think it is not only nice to look at but incredibly practical. I have been using it for six months and it is holding up very nicely. The bottle pocket fits two of the 5oz Tommee Tippee bottles and keeps them cool for quite some time. The large pocked holds diapers, wipes, swaddles, burp cloths, etc. Highly recommended." 
3. Skip Hop Forma Baby Diaper Bag
Best for Both Baby Care and Work Duties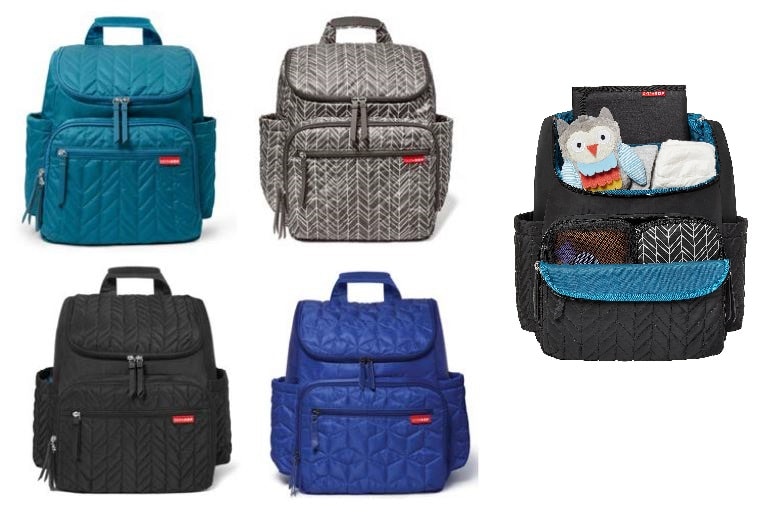 Price: $139.00
If you're a working mom and you always need to have your devices with you, this lightweight and roomy Skip Hop Forma Backpack Baby Diaper Bag can be the best diaper bag in Singapore for you!
It features a cushioned changing pad pocket that can carry a laptop or a tablet with a maximum weight of 15". It also has 2 multi-purpose front pockets for additional storage.
Whether it's for clothes, snacks or other necessities, this bag has a spacious main compartment that can fit them all. It comes with an ultra-wide opening too, so it's easy to put the items in and out of it.
Similar to the Jujube diaper bag, it has insulated bottle pockets at both sides. The most impressive thing about it is that it can be quickly attached to a stroller with its efficient stroller straps. For its versatility and portability, we think it's the best diaper bag in Singapore for busy parents on the go.
Highlights
Laptop/tablet holder
Stroller straps
Insulated bottle pockets
Customer Reviews
 The two packing cubes and various compartments included in the Skip Hop Forma Baby Diaper Bag are the things most commended by customers.
The only flaws that they've noticed are the questionable durability of the shoulder straps and the fact that the bag isn't waterproof. In spite of that, it's still a great diaper bag for them.
A customer from Amazon wrote:
"Needed a new diaper bag and instead of getting another purse/satchel diaper bag, decided to try out a backpack diaper bag. So far so good. I like how it looks, theres a BUNCH of storage (well thought out design too), and I especially love how it comes w two packing cubes. The only two things that made me waver between 4 and 5 stars are: it's durability – specifically the shoulder straps so we'll see how it holds up – as well as the fact that it's not waterproof. Overall, for the price it's a great purchase!"
4. Itzy Ritzy Boss Diaper Bag
Best for Long-distance Travels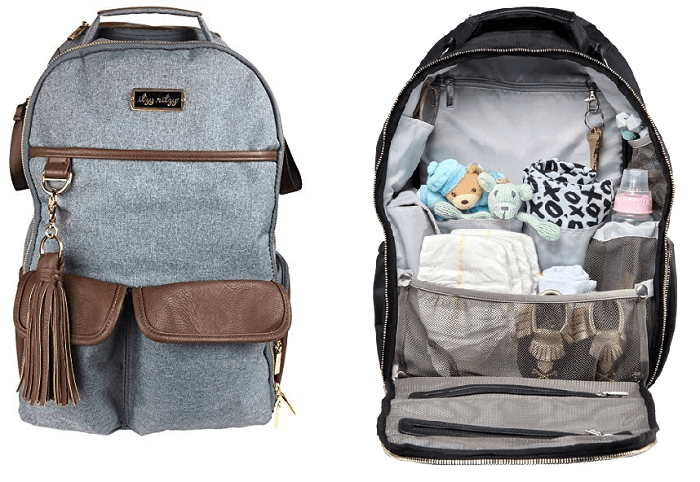 Price: $183.55
If you're looking for a the best diaper bag in Singapore that's roomy and can be lugged around during travels, this could be your match.
The Itzy Ritzy Boss Diaper Bag is another backpack-style baby bag but with a much bigger size than your average backpack and more compartments. For those who are going on a long journey, you might consider this the best diaper bag in Singapore.
It has extensive storage capacity, featuring a total of 19 pockets on both internal and external sections. Moreover, insulated side bottle pockets are included.
It also comes with a changing pad that has an illustration of "head" and "toes" on its print. For style, it has a tassel hanging on the side (made of genuine vegan leather).
It's also built with patent-pending rubber bag feet (for cleanliness).
Highlights
Variety of pockets
Stroller straps
Large size
Highlights
The Itzy Ritzy Boss Diaper Bag has received a lot of compliments from many customers, many of whom stated they could find no flaw with the product. From the design up to the functions, they were very impressed.
An Amazon reviewer gave this feedback:
"I wish I would have found this bag sooner – I'm already obsessed with it! This bag has everything I wanted – tons of pockets and storage space, insulated pockets to store any Breastmilk I have to pump on the go, a felt-lined pocket at the top for my sunglasses and phone, stroller clips, nice plush changing pad, and easy access to everything in the main compartment. It is so stylish and classy looking yet the most practical bag I've tried. I've already banished my other diaper bags to our basement storage bins – this is the best bag I've seen! Worth every penny!"
5. Colorland Georgia Diaper Backpack
Best for Simple and Casual Style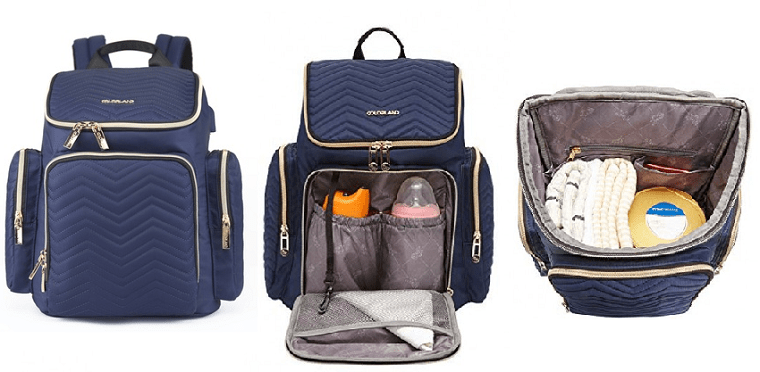 Price: $40.80
The Colorland Georgia Diaper Backpack is the best diaper bag in Singapore to bring whenever you go on a casual stroll with your baby.
It has all the basic features such as a large and spacious interior with two insulated bottle pockets. A thicker shoulder strap and elastic band on the back are also included so it'll be more comfortable to carry.
This water-resistant and easy-to-clean diaper bag also has an anti-theft pocket where you can keep your phone, wallet, or cards.
Highlights
Water-resistant
Thick shoulder strap
Anti-theft pocket 
6. Okiedog Freckles Travel Bag
Best for Light Strolls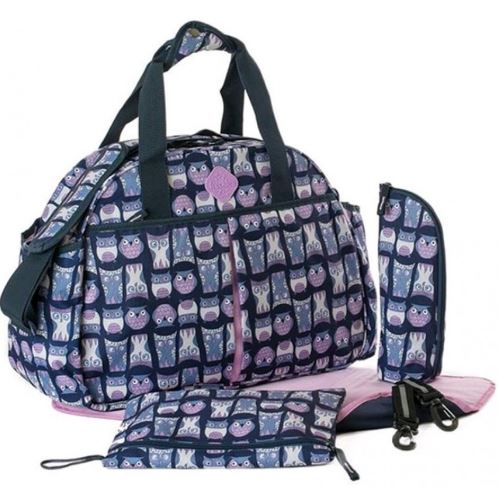 Price: $49.90
The Okiedog Freckles Travel Bag is a simple yet functional bag, mainly designed for travel use.
Though it may not be built-in within the bag, there's still an included insulated bottle holder. An accessory bag and changing mat are also provided.
It has plenty of front pockets for keys, mobile phones, and more. The main interior is pretty spacious too, so you can pack extra clothes, diapers, etc.
This mummy diaper bag can be adapted into a carry-on or a shoulder bag, which makes it very convenient to bring on a trip. 
Highlights
Additional accessory bag
Insulated bottle holder 
7.  Anello Diaper Bag
Best for Durability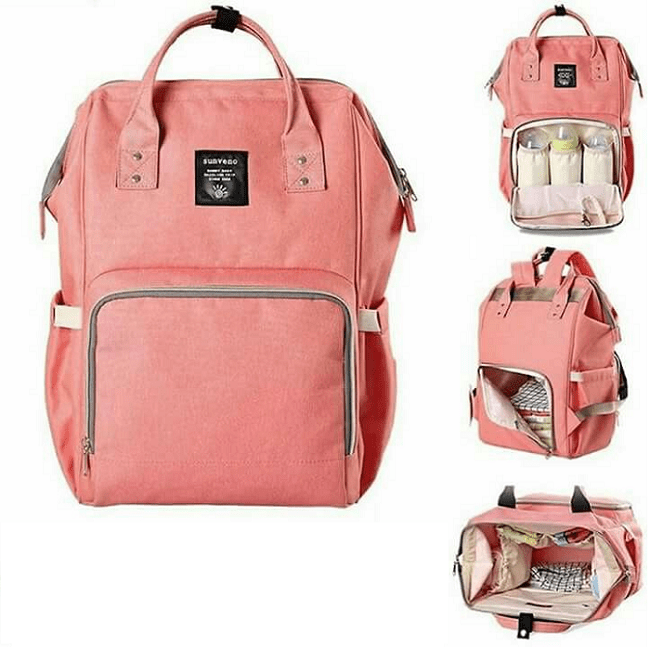 Price: $22.40
 If you're looking for an affordable diaper bag in Singapore that also looks chic, the Anello Diaper Bag should be in your list. You can instantly find and organise your stuff in the Anello Diaper Bag. This lightweight backpack is made up of canvas and polyester for high durability.
It also has a large main compartment and even the front pocket is much bigger compared to the exterior pockets of the other options.
The best thing about this bag is that you can use it for different purposes aside from as a diaper bag. This is why it's one of the best diaper bags in Singapore. 
Highlights
Waterproof
Large compartments
Customer Reviews
 The Best Backpack Lab has reviewed the Anello backpacks and they've praised the functionality and style of the bags. Here's their feedback, stated on their official website:
 "Anello backpacks are hugely successful in Asia, but they're not resting on their laurels. They're continually striving to meet their customer's needs by unveiling new models of stylish backpacks. The durability and functionality of the backpacks are remarkably good, meaning that I'd happily recommend an Anello backpack to anyone."
8. HapTim Baby Diaper Bag
Best for Outdoor Activities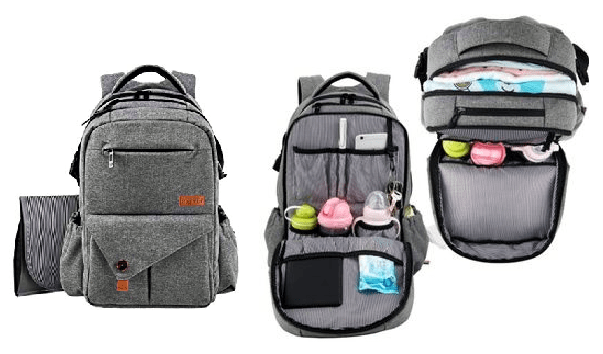 Price: $75.99
With the HapTim Baby Diaper Bag, you can bring extra clothes, diapers and even pack some food and snacks. It's the best diaper bag in Singapore for those who enjoy outdoor activities!
This waterproof backpack has 2 main compartments with a lot of pockets, all amounting to 17 sections. It's big enough to use for an overnight stay.
Insulated pockets are included to keep the food and milk warm. A changing mat is also part of the package.
For more convenient use, it features stroller straps, padded shoulder straps, and grab handles. Their gender-free design also makes them the best diaper bag in Singapore for all kinds of parent!
Highlights
2 main compartments
Unisex style
Customer Reviews
Despite its versatility, the HapTim Baby Diaper Bag is offered at a fair price. Hence, customers are highly satisfied with their purchase.
An Amazon customer wrote:
 "This product was delivered promptly. I purchased this diaper backpack for the purpose of international travel with a 4 month old. I am very excited about this product. It really does look better in person. There are many compartments in this diaper backpack including specific compartment for feeding bottles. There is a large, soft changing pad as well. You can also carry your laptop among the baby items. The build quality is stellar and the ergonomic design is very impressive with back straps, and stroller straps as well. It's very hard to tell that this is a diaper bag so maybe the discrete design appeals to men/fathers as well." 
9. Insular Diaper Bag
Best for Tote Bag Style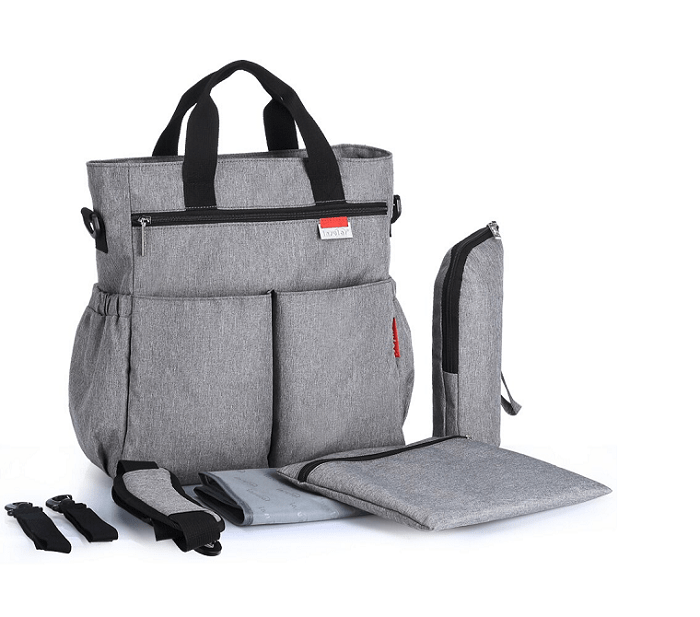 Price: $32.00
The Insular Diaper Bag is in a tote handbag style. That said, it also has detachable straps so you can use it as a shoulder bag.
It also has many exterior pockets you can quickly access whenever you're in a hurry. A separate bottle holder, mini pouch, and changing pad are also included with this bag.
The dimensions of the bag are sufficient to fit in your laptop or tablet. In fact, its capacity is one of the reasons many recognise it as one of the best diaper bags in Singapore.
Highlights
Detachable shoulder straps
Additional accessories included
10. Petunia Pickle Bottom Boxy City Carryall Diaper Bag
Best for Versatility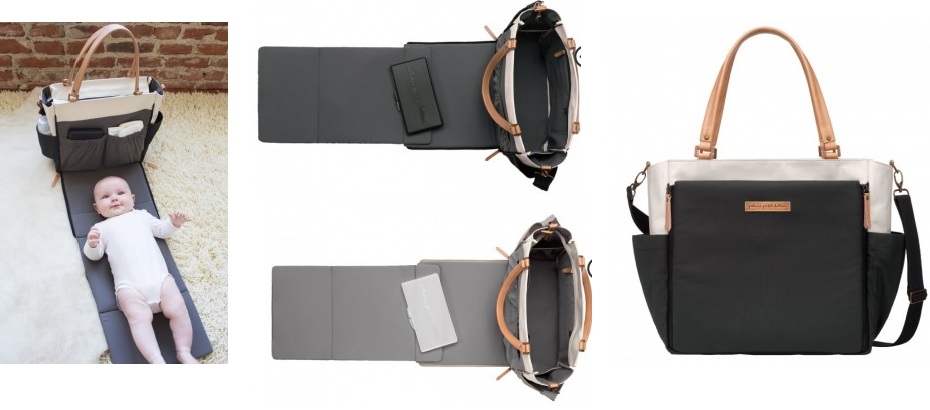 Price: $175.94
Imagine being in a public place, just casually strolling and suddenly your baby had a sudden explosion a.k.a. emergency diaper change. Cleaning all the mess is one thing but looking for a changing table in a place packed with strangers in another. 
Good thing, Petunia Pickle Bottom Boxy City Carryall Diaper Bag comes with 100% versatility. Aside from it being a diaper compartment, it also has a special feature of a full-size, zip-out diaper changing station for baby, with removable changing pad and pockets for diapers and wipes.
Perfect, right? It's like getting all items in just one single product and it comes very handy as well with 2 easy ways to carry!
Highlights
Spacious interior with 5 pockets (2 specifically for bottles)

Water-resistant interior and exterior

2 easy ways to carry: On shoulder with padded handles or hands-free crossbody with an adjustable long strap
11. 13Thirteen Diaper Backpack  
Best For Comfortability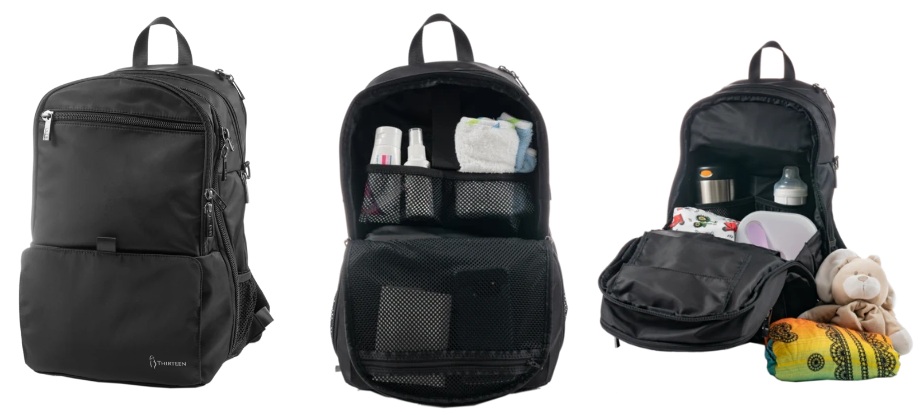 Price: $199.00
13Thirteen Diaper Backpack is the ultimate family travel backpack, praised for being functional, ergonomic and lightweight with lots of useful features and space. 
It makes travelling with a child hassle-free in terms of diaper changes, thanks to its comfortable and lightweight design. Backpacks may not be the most fashionable but they definitely ease the struggle of bringing tons of baby stuff out while carrying your child with both hands full!
With its large and spacious compartment, you can put stuff enough for even more than 1 child. It is also made of lightweight, durable, water repellent fabric and ergonomically designed to ensure maximum comfort so your shoulders and back will not have to suffer. 
Travelling with a child can be totally stress-free if you just know which products to bring with you, just like 13Thirteen Diaper Backpack.
Highlights
Easy side access to main compartments

Fold away diaper mat compartment

Quick flip front access to wet wipes and dry tissue
12. Colorland 4-in-1 Diaper Backpack
Best for Multi-style Wear

Price: $75.00
Who says that wearing a diaper bag will totally ruin an outfit? With Colorland 4-in-1 Diaper Backpack, you can wear even your most stylish dress while carrying around a bag full of diapers and wet wipes.
This bag is not only made to store diapers and tissues but it is also designed to be carried in multiple ways so you can bring it anytime, and at any occasion. It can be used as a shoulder bag, a carry bag, a cross shoulder bag and also a backpack!
Plus, this diaper bag comes in a very affordable price! So, what are you waiting for? Grab your own Colorland 4-in-1 Diaper Backpack now and catwalk your way to your pedia appointment.
Highlights
Adjustable shoulder straps

Front zipped pocket for tissue paper and smaller accessories

Removable sling strap 

2 side pockets for bottles (1 pocket is insulated)
13. Frequency Totebag
Best for Fashionable Bags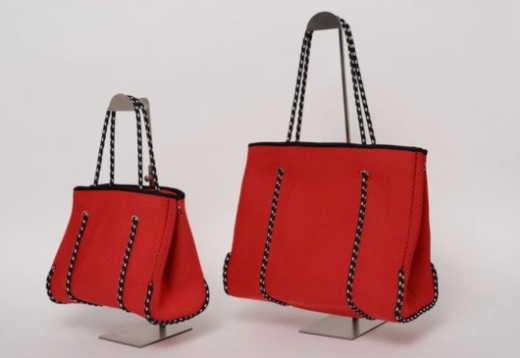 Price: $89.00 SGD
If you want to look high-fashion while carrying the most stylish looking diaper bag in Singapore, you should consider this.
This tote bag from Frequency is probably not your typical diaper bag style because its relatively high fashion sense but with its huge compartment with additional pouches, Frequency Totebag is definitely a modern day mom's must-have diaper bag.
It comes in two sizes— a mini version whose dimensions are approximately L29x H23x W18cm and a regular one with L38cm x W18cm x H30cm dimensions.
For extra security, the bag is secured with Top Zipper & magnetic studs on both sides of the bag. It also has a zipped inner pocket for your more valuable belongings or it can be a storage for your kid's daily vitamins.
Highlights
More options for bag colors

Made of perforated neoprene fabric 

Zip closure for extra security
14. On-the-go Backpack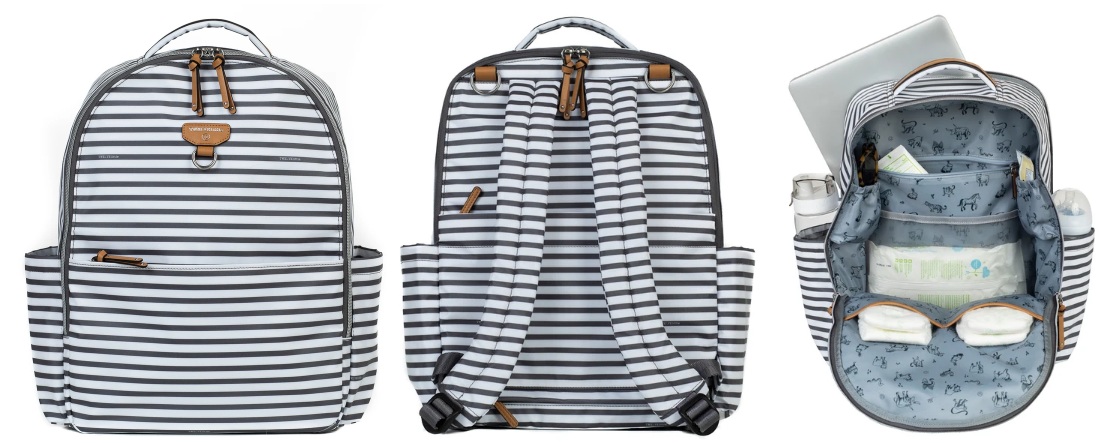 Price: $165
Multitaskers will definitely be delighted to know that there is a diaper bag perfectly designed to match with their busy, always on-the-go schedules. TWELVElittle's On-The-Go backpack can be conveniently brought anywhere, may it be on a family outing, beach trip, work function, etc.
It has a spacious main compartment with five pockets so you can easily organize your stuff, especially the diapers. Should you need to bring your laptop with you, On-The-Go-Backpack also has a separate opening for a fully padded laptop sleeve.
More importantly, this diaper bag in Singapore has D-rings that allow it to be attached directly to the stroller.
Highlights
Water-resistant materials with vegan leather trim

Travel-friendly back sleeve to fit through luggage handles

Free of harsh chemicals such as BPA and PVC
Customer Reviews
"I'm in love with my new diaper bag. I am a cloth diapering momma and I have found that the bag has enough room for all my essentials, and then some. I do wish the front pocket was a little bigger but otherwise I am really happy with my purchase."
And that's a wrap for our list of the best diaper bags in Singapore! Each product has its own distinct style and features that'll certainly satisfy your needs — so you can easily find the bag most suitable for you.
Have you already decided which one to buy? Let us know all about it by sharing your thoughts in the comments section below.
Oh, and by the way, you might also need the best water bottle in Singapore for your baby or for your own personal use, to go with your new diaper bag. This would absolutely come in handy whenever you travel, so take a look at our suggestions for that too!