The 9 Best Acoustic Guitars in Singapore For Beginners
Are you a beginner or someone just getting into guitars looking for your own instrument? Well, you're on the right track, as we're giving you the best acoustic guitars in Singapore today.
Of course, we won't just leave you with a list of guitars without showing you how to pick one for yourself. While our list is of the best acoustic guitars on the island, there's likely still one of these that's better for you than the rest.
So, we'll go over a few of the things you should consider when buying an acoustic guitar first. That way, you'll know how to choose from among the options we list in this article.
Factors to Consider When Buying an Acoustic Guitar
While acoustic guitars are more affordable than ever before, investing in a low-quality guitar is still not a practical choice. That's why it'd be wise to take your time before arriving at a final decision.
You need to think about a lot of things. These include progressive learning, high sound quality, suitable length scale, durable build, reasonable price, and more.
Let's take a deeper look at these factors, shall we?
1. Sound Quality
The overall sound quality of the guitar depends on the materials used. For the beginner models, they're commonly designed with a laminated wood that opts for a standard sound rather than a fuller sound.
However, the ones below use such materials as spruce, rosewood, cedar, mahogany, and maple. That gives them spectacular sound, but each of these materials also produces a different tone.
If you already know which sound suits you the best, then it'll be easier for you to choose. Otherwise, you may have to test them first.
You can usually go to a store to test each wood or ask friends who have different guitars to let you try them first. Otherwise, you can use this sound guide:
Spruce – Different spruces actually impart different sounds, but the most common, Sitka spruce, gives you clear, strong tones. Red spruce, another common option, tends to be richer and louder.
Rosewood – Rosewoods are often reverberant, warm, and have beautiful clarity at the low end with a bell-like quality in the top notes.
Cedar – Great if you play fingerstyle, because it's so nuanced and warm.
Mahogany – Solid, woody, and a bit on the twangy side. You'll often get it on a guitar's back and sides, where it produces a nice emphasis on both your lowest and highest notes.
Maple – Bright, with excellent sustain and less coloration of the sound.
2. Scale Length
After determining the type of sound and material you want, you should now think about the scale length's suitability for your current skill level.
For most beginners, it'd be more comfortable to play with a guitar that has a shorter scale length. This is so you can easily reach the fingerboard.
However, if you already have some experience, then a full scale would be preferable for more challenging tunes.
3. Durability
In every purchase, no matter what item or product it is, it's very important to know if it'll last for a long time or not. That's true even when buying acoustic guitars.
When it comes to a guitar, solid wood material would be an excellent pick for a sturdy design. There's no need to worry on this score, though — our list contains only the ones we judged to be durable enough to merit their prices.
4. Pricing
As a novice, you'd immediately think that a cheaper one would do. However, as we've mentioned earlier, it'd be wiser to invest in an instrument that you can use efficiently and for a longer time.
This is to avoid costly replacements or repairs. It can also help you learn how to play better, as better guitars train your ears to the nuances of sound more quickly.
Therefore, the price must consider the overall quality of the guitar. Consider how long you think you can use it, what it's made of, how it's designed, and so on.
At any rate, you now know what to look for in an acoustic guitar. With these things in mind, it's time to search for the right one for you in our list of the best acoustic guitars in Singapore!
1.  Yamaha F310
Best for Overall Value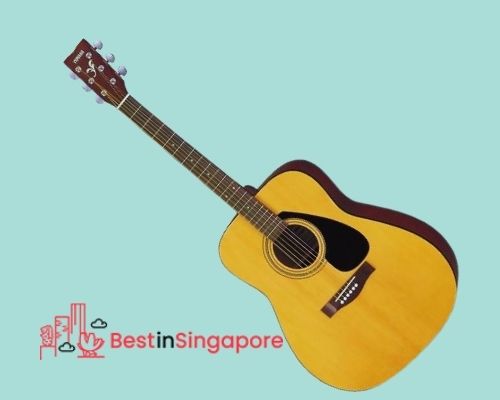 Price: $229.00
Ask any seasoned guitar player and chances are, they started learning with a Yamaha acoustic guitar when they were young. The Yamaha F310 is known for its quality control that is designed for beginners yet produces the same sound as their professional models.
It's also built with high durability through its spruce top and rosewood fingerboard and bridge. The guitar is specifically made for less experienced users too, as it has a shorter scale length and strings for better user comfort. So you can see why this is first on our list as we think it's one of the best acoustic guitars in Singapore for beginners.
With its affordable price and premium quality, we definitely feel that it deserves a spot on our list of the best acoustic guitars in Singapore.
Highlights
Kinder to fingertips than others
Less tension on the strings than most guitars
Durable
Cheap price
2. Taylor Big Baby Dreadnought 
Best for Dynamic Playing Styles
Price: $579.24
Compared to the Yamaha model, the Taylor Big Baby Dreadnought is full-length and has a solid Sitka spruce top that is perfect for the aspiring songwriters out there.
We picked this as one of the best acoustic guitars in Singapore because of its versatility. As a starter, you'd most likely want to try different ranges, after all.
This model can be the best acoustic guitar in Singapore for you, in that case. It caters to a wide range of styles with aplomb and clarity, not least thanks to the Sitka spruce top.
It's also designed with a durable and charming layered wood and non-cutaway style for a cleaner and simpler look. This is the perfect acoustic guitar in Singapore for you if you're a beginner with great plans to really improve and level up your strumming skills.
Highlights
Full-scale
Wide range of styles
Solid Sitka spruce top
Additional gig bag
Customer Reviews
Many customers complimented the physical design and sound quality of the Taylor Big Baby Dreadnought. Though it may be on the pricier side, they said that it's still a worthy purchase.
Know Your Instrument blog gave this feedback on their featured review:
"And with a Taylor you can be assured that your investment is worth every penny. The overall build and sound of the Big Baby Taylor makes it a must-have for those looking for a quality instrument at a reasonable price. The Big Baby is a wise buy because with it, you would seem to have two guitars in one: a near-full-size dreadnought and a portable travel guitar. The Big Baby Taylor plays like a dream and is a guitar kids will grow up with and even grownups will enjoy – a guitar you won't regret buying." 
3. Martin LX1 Little Martin
Best for Travel Buddy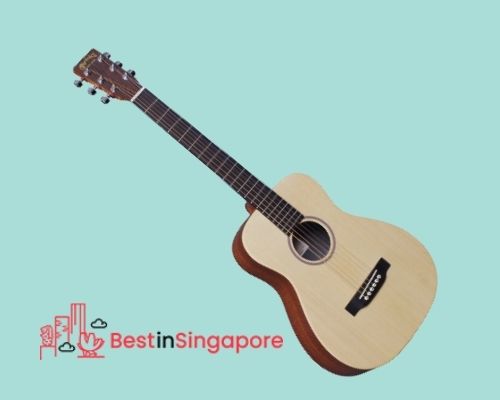 Price: $730.00
If you're going on a trip and you want to bring an acoustic
So guitar so you can strum anywhere and any time, then the Martin LX1 Little Martin is a good choice for you. Despite its smaller build, it produces a brilliant tone and offers style versatility.
Similar to the previous option, it has a solid Sitka spruce top that produces powerful tones. This guitar also has a mahogany high-pressure laminate HPL on its sides and back.
It's made with sustainable wood parts for more efficient use. Overall, we think this is possibly the best acoustic guitar in Singapore for those who want a highly portable one.
So if you're perhaps one who just graduated from beginner level and are now looking to explore where your strumming skills can go, this is the perfect acoustic guitar in Singapore for you!
Highlights
Smaller design
Mahogany high-pressure laminate HPL
Sustainable wood parts
Customer Reviews
The Martin LX1 Little Martin has mostly earned praise from owners. Based on their feedback, it's truly the best travel partner if you need a portable guitar.
Guitar Adventures blog featured the model in their review and wrote:
"The Little Martin acoustic guitar series may be a smaller guitar, but it can be a great addition to your collection if you need a simple but good-sounding guitar to travel with or just play around the campfire. Martin fans will be happy with the deeper sound and for those who want to plug in they have plenty of options that come with electronics on board. Overall, I've enjoyed playing the Little Martin guitars and can't wait to buy one for my son when he gets a few years old."
4. Fender CD-60CE
Best for More Advanced Users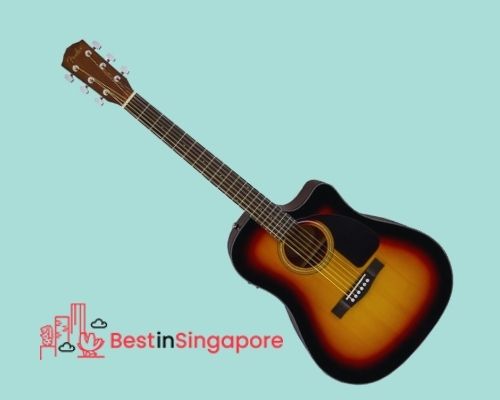 Price: $449.00
The Fender CD-60CE has a top-notch design that stands out among others. It's an acoustic-electric guitar that features good sound quality and a user-friendly design on the fingerboard.
It's also a nice selection for the more advanced or faster learners, and even for experts who are looking for a backup instrument. It's very portable, so it'll be easier to bring on a trip than most acoustic guitars too.
You'll definitely have a blast with its pickup system that includes a tuner, tone controls, and active preamp. It also has a very attractive, glossy finish if you want a bit of glamour!
Highlights
Cutaway body style
Scalloped bracing for better tone
Graph Tech string for tonal consistency and clarity
Customer Reviews
A lot of reviewers stated that it's not only a good pick for the starters but can also be a great choice for the experts. This is why it's one of the best acoustic guitars in Singapore.
That being said, they also shared that there'll be some limitations for the truly advanced players. That's probably to be expected, given that this still makes allowances for beginners — at least, the allowances still weren't enough for users not to recommend this guitar.
PlayGuitarNotes blog gave this feedback in their review:
"The direct target market for this impressive budget Fender is novice players. However, the size might be a little uncomfortable for younger players. If you don't want to spend too much on a hobby you might abandon in a month, but you want the best possible experience while you learn, then this is a guitar to consider. For more experienced players there are going to be some limitations. While the flexibility of the guitar is good, it's not enough for those who know exactly what they're doing."
5. Epiphone DR-100 41
Best for Casual Playing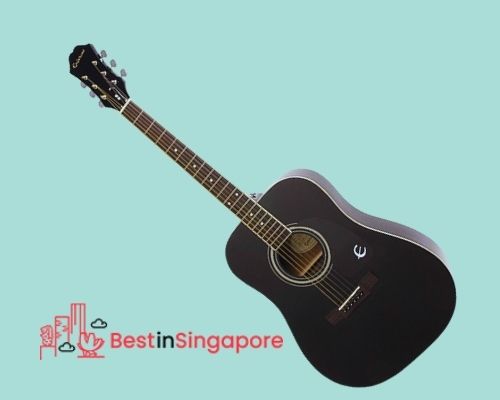 Price: $213.80
Being the best-selling dreadnought of the brand, the Epiphone DR-100 41 features impeccable quality and a stylish look. So if you're into the folk or rock genres, this could be the best acoustic guitar in Singapore for you.
It features a great volume control that produces a sound balance. With its mahogany body, you'll surely enjoy a warm and sweet sound. So if you enjoy an intimate concert or jamming session with friends, this is the perfect acoustic guitar in Singapore for you.
Highlights
Sturdy build
Versatile
Ambidextrous design for both right and left-handed users
Customer Reviews
Consumers said the Epiphone DR-100 41 is a decent option for beginners. However, it may need a light tuning on the first try and the sharp fret may cause discomfort.
Still, they were impressed by its sound quality and long-lasting and travel-friendly design. GuitarJunky blog wrote this review:
"It seems like Epiphone did their research on the competition and customer expectations when releasing the DR-100. While it isn't a new model, it dominates many guitars of its price range and looks to be as if it were created yesterday. That is what makes the Epiphone DR-100 a wise choice for beginners or seasoned players. It isn't only a guitar for first-timers but also a good investment for those who need backups during performances. With its solid construction and sweet tones, this guitar is fantastic for all styles of playing."
6. Seagull S6 Original
Best for Any Skill Level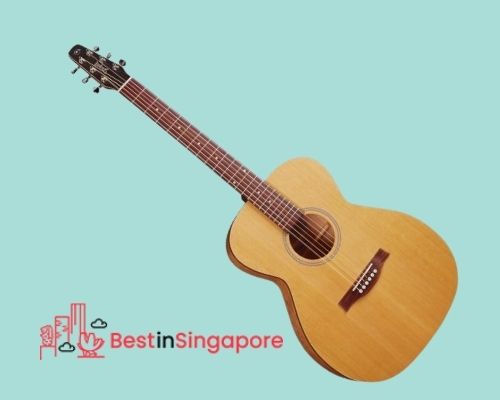 Price: $1,170.79
If you're looking for an acoustic guitar that can be used by both beginners and advanced strummers, this one will interest you. The award-winning Seagull S6 Original is said to be a great piece that best represents the brand. It has been recognised for its classic allure and design.
It's built with a pressure-tested cedar top and a left-handed silver leaf maple neck for accessible playing. It also features a semi-gloss finish for a simple yet attractive look.
To ensure durability, it's built with combined tonewoods that'll last for a long time. We particularly liked the proportions of the guitar in our hands.
Highlights
Excellent clarity
Classic style
Tuning stability with it's proportioned build
Customer Reviews
There were customers who shared that the sound can be too vibrant for some but they still recommended the Seagull S6 Original to new players. The GuitarJunky blog wrote this verdict in their review:
 "At such an affordable price, you are getting something far more worthy than what's paid for. It has a host of quality features from its exceptional sound, durability, unique construction, and the playability for beginner and advanced guitarists Regardless of what your skill level, you will enjoy the acoustics of the Seagull S6, making it a worthy investment without breaking the bank."
7. Art & Lutherie 045587K Americana
Best for Traditional and Contemporary Style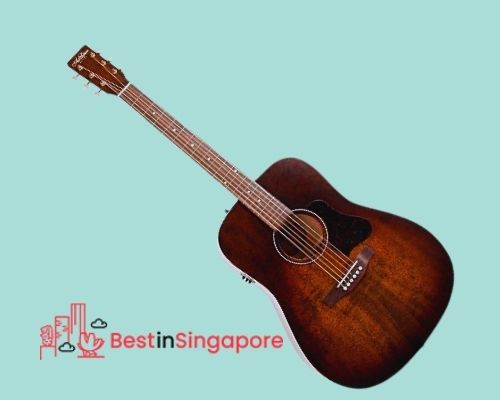 Price: $1,021.65
For perfect harmony between modern and classic styles, the Art & Lutherie 045587K Americana is a must-have acoustic guitar in Singapore.
The guitar is designed with commendable durability, a built-in tuner and a solid spruce top. The fingerboard and bridge are of rosewood, and the neck is of silver leaf maple.
The result is a guitar that provides fine tone and articulation. We like the 16" fingerboard radius too!
Highlights
Built-in tuner '
Durable
Fine articulation
8. Sire R3 Solid Top Acoustic Guitar
Best For Simple And Fast Sound Mix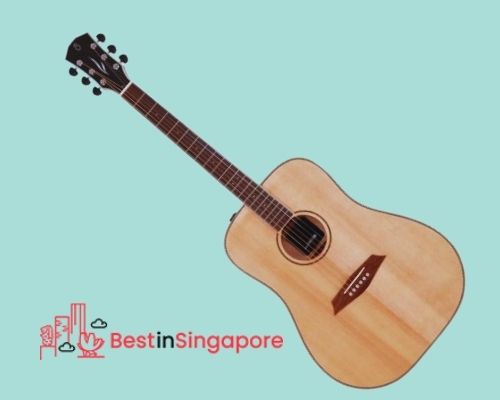 Price: $599.00
Sire R3 Solid Top Acoustic Guitar is an entry level acoustic guitar with solid spruce top that is tuned with precision for superior sound. It has a simple and fast sound mix and setting capability, perfect for those who are constantly on gigs or recording studios. 
While it aims for simplicity, it also features familiar three control knobs for sound control but each has unique functions making any tone possible.
The finish of the body is Mahogany laminate which is known for its durability. It also has an internal mic and piezo pickup combination that allows perfect popular modern style percussive style playing. 
Highlights
Two pickup system

Minimal hole drilled on the side of the guitar for simple and none damaging onboard pickup system.
9. Takamine GN93 Nat
Best for Playability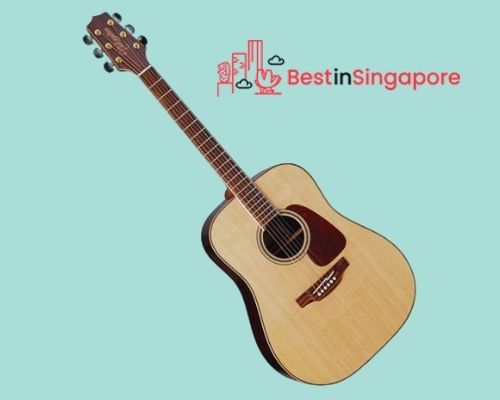 Price: $450.00
Takamine GN93 Nat is a beautiful acoustic guitar with a refined and contemporary look that features a solid spruce top, rosewood sides and a striking three-piece rosewood/quilt maple back for a comfortable yet full-sounding guitar.
Its slim mahogany neck and 12″-radius bound rosewood fingerboard provide great feel and playability, while the split-saddle design of the rosewood bridge provides superior intonation for sweeter-sounding chords and single-note runs.
With its smart design and reasonable price, you will truly get the best value for money if you purchase this acoustic guitar in Singapore.
Highlights
Gloss Natural Finish

Synthetic bone nut and bridge saddle

Durable
And that's a wrap! I hope you didn't find it too hard to pick a favourite among these best acoustic guitars in Singapore.
Let us know which one you'd like to give a try! Or, if you think we missed a great acoustic guitar sold on the island, let us know which one it is and why it should be here too.
By the way, you might also want to take a look at our list of the best Bluetooth headphones in Singapore. That's because you'll need a great pair of cans with which to explore different genres of music and styles of guitar-playing.